New Age Islam News Bureau
4 Dec 2018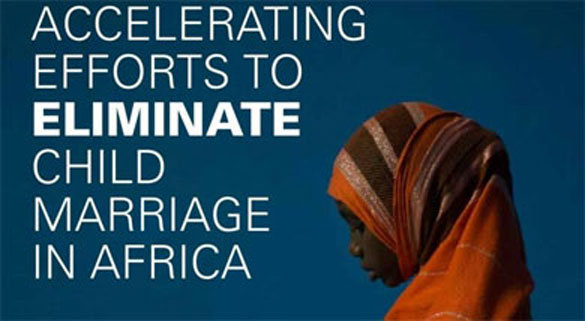 • Muslim Women in Kolkata Are Turning To Yoga to Keep Fit and That Too In Their Burqas
• A Pakistani Girl Claims to Be Donald Trump's Daughter
• Ghani Orders Probe into Allegations Regarding Sexual Abuse of Female Athletes
• Muslims Sue Nigerian Premier Varsity Over Hijab
• Tunisia: Parliament Should Back Gender Equality in Inheritance
• Arab Women of the Year Awards '18 Set In London
• Afghan Women's Football Dream Turns into Nightmare
• Woman Civil Activist Sentenced To 1-Year in Prison in Tehran
• Egypt to Host OIC Meeting on Role of Women in Development
Compiled by New Age Islam News Bureau
URL: https://www.newageislam.com/islam-women-feminism/un-23-million-girls-nigeria/d/117060
--------
U.N.: 23 Million Girls in Nigeria Are Victims of Child Marriage
3 Dec 2018
Over 23 million girls in Nigeria are victims of child marriage, the country representative for the United Nations Entity for Gender Equality and the Empowerment of Women revealed Sunday amid a campaign against gender-based violence in the African country. Nigeria's Leadership newspaper cited Comfort Lamptey, the U.N. Women's country representative to Nigeria, as indicating on Sunday that "one in three women and girls aged 15-24 has been [a] victim of violence while one in five has experienced physical violence which is the highest in Africa."
"She also said for too long, many women and girls have been subjected to various forms of violence, yet have remained silent due to impunity, stigma, and shame, among other inhibiting factors," Leadership noted.
"With women and girls bearing the brunt of abduction, forced marriage and being used as human bombs [by Boko Haram]. Gender-based violence is evident also in the political realm, where women have reported numerous cases of victimization, intimidation, and harassment, in order to sideline them in the upcoming 2019 General Elections," Lamptey said.
Violence against women takes many forms in Africa. Last month, Kenyan authorities sentenced a mother to six years for forcing her 13-year-old twin daughters to undergo female genital mutilation (FGM) "to avoid a curse from her deceased grandfather," Reuters reported.
Referring to the recent conviction in Kenya, Mercy Chege, the director at the Plan International charity that rescued the twin girls, told Reuters, "A community member alerted us when they had heard the mother was organizing the girls to undergo the cut, so we informed the local authorities. Unfortunately, we were not able to prevent the circumcision as by the time the police conducted the raid and rescued the girls, they had already been cut."
Last Tuesday, a federal judge in Michigan deemed a federal ban on the heinous practice in the United States unconstitutional, arguing that while state laws against FGM are valid, the federal government lacks the authority to outlaw the procedure.
U.S. District Judge Bernard Friedman's ruling against the federal ban on the practice came a few months after the Centers for Disease Control and Prevention (CDC) revealed that "more than 500,000 women and girls in the United States are at risk of or have been subjected to FGM/C (Female Genital Mutilation or Cutting)."
In the United States, 27 states including Michigan have reportedly passed laws that criminalize FGM.
The U.N. believes about 200 million girls and women worldwide have undergone FGM.
According to the Center for Reproductive Rights, 18 African nations, including Kenya and Nigeria, and 13 industrialized countries prosecute FGM practitioners.
FGM, which involves the partial or total removal of genitalia, can come at a tremendous cost to many girls who bleed to death or perish from infections.
Although adherents of Islam and Christianity both practice FGM, the procedure is prevalent in predominantly Muslim countries, particularly in Africa.
https://www.breitbart.com/national-security/2018/12/03/u-n-23-million-girls-in-nigeria-are-victims-of-child-marriage/
--------
Muslim Women in Kolkata Are Turning To Yoga to Keep Fit and That Too In Their Burqas
Manogya Loiwal
December 3, 2018
From Trikonasana to Ardh Chakrasana, Muslim women in Kolkata are attempting all forms of asanas that yoga has to offer and that too in burqas.
Muslim women in Kolkata have taken to yoga every morning to improve their health. Of late, women in Kolkata gather every morning to do yoga after suffering from years of bad health.
Though their religion doesn't believe in idol or Sun worship, many of them feel that chanting can help improve health. They do however keep away from chanting 'Om' and surya namaskar. They also do not have a problem with the fact that yoga originates from Hindu scriptures and includes specific breath control exercises.
Shabnam Praveen, a regular visitor at Park Circus grounds, said, "We do all types of exercises from walking to yoga, everything. We dedicate more than an hour to yoga daily. In two months I lost six kgs. I've gotten rid of my thyroid problems to a great extent. Yoga is not differentiated on the basis of religion, it is about our own fitness. Even namaz includes yoga. Yoga has become a necessity in Kolkata since it brings relief from the crowds and congestion."
Tamanna Firdaus, who had health problems, has found relief in yoga ever since she started doing it. "I have quit medicine after starting yoga. We don't differentiate people on the basis of caste or religion here. We do all the exercises taught to us," she said.
Many women hail from financially weaker backgrounds and cannot afford going to gyms or are caught up with daily household chores. These women have a trainer too who trains them free of cost.
Abdul Hamid, who teaches these women the basics of yoga along with another teacher on weekdays, said, "Exercise is good for everyone and makes you fit. Now we have 70 - 80 women here. The government should take care of these grounds so that more people can take part here. We have made several requests but no major step has been taken to keep the grounds clean. You won't have to visit doctors if you do yoga at least for an hour daily. I have been doing yoga for 22 years. I teach boys and girls. We teach exercises to people of all ages... cardio, yoga, everything. People coming here cannot go to gyms and cannot afford to buy mats. The women have benefitted a lot from here. Except chanting 'Om', we teach all types of yoga."
Manjari Khatun said yoga has helped her. "I come here because I feel fresh and good here because of the healthy environment here. I like doing yoga here," she said.
Mumtaz Begum said, "I do all exercises here. I am a diabetic and the doctor has advised me to do regular yoga and walk frequently. After I started doing so, I feel better and healthy as my sugar level is under control. Here we all exercise enthusiastically but we don't undifferentiate on the basis of any religion or caste."
Another yoga enthusiast, Manjari Khatun said, "I have recovered from my body aches by a great extent. I come here because I feel fresh and good because of the healthy environment. I like doing yoga here."
As these women come out of their homes for better health, it has taken them a lot to stick to traditional values and while still stepping out of their comfort zones.
https://www.indiatoday.in/india/story/muslim-women-in-kolkata-are-turning-to-yoga-to-keep-fit-and-that-too-in-their-burqas-1401506-2018-12-03
--------
A Pakistani Girl Claims to Be Donald Trump's Daughter
By Aleena Raheel
December 3, 2018
LAHORE – A Pakistani girl Ammara Mazhar has declared herself to be Donald Trump's daughter.
Ammara claims she was kidnapped from the USA and was brought to Pakistan. During this time period, she spent her life under the guardianship of a religious scholar and her teacher.
"Many people think that I am not a Muslim so they misbehave with me. I want to tell them that I am a Muslim," she said.
The girl further said that she has travelled the world on foot. She got far from her father Donald Trump due to political conflicts.
"When I met him, he told me that he has given all my money to our politicians so I would have to wait now," she said.
People think the girl is making up false stories with a hidden agenda of acquiring a passport.
The girl reached Supreme Court Lahore Registry on Sunday upon the arrival of Chief Justice Mian Saqib Nisar.
https://en.dailypakistan.com.pk/lifestyle/a-pakistani-girl-claims-to-be-donald-trumps-daughter/
--------
Ghani Orders Probe into Allegations Regarding Sexual Abuse of Female Athletes
Dec 04 2018
President Mohammad Ashaf Ghani has ordered a thorough investigation into the allegations regarding the sexual abuse of female athletes as he called the media reports in this regard as 'shocking'.
ARG Palace said President Ghani has instructed the Attorney General Office to investigate the case thoroughly using all their authorities.
President Ghani further added that the misuse of authority and position is not acceptable, emphasizing that the immorality should be controlled in sports institutions.
According to ARG Palace, President Ghani made the remarks during a meeting with the Director of the National Olympic Committee and some of its members.
In his turn, Attorney General Mohammad Farid Hamidi said the rule of law defends the dignity of the people.
Hamidi further added that a delegation led by deputy Attorney General has launched investigation into the allegations, promising that the initial findings would be shared with the people soon.
https://www.khaama.com/ghani-orders-probe-into-allegations-regarding-sexual-abuse-of-female-athletes-02872/
--------
Muslims Sue Nigerian Premier Varsity Over Hijab
03.12.2018
Muslim parents on Monday sued Nigeria's premier university of Ibadan after a school owned by the varsity barred 11 Muslim girls from wearing their religious head covering in their classrooms.
The case was filed following weeks of controversy on the Muslim girls' head covering in the International School Ibadan (ISI) in the southwest Oyo state, resulting in temporary closure of the school and counter protests.
Instituted by the ISI Muslim Parents Forum, the Muslims are asking the court to declare the action of the school "a violation of the (students') rights to freedom of thought, conscience and religion, freedom from discrimination... and right to education as guaranteed by the constitution of Nigeria."
The court will hear the case on Dec. 21.
The latest hijab controversy comes weeks after Nigeria's Lagos government officially endorsed its use across schools.
The Lagos decision came two years after appeals court struck down an official memo restricting the use of the head covering, declaring it unconstitutional and violation of rights to religious freedom.
Headscarves have increasingly become a symbol of Muslims' rejection of the British colonial legacies in Nigerian public life.
In 2017, a Muslim female law graduate was barred from a call to bar event in the capital Abuja for wearing a headscarf that drew anger from the Muslim community.
Barrister Firdaus Amasa was later called to the bar with her headscarf after the country's council on legal education backed down.
https://www.aa.com.tr/en/africa/muslims-sue-nigerian-premier-varsity-over-hijab-/1328671
--------
Tunisia: Parliament Should Back Gender Equality in Inheritance
December 4, 2018
Tunisia's parliament should take the landmark step of granting women equal rights in inheritance, Human Rights Watch said today. President Beji Caid Essebsi formally submitted a draft law to parliament on November 28, 2018, asking for urgent action on the measure.
The draft law, which was approved by the Council of Ministers on November 23, would amend the 1956 Code of Personal Status, which provides that men would normally inherit twice the share that women inherit, under interpretations of Islamic sharia law.
"Parliament should adopt this draft law to remove gender discrimination in inheritance law and reaffirm Tunisia's place as a regional leader on dismantling legal discrimination based on gender," said Ahmed Benchemsi, Middle East and North Africa communications director at Human Rights Watch.
The proposed amendment would insert a section on inheritance in the Personal Status Code, "Provisions Relating to Equality in Inheritance." In essence, it would provide gender equality in inheritance as the default, except when the person whose inheritance is involved formally opts out during their lifetime and chooses instead to have their wealth distributed according to the previous legal framework.
No date has been set yet for parliament to discuss the proposed amendment. The Ennahda party, the largest bloc in parliament with about 30 percent of the seats, is the only party that has publicly announced its opposition to the proposal.
"It is a shame to see Ennahda fighting equality in inheritance laws, when the party has backed other reforms favoring women's rights," Benchemsi said.
Tunisia's 1956 Personal Status Law, enacted only six months after independence from France, was progressive for its time, not only compared with others in the Middle East and North Africa, but compared with the laws in some European countries. It established identical grounds for divorce for men and women and allowed divorce by mutual consent. However, a number of discriminatory provisions remained in Tunisia's code.
The Commission on Individual Freedoms and Equality, appointed by the president, issued a report on June 12 recommending gender equality in inheritance, among other reforms. Caid Essebsi embraced the recommendation on August 13, leading to the government's approval of the draft law November 23. The commission also urged removal of the Personal Status Code provision that the husband is the "head of the family," which gives him legal advantages in disputes over household management. The current draft law amendments are only directed at the inheritance section of the Personal Status Code.
Article 21 of Tunisia's 2014 constitution provides that "all citizens, male and female, have equal rights and duties, and are equal before the law without any discrimination." Article 46 requires the state to "commit to protect women's established rights and works to strengthen and develop those rights."
If the amendment is approved, Tunisia will be the first Muslim-majority state in the Middle East and North Africa to remove gender discrimination in laws relating to inheritance. Tunisia would then join other countries with Muslim-majority populations that do not discriminate against women in inheritance laws, such as Bosnia and Herzegovina, Kazakhstan, Kosovo, Mali, Tajikistan, and Turkey.
On July 26, 2017, parliament adopted a comprehensive law on fighting violence against women, which strengthened the legal tools to protect domestic violence survivors and prosecute abusers, and eliminated the penal code provision that allowed a rapist to escape punishment if he married his victim.
On September 14, 2017, the Justice Ministry announced that it was rescinding a 1973 directive prohibiting the registration of marriage of a Tunisian woman to a non-Muslim man unless the man provides a certificate of conversion to Islam.
Tunisia is obligated under the Convention on the Elimination of All Forms of Discrimination against Women (CEDAW), to which it is a state party, to remove discrimination against women in law. On May 23, parliament approved the ratification of the Maputo Protocol of the rights of women in Africa, which imposes similar requirements.
https://www.hrw.org/news/2018/12/04/tunisia-parliament-should-back-gender-equality-inheritance
--------
Arab Women of the Year Awards '18 Set In London
2018-12-03
A number of renowned Arab women will be awarded for their achievements at a prestigious event due to take place on Dec. 6 in London. The high-profile event will showcase the capabilities of Arab women as leaders and will bring together illustrious representatives of governments, businesses and civil society.
The Arab Women of the Year Awards Gala Dinner and Awards Ceremony will be held for like-minded individuals to appreciate the amazing achievements of Arab women. In attendance will be journalists, politicians, ambassadors and social media influencer who will all show their support for Arab women and who all believe in elevating the recognition of Arab women to a global audience.
The 2018 awards are created by London Arabia Organization, and have been supported by the Mayor of London. This year's event will be held in partnership with Regents University London, the Bicester Village Shopping Collection, Y Asset Management, the United Nations Refugee Agency (UNHCR) and London & Partners. The event aims to honor and bring recognition to Arab women and will act as an avenue to promote cultural understanding between Britain and the Arab world.
Professor Aldwyn Cooper, Advisory Board Chairman and Vice Chancellor and CEO of Regent's University, said "the last year has seen an increasing focus on the role of women in society all across the world. We have continued to see social change in Arab countries, led and supported by the country leaders, to move from the dominance of men through to the substantial growth of input from women from many countries and many different backgrounds."
He added: "One of the best ways to form bridges between countries is through trade and by celebrating each other's successes. This is one of the key aspects of this event, which seeks to recognize the tremendous contributions being made by women in the Arab world as they take on new leadership roles."
Omar Bdour, the Chief Executive Officer of the London Arabia Organization, said "the Awards can act as a way of promoting the achievements of Arab women who have become role models for our children's generations. Giving recognition to these women can inspire even more to follow in their footsteps." He added "hosting the Awards in London highlights the close relationship between the UK and Arab world. We hope that our event will play a part in helping to end stereotyping of the Arab world and of Arab women; who accomplish so much, despite much of the West's impression of them."
Desiree Boiler, Value Retail's Chair and Chief Merchant, said "partnering with London Arabia is a clear demonstration of our commitment to The Middle East – these guests are an integral part of our business, we work hard to ensure they feel at home from home in our Villages and we're delighted to support an event which promotes cultural understanding of the Arab world." — SG
http://saudigazette.com.sa/article/549428/BUSINESS/Arab-Women-of-the-Year-Awards-18-set-in-London
--------
Afghan Women's Football Dream Turns into Nightmare
3 December 2018
In post-Taliban Afghanistan, the women's football team was hailed globally as a symbol of the new freedoms enjoyed by the country's women.
But now one of Afghanistan's top sports officials has admitted that female footballers - who defied hard-liners and militants by daring to take to the field in the first place - have been sexually abused. And it's not only football - he admitted the problem extends to other sports too.
Most women athletes are too frightened to speak publicly about alleged abuse by coaches and sporting officials. But several have now disclosed privately to the BBC what they have experienced.
The scandal has exploded in the last few days. On Friday, football's governing body Fifa said it was investigating claims made by women in the national football squad.
The following day, Afghanistan's Attorney General's Office announced its own investigation. Hummel, a Danish sportswear company, pulled sponsorship of the Afghan Football Federation (AFF), which is at the heart of the allegations.
Sayed Alireza Aqazada, the secretary general of the federation, whose president Keramuddin Karim is among the accused, repeated previous denials. The women's stories aren't true, he said. No sexual harassment had ever been carried out against any female player.
But the furore is showing no signs of abating. Questions were asked in both houses of Afghanistan's parliament on Monday. Then Hafizullah Rahimi, the head of Afghanistan's Olympic committee, made a surprising statement to reporters in Kabul.
"Sadly, these sorts of concerns have reached us," he said. "Sexual abuse does exist, not only within the Football Federation but in other sports federations as well. We have to fight it."
It's the first formal acknowledgement that persistent allegations made by former members of the women's national football team of rampant abuse by male coaches and others in positions of power may be credible.
Many of the allegations have come from Khalida Popal, a former captain of the Afghan women's national football team who also served as its programme director. She risked her life as a teenager to play football in secret - when Afghanistan was still under Taliban rule. In order not to get caught she and her friends played in silence so the Taliban guards on the other side of the school wall wouldn't hear them.
Speaking to the BBC from Denmark, where she has lived since 2011, after fleeing death threats in Afghanistan, she said she had witnessed first-hand widespread physical and sexual abuse of girls and young women by coaches and federation officials. Girls complained to her about a range of abuse, from rape to sexual touching and harassment.
She says she almost lost hope of anything being done about it after she started to document abuse by two coaches. She took her findings to the Afghan Football Federation several years ago.
"Instead of removing them or punishing them", she said, "they were promoted."
Some of the key culprits, she claims, are powerful figures in Afghanistan with close links to government. Officials in the federation would tell players that they could get them on the team list and give them money if they had sex with them, she said.
The BBC has spoken to several young women still living in Afghanistan - including some athletes from sports other than football - who tell similar stories of sexual harassment and bullying. They say the abuse often happened when they were competing to get a place in the national team or for the chance to train or play overseas. One says she was told: "Show me how beautiful you are because only beautiful girls will get on the team."
The allegations about the women's football team have particular resonance because it was earlier celebrated internationally as a symbol of a new, more liberal Afghanistan - and a showcase for the freedoms enjoyed by girls and young women after the fall of the Taliban in 2001.
The fact that the football stadium in Kabul where the team trained was once the venue for Taliban executions only emphasised the contrast.
The irony isn't lost on Khalida Popal. When she was the football team's programme director, she recruited American female coaches and many Afghan women from the diaspora. The Afghan women, she said, "dreamed of doing something for their country, of supporting their sisters back in Afghanistan, of developing a strong national team that represents a positive image of the women of Afghanistan".
"But unfortunately men tried to destroy our programme."
She says that since her allegations were published on Friday in The Guardian newspaper, she's heard from a dozen men and women who have thanked her for speaking out, some tearfully, and said they had similar experiences but were too frightened to come forward.
"I know my voice can change so many lives," she told me. "I know my voice can change the system."
https://www.bbc.com/news/world-asia-46429872
--------
Woman Civil Activist Sentenced To 1-Year in Prison in Tehran
03 December 2018
A one-year prison sentence was issued for a woman civil activist in Tehran, and two Baha'i women arrested for their beliefs are in an unknown state.
Elham Rasouli Baghi, a woman civil activist, was sentenced to one-year imprisonment in Tehran. In a joint case with civil activist Mahmoud Masoumi, Elham Rasouli Baghi received a one-year in prison sentence by Mohammad Moghisei, the current head of Branch 28 of the Tehran Revolutionary Court. Ms. Baghi has been charged with participating in protests, having contacts with families of detainees, and insulting the mullahs' leader. Earlier, this woman civil activist was arrested in a gathering in protest against administrative corruption in Iran, in front of the Dena Tyre building in Tehran on May 12, 2016.
On Wednesday, November 28, 2018, in addition to the wave of systematic arrests of Baha'i citizens, Neda Shabani, a Baha'i woman from Karaj, was arrested by security forces and transferred to an unknown location.
Also, the situation of another Baha'i woman, Elham Salmanzadeh imprisoned in Evin Prison is currently unclear. Elham Salmanzadeh was arrested and transferred to Evin Prison on October 16, 2018, by security forces in Karaj after they inspected her house and confiscated her personal belongings and books. After 46 days of being imprisoned, her situation is still unclear. Despite the repeated inquiries by the Baha'i woman's family, no authority has responded.
In November 2018, five Baha'i women were arrested or imprisoned in Mashhad, Isfahan and Tabriz because of their religious beliefs. The imprisonment or expulsion of Baha'i women and citizens from work and education began since the mullahs' regime began ruling in Iran.
https://women.ncr-iran.org/iran-women-news/5612-woman-civil-activist-sentenced-to-1-year-in-prison-in-tehran
--------
Egypt to Host OIC Meeting on Role of Women in Development
Dec. 3, 2018
CAIRO, Dec 3 (MENA) - Chairman of the National Council for Women (NCW) Maya Morsi said Monday that Egypt will host the 8th ministerial meeting of the Organization of Islamic Conference on the Role of Women in Development, set for 2020.
In statements on Monday, Morsi said the decision was approved during the proceedings of the 7th ministerial meeting of the Organization of Islamic Cooperation (OIC) which addresses the Role of Women in development. The session was held in Ouagadougou, Borkina Faso over two days.
During her participation in the conference, she said women empowerment was embodied in Egypt's constitution of 2014 in more than 20 articles that covered their constitutional and humanitarian rights and affirmed their rights to equality in all aspects of life.
Morsi also underlined the role of women in the political process in the country, shedding light on a campaign to support marginalized women in the poor areas.
She pressed for the need for consolidating efforts among all member states to accelerate the ratification of the statute of an organization for the development of women to be affiliated to OIC with the aim of upgrading the status of women in the OIC member states.
She also announced that Egypt will be honored to host the upcoming ministerial conference of the OIC in 2020 and invited all attendees to take part.
http://www.egypttoday.com/Article/1/61352/Egypt-to-host-OIC-meeting-on-role-of-women-in
--------
URL: https://www.newageislam.com/islam-women-feminism/un-23-million-girls-nigeria/d/117060
New Age Islam, Islam Online, Islamic Website, African Muslim News, Arab World News, South Asia News, Indian Muslim News, World Muslim News, Women in Islam, Islamic Feminism, Arab Women, Women In Arab, Islamophobia in America, Muslim Women in West, Islam Women and Feminism