New Age Islam News Bureau
1 Sept 2018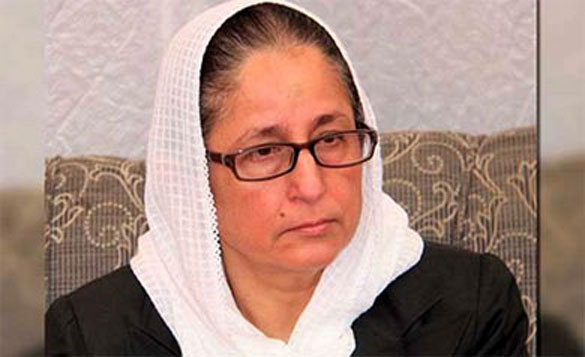 In the history of Pakistan, first-ever woman judge Justice Syeda Tahira Safdar sworn in as Chief Justice of Balochistan High Court. Achakzai administered oath to her in a ceremony held at Governor House.
-----
• First Woman Chief Justice of Balochistan High Court To Take Oath Today
• Court Orders South Africa Govt to Recognise Muslim Marriages, Allots Two Years' Time to 'Rectify Failure'
• After Taking To Steering Wheel, Women in Saudi Arabia Set To Fly Planes
• Pakistan Minister Apologises To Female Actors for Vulgar Comments
• Women Represent 25% Of Governors' Reshuffle for First Time in Egypt's History
Compiled by New Age Islam News Bureau
URL: https://www.newageislam.com/islam-women-feminism/uk-wants-50pc-female-chevening/d/116259
-------
UK Wants 50pc Female Chevening Scholars from Pakistan By 2020
Afshan S. Khan
September 1, 2018
Islamabad: The Foreign and Commonwealth Office's Special Envoy for Gender Equality Joanna Roper has announced the UK's ambition to have an equal number of female and male Chevening scholars from Pakistan by 2020.
The Chevening online application window is open until 6 November 2018 to receive applications for the academic year 2019/2020. Chevening Scholarships are awarded to individuals with demonstrable leadership potential who also have strong academic backgrounds and offers full financial support to study for a master's degree at any UK university.
The Special Envoy for Gender Equality, Joanna Roper CMG, said, "The Chevening scholarship is a fantastic opportunity to study a fully-funded course at top universities in the UK and develop long-lasting professional and personal networks.
Last year, 39% of scholars were female. Our ambition is to see this number increase to 50% by 2020. This is not about choosing less-qualified women over men, it is about encouraging more women to apply for the scholarship programme in Pakistan. "Globally 54% of Chevening scholars this year are female, so there are no barriers to applying and I strongly encourage Pakistani women from across the country to apply for the scheme.
They will join a prestigious network of Chevening alumni that includes respected BBC journalist Fifi Haroon, the first female judge of Gilgit-Baltistan Amna Zamir Shah, former Member of National Assembly of Pakistan Yasmeen Rehman and numerous other women who have gone on to achieve great things for Pakistan."
This year 64 Chevening scholars and fellows including 25 women will go to study in diverse fields in the top universities of the UK. The British High Commission also announced the launch of the Asma Jahangir annual scholarship earlier this year which was awarded to the best female Chevening scholar, Sana Gul. In Pakistan, over 1,650 scholars have availed the Chevening scholarship since 1983.
https://www.thenews.com.pk/print/362279-uk-wants-50pc-female-chevening-scholars-from-pakistan-by-2020
-------
Court Orders South Africa Govt to Recognise Muslim Marriages, Allots Two Years' Time to 'Rectify Failure'
September 01, 2018
QUETTA: First woman chief justice of Balochistan High Court (BHC), Justice Tahira Safdar, will take on oath on Saturday.
On July 31, Judicial Commission of Pakistan (JCP) unanimously approved the appointment of Justice Syeda Tahira Safdar as the chief justice of the BHC.
The JCP meeting was chaired by Chief Justice of Pakistan (CJP) Mian Saqib Nisar. The former BHC Chief Justice Muhammad Noor Meskanzai retired on Saturday, after serving for almost four years.
According to her biography, Justice Tahira Safdar, born on Oct 5, 1957, in Quetta, is the daughter of renowned lawyer Syed Imtiaz Hussain Baqri Hanafi. She made history in 1982 when she became the first woman civil judge in Balochistan.
She received her basic education from the Cantonment Public School, Quetta, and went on to complete her bachelor's degree from the Government Girls College, Quetta.
She later earned a master's degree in Urdu literature from the University of Balochistan, as well as a degree in law from the University Law College, Quetta, in 1980.
After attaining success in a competitive examination held by the Balochistan Public Service Commission, she was appointed as a senior civil judge on June 29, 1987. She was made additional district and sessions judge on Feb 27, 1991.
On March 1, 1996, she was promoted to district and sessions judge. She also worked as a presiding officer in the Labour Court.
She was appointed a member of the Balochistan Services Tribunal on Oct 22, 1998, and worked in that capacity till she was appointed the chairperson of the Balochistan Services Tribunal on July 10, 2009.
While working as chairperson, Justice Tahira Safdar was elevated to the position of additional judge of the high court on Sept 7, 2009, and confirmed as a BHC judge on May 11, 2011.
She is currently a member of the three-judge special court conducting the trial of former president Pervez Musharraf for committing treason by proclaiming a state of emergency on Nov 3, 2007.
https://www.pakistantoday.com.pk/2018/09/01/first-woman-chief-justice-of-bhc-to-take-oath-today/
-------
Court Orders South Africa Govt to Recognise Muslim Marriages, Allots Two Years' Time to 'Rectify Failure'
Aug 31, 2018
Johannesburg: A court in South Africa ordered the government on Friday to change the law to formally recognise Muslim marriage for the first time to avoid being in breach of the constitution.
Under the country's common law system, Muslim marriages are not recognised, limiting the options of Muslim women to seek legal recourse in the event of divorce.
The Western Cape High Court ordered that "legislation to recognise marriages solemnised in accordance with the tenets of Sharia law (Muslim marriages) as valid marriages."
"The president and cabinet together with parliament are directed to rectify the failure within 24 months of the date of this order," judge Siraj Desai said.
The case was brought by the Women's Legal Center (WLC), which argued that women entering into Islamic marriages did not benefit from the same rights and legal protection as those in civil or customary unions — especially in cases of divorce. It claimed Muslim women entering into Islamic marriages were often left without access to property and money in cases of marital breakdown.
"Muslim women can now enjoy legal protections that are afforded to people that get married under the Marriages Act, the legal protection that Muslim women have not had," said WLC lawyer Charlene May. "The judgement has the potential to impact on thousands of women in the country who practice and live their faith and who are walking around without protection."
Roughly 1.5 percent of South Africa's 55 million people are Muslim.
https://www.firstpost.com/world/court-orders-south-africa-govt-to-recognise-muslim-marriages-allots-two-years-time-to-rectify-failure-5089391.html
-------
After Taking To Steering Wheel, Women in Saudi Arabia Set To Fly Planes
September 01, 2018
Riyadh: Of late women in Saudi Arabia's Riyadh were seen behind the wheels, 'steering their way' as the country officially lifted ban on female driving on June 23. However, from now on they will also be seen in the cockpits as the General Authority of Civil Aviation (GACA) that allows them to work as captains on Saudi Arabian Airlines aircraft.
As part of its drive to empower Saudi women to work in the aviation sector in line with the objectives of the International Civil Aviation Organisation (ICAO), GACA has granted licenses to five Saudi women pilots.
Although around 500 Saudi women are employed by Saudi, the kingdom's national carrier, mainly in the financial and IT departments and the reservation section, none of them are pilots
https://www.siasat.com/news/after-taking-steering-wheel-women-saudi-arabia-set-fly-planes-1400765/
-------
Pakistan Minister Apologises To Female Actors for Vulgar Comments
August 31, 2018
A Pakistani Minister in Punjab province has apologized to two women actors after coming under widespread attack for publicly using indecent language against them, the media reported on Friday.
Information and Culture Minister Fayyazul Hassan Chohan, whose primary responsibility is to get good press for his government, himself attracted bad press with his remarks against film and stage actors at a public forum, the Dawn reported.
People from all walks of life chided the Minister for his below-the-belt remarks against film and theatre actors, the daily said.
Explaining his mind about the removal of "vulgar and indecent film signboards inside and outside cinema halls", the Minister said pictures of "half-naked" women were displayed.
Saying he was trying to bring theatre under his jurisdiction, Chohan said: "I will ensure that Nargis becomes Haji Nargis and Megha fasts for 300 days a year instead of 30 days (in Ramadan)."
As his remarks went viral on social and electronic media, the Minister came under widespread criticism.
Nargis and Megha, famous stage actress of yesteryears, reacted angrily to the comments by Chohan.
Nargis told a TV channel that the Minister should have chosen decent words while speaking about a woman who had left showbiz and was leading a peaceful family life abroad.
Megha too said that the Minister should be ashamed of himself.
Punjab Senior Minister Aleem Khan had to extend an apology to the public: "Chohan is a new Minister, he will learn soon."
Following the backlash, Chohan released video messages tendering an apology to Nargis and Megha.
https://www.khaleejtimes.com/international/pakistan/video-pakistan-minister-apologises-to-female-actors-for-vulgar-comments
-------
Women Represent 25% Of Governors' Reshuffle for First Time in Egypt's History
August 31, 2018
Women on Thursday took up over a quarter of the governors' reshuffle, largely deputy governor positions, in a move unprecedented in Egypt's history.
Five out of 18 newly-appointed deputies were female, including deputy Giza governor Lamiaa Ahmed Abdel Qader, Yousra Attia Mohamed for the Red Sea Governorate, Nehal Mohamed Balbaa for Beheira, Eman Omar Rayan for Qaliubiya, and Hanan Magdy for the New Valley.
The deputies and new governors were sworn in before President Abdel Fattah al-Sisi on Thursday.
The striking share of women in the governors' reshuffle revealed great confidence in their ability to manage public affairs, according to MP and member of the House of Representatives Human Rights Committee, Eman Khedr.
Khedr denied that the reshuffle particularly considered the gender of the official, whether a man or a woman; it rather focused on the efficiency of the official, and their suitability and stability for the given position.
However, she added that the choice of women for these positions was the best as they would be afraid to take bribes, "out of fear for their family's lives".
Egypt's reshuffle led to the appointment of its first-ever female Christian governor, Dr. Manal Awad Mikhael.
The new governor of Damietta is also Egypt's second-ever female governor, after Beheira Governor Nadia Abdo.
https://www.egyptindependent.com/women-represent-25-of-governors-reshuffle-for-first-time-in-egypts-history/
-------
URL: https://www.newageislam.com/islam-women-feminism/uk-wants-50pc-female-chevening/d/116259
New Age Islam, Islam Online, Islamic Website, African Muslim News, Arab World News, South Asia News, Indian Muslim News, World Muslim News, Women in Islam, Islamic Feminism, Arab Women, Women In Arab, Islamophobia in America, Muslim Women in West, Islam Women and Feminism