New Age Islam News Bureau
8 Sept 2015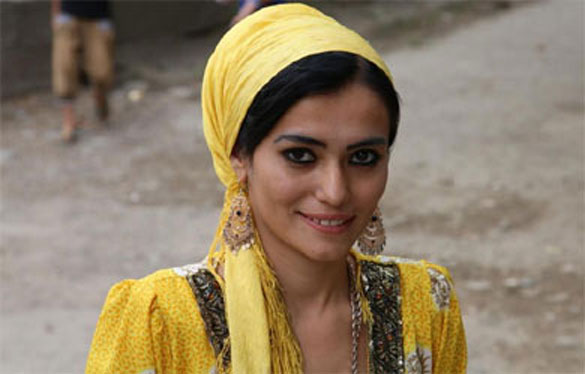 In this photo taken Monday, Aug. 27, 2015, Munira Mirzoyeva, a 19-year old city gardens worker, walks near her home in Dushanbe, Tajikistan. Mirzoyeva's inclusion in the Atlas of Beauty — an online compendium collated by a Romanian photographer documenting the diversity of female beauty around the world — has made her readily recognizable on the streets where she works planting flowers. (AP Photo/Peter Leonard)
---------
• Chance Photograph Turns 19-Year-Old Munira Mirzoyeva, Into Local Celebrity
• Sex-Ed Guide Aims To Help Canadian Muslim Parents Deal With Controversial New Curriculum
• Political Divorce Oath May Sway Malaysian Muslim Women's Vote
• Transport Woes Continue To Haunt Saudi Female Teachers
• Spain Arrests Woman, 19, Accused Of Recruiting For Islamic State
Compiled by New Age Islam News Bureau
URL: https://www.newageislam.com/islam,-women-and-feminism/new-age-islam-news-bureau/uk-teenage-muslim-girl-smashed-to-ground-in-vicious-attack/d/104519
----------
UK Teenage Muslim Girl Smashed To Ground in Vicious Attack
7th September 2015
Tasneem Kabir, 16, was knocked to the ground – shattering her teeth – after 34-year-old Michael Ayoade punched her in the back of the head in an apparent Islamophobic attack.
The 13-second video shows the 5ft 5in schoolgirl lying unconscious as her cowardly attacker runs away.
Ayoade – who stalked Tasneem for 800 metres before the ambush – was jailed for four years after admitting two attacks on her and another young woman.
Ayoade stalks TasneemSG
STALKER: Ayoade stalked Tasneem for 800 metres before the attack
The assault is an example of the Islamophobic attacks being investigated in Inside Out London Special – to be shown on BBC London tonight.
Police have revealed a sharp rise in the number of hate crimes against Muslims in the capital – with women who wear a headscarf or Hijab accounting for some 60 per cent of victims.
Tasneem can be seen wearing the hijab in the video.
There was a 70 per cent increase in the number of attacks recorded between July 2014 and July this year compared with the previous 12 months, according to the Metropolitan Police.
But some London boroughs saw figures more than double.
Merton witnessed the biggest increase – rising 262 per cent from eight to 29 - and nine crimes were reported in Richmond-upon-Thames – compared to just one in the previous year.
Fiyaz Mughal – from Tell Mama, an organisation with monitors Islamophobic incidents – told the BBC: "We also realised quite early on that women who wear niqab – the face veil – suffered more aggressive incidents – there was something about the face veil that in a way brought out the worst in the perpetrator."
Commander Mak Chishty – of the Met Police – said: "We will not tolerate hate crime and take positive action to investigate all allegations, support victims and arrest offenders.
"Victims of hate crime must be assured that they will be taken seriously by the police.
"We have more than 900 specialist officers across London working in our community safety units who are dedicated to investigating hate crime.
"We are always seeking ways to increase reporting and work with a number of third party reporting sites so that victims who feel unable to approach police direct can report crime to non-police organisations and individuals.
"Victims of hate crime can in addition now report online on the Met's website. No-one should suffer in silence so please report hates crime to us as soon as possible so we can act."
http://www.dailystar.co.uk/news/latest-news/463537/Video-teenage-muslim-girl-hijab-unprovoked-attack
----------
Chance Photograph Turns 19-Year-Old Munira Mirzoyeva, Into Local Celebrity
Associated Press, 8 September 2015
DUSHANBE, Tajikistan (AP) — A city gardens worker in the capital of Tajikistan has become a local celebrity through a chance picture taken by a visiting Romanian photographer.
Internet and local TV reports about 19-year-old Munira Mirzoyeva's inclusion in the Atlas of Beauty — an online compendium of the diversity of feminine beauty around the world — has made her readily recognizable on the streets of Dushanbe where she plants flowers.
She hopes this newfound fame will help rescue her from relative poverty. She wants to resume her studies so she can get a job better suited to supporting her family in the former Soviet nation in Central Asia, where she shares a one-bedroom apartment with her parents and four younger siblings.
Mirzoyeva's dream is to become a doctor, although she was forced by poverty to stop her education while still in elementary school.
Following her improbably rise to fame, online groups have sprung up to raise money to send her back to school. That has sparked a hope that appeared remote until only a few weeks ago.
"If the chance presents itself, I will definitely continue my studies, because that is my biggest dream," Mirzoyeva said. "I like my job as a gardener, but because I don't have the opportunity, I cannot study. But if I get the chance, I will definitely do it."
http://news.yahoo.com/chance-photograph-turns-tajik-gardener-local-celebrity-143556425.html
-----
Sex-Ed Guide Aims To Help Canadian Muslim Parents Deal With Controversial New Curriculum
Sep 07 2015
A resource guide on the new sex-ed curriculum is making the rounds in the Muslim community, aimed at addressing parents' concerns that their children will be getting information that directly conflicts with their religious beliefs.
Farrah Marfatia, principal of the Maingate Islamic Academy in Mississauga, wrote the guide, titled How to talk to your Muslim child about topics in the Ontario Ministry of Education's Health Education Curriculum, 2015, over the summer, as a way to educate parents on what their children will be learning in class — and help them prepare for those sensitive discussions in advance.
How did this guide come about?
When the new curriculum came out, there was a lot of information and misinformation that was being thrown around. Personally, I was also confused about it, so when it came out I first read the document. It's a huge document, and what kids will be learning is not all in one place, it's scattered across the document. So, it started as a summary for me.
As an Islamic school principal, private schools are not required to cover the curriculum. But there are a lot of Muslim kids in the public school system, because parents can't afford Islamic school, or there is no room in Islamic schools. And many parents don't have the opportunity to home-school even if they want to. And I was thinking about those parents — how do I help public school parents who have no other choice to understand the curriculum from their religious point of view?
How did it come together?
I thought I should reach out to people in the public school system. So after I wrote it, I reached out to guidance counsellors and teachers in the public system, and they reviewed it and gave it their stamp of approval. And then, from a religious perspective, I consulted with three imams. One of the imams is also a certified teacher. We had a number of meetings, and they gave me their views from a religious perspective. Overall, about 20 people reviewed it.
We want to be clear that, from an Islamic perspective, the curriculum is not age-appropriate. But this guide is responding to the curriculum, because it's here, so we have to deal with it.
Why is there a need for it?
I am a mom, so I couldn't remove that perspective as I went through the curriculum. I kept thinking: How would I teach this to my own children? And I started thinking about other parents, and I thought they must feel powerless. Here's this daunting curriculum that's 300 pages long, and I thought: How will they navigate this? I just wanted to empower them, so they could see in very easy language what their kids will learn at every stage. And then, how do we approach it Islamically, when kids want to talk about it? We believe parents are the first educators, and this guide helps them to be the first educators.
What has the response been?
The response has been extremely positive. People are having a hard time understanding what's going to happen in September. The summary provided them with that, and then gave them a jumping point to start discussions in their own homes. Without much advertising, the document has already had more than 2,500 views. I am so proud of our community leaders because they have backed it up, and see value in it.
And the good thing is, the document is one of those things that will continue to evolve. It is not stagnant. I am already working on a second edition with comments I have received. It truly is a document for the parents and by the parents.
If people take one thing from it, what would that be?
I want people to be empowered. I don't want them to be scared anymore. There's really nothing out there that addresses the curriculum from an Islamic context. There is a huge vacuum, and I want there to be something in that vacuum.
EXCERPTS FROM THE GUIDE
Farrah Marfatia says her guide, "How to talk to your Muslim child about topics in the Ontario Ministry of Education's Health Education Curriculum, 2015," addresses both mandatory material that will be taught and the optional "prompts" meant to help teachers respond to questions, to give parents an idea of everything that could be addressed.
Here are some samples from the guide.
On Grade 1 students learning "to identify body parts by their proper names, including genitalia": Parents should advise children to never allow anyone to touch their private parts and to immediately tell their parents if someone does. For parents whose children have been taught the correct names of the genitalia in school, parents should advise their children to use these words only with a "trusted adult," when someone other than their parents have touched their private area, in case of an emergency and/or when they feel pain or have been hurt in that area. A parent should explain that these words are "private words" because they are used to describe "private parts." They should not be used "for fun" or as a joke.
On Grade 3 students learning about homosexuality, within the context of being respectful of differences: Allah created men and women as complements of one another, each with their own special qualities so that they could help one another live happily. Since Allah created us, he knows what is best for us.
Allah wants us to be upright and spread goodness through the world. When a man and woman get married and have children together, they create another life that can help spread the teachings of Allah. In this sense, we are not fully complete without our special companion.
You might notice that there are some families that have 2 moms or 2 dads. Although we should treat everyone with kindness, this type of relationship is displeasing to Allah. In Islam only a man can marry a woman and only a woman can marry a man — we are not allowed to marry people of the same gender.
On gender identity, discussed in Grade 5: If you are born a boy, your gender identity is Male. If you are born a girl, your gender identity is Female. You cannot be a boy if you are born a girl and you cannot be a girl if you are born a boy. Allah does not make mistakes. We cannot go against what Allah wants for us because Allah knows what is best for us.
On the topic of masturbation, which may be discussed in Grade 7: Parents are encouraged to begin speaking to their children about masturbation? Parents should bear in mind that these urges do exist and should approach the situation in a manner that builds parental trust. This requires parents to engage in an open dialogue with their children and avoid shaming their children. Masturbation is not encouraged in Islam and should therefore be discouraged. Parents should encourage their children to perform voluntary fasts if they feel their sexual urges are strong. This will help curb their sexual appetite. Here it should be noted that there are differing religious opinions on the subject of masturbation.
http://www.thestar.com/news/gta/2015/09/07/sex-ed-guide-aims-to-help-muslim-parents-deal-with-controversial-new-curriculum.html
----------
Political divorce oath may sway Malaysian Muslim women's vote
September 8, 2015
Muslim women could hold the key to eroding the link between political power and marital status following a shakeup in Malaysian politics.
The Malaysian political coalition Pakatan Rakyat, made up for the People's Justice Party (PKR) and the Pan-Malaysian Islamic Party (PAS), has been disbanded. As a result of the split, many commentators say that PAS will lose votes at the next election if it does not end the practice of using the 'bai'ah talak tiga', otherwise known as the divorce oath, to ensure politicians stay faithful to the party.
The 'talak' is a declaration Muslim men can make to end their marriage. The practice requires the man to recite the talak three times, after which he is officially divorced.
PAS is governed from the northern Malaysian state of Kelantan. The party introduced the oath to their political process in 2004, requiring their Kelantan MPs entering office to swear that they would invoke the third talak if they change political parties ahead of a general election. At the time, the move was seen as a way of keeping rival Malay-Muslim party Umno at bay.
The process was kept behind closed doors for many years until former PAS vice-president Datuk Dr Hassan Ali made the practice public. Now with the split in the Pakatan Rakyat coalition, it's alleged that PAS is openly using the divorce oath to bind MPs to the party as their oath means an MP would have to divorce his wife if he changed political allegiance. Under the practice, if a man divorces his wife under the third talak, he can only remarry her if he has first married and divorced another woman.
However, non-governmental organisations such as Ikram Malaysia have voiced their concerns about the practice. Datin Paduka Che Asmah Ibrahim, the organisation's Women's Chief said:
"Women, who should be held in high esteem in a Muslim family institution, have been relegated to commodities in their game of politics."
Some highly respected Islamic scholars have also voiced their concerns about the use of the divorce oath in politics. Penang mufti, Datuk Dr Wan Salim Wan Mohd Noor said:
"This oath is considered un-Islamic because it is against the 'benefits' that is being protected by Shariah, including the benefits of the families."
Hisomuddin Bakar, executive director of think-tank Ilham Centre said:
"Our quick poll conducted on women in the Klang Valley showed that almost all of them were angry with PAS for using religion for politics and power."
He believes that PAS will lose seats in the next election as a result of the likely loss of Muslim women voters over the issue. He said that respondents to a survey done by the think-tank are urging non-governmental organisations and women within PAS to firmly reject their use of the divorce oath in national politics.
http://www.marilynstowe.co.uk/2015/09/08/political-divorce-oath-may-sway-malaysian-muslim-womens-vote/
----------
Transport Woes Continue To Haunt Saudi Female Teachers
8 September 2015
DAMMAM: Saudi women teachers are suffering daily from many difficulties to get to their places of work, a situation which requires a quick solution from the government.
Journalist Abdullah Al-Kaied said: "The establishment of housing complexes for expatriate female teachers would not solve the problem, as it is not logical to build a residential complex in each area or village, and force them to leave their houses to live in cities and provinces."
He said that there is an urgent need to find solutions to the problem through re-evaluating existing schools for girls and boys in each village by examining each geographical area, and allocating a number of schools to serve large population areas instead of the current illogical school distribution.
Al-Kaied said that the problem lies in the movement of teachers and students, and can be solved through providing a quick and safe transportation system as in most developed countries, adding that the opening of the railway linking cities and regions of the Kingdom might be a partial and reasonable solution.
In this aspect, some female teachers spoke about their daily sufferings, demanding that the government solve the problems they face.
Fatimah Al-Ghamdi, an expatriate teacher, said: "I have experienced great difficulty in finding suitable accommodations close to my workplace. After I rented a house, I was sent to work in another village, where I faced new problems due to the lack of appropriate transportation between villages."
Al-Ghamdi said that she was forced to pay the rent even in her absence to avoid repeating the same problem again, calling for real activation of the decision to reduce working days, not applying assignment decisions on expatriate teachers, as well as achieving equality among all teachers by determining the years of separation to be at least two years for all.
On high rental prices, Sarah Al-Aqili, who recently moved to the province of Taima, said that she has encountered great difficulty in finding adequate housing in Al-Assafia village, indicating that the high rents of furnished apartments are unjustified.
Manal Salem said: "One of the greatest troubles and hardships facing village teachers is to find adequate housing, as we start searching before the beginning of the school year. Even though the availability of housing is one of the solutions … the Ministry of Education ignores the problem, and we are forced either to rent houses in the area, moving long distances daily, or living in those poor and old homes.
http://www.arabnews.com/saudi-arabia/news/803176
----------
Spain Arrests Woman, 19, Accused Of Recruiting For Islamic State
September 8, 2015
Madrid: Spanish police say a 19-year-old woman has been arrested after an investigation found evidence she was recruiting combatants to fight for the Islamic State group and helping them plan their travel to Syria or Iraq.
An Interior Ministry statement today says the woman was arrested in the north-eastern city of Figueres near Spain's border with France.
She was not identified and the statement did not say when she was arrested.
The statement says authorities started investigating the woman after combing through material seized from Ayoub Moutchou, a suspected Moroccan recruiter for the Islamic State.
Authorities say Moutchou fled Spain in July and was arrested in August in Stuttgart, Germany. Germany handed him over to Spanish authorities last week.
http://www.siasat.com/news/spain-arrests-woman-19-accused-recruiting-c-831996/
----------
URL: https://www.newageislam.com/islam,-women-and-feminism/new-age-islam-news-bureau/uk-teenage-muslim-girl-smashed-to-ground-in-vicious-attack/d/104519