New Age Islam News Bureau
27 May 2016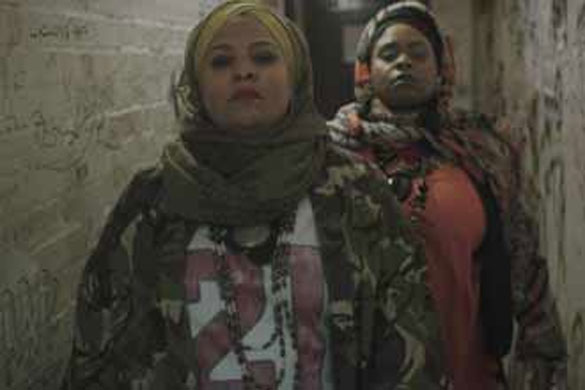 Photo: Rappers: Muneera Rashida and Sukina Abdul Noor
-----------
• Female Muslim Rap Duo to Feature in Facebook Campaign
• Faith Fashion Fusion brings Muslim Women's Style to Canberra
• Facebook Community Page Touts 'Health Benefits' of Islamic Female Genital Mutilation
• Iranian Students Lashed 99 Times Over Party That Included Men and Women
• Haiqah to Showcase Its Glaze and Fashionable Feminine Islamic Clothing at Fashion Expo
Compiled by New Age Islam News Bureau
URL: https://newageislam.com/islam,-women-and-feminism/new-age-islam-news-bureau/uk-spy-agencies--recruiting-more-women-/d/107442
--
UK Spy Agencies 'Recruiting More Women'
27 May 2016
UK intelligence agencies say they are recruiting more female staff - and are targeting middle-age and "mid-career" women for jobs.
MI6 and and GCHQ advertised on the Mumsnet website for the first time this year, and MI5 has raised its target for women employees to 45% by 2021.
Flexible working and the importance of "high emotional intelligence" are also being stressed in recruitment.
The agencies were responding to calls from MPs to recruit more women.
Parliament's Intelligence and Security Committee reported in March 2015 that 37% of intelligence agency staff were women and women only make up 19% of senior civil servants in the agencies.
'Diversity champions'
One year on, the government says that it and the agencies - internal security service MI5, external spy agency MI6 and the government listening post GCHQ - "agree wholeheartedly" with the need for "diversity" in agency staff.
It says action has been taken since the report was published to "increase their focus" on "all aspects of diversity", including recruiting more women.
Recruitment targets, "diversity champions", events such as a recent "Women in Cyber" event and more career support for female officers are part of efforts to employ more women and encourage talented existing women to apply for promotion.
Flexible working
They also say they are doing more to "promote a flexible working culture" for men and women with childcare commitments and to allow women returning from maternity leave to take up their old jobs - including in intelligence roles.
The three agencies also said they were always looking for "new and innovative ways to recruit those with the right skills, mind-set and diversity of approach".
MI5 had already used Mumsnet as well as local newspapers to target women "not currently in work" while the other two agencies did so for the first time this year.
GCHQ has also removed a requirement of a 2:1 university degree from its "fast-stream" recruitment to encourage women who had followed a "non-traditional graduate route".
The government said the initiatives were having an effect as MI5 had recently been placed in the Times Top 50 employers for women and had increased its number of new female employees by 5% to 46% of new recruits. GCHQ had seen applications from women rise to 40%. MI6 had increased its female recruitment targets for 2016/17 after seeing a 4% drop in women - to 41% of new recruits.
The government also said career support for female staff was having a "real impact" with increased numbers of women applying for senior roles in MI5.
bbc.co.uk/news/uk-politics-36396069
---
Female Muslim Rap Duo to Feature in Facebook Campaign
Fri May 27 2016
Poetic Pilgrimage, a hip hop and spoken word group made up of Londoners Muneera Rashida and Sukina Abdul Noor, formed more than a decade ago but they have now been cast into the spotlight after they were spotted by Carphone Warehouse and asked to make a series of video ads.
Both Muslim convents, the two musicians met at a talent show for young black people while growing up in Bristol. They later moved to the capital to study, where they have lived ever since.
Ms Noor, from Seven Sisters, took a degree in English Literature and Caribbean Studies at London Metropolitan University, while Ms Rashida, from Neasden studied Creative Media Practice the University of Westminster.
After noticing the pair, iD, the mobile network from Carphone Warehouse, chose them to appear in its first brand marketing campaign, which features a series of documentary-styled films that celebrate individuals and champions under the tagline #DOYOUROWNTHING.
The campaign aims to tell the stories of people who define themselves through different interests, and Poetic Pilgrimage, who are in their 30s, say they are using their new-found fame as they use their music - to promote their messages of peace, unity and freedom.
Ms Rashida said: "We didn't see anyone representing who were were. We got the urge to represent ourselves and that just grew and grew and grew.
"I used to write raps in my bedroom, Sukina used to write poetry, and we came together and wanted to put our art together.
"It's really important to represent who we are as people, our beliefs.
"Muslim women are often presented through a victim narrative, but we are empowered.
"We always try to control our narrative, not to let anyone else control it for us.
"The iD advert really reflects how empowered we are on a day-to-day basis. We're really excited about it"
The musical duo, who perform progressive hip hop and spoken word, fuse their African and Caribbean roots with their own musical tastes, which include jazz, afrobeat, and soul.
They also say their faith plays a big part in influencing their art.
Ms Noor said: "It does factor into our music, and it's part and partial of who we are now.
"But we're not trying to Islamicise hip hop, we're not neccessarily trying to make a Muslim point of view in the music.
"You can't even say we have one particular demographic - we're black women, Muslim women, Jamaican women, city women.
"Our music is not just a reflection on us and who we are - people have an impression of what being a Muslim in society means to them,
"We represent freedom and strength - it's not who we are, it's what other people see in us."
Ms Rashida added: "People think they know what Muslim are all about, or what hip hop is all about, but sometimes people don't know what we're about unless they scratch the surface.
"What this campaign can do for us - it's not to get people coming to our concerts or buying our CDs, listening to our music.
"People can get to know what Muslim women are like beyond the media, beyond what's depicted in the mainstream narrative."
standard.co.uk/news/london/female-muslim-rap-duo-to-feature-in-facebook-campaign-a3256656.html
--
Faith Fashion Fusion brings Muslim Women's Style to Canberra – Daily Mail
May 27, 2016
Muslim designers making a mark on the fashion industry will show the beauty in modesty with a stunning exhibition.
Faith Fashion Fusion: Muslim Women's Style in Australia shows the latest in modest fashion trends, from swimwear to red carpet couture.
The exhibition will include designs by Baraka Women, Integrity Boutique as well as collections by designers Aida Zein and Fay Tellaoui.
Beauty in modesty: The exhibition will combine style with modesty in a collection of fashion-forward pieces, including designs by the boutique Baraka Woman (pictured)
Aida Zein, who was born in Australia to Syrian parents, specialises in modest street and casual wear.
The Powerhouse Museum wrote the talented designer started off studying law, and found her decision to dress modestly and wear a headscarf made it difficult to know what to wear.
While working as a paralegal and private investigator, Aida started to make her own clothes and soon found her friends were asking her to make them designs as well.
Street style: The travelling exhibition was founded by the Museum of Applied Arts and Sciences in Sydney, outfit by Baraka Woman (pictured)
Her business grew, and by 2009 she had opened her first boutique in Bankstown Centro in Sydney's south-west.
Aida is known for her love of denim, and regularly uses it in a series of layered designs.
She will be joined by Integrity Boutique, which was founded in 2010 by best friends, designers and sisters Howayda and Hanadi.
The label focuses on modest, yet fashion-forward clothing, and is currently one of the longest running boutiques in Australia.
Fashion powerhouse: Aida Zein specialises in modest street and casual wear (pictured) and started to design her own clothes while working as a paralegal and private investigator
The travelling exhibition was created by the Museum of Applied Arts and Sciences in Sydney, and MAAS fashion and dress curator Glynis Jones said 'modest modest fashion is one of the global fashion industry's largest growth areas'.
'It's also interesting to see the market for these designs is not limited to Muslim women,' she continued.
'But has broader appeal for woman looking for looser fitting fashionable clothing that offers more coverage.'
Broad appeal: The fashion is not limited to Muslim women but has broad appeal for those looking for looser fitting fashionable clothes, pictured is a monochrome design from Integrity Boutique
Coming to Canberra: Faith Fashion Fusion: Muslim women's style in Australia will open on Friday at the National Archives of Australia in Canberra
The exhibition will explore work by both emerging modest fashion and established designers and entrepreneurs.
The collection will include everything from swimwear to denim and red carpet gowns.
Faith Fashion Fusion: Muslim women's style in Australia will open on Friday at the National Archives of Australia in Canberra.
airiters.com/?p=710468
--
Facebook Community Page Touts 'Health Benefits' of Islamic Female Genital Mutilation
26 May 2016
Foreign Desk News reports the mission statement for the page is to "clear misconceptions of the Islamic practice of female circumcision and counter misinformation against it."
Part of that agenda is, of course, an effort to replace the term "female genital mutilation" with "female circumcision."
Also unsurprisingly, the page's offerings are served up with a side order of anti-Semitic paranoia. For example, one post spotlighted by Foreign Desk News is titled "Female Circumcision – The Hidden Truth: How Misogynists and Feminists are feeding upon each other to denigrate an Islamic practice that brings untold benefits to women."
The author claims that these health benefits have been "overlooked to conform to Islamophobic sentiments expressed by a largely Jewish controlled media," which is naturally far less critical of male circumcision because "male circumcision is a Jewish practice and female circumcision is not."
There are even infographics touting both the alleged health benefits and religious justification for FGM, which the page assures women is part of their duty to both Allah and their husbands:
The Facebook page even asserts that men contract oral cancer by engaging in certain sexual activities with women who have not been circumcised.
As of press time, the Facebook community page has not been taken down.
Foreign Desk News reports that another post approvingly links to an e-book on "safe female circumcision" by a doctor in Sudan. Women looking for medical opinions from a more reputable source should know that the World Health Organization recognizes no known health benefits from FGM, instead considering it "a violation of the human rights of girls and women."
"Procedures can cause severe bleeding and problems urinating, and later cysts, infections, as well as complications in childbirth and increased risk of newborn deaths," warns WHO, which "strongly urges health professionals not to perform such procedures."
WHO notes that the United Nations General Assembly adopted a resolution on the elimination of female genital mutilation in 2012. Later this year, WHO plans to publish a set of guidelines for managing health complications from female genital mutilation, "to support health care professionals in their care to girls and women that have undergone FGM."
As it happens, Nigeria just held a summit on eliminating the practice of female genital mutilation, which resolved to "increase community awareness and knowledge on the health hazards associated with FGM."
One of the major obstacles addressed at the Nigerian summit was the need to provide professional female circumcision experts with alternative means of earning their livelihoods.
"They do it for money, it's their livelihood. They'll tell you it's what keeps my family, it's what I use in training my children and feeding," nurse Gift Abu, an anti-FGM activist, explained to the Premium Times of Nigeria. "So money is very important for those who don't have what to do. Some of them don't have any other thing they are doing apart from circumcision. It's like a profession to them. So leaving the practice, it's like where will they start from?"
Abu estimated that roughly 70 percent of circumcisers in Nigeria had been persuaded to halt the practice. She added that activists were attacking the demand side of the problem as well, contesting the widespread belief among Nigerians that young girls will be less promiscuous if they are subjected to the procedure.
breitbart.com/national-security/2016/05/26/facebook-community-page-touts-female-genital-mutilation/
--
Iranian Students Lashed 99 Times Over Party That Included Men and Women
27,May 2016
TEHRAN — More than 30 college students were arrested, interrogated and within 24 hours were each given 99 lashes for attending a graduation party that included men and women, Iran's judiciary has announced.
The punishments, which were believed to be part of a wider crackdown by a judiciary dominated by hard-liners, were meted out in Qazvin, about 90 miles northwest of the capital, and were carried out in record time, Mizan, a news agency affiliated with the judiciary, reported on Thursday, citing the city's prosecutor.
The Qazvin prosecutor, Esmail Sadeghi Niaraki, said that more than 30 female and male students — the women were described as "half naked," meaning they were not wearing Islamic coverings, scarves and long coats — were arrested while "dancing and jubilating" after the authorities received a report that a party attended both by men and women was being held in a villa on the outskirts of Qazvin.
An arrest warrant was issued, he said, and the defendants were sentenced to 99 lashes after being questioned
"We hope this will be a lesson for those who break Islamic norms in private places," Mr. Niaraki said.
Mixed-gender parties, dancing and the consumption of alcohol are illegal in Iran, although they have become common over the past decade, especially in cities.
Lashings have been used regularly as a punishment since the Islamic revolution of 1979, but in recent years the practice has been used more as a threat than an actual punishment.
The arrests came a day after state news media reported that the authorities had raided parties in Kerman and at a "singles home" in Semnan, both provincial capitals.
In Kerman, 23 people were arrested, the official Islamic Republic News Agency reported on Wednesday, although it did not provide details about whether anyone had been punished.
In Semnan, several "polluted singles houses were cleaned" and 97 people, including 10 women, were detained.
Col. Mojtaba Ashrafi of the Semnan police told the news agency that the raids were carried out over a 48-hour period, after the authorities monitored for several weeks 58 homes in which single people were believed to be living.
Living alone is not a crime in Iran, but Colonel Ashrafi told the agency that apartments occupied by single Iranians are more likely to be the site of criminal conduct, and he added that narcotics, alcohol and satellite receivers were found in some of the homes.
Iran's hard-line judiciary began a crackdown on such behavior after the sweeping victory of a reformist and moderate coalition in the Tehran constituency in parliamentary elections in February.
President Hassan Rouhani has expressed hope that the presence of more allies in Parliament will allow his government to push for at least modest social changes and more personal freedoms.
The judiciary has responded by stepping up its own activities, and last week it announced the arrest of several so-called Instagram models. A blogger was arrested, and prominent actors and actresses, who have huge social media followings in Iran, were given warnings about adhering to Islamic dress code and "Islamic behavior."
Judges in Iran have broad freedoms to interpret Islamic law, and according to the Constitution, the government and other institutions have no right to interfere with their decisions.
nytimes.com/2016/05/28/world/middleeast/iranian-students-lashes-party.html
--
Haiqah to Showcase Its Glaze and Fashionable Feminine Islamic Clothing at Fashion Expo
27,May 2016
Haiqah, the lately launched online Islamic Fashion store makes available the glamorous and modest Islamic clothing all across the globe. For the first time, this store will participate in the upcoming fashion expo Saverah Women Expo to be held on 29th May, 2016. The store has set all rules to showcase its enchanting feminine Islamic clothing, which will be presented with blend of style and modesty.
The designers of the store have keenly focused on the style of Islamic women, keeping in mind her dignity, respect, and simplicity. Moreover, the fashionistas can buy the products at a much affordable rates. The store exclusively explains how modesty can be spectacularly stylish and fashionable through its graceful yet contemporary collection of Islamic dresses.
The objective of the store is to design clothes for Islamic women, who prefer to live a poised, simple, and elegant lifestyle, in an affordable manner. The store is now attempting to take a step forward, by accentuating its ultimate collection of Islamic dresses at Saverah Women Expo'16 which is hosting its 2nd Annual expo in London. This fashion expo is one the biggest expo for Muslim Women in UK and Europe. Muslim Women will get a chance to experience spectacular fashion shows, shop, sample and view products and services relating to lifestyles and well-being. A fun day along with the opportunity to listen to speakers and attend seminars be educated and entertained, all at the same time.
Adding to the furtherance of Muslim women, Haiqah does its bit by weaving the threads together to craft beautiful Islamic garments that would charm the women and make them feel respected through their attire and appearance.
A few words shared by the CEO of the company, "Handpicked to make you feel unique, at Haiqah, we believe you can dress modestly and stylish at the same time while remaining true to your faith." He further added by saying, "At Haiqah, we take the creation of our garments, very sincerely. The versatility of a garment, strength of a seam, size and shape of a dress are a few things thoroughly considered when creating our collection for those who appreciate modest creations. We artfully craft dresses keeping in mind the requirements of a modern woman who would want to look simple yet stylish and fashionable."
Haiqah craves to become the one-stop online destination for modest Islamic clothing by putting forward Islamic fashion in an altogether stylish manner, cohesive with comfort and grace. All the minute details are kept in mind by the company, while designing the charming collection of women Islamic clothing. From sleeves to the length and from colors to the size of the dress, everything is carefully considered and thoughtfully intended.
swns.com/news/haiqah-to-showcase-its-glaze-and-fashionable-feminine-islamic-clothing-at-fashion-expo-73296/
URL: https://newageislam.com/islam,-women-and-feminism/new-age-islam-news-bureau/uk-spy-agencies--recruiting-more-women-/d/107442
New Age Islam, Islam Online, Islamic Website, African Muslim News, Arab World News, South Asia News, Indian Muslim News, World Muslim News, Womens in Islam, Islamic Feminism, Arab Women, Womens In Arab, Islamphobia in America, Muslim Women in West, Islam Women and Feminism