New Age Islam News Bureau
12 November 2021
• UK Muslim MP Zarah Sultana Receives Racist Hate Mail Telling Her to "Go Back To [Her] Country"
• UN Women's Susanne Mikhail Eldhagen on Celebrating the Successes of Arab Women Everywhere
• Grant to Help Saudi Arabian Women Learn To Become Entrepreneurs
• Afghanistan's Women's Soccer Team Played a Game Again after Escaping from the Taliban Regime
• Ramiz Raja Hints At Women's PSL for Pakistan in the Near-Future
• Good News for Spouses of H-1B Visa Holders! US To Give Automatic Work Authorisation Permits
• Program Aims to Help Women Veterans Enter World of High Tech
Compiled by New Age Islam News Bureau
URL: https://www.newageislam.com/islam-women-feminism/uk-muslim-zarah-sultana-racist-hate/d/125758
--------
UK Muslim MP Zarah Sultana Receives Racist Hate Mail Telling Her to "Go Back To [Her] Country"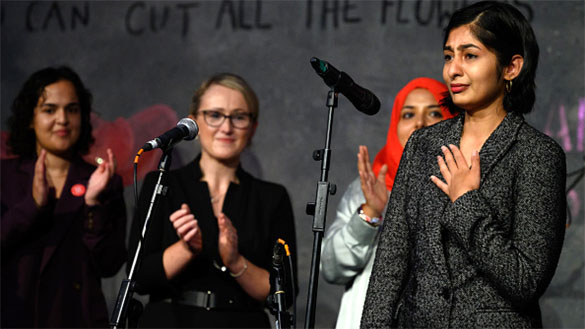 Sultana [right] has previously spoken out about her experiences of Islamophobia as a Muslim woman in politics [Getty]
------
The New Arab Staff
11 November, 2021
British Muslim MP Zarah Sultana has reported receiving racist hate mail telling her to "go back to [her] country", in a tweet she posted on Thursday.
Sultana said she found the email on her return from bereavement leave following her grandmother's death.
"Go back to your country, you are in my country not yours, you do not belong here. Britain First [is] rising, we will soon get [our] heritage back and tough if you don't like it," read the email, which made reference to the far-right Britain First party.
Britain First registered as a political party last September after its application was approved by the Electoral Commission.
The far-right group's leader, Paul Golding, was sentenced to jail for 18 weeks after conducting a campaign of hate against a group of British Muslims in 2018. He was also was found guilty of a terror offence in May last year after refusing to give police access to his electronic devices on his return from a political trip to Russia, according to the Press Association.
Sultana's tweet on Thursday prompted messages of solidarity on the social media platform, including her fellow Labour MPs Louise Haigh and Nadia Whittome.
Sultana has previously spoken out on her experiences of Islamophobia, stating at a UK parliamentary debate last September that "to be a Muslim woman... and to be left-wing is to be subjected to this barge of racism and hate".
In a separate incident this week, Oldham council's first female Muslim leader, Arooj Shah, revealed she has received regular death threats since taking up her role.
At an Oldham council meeting on Wednesday, the Labour councillor called for less hatred and personal abuse, "most of which is fuelled by lies and misinformation... by the colour of my skin, by my religion and by the fact I am a woman", The Oldham Times reported.
Shah was also targeted earlier this year when her car was firebombed outside her home in July.
Source: English.Alaraby.
https://english.alaraby.co.uk/news/uk-muslim-mp-targeted-racist-hate-mail-amid-bereavement
----------
UN Women's Susanne Mikhail Eldhagen on Celebrating the Successes of Arab Women Everywhere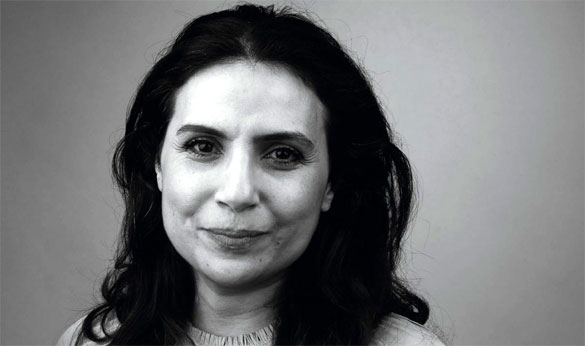 Susanne Mikhail Eldhagen
------
BY Susanne Mikhail Eldhagen
November 11, 2021
I'm writing this month's column after having had the immense pleasure of meeting a group of remarkable women recognised for their achievements at the 2021 Arab Women Awards, UAE Edition.
Their achievements have not only served their respective field, such as medicine, business, art, fashion, or finance, but rather benefitted the country as a whole. In other words, their achievements are directly linked to the overall economic prosperity and development of UAE.
Hearing what these women have achieved, and how their experience and expertise benefits women, men and societies, it is clear that the progress evidenced in their respective fields is a fundamental pillar of human development. And human development is in essence about movement in a constructive and positive direction – upwards and forwards. In many ways, it is about "Connecting Minds, Creating the Future", which also is the very theme of the 2021 Expo in Dubai.
And UN Women is proud to partner with the Expo to bring stories of inspiration and dedication such as demonstrated by the winners of the Arab Women Awards 2021 to the Expo visitors. Indeed, the winner of the AWA 2021 Inspirational Woman of the Year Award, H.E. Reem Al Hashimy, Minister of State and Managing Director for Dubai Expo, embodies this spirit of leadership and dedication to achieve success.
Caroline Faraj, Vice President of CNN Arabic and who was recognised for her achievements in the AWA 2021 Media category, is another incredible example of a woman from the Arab region succeeding at the highest levels, in what often continues to be a male-dominated industry and – more importantly – a male-dominated position due to its seniority.
In January, CNN Arabic will mark 20 years of sharing the stories of the region with the world. More than ever before, the Arab States region is demonstrating its rich diversity of stories to showcase the crucial role of women in shaping both our world and our future.
Speaking of the world stage, I am personally delighted by the appointment of Sima Sami Bahous as UN Women's Executive Director. Sima was last month appointed to a four-year term by the UN Secretary-General, becoming one of very few UN chiefs from the Arab States region.
This speaks to the extraordinary strength of women from the Arab States, and the deep experiences and capabilities we hold. Sima Sami Bahous, for example, joins UN Women after serving as Jordan's Permanent Representative to the United Nations in New York, and prior to that, in some of the highest senior leadership roles in the United Nations, the League of Arab States, and the Government of Jordan.
Source: Harpersbazaararabia
https://www.harpersbazaararabia.com/hbanews/susanne-mikhail-eldhagen
-----------
Grant to help Saudi Arabian women learn to become entrepreneurs
BY: TOM SNEE
2021.11.11
Saudi Arabian women will learn how to become entrepreneurs with the help of an educational program from the Tippie College of Business that will also connect them with mentors throughout the state.
The college's Institute for International Business (IIB) has received a $123,000 State Department grant through the U.S. Consulate in Jeddah, Saudi Arabia, to provide entrepreneurial education to women in the western part of Saudi Arabia.
The women will participate in Venture School International, an entrepreneurial educational program that guides students through the startup process by teaching them how to identify a market need and build a business to meet it. The university is partnering with the nonprofit Education for Employment (EFE) to teach the Venture School International training, which will be complemented by contacts with local financing organizations, government officials, and business support services.
Iowa women entrepreneurs also will work with the Saudi women as mentors, providing support and encouragement while serving as role models. The mentors will be recruited from the institute's existing networks of women entrepreneurs in Iowa.
Source: Uiowa.Edu
https://now.uiowa.edu/2021/11/grant-help-saudi-arabian-women-learn-become-entrepreneurs
-----------
Afghanistan's women's soccer team played a game again after escaping from the Taliban regime
By Kim Diaz
November 11, 2021
After escaping from the Taliban regime, the players of the Afghanistan national soccer team they played a game again after two months. It was in Qatar, in the Khalifa International Stadium which will host the 2022 World Cup, in a friendly with the local team played this Wednesday, which won 5-0, but the result was anecdotal on a day of great emotion that surpassed the sports field.
Since the Taliban regime regained control of Afghanistan in August, many of its inhabitants have sought to emigrate to other countries. Qatar facilitated evacuation of 70 thousand people from Kabul, including the members of the women's soccer team, who have temporary residence in that country.
Due to the situation in their country, the Afghan players went two months without playing. For all that they lived to be able to leave Afghanistan and for having the chance to enjoy the game they love so much, it was a double joy. With mixed feelings for those who remained in their country, but with the joy of stepping back onto a playing field after so long.
At the time, the former captain of the Afghan national team, Khalida Popal, came to ask her colleagues to burn their shirts and flee the country. He remained in the national team until 2011 and also focused on coordinating the team as Director of the Afghanistan Soccer Association. That year he had to flee the country due to death threats.
The Afghan national team was created in 2007 and has always been in the spotlight. Popal also advised the players to delete their posts and photos with the team on social media to avoid retaliation. "The last few days have been very stressful, but today we have achieved an important victory," he said after achieving the exodus of soccer players from the national team along with team members and family members on a flight from Kabul.
Sport is often key to helping its protagonists and in this case the Afghan team feels they have a new opportunity. Each cut, each closure, a shot, goal, or whatever, will have an added value for them.
At the end of October it was known that the volleyball player, Mahjab Judge, was beheaded by the Taliban, according to the Italian Volleyball Federation in a statement posted on Facebook. Mahjabin, played for the Kabul Township Volleyball Club, but failed to escape Afghanistan in recent months.
Source: The News Trace
https://thenewstrace.com/afghanistans-womens-soccer-team-played-a-game-again-after-escaping-from-the-taliban-regime/201925/
-----------
Ramiz Raja hints at women's PSL for Pakistan in the near-future
Danyal Rasool
10-Nov-2021
PCB chairman Ramiz Raja hinted at the possibility of organising a women's Pakistan Super League in the near-future. While he is yet to provide any firm plans around the logistics or timing of the move, Ramiz did say he wanted Pakistan to be the first country in Asia to have a women's T20 league. Alongside the proposed women's PSL, Ramiz also spoke of launching an U19 PSL.
Ramiz was speaking after ECB CEO Tom Harrison visited Pakistan earlier this week to try and repair relations following the recriminations of England pulling out of a two-match T20I series last month. The ECB agreed to tack those two games onto next year's five-match T20I series, with Ramiz revealing further plans for deeper engagement were also in the offing.
"We talked about [improving the] pathways to professional cricket. In October next year, we'll launch an U19 PSL. This is very exciting because it's never happened anywhere else. England will send their U19 players, who we'll look after. I also have the women's PSL in my mind. We'll become the first cricket board in Asia to launch that."
This is the first time a PCB chairman has publicly discussed the possibility of a women's T20 league at any level. England and Australia have had women's T20 leagues, while The Hundred earlier this summer also had a women's competition. The only women's franchise-style competition in Asia right now is the Women's T20 Challenge that the BCCI has held alongside the IPL play-offs, although it didn't take place this year.
Since taking over as PCB chairman in September, Ramiz was handed a baptism of fire when New Zealand and England withdrew from their tours, severely denting what was billed as the first complete home season Pakistan has had in over a decade. After initially raging at what he called the "Western bloc", Ramiz has tried to engage boards around the world further to ensure Pakistan hasn't been set back in terms of playing international cricket at home. The tour of the West Indies in December was officially announced last week, while Australia also confirmed their participation in their first full tour to Pakistan since 1998 next year.
Source: Espncricinfo
https://www.espncricinfo.com/story/ramiz-raja-hints-at-women-psl-for-pakistan-in-the-near-future-1288608
-----------
Good news for spouses of H-1B visa holders! US to give automatic work authorisation permits
by Poulomi Ghosh
12-11-2021
The United States has agreed to provide automatic work authorisation permits to the spouses of H-1B visa holders, a decision which will benefit thousands of Indian-American women. The Americal Immigration Lawyers' Association filed a class-action lawsuit on behalf of immigrant spouses in which this settlement has been reached by the Department of Homeland Security, PTI reported.
"This (H-4 visa holders) is a group that always met the regulatory test for automatic extension of EADs (employment authorisation documents), but the agency previously prohibited them from that benefit and forced them to wait for reauthorisation. People were suffering. They were losing their high-paying jobs for absolutely no legitimate reason causing harm to them and US businesses," Jon Wasden from the association said.
"Although this is a giant achievement, the parties' agreement will further result in a massive change in position for the USCIS, which now recognises that L-2 spouses enjoy automatic work authorisation incident to status, meaning these spouses of executive and managers will no longer have to apply for employment authorisation prior to working in the United States," the association said.
Spouses of H-1B and L-2 visa holders will no longer have to apply for work authorisation and need an employment authorisation document as proof in order to work in the United States.
For H-4 spouses who have lawful status and merely need to renew their employment authorisation, they will now enjoy an automatic extension of their authorisation for 180 days after expiration should the agency fail to process their timely-filed applications, the settlement says. Dependents of H-1B visa holders are issued H-4 visas.
The lawsuit sought to remove the bottlenecks in the policies that caused many spouses job loss as it may take two years to process the applications for the spouses.
As Forbes reported, one of the original plaintiffs in the suit was Divya Jayaraj who came to America as an international student and returned as the spouse of an H-1B visa holder. She worked in the health care sector. "Concurrent with her spouse's extension, on August 25, 2020, she filed applications to extend her H-4 status on Form I-539 and EAD on Form I-765," according to the lawsuit which claimed that Divya lost her job "because of agency inaction."
Source: Hindustan Times
https://www.hindustantimes.com/world-news/good-news-for-spouses-of-h-1b-visa-holders-us-to-give-automatic-work-authorisation-permits-101636686711201.html
-----------
Program aims to help women veterans enter world of high tech
By: Maya Rodriguez
Nov 11, 2021
NEW YORK CITY, N.Y. — For U.S. Army veteran Laura Evans, the world of computers wasn't one that she ever pictured herself in.
"I am Latina and my family is from Colombia. I'm a first-generation American," she said. "No one in my family is a software engineer and no one in my family was in the military. So, I've always kind of felt like I've translated my life, throughout my life."
Operation Level Up is run by Galvanize, a technology education company. They help train service members transitioning out of the military and into the world of high tech.
"One thing I try to do for my students is really highlight for them, like what their military experience has done for them and how to leverage that," said Galvanize's Caroline Virani.
Speaking with us at Galvanize's New York City offices, Virani said the company is doing something else, too. They are specifically focusing on women veterans to get them into high-tech jobs.
In the technology sector, women make up only about 28% of the workforce. In the U.S. military, enlisted men far outnumber women, who only make up about 16% of the Armed Forces.
"Women are underrepresented in the tech industry anyways. Women also are less represented in the military," Virani said. "So, we're kind of dealing with both of those things at once."
"To me, it was more building up that confidence as a woman in tech and as a female veteran," Evans said. "You know, veterans are capable of so many things in so many different industries, in so many different facets, that we can't even imagine."
"I kind of did a very, very sharp right turn into a completely different industry," Evans said, "and I haven't looked back since and I've been so happy honestly."
Source: The Denver Channel
https://www.thedenverchannel.com/news/national/program-aims-to-help-women-veterans-enter-world-of-high-tech
------------
URL: https://www.newageislam.com/islam-women-feminism/uk-muslim-zarah-sultana-racist-hate/d/125758
New Age Islam, Islam Online, Islamic Website, African Muslim News, Arab World News, South Asia News, Indian Muslim News, World Muslim News, Women in Islam, Islamic Feminism, Arab Women, Women In Arab, Islamophobia in America, Muslim Women in West, Islam Women and Feminism