New Age Islam News Bureau
18 Aug 2015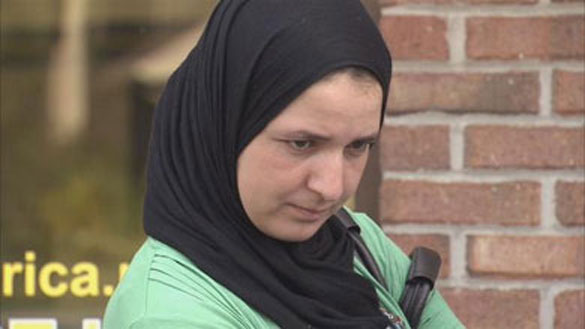 Take off your Hijab or take a hike - that's the message one local woman says she got from an Advance America Cash Advance store
---------
• Muslim Woman Denied Service at Advance America Store
• In Jihad, Girls Find an Outlet to Rebel
• Ahmadiyya Muslim Women Urged To Lead Children into Godliness
• Syrians Risk Lives to Reach Europe 'For Their Children'
• Saudi Ministry Advertises 2,000 New Jobs for Men - And 200 For Women
Compiled by New Age Islam News Bureau
URL: https://newageislam.com/islam-women-feminism/uk-muslim-majority-school-integrate/d/104309
-----------
UK Muslim-Majority School to Integrate Genders, Despite Protests from Parents
17 Aug 2015
A Muslim-majority, non-faith school is to integrate boys' and girls' classes for the first time, after being placed in special measures by Ofsted.
The Crest Academies in Brent, a secular, non-denominational school which has previously taught the genders separately, has faced protests from parents after the head teacher announced plans to teach boys and girls together as part of his bid to turn the failing school around.
A petition against the move drew nearly three-hundred signatures with petitioners listing a number of reasons for rejecting the move, including one who said "I am signing this because my younger sister [will] be attending the school and I do not wish for her to be exposed to the other gender as I am a MUSLIM male who does not approve of this."
He added that the reason she applied to the school was "the segregation" of students by gender.
Many other petitioners objected because the school had a history as two separate institutions, with distinct boys' and girls' school, or over fears that integrating teaching would lead to poorer outcomes for female students.
Another petitioner said "boys and girls should be in separate building" and one warned that parents wouldn't send their children to a mixed school. "Crest has always been segregated and should always be like that," said one complainant.
The petition said that Brent was one of the most "diverse communities in the UK" with a range of cultural and religious "preferences".
An Ofsted inspection in January 2015, which rated the school as inadequate, said: "Boys and girls are separated for teaching, in the playgrounds, at lunchtime and around the Academy. This limits opportunities for them to work together, socialise and learn to get on."
There were also marked differences in attainment between male and female pupils. Ofsted found that "boys' attitudes to learning are not as positive as those of girls" and that girls' "progress in English is better than that found nationally." The inspectors made several criticisms of boys' teaching, and noted that marking was "generally better in girls' books."
The Crest Academies were formed from a merger of the Crest Boys' and Crest Girls' academies, and Ofsted noted that while the minimum standard was met by the former girls' Academy, it was not by the boys' and the combined school did not meet the required standard either.
In spite of the difficulties the school faced, "parental preference rather than educational value" resulted in the continued gender separation in the merged Academy, and Ofsted noted that "this approach does not promote equal opportunities for all."
Inspectors also criticised the "separate teaching of personal, moral and cultural development" which they said "limits opportunities for social interaction and debate between boys and girls". This arrangement was failing to prepare students "fully for life in modern Britain", they reported.
Despite combining the two academies, students were still segregated by gender and taught separately. Headteacher Mohsen Ojja has now initiated reforms and wrote in the TES that he had a "moral duty" to "prepare young people for modern Britain" and that things at the school "had to change" after the sharply critical Ofsted report.
"One year on, we have revisited the decision to educate boys and girls separately, and the start of the new school year will see the emergence of the Crest Academy, offering co-education for the first time."
He added that move had not been "without controversy" and said that parents had been much less supportive than students and staff. The Brent and Kilburn Times reported that there was "anger" from parents over the plans, back in July.
"Running two schools in parallel, split by gender, was tantamount to unhealthy segregation," Mr Ojja said.
"The move to a single, multi-faith, proudly diverse school is the first important step to integration. Moreover, I am the principal of a secular, non-denominational school that has a large majority of Muslim students. This does not make the school a Muslim school where segregation of gender should be pursued."
National Secular Society campaigns manager, Stephen Evans, commented: "It's encouraging to see the headteacher stressing the secular nature of the school and taking a principled stance in the face of unreasonable demands for religiously based gender segregation. Religious considerations shouldn't be placed above the educational needs of pupils, nor should gender segregation be considered acceptable for religious reasons in a state school."
http://www.secularism.org.uk/news/2015/08/muslim-majority-school-to-integrate-genders-despite-protests-from-parents
-----------
Muslim woman denied service at Advance America store
Aug 17, 2015
(WJBK) Take off your hijab or take a hike - that's the message one local woman says she got from an Advance America Cash Advance store.
Remove hats, sunglasses and though the sign doesn't say it, no hijabs are allowed there either.
"The lady she told them just take it off a little bit and put it back," said Fatah Kamal, describing the exchange his wife Nadia had with a clerk. "She said I can't, 'I'm in a public place I cannot do that.'"
Kamal said the incident happened on Wayne Road in Westland Wednesday.
She was denied service because she refused to remove her hijab for both religious and cultural reasons.
"They should show not their hair or like their beauty to someone beside their very close family," Kamal said.
FOX 2 tried talking with the manager at the Westland Advance America location.
"If you want. any questions have to be directed to our public affairs department," he said.
Kamal says he spoke with an employee over the phone who said the hijabs raise safety concerns.
"If it was about safety, a woman couldn't just walk into any old bank in these United States of America wearing a headscarf and get served," said Dawud Walid.
Walid, from the Council of American Islamic Relations, says women can go to banks get their driver's licenses, even their passports while wearing headscarves.
CAIR is part of lawsuit against Advance America for denying service to Muslim Arab-American women. Nadia is not the first.
"This is really about ignorance it's really about fossilized policies and people being stubborn and not coming up to the modern time," Walid said.
Advance America responded with a statement:
"Advance America respects all religious beliefs and serves all customers with dignity and respect. For the safety of our customers and employees, we do have a security policy in place that requires anyone seeking entry in to our centers briefly remove any hoods, hats, sunglasses or other head coverings. It is an important security measure designed to ensure that anyone entering our centers can be easily identified. That policy was being enforced in this particular case. The safety and security of our customers and employees are our primary responsibilities and we take them seriously."
As for Fatah Kamal and his wife Nadia they say they won't go to Advance America again.
http://www.myfoxatlanta.com/story/29802445/muslim-woman-denied-service-at-advance-america-store
-----------
In Jihad, Girls Find an Outlet to Rebel
AUGUST 18, 2015
LONDON — The night before Khadiza Sultana left for Syria, the teenager was dancing in her bedroom.
It was a Monday during the February school vacation. Her niece and close friend, at 13 just three years younger than Khadiza, had come for a sleepover.
The scene in her bedroom saved on the niece's cell phone on Feb. 16 and replayed dozens of times since by Khadiza's relatives, shows the girl they thought they knew: joyful, sociable, funny, and kind.
It was also the carefully choreographed goodbye of a determined and exceptionally bright teenager who had spent months methodically planning to leave her childhood home in Bethnal Green, East London, with two schoolmates and follow the path of another friend who had already travelled to the territory controlled by the Islamic State.
About 4,000 Westerners — more than 550 of them women and girls — have traveled to Syria and Iraq to join the Islamic State, according to a recent report by the Institute for Strategic Dialogue, which helps manage a database of female travellers to the region.
On the day she left for Syria, Khadiza got up early. She told her mother that she was going to school to pick up some workbooks and spend the day in the library. She promised to return by 4:30 p.m.
When she had not come back by 5:30, her mother asked her oldest sister, Halima Khanom, to message her, but there was no reply. Khanom went to the school, but the staff said no student had come in that day.
Her mother checked Khadiza's wardrobe and found that besides some strategically arranged items it was empty.
Early the next morning, the family reported her missing. An hour later, three officers from the counterterrorism squad of the Metropolitan Police knocked on the door. "We believe your daughter has travelled to Turkey with two of her friends," one said.
The next time the family saw her was on the news: Grainy security camera footage showed Khadiza and her two 15-year-old friends, Shamima Begum and Amira Abase, calmly passing through security at Gatwick Airport for Turkish Airlines Flight 1966 to Istanbul and later boarding a bus to Syria.
These images turned the three Bethnal Green girls, as they have become known, into the face of a new, troubling phenomenon: young women attracted to what some experts are calling a jihadi, girl-power subculture.
The Western men who join the Islamic State tend to become fighters. Barred from combat, the women support the group's state-building efforts as wives, mothers, recruiters, and sometimes online cheerleaders of violence.
Security officials now say they may present as much of a threat to the West as the men; less likely to be killed and more likely to lose a spouse in combat, they may try to return home, indoctrinated and embittered. But if women are a strategic asset for the Islamic State, they are hardly ever considered in most aspects of Western counterterrorism.
The Bethnal Green girls were praised by teachers and admired by fellow students at Bethnal Green Academy. Khadiza had been praised as one of the most promising students in her year, according to a letter her mother received only weeks before she left.
Perhaps that is why everyone failed to respond to the many signs that foreshadowed their dark turn. The families, who noticed the girls' behaviour changing, attributed it to teenage whims; school staff members, who saw their homework deteriorate, failed to inform the parents or intervene; the police, who spoke to the girls twice about their friend who had travelled to Syria, also never notified the parents.
They were smart, popular girls from a world in which teenage rebellion is expressed through a radical religiosity that questions everything around them. In this world, Islam is punk rock.
Ask young Muslim women in their neighbourhood what kind of guys is popular at school these days and they rave about "the brothers who pray."
"Girls used to want someone who is good-looking; nowadays, girls want Muslims who are practicing," said Zahra Qadir, 22, who does deradicalisation work for the Active Change Foundation.
https://www.bostonglobe.com/news/world/2015/08/17/jihad-and-girl-power-how-islamic-state-lured-london-teenagers/Ug8YcE50cVpsk3OcJhz8vJ/story.html
-----------
Ahmadiyya Muslim Women Urged To Lead Children into Godliness
August 17, 2015
Alhaj Maulvi Noor Muhammed Bin, Ameer and Missionary In-Charge of the Ahmadiyya Muslim, has called on women to inculcate into their children good and sound moral principles.
He said mothers are the managers of the home and this places a huge responsibility on them, adding that with such a responsibility they could imbibe in them the essential elements of truth, honesty, sincerity and above all, the fear of God.
Maulvi Muhammed Bin was speaking at the 36th national Annual Convention of the Ayhadiyya Muslim Women's Association-Ghana in Takoradi.
The Convention was on the theme: "Building a Peaceful Society: The Contribution of the Muslim Woman."
The Ameer and Missionary leader said despite the many resources of Ghana peace continues to elude the nation because of the wrong attitude and behaviour of some selfish, corrupt and involuntary individuals who place materialism above all else, to the neglect of their fellow human beings.
Maulvi Muhammed Bin said women as foundation layers must strive to lay good and sound spiritual, moral and ethical grounds for their children to save the society from its social crises.
Mr Paul Evans Aidoo, Western Regional Minister, said women have the fundamental role in ensuring a peaceful society adding: "You are the first teacher and best role model for your children."
He urged them to support their husbands in educating their children saying, "Give me a good mother and I will give you a good nation". GNA
http://vibeghana.com/2015/08/17/muslim-women-urged-to-lead-children-into-godliness/
-----------
Syrians risk lives to reach Europe 'for their children'
August 18, 2015
Serene ASSIR - Five nights ago, Nada and her children braved a perilous journey in an inflatable dinghy to the Greek island of Kos less than a month after fleeing the devastated Syrian city of Aleppo.
"Had it not been for the girls, I would have never taken that boat," said Nada as she watched her three daughters - all under nine - play on the beach of the resort island.
"We risked everything so they can have a future," she said.
Nada's family are among more than 135,000 people fleeing war and poverty who have arrived in Greece by sea this year, in an unprecedented influx that Europe is struggling to deal with.
The shambolic response of the Greek authorities on Kos has become grimly symbolic of the European Union's lack of action in the face of the humanitarian crisis, with pitiful scenes last week as thousands of migrants were gathered by police in a sports stadium on the island without enough food or water.
Nada and her husband not happy about sleeping in a tent while they prepare to go to Athens and onward to northern Europe, but they are glad their girls have escaped war-ravaged Syria.
"They still cry and scream in fear every time they hear a loud noise, thinking it could be shelling," said Nada, who wore a pink T-shirt and a lilac-coloured veil.
"But they've got their laughter back, and they're playing again.
At least the war and bombings are behind us now," she added.
Her shy, brown-haired daughter Nisreen says she wants to be a doctor when she grows up.
Vian, who is a little more talkative, wants to learn ballet.
"I want their dreams to come true.
In Syria, they never would have," said Nada, who is 33.
A child's nightmares
For now, however, Vian only remembers her nightmares.
"I dreamt one night, when we were still in Aleppo, that the army came into the house and kidnapped us," said Vian, who is eight years old.
"I haven't had any dreams since then," the child added.
It will take a long time for children like Vian and her sisters to find any real sense of stability and normality again, says international charity Save the Children.
"Children are very resilient and with the right care they can bounce back," Save the Children spokeswoman Sarah Tyler told AFP.
"But it could be months before (they) see a change for the better," Tyler added.
Many of the children fleeing Syria have been out of school for several years.
Many have started acting older than they really are to support their struggling parents, losing out on their childhood.
"Children need a sense of normalcy now," Tyler said, explaining that they need safe places to play and schools to go to.
"They also need psychosocial support to feel normal again," she added, warning that some children have become aggressive while others simply have no way to communicate their feelings.
But with their families still on the move and amid a dearth of government assistance in Greece, migrant and refugee children have only received a few toys, colouring books and pencils handed out by a handful of kind tourists and locals.
'War is in their blood'
Nisreen, 34, who also came to Kos from Aleppo through Turkey with her husband and her two children, said the war has had a huge psychological impact on her little boys.
"The war is in their blood now.
They have become savages," said Nisreen, who wears her light brown hair short.
"I came to Europe for them.
I had to get them out of Syria, the war was destroying them.
They are only four and six, but all they want to play is war games," she said, adding that they fight each other with spoons and pencils, mimicking the sounds of gunfire and explosions.
"They are very aggressive and difficult.
And whenever they don't hear shelling, they ask me 'Mama, why is there no shelling?'" All Nisreen wants now is "stability".
"We haven't been able to sleep properly for three years, since the war came to Aleppo.
I want my children to be able to relax, play and go to school like all children should," she said.
"I need to feel safe too, so I can give them what they need.
For now, they cry themselves to sleep most of the time," she added.
The UN refugee agency says half of the four million people who have fled Syria's war are minors.
"These are the most vulnerable because they are the most sensitive, and they have to receive the appropriate protection," UNHCR spokeswoman Stella Nanou told AFP.
No one knows how many of those arriving in Greece are children, but many are.
And every night more arrive.
–AFP
http://nation.com.pk/international/18-Aug-2015/syrians-risk-lives-to-reach-europe-for-their-children
-----------
Saudi ministry advertises 2,000 new jobs for men - and 200 for women
17 August 2015
Saudi Arabia is advertising a batch of over 2,500 new civil service jobs, fewer than 10 percent of which are allocated to women, even though more women than men in the kingdom complete higher education.
The positions were posted on the Civil Service Ministry website on Monday, and are divided into seven levels.
Of a total 2,586 positions available, 218 have been allocated to women. For the top-level positions, or Level 9, 141 jobs were advertised; none were made available to women.
The jobs were advertised a day after a landmark report found a huge jump in unemployment figures in the Arab world, especially among women.
The Arab Monetary Fund, a UAE-based department of the Arab League focused on improving fiscal cooperation in the region, found that female youth unemployment in the Middle East stands at over 43 percent, compared with an international average of 12.7 percent.
Overall unemployment among women in Saudi Arabia stood at 33.2 percent in 2013, the most recent year for which figures are available.
A report published by the Group of 20 organization of leading economies last year found that "the current level of participation [of women in the Saudi workforce] points to a large reservoir of underutilised human resource".
"A key goal of the Ministry of Labour is to increase female participation in the labour force, and there are several programmes running to address this," the report found.
Government programmes such as subsidising childcare and transportation, in the only country in the world that bans women from driving, have increased women's participation in the workplace.
However, the report found that women's participation was increasing "at a rate higher than the availability of jobs for females".
While fewer men than women in Saudi Arabia complete higher education, strict gender segregation of public space means that many jobs are not open to female graduates.
Most female workers in Saudi Arabia are teachers, although legal changes recently opened up new professional avenues for women, including law, interior design and computer engineering.
http://www.middleeasteye.net/news/saudi-arabian-ministry-advertises-2000-new-jobs-men-and-200-women-272728431
-----------
URL: https://newageislam.com/islam-women-feminism/uk-muslim-majority-school-integrate/d/104309