New Age Islam News Bureau
29 November 2020
• UK Medical Clinics Are Selling Controversial 'Virginity Tests'
• Thousands Rally Against Abortion Ban In Poland On Women's Vote Anniversary
• 'He Promised To Marry Me, Got Me Pregnant': Woman Accuses Pakistan Cricket Captain Of Sexual Abuse
• Columnist Saira Khan says, Just Because I'm In My Underwear Doesn't Mean Men Can Harass Me Online
• Ethiopia's Yehualaw Runs Second Fastest Women's Half Marathon At ADHM
Compiled By New Age Islam News Bureau
URL: https://www.newageislam.com/islam-women-feminism/uk-medical-clinics-selling-controversial/d/123606
-------
UK Medical Clinics Are Selling Controversial 'Virginity Tests'
Grace Dean
Nov 28, 2020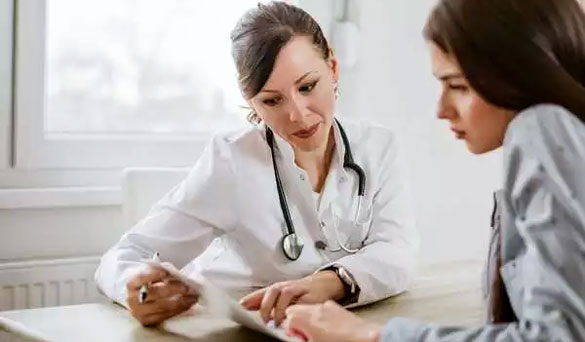 A woman at a medical clinic (posed by model).Shutterstock
-------
At least seven medical clinics in the UK sell controversial "virginity tests," an investigation by BBC Newsbeat and 100 Women has found.
During the test, a practitioner examines the woman's vagina to see if her hymen is intact and determine whether she has had vaginal intercourse.
The tests are legal in the UK, but both the World Health Organisation (WHO) and the United Nations are fighting for them to be banned, saying they violate human rights.
It is not possible to find whether a woman has had intercourse by looking at her hymen, the WHO says. The tests can harm women's mental and physical health, it added.
The BBC found 21 private clinics offering "virginity repair" services. When the BBC inquired, seven confirmed they offered "virginity testing." This was priced at between £150 and £300 (R3,000 to R6,000).
In many cases, women are forced to take the tests, the WHO says. This can be by parents, employers, or potential partners. "Proof of virginity" is sometimes required for marriage. In some cultures, the concept of virginity determines a woman's virtue, honour, and social value, according to the WHO.
The tests are traditionally carried out by either inspecting the hymen for tears or its size of opening, or inserting fingers into the vagina. But there is no evidence that either method can prove whether a woman or girl has had vaginal intercourse, the medical body adds.
In some circumstances, "failing" the test is seen to bring dishonour and shame to their family and community. It can result in punishment, including being beaten, starved, sexually assaulted, banished from their community, or even murdered as a so-called "honour killing."
The WHO recommends that virginity tests aren't performed under any circumstances, and urges governments to enact and enforce laws that ban the practice.
If legislation passes, medical professionals who issue a virginity certificate could face a year in prison and a €15,000 (R270,000) fine.
Almost one in three French doctors said they have been asked for these certificates, according to France 3 TV news. In France, the certificates are mostly used by Muslim and Roma families to prove virginity before marriage, and most tests are carried out on girls and young women.
But experts are divided on the ban. Some doctors say that women could instead have to turn to illegal tests, or risk punishment from their relatives or partners if they can't prove their virginity.
One gynecologist told the Thomson Reuters Foundation that it will "undoubtedly" promote a black market for certificates from "dubious pharmacies." Experts have also said that punishing doctors wouldn't solve the root of the problem.
The surgery involves using skin to reconstruct the hymen. It usually takes less than an hour and is performed under local anaesthetic.
At least 22 private clinics in the UK, where the practice is legal, offer the surgery, an investigation by The Sunday Times found in January. The operations cost up to £3,000 (R60,000), and sometimes women flew from abroad for the surgery.
The BBC's investigation also found hymen repair kits being sold online. A £104 (R2,000) kit the BBC purchased from Germany contained 60ml of vagina tightening gel, plastic tweezers, a blood capsule, and three sachets "that appear to contain fake blood." The pack didn't contain any instructions on how to use the equipment.
https://www.businessinsider.co.za/uk-clinics-sell-virginity-tests-which-can-traumatize-women-bbc-2020-11
-----------
Thousands Rally Against Abortion Ban In Poland On Women's Vote Anniversary
By Vishal Tiwari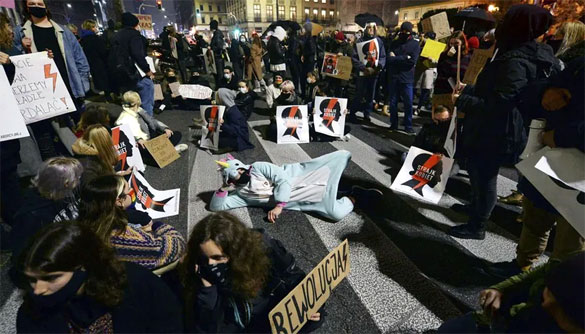 Polish police on Saturday tried to block protests taking place over a constitutional ruling that banned abortion of fetuses even with congenital defects.
------
Polish police on Saturday, November 28 tried to block protests in Warsaw and other cities taking place over a constitutional ruling that banned abortion of fetuses even with congenital defects and with no chance of surviving. Protesters, who claim to be advocating for women's rights, defied the ban on large gatherings imposed due to COVID-19 concerns as they took to the streets across the country demanding government chance. Police used force to disperse demonstrators in several areas in Warsaw, but of no avail, as they continuously moved their protests.
The protests coincided with the 102 anniversary of Polish women gaining voting rights in the country. Protesters at one site renamed a road sign celebrating national independence hero Roman Dmowski to "Women's Rights Roundabout". According to the Associated Press, one of the demonstrators climbed up a ladder and hanged the new sign over the old one reading "Roman Dmowski Roundabout". Police allegedly used tear gas against opposition lawmaker, Barbara Nowacka, who had been preventing peacefully protesting women from being forcefully removed at one of the protest sites.
Poland Constitutional Tribunal, the country's highest court, on October 22 ruled that the existing law allowing women to abort congenital fetuses was unconstitutional, sparking an outcry among the pro-choice activists. Protests have been taking place ever since, with demands ranging from withdrawal of the controversial order to overthrow of the ruling government and to end police violence.
The court order was triggered after lawmakers from the ruling Law and Justice party mounted a legal challenge against the existing law that allowed abortion of malformed fetuses, citing discrimination against unborn babies. The court, which has a majority of judges nominated by the nationalist party, ruled in favour and called the existing law unconstitutional. One should note that Poland already had one of the strictest abortion laws, which was negotiated in 1993 between the government and the Catholic Church at a time when the Vatican had a Polish Pope.
https://www.republicworld.com/world-news/europe/thousands-rally-against-abortion-ban-in-poland-on-womens-vote-anniversary.html
----------
'He Promised To Marry Me, Got Me Pregnant': Woman Accuses Pakistan Cricket Captain Of Sexual Abuse
By Anirudh Singh
NOVEMBER 29, 2020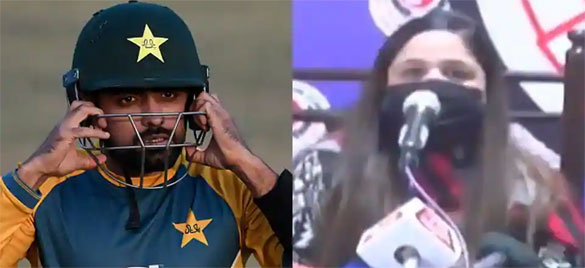 Babar Azam has landed in hot waters.(Getty Images/Screengrab)
-----
Pakistan captain Babar Azam has landed in hot water as a woman has accused him of sexual abuse. In an explosive press conference on Saturday, a woman, who claimed they are school friends, said that she backed Babar during his tough times and also helped him financially.
She further revealed that Babar exploited her for ten years and gave her false marriage hopes while stating the star cricketer got her pregnant and threatened to beat her. A video clip of the woman addressing a press conference was shared by Pakistan journalist Saj Sadiq on social media.
"I have known Babar since the time he had nothing to do with cricket. He was from a poor household. I hope all my brothers and sisters here are going to help me get justice so that no daughter gets to go through what I have. Babar and I have grown up in the same colony, we used to stay together," she added.
"He was my school friend. In 2010, he proposed to me and I accepted his proposal. He in fact proposed to me after coming to my house. As time progressed, our understanding got better. We had planned to get married and informed our families too but they refused," she added.
"Then Babar and I decided to have a court marriage. In 2011, Babar and I eloped and having promised me of marriage, kept me at rented places. During that time, I kept asking him to get married but he said 'we are not in a position to. With time, we will get married'," the women added further.
Babar is currently in New Zealand on a 14-day quarantine period as he will be leading Pakistan in the upcoming series against the hosts. The 26-year-old was appointed as Test captain of his national team earlier this month as he replaced Azhar Ali. Babar is now the captain for Pakistan in all three formats.
https://crickettimes.com/2020/11/he-promised-to-marry-me-got-me-pregnant-woman-accuses-pakistan-captain-babar-azam-of-sexual-abuse/
----------
Columnist Saira Khan says, Just Because I'm In My Underwear Doesn't Mean Men Can Harass Me Online
By Saira Khan
28 NOV 2020
By now you'd think men would understand the meaning of a woman's right to live her life exactly as she chooses.
But I'm afraid that even in 2020 – with the global #metoo movement and the many women's rights activists demanding a fairer, safer, more equal world – we still have a very long way to go.
I only realised how little progress had been made in changing male attitudes when men started leering at me on my social media account.
After being molested as a child, and having a visible skin disorder as well as a c-section scar, I hated everything about my body. But to feel confident and positive at 50 – and after being given some lovely underwear to advertise – I let it all out on social media.
But what has shocked me is the number of men who feel that, just because I'm in my under-wear, they have the right to harass me online.
But here's the really depressing and worrying truth. A study last year revealed 55 per cent of men – and 41 per cent of women – believe women are more likely to be sexually assaulted if they wear revealing clothes.
Noeline Blackwell, of the Dublin Rape Crisis Centre, said: "There is an assumption – not borne out by any evidence – that the way a woman dresses is likely to lead to rape or sexual assault."
So why are women who are comfortable with their bodies seen as a threat? And why is confidence and self-expression a signal for abuse, assault, ridicule and humiliation?
And if seeing my body makes you feel uncomfortable, you need to ask yourself why – and stop getting your knickers in a twist.
https://www.mirror.co.uk/news/uk-news/just-because-im-underwear-doesnt-23084461
-----------
Ethiopia's Yehualaw Runs Second Fastest Women's Half Marathon At ADHM
29 November, 2020
by ANI
New Delhi [India], November 29 (ANI): Ethiopia's Yalemzerf Yehualaw produced a stunning run over in the Airtel Delhi Half Marathon 2020, a World Athletics gold label road race, to clock the second-fastest women's time ever over the distance when she crossed the line in the Indian capital in 64:46.
The 21-year old, who had to settle for third at the World Athletics Half Marathon Championships last month when she slipped around 80 metres from the line, bounced back with aplomb to take the USD 27,000 first prize and an additional USD 10,000 as an event record bonus.
In the men's race, the event record - with the course having been changed from previous years- also fell when Amdework Walelegn outsprinted his Ethiopian compatriot and two-time defending champion Andamlak Belihu to win in 58:53, the latter coming home in 58:54.
A blistering pace from the gun was set in the women's race by the Kenyan male pacemaker Alex Kibarus and several of the elite field were quickly dropped. Six women - three Kenyans: Irene Cheptai, 2019 world marathon champion Ruth Chepngetich and marathon world record holder Brigid Kosgei; and three Ethiopians: two-time defending champion and event record holder Teshay Gemechu, world record holder Ababel Yeshaneh and Yalemzerf Yehualaw - followed Kibarus through 5km in 15:27.
World marathon record holder and recent London Marathon winner Kosgei was forced to drop out midway through the eighth kilometre, holding her leg as she limped to the side of the road. A kilometre later, Gemechu also started to suffer and lost contact with the leaders although she hung on to eventually finish fifth.
Yehualaw won in 64:46 but Chepngetich also ran the race of her life to finish in a personal best of 65:06 and move up to equal-sixth on the world all-time list.
"My training since the world championships told me that maybe I could break the course record as I ran 65:19 there, but this was more than I expected, and I hoped for a win here after just losing by a second a year ago," said Yehualaw in an official release.
In the men's race, three pacemakers took the field through 3km in 8:22 and then 5km in 13:57 - well under 59-minute pace - with Belihu always to the fore. The main pacemaker, Uganda's Abel Sikowo, continued to forge ahead and passed 8km 22:17 and then 10km in 27:50, with eight men still directly in the wake of Sikowo who was doing an admirable job in keeping the tempo high and sub-59 times definitely in sight.
Just after 12km, Sikowo dropped out and Belihu, along with Kenya's Leonard Barsoton, dictated matters at the front for the next two kilometres although, as he was later to admit, this decision might have cost the defending champion dearly in the later stages of the race.
India's 3000 metres steeplechase national record holder, Avinash Sable smashed the event record as well. The Olympic-bound athlete raced to the first position in the Indian elite men's category in 1:00:30, beating the previous national record of 1:03.46 held by Kalidas Nirave. In addition to the prize money of Rs 3.5 lakh, Avinash will also receive an event record bonus of Rs 1 lakh.
"It's great to break the national record. I have not competed in any tournament for a year and I have been only practicing, so I wanted to compete in an event. ADHM has certainly helped me to prepare for the Olympics next year. Coming into the race, I wanted to break the national record and stay as close as possible to the international runners during the race. I am happy I was able to do that," said Sable.
Around 13,500 people from around the world took part in ADHM 2020, across three categories - Half Marathon (21.097 km), Open 10K (10 km) and Great Delhi Run (5 km) - from their own respective locations.
While the Elite runners ran from the Jawaharlal Nehru Stadium, thousands from across the globe joined them via the exclusive ADHM Mobile App.
http://www.businessworld.in/article/Ethiopia-s-Yehualaw-runs-second-fastest-women-s-half-marathon-at-ADHM/29-11-2020-347936/
----------
URL: https://www.newageislam.com/islam-women-feminism/uk-medical-clinics-selling-controversial/d/123606
New Age Islam, Islam Online, Islamic Website, African Muslim News, Arab World News, South Asia News, Indian Muslim News, World Muslim News, Women in Islam, Islamic Feminism, Arab Women, Women In Arab, Islamophobia in America, Muslim Women in West, Islam Women and Feminism