New Age Islam News Bureau
6 Jun 2018
• UK Court Convicts Mastermind of All-Female ISIS Terror Cell
• Belgium Honours Two Policewomen Killed In Jihadist Attack
• First Saudi Women Receive Driving Licences amid Crackdown
• How Will Saudi Authorities Deal With Women Who Commit Serious Traffic Violations?
• Iran: Religious Scholar Calls for Action to Enforce the Mandatory Veil
• Indonesia's Growing Threat from Female Extremists
• Iran: Women Protest Allocation of Admission Quotas for IRGC, Bassij
• Iran: No News On Young Woman Arrested During Uprising In Kermanshah
Compiled by New Age Islam News Bureau
URL: https://www.newageislam.com/islam-women-feminism/uk-imams-face-penalties-unregistered/d/115467
--------
UK Imams may face penalties on unregistered Nikah
Sajid Iqbal
June 02, 2018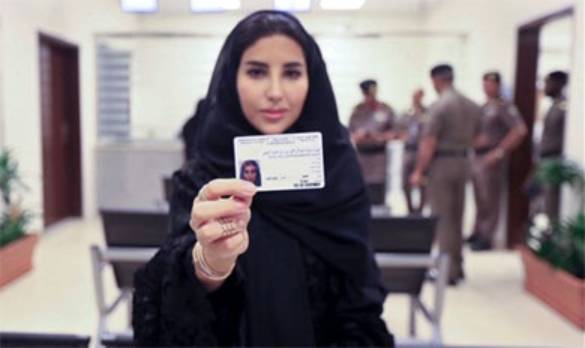 Esraa Albouti displays her new driving licence in Riyadh, Saudi Arabia on Monday, Saudi Information Ministry / AP
-----
LONDON: The UK government is working on an amendment in the Marriage Act to make unregistered Nikah ceremonies a criminal offence.
The Department of Communities and Local Government has already published a green paper to elicit public opinion before sending the draft for legislation. The consultation period on the green is coming to an end on June 5.
According to the green paper, a prayer leader who participates in a Sharia-com­pliant religious ceremony (Nikah) can face prosecution if he does not ensure the couple has already registered their marriage legally beforehand or on the same day of the Nikah with the local registrar office.
Christian and Jewish communities have similar conditions for their weddings.
It followed an Independent Review into the Application of Sharia Law in England and Wales which was ordered by Theresa May as Home Secretary.
The report of independent review published in February 2018 recorded a proposal to do so, by amending the Marriage Act, 1949, so that the celebrant of any marriage such as an imam, would face penalties for failing to ensure that the wedding was civilly registered.
The Independent Review into the Application of Sharia law in England and Wales was carried out by a panel headed by Mona Siddiqui OBE, Professor of Islamic and Interreligious Studies at the Divinity School, University of Edinburgh, while Leeds Makkah Masjid Imam Qari Muhammad Asim MBE and Shia scholar Imam Sayed Ali Abbas Razawi were among other members.
The main purpose of the proposed amendment is to ensure that Muslim women can apply for a divorce to British courts instead of relying on the Sharia councils, many of them run by mosques and Islamic centres.
Statistics in the report suggest that a large number of Muslims living in the UK have not been legally married as their unions have not been registered. According to the report, 100,000 Muslim women who have had their Nikah in Islamic ceremonies have not registered their marriages, depriving them their right to get divorce from the normal family courts.
It was earlier observed in an integration report by former civil servant Dame Louise Casey that the Sharia councils were being used to marginalise Muslim women, particularly in Pakistani and Bangladeshi communities.
Although the government is proposing the amendment in marriage act to protect rights of Muslim women, it is seen as a measure to have far-reaching implications. Currently, a number of Muslims from Pakistani and Bangladeshi background are getting married in religious ceremonies supervised by imams of local mosques and Islamic centres who, in some cases, supervise Nikahs without checking the immigration status of the couple. This enables them to apply for spouse visa here in the UK without going back to their respective countries which is a requirement for obtaining such a visa. Their presence in the country enables them to appeal against any adverse decision on the ground of human rights, frustrating the efforts of the immigration enforcement officials to deport illegal immigrants.
Dr Iqtidar Karamat Cheema, director at Birmingham-based Institute of Leadership and Community Development, welcomed the government initiative.
"It is concerning that majority of Muslim women in the UK who have had a traditional Muslim wedding ceremony Nikah do not go for a civil marriage registration. Hence their marriages are not recognised legally. If the marriage breaks down, women have no entitlement to spousal rights, including division of assets, such as the family home and spouse pension", Dr Iqtidar Cheema told Dawn.
"In order to safeguard women's right which has been granted by the Quran and by Prophet Muhammad himself, it is important that Muslim couples should undergo a civil marriage as well as a religious ceremony to give women protection under the British law," he added.
The independent review had also recommended establishment of an official body to kick-start self-regulation by the Sharia councils but the Home Office rejected this recommendation fearing such a move might undermine British law.
"Sharia law has no jurisdiction in the UK and we would not facilitate or endorse regulation, which could present councils as an alternative to UK laws", a Home Office spokesman said when the Independent Review was published.
"In Britain, we have a long tradition of freedom of worship and religious tolerance, where many people of different faiths follow religious codes and practices and benefit from their guidance. The government has no intention of changing this position," he said.
https://www.dawn.com/news/1411495
--------
UK Court Convicts Mastermind of All-Female ISIS Terror Cell
June 5, 2018
A UK court has convicted an 18-year-old female Islamist of plotting a terrorist attack in London. Safaa Boular, a member of an all-women Islamist terror cell, was found guilty of plotting suicide attacks on country's foreign intelligence service MI6 and the British Museum.
The court sentence made Boular the youngest female to be charged with a terror offense in the UK. According to UK media reports, she was planning to 'wear a suicide belt' during the attack. Her mother and elder sister have also been charged for their involvement in the plot. All three now face 'lengthy jail sentences' for their role in ISIS terror plot, UK newspaper Daily Mail disclosed.
The girl initially planned to become an ISIS 'jihad bride' and tried to leave for Syria. The UK immigration authorities barred her from leaving the country following an airport security check in August 2016. Undeterred by the setback, she began scouting for potential targets on British soil.
UK newspaper The Independent covered the court proceedings leading up to the Monday's conviction:
An 18-year-old woman has been found guilty of plotting a terrorist attack in London as part of the UK's first known all-women Isis cell.
Safaa Boular, who planned a grenade and gun attack on the British Museum, became the country's youngest convicted female terror plotter.(…)
Safaa Boular enlisted her sister, fellow Isis supporter Rizlaine Boular, 22, after Safaa was remanded in custody over an attempt to travel to Syria. Their mother, Mina Dich, 44, was also involved in discussions.
Both the 22-year-old and the 44-year-old from Vauxhall, south London, pleaded guilty to preparing acts of terrorism and will be sentenced at a later date. (…)
The senior national coordinator for counter terrorism said the case demonstrated a worrying rise in youngsters being arrested for terrorism.
"This was, without doubt, a major investigation, a proactive investigation. This involved a family with murderous intent, the first all-female terrorist plot in the UK connected to Daesh.
"It's difficult to say if we will see more females. We have seen young children involved in martyrdom attacks. We have seen Daesh using young children.
This may be the first all-women terror cell in the UK, but ISIS has long been targeting Muslim women as potential fighters in its armed jihad against the West.
According to the German intelligence agency BfV, the ISIS has been calling on Muslim women to 'take part in direct military operations.' The April 2018 report explained the tactical necessity behind the call and its underlying Islamic theology:
Initially, the ISIS ensured more or less a strict division between men and women when it come to the assignment of tasks. This was in accordance with the general understanding of the traditional Islamic law [Sharia]. Women could thus take on supportive functions in the administration and the military, or in the areas of internal security, such as police brigades. They, however, were not allowed to participate in combat operations. In recent months, ISIS has changed its Jihadi narrative and has been urging women to join the jihad. In doing so, they are hearkening back to the times of the Prophet Mohammad, when women similarly took part in the jihad. [Translation by the author]
In December 2017, security forces busted an all-women Islamist network in the northwestern German state of North Rhine-Westphalia. The 40-women jihadi network was aiming "to fill the gap left by their detained husbands," German public broadcaster Deutsche Welle revealed. The gap in the Islamist leadership had emerged after many leading Muslim radicals left to country to join the ISIS in Syria or went underground fearing a crackdown by German authorities.
Returning ISIS war criminals and unregulated migration from Muslim countries already pose a serious challenge to Europe's security. Of the 850 UK nationals who had traveled to the Middle East to join the ISIS, around 360 have returned, according to UK officials. Across Europe, the figure of ISIS returnees could be well over 1,500. Round-the-clock surveillance of these ticking time-bombs alone will tie down enormous counter-terrorism resources. Introduction of female Islamist networks to this equation will apparently make this already dangerous situation even more perilous.
https://legalinsurrection.com/2018/06/uk-court-convicts-mastermind-of-all-female-isis-terror-cell/
--------
Belgium honours two policewomen killed in jihadist attack
05.06.2018
Belgium on Tuesday paid a final tribute to two policewomen murdered in a jihadist attack in the eastern city of Liège that was claimed by the Islamic State group.
The brazen shooting a week ago shocked the nation and raised the spectre of a fresh wave of attacks two years after twin suicide bombings killed 32 people in Brussels.
Several hundred police officers from all over the country took part in the sombre tribute, following the flower-strewn hearses of Lucile Garcia, 54, and Soraya Belkacemi, 44.
"We are a police force, every time we lose an officer it's like losing a family member," retired police officer Jean-Claude Bertrand told AFP.
"The only thing we can do is to be there for each other."
Officers stood to attention as the hearses passed. Some had covered their orange armbands with a black mourning band.
Alongside Belgian Prime Minister Charles Michel stood several ministers and a representative of King Philippe.
On Monday, several hundred people turned out for the funeral of student Cyril Vangriecken, attacker Benjamin Herman's third victim.
Friends and family of the 22-year-old walked behind the hearse dressed in white through the streets of Vottem near Liege ahead of the funeral, also attended by Michel.
The funerals follow a procession Sunday of nearly 3,000 people who marched to the scene of the attack and laid white roses in memory of the three victims.
Herman carried out his rampage on May 29, repeatedly stabbing Garcia and Belkacemi with a knife before taking their service pistols and shooting them.
He then killed Vangriecken who sat in the passenger seat of a parked car.
The attacker holed up in a nearby school, briefly taking a cleaner hostage before bursting out to confront police and being killed in a hail of bullets.
Belgian police who are treating the murders as a terrorist attack have identified Herman as a drifter who spent a decade in and out of prison for acts of violence and petty crimes.
The Islamic State group claimed one of its "soldiers" was responsible for the latest attack, through its Amaq propaganda agency.
IS said "he led the attack in response to calls to target the countries of the US-led international coalition," which is fighting the jihadist group, mainly in Syria.
Prosecutors confirmed that Herman's method of assault was a known "modus operandi" of IS, which also claimed the deadly attacks in Brussels in 2016.
Amateur footage obtained by AFP showed the gunman shouting "Allahu akbar" (Arabic for "God is greatest") as he walked through the streets during the rampage.
https://www.journalducameroun.com/en/belgium-honours-two-policewomen-killed-in-jihadist-attack/
--------
First Saudi women receive driving licences amid crackdown
06.06.2018
Saudi Arabia on Monday issued the first driving licences to 10 women as the kingdom prepares to lift the world's only ban on women driving in three weeks, but the surprise move comes as a number of women who'd campaigned for the right to drive are under arrest and facing charges related to their activism.
A government statement said the 10 women who were issued licences already held driving licences from other countries, including the U.S., U.K., Lebanon and Canada. They took a brief driving test and eye exam before being issued the licences at the General Department of Traffic in the capital, Riyadh. International media were not present for the event.
Other women across the country have been preparing for the right to drive on 24 June by taking driving courses on female-only college campuses. Some are even training to become drivers for ride-hailing companies like Uber.
Saudi women had long complained of having to hire costly male drivers, use taxis or rely on male relatives to get to work and run errands.
The surprise move to issue some women licences early comes as four iconic Saudi women's rights activists who'd campaigned for the right to drive remain under arrest, facing possible trial. Saudi Arabia's prosecutor said on Sunday that 17 people had been detained in recent weeks on suspicion of trying to undermine security and stability, a case activists said targeted prominent women's rights campaigners.
The prosecutor's statement said eight have been temporarily released, while five men and four women remain under arrest. Among the women held since 15 May are Loujain al-Hathloul, Aziza al-Yousef and Eman al-Nafjan, according to people with knowledge of the arrests who've spoken to journalists on condition of anonymity for fear of repercussions.
The three are among the most outspoken and well-known women's rights activists in Saudi Arabia. They not only risked arrest by pushing for the right to drive for years, but also called for an end to guardianship laws that give male relatives final say over a woman marrying or travelling abroad. Their activism was seen as part of a larger democratic and civil rights push in the kingdom.
They now face a range of charges, including communicating with people and organisations hostile to the kingdom and providing financial and moral support to hostile elements abroad. State-linked media have referred to the group as "foreign embassy agents" and branded them traitors.
Three other well-known women's rights activists were briefly detained at the onset of the sweep. They were longtime advocates of women's rights who took part in the first protest in 1990 against the kingdom's ban on women driving.
Nearly 50 women took part in that first driving protest some 28 years ago. The women were arrested, lost their jobs, had their passports confiscated for a year and faced severe stigmatisation.
Others were detained over the years during various efforts by women's rights activists to drive. While Saudi law has never explicitly banned women from driving, women were not issued driving licences. Often, police would detain a female driver until a male relative could pick her up and sign a pledge on her behalf that she would not drive again.
Ultraconservatives viewed women driving as immoral and warned women would be subject to sexual harassment if they drove. Just four years ago, the country's top cleric, Grand Mufti Abdulaziz Al Sheikh, said barring women from driving "was in the best interest of society" because it protected them from having to deal with an accident.
But the kingdom faces steep economic challenges and a burgeoning young population that has access to the world through the Internet and sees women in neighbouring Muslim countries driving freely.
To boost the economy and ease international criticism, Saudi Arabia's 32-year-old Crown Prince Mohammed bin Salman has been promoting changes, like the decision to allow women to drive, all while risking backlash from clerics and others who adhere to the ultraconservative Wahhabist interpretation of Islam.
The prince has also attempted to appeal to young Saudis by opening the country to more entertainment, allowing music concerts and bringing the first commercial movie theater to Saudi Arabia this year.
However, rights groups say the arrest of activists by the crown prince's security forces are an attempt to silence dissent as women prepare to drive for the first time and may be a way to freeze any calls for greater reforms.
The spokesperson for the UN High Commissioner for Human Rights, Liz Throssell, has described the crackdown as "perplexing."
"If, as it appears, their detention is related solely to their work as human rights defenders and activists on women's issues, they should be released immediately," she said. (AP)
http://en.qantara.de/content/first-saudi-women-receive-driving-licences-amid-crackdown
--------
How will Saudi authorities deal with women who commit serious traffic violations?
6 June 2018
Saudi women who commit traffic violations which require detention by law will be detained at the Girls Welfare Institution until the suitable facilities are finalized.
The decision was made by the Saudi cabinet on Tuesday during a session chaired by King Salman.
The Girls Welfare Institution is a social institution affiliated with the Ministry of Labor and Social Development and shelters girls and takes care of them and provides social guidance.
https://english.alarabiya.net/en/variety/2018/06/06/How-will-Saudi-authorities-deal-with-women-who-commit-serious-traffic-violations-.html
--------
Iran: Religious scholar calls for action to enforce the mandatory veil
06 June 2018
One of the clerical regime's religious scholars urged the government to take action and "lead the way to solve the problem of Hijab."
Nasser Makarem Shirazi who was speaking to a Ramadan gathering in one of the seminaries in the Holy City of Qom said, "We must note that Hijab is a law; all the laws are obligatory, and people are obliged to follow them."
Makarem Shirazi added, "Those who say that there is no way to prevent (removing of) the veil are outright wrong. No doubt if the government does not remain indifferent, the issue of Hijab will be resolved."
Stressing on the need for women to wear the veil, he reiterated, "The government must take the lead to resolve the issue of Hijab... The first step the government should take is to set observation of the Islamic veil as a condition for employment of women in government offices." (The state-run Mehr news agency - June 4, 2018)
https://women.ncr-iran.org/iran-women-news/5232-iran-religious-scholar-calls-for-action-to-enforce-the-mandatory-veil
--------
Indonesia's growing threat from female extremists
June 6, 2018
It started with what Siti thought was a chance meeting in the street in 2006 as she was returning to her boarding house after long day studying at Bandung University.
The student was thinking about an essay she was supposed to write when she was approached by a teenage girl who asked her if she knew of a good place to rent a room.
"There was a spare room at my boarding house. So I took back to where I was staying," the now 33-year-old Siti told ucanews.com.
Strangely, she refused to see the boarding house owner. Instead, she said she just wanted to talk to Siti first in her room.
When she saw my Quran on a prayer rug she offered me help in understanding it better.
"It was something I was eager to learn more about, so I accepted," Siti said.
The next day, the girl returned with a woman who told Siti to read some Quran verses and then visit her the following day.
Siti did so, but thought it odd the woman's room was bare. All it contained were some rugs and a whiteboard.
What came next startled her, she said.
The woman started with idle chit-chat, then the conversation started getting more sinister, Siti recalled.
She suddenly said killing a kafir (an infidel) was allowed, as was jihad, because they were part of the mission in creating an Islamic state. She also asked her to pay a sum of money and take a baiat, or an oath of allegiance to the Islamic cause.
"I felt like I had been set up," she said, adding she made her excuses, left and never went back.
"I have no doubts they were trying to recruit me," Siti said.
Siti said she was lucky not to have fallen under the spell of militants, but an increasing number of women are doing so and engaging in terrorist activities, according to police.
Two housewives were amongst the two families responsible for the suicide bombings at three churches and the police headquarters in Surabaya on May 13 and 14, which left at least 27 dead.
Another housewife died along with her husband and son in a premature bomb blast at an apartment block that same weekend, also in Surabaya.
On May 12, two women were arrested near a police detention facility in Depok, West Java, for allegedly planning to stab a policeman with scissors.
In 2016, eight women were arrested on terrorism charges, including Dian Yulia Novi who volunteered to blow herself up at the presidential palace in Jakarta.
A 2017 report by the Institute for Policy Analysis of Conflict (IPAC) said the 2016 arrests showed Indonesian women want a more active role in violent extremism.
The report linked this to the rise of the so-called Islamic State in Iraq and in Syria and the appeal of a caliphate as a "pure" Islamic state, but also the influence of social media.
"Women have evolved from being ustazah (female preachers), couriers and fundraisers in supporting the IS movement to more active roles," IPAC director Sidney Jones told ucanews.com.
"Following the emergence of social media and radical sites, women become more radical — because they could remain anonymous — in online discussions. They could challenge men's reasoning, which can't be done in an ordinary Islamic learning forum," she said.
"After the establishment of IS in Iraq and in Syria, it intentionally recruited women and their families. Women could become propagandists even though they were initially banned from being combatants," she said, adding that women would arouse less suspicion.
However, according to the Center for Strategic and International Studies (CSIS) the transition of Indonesian women into becoming combatants began in 2009 when Mujahidin Indonesia Timur (MIT), a terrorist group operating out of Poso in Central Sulawesi, recruited and trained-up three women for combat due to a lack of recruits.
Irfan Idris, director of the National Counterterrorism Agency's deradicalization program, says many people, particularly young women, have fallen victim to brainwashing.
"Once influenced, it's easy for them to be recruited," he said.
Many Indonesian women left for Syria to join the IS.
"Some became combatants, some become cooks, some were forced to marry militants so that they produce jihadists," he said.
Last year, of 230 Indonesians caught trying to cross the Turkish border from Syria after Islamic State suffered a series of defeats, 25 percent were women.
"This is an alarming figure," said Mira Kusumarini, executive director of the Civil Society against Violent Extremism (C-SAVE), a network of civil society organizations working to address extremism in Indonesia.
On their return to Indonesia they went through a one-month-long government rehabilitation program, including religious teachings and psychological therapy.
"The aim was to prepare them to return them to their communities," she said, adding that this has been by and large successful since many of the returnees were left traumatized and disillusioned by their experiences.
Nur, spent nearly two years in the former IS de-facto capital, Raqqa.
"I went to Syria on my own. I was all for a caliphate. But what I found there was completely different. They were unjust, and only killed people," she said.
The horrors witnessed by Nur and others in Syria has made them wiser to what extremism entails, however, those who remained in Indonesia and have not experienced this remain highly vulnerable to the influence of home-grown extremists and the allure of a local caliphate, according to Jones.
"I think women will continue to play an important role in violent extremism in the future," Jones said.
https://www.ucanews.com/news/indonesias-growing-threat-from-female-extremists/82425
--------
Iran: Women protest allocation of admission quotas for IRGC, Bassij
06 June 2018
Participants in the college entrance exams for assistant physicians and dentists, including a large number of young women, held their second day of protests in Tehran, Mashhad, Shiraz, Isfahan and Yazd against allocation of admission quotas to the Revolutionary Guard Corps (IRGC) and its affiliate paramilitary Bassij.
Various groups of women and men participating in the college entrance exam for assistant physicians and dentists gathered outside the School of Medical Sciences in their cities and demanded cancellation of the quotas allocated to government agents.
Only 35 per cent of the admission for assistant physicians and dentists is allocated to ordinary citizens and the rest has been allocated to the IRGC and Bassij.
One of the participants in these gatherings said, "The families of the revolutionary guards killed or maimed in the war have already been allocated over 25 per cent of the admission and if their quota is not filled, the rest would go to other applicants. Now, the parliament has added another 5 per cent to this quota to cover revolutionary guards who have served six months in the fronts or those who have suffered less than 25 per cent disability, thus increasing the 25 per cent quota to 30. In this way, 30 per cent of the seats for the admission test has been denied to the rest of the society and this is an obvious injustice to students."
https://women.ncr-iran.org/iran-women-news/5231-iran-women-protest-allocation-of-admission-quotas-for-irgc-bassij
--------
Iran: No news on young woman arrested during uprising in Kermanshah
06 June 2018
Five months on, no news is available on the conditions of a young woman, Mitra Alizadeh, arrested on December 29, 2017, during the uprising in Kermanshah, western Iran.
According to recently published information, Mitra Alizadeh was arrested by agents of Kermanshah's Intelligence Department during the unrests on December 29, 2017, and taken to an unknown location.
Based on the information compiled by the Women's Committee of the National Council of Resistance of Iran, at least 500 women were arrested and detained during the uprising in December 2017-January 2018 in Iran, the identities of the majority of whom is not known.
https://women.ncr-iran.org/iran-women-news/5233-iran-no-news-on-young-woman-arrested-during-uprising-in-kermanshah
--------
URL: https://www.newageislam.com/islam-women-feminism/uk-imams-face-penalties-unregistered/d/115467
New Age Islam, Islam Online, Islamic Website, African Muslim News, Arab World News, South Asia News, Indian Muslim News, World Muslim News, Women in Islam, Islamic Feminism, Arab Women, Women In Arab, Islamophobia in America, Muslim Women in West, Islam Women and Feminism