New Age Islam News Bureau
18 September 2021
• Lubna Olayan Becomes First Woman To Head A Saudi Foreign Business Council
• Women's Organizations Angered By Scientist's Abuse Confession
• Halima Aden, Famous Hijab-Wearing Model Visits Istanbul, Praises Turkish Hamam
• Kerala CPM Lends Weight: Attempt to 'Lure' College Women to Extremism
• Plea in HC Challenges Assumed Absolute Discretion Of Muslim Husband To Give Divorce To Wife
Compiled by New Age Islam News Bureau
https://www.newageislam.com/islam-women-feminism/uk-cultural-medieval-burqa/d/125389
--------
UK Culture Secretary's 'Medieval Burqa' Comments Decried
By Anealla Safdar
17 Sep 2021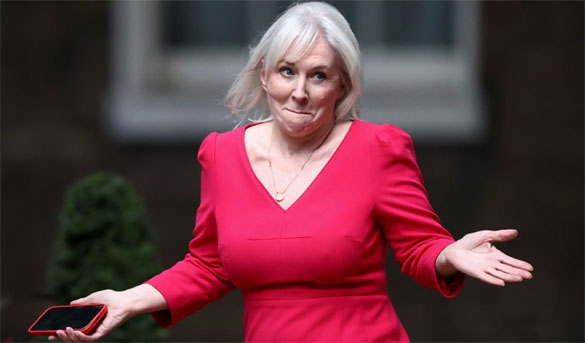 Britain's Culture Secretary Nadine Dorries walks outside Downing Street in London, Britain, September 15, 2021 [Hannah McKay/Reuters]
-----
The United Kingdom's new culture secretary has been accused of Islamophobia over her views on Muslim women and description of the burqa as a "medieval" dress code.
Nadine Dorries, 64, was appointed to the senior government role this week as part of Prime Minister Boris Johnson's cabinet reshuffle.
Like Johnson, she has a history of making controversial statements on a range of issues. In 2018, when Johnson – then an MP – wrote in a now-infamous newspaper column that the burqa is "oppressive" and the women wearing it looked like "bank robbers" and "letter boxes", Dorries called for a ban on the full-face veil.
"I'm very disappointed in Boris that he did not go further and actually use that newspaper article to call for a complete outright ban on a dress code – a medieval dress code – which was designed to cover up women's beauty and their bruises," she told Sky News, suggesting the garment was used to hide scars of domestic abuse.
"Women should be allowed to choose what they wear, and many of these women are not allowed to choose. As I have said, they are not even allowed to choose who they marry.
"Many of them aren't even allowed to keep their genitals," she added, referring to female genital mutilation (FGM), an outlawed practice in the UK. FGM predates Islam and Christianity, but is carried out by a minority of adherents to several faiths.
Around the same time, Dorries shared her views online, tweeting: "You cannot expect a society that celebrates gay pride and embraces gay marriage to live harmoniously when condoning the suppression of women forced to cover up, segregate and become invisible."
When challenged by Twitter user Aleesha Khaliq, Dorries referred to Muslim women who wear the burqa in Britain, saying: "They are segregated and suppressed. It's a medieval costume with no place in today's liberal society. No progressive country should tolerate it."
Of the about three million Muslims in Britain, it is widely understood very few women wear the full-face veil, though there are no official statistics.
But the garment, which is banned elsewhere in Europe, occasionally captures the national attention, when politicians or public figures comment on it.
Khaliq, a journalist, told Al Jazeera that Dorries's remarks were "really disappointing" yet unsurprising.
"We have Boris Johnson who has made Islamophobic comments and now Dorries [as culture secretary]," she said. "We've been legitimising Islamophobia from top down for so long that it's now normal.
"It's dangerous because she was actively advocating to ban the burqa. It's worrying that a senior government figure can dictate what a minority of women choose to wear. Is she going to bring it up again?"
At the time of publishing, Dorries had not responded to Al Jazeera's request for comment.
Fatima Rajina, a research fellow at De Montfort University's Stephen Lawrence Research Centre, said her statements were "befitting of the culture within the Conservative party and Boris Johnson, who has made similar derogatory and Islamophobic remarks describing Muslim women".
She told Al Jazeera: "The very idea of a liberal society is premised on choice yet when Muslim women actively choose to wear clothing that aligns with their religious expressions, this choice is suddenly framed within the 'modern' vs 'medieval' binary. These concocted culture wars rely on Muslims and other racialised people to stir up relevance by politicians who otherwise appear to be incompetent."
Dorries has a record of participating in divisive debates.
In 2013, she voted against gay marriage, a move she later called her "biggest regret" as an MP. She has proposed to strip abortion providers of their counselling role, argued for the abortion time limit to be reduced and strongly supported Brexit. She has railed against "left-wing" journalists and the BBC.
In 2017, she tweeted: "Left wing snowflakes are killing comedy, tearing down historic statues, removing books from universities, dumbing down panto, removing Christ from Christmas and suppressing free speech. Sadly, it must be true, history does repeat itself. It will be music next."
A spokesperson for the UK's Runnymede Trust race equality think-tank told Al Jazeera that Dorries's appointment carries weight, "given comments made by the new minister in the past regarding the burqa. We regret the lack of dialogue in addressing such comments, as we do with other similar instances from British politicians across the political spectrum."
"It is important for politicians across the political spectrum to demonstrate their commitment to racial equality. We hope the new minister of culture will address the comments previously made, and take steps to celebrate the diversity we are very fortunate to have in Britain."
Source: Al Jazeera
https://www.aljazeera.com/news/2021/9/17/uk-culture-secretarys-medieval-burqa-comments-decried
--------
Lubna Olayan becomes first woman to head a Saudi foreign business council
September 17, 2021
JEDDAH: Prominent Saudi businesswoman Lubna Olayan has become the first woman to head up a foreign business council in the Kingdom following her approval as president of the Saudi-Swedish Business Council by the General Authority for Foreign Trade.
Mohammed Batterjee and Saud Al-Suleiman were named as her deputies.
Olayan has been a major figure in Saudi business for decades and was named as one of the 100 most influential people by Time magazine in 2005 and has featured in the Forbes list of most powerful women many times over the years, most recently at no. 58 in 2018.
She became chairwoman of the Saudi British Bank in 2019 and was reappointed to a three-year term in January 2020 following its merger with Alawwal Bank to create the Kingdom's third-largest lender.
Olayan was CEO of the Olayan Financing Company, one of Saudi Arabia's largest conglomerates, until she stepped down in April 2019, but remains on the board. The company, founded by her father in 1947, is a private multinational engaged in distribution, manufacturing, services and investments.
She thanked the members of the council for their trust in her and her two deputies as they assumed their responsibilities, stating that she will continue to work to improve the council's work and activate its role in developing inter-economic relations between the two countries.
The 36 Saudi foreign business councils operate under the supervision of the General Authority for Foreign Trade, as well as the umbrella of the Federation of Saudi Chambers of Commerce, with the goal of strengthening economic ties between the Kingdom and friendly states, increasing access to foreign markets for Saudi products, and encouraging foreign investment.
Source: Arab News
https://www.arabnews.com/node/1930651/business-economy
--------
Women's organizations angered by scientist's abuse confession
September 18 2021
Turkey's leading women's associations strongly condemned scientist Celal Şengör who confessed to abusing one of his female students at Istanbul Technical University (İTÜ).
"She made me so furious that I lifted Saniye's [the student] skirt and gave a smack on her butt," the 66-year-old geologist said in a Zoom meeting uploaded on the internet on Aug. 20.
The footage was shared by thousands on social media on Sept. 16 and leading women's organizations asked the university board to dismiss the professor.
"She was horrified. I saw her looking at me. I said, 'Did your father do this to you?' She said, 'No.' Then I said, 'Loose end, now mission complete,'" the professor said in the footage.
One of the women's associations, which condemned the incident, was the Women Solidarity of İTÜ. The association brought out a statement on Sept. 17, asking the university board to part ways with Şengör.
"We do not want this man, who thinks he 'disciplines' us and legalize abuse and rape, in our university," the statement said.
The students' union of the university also made a statement declaring their support to the association.
Recently, Şengör was criticized for the words he said on a live TV show, saying, "I saw a beautiful girl in the library. She was wearing a short skirt and had nice legs. To see her well, I went near."
Source: Daily News Turkey
https://www.hurriyetdailynews.com/womens-organizations-angered-by-scientists-abuse-confession-167935
--------
Halima Aden, Famous Hijab-Wearing Model Visits Istanbul, Praises Turkish Hamam
September 18 2021
Halima Aden, a Muslim model who became a trailblazer for modest fashion by wearing her hijab on the catwalk and in photo shoots, has visited Istanbul as she has been named a global brand ambassador of a Turkish firm.
Speaking at a press conference, the Somali-American model expressed her great pleasure being in Turkey after a three-year hiatus, while praising the traditional Turkish bath and the "magical" atmosphere of Istanbul.
"I love Turkish baths. Turks are very lucky to have such a culture," she said, noting that she goes to a Turkish bath every time she comes to Turkey.
During her visit, the model has signed an exclusive two-year agreement with Modanisa, known as one of the world's largest modest fashion retailers.
She will lend her face, name, and creativity to the firm's marketing efforts around the world and she will also design two new collections for the company in line with the deal.
One of the most famous Muslim women in the world, Aden's new role for Modanisa marks her return to fashion 10 months after quitting the industry to avoid having to compromise her religious beliefs.
Her new partnership with the Turkish company is likely to avoid many of the challenges she faced while working with other brands.
"They share my faith and values, and fully respect my choices as a Muslim woman. I'm coming home," the model said.
Since catapulting to fame in a burkini at an American beauty pageant in 2016, Aden has regularly modelled for the Turkish brand, from strutting down the runway at Modanisa's Modest Fashion Weeks in London, Istanbul and Dubai, to appearing in multiple promo campaigns.
In 2019, she turned designer in collaboration with the Turkish company, producing a collection of 47 headscarves that sold out in weeks.
Source: Daily News Turkey
https://www.hurriyetdailynews.com/famous-hijab-wearing-model-visits-istanbul-praises-turkish-hamam-167940
--------
Kerala CPM lends weight: Attempt to 'lure' college women to extremism
by Shaju Philip
September 18, 2021
IN WHAT will add fire to the raging controversy over claims of "love jihad" and "narcotic jihad" targeting the youth of Kerala, the ruling CPM has now cautioned its cadres about attempts being made on campus of professional colleges to "lure" educated young women to extremism.
The CPM flagged the issue in a pamphlet distributed to speakers at meetings of its branch and local-level committees which began on Thursday, cautioning against Islamist extremist outfits, "support for the Taliban", and the "trend of communal influence" among Christians. The note said: "At professional college campuses, there are deliberate bids to distract educated young women to extremism and fundamentalism. The student fronts and the youth front should pay special attention to this issue."
As the Congress and BJP both seized on the note to attack the CPM, party state secretary A Vijayaraghavan defended it, saying communalism could come in many forms. "Communalism will operate in many ways. It does not have any framework. It will work in many disguises, at various places. Our party will fiercely fight against communalism,'' he said.
The CPM note said the activities of the RSS have created insecurity among minorities, and that Muslim extremist outfits are trying to infiltrate community organisations and foment trouble. "It should be seriously viewed that discussions supporting the Taliban are emerging in Kerala, contrary to the stand adopted by a majority of the Muslim communities across the world."
About the Christian community, the note said, "Normally, Christians are not found succumbing to communal thought. However, the recent trend of communal influence among a small section of the Christians should be viewed seriously. There are deliberate attempts to drive the Christian segment against the Muslims. It should be addressed seriously and should be checked. Such approaches will ultimately benefit majoritarian fundamentalism."
With Kerala having a long history of bloody political violence between CPM and RSS cadres, the CPM note added: "We should realise that unnecessary political violence would alienate the masses from the party. A stand against political violence is necessary to bring more people to the party fold."
On Friday, CPM leader and state cooperation minister V N Vasavan visited Catholic Bishop Joseph Kallarangatt, who had talked of "love jihad" and "narcotic jihad" aimed at youth of the state, specifically non-Muslim women on campuses. The first member of the Pinarayi Vijayan to visit the Bishop since his remarks, Vasavan later said the controversy was a closed chapter.
"The Bishop is an erudite person, he has in-depth knowledge of the Quran and Bhagavad Gita. I have watched his speeches and shared dais with him. Congress and BJP leaders visited the Bishop with ulterior motives. I came for a friendly visit," Vasavan said.
While both the CPM and the opposition Congress had criticised the Bishop's remarks, the BJP had supported him, saying what he had said was a reality.
The Catholic Bishops Conference of India laity council secretary, Advocate V C Sebastian, welcomed the CPM's party note, saying it "attests what Bishop Kallarangatt had stated about extremism".
The Congress asked the CPM to give proof for its "serious" allegation. "The CPM leadership should reveal whether any cases had been registered in this regard or whether they have any data to prove their charges. The party and its government have the moral responsibility to reveal this," V D Satheesan said.
BJP state president K Surendran said: "The CPM leaflet on minority and terrorism attests what the BJP has been saying for at least a decade. Young women have been trapped in love jihad and used for extremism. Why is the CPM not ready to openly admit that, at least now? When Pala Bishop spoke about it too, the CPM denied it. It shows the party's double standards."
It has been the Sangh Parivar's long-standing claim that Kerala is emerging as a recruitment hub for terrorism.
Incidentally, senior BJP leader and former state president C K Padmanabhan on Friday said the Bishop's remarks should not be taken seriously, nor should fundamentalism be attached to a religion. "During a sermon at church, the word jihad was added. I don't find anything else serious regarding that statement. It is not appropriate to foist such things on a particular religion,'' he said.
The Catholic Bishops Conference of India said it had warned several times about the presence of extremist outfits on campuses. "Now, the UDF (led by the Congress) and other parties are bound to make clear their stand on the issue after abandoning their communal appeasement tactics."
Source: Indian Express
https://indianexpress.com/article/india/kerala-cpm-lends-weight-attempt-to-lure-college-women-to-extremism-7516656/
--------
Plea in HC challenges assumed absolute discretion of Muslim husband to give divorce to wife
16 September 2021
New Delhi, Sep 16 (PTI) A plea has been filed in the Delhi High Court challenging the "assumed absolute discretion" of Muslim husband to give divorce (talaq-ul-sunnat) to his wife at any time without any reason and without advance notice to her.
The plea, which alleged that the practice is "arbitrary, anti-shariat, unconstitutional, discriminatory and barbaric", came up for hearing on Thursday before Justice Rekha Palli who said since it is in the nature of a public interest litigation so it be listed before the bench dealing with PILs.
The petitioner woman, represented through advocate Bajrang Vats, has sought that the assumed discretion of husband to give divorce to his wife at any time be declared as arbitrary.
It has also sought issuance of detailed step by step guidelines in the form of checks and balances on the issue of assumed absolute discretion of the husband to give divorce to his wife at any time without any reason.
It has sought direction that the Muslim marriage is not just a mere contract but it is a status.
The plea has been filed by a 28-year-old married Muslim woman who said she was deserted by her husband by pronouncing instant ''triple talaq'' on August 8 this year and thereafter, she served a legal notice to her husband for restitution of conjugal rights.
The plea said in response to the legal notice, the man has denied pronouncement of instant ''triple talaq'' and asked the woman to give him divorce within 15 days from date of receipt of this notice.
The woman said such type of discretion allegedly practiced by Muslim husband to give divorce to wife without any reason is misuse of process.
The lawyer, appearing in the matter explained that ''Talaq-ul-sunnat'' is a revocable form of talaq (divorce) because in this form, the consequences of divorce do not become final at once and there is a possibility of compromise and reconciliation between husband and wife.
However, by simply uttering the word 'talaq' three times, ends a Muslim marriage. This instant divorce is called triple talaq and is also known as 'talaq-e-biddat'', the lawyer added.
The Supreme Court had in August 2017 held that practice of triple talaq among Muslims is illegal and unconstitutional.
Later, The Muslim Women (Protection of Rights on Marriage) Act, 2019 came into being which makes the practice of instant divorce through ''triple talaq'' among Muslims a punishable offence.
In her plea filed in the high court, the woman claimed that she got to know that the man was planning to divorce her for another marriage.
The court, while hearing the matter, said even though the woman is aggrieved by the action of her husband, the relief sought in the petition is in the nature of public interest litigation.
Source: Outlook India
https://www.outlookindia.com/newsscroll/plea-in-hc-challenges-assumed-absolute-discretion-of-muslim-husband-to-give-divorce-to-wife/2161150
--------
https://www.newageislam.com/islam-women-feminism/uk-cultural-medieval-burqa/d/125389
New Age Islam, Islam Online, Islamic Website, African Muslim News, Arab World News, South Asia News, Indian Muslim News, World Muslim News, Women in Islam, Islamic Feminism, Arab Women, Women In Arab, Islamophobia in America, Muslim Women in West, Islam Women and Feminism