New Age Islam News Bureau
5 Jun 2017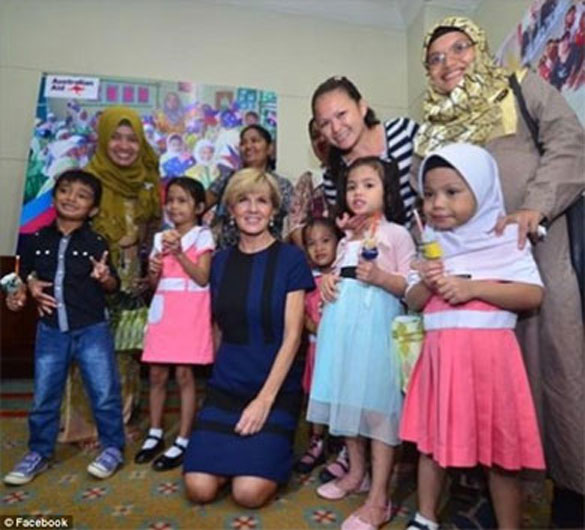 Foreign Minister Julie Bishop's image with herself and hijab-wearing girls has sparked outrage
----
• How Two Muslim Women Are Offering Resistance to Trump's Era with Style
• Australian FM Inundated With Vile Messages after Posting Photo on Facebook with Muslim Women and Girls in Hijabs
• General Election 2017: Muslim Women Centre Stage In Bradford West
• Government 'must do more to reach young Muslim women to tackle extremism'
• Moroccan Police Stifle Women's Protest in Northern City
Compiled by New Age Islam News Bureau
URL: https://www.newageislam.com/islam-women-feminism/uae-woman-embezzles-dh11-million/d/111418
--------
UAE Woman Embezzles Dh11 Million from Workplace, Spends On 'Fiance'
June 05, 2017
According to Khaleej Times, A 33-year-old woman suspected of embezzling Dh11 million from her workplace and spending the cash on a man who had promised to marry her has been detained.
The Abu Dhabi Police said on Saturday that they arrested the woman from a GCC nation after investigations suggested that she used advantage of her position as the head of the accounts department at an institution in Abu Dhabi to steal the cash.
The woman allegedly spent the stolen cash on the 26-year-old man, also from GCC, in paying his bank loans, buying him luxury cars and special number plates, buying expensive gifts like branded watches and clothes, and paying his luxurious trips to Europe while travelling in business class.
The alleged fiancé, who was already married and was reportedly lying to the woman that he would marry her, was also detained for exploiting her. The man's brother who also enjoyed the woman's cash was also arrested.
"Investigations revealed that the woman used her position at work and through fraudulent means to take Dh11 million from the institution," he said.
"She spent the funds on her alleged fiancée through transferring the cash to him and also buying him luxurious gifts, paying his expensive trips and others. She also spent part of the cash to the man's brother."
Al Ghoul said police have recovered part of stolen cash through seizing the gifts like vehicles that were bought using the misappropriated funds.
The woman confessed to embezzling the funds during her interrogations at Police.
She told cops that she wanted to show her boyfriend and other loved ones that she had money and was financially well off.
The young man and his brother also confessed to lying to the woman and exploiting her.
The trio has been referred to the Public Prosecution.
http://nation.com.pk/international/04-Jun-2017/uae-woman-embezzles-dh11-million-from-workplace-spends-on-fiance
--------
How two Muslim women are offering resistance to Trump's era with style
June 3, 2017
Needless to say, Donald Trump's ban on travellers from six Muslim-majority countries was a slap in the face to the Islamic world — one that will continue to sting for some time. But while it might not seem very likely, two Muslim women are fighting the hate with style, reported Pop Sugar.
Hassanah El-Yacoubi and Reem Motaweh are merging art and entrepreneurship to quench the bitterness they feel towards Trump's presidency. Both women wear hijabs and are self-proclaimed 'hijabistas' or hijabi fashionistas. Both are fashion bloggers who have launched businesses specifically for Muslim women during this troubled time.
"Every day, I wear my hijab to show that I am proud of who I am," said Motaweh. "I knew I had to do something to help others who may not feel the same way."
Motaweh, 21, is a budding fashion designer and the creator of a Los Angeles-based subscription service About That Wrap. For less than $30 a month, she sends a box of modern and modest clothing items right to her customers' doors. Items include hijabs, scarves and jewellery. Also, this package comes with a personalised style guide for the buyer to appreciate the beauty of Islam. "I walk around proud with my hijab because nothing I'm doing is wrong. My hijab is a part of me, just like my name."
Nike unveils Pro Hijab for Muslim athletes
El-Yacoubi is also on the cutting edge of Muslim fashion in LA. As the founder of Perfect For Her, she encourages Muslim women to build a religious identity through fashion. El-Yacoubi is a PhD student at the University of California Riverside and one of her interests is how Muslim women create new forms of identity through mediated practices such as modest fashion. She also hosts the largest annual modest fashion show in California.
"I wear my headscarf as a symbol of modesty, just like the Virgin Mary," said El-Yacoubi. "In most of the images that we see of her, she is wearing a veil." Her merchandise includes long-sleeved maxi dresses and gowns with floral and lace appliques that are both modern and modest. She has also sold silk hijabs.
Once their items are ready to hit the market, models pose for photo shoots and ultimately, end up on Instagram.
El-Yacoubi and Motaweh are not alone. Muslim female entrepreneurship is surging, and the Muslim consumer market is growing. The community spent approximately $266 billion on clothing worldwide in 2016, a figure that is estimated to almost double by 2020.
"Los Angeles is a huge market for me and other Muslim women right now because this city is so open-minded," said Motaweh. "I have a large following in Egypt and Malaysia, but Los Angeles is becoming the new hub for hijab exporters and buyers. Corporations and organisations were always hesitant to publicly align themselves with Muslims out of fear they would lose funding," added El-Yacoubi. "Now, there's a wave of companies standing up for us."
Alongside backpedaling from Trump products, retailers are also improving Muslim representation in their marketing campaigns. Global names like Dolce & Gabbana and DKNY have turned the hijab into high fashion by using it as the focal point of their collections. Rapper Kanye West also pushed for the debut of a hijab-wearing model, Halima Aden, in his latest show during New York Fashion Week.
Eric Rose, a crisis management expert, believes business owners are celebrating Muslim culture more directly. "We are in a new era where companies are now advocating for social issues and taking stances that are predictably going to cause a reaction in the marketplace," said Rose.
Motaweh and El-Yacoubi both believe this is a significant step toward mending perceptions regarding hijab. "Muslim women bear the brunt of the hate because they are visibly Muslim," El-Yacoubi said. "I want to remind women that diminishing that visibility is not the answer." Motaweh added, "With so many individuals coming together around the world to make Muslims feel included and worthy, time will heal our divides."
https://tribune.com.pk/story/1426447/two-muslim-women-offering-resistance-trumps-era-style/
--------
Australian FM Inundated With Vile Messages after Posting Photo on Facebook with Muslim Women and Girls in Hijabs
4 June 2017
Foreign Minister Julie Bishop has angered her Facebook followers by posting an image of herself with Hijab-wearing Muslim women and girls.
The Liberal Party's deputy leader posted the image on social media to explain how the Australian government is deploying foreign aid in a Muslim area of the The Philippines, Mindinao.
However, many of her Facebook followers expressed their outrage at the foreign minister, who isn't wearing a hijab, showcasing the government's AusAid programs.
One man went further took a dig at the fact the minister was posing with Muslim women and girls.
'I hope this was taken at a family planning clinic,' he said on her Facebook page.
One woman highlighted child brides and female genital mutilation, which the World Health Organisation acknowledges is practised by the Muslim minority in The Philippines.
'Well done, Julie Bishop. So you support women being bashed, children being married and raped and female genital mutilation,' she said.
'Maybe you ought to don a burqa. That's not the Australian way.'
A man asked if she supported female genital mutilation and child brides, practices which are both outlawed in Australia and which Ms Bishop condemns.
'So you support FGM and child marriage?,' he asked.
Another man pointed out that Muslims make up a little more than two per cent of the Australian population.
'Take heed of the comments, Julie,' he said.
Someone else said this kind of image would increase support for One Nation leader Pauline Hanson, who is calling for a ban on Muslim immigration to Australia.
'Goodbye, Julie. Hello, Pauline,' he said.
There were very few positive comments among the hundreds of negative messages.
Among them was a compliment from a woman who wrote: 'Julie, you have the magic ability to fit in anywhere.'
http://www.dailymail.co.uk/news/article-4569984/Julie-Bishop-angers-Facebook-Muslim-women-picture.html
--------
General election 2017: Muslim women centre stage in Bradford West
June 05, 2017
Bradford's Muslim community - and its politics - have traditionally been male-dominated. Yet patriarchal clan networks are swiftly becoming a thing of the past, to the extent that in this year's general election, two Muslim women are contesting one of the city's seats.
Labour's Naz Shah, who won Bradford West from George Galloway in 2015, is defending her 11,420 majority against five other candidates, including former Respect Party leader Salma Yaqoob.
To understand the significance of this, it is important to appreciate how the political engagement of Muslim women in Bradford West has evolved over the generations.
Hajra Bibi arrived in Yorkshire in 1969 from a village in the Punjab region of Pakistan. Now aged 80, with six children, 20 grandchildren and 13 great grandchildren, she has seen how politics in Bradford has changed.
In 1960s Pakistan she was a landowner and her husband was in the army. As a result, they exerted significant influence in their village and those who worked for them, the labourers and maids, would look to them for advice on which direction to vote.
Thus they yielded power and the politicians recognised this. When Hajra's husband left for England, she became the head of the household and the parliamentary candidates would visit her specifically to win her allegiance.
These women, whose men were overseas, had to get involved in politics to save their families' social position.
Moving to Bradford meant she had to learn afresh where she stood in the social hierarchy.
Who are the Bradford West 2017 candidates?
"When we first came, I didn't know much about [UK politics]," she said.
"It wasn't because I didn't have an interest but mainly because no politician ever came and spoke to me like they do now. We got leaflets thrown through the letterbox and that was it.
"Come election day, our husbands or the boys would tell us which name to put a cross next to.
"But when Asians started standing for office, I noticed they would come to our house, they would talk about what they wanted to do and I shared my views with them."
Hajra's experience is shared by many of her generation who left their families and homes to secure a better future for their children.
The men came first in the 1950s, working in the industrial towns like Bradford. Their objective was to earn money, send it back home to improve living conditions and then return. But they didn't return.
The longer they stayed, the more they realised future generations would benefit from the opportunities the UK presented, so they invited their relatives to join them and by the 1980s families from the subcontinent had begun to settle.
Nadira Mirza, a 61-year-old education consultant, remembers this era vividly.
'We were not involved directly in party politics, but very much on the front lines of community politics, we were developing infrastructure that would make it easier for the families who were migrating here and settling.
"There was no thought of standing in party politics- the politicians were part of the establishment.
"As activists, we didn't feel that real change would occur through that process. Some of the early politicians sold themselves out. They went into politics for the wrong reasons, they just wanted to consolidate their own positions of power rather then making a difference particularly for Asian women and girls. That we had to do for ourselves."
The presence of the biradari (clan network) system did not help. The emerging South Asian community in Bradford, of which a large proportion was Muslim, needed help in ensuring their needs were met, so they chose from among them the adequately educated to represent them.
Thus came the emergence of "community leaders". The politicians at the time realised these men could deliver a bloc vote akin to that provided by the unions so they used them to their advantage.
The bloc vote was secured by the head of each clan telling his family which way to vote.
It was a win-win situation - but not for the women.
"The biradari system in the political sphere has traditionally been hierarchical and patriarchal, so the leaders are almost always exclusively older men," said Dr Parveen Akhtar, an academic specialising in political participation of UK Muslims.
"They set out the needs of the community according to their own priorities. This has meant that young people and women have been marginalised, both in terms of political issues and in terms of pursuing political office."
But this is changing.
"I became politically active out of necessity," says Samayya Afsal , 25, who is from Bradford and a former member of the National Union of Students's national executive council.
"I saw the demonisation of Muslims, an education system that was unfair and injustices across society.
"The more people from minority communities enter positions of power, the easier it becomes for the generations who follow. They become indirect mentors and a support network is created.
"I think Muslim women are now more involved in party politics because women are tired of being represented by people who only care about their votes and not their issues.
"The days are long gone where women are expected to take the lead from appointed male leaders within our community. Access to education has hugely improved literacy and confidence to engage with issues."
Aisha Ali Khan, a teacher and human rights campaigner, said it made her happy to see two prominent Muslim women standing in the general election.
"It shows we have come a long way from the years of when you could count the number of Muslim women in British politics on one hand. I hope it sends a powerful message that politics can be a place for women and encourage more women to participate."
There is no doubt that Bradford West is a politically-charged and engaged constituency; hustings here are fully booked days in advance. It is a constituency with a rich history of migration and diversity, of struggle and success. Within it are issues of deprivation, poverty and lack of education. But there is potential, there is passion and there is a persistent call for change.
In the heart of the city centre, a former money exchange shop has been transformed into a welcoming space where people can debate issues that affect them. Although Speaker's Corner is led by women it is open to everyone.
Saliah Rubani is one of the organisers and she says the group was created after the hugely successful Women of the World (WOW) festival which took place last year.
"Originally we held mentoring sessions but it grew into a place where the girls could have safe discussions about issues ranging from mental health to activism," she said.
"Bradford is on the cusp of change, and women are leading that change."
http://www.bbc.com/news/uk-england-leeds-40107444
--------
Government 'must do more to reach young Muslim women to tackle extremism'
June 05, 2017
One of the country's most prominent Muslim lawyers has branded the authorities "lazy" in their efforts to reach out to minority community leaders and tackle extremism.
Former chief crown prosecutor Nazir Afzal said a number of prominent figures in Muslim communities were in their roles "for all sorts of wrong reasons".
Mr Afzal told BBC Radio 5's Pienaar's Politics that the Government must do more to reach young Muslim women in order to connect with these groups.
It comes as Saturday's attack - which took place during the Islamic holy month of Ramadan - was condemned by Tory former cabinet minister Baroness Warsi and the Muslim Council of Britain (MCB).
Prime Minister Theresa May has also pledged to stamp out tolerance of extremism and put an end to "separated, segregated communities" in the wake of the atrocity.
Mr Afzal, who prosecuted the Rochdale sex-grooming gang, told the BBC he had spent 25 years meeting "so-called community leaders who represent no one but themselves".
The majority of British Muslims were female, under 25 and from low income backgrounds, Mr Afzal said, yet most community leaders were middle-class men aged over 50.
He also questioned why minority communities were thought to have community leaders when white communities did not.
"We've got to turn away those people who are there for all sorts of wrong reasons - ego, kudos, just because they're there in the right place," Mr Afzal said.
"I think I used the word lazy yesterday, I think the state and the authorities are lazy here - they go to the usual suspects.
"They should be talking to young people, young women invariably, in order to get them to understand and learn from them what it is that needs to be done, rather than simply impose it."
Mr Afzal had criticised the MCB in an interview with The Times newspaper on Saturday, accusing them and other groups of peddling "myths" about the Government's anti-extremism Prevent strategy.
Baroness Warsi told ITV's Peston on Sunday that all the British Muslims she had spoken to about Saturday's attack were "furious".
"They despise these people who come in and do these atrocious acts," she said.
"These are poisonous individuals who are trying to divide our nations and commit carnage."
Harun Khan, secretary general of the MCB, said he was "appalled" by the attacks in his home city.
"These acts of violence were truly shocking and I condemn them in the strongest terms," he said.
"Muslims everywhere are outraged and disgusted at these cowards who once again have destroyed the lives of our fellow Britons.
"That this should happen in this month of Ramadan, when many Muslims were praying and fasting only goes to show that these people respect neither life nor faith."
The Manchester-based Ramadhan Foundation called the attackers "vile and barbaric" in a statement.
It added: "Real Muslims were fasting today and praying in mosques across the country, not killing innocent people - these crimes sicken our community.
"It is no longer good enough for us to offer condemnation and solidarity, we need to confront this twisted evil ideology which distorts and lies about Islamic teachings."
A major review of social integration by Dame Louise Casey earlier this year found that migrants must make more effort to fit into UK society, particularly highlighting the plight of women in some minority communities.
Speaking outside Downing Street, Mrs May said: "While we have made significant progress in recent years, there is - to be frank - far too much tolerance of extremism in our country.
"So we need to become far more robust in identifying it and stamping it out across the public sector and across society.
"That will require some difficult, and often embarrassing, conversations.
"But the whole of our country needs to come together to take on this extremism, and we need to live our lives not in a series of separated, segregated communities, but as one truly United Kingdom."
http://www.heraldscotland.com/news/15327396.Government__must_do_more_to_reach_young_Muslim_women_to_tackle_extremism_/
--------
Moroccan police stifle women's protest in northern city
5 June 2017
AL-HOCEIMA, Morocco: Moroccan authorities stifled a women's protest against corruption on Saturday in a northern town.
The protest in the town of Al-Hoceima was organized by the "Hirak" movement, which is campaigning for jobs, infrastructure and other demands in the northern Rif region, and whose leader Nasser Zefzafi was arrested last week on charges of threatening national security, among other offenses.
Police encircled hundreds of female protesters to leave a public park in Al-Hoceima late on Saturday, impeding others from joining, a Reuters reporter at the scene said.
Female police officers and riot police pushed the leader of the protest, Nawal Ben Aissa, a prominent member of Hirak, away from the group.
She was accompanied at the protest by Zefzafi's mother.
Protests around Al-Hoceima have been simmering since October after a fishmonger, Mouhcine Fikri, was crushed to death inside a garbage truck.
One woman fainted after police stifled the protest.
A heavy security presence has been in place around the city's Sidi Abed square.
Fikri's death has become a symbol for frustrations about official abuses and revived the spirit of the Feb. 20 movement that led pro-democracy rallies in 2011.
Since Zefzafi's arrest after he interrupted a Friday prayer sermon, protests have become a daily occurrence in the town.
"We go to sleep in fear, and we wake up in fear," said Fatima Alghloubzari, 54 who tried to join the protest on Saturday.
"We never imagined our city would become like this."
One woman fainted after police stifled the protest.
A heavy security presence has been in place around the city's Sidi Abed square. Since Zefzafi's arrest, police have been increasingly preventing people joining in protests and blocking access, organizers say.
Moroccan government spokesperson Mustapha El-Khalfi acknowledged last week that the Hirak protests and demands were "legitimate," and said authorities were speeding up promised infrastructure and development projects for the region.
http://www.arabnews.com/node/1110071/world
--------
URL: https://www.newageislam.com/islam-women-feminism/uae-woman-embezzles-dh11-million/d/111418
New Age Islam, Islam Online, Islamic Website, African Muslim News, Arab World News, South Asia News, Indian Muslim News, World Muslim News, Women in Islam, Islamic Feminism, Arab Women, Women In Arab, Islamophobia in America, Muslim Women in West, Islam Women and Feminism