New Age Islam News Bureau
23 May 2018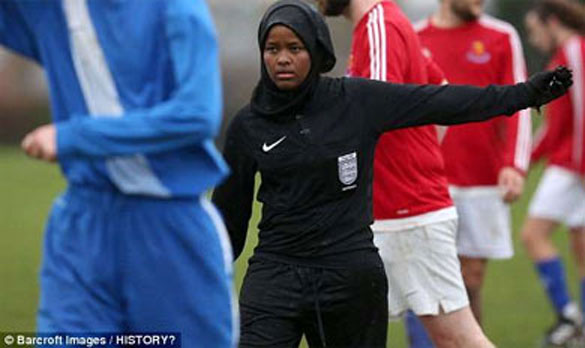 An immigrant girl, with eight siblings, JJ moved from war-torn Somalia to UK with her family as a child. (www.365football.org)
-----
• Somalian Becomes First Muslim Woman To Referee A Football Match In Britain
• Californian Muslim Woman Stands Up To Islamophobia
• 'Not Allowed To Wear Hijab', Mumbai Student Takes College to Court
• UK Girl 'Tricked' Into Marrying Pakistani By Mother; 'Threatened' With Black Magic
• Iran's Rohani Calls for End To Ban On Women At Sports Events
• Tension in Tapi Village after Muslim Youth Elopes With Hindu Girl, Police Look For Couple
• Muslim Women Welcome Community to Break Ramadan Fast With Them
• Morocco's Women Surfers Ride out Waves and Harassment
• Bangladesh's Female Domestic Workers Tortured in Saudi Arabia, Unwanted At Home
• Abu Dhabi Women to Support Family of Kerala Nurse Who Died Of Nipah
Compiled by New Age Islam News Bureau
URL: https://www.newageislam.com/islam-women-feminism/uae-rated-safest-country-women/d/115333
--------
UAE Rated Safest Country for Women In Middle East
Waheed Abbas
Filed on May 22, 2018
The least safe countries in the world for women in 2017 included the likes of Somalia, Sudan, Iraq and Syria.
The UAE is the safest country for women in the Middle East region, which will help in the growth of the country's wealth in the next 10 years, reveals a new report released on Tuesday.
Woman safety has become very topical over the past year, following several high profile celebrity assault cases in the US. Notably, woman safety is one of the best ways to gauge a country's long-term wealth growth potential, with a correlation of 92 per cent between historic wealth growth and woman safety levels. This means that wealth growth is boosted by strong levels of woman safety in a country, said Andrew Amoils, Head of Research, New World Wealth.
"Most of the countries in the top 10 are also popular destinations for migrating high net worth individuals. Also, most of them have experienced strong wealth growth over the past 10-20 years," said Amoils, the author of the report.
Globally, Australia, Malta, Iceland, New Zealand, Canada, Poland, Monaco, USA and South Korea have been ranked the safest countries for women worldwide.
Regionally, Malta, Poland, Monaco, and Islands are safest for women in Europe; Australia, New Zealand, Sri Lanka, Japan and South Korea in Asia-Pacific; Mauritius, Botswana and Namibia in Africa; and USA and Canada in Americas.
"We expect emerging markets with good woman safety levels to be some of the world's top performers in terms of wealth growth over the next 10 years. For instance, countries such as Mauritius and Sri Lanka (which have good levels of woman safety) are both expected to perform very well (in terms of wealth growth) going forward," Amoils said.
The least safe countries in the world for women in 2017 included the likes of Somalia, Sudan, Iraq and Syria. Some of the world's big economies such as Nigeria also made the list.
Amoils noted that most of these markets have performed poorly in terms of wealth growth over the past few years, which is probably linked to their low woman safety levels. Furthermore, many of the migrant boats crossing the Med to Europe had a large number of citizens from these countries on them which shows that people are fleeing these countries in search of safer places to live.
Crimes considered in this study include rape, slavery of woman, trafficking of woman and general assaults on woman such as physical assaults, acids attacks etc.
The study showed that out of the 195 countries in the world, only 58 have reasonably reliable crime statistics.
https://www.khaleejtimes.com/nation/uae-rated-safest-country-for-women-in-middle-east
--------
Somalian Becomes First Muslim Woman To Referee A Football Match In Britain
22 May 2018
Somalia-born Jawahir Roble made history by becoming the first Muslim woman to referee a football match in the UK.
The 24-year-old, known as JJ, is a qualified referee at the UK Football Association who is currently finishing off her second season, according to the Daily Mail.
Now, she now dreams of refereeing at the Champions League
An immigrant girl, with eight siblings, JJ moved from war-torn Somalia to UK with her family as a child.
Though she started studying IT at university, she made the decision to become a professional referee, a step triggered by a voluntary experience in refereeing a local girls' league in North West London as a teenager.
At first, her presence on the pitch was met with "giggles" from some players, JJ tells the British newspaper.
Apparently, it took her a while to battle for the respect, but now she couldn't be happier in her role.
"When I first turned up to the match you could hear some boys just giggling, 'No way she is the ref? No!'
"[But] they can see that I am the ref because I am wearing my full kit."
JJ dons the Islamic headscarf, a long-sleeved shirt paired with shorts and a legging underneath, plus gloves.
But players have now accepted her, she said.
"I don't get any grief because of my gender. There was one time a guy came up to me and said, 'I really like female referees, they're good'."
Online critics
She spoke of those who criticized her on social media platforms for being a Muslim woman and a referee.
"[They say] stuff like, 'You're not even following the religion, you're not following the culture.' I don't know, some weird stuff."
"Of course, football is not in my culture, no. But you know, I am here to break the stereotypes. Girls can play football, girls can do whatever they want."
In her thoughts, JJ says being a Muslim, a woman and a referee aren't contradictory to one another.
"Who said girls can't be a referee and be a Muslim?"
Homeland memories
Back in time, in the war-ravaged Mogadishu streets, JJ recalled how she would play among the rubble.
The everyday dangers of war were a normality to her, she said, which later promoted her family to leave for the UK.
"In Somalia there was war and random attacks every day. I remember going to school, coming home and chilling with my siblings and playing [football] around on the street.
Hopes for future
JJ dreams to one day judge Premiership and Champions League matches. She sees herself becoming a professional in the next ten years.
"I want to go all the way to the top."
"Referees have the best seat in literally any game. They're in the centre, you get to see everything that is happening, we're in the best seat, and refereeing is so amazing. You get to make decision on important things."
https://english.alarabiya.net/en/sports/2018/05/22/Somalian-becomes-first-Muslim-woman-to-referee-a-football-match-in-Britain.html
--------
Californian Muslim Woman Stands Up To Islamophobia
22 May 2018
Last week someone sent me a cell-phone video of a middle-aged man verbally abusing and belittling a niqab-wearing, Muslim woman at a Coffee Bean café in Riverside, California on 9 May.
I posted the video on Twitter, and it has since been viewed nearly 3 million times, no doubt a reflection of the young woman's bravery, and the moral fortitude of the café staff for refusing to serve her assailant because of his "racist" remarks.
If you haven't already seen the clip, an unidentified man approaches Amina Deady, a 27-year-old single mother and recent convert to Islam, and asks, "Is this Halloween or something?"
Aware he is mocking her conservative Islamic dress, Deady fired back, "What's wrong with me?"
"I don't like it," he replied. "I don't like that because I don't like your religion. It says to kill me and I don't want to be killed by you."
The two engage in a back-and-forth, in which Deady tries to inform the instigator that there are equally controversial passages in the Bible as there are in the Quran, but he says he doesn't wish to have a conversation on religion, only that he hates Islam.
When he tries to place his order at the serving counter, the supervisor on duty tells him his business is no longer wanted, saying he is "disrupting a public place and being very racist".
In a public statement, The Coffee Bean & Tea Leaf said it is "fully committed to ensuring the wellness and safety of its customers, team members and business. We have a zero-tolerance policy when it comes to discrimination of any kind, and have the right to refuse service to any person who makes customers or team members feel endangered in any way".
When I interviewed Deady, she told me that picking up coffee from that particular Coffee Bean outlet was part of her Wednesday ritual, and that she used it as a venue to accomplish a "little bit of studying" while enjoying her drink.
"I stood in line behind this gentleman, just waiting my turn like everybody else, and he made a comment," said Deady, adding that she's used to hearing negative comments from strangers because of her conservative dress.
"So I didn't think anything of it. I didn't want to assume his comment was about me, but then he walked around the glass counter that holds the pastries, and then he said the 'Halloween' comment and he said it very aggressively, giving me a sly look, and then I thought, 'Ok, confirmation.' So I turned on my phone and asked him to repeat his comment and that's where everything took off."
Deady said that while "people do make comments" about her from time to time, his belittling of her was "shocking because it took place in my hometown. I was born and raised in Riverside and have deep connections to that area", adding that her brother was stabbed to death three years ago within walking distance of this particular Coffee Bean café.
Despite the man's aggressive behaviour towards her, Deady says she felt "embarrassed" for whom she presumes was his teenage daughter accompanying him.
"I felt so bad for her, and I still feel super bad for her, because now this 14-year-old or 15-year-old girl will be known as the daughter of this 'Coffee Bean guy.'"
She told me she is glad this encounter happened, because it opened her eyes to how "positive" people can be, adding that the overwhelming support she received from strangers and the café staff far outweighed what she described as a "really negative one minute of my life".
She also said that the staff's response "lifted a huge weight off my chest immediately".
"If you look at the video, you can see my eyes squint up into a smile under my niqab because it really is not often people stand up for me in that kind of situation," said Deady.
When I asked Imraan Siddiqi, an executive director with the Council of Islamic American Relations and founder of Hate Hurts, an anti-Muslim discrimination advocacy group, what he thought of the clip, he said: "I think given the circumstances she did what she could do to stand up against her harasser. Most of us are unprepared on how to deal with instances of harassment or bullying – whether in public or in a work setting."
Siddiqi also praised the café's staff, adding that the encounter serves as a reminder of how important it is for large corporations to invest in "diversity training".
"Many assailants think that no one will stand up for the harassed person – and are taken off guard when this actually happens," he said.
A number of chains and retailers have come under fire for either failing to effectively deal with bigoted customers or participating in racially-charged behaviour.
Coffee Beans' main rival, Starbucks, came under criticism recently after one its managers called the police on two African-American customers despite witnesses testifying that the men "didn't do anything wrong". In 2014, a black man was shot and killed after a Starbucks employee in Milwaukee called the police on him for sleeping on a park bench.
http://www.middleeasteye.net/news/california-muslim-woman-stands-islamophobia-890138557
--------
'Not Allowed To Wear Hijab', Mumbai Student Takes College to Court
by Sailee Dhayalkar
May 23, 2018
A student of homeopathy has moved the Bombay High Court against her college, accusing it of not allowing her to wear a hijab (headscarf) and barring her from sitting for examinations on the ground of having low attendance.
The petitioner, a resident of Bandra in Mumbai, moved court on Monday seeking permission to appear for the first-year examinations of Bachelor of Homeopathic Medicine and Surgery (BHMS) course at Sai Homeopathic Medical College (SHMC) in Bhiwandi beginning June 1.
The petition stated that the woman had cleared her Common Entrance Test and secured admission in SHMC on December 14, 2016. While the session started on December 27, 2016, she started attending college from the next day.
The petitioner added that "to her utter shock and dismay, the college started coercing all Muslim girls to remove their hijab". Alleging that it started "threatening" Muslim girls to either stop wearing hijab or attend classes, the student said several girls either took off their hijab or left the college. But the petitioner refused to do so.
The petitioner said that she and her parents told the college authorities that it was not possible for her to stop wearing hijab since it is a religious practice. She added that they approached several college authorities to resolve the issue. On January 11, 2017, they wrote to the Union Ministry of Ayurveda, Yoga and Naturopathy, Unani, Siddha and Homoeopathy (AYUSH).
On January 20, 2017, the ministry allegedly wrote to the college stating that it "cannot compel a student to not wear hijab, since it is disrespect to social justice," while directing it to immediately resolve the issue. However, she was asked to leave college, the petitioner said. On March 2, 2017, the student's father wrote to state Medical Education and Drugs Department (MEDD). While the department directed the college authorities to meet the petitioner, no initiative was taken by the institute, the student alleged. The father again informed the department, following which, the college authorities were asked to appear before Maharashtra University of Health Sciences (MUHS) officials for a hearing on May 15, 2017.
The college, however, did not attend the hearing, the petition stated. Another hearing was conducted on June 2, 2017, in which the college representative told MUHS that "the management has stipulated a uniform dress code for boys and girls, hence the request of the student cannot be accepted".
The petition said that the MEDD had intervened through several letters, but the college did not allow the student to attend classes. The petitioner also sent a legal notice to SHMC on October 13, 2017 and wrote to the State Human Rights Commission on October 30, 2017.
She then approached the HC, which on March 12, this year, recorded the statement of the college and MUHS authorities. They told the court that the petitioner would be allowed to take repeat classes and sit for first-year BHMS examination "as and when eligible for the same". The petitioner was allowed inside the college only after the authorities received the court order on March 19, the petition stated.
According to the petition, while repeat classes were conducted by the college between March 2 and April 18, the petitioner could only attend classes held between March 19 to April 18. Out of these, she missed three days of classes due to "health reasons". On March 27, the student sought permission from the college to submit her examination form so that she could sit for her papers from June 1. She was, however, not allowed to submit the form. The college allegedly told her that it has approached MUHS, seeking guidance for permitting her to appear in the examinations. The petitioner stated that MUHS told her that it has been directed by the HC "to act in accordance with law" and so, she is being denied permission to sit for examination, as she had failed to meet the mandatory attendance criteria.
The petitioner told the court that MUHS has to consider that she could not attend college for the entire academic year. The plea added that "non attendance is not due to failure of the petitioner to attend classes but the same is due to the arbitrary behaviour of the college and hence, the petitioner ought to have been attending the classes regularly."
Lawyer Deepak Salvi, who had appeared for the SHMC in a previous hearing, said: "A previous order from the court says that if MUHS is approached by the college for any permission in respect to the petitioner, the university would consider the same in accordance with rules and regulations."
He, however, claimed that the college was not opposed to the petitioner wearing hijab. "The college had allowed her to wear hijab but she was insisting on wearing a full burqa. If she wore a burqa, it would have been difficult for her to wear an apron, which is required in some of the classes."
http://indianexpress.com/article/cities/mumbai/not-allowed-to-wear-hijab-mumbai-student-takes-college-to-court-5187470/
--------
UK Girl 'Tricked' Into Marrying Pakistani By Mother; 'Threatened' With Black Magic
May 23, 2018
A British court has convicted a woman of trying to trick her teenage daughter into marrying a Pakistani man, Mail Online reported.
According to the report, the 45-year-old mother has been found guilty by the Birmingham Crown Court of duping her own daughter to go to Pakistan on a "family holiday" and then tying the knot with a Pakistani after being given wedding documents by an Imam to sign upon reaching there.
This is the first prosecution of its kind with the defendant forcing the girl to marry her against her will and then threatening her with black magic.
Giving evidence during the trial, the girl told how wedding preparations went ahead despite her objections and the couple was then married in September 2016, after the girl had celebrated her 18th birthday.
The mother was charged with false marriage, perjury and perverting the course of justice.
https://www.pakistantoday.com.pk/2018/05/23/uk-girl-tricked-into-marrying-pakistani-by-mother-threatened-with-black-magic/
--------
Iran's Rohani Calls for End To Ban On Women At Sports Events
May 23, 2018
Iranian President Hassan Rohani has called for a decades-long stadium ban for women to be lifted, according to his office and media reports.
"There should be no difference between men and women in Islam, and for that reason women should also be allowed to take part in sports events," Rohani said at a meeting with Iranian athletes in his office on May 22, according to a statement released by his office.
Women have been banned from stadiums in Iran for 39 years in a policy imposed by Iran's Shi'ite cleric rulers after the 1979 revolution.
Rohani questioned why religious authorities have barred women from games, noting that Iranian women are active in sports and have achieved honors in sport competitions.
"Is preventing women from attending sports arenas as spectators in favor of Islam?" Rohani asked, noting that Iranian clerics have justified the ban by saying that women shouldn't hear male fans swearing and cursing during games.
Rohani rejected those claims, saying women should not be punished for men being vulgar at sporting events.
"Should our women pay for it?" Rohani asked. "The true Islam does not prevent women from social engagement. Islam has not said at all woman must stay at home. It says women can participate in all social affairs with hijab," Rohani said.
Rohani also suggested that women's sports should be broadcast on television.
"Why we cannot show the events, especially when they compete bravely with world-famous teams and win great victories?" he asked.
Rohani's comments came three months after the president of the world soccer federation said Rohani had assured him women will soon be allowed to attend soccer matches.
"I was promised that women in Iran will have access to stadiums soon," FIFA chief Gianni Infantino said on March 2. "He told me that in countries such as [Iran], these things take a bit of time."
Meanwhile, Iranian Vice President For Women and Family Affairs Masoumeh Ebtekar has suggested that special sections for women and families in Iran's soccer arenas could help end the stadium ban, though the clergy has previously rejected that proposal.
Protests against the ban have grown in recent months, most noticeably around a World Cup qualifier in September against Syria when Syrian women were allowed to attend the game in Tehran but Iranian women were not.
Some Iranian lawmakers called the different treatment of Iranian and Syrian women a "regrettable and annoying discrimination."
https://www.rferl.org/a/iran-rohani-calls-for-end-ban-women-attending-sports-events-stadiums-/29244554.html
--------
Tension in Tapi village after Muslim youth elopes with Hindu girl, police look for couple
May 23, 2018
Tension gripped Valod taluka of Tapi district on Tuesday over the marriage of a Hindu girl to a Muslim youth. VHP and Bajrang Dal activists staged a dharna outside the police station in Valod, demanding that the girl be brought back to her home.
The 20-year-old girl, who is an arts graduate and a resident of Buhari village, had eloped with her 26-year-old Muslim lover on May 6 from her uncle's home in Palsana taluka of Surat district. The two then got married in Malegaon town in Maharashtra, where the girl allegedly converted to Islam.
After she went missing, her father filed a missing person's report with the Valod police. According to the police, the girl's parents had learnt about her affair with a Muslim youth, who had also gone missing from his house.
A few days later, her parents received documents in Marathi and a letter from their daughter through post. In the letter, the girl said that she had an affair with the Muslim youth and after changing her religion, got married as per Islamic rituals. The envelope also contained notorised documents of her change of religion and marriage, which was registered on May 9.
On Tuesday, several volunteers of VHP and Bajrang Dal along with the girl's family took out a rally at Buhari village and reached Valod police station where they staged a dharna .
Sub-Inspector A D Khant of Valod police station, however, told the protesting people that since the complaint was registered with Palsana police station, therefore they were not in a position to provide any information regarding the case.
"We are putting all our possible efforts to locate the girl. After locating them, we will take their statements and question her whether she was forced to convert. We have also questioned the parents of the youth and his relatives, but we are still clueless. The girl is graduate and boy works as a car driver in a private firm in Bardoli in Surat district," Sub-Inspector J H Kandoria of Palsana police station.
http://indianexpress.com/article/cities/ahmedabad/tension-in-tapi-village-after-muslim-youth-elopes-with-hindu-girl-police-look-for-couple-5187531/
--------
Muslim Women Welcome Community to Break Ramadan Fast With Them
May 23, 2018
Women from all types of backgrounds gathered at a community iftar on Monday evening to learn about Islam and the reasons why Muslims fast during Ramadan.
The women's advisory board at Noor Ul Islam mosque in Leyton High Road hosted 60 guests at the all-female event in Walthamstow's Hoe Street.
Members of the board recited prayers and sang religious songs before the fast was broken shortly before 9pm.
Waltham Forest Council leader Clare Coghill and police officers based in the borough were among those in attendance.
Ramadan is the ninth month of the Islamic calendar and is observed by Muslims around the world who fast from dawn until sunset.
http://www.guardian-series.co.uk/news/16242534.Muslim_women_welcome_community_to_break_Ramadan_fast_with_them/
--------
Morocco's Women Surfers Ride out Waves and Harassment
May 23, 2018
RABAT: Moroccan women surfers have become a common sight as they skim the waves off the coast of the capital, Rabat, but they still can face prejudice and harassment back on land.
"It's easier in the winter because the beaches are empty," said surfer Meriem, 29, who, like most of the women surfers, wears a wetsuit.
"In the summer we suffer a lot of harassment, that's why we pay attention to what we wear."
The engineer, who took up the sport four years ago, said she's lucky to have grown up in a "tolerant" family.
For many Moroccan women from conservative backgrounds, such activities are off limits.
"Some families are ashamed that their daughters practice water sports," said Jalal Medkouri, who runs the Rabat Surf Club on the capital's popular Udayas beach.
The gentle waves nearby are ideal for beginners, but nestled at the foot of the 12th century Kasbah and easily visible from the capital's bustling touristic heart, the beach is far from discreet.
Yet some club members say attitudes are changing.
Rim Bechar, 28, said that when she began surfing four years ago, "it was a bit more difficult."
"At first, my father accompanied me whenever I wanted to surf," she said. But now, "people are used to seeing young women in the water, it's no longer a problem."
Today, she surfs alone, stays all day and goes home without problems, she said.
Surfers first took to the waves off Morocco's Atlantic Coast in the 1960s, at the popular seaside resort of Mehdia, about 50 kilometers (30 miles) north of the capital.
Residents say soldiers at a nearby French-American military base were the first to practice the sport there.
A handful of enthusiasts, French and Moroccan, quickly nurtured the scene, traveling further south to the lesser-known beaches of Safi and Taghazout, which later gained popularity with surfers from around the world.
The sport gradually gained Moroccan enthusiasts, including women. In September 2016, the country held its first international women's surfing contest.
But mentalities differ from beach to beach.
Despite efforts to improve the status of women in the North African country, attitudes have been slow to change.
A United Nations study in 2017 found that nearly 72 percent of men and 78 percent of women think "women who dress provocatively deserve to be harassed."
The harassment women surfers can face in Morocco ranges from looks and comments to unwanted attempts at flirtation and attention from men.
In Mehdia, however, surf instructor Mounir said it's "no problem" for girls to surf.
Last summer "we even saw girls in bikinis on the beach and the authorities didn't say anything," he said.
Back at Udayas beach, popular with young men playing football, attitudes are more conservative.
"Girls are often harassed by the boys," Bechar said.
"At first it wasn't easy, so I decided to join a club."
The Rabat Surf Club now has more than 40 surfers, half of whom are girls, Medkouri said.
"Parents encourage their children when they feel they are in good hands," he said.
Club surfing is particularly popular among girls because the group setting cuts harassment and eases the concerns of some families.
Ikram, who also surfs there, said she hopes "all girls who were prevented by their father or brother from doing what they want will follow this path."
"Surfing makes you dynamic," she said.
http://www.arabnews.com/node/1307981/offbeat
--------
Bangladesh's Female Domestic Workers Tortured in Saudi Arabia, Unwanted At Home
2018-05-23
She confronted another difficulty at home when her father refused to accept her in the family. Her husband had already left her and even her children are barred from meeting her.
Salma at present is residing in a shelter run by BRAC, a nongovernmental organisation that works on safe migration.
Salma gave a dismal account of the torture by her employer in Saudi Arab to bdnews24.com saying the employer never listened to the plea to leave her at the Bangladesh Embassy. On the contrary, it only made matters worse.
Many others like Salma went to work as a house-help in Saudi Arabia over the last few years but had to return home being tortured; some of them even complained of being raped.
"They never gave me enough food and always beat me. He (the employer) used to say bad things to me. He beat me as I didn't listen to his indecent proposal," Salma told bdnews24.com while describing her ordeal.
"One day he asked me to make coffee. He followed me when I went to do that. I tried to avoid him but he said indecent things to me and pushed me down on the floor. I had a match-stick with me and I set fire to his attire."
Salma said she fled from that household immediately and found other Bangladeshis on the street whom she shared her urge to return home.
"Those Bangladeshis told me I should go to Bangladesh Embassy in Saudi Arabia; I found other women with broken arms or legs over there. Some of the women were burnt with hot iron as part of the torture," said Salma.
Salma's father Shamsu Miah told bdnews24.com that she went to Saudi Arabia even after he forbade her and also never contacted her family, when asked why he was not accepting Salma.
However, migrant officers in BRAC said Shamsu Miah was never reluctant to take Salma back home when they informed him of her arrival.
Shamsu Miah said he will try when asked if he is going to accept his daughter back in the family.
They have been rejected many times while trying to return house-helps to their families, said Shariful Hassan, head of Migration Programme at BRAC who has worked with migrate workers of Bangladesh for long.
"Our society is not prepared to accept the women who returned from the Middle East, being tortured or even sexually abused; they treat them as outcast as if the flaw is within those women," he said explaining the reasons behind the unwelcoming attitude towards returned house-helps.
"I called up the husband of a repatriated girl who said, 'my wife has died.' His wife was sick and needed treatment, but to him she was dead," said Shariful.
There is no statistics on tortured women returning from the Middle East who never got accepted back in the family.
"We have seen in almost all cases that the family refuses to accept a woman who returned from Saudi Arabia; in few cases we persuaded the families but in reality, the women still remain to be outcasts," said Shariful.
The BRAC officer could not provide a specific number of tortured women house-helps returning home.
On average, 200 women return every month. At least 800 women returned home over the last four months. BRAC wrote to the Bangladesh Embassy and the Expatriates' Welfare and Overseas Employment Ministry over last few months to bring back 118 women and succeeded to bring back 80 of them.
He added a number of women house-helps come back under private initiatives. At least 1,000 women who have suffered sexual violence or other forms of torture returned home in last two years.
The Saudi Arabia National Recruitment Committee signed a memorandum of understanding with Bangladesh Association of International Recruitment Agencies or BAIRA to recruit house-helps from Bangladesh in April 2011.
However, no women house-helps went to the kingdom despite signing of the MoU as interview of 150 house-helps from Indonesia, Philippines and Sri Lanka working in Saudi Arabia published in a report by Human Rights Watch in 2010 revealed 'physical and mental torture' on them.
Saudi Arabia again signed a treaty with Bangladesh to recruit women house-help in 2015. The treaty included a clause that three male workers will be recruited against one female house-help. Bangladesh began to send women house-helps following it.
At least 83,354 women workers were sent to Saudi Arabia last year, said Shariful.
This year 30,000 women went to Saudi Arabia as of April. Almost 175,000 women house-helps went to Saudi Arabia over the last four years.
However, government officials in the country have been rejecting the claims of repatriated women workers from Saudi Arabia.
Followed by a visit to Saudi-Arab, members of a parliamentary committee said lack of knowledge in local language, dislikes for Saudi food and homesickness cause the women to return home.
https://bdnews24.com/bangladesh/2018/05/23/bangladeshs-female-domestic-workers-tortured-in-saudi-arabia-unwanted-at-home
--------
Abu Dhabi Women to Support Family of Kerala Nurse Who Died Of Nipah
May 22, 2018
Abu Dhabi: Two UAE-based women have come forward to sponsor the education of the children of the Indian nurse who died of Nipah virus in Kerala.
Lini Sajeesh, a nursing assistant who took care of patients infected with Nipah virus in Kozhikode district, died of the same infection. She left behind her young sons – Sidharth, five, and Rithul, two –with her husband Sajeesh, Indian media reported.
Abu Dhabi residents Santhi Promoth and Jyothy Palat, the executive directors of Avitis Institute of Medical Sciences in Palakkad district of Kerala, have contacted Lini's family offering financial support for her children's future education. The women hailing from the south Indian state told Gulf News they were moved after reading the story of Lini who sacrificed her life for her profession.
"We are also working in healthcare sector. We know how big the contribution of nurses is," said Santhi.
Lini's last letter to her husband who lives in Bahrain, in which she expressed her fears that she would die before meeting him and requested him to take the children with him, had gone viral.
Jyothy said their institute would sponsor Lini's sons' education till they finish post- graduation or any professional courses which they may choose.
"We will bear all the educational expenses needed for their studies wherever they get admission."
Lini's family has already been informed about the gesture and they would be given a formal document to show the commitment of the institute in this regard, the philanthropic women said.
https://gulfnews.com/news/uae/society/abu-dhabi-women-to-support-family-of-kerala-nurse-who-died-of-nipah-virus-1.2225509
--------
URL: https://www.newageislam.com/islam-women-feminism/uae-rated-safest-country-women/d/115333
New Age Islam, Islam Online, Islamic Website, African Muslim News, Arab World News, South Asia News, Indian Muslim News, World Muslim News, Women in Islam, Islamic Feminism, Arab Women, Women In Arab, Islamophobia in America, Muslim Women in West, Islam Women and Feminism