New Age Islam News Bureau
10 December 2021
• Loujain al-Hathloul Says Phone Hack by US Contractors Led to Arrest, Torture
• Finding Afghanistan's Exiled Women MPs
• United Nations Alarmed By Reversal of Women's Rights under Taliban Rule
• Despite Challenges, Muslim Women Seek Diverse Paths, From Religious Court Judges to Female Religious Guides, To Leadership
• Women in Blockaded Gaza Seek Dimple Surgery to Brighten Smile
Compiled by New Age Islam News Bureau
URL: https://www.newageislam.com/islam-women-feminism/uae-dubai-inspiring-generations-female/d/125936
--------
UAE: How Dubai Police's First Female Horseback Patrol Officer Is Inspiring Generations
Captain Al Saadi worked her way up as an officer
-----
By Sherouk Zakaria
10 Dec 2021
At a young age, Halima Al Saadi felt an igniting passion when watching crime movies and detective series.
US: Student Arrested For Bringing Loaded AK-47, Drugs On School Bus
Enchanted by the world of policing, she aspired to one day become an officer who plays an active role in maintaining law and order. Little did she know that at 47, she would become Dubai's first female mounted police officer.
Starting her journey at Dubai Police 23 years ago, Captain Al Saadi worked her way up as an officer.
Speaking to Khaleej Times at the Dubai Police Equestrian Department in Al Awir, Al Saadi said: "I joined Dubai Police with the idea that I will be like the detectives I watched in movies. I entered the field and found myself involved in criminal investigations and worked across different departments throughout my career. I fulfilled my ambitions and I will always aim for higher."
Becoming the first female rider in Dubai Police's horseback patrols did not come overnight. Al Saadi said it took years of work to earn her position today.
Besides her full-time role, the mother of two earned a bachelor's degree in law from the Dubai Police Academy and a diploma in research and investigation from the General Department of Criminal Investigation at Dubai Police.
Prior to her job at the Mounted Police unit, Al Saadi worked at the General Department of Airports Security and the Anti-Cybercrime Department at the General Department of Criminal Investigation.
She began her equestrian training at Dubai Police from 2014. As a female police officer, she found the support she needed to prove herself in a male-dominated field.
Humble and passionate, Al Saadi said "self-motivation and determination are key to achieving your dreams. You need to have a purpose and work towards it every day. Thankfully, we are lucky to have a government that gives us the platform to fulfil our potential."
She added: "I'm proud to be an Emirati woman, serving my country and contributing to its security and safety efforts."
Maintaining public safety
As part of her role as a mounted police officer, Al Saadi rides across local neighbourhoods to ensure rules are being followed. Besides administrative work, her field job entails seizing illegal vehicles, arresting criminals, issuing fines for violators and implementing Covid-19 precautionary measures.
"Our role during the pandemic is to raise community awareness on the necessity to wear masks and maintain social distancing," she said. "Horseback patrols enable us to access narrow alleys that police vehicles cannot reach to disperse any gatherings and ensure social distancing rules are being followed."
Her role also involves providing security coverage at tourist destinations. "Tourists feel comfortable when they see police around them. It gives them peace of mind and makes them feel safer," she said.
Al Saadi takes on shifts based on requests from different police stations looking to locate a suspect in a neighbourhood or disperse crowds violating Covid-19 safety measures.
Passion for horses
Al Saadi's passion for horses started at a young age when she used to join her family on outdoor rides. She started her professional training at the Equestrian Department in 2014, obtaining comprehensive hands-on knowledge about horses.
"I learned the basics that I would not have learned in other sporting clubs. I was introduced to the anatomy and psychology of horses, learned to saddle and communicate with horses, along with many other skills."
On her relationship with horses, Al Saadi said: "Naturally, when you meet someone for the first time, you try to meet the needs of the person, find a middle ground, establish trust and maintain the respect between the both of you. It's exactly the same with horses. You need to be in control."
Inspiring young generations
Al Saadi said the UAE leaders have empowered women to prove themselves across various fields.
"Her Highness Sheikha Fatima bint Mubarak Al Ketbi, Mother of the Nation, has always been my role model. She encourages women in all fields," she said. "Today, we have female judges, ministers and diplomats. In the police, we have female detectives and investigators. Women have boldly taken on the challenge and proved themselves with sheer competence."
Born in a family of athletes, Al Saadi is now an inspiration for her children and grandchildren who aspire to follow suit. She finds special pleasure when children approach her during her shift to take pictures with the horse and ask for a ride.
"I often hear encouraging words from the community when they see me on duty. It's exciting to see people engaging with us during our duty on field. At the end of the day, we work for their safety," Al Saadi said.
Source: Khaleej Times
https://www.khaleejtimes.com/uae/uae-how-dubai-polices-first-female-horseback-patrol-officer-is-inspiring-generations
--------
Loujain al-Hathloul Says Phone Hack by US Contractors Led to Arrest, Torture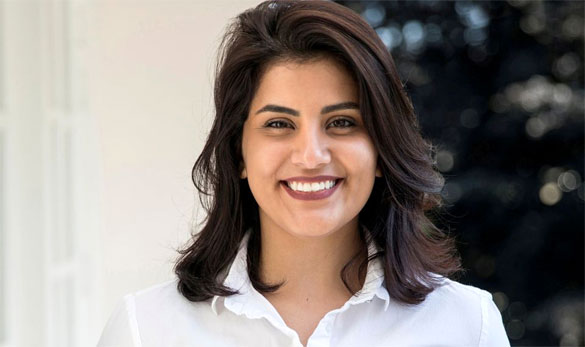 Saudi Arabian women's rights activist Loujain al-Hathloul
-----
Joel Schectman and Christopher Bing
Washington: A Saudi Arabian women's rights activist accused three former United States intelligence contractors of an illegal hack of her phone that was instrumental in her being arrested and later tortured in her home country, according to a lawsuit filed in a US court.
Loujain al-Hathloul helped lead a campaign to allow Saudi Arabian women to drive by live-streaming herself violating the ban, which was lifted in 2018.
She spent almost three years in Saudi jails and is currently banned from leaving the Kingdom. The lawsuit was filed on her behalf on Thursday in a federal court in Oregon by the privacy non-profit organisation Electronic Frontier Foundation.
It alleged that the surveillance operation run by the three ex-contractors and DarkMatter, a United Arab Emirates cyber security company, led to al-Hathloul's arrest by the UAE's security services.
From there she was extradited by private plane to Saudi Arabia, "where she was detained, imprisoned and tortured," according to the lawsuit.
A 2019 Reuters investigation cited by the lawsuit, revealed that al-Hathloul was targeted in 2017 by a team of US mercenaries who surveilled dissidents on behalf of the UAE under a program called Project Raven, which categorised her as a national security threat and hacked into her iPhone.
Al-Hathloul said that as she was tortured, interrogators mentioned communications they apparently learned of through "unlawful access" to her phone, according to the lawsuit.
Saudi officials have denied torturing al-Hathloul and say she received a fair trial. A request for comment to the Saudi and Emirati embassies in Washington was not immediately answered.
In a separate settlement with U.S. federal prosecutors in September, for hacking charges, the three former U.S. intelligence contractors Marc Baier, Ryan Adams, and Daniel Gericke admitted to conducting surveillance operations on behalf of the UAE, including breaking into mobile devices.
Requests for comment sent to representatives for Gericke, Baier, Adams and DarkMatter were not immediately answered.
"No government or individual should tolerate the misuse of spy malware to deter human rights," al-Hathloul said in a statement.
"This is why I have chosen to stand up for our collective right to remain safe online and limit government-backed cyber abuses of power. "
Source: Reuters
https://www.reuters.com/legal/litigation/saudi-womens-rights-activist-says-phone-hack-by-us-contractors-led-arrest-2021-12-09/
--------
Finding Afghanistan's Exiled Women MPs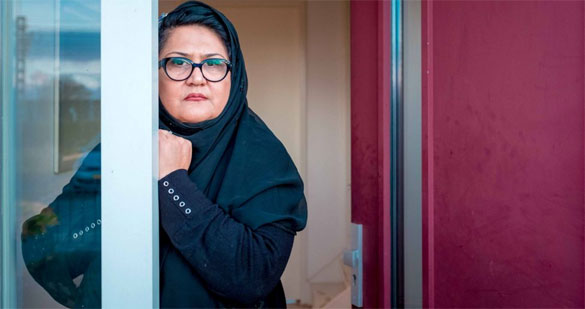 Elay Ershad hopes to campaign for girls' education from within Afghanistan
-----
By Tom Donkin
10 December 2021
Afghanistan's women MPs fled for their lives when the Taliban took power - with only nine of 69 women MPs remaining, in hiding, in the country.
Now scattered across the globe, many want to continue fighting for women's rights and aim to set up an Afghan "women's parliament in exile".
The largest group, numbering 22, are in Greece. There are also groups in Albania, Turkey and the US.
However one female former MP is preparing to return - she says little can be achieved from abroad and "we have to be inside Afghanistan".
Mashid (not her real name) went into hiding immediately after the Taliban takeover, keeping permanently on the move. She never slept in the same house two nights in a row.
She didn't want to risk taking her family to Kabul airport, where there were crowds, chaotic scenes and more than one explosion, so there was no easy way out of the country. "The doors of Afghanistan closed," she says.
But two weeks ago, after three months underground, Mashid put on a burka, completely covering her face, and boarded a bus with her children. They headed first for Herat, and then for the Iranian border. "One thing about the Taliban, they don't force women to reveal their covered face," she says.
If she had been identified at a Taliban checkpoint, she would certainly have been detained, Mashid says. But officials would not expect an MP to wear a burka, she says, and "they think that all Afghan politicians and woman activists have been evacuated."
After 10 days travelling through Iran, Mashid now finds herself in Turkey. But she doesn't want to stay, because she's concerned the Turkish authorities won't allow her to remain politically active.
She wants to continue telling the world about the "horror" faced now by women and girls in Afghanistan, and campaigning for change. For now she is hiding her identity, to protect relatives who remain in Afghanistan.
The BBC has established that nine of the 69 women MPs remain in Afghanistan, in hiding.
Many of the others managed to get places on evacuation flights.
Some 46 are now in Europe and Turkey. The rest have taken refuge in a dozen countries from Australia to Qatar.
Serina (also not her real name) got airlifted to Germany with her husband and a three-month-old baby. Before leaving Afghanistan she caught tuberculosis, and is now being treated with antibiotics, while staying in a camp for asylum seekers.
She says she had never imagined she would have to flee her country, and feels lost in a continent she has never visited, in a country where she doesn't speak the language.
"I have been through bitter days and I am still in a bad situation but whenever I am reminded of problems that every Afghan is going through now, I forget my pain," she says.
There is no question of going back to Afghanistan, Serina says. She can only wait until she, her husband and baby are moved to a new home in a German town and can start their lives again - doing whatever they can to maintain a connection with the home they left behind.
"I have been brought up in war and misery," she says. "But I shall raise my child in the same culture, customs, and feeling of my motherland."
Many of the MPs are would like to get to Canada, which has said it will take 5,000 Afghan refugees.
But wherever they end up, most of the MPs, like Mashid, want to continue fighting for women's rights. One idea is to form a women's "parliament in exile", to draw attention to the violation of women's rights in Afghanistan and to keep up the pressure on the Taliban.
This was an idea floated by one of the NGOs that helped organise the evacuation of women MPs from Afghanistan, but has been enthusiastically adopted by some of the MPs in Europe. It's too early to say whether it will happen.
Shinkai Karokhail is also a supporter. She was Afghanistan's ambassador to Canada before being elected to parliament - now she's living in a town outside Toronto and seeking asylum in the country.
"I lost my province in the morning and my president in the afternoon," describing the quickly unfolding events of 15 August. "Nothing surprised me by the end of the day."
The driving force behind Afghanistan's Elimination of Violence Against Women act, Shinkai Karokhail warns that the women MPs will have to put their differences aside, if they are to achieve anything.
"Everybody represented a different part of Afghanistan, with a different priority and different political interest… but now we've lost everything," she says.
"All the differences we had, we've lost. I think it's time to realise the only things that matter now are to save the country, support the people and give a women a voice."
Short presentational grey line
In a small house just outside Amsterdam, Elay Ershad is preparing a traditional Afghan lunch. She struggles to find all the ingredients in the local supermarket, but it's important to her to get it right.
"It reminds me of my people, those who don't have enough to eat, and some of them, who don't have food at all," she says.
Elay Ershad wasn't a member of the latest Afghan parliament, but had previously been an MP for more than a decade and later served as a spokeswoman for President Ashraf Ghani. The Taliban froze her bank account after the takeover, but she didn't feel the need to hide and flew out of the country on a commercial flight in September.
She is now preparing to return, hoping for protection from contacts in the Taliban, and is sceptical about the chances of making a difference in Afghanistan from outside.
"It's not possible to work from other countries or from abroad. We have to be inside Afghanistan" she says.
"The solution is based in Afghanistan, and we should find it in Afghanistan."
Her plan is to work with international NGOs to create schools for girls and advocate for women's right to education, "even if that's under a Taliban government", she says.
"If you run away from a problem, the problem will be there forever."
Additional reporting by Ahmad Khalid
Source: BBC News
https://www.bbc.com/news/world-asia-59598535
-------------
United Nations alarmed by reversal of women's rights under Taliban rule
December 10, 2021
United Nations is alarmed by the rapid reversal of Afghanistan women's rights under the Taliban's rule that began this year in August.
"UN Women -- Afghanistan" issued a "Gender Alert" expressing concerns on the Afghan women's situation, saying that since August 15, there have been rapid reversals for women across all aspects of Afghan society, according to the Tolo News.
Further, the UN report was meant to "document and analyze" the "rapidly evolving Afghan context" on Afghan women's rights and gender equality.
"Since 15 August 2021, there have been immediate and dramatic reversals on women's rights and fundamental freedom, particularly impacting their right to work, access to education, basic health and protection services, and participation of women and girls in the public sphere and decision-making mechanism," the report emphasized.
Meanwhile, it's noted that under the Taliban's rule the status of Afghan women has yet to be clarified.
According to the Gender Alert report, Taliban's assurance that the rights of women and girls will be respected under Islamic Law, "there is a rapid reversal of their rights across all areas of life."
Also, the UN report mentioned that approximately 60 percent of out-of-school children are girls.
"US$ 1 billion or up to 5% of the GDP is the estimated immediate economic loss of restricting women from working," the report cited in a graph.
"This Gender Alert also explores how the rights of women and girls are interconnected, meaning that rapid improvement across the full spectrum of women's rights is urgently needed," the report said.
The report also proposed support to "rebuild the Afghan women's movement", "support services for women by women," and the "monitoring (of) human rights.
Source: Business Standard
https://www.business-standard.com/article/international/united-nations-alarmed-by-reversal-of-women-s-rights-under-taliban-rule-121121000198_1.html
--------
Despite Challenges, Muslim Women Seek Diverse Paths, From Religious Court Judges to Female Religious Guides, To Leadership
09/12/2021
CAIRO -
Shortly after Kholoud al-Faqeeh was appointed a judge in an Islamic religious court in the Palestinian territories, a woman walked in, laid eyes on her and turned around and walked out, murmuring that she did not want a woman to rule in her case.
Faqeeh was saddened, but not surprised; people have long been accustomed to seeing turbaned men in her place. It was only in 2009 that she became one of the first two women appointed in the West Bank as Islamic religious court judges. But she sees her presence on the court as all the more important since it rules on personal status matters ranging from divorce and alimony to custody and inheritance.
"What was even more provoking is that These religious courts are in charge of women's cases," al-Faqeeh said. "A woman's whole life cycle is before these courts."
Women like al-Faqeeh are increasingly carving out space for themselves in the Islamic sphere and in doing so, paving the way for others to follow in their footsteps. Around the world, women are teaching in Islamic schools and universities, leading Quran study circles, preaching and otherwise providing religious guidance to the faithful.
The formal ranks of Islamic leadership remain largely filled with men, but while women do not lead mixed-gender congregational prayers in traditional Muslim settings, many say they see plenty of other paths to leadership.
"When it comes to knowledge, the leader who is the religious scholar, the spiritual guide, the one who is teaching people their religion … that can be done by women or men and historically always has been," said Ingrid Mattson, the London and Windsor Community chair in Islamic Studies at Huron University College in London, Ontario.
There are diverse views across the different regions, cultures and schools of Islamic thought about the permissibility and scope of women's leadership roles in the faith.
Some of the Prophet Muhammad's traditions and practices were preserved and transmitted by the women closest to him, such as his wives. Many women say that provides a foundation they seek to build on.
Mattson said that people always ask whether a woman can be an imam, but that framing reflects a Western context focused on the weekly congregational prayer rather than "what our Islamic heritage did in terms of providing religious leadership across society to meet many different needs."
Morocco's mourchidat
Aziza Moufid, a 40-year-old in Morocco, is one of those who have taken up the mantle of leadership within the faith, in her case by serving as one of the country's "mourchidat," or female religious guides.
The "mourchidat" are trained at an institute for male and female students founded by and named after Moroccan King Mohammed VI. Women graduates teach religion classes and answer women's questions at mosques or during outreach work in schools, hospitals and prisons.
Moufid, who recalls looking up to the female university professors who taught her Islamic studies, has during the pandemic been working as a guide mostly via WhatsApp. She uses the platform to explain sayings of the prophet to children, to help women learn to memorise and recite the Quran and to counsel teenage girls about a myriad of topics from modesty to prayers to menstruation.
"There are sensitive issues that some of them may not dare discuss even with their mothers or sisters," Moufid said. "But there's no such shame between us. I tell them, 'I am your sister. I am your friend. I am your mother.' "
Mohammed VI institute director Abdesselam Lazaar, who is a man, said the services of the "mourchidat" have been in high demand: "The women here in Morocco are very keen on memorising the Quran and learning about religion."
Women in US
Half a world away in the United States, Samia Omar, who became Harvard University's first Muslim woman chaplain in 2019, said female students there similarly appreciate being able to bring questions about things like menstruation to her instead of to a man.
Omar also sees herself as saving them from being taught a version of Islam devoid of discussion of their rights.
"I'm serving and teaching these young girls and women the way I hope other women will help teach my daughters later," she said.
Omar did not always plan to become a religious leader. But the twists and turns of her life, including an abusive marriage, a divorce and losing a daughter to cancer, led her to the calling she now practices alongside her current husband, who also serves as a Muslim chaplain.
During the divorce, some at her mosque tried to dissuade her from turning to the legal system. She ignored that pressure and ultimately won full custody of her children, but the experience left Omar feeling that some men exploit religion to oppress women.
That can have grave spiritual consequences, Omar said: "Many young women don't understand that we're important in Allah's eyes."
Spiritual leadership
Many in the US have advocated a larger role for women in mosques, from better prayer spaces for female worshippers to more seats on governing boards and a more friendly mosque culture. Some are also calling for a more decentralised leadership model at mosques, one that includes a paid female resident scholar in addition to a male imam.
While there is hope for such advances, "things are not great for women in leadership … in our sacred spaces, right now", said Tamara Gray of Rabata, a non-profit organisation working to empower Muslim women to imagine themselves as leaders, scholars and teachers.
Change takes "a lot of patience and a lot of discussions and a lot of just being able to be courageous," Gray said, adding that Islamic scholarship by women is sometimes met with distrust in Muslim communities.
To that end, she founded the Minnesota-based non-profit organisation, whose programmes include online courses in Islamic sciences. Through virtual gatherings focused on spiritual growth and worship, Gray said, women are able to experience being in a sacred space and then "go back to their own mosque and insist, really, that their mosque make them feel valued, respected, seen."
During a recent virtual event joined by dozens of women, there were tears, laughter and ululations as the group celebrated Gray's receipt of a certificate authorising her to teach certain sayings and traditions of the prophet.
"The words of the prophet … they are weightier than a mountain of gold," Gray told the group.
Promoting women's spiritual leadership is crucial to keeping Muslims connected to their faith in America, in the eyes of Celene Ibrahim, a chaplain who researches gender and Islam.
"You can't carry this on your own," Ibrahim said, referring to male religious leaders. "This is a big task and it's an all-hands-on-deck kind of task."
Faqeeh, the judge, said that women's long absence from judgeships in the Palestinian Islamic court was due in part to custom and to the fact that many viewed the post "as a religious position, like that of an imam."
On the contrary, she said she saw it as a judicial role that relies on the rulings of the Islamic Shariah and argued that there are no reasons to exclude women.
There were bumps in the road, both big and small, after her appointment, as some male judges and court employees seemed less than happy about it. The opposition also came in the form of a Friday sermon that she did not attend but in which, she was told, the speaker railed against allowing women to hold the position.
But things have gone more smoothly since and she often senses relief on the part of women with cases before the court who feel they can talk openly to her about sensitive personal issues. "The once-impossible dream became possible," Faqeeh said.
Reem Shanti, 40, who recently applied to become a judge on the same religious court and considers Faqeeh a role model, said the appointment of women has opened up a world of possibilities for her and others.
"It provided women with an incentive," Shanti said, "and gave them a strong push."
Source: The Arab Weekly
https://thearabweekly.com/despite-challenges-muslim-women-seek-diverse-paths-leadership
--------
Women in blockaded Gaza seek dimple surgery to brighten smile
10/12/2021
When Shoruk Shaheen glances in the mirror, she likes what she sees, especially the change in her face after a cosmetic procedure gaining popularity in Gaza: dimple creation surgery.
The resident of the Palestinian enclave -- who wore white shoes with a Dior logo and clutched a knock-off Louis Vuitton bag -- had the procedure a month ago at a clinic in downtown Gaza City.
"If you have a beautiful smile then you are a beautiful person," said the 26-year-old communications manager, whose eyes remained fixed on her mirror as she admired the new indentation in her left cheek.
Dimple creation surgery is performed worldwide but has particular appeal in Gaza, thanks to its low cost and relative safety.
Expensive, riskier procedures are problematic in Gaza, a deeply impoverished territory with a weak healthcare system and under an Israeli blockade since 2007, the year Hamas Islamists took power.
Creating an artificial dimple is "very simple, very easy, very fast" and carries little risk, Shaheen's surgeon Jalaa El Talmas told AFP.
When performing the procedure, which takes just 10 minutes, Talmas said he applies local anaesthetic to the cheek and mouth before making a slight incision in the zygomaticus muscle that extends from the cheekbone to the mouth.
Talmas said he is performing the dimple procedure for several young women per month, most of whom request it after seeing the results on a friend of a relative.
"They think that it makes the girl more attractive, when she laughs, when she talks, she becomes more attractive," he said of his clients.
'Not a problem'
Talmas, who has worked abroad, said he believes the procedure is more popular among Gazans than other Arab women in the Middle East.
Gazan women became aware of it from those who had travelled to Egypt and the Gulf, according to doctors.
It costs $30-$45 US per cheek -- compared with thousands in some Western clinics.
Shaheen started with just her left cheek, but said she plans to do the other side.
In addition to being cheap, cosmetic dimple creation does not attract the snickers that a procedure like breast implants would trigger in a conservative, Islamist ruled society.
Dimples "are not a problem", said Shaheen, explaining the procedure does not invite social stigma.
At the Victoria aesthetic centre, which overlooks a Gaza City park with manicured rows of palm trees, doctor Hassan Ali Aljaish told AFP he saw no issue with a procedure that brought "a little happiness" to women living in a society replete with hardships, notably the blockade.
Aljaish, who has been performing cosmetic and reconstructive surgery since 2018, said he typically receives about 30 requests a month for dimple creation.
While he conceded it was a growing trend, he cautioned against the impression that "the people of Gaza get (cosmetic) operations every day."
Dimple creation and other cosmetic procedures, "may alleviate the suffering" of life in Gaza, "but we must not forget that this (suffering) exists, said Aljaish, whose practice is mostly for Palestinians needing reconstructive surgery after being injured during hostilities between Hamas and Israel.
Source: France24
https://www.france24.com/en/live-news/20211210-women-in-blockaded-gaza-seek-dimple-surgery-to-brighten-smile
--------
URL: https://www.newageislam.com/islam-women-feminism/uae-dubai-inspiring-generations-female/d/125936
New Age Islam, Islam Online, Islamic Website, African Muslim News, Arab World News, South Asia News, Indian Muslim News, World Muslim News, Women in Islam, Islamic Feminism, Arab Women, Women In Arab, Islamophobia in America, Muslim Women in West, Islam Women and Feminism