New Age Islam News Bureau
17 November 2020
• Khashoggi's Fiancee Calls On World Leaders To Boycott G20 Summit
• First Saudi Ladies Golf Title Draws 'Sportswashing' Charges
• For The First Time In The History Of The Saudi Shoura Council 24 Women Appointed To Shoura Committees
• Sheikha Hind Women's Sports Gets Under Way
• Breast Cancer Cases Rising In Pakistan, Says First Lady
• Afghanistan Ministry of Interior Affairs Bids to Double Women Presence among Afghan Police
• 'Let Women Cook': Lebanese Mock Minister Over Sexist Comment
• Afghanistan- Pioneer Afghan Women Hold Session For Peace In Dubai
• Women crucial to Biden's win, even as gender gap held steady
Compiled by New Age Islam News Bureau
URL: https://www.newageislam.com/islam-women-feminism/uae-celebrates-women-this-national/d/123493
--------
UAE Celebrates Women This National Day With The Abaya Rally
November 16, 2020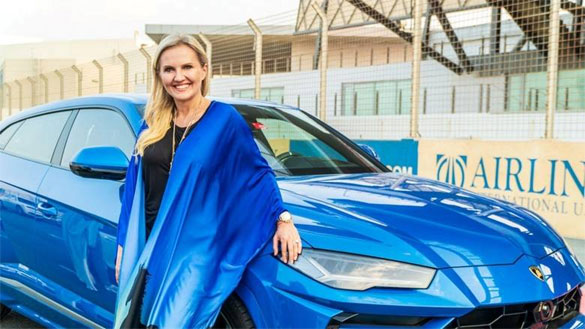 The glamorous event celebrates women in abayas and their contribution to the UAE.
-----
The glamorous event celebrates women in abayas and their contribution to the UAE.
On the occasion of the upcoming UAE National Day, what better way to celebrate women and their achievements than a glamorous 'Abaya Rally'?
Under the patronage of Mohammed Ben Sulayem, president of Emirates Motorsports Organization, and in association with EMSO and Arabian Gazelles, women will be celebrated this National Day, December 2, with a one of its kind Abaya Rally.
"This Abaya Rally is a unique parade that embodies the spirit of unity and adventure; it is strategically planned on National Day to highlight the accomplishments and the paramount contributions of women to this great nation," stated Pragna G. Vaya, Managing Director of Orbit Events and Promotions, organisers of the event.
"This women-exclusive parade is focused on celebrating women who have time and again stood strong to support UAE, and they will continue to play a crucial role in defining the upcoming years," said Mohammed Ben Sulayem.
The parade will be opened by Arabian Gazelles, an all-women supercar club in Dubai. In typical record-breaking Dubai style, a Guinness World Record of the 'Largest video chain of people passing a car key' will also be attempted.
Safety and convenience are prioritised, so food and beverages will be available for participants and the event will be conducted in adherence to Covid-19 precautionary measures laid out by the Dubai Government.
The glamorous event will celebrate and showcase the power of women in Abayas all over the globe.
The course of the parade is plotted from the iconic Dubai Autodrome to Al Qudra Lake with a pitstop at Dubai Police Academy.
All the participants of this National Day Abaya Rally will receive prizes, trophies, and gift vouchers. Cash prizes will be handed out for the best dressed, best car and the winner of the social media competition.
How to register:
Ladies interested to participate can register directly with Orbit Events by sending your name, email ID and Emirates ID copy to 056-9903387.
https://www.khaleejtimes.com/citytimes/in-the-city/uae-celebrates-women-this-national-day-with-the-abaya-rally
--------
Khashoggi's Fiancee Calls On World Leaders To Boycott G20 Summit
16 November 2020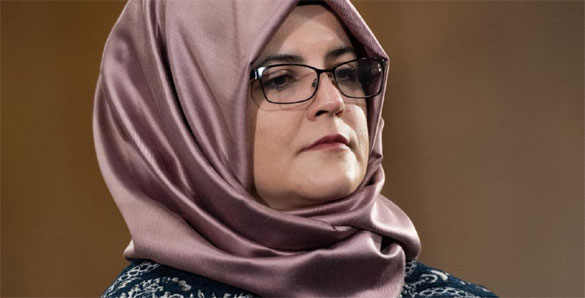 Cengiz said the awareness spread by journalists and reporters about Khashoggi's murder has helped shed light on Riyadh's other abuses (AFP/File photo)
------
Hatice Cengiz, the fiancee of slain journalist Jamal Khashoggi, has urged world leaders to boycott the G20 Summit which will be hosted by Saudi Arabia later this month.
Speaking at this year's Logan Symposium, a biennial journalist-led event on surveillance and censorship, Cengiz said the awareness spread by journalists about Khashoggi's murder helped shed light on other abuses conducted by the kingdom, including the dire treatment of women activists and prisoners of conscience.
"The reason why Jamal's case is still significant is that you as journalists and I, as the witness of this incident, have not given up on following this case," Cengiz told the symposium in a pre-recorded message.
A royal family insider turned critic, Khashoggi was killed and dismembered at Saudi Arabia's consulate in Istanbul nearly two years ago, in a case that significantly tarnished the reputation of the kingdom's de facto ruler, Crown Prince Mohammed bin Salman (MBS).
The remains of Khashoggi, a former columnist for Middle East Eye and the Washington Post, have never been found.
"The awareness we generated upon Jamal's murder increased pressure on Saudi Arabia in relation to injustices such as ill-treatment of women and prisoners of thought," Cengiz said.
"I believe that this continued public pressure has a strong impact on realising justice for Jamal and others to be set free and punishment of the ones responsible for it."
Still, Cengiz noted that the decision to allow the kingdom to host the G20 summit showed the international community was allowing the kingdom to whitewash its abuses and present itself as a reforming power.
"The fact that the G20 summit is hosted by Saudi Arabia is giving a message that people continue their lives as if nothing has happened," she added.
The G20 summit, an annual meeting of the world's 20 largest economies, had been planned to showcase the ambitious modernisation drive of MBS. But the coronavirus pandemic forced the summit to go virtual, dashing Riyadh's hopes of showing off its latest modernisation projects.
In the run-up to the G20 summit, Nobel laureate economist Joseph Stiglitz criticised MBS over Khashoggi's murder and the imprisonment of women's rights activists.
During his address to the Think 20 (T20) summit last month, Stiglitz condemned the crown prince for allowing the individuals who killed Khashoggi to escape any criminal convictions.
The economist then held a moment of silence "in memory of Khashoggi and in honour of all those women being held in prison" by the Saudi authorities. The speech was immediately censored by Saudi Arabia.
https://www.middleeasteye.net/news/khashoggi-fiancee-world-leaders-saudi-arabia-g20-summit
--------
First Saudi Ladies Golf Title Draws 'Sportswashing' Charges
Nov 16, 2020
KING ABDULLAH ECONOMIC CITY, SAUDI ARABIA: Denmark's Emily Pedersen won the first ever women's golf tournament in Saudi Arabia in a tense playoff, but the event designed to soften the kingdom's austere image has drawn charges of being a "sportswashing" exercise.
With a birdie on the extra hole, Pedersen edged out England's Georgia Hall and secured the $150,000 winner's cheque in the inaugural Saudi Ladies International on Sunday at the King Abdullah Economic City close to the western city of Jeddah.
"I'm so happy to be the first winner of this event," Pedersen said in a statement.
"It's been such a fantastic experience to be here in Saudi Arabia."
But Amnesty International and other rights groups said the event glossed over Saudi's poor human rights record and the jailing of several women activists who have called for reforms.
The appearance of female golfers, dressed in casual T-shirts and trousers, is a striking anomaly in Saudi Arabia, an ultra-conservative Muslim nation that has long imposed a strict dress code on women.
As part of a sweeping liberalisation drive, de facto ruler Crown Prince Mohammed bin Salman has accelerated investment in glitzy sports and entertainment events in a bid to improve its reputation.
In March, the kingdom hosted the world's richest horse race, after staging the Italian and Spanish football Super Cups last year.
It already hosts the Dakar Rally, a 12-day marathon through the Arabian desert, and the all-electric Formula E series, in addition to an array of boxing, golf and tennis events.
And this month, Saudi Arabia announced it will host a Formula One Grand Prix for the first time in 2021.
The expanded sporting schedule is part of a push to draw more international tourists, business and investment, as the kingdom embarks on reforms designed to lessen its reliance on oil revenues.
But critics have accused the country's rulers of "sportswashing" to improve their image after long being condemned over rights abuses.
"Saudi citizens and residents should enjoy top-notch entertainment and sporting events, but they also should enjoy basic rights such as free expression and peaceful assembly," said Michael Page, deputy Middle East director at Human Rights Watch.
"So, when Hollywood A-listers, international athletes, and other global celebrities take government money to perform in Saudi Arabia while staying silent on the government's atrocious rights record, they are boosting the kingdom's strategy of whitewashing Crown Prince Mohammad bin Salman's abuses."
Alexandra Armas, CEO of the Ladies European Tour, shrugged off the criticism and said that taking the opportunity to bring the game to Saudi was an "easy decision".
"We did discuss it with our members how they would feel about coming to play in Saudi, and it was very accepted," she told AFP.
Maha Haddioui, a Moroccan and the first Arab professional on the Ladies European Tour, said she was thrilled to be playing in the event and to help write "a new page of history in Saudi."
"I got a lot of messages from young Saudi women telling me how does it work if I want to start golf... so just being part of this, for me it's a winning week."
https://timesofindia.indiatimes.com/sports/golf/top-stories/first-saudi-ladies-golf-title-draws-sportswashing-charges/articleshow/79246122.cms
--------
For The First Time In The History Of The Saudi Shoura Council 24 Women Appointed To Shoura Committees
November 16, 2020
RIYADH — For the first time in the history of the Saudi Shoura Council, a large number of women members have been picked to serve in its various committees. There are 24 women in 14 Shoura committees, which were hitherto monopolized by their male counterparts.
The security affairs committee includes a woman doctor and seven former security officials, most of them are major generals.
Each Shoura committee consists of nine members besides the chairman and deputy chairman and each member participates in one specialized committee based on his/her experience, and its duration is one year. It is permissible to re-nominate chairman and deputy chairman for one time only and they are elected by secret ballot.
The committees shall study whatever subjects are referred to them and submit their reports and recommendations for deliberations in the council.
Dr. Zainab Bint Muthanna Abu Talib was chosen as the chairperson of the health committee and Dr. Saleh Al-Shuhayeb is deputy chairman. Women occupy half of the committee's membership, and they are Dr. Ameera Al-Balawi, Dr. Alia Al-Dahlawi, Dr. Mona Al-Mushayt, and Dr. Najwa Al-Ghamdi. This is in recognition of the vast experiences of the women members have in the health and administrative fields.
Dr. Maha Al-Sinan has been chosen deputy chairperson of the culture, media, and tourism and antiquities committee. There are three women members in the committee — Dr. Iman Al-Jabreen, Dr. Haifa Al-Shammari, and Mona Abid Khazandar. Dr. Amal Al-Shaman was elected deputy chairperson of the education and scientific research committee while Dr. Aisha Zakri will serve as a member.
Kawthar Al-Arbash, a leading figure, has been chosen as the deputy chairperson of the human rights committee and Dr. Latifa Al-Shaalan, who has extensive parliamentary experience, is a member. It is expected that the files of women and children will get extra care and keenness under Al-Arbash and Al-Shaalan.
Likewise, Dr. Samia Bukhari is the new deputy chairperson of the human resources and administration committee. Dr. Ameera Al-Jaafari, Dr. Sultan Al-Badawi, and Dr. Mona Al-Fadhli are the members of the committee, which is tasked with handling employment files and address the pending issues of women and their employment concerns.
Princess Al-Jawhara Bint Fahd Al-Saud has been chosen as the deputy chairperson of the committee of social affairs, family, and youth, and the women members of the committee are Dr. Amal Al-Sheikh, Somayya Jabarti, and Dr. Reema Saleh Al-Yahya. The committee is tasked with addressing urgent files of Saudi families and youth.
Dr. Latifa Al-Abdul Karim, Dr. Asma Al-Muwaisheer, Huda Al-Holaisi, and Ayisha Oraishi are the women members picked to represent committees for transport and communications, Hajj and services, foreign affairs, water, and agriculture. These are committees in which men still command the majority.
Dr. Mastoura Al-Shammari is the woman member of the security affairs committee, which is headed by Maj. Gen. Ali Al-Asiri. The committee members include Maj. Gen. Mansour Al-Turki, former spokesman of the Ministry of Interior, and five other brigadiers and major generals.
Dr. Iman Al-Zahrani and Hanan Al-Samari are women members of the economics and energy committee while Raeda Abu Nayan was will be a member of the finance committee.
https://saudigazette.com.sa/article/600357
--------
Sheikha Hind Women's Sports Gets Under Way
November 16, 2020
Dubai: Dubai Public Prosecution's Heba Sami won the table tennis title while Suad Yousuf Saeed of Dubai Police took the bowling crown among Emiratis in the opening week of the 2020 Sheikha Hind Women's Sports tournament.
Heba defeated Mona Al Sahlawi of ENOC in the Emirati women's table tennis final while Fatima Mohammed of Dubai Municipality took the bronze medal. In the non-Emirati table tennis competition, Sondos Salem of Roads and Transport Authority of Dubai (RTA) defeated RTA's Ma Bermadette for the title, while Yolanda of Dubai Corporation for Ambulance Services finished third.
In the bowling competition, Suad Yousef Saeed finished ahead of Dubai Municipality's Fatima Sabeel in the Emirati category and Sheikha Aba Bangit of Dubai's Department of Tourism and Commerce Marketing came third. In the non-Emirati category, Lady Liz-Ann of FAME Training Institute took the top honours while Aura Michello of Idea Art Interior took silver and Jennifer Mamoun of Dubai's Department of Tourism and Commerce Marketing got the bronze.
In the 3km Road Run, which took place on Saturday, Dubai Police's Mariam Mubarak finished ahead of Rawda Al Mansouri of Dubai Electricity and Water Authority, while Noura Jassim of State Security took the bronze. In the non-Emirati category, Latifa Saroukh topped the podium ahead of Sarra Lajnef of Sarra Lajnef Sports Services, and Shantee Shingraj of Dubai's Department of Tourism and Commerce Marketing.
This year, team sports are not part of the competitions because of COVID-19 due to the need to maintain social distancing, as mandated by COVID-19 safety regulations and protocols. Competitions are taking place in six individual sports events: bowling, road race (run), cycling, badminton, CrossFit, and table tennis.
The competitions started on November 8 and will continue till November 21 when the badminton champions will be crowned. The cycling competitions will take place on November 17 on the Nad Al Sheba cycling track while the CrossFit championship will take place on November 20 at the Max & Aegle fitness centre in Meydan.
https://gulfnews.com/sport/uae-sport/sheikha-hind-womens-sports-gets-under-way-1.75309790
--------
Breast Cancer Cases Rising In Pakistan, Says First Lady
November 17, 2020
LAHORE - First Lady Begum Samina Arif Alvi on Monday said that number of women suffering from breast cancer in Pakistan was higher than the other countries so it was needed to pay attention towards the health of women as healthy women could play positive role for creating good society.
Addressing a seminar regarding Breast Cancer at Alhamrah Art Council here, she said breast cancer cases were on rise in Pakistan so special focus was being ensured to awareness programmes.
This disease was increasing in developed and developing countries, she said and added that every year in Pakistan 90,000 women fell victim to breast cancer out of which 17,000 women completely recovered from it.
Samina Arif Alvi said the disease was spreading very fast and even the young females were being diagnosed with it, adding that in far flung areas where women had no access to social media, women were getting awareness through telephone tone message. She also appreciated the role of print and electronic media in this regard and said that media had to play an effective role in creating awareness among people about causes, treatment and prevention from breast cancer.
The NGOs, welfare organizations, doctors, nurses, civil society, hospitals and military institutions were supporting in breast cancer awareness activities, she maintained. The First Lady said that females should conduct their self examination as this disease was curable to 98 percent if diagnosed at early stage.
She stressed upon the need that breast cancer awareness should not be restricted to the month of October only but efforts should be made throughout the year.
The number of breast cancer cases was increasing in the country as women did not pay attention to symptoms and treatment of breast cancer, adding that death rate could be reduced if breast cancer was diagnosed at early stages.
Begum Samina Arif Alvi said that Agha Khan Hospital had reduced the rates of tests pertaining to breast cancer, adding that various NGOs had also organized walks to impart awareness among people about the disease, treatment and precautionary measures. She said that awareness campaigns would be further extended across the country.
Wife of Governor Punjab Begum Parveen Sarwar, representatives from civil society and others were also present.
https://nation.com.pk/17-Nov-2020/breast-cancer-cases-rising-in-pakistan-says-first-lady
--------
Afghanistan Ministry of Interior Affairs Bids to Double Women Presence among Afghan Police
By Mohammad Arif Sheva
17 Nov 2020
KABUL, Afghanistan – Acting Interior Minister Masoud Andarabi bids to double the "presence of female officers" among the Afghan National Police, according to the Ministry of Interior Affairs, Bringing the total number to 10,000.
The ministry did not provide further details but said will take "necessary steps" to ensure a safe working environment for female officers to serve the country along with other Afghan forces.
"MoI is looking to expand the presence of female officers among the ANP," said Andarabi in a tweet. "… Necessary steps will be taken to ensure better working environment for the women to serve with the police forces."
Currently, at least 5,000 female officers are serving as Afghan National Police (ANP) in the country, according to the MoIA.
Once implemented, the total number of female police officer will become 10,000.
https://www.khaama.com/moia-bids-to-double-women-presence-among-afghan-police-345345/
--------
'Let Women Cook': Lebanese Mock Minister Over Sexist Comment
November 16, 2020
BEIRUT: Lebanese have poked fun at outgoing interior minister Mohamed Fahmi after he suggested the solution to a ban on deliveries during a coronavirus lockdown was for women to start cooking.
Lebanon started a two-week partial lockdown on Saturday to try to stem the spread of the Covid-19 virus as cases topped 100,000 and intensive care hospital departments became overwhelmed.
When a journalist asked Fahmi what Lebanese should do on Sunday when a day-long curfew suspended popular food deliveries from restaurants and supermarkets, he quipped: "Let women cook a little."
Appalled women reacted by lambasting the minister's sexist comment on social media, and vowing they were #Not_cooking_on_Sunday.
"#Sexism results in deep rooted repression & discrimination against us women, national 'leaders' disgracefully support inequalities," associate professor Carmen Geha responded on Twitter.
"I will cook happily the day they pick up and recycle garbage," she added, referring to oft-criticized public services.
Award-winning journalist Dalal Mawad slammed what she called a "sample of the level of discourse and awareness among this country's politicians."
Lebanese men joined in posting images of themselves dicing up vegetables or shaking pans on the stove, as they took on the #Fahmi_challenge — to be a man and cook.
"I apologize, honorable minister, that today I cooked for my sons," one user, a divorced man raising his sons on his own, wrote beside a picture of him serving a meal on Facebook.
"I apologize because their mother is a doctor like me and the head of a department in France, and I and my children are very proud of her."
Lebanon is also reeling from a devastating blast at Beirut's port in August that killed more than 200 people, and a raging economic crisis that sparked mass protests last autumn against entrenched politicians viewed as incompetent and out of touch.
"Gender equality Mr.Fahmi, have you ever heard about it? Or too busy ruining our country with your bunch of friends?," wrote another Lebanese man on Facebook in English.
Another one made a video to the tune of the "Mission: Impossible" soundtrack, encouraging others to follow suit, and finishing with the revelation: "Men... also do the washing up.
https://www.arabnews.com/node/1763936/middle-east
--------
Afghanistan- Pioneer Afghan Women Hold Session For Peace In Dubai
11/16/2020
KABUL: A five-day session of the pioneer Afghan women was held in the United Arab Emirates' city of Dubai to discuss peace efforts.
55 women from across the country as well as Afghan women living in the United States and Europe gathered in the session to share their viewpoints and concerns over peace process.
They criticized women's weak role in the peace negotiations, emphasizing their more roles in the talks with Taliban.
Sima Samar, President Ghani's special envoy and state minister for human rights and international affairs, said that a lasting peace without women's extensive presence would be impossible.
'More women's presence automatically pressures Taliban so that they (Taliban) realize the new facts in Afghanistan,,' she said.
The session was initiated by Women's Network with the cooperation of Afghan Mechanism for Peace in Dubai on November 25 and will last for five days in which the participant women are to offer their findings and opinions for improvement of peace to the government of Afghanistan.
Massoud Karokhil, chief executive of the Afghan mechanism for inclusive peace, said: 'The session belongs to Afghan women from inside and outside the country in Dubai and will discuss women's role on the peace process.,'
'Afghan women have made many efforts regarding peace and they now are reviewing the challenges on the road to peace,,' said Roshan Mashaal, member of Afghan Women Network.
https://menafn.com/1101134448/Afghanistan-Pioneer-Afghan-women-hold-session-for-peace-in-Dubai
--------
Women crucial to Biden's win, even as gender gap held steady
November 16, 2020
Ask Virginia voter Mary Hayes why Joe Biden defeated Donald Trump, and she does not hesitate.
"Women won this election!" says Hayes, 56, a mother of three and Biden supporter from Leesburg, Virginia. In particular, she credits two categories of voters that she herself is part of: Black women and suburban women. Trump had begged the latter group — some of whom he'd alienated by referring to them as "housewives" — to "please, please" like him. But that plea rang hollow, she says.
"We showed America that suburban women are diverse, and are a beautiful collection of ethnicity, race, marital status, occupations and many other categories," Hayes says. "Suburban women mobilized, determined to remove Trump from office." And, she says, they succeeded.
From nearly the moment Trump took the presidential oath, it was women who were the face of the resistance — marching in enormous numbers in their pussy hats, and fueling Democratic gains in the 2018 midterm elections.
So in 2020, the year women celebrated the centennial of the 19th Amendment guaranteeing their right to vote, many had expected — and some polls suggested — a dramatic repudiation of Trump with a widened gender gap. The results were a bit more complicated.
Hayes is correct that women were crucial to Biden's victory — simply stated, if only men had voted, Trump would have won. Black women and suburban women, in particular, proved to be pillars of Biden's coalition. But the election also delivered a reminder of Republicans' strength with other groups of women.
Trump had a modest advantage among white women, and a much wider share of white women without college degrees, according to AP VoteCast, a survey of more than 110,000 voters. And despite expectations that the much-analyzed gender gap would expand, it remained essentially the same from previous elections, including 2016.
In Congress, the big news was significant gains for Republican women, and overall a record number of women will serve in the 117th Congress — at least 141, including 105 Democrats and 36 Republicans, according to current numbers from the Center for American Women in Politics at Rutgers University.
Overall, the results are "a moving target," says Debbie Walsh, director of the center. But it was in sum "a good year," she says, "both for the election of women candidates on both sides, and for the participation of women voters." And of course, a huge glass ceiling was shattered with the election of the first female vice president, Kamala Harris.
AP VoteCast showed a 9 percentage point difference between men and women in support for Biden and Harris: 55 percent of women and 46 percent of men. That was essentially unchanged from the 2018 midterms, when VoteCast found a 10-point gender gap, with 58 percent of women and 48 percent of men backing Democrats in congressional races.
Contrary to some expectations, "this was a very average gender gap," says Susan J. Carroll, professor of political science and women's and gender studies at Rutgers.
The gender gap in support for Democratic candidates has averaged about 8 percentage points in the last 10 presidential elections, according to data from the American National Election Studies.
So for anyone who'd been looking for a wave election on either side, there was "barely a ripple," Carroll says. Still, Republican women in Congress, who have long lagged behind their Democratic counterparts, made notable gains: At minimum, a record 36 GOP women will serve in Congress next year, and they've already more than doubled their representation in the House.
Among newly elected GOP women who flipped seats: Stephanie Bice in Oklahoma, Michelle Fischbach in Minnesota, Yvette Herrell in New Mexico, Ashley Hinson in Iowa, Young Kim in California, Nancy Mace in South Carolina, Nicole Malliotakis in New York, Maria Elvira Salazar in Florida, Michelle Steel in California.
"That's been the story of this cycle," says Walsh of Republican women. "They made up all the ground they lost in 2018." Yet there remains a sizable gap with their Democratic colleagues; at least 89 Democratic women will be serving in the House.
Feminist leader Eleanor Smeal says that's an important gain, even though she herself doesn't agree with the GOP platform. "If we're going to get to half of Congress, we're going to have to have more Republicans as well as more Democrats," says Smeal, president of the Feminist Majority.
Smeal adds that the gender gap, while perhaps smaller than she'd hoped, was still crucial in the presidential race. "It helped Biden and Harris carry the suburbs," she says, noting in particular the suburbs of Philadelphia and Pittsburgh in the crucial state of Pennsylvania, which Biden won.
VoteCast showed that Trump narrowly beat Biden among white women, largely on the strength of support in rural areas and small towns. But Biden dominated with women in the suburbs, winning 59 percent to Trump's 40 percent of a group that makes up around a quarter of the electorate nationwide. Biden won overwhelmingly among Black women, 93 percent to Trump's 6 percent, according to VoteCast.
Trump won handily among white women without college degrees — 60 percent to 39 percent — while Biden won white women with college degrees by roughly the same margin.
The results show yet again that despite a steady overall gender gap, "there are different groups of women that made a difference for each camp," Walsh says.
Hayes is one of the suburban women who mobilized early, dismayed at what she called the president's dog whistles in trying to stoke fears among suburban women that low-income housing would invite crime and ruin their neighborhoods. She formed a Facebook group, "The Real Suburban Housewives for Biden/Harris," which drew over 5,000 members, including "a few brave men."
"Some (of us) are housewives, some are career women, some are mothers and some are not," Hayes says. "Suburban women are thinkers, business owners, and we fight for our families. America should work together like suburban women — maybe they could get something done in the government."
A key element of the gender gap this year, some advocates have noted, is not about women but men: Men appeared to be somewhat more likely to back Biden in this election than they were to back Hillary Clinton in 2016. VoteCast shows 46 percent of men supported Biden. In 2016, 41 percent supported Clinton, according to a Pew Research Center analysis.
That, say advocates like Smeal, may be at least in part due to discomfort among some men — or misogynistic attitudes — about Clinton.
"There's no question that in 2016 there had been a massive negative campaign against Hillary Clinton, and some of that was against her sex," Smeal says. "There were so many sexist things thrown at her and it was for a long period of time."
There was obviously one major gender barrier broken this election — the ascension of a woman to the second highest office in the land.
"It is just spectacular that you have not only women running for these high offices but you now have the first one to win, and a Black Asian woman to boot," Smeal says. "As she said, she might be the first woman, but she won't be the last."
Says Hayes: "It will feel good to have someone in the White House with shared experiences. She gives all women and little girls hope that in a male-dominated government, no level is off limits."
https://www.egyptindependent.com/women-crucial-to-bidens-win-even-as-gender-gap-held-steady/
--------
URL: https://www.newageislam.com/islam-women-feminism/uae-celebrates-women-this-national/d/123493
New Age Islam, Islam Online, Islamic Website, African Muslim News, Arab World News, South Asia News, Indian Muslim News, World Muslim News, Women in Islam, Islamic Feminism, Arab Women, Women In Arab, Islamophobia in America, Muslim Women in West, Islam Women and Feminism