New Age Islam News Bureau
21 Jul 2014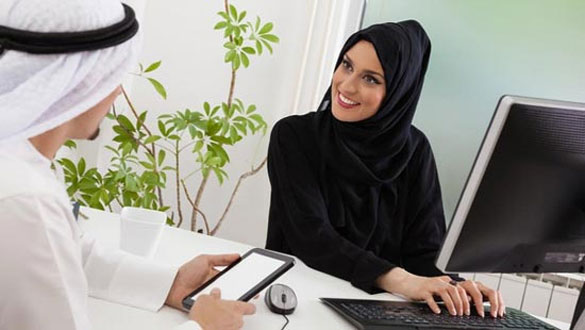 Importance to create job opportunities for women in sectors previously inaccessible to them (File photo: Shutterstock)
--------
• Rape Victim Faces Honour Killing In Afghanistan
• All-Female ISIS Brigade Cracks Down on Women in Raqqa
• The British Mini Jihadi... Posing With His AK-47, Mother Puts the Snap on Her Profile Page
• 50 More Indian Nurses Evacuated From Iraq's War Zone
• Bangladesh Girl Summit to Help Establish Girls' Rights
• Sexual Harassment Scandal in Jordan Street
• Role of Saudi Women Entrepreneurs 'Changing Rapidly'
• Sindh's First-Ever Female Section Officer Appointed
• Sudan: Christian Woman Hiding After New 'Forgery' Charge
• False Rape Claim Caused Myanmar Riots
• Emirati Woman with a Plan to Boost Local Businesses
• 50 Saudi Women to Take Part in Global Leadership Summit
Compiled by New Age Islam News Bureau
URL: https://newageislam.com/islam-women-feminism/two-women-stoned-death-adultery/d/98228
------------
Two Women Stoned to Death for 'Adultery' by ISIS in Syria
21 July 2014
In separate incidents in a span of 24 hours, the Islamic State of Iraq and Syria (ISIS) carried out executions against two woman in Syria, sentencing them to death by stoning over allegations of "adultery".
Unconfirmed reports claim that in at least one case, the woman was sentenced to death as her new husband found that she was not a virgin.
Both incidents of death by stoning have been reported from Al Raqqa Province.
"The Islamic State carried out, for the second time in 24 hours, the punishment of Al Rajem (stoning to death for adultery) against another woman in the city of Al Raqqa in a square near the Municipal Stadium," an official from NGO Syrian Observatory for Human Rights (SOHR) stated.
The stoning, which was first reported by the SOHR, has also been confirmed by Al Jazeera which claimed that the first stoning took place in a public square in the town of Tabaqa on Thursday evening.
The report noted that the woman was tried at the Islamic Sharia court, where neither the witnesses who made the allegation were identified, nor the man - who is said to be the paramour - was charged.
"Mystery surrounds the whole thing," Abu Khalil, an activist in Raqqa who runs the anti-Islamic State group 'Raqqa is Being Slaughtered Silently', told Al Jazeera America. The group has released a picture of Thursday's stoning.
The second incident reportedly took place in a town in Raqqa, where a 26-year-old woman - identified with intials S.H.M.A. - was stoned to death by the ISIS militiants.
The SOHR report claimed that the woman was pubically executed by stoning late in the night after the Eshaa Salat, which is the last of the five prayers recited by a practising Muslim. The stoning took place in a popular market and the victim was a widow.
Raqqa, since last year, has been established as the de facto capital of the Islamic State caliphate. Since then, the region has been witnessing brutal punishments carried out by the ISIS militants under the Sharia law.
The incidents have been widely criticized on Twitter
http://www.ibtimes.co.in/two-women-stoned-death-adultery-syria-by-isis-604894
------------
Rape Victim Faces Honour Killing In Afghanistan
ROD NORDLAND
Jul 21, 2014
Honour killings in rape cases are common in Afghanistan, and are often more important to the victim's family than vengeance against the attacker
It was bad enough that the alleged rape took place in the sanctity of a mosque and that the accused man was a mullah who invoked the familiar defence that it had been consensual sex.
But the victim was only 10 years old. And there was more: The authorities said her family members openly planned to carry out an honour killing in the case — against the young girl. The mullah offered to marry his victim instead.
This past week, the awful matter became even worse. On Tuesday, local policemen removed the girl from the shelter that had given her refuge and returned her to her family, despite complaints from women's activists that she was likely to be killed.
The case has broader repercussions. The head of the Women for Afghan Women shelter here where the girl took refuge, Dr. Hassina Sarwari, was at one point driven into hiding by death threats from the girl's family and other mullahs, who sought to play down the crime by arguing the girl was much older than 10. One militia commander sent Dr. Sarwari threatening texts and an ultimatum to return the girl to her family. The doctor said she now wanted to flee Afghanistan.
The head of the women's affairs office in Kunduz, Nederah Geyah, who actively campaigned to have the young girl protected from her family and the mullah prosecuted, resigned on May 21 and moved to another part of the country.
The case itself would just be an aberrant atrocity, except that the resulting support for the mullah and for the girl's family and its honour killing plans, has become emblematic of a broader failure to help Afghan women.
The result challenges hopes that Western aid and encouragement can make lasting headway on behalf of Afghan women, particularly in remote parts of the country where traditional customs are still stronger than modern law. Here, Taliban insurgents and pro-government elements often make common cause in their hatred of progress in women's rights, most of which has come about with international funding and pressure.
Most of the anger in Kunduz has been focused not on the mullah but on the women's activists and the shelter, which is one of seven operated across Afghanistan by Women for Afghan Women (WAW), an Afghan-run charity that is heavily dependent on American aid, from both government and private donors.
The accused mullah, Mohammad Amin, was arrested and confessed to having sex with the girl after Koran recitation classes at the mosque on May 1, but he claimed that he thought the girl was older and that she responded to his advances.
After the two women's officials began speaking out about the case, they started receiving threatening calls from mullahs — some of them Taliban, others on the government side — and from arbakai, or pro-government militiamen. One of their claims was that the girl was actually 17, and thus of marriageable age, not 10.
Photographs of the girl that Dr. Sarwari took in the hospital clearly show a pre-pubescent child, and the doctor said the girl weighed only 40 pounds.
Honour killings in rape cases are common in Afghanistan, and are often more important to the victim's family than vengeance against the attacker. Human rights groups say about 150 honour killings a year come to light, and many more probably go unreported.
When Dr. Sarwari, who is a paediatrician, arrived to pick up the girl at the hospital, a crowd of village elders from Alti Gumbad, the girl's home village on the outskirts of the city of Kunduz, were gathered outside the hospital; the girl's brothers, father and uncle were among them. Inside, Dr. Sarwari encountered the girl's aunt. "She said they wanted to take her and kill her, and dump her in the river," Dr. Sarwari said. In the hospital room, the doctor found the girl's mother holding her child's hand, and both were weeping. "My daughter, may dust and soil protect you now," Dr. Sarwari quoted the mother as saying. "We will make you a bed of dust and soil. We will send you to the cemetery where you will be safe." — New York Times News Service
http://www.thehindu.com/news/international/world/rape-victim-faces-honour-killing/article6231194.ece
------------
All-Female ISIS Brigade Cracks Down on Women in Raqqa
21 July 2014
Shortly after the Sunni militant group the Islamic State in Iraq and Syria (ISIS) retook control of Raqqa earlier this year, it created the al-Khansaa' Brigade, an all-female unit operating in the city. Its purpose is to apprehend civilian women in Raqqa who do not follow the organization's strict brand of Sharia law, including a mandate that all women be fully covered in public and that they be accompanied by a male chaperone.
"We have established the brigade to raise awareness of our religion among women, and to punish women who do not abide by the law," says Abu Ahmad, an ISIS official in Raqqa. "There are only women in this brigade, and we have given them their own facilities to prevent the mixture of men and women."
He says the organization, which has been pushing further into eastern Syria after taking control of the Iraqi city of Mosul and key points on the Iraq-Syria border last month, needs a female brigade to "raise awareness among women, and arrest and punish women who do not follow the religion correctly. Jihad is not a man-only duty. Women must do their part as well."
The women who join the brigade are either women of Raqqa who wanted to take part in ISIS's activities there, or, often, the wives of mujahedeen who have come to fight from other parts of Syria or the region.
Though women are assuming new, more powerful roles across Syria – the U.N. now estimates that one in four displaced families in Syria has a female head – residents here say that any "girl power" wrought by the brigade is mitigated by the harsher restrictions they have been tasked with imposing on Raqqa's women.
"ISIS created it to terrorize women," says Abu al-Hamza, a local media activist. He says the brigade raided the city's Hamida Taher Girls School and arrested 10 students, two teachers and a secretary on the grounds that some of them were wearing veils that were too thin. Others were accused of wearing hair clips under the veil, pinning them in a way that showed too much of their faces.
Al-Hamza says that the women subsequently spent six hours in an ISIS detention center, where they were whipped. "After arresting those women and girls," continues al-Hamza, "they took them to ISIS prisons and locked them in for six hours and punished some of them with 30 whips each."
Zainab is a local teen who was arrested by female members of ISIS four months ago.
"I was walking down the street when a car suddenly stopped and a group of armed women got out," she says. "They insulted me and yelled at me. They took me to one of their centers and kept me locked in a room. Nobody talked to me or told me the reason for my detention. One of the women in the brigade came over, pointing her firearm at me. She then tested my knowledge of prayer, fasting and hijab."
The fighter told Zainab she had been arrested because she had been walking alone, without an escort, and because her hijab was not worn properly. "You should be punished for taking your religion lightly," she told Zainab, before threatening harsher punishment should she be arrested again.
Two hours later, she was released. But for Zainab – and other women here – the message was clear.
"The brigade has created fear among the women and girls of Raqqa," she says. "We've seen how they move, always watching women on the street, raiding schools, arresting students and locking them in for hours."
http://abcnews.go.com/International/female-isis-brigade-cracks-women-raqqa/story?id=24622389
------------
The British Mini Jihadi... Posing With His AK-47, Mother Puts the Snap on Her Profile Page
21 July 2014
A little boy smiles as he holds an assault rifle as if it were a harmless toy.
This shocking photograph was posted on Twitter by the child's British mother, who is so proud of him that she has put the snap on her profile page.
No older than three or four, the youngster is seemingly being groomed to join the ranks of the Isis extremists in Iraq. For him, a game of soldiers involves messing around with an AK-47 rifle.
According to an investigation by The Sunday Times, the boy named Isa – the Arabic version of Jesus – is the son of a former London student and her Swedish husband.
He also has a younger brother, aged about 12 months, who his mother refers to as a 'mini Mujahid', or holy warrior.
The family are said to be living in Syria and are disciples of the ISIS cause. Isa's mother calls herself Umm Isa (Mother of Isa) and her Twitter name is Muhajirah fi Sham, which means 'immigrant in Syria'.
She is married to a Swedish Islamic fighter called Abu Bakr and is reported to be a convert who previously attended a mosque in South London.
The British woman was featured on a Channel 4 News clip last year firing an AK-47 and a revolver in Syria. She claimed to have studied media, film, psychology and sociology in Britain.
At the time, her husband was attached to a foreign fighters' brigade, part of which later merged with Isis. It is unclear when Umm Isa travelled to Syria and whether her older son was born there. She has said she has no plans to return to the UK.
On Twitter, Umm Isa has also shared a photograph of an Isis crucifixion and boasted about witnessing a public execution.
In one post, using barely comprehensible text speak, she complains that not enough fellow Muslims have joined the Isis cause in Syria.
She wrote: 'Wer [where] r all da sisters dat want 2 join us in Sham [Syria] nd marry nd support a mujahid? Wer r all da brothers dat r spose 2 b on da front line?'
Her neighbour, another British woman who uses the alias Umm Khattab al-Britaniyya, has also shared the photograph of Isa carrying a rifle, commenting: 'Look at my little mujahid, this kid is the funniest man, love him.'
Umm Khattab started a Twitter account on June 27 —the day after 16-year-old twins Zahra and Salma Halane went missing from their home in Manchester to head for Syria.
She later tweeted: 'Missing twins – chilling with one of them now.'
The woman also claimed that she had met 'many British girls' since arriving in Syria.
About 500 British Muslims are thought to have gone to fight in Syria, despite religious leaders appealing to them not to travel to the war zone.
A British student who hit the headlines last month when he appeared in a jihadist recruitment video has boasted of being involved in the murders of five people.
Reyaad Khan, 20, who left his Cardiff home earlier this year to join Isis extremists in Syria, posted images of corpses following a raid on a rival extremist group known as Jabhat Al-Nusra, and wrote: 'JN guys we caught & executed.'
http://www.dailymail.co.uk/news/article-2699084/Pictured-Smiling-British-toddler-posing-assault-rifle-tweet-sent-Jihadist-mother-quit-London-Syria-ISIS-fighter-husband.html#ixzz382xAKDtR
------------
50 More Nurses Evacuated From Iraq's War Zone
Sachin Parashar,TNN | Jul 21, 2014
NEW DELHI: The Indian mission in Iraq has quietly evacuated about 50 more nurses, most of them again from Kerala, caught in the conflict zone north of Baghdad. These nurses — separate from the 46 who had been kidnapped by the ISIS — were employed with hospitals in areas dominated by the Sunni jihadist group between Tikrit and Mosul.
The government's initial estimate of those in this zone included the 46 nurses in Tikrit, who were rescued and brought back to Kochi, and 40 construction workers kidnapped from Mosul but, as it turns out, there were 50 more nurses stranded in isolated areas in the zone of conflict.
Official sources said these 50-odd nurses have been evacuated in small groups by Indian officials in the past few days. The evacuation took place through land routes with help from Iraqi authorities.
The nurses were brought to a neighbouring country which allowed them to cross the border with Iraq. Officials refrained from naming the country as they feared it could impede evacuation efforts even though they said almost all Indians in the turbulent areas were now out.
These nurses were brought out in small groups as the evacuation involved long-distance travelling by road in the zone of conflict,'' said a source.
One of the reasons why the 46 nurses in Tikrit could not be rescued through the land route was the heavy presence of armed ISIS militia around the hospital they were hiding in. While efforts are being made to rescue the 39 construction workers (one out of the 40 escaped), it is still not clear what the ISIS plans to do with them.
The workers have remained in its custody for over a month now but there is still no demand for ransom. They are said to be unharmed and in captivity in Mosul, an ISIS stronghold, where the militia has issued an ultimatum asking non Muslims to either convert or pay jizya, a form of protection money. Even Tikrit, Saddam Hussein's hometown just north of Baghdad, continues to be under ISIS control despite claims by Iraqi forces that they foiled an attack by the militia on an army base in the area.
With the latest evacuation of the nurses, the number of Indians rescued from the conflict zone is now a little over 100. As for areas still considered safe in the country — south of Baghdad and Kurdistan in the northeast — 3,500 Indians have left the country with help from the Indian mission.
There are close to 7,000 Indians still living in Iraq but most of them are based either in Kurdistan or the port city of Basra in the south. Many of these Indians want to stay back as they don't see these places falling to ISIS in the near future.
http://timesofindia.indiatimes.com/india/50-more-nurses-evacuated-from-Iraqs-war-zone/articleshow/38755543.cms
------------
Bangladesh Girl Summit to help establish girls' rights
21 July 2014
Despite some remarkable progress over the past decades, the government is still facing many challenges in ensuring women's rights especially for girls who go through ordeals including child marriages.
There are also problems created by radical Islamist groups who campaign against women development and empowerment because they want to confine them to the four walls.
Against this backdrop, Prime Minister Sheikh Hasina left Dhaka this morning to attend the first ever Girls Summit 2014 to be held in London tomorrow.
Premier Hasina was invited to this summit by British Prime Minister David Cameron with whom she has scheduled a bilateral meeting before joining the summit.
This will be Sheikh Hasina's first visit to any European country in her second tenure after the January 5 election.
Meher Afroze Chumki, the state minster for the Women and Children Affairs Ministry, who will accompany the prime minister to the Girl Summit said on Saturday night over the phone that there would be a significant number of participants South Asian countries.
She said the problems of the girl child will be a major issue of discussion in the summit as girls still face many challenges like child marriages, trafficking and hazardous work in Bangladesh and other South Asian countries.
The participating countries will share their experiences of how they are fighting these challenges and on that basis they will hammer out solutions to the problems of the girl child, Chumki said.
Government sources told the Dhaka Tribune it had a vision that, by 2012, it would ensure that no girl under 15 is married and would wipe out child marriage entirely by 2035.
The UNICEF is a co-host of the summit that is being organised by the UK government. The summit is aimed at mobilising domestic and international efforts to end female genital mutilation (FGM) and forced marriages (CEFM) within a generation.
According to the UNICEF's latest findings Bangladesh has one of the highest rates of child marriages in the world. A recent survey indicates that 64% of women currently aged between 20 and 24 years are married before the age of 18 years, a number which, in 2011, stood at 65%.
Two decades ago, the rate of getting married under the age of 15 was 52% but this has now declined to 17%. Even a few years ago it was at 29%.
A government official said though the proportion of women marrying in their early teens and under the age of 18 is decreasing, this trend is still not up to expectations.
If the rate of decline in early marriage remains the same, it will take more than 30 years to eliminate child marriages from the country, and the government wants it to happen much faster, said a source.
State Minister for Women Affairs Chumki said, child marriages are much more common in rural areas than in urban areas.
Capitalising on the backwardness of women in the rural areas, radical Islamist organisations campaign against the development and empowerment of women.
When the world hails the freedom of women and considers women's participation a key to development and "Girls have the right to reach their full potential" is the slogan of the first Girls Summit, Bangladesh's Qawmi madrasa-based Islamic fundamentalist organisation the Hefazat-e-Islam is fanatically campaigning against women's liberty, education and employment.
Hefazat-e-Islam Ameer (chief) Shah Ahmed Shafi said in one of his religious sermons, "Women should take care of furniture, bring up children and stay inside their homes."
He preached to women: "You should stay within the four walls of your houses. Sit inside your husband's home and take care of your husband's furniture and raise your children, your boy children. These are your jobs. Why do you have to go outside?"
Shockingly, he compared women with tamarind, a fruit that any man would like to taste.
Shafi also campaigns against sending women to work in garment factories.
He also said: "Women go to schools, colleges and universities; let them study till class four or five. After marriage, keeping records of their husbands' finances is good enough for them."
"We have overcome many challenges and this time we will also take on the challenges thrown at us by the Hefazat," vowed Chumki.
http://www.dhakatribune.com/law-rights/2014/jul/21/girl-summit-help-establish-girls%E2%80%99-rights#sthash.rmTOCunk.dpuf
----------
Sexual harassment scandal in Jordan street
21 July 2014
A video posted on YouTube this week shows two young girls being following and harassed by masses of young men in Jordan's second largest city of Irbid.
The video was taken following the World Cup 2014 final in Brazil which saw Germany beat Argentina, giving it the title trophy.
The video appears to have been taken from a balcony overlooking the street where the disturbing incident took place.
http://english.alarabiya.net/en/webtv/reports/2014/07/20/Sexual-harassment-scandal-in-Jordan-street.html
----------
Role of Saudi women entrepreneurs 'changing rapidly'
21 July 2014
In light of recent developments in the drive to increase women's employment and the buzz around a recent survey that claimed more Saudi men prefer working wives, it is important that job opportunities for women are created in sectors previously inaccessible to them.
A World Economic Forum report in 2012 named Saudi Arabia among four countries that have made key investments in women's education but failed to facilitate women's participation in the workforce. Glowork is a social enterprise that seeks to help unemployed women, including those who prefer to work from home, find jobs in various sectors.
Glowork's founder and CEO Khalid Alkhudair believes training and employing women in different sectors can reverse the waste of human capital in the Kingdom.
"The whole concept of women working is still new to people. It is important to know that we are not changing part of religion or tradition. The reluctance to having women come out in the public sphere is embedded in our culture. It was something that was wrong and is now being fixed in a systematic way," Alkhudair said.
While working with the government on policies, Alkhudair said Glowork approached companies that only employed men and convinced them to hire women in many of their departments.
Glowork operates as a private-public partner with the Saudi Ministry of Labor and works on helping 1.6 unemployed women registered in the ministry's database find jobs. For every candidate the company helps find a job, they earn a commission. If the candidate remains at the job for more than a year, it earns a further commission.
"This helps the government save money; it helps encourage employers to open opportunities for women since we do the filtering, screening, selecting and mentoring for a very minimal fee," Alkhudair said.
Saudi Arabia's highly educated and untapped human resource cost the economy approximately $1.5 billion last year. "This is where Glowork comes in. Glowork will soon provide training centers for women to learn and modify their skills in sectors new and unfamiliar to them. Our in-house team will focus on teaching marketing, human resources, negotiations, strategy development, customer service and retail skills."
Several Saudi women who are now working in the sales sector said having a job has opened many doors for them. "We see this as empowerment beyond just financial liberation. We find out about more rights we can fight for and are, for the first time, able to stand united to end violence against women in matters of custody, marriage, work and guardianship laws," Sameera Ali, a 28-year-old Saudi saleswoman, told Saudi Gazette.
"I think the Saudi Ministry of Labor is doing great and opening up to the idea of women working in different fields and in senior positions and not only in entry level positions. Tourism is going to be big for women very soon and they should be allowed to work in different companies where they can even work as travel agents. Soon, many fields will open up for women," she said.
A public relations representative in Jeddah said social change is imperative and companies that help recruit women for jobs are helping them achieve beyond the ordinary.
"We honestly did not know we could work in various sectors. At the most you could be a teacher or a doctor. Now, I sell makeup, my friends are luxury lifestyle managers — we do a lot more than the usual," Ameerah Hasan told Saudi Gazette.
Alkhudair said there will be more opportunities in the retail, food and beverage industries and the tourism and media sectors.
"It will take a little time for people to accept change. It has to be done in a manner where everyone understands the value of change. Once people start seeing the extra income coming into the household, even if the women are working from home, they will realize the importance of that income. This extra source of income can help couples build a house and raise a family together. This changes the state of the whole economy," he explained.
Hamid Akmal, a cashier in Jeddah, said he only makes ends meet because of his wife's financial contribution. "She teaches at a local school and because of her we get discounts for our children's education. I wouldn't have been able to afford it to be honest. I am very grateful; because of her, we are able to give our children a quality education and life," he said.
http://english.alarabiya.net/en/perspective/features/2014/07/21/Role-of-women-entrepreneurs-changing-rapidly-.html
----------
Sindh's first-ever female section officer appointed
July 21, 2014
KARACHI: Neatly dressed in the trademark white uniform and a traffic police cap on her head, inspector Fahmida Abbasi stands proud as Sindh's first ever female section officer – or SO as they are often called – of traffic.
The section officer's job is to maintain and organise the flow of traffic and deal with stubborn violators who always try to justify their violations, making the job just as challenging as to that of a SHO of the operational police. Fahmida, a woman of strong physique and character, took on the charge of the Karachi traffic police Defence chowki on June 17 and at 11pm, when the majority of middle-aged women were busy shopping for Eid, she was directing her staff to clear the Korangi Road for a VIP movement. "Defence Kala Pul!" she shouted into the wireless piece. "Everyone take your positions on the road and make sure that they are clear. Senior officials are visiting." And with those words, she left her office and took to the roads herself.
Road to the SO
Fahmida is inspired by her grandfather, Muhammad Hussain Abbasi, who was also in the Sindh police and was awarded with a double barrel shotgun by former president Ayub Khan for his services. She joined the Sindh police as a sub-inspector in 1993 and remained in the police administrative wings at a number of stations. She was later promoted to welfare DSP on own pay scale at the central police office in Karachi. Before taking charge as the Defence SO, she was serving as the testing hall incharge at the Clifton driving licence branch.
Setting an example
The police department has appointed her as the SO on an 'experimental basis' and hence the future of many budding female section officers may lie on her shoulders. "There is no doubt that this position comes with a lot of responsibilities," she said. "However, I will try my best to do what is expected of me so that they are encouraged to give other girls a chance as well."
As the section officer, her first action was to clean up the check post and to have all the wireless sets fixed, along with the traffic signals from the Kala Pul to the Akhtar Colony."I lecture my staff on their language and tell them that they should always be on their best behaviour," she said. She has learnt all this not only through her experience but also through the 25 different training sessions that she has attended, ranging from public dealing to management and administration.
Her main challenge will be to improve on the image of the traffic police in defence, whose residents often complain of frequent VIP movements and lack of roadside parking. Rather than thinking of her gender as a weakness, she has made it her strength. "People respect me when I stop them to check their vehicles and are often more accepting of their mistakes," she said.
She believes every woman can be a section officer if she has the passion for it. "I have faced many challenges but I have met and overcome all of them through my passion for the job and the support of my family."
Fahmida often stays on the job till 2am, either controlling traffic directly on the road or from inside her office, depending on what is required. "Traffic flow is increased till Eid and it is therefore a challenge but it will soon return to normal," she said. "At this time of the year, traffic gets heavy after 11pm and we have to stay on the roads to ensure that they don't get blocked."
The first female section officer is happy with her job and the importance of the role is not lost on her. "I am here not only to protect the property of the people but also their lives."
http://tribune.com.pk/story/738466/taking-charge-sindhs-first-ever-female-section-officer-appointed/
----------
Sudan: Christian Woman Hiding After New 'Forgery' Charge
21 July 2014
Khartoum — The Sudanese mother acquitted of a death sentence for 'apostasy' is now waiting "in a safe place" to see what happens in light of the latest allegation against her, forging travel documents, and still hopes to fly to the United States with her family.
During her detention, she was mostly scared of giving birth to her second child in a prison, on 27 May. "I gave birth chained," Maryam Yahya Ibrahim told CNN in a phone interview today (Tuesday). "Not cuffs, but chains on my legs. I couldn't open my legs." Doctors now fear that the circumstances of the baby's birth may have lasting consequences. "I don't know if she'll need support to walk in the future," said Ibrahim. It is unsure whether her future will take place in Sudan or the US.
She and her husband, American Daniel Wani, were freed from custody on Thursday after having been detained for two days upon arriving at the airport in Khartoum. They were trying to fly with their baby and toddler son to the US. Now Ibrahim is charged with 'presenting forged travel documents and giving false information', Thabit El Zubeir Suleiman, one of her lawyers, said.
The Sudanese was "terrorised" when the police officers took her and Wani, who is in a wheelchair, from the airport, and locked her "in a room for four to five hours".
'New problem every day'
Ibrahim commented on the newest allegation against her: "My paperwork came from the embassy. It's 100% correct and it was approved by the South Sudan ambassador and the American ambassador. It's my right [... ] because my husband has a South Sudanese and an American passport." She has been given a US visa.
"There's a new problem every day about me leaving. Leaving is exactly what I want, not anything more." Ibrahim told CNN that she is not scared despite her experiences so far. The Christian mother braved death by hanging as she refused to renounce her faith. And in prison, she received comments about her being a Christian or "non-believer", "from both prisoners as officers".
Ibrahim, whose father was Muslim, was raised by her Christian mother, after the father abandoned the family when she was six years old. By law, children must follow their father's religion. She married Wani, a Christian from South Sudan, in 2011. As in many Muslim nations, Muslim women in Sudan are prohibited from marrying non-Muslims.
Ibrahim has been in jail since February, along with her 18-month-old young son, and since 27 May with her baby daughter.
http://allafrica.com/stories/201407020420.html?aa_source=acrdn-f0
------------
False rape claim caused Myanmar riots
July 21, 2014
YANGON: Myanmar's latest religious clashes began after a Buddhist woman was paid to make false rape claims against two Muslim brothers, state media reported.
Two men – a Buddhist and a Muslim – died in riots in the country's second city Mandalay that flared on July 1 following social media reports that the Muslim men had raped a Buddhist employee at their tea shop.
More than 20 others were wounded as violence rocked the city for several days, the latest in a series of religious clashes that have bedevilled the former junta-run nation for two years.
But a police investigation found that the woman was paid to fabricate the accusation against the men, the New Light of Myanmar reported.
The report, citing the Ministry of Home Affairs, said a medical examination of the woman – named as Phyu Phyu Min – found "no sign of rape or other violence".
"After a detailed investigation she confessed that she accused the two men because she was paid" to do so by two other people who apparently had a personal dispute with the tea shop owners.
The woman has been arrested alongside one of the people alleged to have paid her, the report said.
The unrest, which saw a curfew imposed as security forces moved in to disperse angry mobs, again spotlighted the incendiary nature of relations between Myanmar's Buddhists and the Muslim minority.
Buddhist-Muslim clashes have left at least 250 people dead and tens of thousands displaced since fighting broke out in Myanmar's western state of Rakhine in 2012.
Most of the victims have been Muslims. Violence has often erupted as a result of rumours or individual criminal acts.
While Mandalay has a sizeable Muslim minority and also plays host to a group of nationalist Buddhist monks, it had not suffered religious unrest on such a scale before.
Radical Buddhist monks have been accused of fanning tensions, with Mandalay-based hardline religious leader Wirathu posting a link to the rape allegations just hours before the unrest broke out.
The deadly religious flare-ups have prompted warnings that the country's fragile transition to democracy could be imperilled.
Responding to the rioting, President Thein Sein said "serious action" would be taken against those involved.
http://www.thestar.com.my/News/Regional/2014/07/21/False-rape-claim-caused-Myanmar-riots-State-media-Woman-paid-to-fabricate-accusation-over-personal/
------------
Emirati woman with a plan to boost local businesses
Anwar Ahmad
July 21, 2014
ABU DHABI // At 22, an age when many are still at university, an Emirati entrepreneur started her own business, a small typing centre in Abu Dhabi.
Five years later, Dalal Al Qubaisi, now 27, has capped off a successful career by being voted on to the Abu Dhabi Chamber of Commerce and Industry's board of directors. She plans to use her position on the board to promote business solutions for other entrepreneurs.
"I know many local women who design fabulous abayas and hand-woven crafts at home and they sell them to other traders and remain nameless, ending with a small profit," said Ms Al Qubaisi, who is chief executive of Interact Integrated Business Solutions.
"I am a woman and can better understand them so will be contributing my services pertaining to women-related activities," she said. "Getting a trade licence, better marketing and showcasing the designed products can fetch them far better yields, no matter how small you want to begin with.
"I started from a very low level, opening a typing centre and expanded it over the years," Ms Al Qubaisi said.
In the election for the board of directors, held on June 26, she recorded the highest number of votes. She had wanted to run for election for some time, but had been disheartened to hear the positions were for big businessmen.
Then she learnt that anybody whose company is registered with the chamber can run for a seat on the board. After preparing for four years, "I determined to win this and I made it", she said.
Ms Al Qubaisi, who is unmarried, is career oriented and enthusiastic about her plan to open a new consultancy next month in the Madinat Zayed area, to train and promote locals in opening their own businesses.
She believes local women and men are talented, but are not using those talents professionally, to get a trade licence and market their products.
"Many Emiratis don't know how to start a business," Ms Al Qubaisi said. "So I'll open a consultancy office and provide free services to all citizens and expatriates as well.
"Emiratis, particularly women, want to start a business but they don't know how to start. I want to boost their confidence that nothing is impossible, Allah will help."
She also wants to help entrepreneurs expand their businesses.
Many women use social media sites to sell home-made and embroidered designer abayas and traditional foods, but they don't have trade licences for this.
"They just do the marketing among the known girls and families."
Ms Al Qubaisi graduated from the Higher Colleges of Technology in Abu Dhabi in 2005, and started Follow-up Transaction Services in 2008, a company that helped new businesses to get started.
"I started sponsoring people's businesses and gained experience, which helped me to run my own business," she said. "My power is real-life experiences – what happens in the field," she said. "I have never done accounting and marketing but my interest in trading taught me everything and I now sponsor 72 businesses and run several others."
http://www.thenational.ae/uae/emirati-woman-with-a-plan-to-boost-local-businesses#ixzz382vdAZrl
------------
50 Saudi women to take part in global leadership summit
21 July 2014
A group of 50 Saudi female professionals from different sectors recently participated in a first-of-its-kind global leadership summit at Crotonville in the United States.
The six-day summit included workshops, seminars and interactive sessions, which served as a platform for promoting female talents across different businesses globally, and was specifically created to define aspirational women role models who will inspire future generations.
The "Saudi Women's Leadership Summit" at Crotonville Global Leadership Institute was hosted by General Electric (GE) to share global best practices in business leadership, said Naif AbuSaida, communications manager of GE in Saudi Arabia.
The active participation of Saudi women working in the public and private sector in such events, AbuSaida noted, will further enable Saudi women professionals to strengthen their skill sets and bring greater efficiency to the workplace.
Abdallah Yahya Al-Mouallimi, permanent representative of Saudi Arabia to the United Nations distributed the certificates to the participants.
"We are privileged to interact and network with them and share our learning and experiences," GE said in a statement.
Highlighting GE's focus on creating career opportunities for women in the Kingdom, the company has joined hands with Saudi Aramco and Tata Consultancy Services (TCS) to launch the first all-female business process services center in Riyadh. It serves as a building block to localize the business process outsourcing (BPO) industry in the Kingdom.
http://www.arabnews.com/news/605166
------------
URL: https://newageislam.com/islam-women-feminism/two-women-stoned-death-adultery/d/98228