New Age Islam News Bureau
22 October 2020
• Ninety-Nine New Women Security Personnel to Guard Rawdah Sharif, Prophet's Mosque
• Saudi King Praises Role of Women at W20 Summit
• Saudi Arabia Makes Golf Free For Women in Bid to Grow Game
• Saudi Women's Summit Accused of 'Whitewashing' Record On Rights
• #Iamemirati: This Dubai-Based Woman Engineer Can Unravel 'Mysterious' Deaths
• Afghan Women Seek Regional Support For Ceasefire
Compiled by New Age Islam News Bureau
URL: https://www.newageislam.com/islam-women-feminism/two-muslim-women-suffer-knife/d/123231
--------
Two Muslim Women Suffer Knife Attack near Eiffel Tower by Two White Female Assailants
Cindi Cook
22.10.2020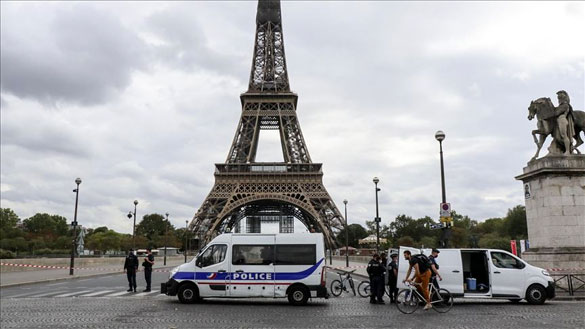 Eiffel Tower
----
PARIS: Two Muslim women were left injured after being stabbed near Paris' Eiffel Tower by two white female assailants, local media reported on Thursday.
The attack took place amid heightened tension after French President Emmanuel Macron said in an Oct. 2 speech that Islam was "in crisis," a claim critics charged would fuel Islamophobia.
As reported by franceinfo and other outlets, the incident happened on Sunday under the iconic landmark as the Muslim women were out for a walk, when a dog ran up and frightened their children.
When the Muslim women asked the dog's owners – described as white women "of European appearance" – to put it on a leash, they refused, and instead shouted insults such as "Dirty Arab!" and "Go home!"
They then pulled out a knife, slashing one of the Muslim women three separate times – on the skull, on the rib, and on the upper arm, and delivering six stabs to the other woman.
The attack was halted by vendors working at the foot of the tower.
The victims of the attack – identified as Kenza, 49, and Amel, her cousin, both of Algerian origin – suffered a punctured lung and other wounds.
Police arrested one of the assailants immediately and the second on Tuesday. Paris prosecutors on Wednesday opened an investigation into attempted murder and assault with a weapon, according to the reports.
Tension high, double standards seen
The attack has fueled ongoing tension in the capital after the murder of teacher Samuel Paty by an extremist last Friday, an incident Macron branded an "Islamist terrorist attack."
Muslim leaders across France have condemned the murder, stressing that extremists abuse religion for their goals and their actions cannot be justified through Islam.
Paty, 47, a middle school teacher, was decapitated Friday by Abdoullakh Anzorov, an 18-year-old man of Chechen origin. The suspect was gunned down by police.
The teacher, during one of his classes on freedom of expression, had shown controversial cartoons depicting the Muslim Prophet Muhammad, according to the reports.
Critics have warned the government may exploit this murder to intensify its controversial anti-Muslim campaign. Community leaders also expressed concern that the attack would further stigmatize French Muslims and stoke Islamophobia.
Social media users also criticized local media for biased reporting of the stabbing incident.
"Will the media call this a terrorist attack? No! Blatant double standard here folks," CJ Werleman, an activist against Islamophobia, wrote on Twitter.
https://www.aa.com.tr/en/europe/muslim-women-suffer-knife-attack-near-eiffel-tower/2015156
--------
Ninety-Nine New Women Security Personnel to Guard Rawdah Sharif, Prophet's Mosque
October 21, 2020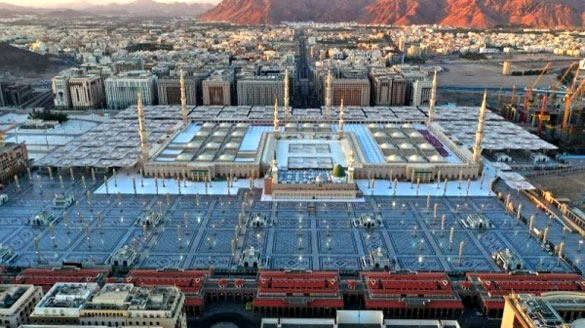 Prophet's Mosque
----
MADINAH — Director of Public Security Lt. Gen. Khalid Al-Harbi has issued an order to appoint 99 women military personnel in the Special Force for the Security of the Prophet's Mosque.
This was in implementation of the directives of Minister of Interior Prince Abdul Aziz Bin Saud Bin Naif.
The newly appointed security women will join their duty of crowd control in managing the visit of women worshipers at the Rawdah Sharif from the beginning of next week.
These women have developed their skills after undergoing training programs in both field and administrative security.
This comes out of utmost keenness and follow up of Madinah Emir Prince Faisal Bin Salman to have a separate wing of female military personnel assuming security duties to organize the visit of women worshipers to the Rawdah Sharif.
The resumption of visit to Rawdah Sharif was resumed on Oct. 18 after a hiatus of more than seven months following the outbreak of the coronavirus pandemic.
https://saudigazette.com.sa/article/599399
--------
Saudi King Praises Role of Women At W20 Summit
October 22, 2020
RIYADH: Saudi Arabia's King Salman has praised the exceptional role played by women during the coronavirus pandemic.
In a speech delivered at the end of the W20, the G20 women's engagement group, on Wednesday, King Salman said: "I would like to express my gratitude to the Women 20 Engagement Group for their remarkable efforts and commitment to deliver their agenda during these unprecedented times caused by the COVID -19 pandemic."
The Saudi king described women as the source of evolution for any society and said that without empowered women it is difficult to reform societies.
"Women are the main source of development for any society. Hence, without empowered women, it is almost impossible to implement any societal reforms given that women form half of the societies and they are the ones who raise up generations. Women has proven through history their remarkable role in leading change and in decision making."
The king noted that Saudi Arabia's presidency of the G20 has dedicated special attention to discussing policies related to women across different ministerial and working group meetings.
https://www.arabnews.com/node/1752301/saudi-arabia
--------
Saudi Arabia makes golf free for women in bid to grow game
October 21, 2020
JEDDAH: Saudi Arabia has announced a sporting initiative that will allow women to take up the game of golf expense-free.
To be launched at next month's debut Aramco Saudi Ladies International presented by Public Investment Fund, Golf Saudi's innovative 'Ladies First Club' will offer a complimentary membership inclusive of golf lessons, driving range access and full 18-hole rounds on three different courses.
It will be open to all Saudi women, with initial membership capped at 1,000 registrants.
All players signed-up to the scheme will be designated as a Ladies First Member at either Riyadh Golf Club, Dirab Golf Club or King Abdullah Economic City's (KAEC) Royal Greens Golf & Country Club, depending on their location.
The membership will include a digital 'Introduction to Golf' education pack, which will provide monthly seminars outlining the key aspects of golf for beginners. Each of the three golf courses will also host a Ladies First golf clinic once a month, led by a professional, which will conclude with an on-course induction for all participants and a chance to play an 18-hole round.
Full range access will then remain available to all members of the club, with the program's top 12 performers being offered a full, year-round membership at their course of choice.
Majed Al Sorour, CEO of Golf Saudi, said: "The Ladies First Club will be a club like no other. It is our most exciting initiative yet aimed at developing the great game of golf across Saudi Arabia and is the ideal way to celebrate the historic nature of the Kingdom's first ever women's golf tournament, the Aramco Saudi Ladies International presented by Public Investment Fund.
Sorour continued: "Golf is growing in Saudi Arabia and we remain committed to our targets. We are already seeing a steady rise in interest from women golfers and we hope the Ladies First Club will help us reach that next level."
Off course, the Ladies First Club will include a range of additional social opportunities too, including invites to social mornings with the likes of Pilates, yoga, bridge and other social and wellbeing activities.
All registrants will also receive member discounts across all three golf clubs' restaurants and shops and will receive access to discounted full membership options on completion of the program.
Maha Haddioui is the first and only Arab woman golfer to play on the Ladies European Tour to date. She will be taking part in both of next month's Saudi events.
She said: "Any way of making it easier to get women out playing golf has my backing — and the scheme that Golf Saudi have created with the Ladies First Club is a fantastic idea. From my experience, there is no better way of opening the sport up to new golfers than making it fun, inclusive and social. This initiative is each of those things."
Amateur golfer Sara Salhab, 27, regularly plays golf with friends at Dirab Golf Club, having played the sport since she was young.
She said: "The Ladies First Club is a great idea because it's creating a platform to take women's golf to the next level, by giving the required professional help and building a community that will allow players to flourish, so I think it's great.
"Golf is a very nice sport that works both your mind and your body — and you're outdoors in greenery, which is great, especially here. I really enjoy it. More women should play because it is very healthy, you get to be outdoors and it's a social activity that — with the Ladies First Club — is more accessible than ever."
The Ladies First Club will officially launch during tournament build-up week for the Aramco Saudi Ladies International presented by Public Investment Fund, which takes place 12th-15th November — two days before the Saudi Ladies Team International, which will see teams of four golfers compete together for a share of $500,000 prize money, 17th-19th November.
Women looking to register for the Club will be able to do so via the Golf Saudi website from the week the historic events get underway.
For more information about the Ladies First Club, Golf Saudi and both the Aramco Saudi Ladies International presented by PIF and the Saudi Ladies Team International, visit: www.golfsaudi.com/en-us/ladies-international
https://www.arabnews.com/node/1752101/sport
--------
Saudi women's summit accused of 'whitewashing' record on rights
Emma Graham-Harrison
21 Oct 2020
The sister of a jailed Saudi activist has criticised a G20-linked women's summit hosted by Riyadh this week as a disturbing attempt to whitewash the country's dismal record on women's rights.
Loujain al-Hathloul has been in prison for more than two years without trial after campaigning for an end to Saudi Arabia's ban on women driving and its system of male guardianship, which effectively relegates women to the status of second-class citizens, requiring permission from male relatives for many life decisions.
The coordinator of the W20 summit which opened on Wednesday invited participants to "imagine a world where women's equality is a reality", yet Hathloul and other activists were deprived of their freedom because they fought for that dream inside Saudi Arabia, her sister, Lina, told the Guardian.
"[Summit attendees] legitimise a regime that silences all voices on human rights, including women's voices," Lina al-Hathloul said. "Women activists are behind bars, and the official charges they face are for their activism."
"If women don't speak out about what is happening in Saudi Arabia, then the situation won't change."
Saudi Arabia is hosting the summit of G20 leaders in November, and the women's summit – which hosted speakers from international organisations including the United Nations and the European Bank for Reconstruction and Development – is part of a string of linked events.
But the high-profile international gatherings have proved a lightning rod for controversy about the country's record on human rights.
The mayors of major cities, including London, New York, Los Angeles and Paris, boycotted another major G20 linked event – the Urban 20 summit – last month, in protest at the plight of political prisoners in Saudi Arabia.
Saudi Arabia's powerful crown prince Mohammed bin Salman, widely considered the country's de facto ruler, has presented himself as a reforming moderniser.
In recent years he has dismantled restrictions on daily life, allowing women to drive, curtailing the powers of the religious police who patrolled women's clothing and mixing of the sexes, and allowing cinemas to open after a decades-long ban.
Yet critics say reforms represent largely superficial changes to life in a country that is one of the world's few remaining absolute monarchies, where total obedience to the royal family is still demanded.
In recent years Saudi authorities have sought to silence critics at home and around the world. Most notoriously, exiled journalist Jamal Khashoggi was murdered by government officials in the Saudi consulate in Istanbul in 2018.
Hathloul was detained and released several times for her campaigns, before she was caught up in a wider crackdown against women's rights activists in May 2018, just before the ban on female drivers was lifted.
"The only thing that has changed [in recent years] is Saudi Arabia's image in the west," said Lina al-Hathloul. "There is no place for reform at all. All the reformers are behind bars and my sister is one of them. What Saudi Arabia wants is to whitewash all the rights violations."
The summit and its tagline – "If not now, when" – was attacked as an exercise in hypocrisy by other human rights campaigners.
Grant Liberty, a new human rights group specialising in civil liberties in Saudi Arabia, described the W20 as "ludicrous and offensive", and warned that it risked turning the G20 into a "PR tool for Mohammed Bin Salman's brutal regime," and called for a boycott.
Human Rights Watch also called on women attending the W20 summit to speak up for the jailed campaigners, saying that while female activists were in jail, "talk of reform rings hollow".
"The Saudi government's use of women's rights to divert attention from other serious abuses is well documented. Recent changes, including the right to drive and to travel without male guardian permission, might be significant, but do not hide the fact that some of the women who campaigned for these changes still languish behind bars," the group said in a statement.
Hathloul was charged with destabilising national security and working with foreign entities against the state, but nearly two-and-a-half years after her detention she is still awaiting trial.
Her family say she has been tortured in prison, facing electric shocks, whipping, prolonged periods in solitary confinement and sexual harassment.
Earlier this year she went on a hunger strike to campaign against a ban on family visits and phone calls. Her parents were allowed to visit at the end of August, after she agreed to eat and found her thin but resolute, Lina said.
"It's crazy how strong and resilient she is. After two-and-a-half years she doesn't give up anything, she wants real justice. She still has strength to tell my parents everything, even though she knows could face backlash [from authorities] over that."
Since then, however, the family have not been able to contact Loujain, and Lina said she wasn't sure if her sister was aware of the W20 summit.
"I'm not sure how connected she is to the world, so I can't comment on what she knows," she said, adding that the long silence is very worrying for the family. "It's always very stressful for us when she doesn't call, because our only experience [of communications being cut] is when she is being tortured or on hunger strike."
https://www.theguardian.com/world/2020/oct/21/saudi-womens-summit-accused-of-whitewashing-record-on-rights
--------
#IAmEmirati: This Dubai-based woman engineer can unravel 'mysterious' deaths
Hesham Salah
October 10, 2020
She loves her work, which she described as "very exciting".
In one incident in Dubai this year, a worker was killed while fixing a washing machine. It was a case that puzzled a lot of people - but the first Emirati woman in the police's forensic engineering section cracked it and explained what exactly went wrong.
Solving the case wasn't easy, though, said Hamdah Majid Al Ali, an electrical engineer. "It took me 10 days to investigate what the man had done with the washing machine and file a report."
"It turned out the worker modified the electricity cycle of the machine in a way that made him the only person that could understand how to use it properly," Ali said.
"Changing the cables would require a special method, which he knew. However, once, he forgot to switch off the electricity and used the cable. So he ended up getting a strong electricity shock that killed him."
It was the most interesting incident she has handled so far, since she joined the Dubai Police in September last year. She has unraveled several others and every case closed is a fulfilment for her.
"The forensic engineering section, where I work, is very important, as it is mainly responsible to check cases that are related to any engineering failures that caused harm or damage to people or properties. It can be related to buildings or machines, such as incidents of electric shocks, among others," Hamdah said.
She loves her work, which she described as "very exciting". "It's very challenging, interesting and unusual."
First woman on the job
Soon after she earned her electrical engineering from the American University in Sharjah, she applied for a vacancy at the Dubai Police.
And when she did, there was no other woman in the forensic engineering section of General Department of Forensic Science and Criminology.
"I trained for almost five months and was immersed in both theoretical studies and field missions, with her colleagues," Hamdah said. She aced the qualifications and became the first woman to do such a job - not only in Dubai but in the UAE.
A case starts from the moment an incident report lands on the police's desks, either at the operation room or the police station, she explained. Officers go to the scene, carry out all checks, gather all the evidence they could find, and then take them to the laboratory for an examination. Finally, a report will be written for the authority that needs it.
"The forensic engineering section typically receive four main cases, including: Problems with planning or design, implementation issues, manufacturing problems, or failure to follow safety rules and procedures," Hamdah said. Her work starts at 6.30am and usually ends at 3.30pm, she added.
"I am very proud to be the first Emirati woman in our team," Hamdah said, as she stressed that every woman should always choose to do something they love.
"Always chase your dreams," she said, offering an advice to women in the UAE.
"Now, I dream to continue studying for a master's degree. Someday, I hope to invent a thing or carry out a research that can help humanity."
https://www.khaleejtimes.com/uae/dubai/iamemirati-this-dubai-based-woman-engineer-can-unravel-mysterious-deaths-
--------
Afghan women seek regional support for ceasefire
Oct 21, 2020
KABUL (Pajhwok): An independent women's advocacy group on Wednesday urged civil society leaders and human rights defenders in the region to work together with them for defending shares values and achieving prosperity.
"We, the women of Afghanistan, have been advocating for peace and appealing to both sides to commit to a comprehensive ceasefire and end the killings of Afghan citizens," the Afghan Women's Network (AWN) said.
The women also raised their concerns over a recent spike in targeted killings, saying the only way to achieve durable peace was to ensure that any agreement envisaged equal rights for all Afghans, including women and ethnic and religious minorities.
"Marginalising and exclusion will only provoke new cycles of violence and conflict, something all of us have witnessed in our region," AWN said in a statement.
"We want you to stand with us in achieving lasting and dignified peace in Afghanistan and the entire region. The Afghan conflict is as much a regional conflict as it is a domestic one," the group remarked.
In recent decades, the statement added, the region had seen growing extremism and militarisation, creating unprecedented challenges to its development.
"Our region has been in turmoil for far too long. Hostilities have undermined our population's basic human rights and liberties, most importantly, our right to live in peace," AWN explained.
It went on to cite the June 2020 attack on the maternity hospital in Kabul, the April 2019 assaults in Sri Lanka, the December 2014 school massacre in Peshawar and the November 2008 attacks in Mumbai as some of the atrocities targeting common citizens.
"As members of civic groups, together we can be a critical force in calling for action to end violence that has been destroying the lives of all children.
"We know that if we raise our voices together, our shared experiences of suffering and injustice and love for our communities will make our voices louder and heard," the statement continued.
"As members of civil society groups, we have a shared responsibility to hold our leaders accountable and demand an end to the suffering of our citizens."
Afghanistan is at a crossroads and the opportunity for peace must not be frittered away for personal and political interests, the network stressed.
Many women leaders were closely involved in peace efforts and their influence would shape the process. "We urge you to hold your leaders accountable and call on them to play a positive role in ending the violence in Afghanistan."
In its call for regional efforts to end the war, the Afghan Women's Network was joined by Our Voices, Our Future and other groups.
"We believe in an inclusive, just and sustainable peace in which women are accepted as equal citizens of Afghanistan."
https://www.pajhwok.com/en/2020/10/21/afghan-women-seek-regional-support-ceasefire
--------
URL: https://www.newageislam.com/islam-women-feminism/two-muslim-women-suffer-knife/d/123231
New Age Islam, Islam Online, Islamic Website, African Muslim News, Arab World News, South Asia News, Indian Muslim News, World Muslim News, Women in Islam, Islamic Feminism, Arab Women, Women In Arab, Islamophobia in America, Muslim Women in West, Islam Women and Feminism