New Age Islam News Bureau
14 Jan 2019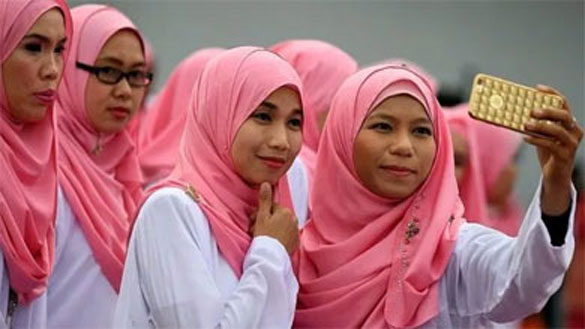 Single and Doing Just Fine – Thank You Very Much!
-------
• There Is an Issue with Muslim Women Struggling To Find A Suitable Spouse: Single and Doing Just Fine – Thank You Very Much
• Al-Azhar Expels Woman over Video Showing Her "Hugging Man"
• Alleged Torture of Saudi Women Activists Being Probed: Sources
• Muslim Woman Shares Horrific Details of Racist Attack on Melbourne Train
• Oman More Than Doubles Women's Wages in Less Than a Decade
• Supercoppa Controversy Rages over Saudi Arabia's Treatment Of Women
Compiled by New Age Islam News Bureau
URL: https://www.newageislam.com/islam-women-feminism/two-muslim-women-appointed-judges/d/117453
--------
Two Muslim Women Appointed As Judges on Malaysia's Sharia High Court
January 14, 2019
For the first time in history, two women take their rightful seat as judges on Malaysia's Syariah (Malay for Sharia) high court. I repeat: TWO WOMEN have been appointed as judges on an ISLAMIC High Court.
Noor Huda Roslan, 40, and Nenney Shuhaidah Shamsuddin, 41, are making history as they take on powerful roles allowing them to elevate the voices of Muslim women across Malaysia. Having graduated with a Bachelor's degree in Islamic Studies and Psychology, and International and Comparative Legal Studies respectively, these two women couldn't be more qualified for their positions.
The appointment of two women to the high court comes at a time of rising conservative narratives in Malaysia. Historically, the country has followed a rather moderate practice and application of Sharia law, however, current public discourse show that more and more Malaysian citizens are adopting conservative attitudes, and applying Sharia law in its most harsh standards.
In the face of such distorted practices of Sharia law, Judge Shuhaidah sees it as more imperative now than ever before to pass judgment fairly and, of course, justly. The only way to ensure this is to maintain a bench of judges flush with diversity. Only when every segment of society is represented can we hope to maintain an equitable society. In a Muslim-majority country like Malaysia, who has often protected men and questioned woman, Judge Shuhaidah promised to take the opportunity to protect women and their rights.
In her interview with BBC, Shuhidah presented her expertise on equitable marriage and child custody laws. Her approach to complex cases which involve polygamy or child abuse takes on an equitable practice.
"Every case is complex and different," she explained. "You can't generalize Islamic law and say it favors men and treats women badly…I want to correct that misconception." Such powerful sentiments ignite a change in the historical perceptions of women in Islam, with Malaysia taking the lead!
The appointment of Judge Roslan and Judge Shuhaidah not only comes as a beacon of hope for women's rights, this historic change also signals an increase and need for female representation the field of law. "Back in my day, most Sharia judges were men who questioned the need for women in the practice," said Judge Shushaidah. "I never dreamed of becoming a judge," she admitted. "As a lawyer, I didn't know if I could take on such a senior role that dealt with complicated cases. And as a woman, I felt doubt and fear."
Yet, despite the apprehension, these two powerful women wear their official robes with a sense of honor and commitment. "My robes remind me of the heavy responsibilities that come with being a Sharia judge."
Without a doubt, these two women are paving the path for an inclusive, fair, and progressive future. For women who have long suffered at the hands of patriarchal systems, it is uplifting to witness the bravery of women in all global arenas, like Judge Shuhaidah, Judge Roslan, Congresswoman Ilhan Omar, Congresswoman Rashida Tlaib, and Congresswoman Alexandria Ocasio-Cortez.
The world needs more women taking on challenges and knocking down barriers, especially in the Muslim community. The religion of Islam is not, I repeat, NOT, anti-woman; if anything Islam gave woman rights long before Western legal systems could! That being said, the Muslim community, driven by conservative attitudes, has in part stripped women of their voice. Therefore, it is up to the Muslim community to come together as a whole unit with the intent to practice Islam justly, and as it has been ordained.
In the words of Judge Shudaidah, "Our law exists to protect women's rights. It looks at their welfare and safeguards their livelihoods…Islam holds women in high regard and as judges, we must return to its teachings and maintain worthiness using Sharia."
https://www.mysalaam.com/en/story/two-muslim-women-appointed-as-judges-on-malaysias-sharia-high-court/SALAAM14012019060724
--------
There Is an Issue with Muslim Women Struggling To Find A Suitable Spouse: Single and Doing Just Fine – Thank You Very Much
January 14, 2019
So many articles, interviews and aunties describe the growing number of single Muslim women over 30 as some kind of epidemic or disease that is infiltrating our Ummah. Yes, there is an issue with Muslim women (and men) struggling to find a suitable spouse and this is a whole separate issue. However, there is also a growing number of Muslim women who are perfectly happy with being single. It doesn't necessarily mean that they do not have hopes of finding their other half, it just means that they are comfortable as they are right now and are in a great place to receive the right guy – if and when he comes along.
So many women have found themselves run ragged in the search for a spouse, filled with despair, under ridiculous amounts of pressure that often lead to quite serious consequences such as low self esteem, lack of confidence and depression. They have found themselves the object of ridicule and prejudice in their families and communities and they are often looked down upon for being not only 30 and single, but sometimes 30 and childless .
It is at this point that so many women have said "Enough is enough".
They are loving life in their own terms, doing things that bring them fulfilment and contentment, mixing with people who make them feel good about themselves and going to places where they will not be judged.
They understand and honor their right to be happy and their right not to feel ashamed about something they have no control over. They understand that if they are going to create and nurture a meaningful marriage that it starts with them.
These women are taking time to work through their negative thoughts and limiting beliefs. They are giving themselves the gift of self love and ensuring that their needs are met for once instead of just doing everything for everyone else. They are content to acknowledge that the right man will come along when they are in the right place to receive him and they have removed any sort of deadline from their lives.
As a singles coach I cannot be proud enough of these women. It takes a brave Muslim woman to stand up and to take a step back and take care of herself before she decides to get in a relationship.
https://mvslim.com/single-doing-just-fine-thank-you-very-much/?fbclid=IwAR2e39G-3FR2c009SJTJ3RNFWQgBK9XUJH-_9AeRwky6FI5y_ko6vViRymY
--------
Al-Azhar Expels Woman over Video Showing Her "Hugging Man"
January 13, 2019
CAIRO: Egypt's Al-Azhar university on Sunday said it had expelled a female student after she appeared in a video hugging a male colleague, accusing her of undermining the school's reputation.
The video, which went viral earlier this month, showed a young man carrying a bouquet of flowers kneeling before a young woman and then hugging her in what appeared to be a marriage proposal.
The video was apparently not filmed at Al-Azhar -- a branch of Egypt's highest Sunni Muslim authority -- but at another establishment, Mansoura University in the country's north.
Nevertheless the disciplinary council of the Al-Azhar University campus in Mansoura on Saturday "decided to expel the young girl definitively", university spokesman Ahmed Zarie told AFP.
He said the video had caused a "public outcry" and that the university's decision to expel her was because she had presented a "bad image" of Al-Azhar University, which strictly segregates the genders.
He said hugging between unmarried men and women violates "the values and principles of society".
The woman, however, can appeal the expulsion decision, Zarie said.
The young man who appeared in the video could also face sanctions, a spokesman for Mansoura University said, adding that the school's disciplinary council will meet on Monday to decide his "punishment".
Egypt, a predominantly Muslim country, is a largely conservative society.
Last year, prosecutors detained a female singer for four days for "incitement to debauchery" after an online video clip which included sensual oriental dances and suggestive gestures went viral.
And in 2017 another female pop singer was sentenced to two years in prison on similar charges, also over a video deemed provocative. Her sentence was reduced to a year on appeal.
https://www.ndtv.com/world-news/egypt-woman-expelled-from-university-for-hugging-male-friend-1977069
--------
Alleged Torture of Saudi Women Activists Being Probed: Sources
JAN 14, 2019
NEW YORK • Saudi Arabia's public prosecutor is investigating allegations that several prominent women's rights activists have been tortured in jail, according to three people familiar with the matter.
The torture, including electric shocks and floggings, allegedly occurred last year at a secret detention facility in an unknown location, according to four people. The prosecutor's office entered the picture after the government's Human Rights Commission conducted its own investigation, first reported by the Wall Street Journal.
Prosecutors visited the activists in prison to take their testimony about physical and verbal abuse, as well as sexual harassment they say they have endured since they were detained last May, people said.
The Saudi government's Centre for International Communication did not respond to a request for comment.
In November, the media ministry had called the allegations, reported at the time by Amnesty International and Human Rights Watch, "baseless" and "simply wrong".
While Crown Prince Mohammed bin Salman is opening Saudi Arabia to foreign investment and has loosened social restrictions to grant women more rights, he has also cracked down on dissent, imprisoning dozens of critics across the political spectrum.
The campaign turned deadly in October with the murder of government critic Jamal Khashoggi by Saudi agents at the Saudi consulate in Istanbul. Mr Khashoggi's killing created an international uproar, though the government has vehemently denied that the Prince played a role.
The feminist activists, including Loujain al-Hathloul, Aziza al-Yousef and Eman al-Nafjan, had fought for years for Saudi women's rights, including the right to drive. They were arrested in May, along with several male supporters shortly before the government lifted its longstanding ban on women driving.
The authorities accused them of collaborating with unspecified foreign entities hostile to the kingdom and local newspapers called them traitors.
In an opinion piece in The New York Times yesterday, Ms Alia al-Hathloul confirmed that a prosecutor had visited her sister in jail to take testimony.
Loujain al-Hathloul had told her parents "she had been held in solitary confinement, beaten, waterboarded, given electric shocks, sexually harassed and threatened with rape and murder", her sister wrote.
In an interview with Bloomberg in October, Prince Mohammed said the Saudi authorities had videos and recordings that showed that the activists were working with foreign intelligence agencies and "being paid money to leak". He invited reporters to visit the prosecutor's office to review the evidence against them but the authorities have not granted multiple requests for access.
Last month, one of the male detainees - an 80-year-old lawyer who had once represented Hathloul - was freed, giving hope to some Saudi activists that the government could release others.
https://www.straitstimes.com/world/middle-east/alleged-torture-of-saudi-women-activists-being-probed-sources
--------
Muslim Woman Shares Horrific Details of Racist Attack on Melbourne Train
January 14, 2019
MELBOURNE: A Muslim woman narrated horrifying details of a racist incident in Australian city of Melbourne when she intervened to save a woman and her child being racially targeted on a train.
Fahima Adan, 20, was travelling towards Westall train station in Melbourne's southeast shortly after midday on Saturday when she suffered cuts and bruises while trying to prevent them.
Video footage of the incident shows another woman yelling, "I hate Islam." When Adan intervened, her hijab was ripped from her head.
According to news reports, a 39-year-old woman was arrested and charged with assault on Saturday but has been released on bail.
Adan took to Facebook to share her experience.
She wrote: "Today around 12:20 pm I believe on the train going towards Westall Railway station I was attacked along with another lady & her child, I of almost 30+ on my carriage on the train protected this innocent women and her child against this racist crazy lady who almost could of physically hurt her & the child over her religion, this women ran for her safety away from the lady to the other side of the train leaving her belongings where she was harassed, it really opened my eyes how no one even tried to stop the lady once she jumped towards me trying to take my hijab off, when they saw that it was getting worse and I was fighting back as self defence, this man stopped it half way into the fight, all everyone did was record, I'm so hurt and disgusted that I was even disrespected like that, I'm an Australian citizen, I work and take public transportation just like everybody else, when I got outside the lady continued to harass me and actually took my scarf off me, threw into the bushes and fought with me again, she didn't only just do that but scratched me in multiple areas on my body during this fight, I've been effected and couldn't no longer go to work, I waited for police to arrive for an hour and a half but never showed up, I feel belittled and disgusted in a country I call "home" I was disrespected in so many ways, this was so wrong and justice never came, it was thrown to the side like it was nothing, I was harassed the night before & a few weeks ago as well and this was the worst one yet, I fear for my safety at this point, I no longer feel safe outside and don't know what's next.
Victoria Police
You guys have truly failed me and hope that next time these situations happen, don't wait for the person to be in a certain extent to make an appearance, these situations need to be taken more serious because now both victims are seriously scared for their safety, one even has a child.
https://www.thenews.com.pk/latest/418946-muslim-woman-shares-horrific-details-of-racist-attack-on-melbourne-train
--------
Oman More Than Doubles Women's Wages in Less Than a Decade
January 13, 2019
DUBAI: Women's salaries increased by more than 160 percent in Oman from 2010 to 2016, national daily Times of Oman reported, citing National Centre for Statics and Information (NCSI).
New laws governing wages in the country led to an average 162 percent increase, inflating the average $758 monthly salary for women in 2010 to $1,987 in 2016, the report added.
The salary hike is part of Oman's ongoing efforts to empower women and to fight discrimination against them, including the wage gap between Omani men and women.
The country's capital, Muscat, ranked third among the Omani governorates for women's empowerment efforts, the lowest illiteracy rates among women, and second for women in secondary and higher education.
The sultanate also has the highest percentage of women in supervisory positions and lowest percentage of female jobseekers.
The NCSI also discussed the progress of Omani women between 2010 and 2016 in the "Omani women's empowerment guide."
http://www.arabnews.com/node/1434731/business-economy
--------
Supercoppa Controversy Rages over Saudi Arabia's Treatment Of Women
13 Jan 2019
When, early last June, the Italian football league agreed a €20m deal to play three of the next five Italian super cups in Saudi Arabia, it provoked very little controversy. This is, after all, a trophy that has frequently been decided on foreign soil, sometimes in quite unlikely locations.
In 2002, the year that Colonel Muammar Gaddafi bought 6.4m shares in Juventus, the Supercoppa brought the Turin side to play Parma in Tripoli. Since then the match has been hosted once by the United States, twice by Qatar and four times by China. Wednesday's game between Milan and Juve in Jeddah will be the sixth time in 10 years that the Supercoppa has been decided outside Europe.
It took until October before opposition to the match started to bubble and brew, as the murder of Jamal Khashoggi turned the spotlight on to associations – sporting and political – with the Saudis. "We must immediately reverse the decision to play the Supercoppa in Riyadh," said the former sports minister Luca Lotti, a member of parliament for the opposition Partito Democratico. "The world of sport cannot let itself fall behind. I can imagine that there are various economic interests behind this match but what took place in the Saudi embassy in Istanbul cannot pass in silence." He called on the government to "use all necessary measures to prevent Italian football from striking a blow against values and rights".
In November Gaetano Miccichè, the Serie A president, contacted the Italian ambassador in Riyadh to discuss whether to move the game and was strongly advised not to do so. "Football is a part of the Italian culture and economy and it cannot have an approach, certainly in the field of international relations, different to that of its homeland," Miccichè said. "Saudi Arabia is Italy's largest trading partner in the middle east. Dozens of important Italian companies trade there and have bases there, and none of these relationships have ended [since Khashoggi's murder]. With the approval of Fifa, Uefa and the Asian Confederation, we are going to play a match in a country with its own laws, created over many years, where local traditions impose constraints that cannot be changed overnight."
Controversy over the match ebbed for a while, until Serie A released ticket details at the start of this year – and revealed that large parts of the stadium would be out of bounds for women, who are permitted only inside designated family areas. The game sold out in a few hours but suddenly debate was as hot as the tickets. Matteo Salvini, the deputy prime minister and a keen Milan fan, fumed: "For the Supercoppa to be played in an Islamic country where women cannot go into the stadium unless they are accompanied by a man is sad. It's disgusting. I won't watch the game." Giorgia Meloni, leader of the right-wing Brothers of Italy party, said the game "should be organised in a country that respects our women and our values".
On Friday Codacons, a consumer and civil rights organisation, asked fans not to watch live coverage of the game, which will be shown by the public service broadcaster Rai, "as a form of protest against the crazy policies of Saudi Arabia and the odious discrimination against women which is still rife not only in Arab countries but also in Italy".
Miccichè, however, insisted the advent of family sections in Jeddah's King Abdullah Sports City Stadium was a positive development. "The Supercoppa will go down in history as the first official international football competition which Saudi women were permitted to watch live," he said. "We are working to ensure that in the next games we will play in the country, women will be able to access all parts of the stadium."
But condemnation has not been universal. Giovanni Malagò, president of the Italian Olympic Association, said that those leading the outcry were engaged in "a triumph of hypocrisy", having raised few objections to existing trade agreements between the countries. "If you take their money, you have to take what comes with it," said the television presenter Ilaria D'Amica. "Otherwise you need to make it clear from the start: I'll bring you the Supercoppa but in return we want respect for women. Instead, when the decision was made to play the game in Jeddah, everyone was silent."
Milan qualified for the Supercoppa by reaching the final of last season's Italian Cup, where after a goalless first half Juventus eventually cantered to a 4-0 win. Juve lead Serie A by nine points, having won 17 and lost none of their 19 matches; Milan are 22 points behind after winning one of their last five. Hope for the Rossoneri comes from memories of the 2016 Supercoppa between the same teams in Doha, for which they were similarly unfancied but which they won on penalties after a 1-1 draw.
They will be without the Spanish forward Suso, suspended after being sent off against Spal at the end of December, while Juventus may also be missing a key attacker, with Mario Mandzukic ruled out of this weekend's cup game against Bologna with a thigh injury and considered doubtful. Consensus, however, is that Juve can win without Mandzukic while Milan cannot win without a miracle.
"Everyone agrees who the favourites are," says Davide Calabria, the Milan full-back. "Their players are at the highest level while our team is a work in progress. It will be hard to win but it's not impossible. We proved in Doha that they are not unbeatable. Even if we go into the game as underdogs, it starts at 0-0 and we'll give everything."
https://www.theguardian.com/football/2019/jan/13/supercoppa-controversy-rages-saudi-arabia-treatment-women-jamal-khashoggi
--------
URL: https://www.newageislam.com/islam-women-feminism/two-muslim-women-appointed-judges/d/117453
New Age Islam, Islam Online, Islamic Website, African Muslim News, Arab World News, South Asia News, Indian Muslim News, World Muslim News, Women in Islam, Islamic Feminism, Arab Women, Women In Arab, Islamophobia in America, Muslim Women in West, Islam Women and Feminism