New Age Islam News Bureau
18 Jul 2014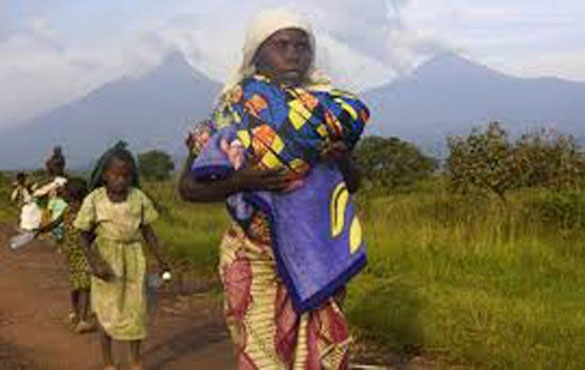 Photo: Kidnapped Women, Kids Are 'Sex Slaves' In DR Congo
------------
• Kidnapped Women, Kids Are 'Sex Slaves' In DR Congo
• Pakistan: Woman Allowed To Join Other-Caste Husband
• Women Protest Israeli Brutality Online
• Over One Million Saudi Female Graduates Career in Education
• Bangladesh Girl Takes Own Life as Stalker Tries To Marry Forcibly
• Young Pakistani Nurses Warn Of Agitation after Eid
• Muslim World Female MPs Ask Int'l Bodies to Support Gazan, Iraqi, Syrian People
Compiled by New Age Islam News Bureau
URL: https://www.newageislam.com/islam,-women-and-feminism/new-age-islam-news-bureau/two-female-muftis-to-be-appointed-in-dubai/d/98179
------------
Two Female Muftis to Be Appointed In Dubai
July 18, 2014
Two Emirati women are about to be appointed as muftis in the Department of Islamic Affairs and Charitable Activities (IACAD) in Dubai.
The two ladies are identified as Hessa Khalfan bin Hudhiba and Bushra Al Jasmy, both of them students at the College of Islamic and Arabic Studies in Dubai.
Hessa and Bushra have been selected among 18 candidates from different colleges of Islamic studies, in an effort of the IACAD and are under intensive study in 3 classes with an average of 10 hours per week.
In 2009 Emirati women were called upon to apply for the programme, which includes instruction in Sharia law and legal thinking. After sufficient training the women will be in the position to act as advisors about matter that concern the society.
http://www.emirates247.com/news/emirates/two-female-muftis-to-be-appointed-in-dubai-2014-07-18-1.556898
--------------
Kidnapped Women, Kids Are 'Sex Slaves' In DR Congo
18 July, 2014
KINSHASA: Women and children are being kidnapped by armed gangs and forced to work as sex slaves in eastern Democratic Republic of Congo, the medical charity Doctors Without Borders.
"Victims have been held as sex slaves - sometimes for months at a time - and sexually assaulted violently by several men, several times a day," MSF psychologist Ana Maria Tijerino said in a statement.
The aid group also warned that men are being kidnapped and put to work as laborers in the gold and diamond mining region of Okapi, in the east of the vast, mineral-rich nation.
In just one village between May and early July, MSF said its medical teams provided consultations for 3,586 people and treated 143 women, three men and two children who had suffered sexual violence.
Last month a team treated 20 women in a single village who had been raped, it said.
"Violence and sexual violence are nothing new in DR Congo," Tijerino said. "But for the victims, these atrocities are not normal. No one should have to accept violence on this level."
MSF warned that many of the victims of sexual violence kept captive for weeks were not receiving vital medical aid that could protect against HIV, sexually transmitted infections or pregnancy.
"Months after an assault, the physical and psychological trauma is still apparent in the survivors," Tijerino said. "Many suffer from pain, infected wounds, stress, depression and nightmares. They are scared for the future and haunted by what they have lived through."
http://www.dailystar.com.lb/News/World/2014/Jul-16/264081-kidnapped-women-kids-are-sex-slaves-in-dr-congo.ashx#ixzz37lV3GRaT
------------
Pakistan: Woman allowed to join other-caste husband
July 18, 2014
LAHORE: Lahore High Court on Thursday allowed a woman to live with her husband after she was recovered from her parents' custody. They had refused to send her to her in-laws when they discovered that they were not of the same caste.
Aiman, appearing before the court of Justice Anwarul Haq, said it made no difference to her that she was married out of her caste. She said she wanted to live with her husband.
Justice Haq allowed her to go with her husband who was present in the court. The judge also directed police not to harass her in-laws and witnesses to the marriage, who had been nominated in the FIR lodged by Aiman's father.
Aiman's father had filed an FIR with Kasur police that his daughter had married Muhammad Arshad a few weeks ago. He said Arshad and his family had told them that they belonged to the Arain caste. He said on the day of valima, it was found that they were Maliks, not Arain.
Arshad had filed a petition for recovery of his wife from her parents.
http://tribune.com.pk/story/737218/woman-allowed-to-join-other-caste-husband/
--------------
Women protest Israeli brutality online
18 July, 2014
Hundreds of women on social media in Saudi Arabia have expressed their solidarity with the people of Gaza and denounced the Israeli regime's attacks that have killed 174 people and wounded over 1,000 since June 12.
They have used their pages and groups on Facebook and other social media sites, including blogs and e-mails, to highlight the unjust war launched by the Israeli government.
They have also called for a boycott of the country and further nonviolent international pressure for Israel to stop violating the rights of Palestinians and killing civilians.
"We are sad and angry about the crisis in Gaza. We also feel helpless. The only thing we can do is share these feelings and pray for our Palestinian brothers and sisters," said Umm Abdur Rahman, a housewife, who is a member of a Facebook group.
Sheba Naem, a freelance photographer in Riyadh, said: "We won't save the world by talking about issues but if everyone keeps quiet, the world would be a worse place."
Many have used their pages to post messages, videos and pictures of solidarity. "We are human beings designed to feel pain and express it. We're doing it to spread the word and announce our support with all our heart," said Arwah bint Umar, an interior design student in Riyadh.
The messages, which includes those posted as profile and cover pictures, include: You Don't Need to be a Muslim to Stand Up For Gaza, You Just Need to be Human; We Are All Humans; In Solidarity With Gaza; Make Gaza a Nicer Place to Live; Free Palestine; All United for Free Palestine; and End the Occupation.
Sara Arafeh Halawani, who has a Facebook cover photograph stating, Stand Up for Palestine, said: "There will always be good and bad in any country, among all races and religions. However, there are still honest people who will stand up for what is right no matter what."
"I think the right information raises awareness and helps to educate people who really don't know much about the rest of the world," said Sandra Kenesi, on a popular blog.
"The international community should not tolerate the killing of innocent civilians and children targeted by the Israeli military. They should rather join together to promote the correct information about the events as opposed to that being disseminated by the media at large," she said.
Many also posted prayers and verses from the Holy Qur'an seeking peace and protection for the Muslim Ummah.
http://www.arabnews.com/news/603651
------------
Over one million Saudi female graduates career in education
18 July, 2014
Director of the Human Resources Development Fund (Hadaf) Ibrahim Al-Me'aiqil has said that it is impossible for any country in the world to employ over 1.2 million female job seekers in one field i.e. education, according to a report published in Arabic language daily Al-Hayat on Wednesday.
He was responding to the wishes of female Saudi job seekers on the list of Hafiz Program (Arabic for "incentive"), a Ministry of Labor program that supports the unemployed and helps them gain employment. He said unemployment among female graduates is increasing because all of them want jobs in the education sector because of "social pressure and interference in an individual's job decision."
Al-Me'aiqil's observations were confirmed when the National Center for Assessment in Higher Education (Qiyas) conducted an occupational aptitude test, the results of which were announced at a press conference here early Tuesday.
The Qiyas survey showed that 27 percent of Saudi nationals, who took the test, prefer jobs in education and other social fields like journalism and culture. Qiyas, which was established in 2000 to perform standardized tests to measure students' achievements applying for undergraduate study, surveyed 6,346 Saudi males and females.
A film on the test results showed that 54 percent of those who were surveyed hailed from Riyadh and Makkah regions. About 51 percent of them were students. The aptitude test indicated that only 13 percent showed inclination for professions like law and finance.
Al-Me'aiqil said the Qiyas project aims at receiving more observations on the occupational interests with the objective of developing the labor market.
http://english.alarabiya.net/en/business/economy/2014/07/17/Over-one-million-Saudi-female-graduates-seek-education-for-a-career.html
------------
Bangladesh Girl takes own life as stalker tries to marry forcibly
18 July, 2014
Four alleged stalkers were yesterday sued on charge of forcing a college girl to commit suicide on Tuesday.
Rima Akhter, a class XII student of SM Sekender Ali Chowdhury Degree College in Galachipa upazila, took her life at Daribahedchar village in the upazila as one of the gang members wanted to marry her forcibly.
Md Yousuf Ali Sikdar, father of the girl, filed the case with the Judicial Magistrate Court, Patuakhali, accusing four people, including Nasir of Kalagachia village in the upazila.
The court took the case into cognisance and asked the officer in-charge of Galachipa Police Station to take action against the accused after proper investigation.
According to the case statement, Nasir used to tease Rima on her way to and from the college and later gave a marriage proposal.
As Rima refused to comply with the proposal, Nasir became furious and threatened to kidnap Rima.
At around 8:30pm on Monday, Nasir along with his 10 accomplice went to Rima's house and threatened to kidnap her if she did not comply with his proposal.
Finding no alternative, Rima took insecticide at around 5:00am. Nasir and his accomplices fled the scene soon after the incident.
Nazrul Islam, sub-inspector of Galachipa Police Station, said police will take lawful action after getting the court order.
http://www.thedailystar.net/country/girl-takes-own-life-as-stalker-tries-to-marry-forcibly-33765
------------
Young Pakistani nurses warn of agitation after Eid
18 July, 2014
LAHORE: The Young Nurses Association (YNA) has warned of agitation after Eidul Fitr if its demand of filling 2,000 new vacancies for head nurses to meet a dearth in state-run hospitals all over the province is not met.
Talking to the media at the Lahore Press Club on Wednesday, YNA leaders Rozina Manzoor, Tausif Khanum, Shahnaz Dar and Nasira said government hospitals needed at least 8,000 head nurses to share a huge burden of patients.
Mrs Rozina said at present 700 head nurses were working in state-run hospitals while 1,870 positions were lying vacant.
Nurses continue protest
She said initially 2,000 new positions of head nurses were immediately required to meet an acute shortage.
In the second phase, she said the promotion of nurses through departmental promotion committees would also help in addressing the issue.
Demand filling of 2,000 new vacancies for head nurses
The department was using delaying tactics despite making promises with YNA leaders, she said adding that the inordinate delay had sent a wave of unrest among nurses.
"We have decided to give an ultimatum to the health department for the creation of new positions", Mrs Rozina said and announced starting agitation if the issue was not addressed before Eid. The format of protest would be announced later, she said.
YDA: The Young Doctors Association (YDA), Punjab, has announced that it will stage a sit-in in Islamabad after Eidul Fitr to protest an inordinate delay in the registration of postgraduate degrees of over 400 doctors by the Pakistan Medical and Dental Council.
Talking to the media at the Punjab Institute of Cardiology here on Wednesday, YDA spokesman Dr Amir Bandesha alleged the Pakistan Medical and Dental Council was deliberately delaying the registration of degrees of postgraduate doctors because of its differences on the issue with the College of Physicians and Surgeons Pakistan.
He said after the PMDC Act was passed in 2012, the council had de-recognised several CPSP training institutions and doctors who had trained at those institutions were not being registered by the PMDC.
"The cases of more than 400 postgraduates have been pending with the PMDC for registration for about one year," he said adding that doctors and representatives of medical organizations had held several meetings with the PMDC and CPSP officials, but the issue was yet to be addressed.
Dr Bandesha said the inordinate delay had put future of these doctors at stake because the Punjab Public Service Commission was not considering them for the position of senior registrars.
"The YDA has decided to take the matter to the street and in the first phase it will stage a sit-in in Islamabad to exert pressure on the PMDC as well as the federal government to resolve the matter on a priority basis", Dr Bandesha said.
He said the affected doctors and Young Doctors Association representatives would also move the Lahore High Court where they would appear in white uniform while displaying their degrees on their chests in protest.
Dr Bandesha strongly criticized the CPSP for not resolving the issue and warned that if the matter was not addressed the YDA would intensify the agitation and the schedule would be issued later.
YDA's Punjab President Dr Ajmal Rao, Dr Adnan Gondal and other office bearers were also present.
http://www.dawn.com/news/1119769/young-nurses-warn-of-agitation-after-eid
------------
Muslim World Female MPs Ask Int'l Bodies to Support Gazan, Iraqi, Syrian People
18 July, 2014
Female members of Islamic countries' parliaments in a statement called on the international bodies to support the defenseless people in Gaza, Iraq and Syria against the savage attacks of Israel and terrorist groups.
"We urge international circles, real and legal personalities, organizations and bodies which defend human rights, including the UNICEF, the UN, the Inter-Parliamentary Union, the Arab League and the Organization of the Islamic Cooperation (OIC), to hold official meetings and make use of all their possibilities to defend the oppressed people of Gaza, Iraq and Syria," the legislators urged on Wednesday.
They expressed regret that the innocent Palestinian, Iraqi and Syrian women and children are mostly the target of attacks by the Zionist regime in Gaza and by terrorist groups in Iraq and Syria.
The female parliamentarians called on all the world countries, specially the Islamic states, to grow united against the enemies' plots hatched to sow discord among Muslims.
In relevant remarks on Tuesday afternoon, Iranian Parliament Speaker Ali Larijani in separate phone talks with his Algerian, Syrian, UAE and Pakistani counterparts voiced concern about the slaughtering of the Palestinian people by Israel, and asked them to think of ways to stop this crime.
"A remedy should be found as soon as possible for stopping the continued killing of the Palestinian people," Larijani said in the phone talks.
He also reminded of the responsibility of the Muslim leaders vis-a-vis the brutalities of the criminal Israeli regime and preventing the massacre of the Gaza people, and asked for the integrated position of the Islamic parliaments against the Zionist regime.
Larijani said that the terrorist and Takfiri groups' moves in Iraq and Syria have created a proper opportunity for the Zionist regime to intensify suppression and violence against the oppressed Palestinian people.
Israel has been pounding the blockaded Gaza for 9 consecutive days, killing at least 202 people and injuring more than 1,500 others.
According to the UN, 77% of the victims in Gaza are civilian and defenseless people.
http://english.farsnews.com/newstext.aspx?nn=13930425001326
------------
URL: https://www.newageislam.com/islam,-women-and-feminism/new-age-islam-news-bureau/two-female-muftis-to-be-appointed-in-dubai/d/98179