New Age Islam News Bureau
22 Apr 2014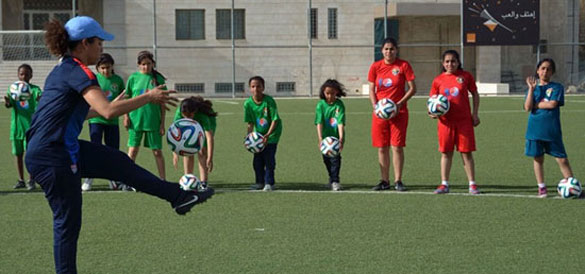 Jordan is a conservative Arab state, yet football is increasingly popular among women. (Al Arabiya/ Muath Freij)
----------
• Allowing Women to Drive Less Evil Than Depending On Foreign Drivers
• Saudi Woman Continues Fight to Wed British Beau
• Senior UN Official Urges Women to Remain Engaged In Afghan Political Life
• Turkish Intel Detects Possible Signal from Austrian 'Jihad Girls'
• Women Take To the Pitch as Female Footballers Wow Jordan
• Further Negligence Will Foster Sexual Abuse against the Young
• Parents Search for Abducted Nigeria Girls, Say 234 Missing
• Father Kills Divorced Daughter over Suspicion of Illicit Relations in Pakistan
• Mother's Role Is Crucial Making a Peaceful Society, Scholar Says
• Egypt Arrests Controversial Belly Dancer
• Goodwill Forum Aims To Educate Children on Islam
• Women Prominent In Coming Iraqi Elections
• Aleppo's Children Struggle To Stay In School
• More Than 14,000 Children Missing In 5 Years in Turkey: Report
Compiled by New Age Islam News Bureau
URL: https://www.newageislam.com/islam,-women-and-feminism/new-age-islam-news-bureau/turkish-women-use-twitter-to-fight-sexual-harassment/d/76680
-------------
Turkish Women Use Twitter to Fight Sexual Harassment
April 22 2014
Thousands of Turkish women have taken part in a Twitter campaign to voice outrage at men who invade their space by spreading their legs while sitting next to them on buses and trains.
"Stop spreading your legs. Don't occupy my space," reads the campaign slogan, which was started by the Istanbul Feminist Collective and reverberated on the social network as women shared their experiences that related to the violation of personal space on public transit.
So many messages with the Turkish tags #bacaklarinitopla, "Stop Spreading Your Legs," or #yerimisgaletme, "Don't Occupy My Space," appeared on Twitter that the campaign made it onto the network's global list of trending topics.
Tugce Sarigul, a member of the collective, explained that the group started the campaign with an image taken on the New York City subway because it was the most striking example of the situation they found online. "This is after all a problem all over the world, and we wanted to use an image that explicitly relayed the point and would leave an impression," she told The Lede.
Many of the tweets posted called for an end to harassment and included photographs to support their claims of widespread inappropriate behaviour.
Hulya Unaldi, a nurse travelling on one of Istanbul's public buses on Friday, told The Lede: "Any woman who steps foot on public transport is at risk of sexual harassment. If you stand up you could get groped and if you sit you are subjected to a male's leg pushing up against you."
"Everyone knows this problem exists, but no one has had the courage to speak up about it publicly," she added.
The feminist collective behind the campaign is encouraging women to print out the slogans and wear them as stickers while on board public transit.
"When a woman is put in this situation, it is intimidating to warn the man because she doesn't know what kind of reaction she will receive," Tugce Sarigul, a member of the collective, told the website Bianet.
In 2012, the Islamist-rooted Saadet Party began a campaign to establish a network of pink metro buses that would cater solely to women, but the Istanbul municipality never realized the project. In response to the recent campaign, many men have tweeted in favour of segregated transportation for women, which led to a Twitter backlash.
"We don't want a pink metro bus. Learn how to sit," one woman tweeted back.
The campaign has received some support from men, although the majority of tweets have been from women. "It's only natural that men need more legroom, and I'm sure not everyone spreads their legs to harass women," Erdem Topcu said as he disembarked from an Istanbul bus. "I do respect the campaign, though. We should be more aware."
http://thelede.blogs.nytimes.com/2014/04/18/turkish-women-use-twitter-to-fight-sexual-harassment/?_php=true&_type=blogs&_php=true&_type=blogs&partner=rss&emc=rss&_r=1&
-------------
Allowing women to drive less evil than depending on foreign drivers
21 April 2014
Let us examine the possibility of giving women the right to drive on one hand and her dependence on a foreign driver on the other. In the first case we will always look for possible disadvantages.
Will the sexual harassment of women increase? If, this happens, God forbid, it might be prevented by a firm legislation and also by increasing awareness among society to show more respect toward women.
A lack of respect for women will contradict the picture we have in our minds about treating them as "safeguarded queens". This will be a real test for this concept. Is the woman really a queen or is she a valueless creature?
Are women driving a cause for sedition? What sedition can happen if the woman is sitting alone in her car and driving diligently on the street strictly observing the traffic rules?
If allowed to drive, the women will usually travel from their homes to their workplaces and back. They may also go to the market to buy their necessities.
The common belief is that we are enjoying extensive security. The exaggerated warnings against the risks that may befall women on the driving wheel contradict our belief that we are living in completely secured society. Why do we have this contradiction if the conditions are safe and smooth, allowing freedom of movement without any risks?
There are many reports on the social media about foreign drivers committing criminal offenses toward female students they are driving. We can put a seal on such practices just by allowing women to drive their own cars.
What if foreign drivers start raping their female passengers? To realize the gravity of the issue we should consider that a driver could attack our sister or a close relative. Without such considerations we will always underestimate the dangers of foreign drivers.
After the behavior of foreign drivers was publicized, many women tweeters found the guts to speak about their painful experiences with foreign drivers. The feeling of embarrassment usually makes women hesitant to reveal what foreign drivers did to them or speak openly about the negative consequences of depending on them. If not properly checked and stopped, these incidents may snowball.
A woman once tweeted: "Please save us from the lecherous looks of our drivers. Let us drive our own cars."
It is not fair that we remain the sole society in the world that does not permit women to drive. The ban on women driving may be attributed to a lack of trust in women or to the importance of protecting them against young men who will not hesitate to harass them.
Aware of the need for their services, the foreign drivers may go to the extreme in harassing the women riding with them in their cars.
In 2011, an Arab expatriate who was caught in Dammam for crimes of harassment, admitted that he had committed more than 200 sexual aggressions against minor girls and mature women in five years. This is just an example of what can happen when a woman is alone in the car with a foreign driver.
An Arab woman friend told me that the moment she got into a limousine car with an old Asian driver with an extremely long beard, he offered to pimp her out to other men. She did not know what to do other than remain silent until she reached her destination.
We have more than 1.5 million foreign drivers, the majority of them working for Saudi families.
There are many of them also working in the school transport sector, driving girls and female schoolteachers.
This is in addition to those who are private drivers for Saudi women. These drivers represent a ticking bomb that may explode any moment, causing more problems. I think it is high time that women are allowed to drive to avoid all these dangers.
http://www.saudigazette.com.sa/index.cfm?method=home.regcon&contentid=20140422202688
-------------
Saudi Woman continues fight to wed British beau
21 April 2014
JEDDAH — A Saudi woman who has been barred from marrying a Briton by a Jeddah court has taken her legal battle to the Court of Appeals in Makkah.
A judge of the Jeddah General Court had initially refused to approve the marriage of the academic to a British aviation engineer, who is Muslim.
He made the ruling after the woman filed an adhl (male guardians preventing women from getting married) case against her family.
The judge based his decision on a saying by the Caliph Omar that he would only marry off women of "good breeds" to men of the same social standard.
Three judges at the Court of Appeals in Makkah will review and rule on her case in the next few days.
The father, who is objecting to his daughter marrying a foreigner, has asked one of his sons to represent him.
His daughter is standing firm in her decision to marry the British man.
She cited a number of Ahadith (prophetic sayings) by Prophet Muhammad (peace be upon him) asking families to allow their daughters to marry if they are satisfied with the ethics and religion of the suitors.
http://www.saudigazette.com.sa/index.cfm?method=home.regcon&contentid=20140422202682
-------------
Senior UN official urges women to remain engaged in Afghan political life
21 April 2014
With the results still being counted from Afghanistan's recent presidential election, the top United Nations official in the country today urged women to remain meaningfully engaged in the political process and improve political life there.
Speaking after a meeting with female parliamentarians in the capital Kabul, Jan Kubiš, who is also head of the UN Assistance Mission in the country (UNAMA), congratulated Afghan women on their participation in the elections – as voters, electoral workers, observers and candidates.
"Women's participation in national decision-making not only strengthens the representative nature of government institutions but is central to improved development and economic indicators," said Mr. Kubiš.
He also urged voters to keep candidates to the "significant pledges" they made on women-related issues during their campaigns. These include promises to increase women's participation in their administrations, improve economic empowerment and work place participation, as well as to combat violence and discrimination against women and girls.
"I encourage women to remind candidates of the commitments they made during their campaigns to improve respect for women's rights." said Mr. Kubiš. "Women have performed a critical role in the electoral process reinforcing their expectations that women will be included in shaping the next government."
The Independent Election Commission (IEC) is expected to announce the full preliminary results later this month.
Following that, the Independent Electoral Complaints Commission (IECC) will adjudicate complaints regarding the preliminary results. Only after the adjudication of these complaints is completed will the IEC announce the final results, scheduled to take place on 14 May, according to information UNAMA had earlier provided.
http://www.un.org/apps/news/story.asp?NewsID=47617#.U1ZVxFVdU4U
-------------
Turkish Intel Detects Possible Signal from Austrian 'Jihad Girls'
April 22 2014
Turkish intelligence has detected a signal, possibly coming from the Cellphone of one of two Austrian teenage girls who some believe were tricked into going to Syria to fight for Islamist rebels.
Interpol put out missing-person notices for Austrian-born Samra Kesinovic, 16, and Sabina Selimovic, 15, who disappeared from their homes in Vienna on April 10.
Their parents, Bosnian refugees who came to Austria in the 1990s, told the Bosnian newspaper Dnevni Avaz that they learned their girls had boarded a flight from Vienna to Adana, not far from the Syrian border. They also said they found letters hidden in the teenagers' schoolbooks saying they had "chosen the right path" and were going to "go fight for Islam in Syria."
Although several websites related to various Syrian groups claim that the girls joined "jihadists," some of the photographs allegedly showing the two in Islamic attire appear to have been doctored.
As the families believe that their daughters are in Istanbul, Turkish intelligence has tried to collect signals from the girl's cellphones, although the devices had reportedly been switched off. Thanks to more advanced techniques, however, intelligence officials managed to collect a signal, possibly coming from one of the cellphones, although it is still off.
A Turkish official told daily Hürriyet that the signal was coming from an area in northern Syria that the Islamic State of Iraq and the Levant (ISIL) controls. "If al-Qaeda in Syria has them, we don't think that they'll keep them in the same place for a long time, considering international attention is focused on the girls," the official said.
http://www.hurriyetdailynews.com/turkish-intel-detects-possible-signal-from-austrian-jihad-girls.aspx?pageID=238&nID=65359&NewsCatID=359
-------------
Women Take To the Pitch as Female Footballers Wow Jordan
April 22 2014
It is a conservative Arab state, yet football is increasingly popular among women, who do not see a contradiction between the world's most popular sport and Islamic values. In Jordan, female footballers love to be referred to as "Nashmiyyat," or the "brave ones." That is the official name of the national women's team.
"If there has ever been an Islamic reason restricting women's involvement in football, it's no longer in place, with the international rule-making body FIFA lifting the ban on the use of hijab during football matches," said Sama Zghayer, a professional footballer and former member of the national women's team.
The level of women's involvement in football has increased "immeasurably," she told Al Arabiya News. "Here in Jordan, we have the under-15 and under-17 football teams, in addition to the first women's team."
Danielle Salton and Mary Harvey, former members of the U.S. Women's National Soccer Team, visited the Jordanian capital last week. The U.S. ambassador to Jordan, Stuart E. Jones, told Al Arabiya News that the visit aimed to enhance women's empowerment and involvement in sports.
Jones, who joined a workshop, held by Salton and Harvey at Al-Hussein Youth City's Polo Stadium, commended FIFA for lifting the ban on Hijab: "Cultural differences have to always be respected and taken into consideration by all international governing bodies."
The fact that Jordan is hosting the 2016 FIFA under-17 Women's World Cup is evidence of the sport's growing popularity among females, the American footballers told Al Arabiya News. "In schools, they have passion for the game," Harvey said. "In Jordan, the game is massively popular, with female footballers becoming national icons."
The former international players also visited the kingdom to increase participation in the Jordan Football Association's Prince Ali Centres, which comprise a new nationwide network of football clubs for adolescent girls, according to a U.S. embassy statement.
In cooperation with the Prince Ali Centres, Salton and Harvey led one workshop with coaches, and three workshops with several of the 15 Prince Ali Centres. The program culminated in a mini-tournament for all the Prince Ali Centres on Friday at the Polo Fields in Amman, with 375 Jordanian girls taking part, according to the U.S. embassy.
http://english.alarabiya.net/en/sports/2014/04/21/Women-s-football-increasingly-popular-in-Jordan.html
-------------
Further Negligence Will Foster Sexual Abuse against the Young
Indah P. Amaritasari, Jakarta
April 22 2014
As per the latest report from the National Commission on Child Protection (Komnas PA) violence against children increased from 746 cases in 2012, to 329 reported cases. The case at Jakarta International School (JIS) should be a signal for the government to take effective measures as mandated in the Convention on the Rights of the Child and the Vienna Declaration and Program of Action. The program to stop the violence against the young has to be a nationwide and a top priority.
The protection of children against sexual abuse and exploitation has long been a global concern. Two subsequent world congresses were held, in Yokohama in 2001 and in Rio de Janeiro in 2008, which further refined implementation of international standards in child protection. The congresses among others addressed prevention of child rights violations, the protection, recovery and reintegration of child victims and the participation of children and adolescents in actions designed to address these phenomena.
The 2013 congress mandated follow up and support for child victims of sexual exploitation and an independent child rights institutions to monitor prevention of the sexual abuse of children and the protection of victims.
Regarding sexual abuse, the convention highlighted the importance of combating child rights violations, with the need to invest in prevention and to ensure the physical and psychological recovery and social reintegration of child victims in an environment that fosters the health, self-respect and dignity of the child.
The victim of the sexual abuse at JIS needs a period of physical and psychological recovery. Komnas PA should monitor action taken for all child victims of violence. The steady effort is necessary in the promotion of public information, education and capacity building on the rights of the child, breaking the silence surrounding these issues and to push further policies where necessary, to ensure children's effective protection. The school should be held responsible for what has happened by providing the necessary information particularly to the victim's family, being as transparent as possible and by acting cooperatively.
The legal status of the school actually indicates the school willingness to be accountable in conducting an education for early childhood. According to the Education Minister Regulation No. 58/2009 on early childhood education standard, education should give special attention to the development of social-emotional of the child. Thus, teachers must have the ability to identify changes in child behaviour. In this case, the JIS teachers apparently failed to diagnose the change.
The school has clearly failed to recruit competent and responsible persons to oversee education and also cleaning staff, who should support the children's safety. Even if authorities decide not to give JIS kindergarten a permit, the management still needs to support a therapy program for the victim an investigation to determine the teachers and managers' responsibility should lead to transparent legal proceedings, with a deterrent effect for those
responsible.
The central and local government must consider comprehensive and implementable regulation on safety environment for early childhood education. Sexual abuse is also known widely to be perpetrated by the victim's close family or someone else in the victim's close environment. Young children need to be fully supervised, including when they have completed toilet training.
Once a child has experienced violence, reparation is the hardest part. Failure to take an action now will jeopardize the future generation.
http://www.thejakartapost.com/news/2014/04/22/further-negligence-will-foster-sexual-abuse-against-young.html
-------------
Parents Search For Abducted Nigeria Girls, Say 234 Missing
Apr 22, 2014
(Reuters) - Parents of girls abducted by Islamist militants were searching for their daughters in a remote forest, they told the state governor on Monday, adding that 234 were still missing, a much higher figure than authorities said had been kidnapped.
Official figures put the number of abducted girls at 129 and by Saturday afternoon Borno state governor Kassim Shettima said 77 were still unaccounted for, while the other 52 had returned.
Monday's mass abduction of teenage schoolgirls by Boko Haram from Chibok school, which the governor visited on Monday, shocked Nigeria, a nation long used to hearing about brutal attacks on civilians in the northeast.
It also underlined how powerless the military has become at protecting civilians in the areas of Africa's most populous country plagued by the insurgency, despite a state of emergency nearly a year old that was meant to destroy it.
Boko Haram, whose name means "Western education is sinful", say they are fighting for a breakaway Islamic state in northern Nigeria, although they have increasingly targeted civilians instead of just security forces over the past year.
Parent Shettima Haruna said several parents had taken motorcycles into the Sambisa forest, a known Boko Haram hideout near the school where it is believed the girls were taken.
"We met some men in the Sambisa bush; they told us the Boko Haram camp is still inside and far. They said we may not come out alive ... and we then returned beaten by rains," he said.
"We came back to count all our children and we discovered 234 girls are still missing," he added, standing next to the school, large parts of which were reduced to ash by the attack.
The governor and his entourage did not comment on the discrepancy in the figures, which it was not possible to independently check.
Folly Teika, 53, whose two girls Aisha and Hima were among those abducted, said after days of searching she came across people in a village called Bale.
"They said they saw a lot of girls that same Tuesday morning fetching water from a stream and leaving ... They told us they were certain that girls are still close by, but they advised strongly not to go into that direction because we weren't armed," she told Reuters by telephone.
Boko Haram's five-year-old struggle is now seen as the main security threat to Africa's leading energy producer, killing thousands, but attacks on civilians have worsened and become more gruesome this year. School raids seem targeted at deterring parents from giving their children modern education.
"All we want from the government is to help us bring our children back," said father Pogu Yaga, 50, bursting into tears.
The kidnapping occurred the same day a bomb blast, which Boko Haram's leader Abubakar Shekau has since claimed responsibility for, killed 75 people on the edge of the capital Abuja.
http://in.reuters.com/article/2014/04/22/uk-nigeria-violence-idINKBN0D804L20140422
-------------
Father Kills Divorced Daughter over Suspicion of Illicit Relations in Pakistan
April 22 2014
KHANEWAL- A man killed his divorced daughter over suspicion of having illicit relations today.
Police said that Suriya Bibi, after being divorced was staying with her parents in suburbs of Khanewal. Father of the woman was suspicious about the character of her daughter and after exchange of hot words he gunned down Suriya Bibi and escaped the scene. The police have registered a case against the killer father and started raids for his arrest.
http://www.nation.com.pk/national/21-Apr-2014/father-kills-divorced-daughter-over-suspicion-of-illicit-relations
-------------
Mother's Role Is Crucial Making A Peaceful Society, Scholar Says
Apr 22, 2014
Dubai: Stay-at-home mums are not only housewives but 'house engineers' whose main responsibility is to rear their children according to the teachings of Islam, a prominent Islamic scholar said on Saturday at the Dubai International Peace Convention (DIPC).
Mohammad Salah, a famous TV presenter and religious adviser, described women's role in the home as crucial in creating a peaceful society.
"I don't like the word housewives but rather 'house engineers' [for mothers]. The mother plays the most important role in forming an ideal family because she's the one who spends most time with the children at home," Salah said during the lecture 'The Mother and the Ideal Family' on the last day of the convention on Saturday.
The three-day event was held under the patronage of His Highness Shaikh Mohammad Bin Rashid Al Maktoum, Vice-President and Prime Minister of the UAE and Ruler of Dubai.
"The women's role to catalyse world peace is extremely essential to society. She holds 90 per cent of the family structure together and can instil good manners in her children by being the ideal instructor and educator."
Salah discouraged homemakers from competing with their husbands in building their careers if it means that the women have to abandon their roles as hands-on mothers and instead leave their kids in the care of nannies.
He said an ideal family invests in their children, especially in rearing them in knowledge of the Quran. Although he admitted that school eat up the majority of a pupil's time, Salah said there is no excuse not to expose them to studying the Quran.
"We don't have to produce MP3s or MP4s [sound recordings] of the Quran out of our children. The most important thing is for them to understand the teachings of the Quran, to convey them to others and to live them as a true Muslim," Salah said.
More than 450,000 visitors attended the three-day convention at the Dubai World Trade Centre as of Saturday afternoon. Tens of thousands more were expected to attend the last session to be led by renowned Islamic scholar, Dr Zakir Naik, on Saturday evening.
At the conference, a Smart Peace Dome complete with three-dimensional animations on the teachings of the prophets in the Quran was available for public viewing.
http://gulfnews.com/news/gulf/uae/general/mother-s-role-is-crucial-making-a-peaceful-society-scholar-says-1.1321512
-------------
Egypt arrests controversial belly dancer
21 April 2014
Egyptian prosecutors have detained the controversial belly dancer and singer Sama al-Masri pending an investigation into an unlicensed television channel allegedly owned by her.
Masri's channel, named "Felool" (which means "remnants", usually associated to the former President Hosni Mubarak's regime) has been on air for about three months.
Episodes were recorded in an apartment, with episodes send to Jordan for broadcast, she has said.
Police raided the apartment and reportedly confiscated unlicensed transmitters, the Al Arabiya News Channel reported.
Masri reportedly launched the TV channel as a stand against Muslim Brotherhood members in Egypt. She recently mocked former potential presidential candidate Murtada Mansour, who in turn filed a complaint against her to the attorney general.
Mansour did not end up running for Egypt's top political post.
http://english.alarabiya.net/en/media/television-and-radio/2014/04/21/Outspoken-Egyptian-belly-dancer-detained-over-TV-channel.html
-------------
Goodwill Forum aims to educate children on Islam
21 April 2014
The "Sauhrda Vichara Vedi" (Goodwill Forum), which groups different religious organizations, intends to hold a variety of programs in the coming months to educate Muslim children from Kerala to teach their religion, said Ismail Maritheri, its general convener.
Speaking with Arab News, he emphasized the forum's role in strengthening unity and solidarity among Muslims from the Indian state.
"We are trying our best to narrow the differences among the various Islamic groups by bringing them together around the table to discuss common issues."
He said the forum would organize training programs for Islamic schoolteachers, conduct seminars on common issues and hold joint campaigns on the need to promote Muslim unity.
"It's unfortunate to see the followers of the great religion of Islam stand disunited. It's one of the greatest tragedies."
The forum recently organized an impressive Qur'anic evening in Jeddah, which was instrumental in enlightening the audience on the importance of learning the Holy Book.
Dr. Khaled Bahaziq, a Saudi who holds double Ph.Ds in psychology was the keynote speaker.
Bahaziq said a strong faith in God would help people overcome any challenges.
"I am not afraid of death and I can challenge death because of my faith in Allah."
He urged parents to set a good example for their children by loving and helping each other.
"This will have a big impact on their children."
He said the reading of Qur'an by a woman during the time of pregnancy would influence her fetus. "We have seen a case at King Abdulaziz University (KAU) Hospital where a child stopped crying when it heard Qur'an recitation and then we discovered that its mother used to read the Qur'an during pregnancy."
He said Prophet Muhammad (peace be upon him) had never beaten his children. "We should be friendly to our children. Your violent behavior might make your child violent during adolescent period," he told parents.
Alungal Mohammed, CMD of Al-Abeer Medical Group, launched the event and stressed the need for Muslim groups to work together to protect their common interests and improve the community's progress and prosperity.
Abdul Shukoor Ali, president of Thanima, emphasized the need to learn more about Islam and Qur'an through reading. "Knowledge is power and we should use every opportunity to learn new things, especially about Islam."
Yousuf Farouqi of the Islahi Center urged the audience to establish strong bonds with the Qur'an, while Shaukat Ali of KAU, said: "Cell phones are a good medium to learn the Qur'an."
Mustafa Saadi of the ICF commended the forum for bringing together different organizations. "We don't know why we are divided. We should stand united under the banner of Islam."
http://www.arabnews.com/news/559296
-------------
Women Prominent In Coming Iraqi Elections
April 22 2014
The coming Iraqi parliamentary election cycle, scheduled for April 30, is marked by an intensive presence of female candidates on the different lists of Iraqi political blocs, with women representing 2,960 out of 11,000 total candidates.
Iraq's Electoral Law requires the blocs participating in the elections to have at least one woman candidate for every three male candidates, which means at least 25% of all candidates should be women. The blocs usually have to search for women to fill this quota. However, the current electoral session stands out, due to the participation of several women academics, journalists and civil society activists. Most of them have a vision for change, unlike most participating male candidates who do not even have an electoral program.
Contrary to the previous parliamentary terms, the current term is characterized by the candidacy of many women expressing more tolerance, openness and social and political awareness, be it through their clothing, topics or agenda. Many Iraqis have been talking about this on social media sites, and the current electoral session is bound to witness a unique parliamentary presence for Iraqi women.
Iraq might be on the verge of a new stage, after the failure to govern the country for the past 11 years. It is no coincidence that this stage is accompanied by rising voices of civil movements and figures at the expense of religious ones, which have been losing momentum. The voices of the latter have been drowning out others in the same streets that have grown tired of their slogans focused on the injustice and crimes of the former regime. There is a new generation innocent of everything related to the past stage — a generation of youth. They are aware of democracy, which, despite its limitations, allows them to think out loud and participate in political activities.
This new breeze has also contributed to increasing the number of female candidates running for the coming parliamentary elections. Educated women holding university degrees and diplomas of higher studies in different fields are clearly present in the elections.
The women candidates running in the next elections have stolen the spotlight by attracting the attention of voters with their modern looks, which the public was not used to in the parliament. They have also drawn attention through their remarkable social and cultural presence, especially the women working in literature and media.
This does not apply to all women candidates, for some previously known faces are trying hard to return to the parliament by adopting a discourse that criticizes parliamentary and governmental performance. They have also split from their former parliamentary political blocs and rejoined the blocs that were more likely to win in the current electoral race. A few new women candidates have been spruced up to show their charm, becoming objects of mockery for many social media users, who described them as apparently participating in a beauty contest rather than political elections.
However, this does not mean that there is an electoral culture that has emerged from the democracy of the past 11 years: Next to the posters of liberal female candidates there are posters of other candidates. These posters show the name of the candidate and her coalition, but instead of showing her picture, they show that of her husband, brother or father. These promotion posters are captioned with a sentence that explains the relationship between the man in the picture and the candidate.
Add to this the images of veiled female candidates, who appear as only a black mass in the posters. This reflects the depth of the social crisis plaguing the Iraqi conscience as a result of the religious Fatwas and obsolete social norms.
If we put this social crisis and electoral whims aside, we find that there is coherence between the yearning for a civil state — this yearning is prevalent in cultural dialogues and among the youth elites that are fed up with the harbingers of dictatorship after the failure of Islamic parties to manage the country — and the yearning for the rise of women to the parliament, as one of the aspects of the civil state.
http://www.al-monitor.com/pulse/originals/2014/04/iraq-parliamentary-elections-women.html#ixzz2zc3DM9rY
-------------
Aleppo's Children Struggle To Stay In School
April 22 2014
ALEPPO, Syria — A nonofficial survey conducted by a group of activists from civil society organizations in Aleppo determined that half of the city and surrounding countryside's schools were badly damaged or destroyed. The damage has come mostly from Syrian regime shelling against armed opposition groups that used some schools close to military front lines as headquarters.
After the closure of schools in most areas for a year and a half at least as a result of repeated airstrikes, some civil youth organizations collaborated with local residents to initiate measures to continue education in those areas. They sought the help of supporters and European agencies to obtain funding for schools and educational institutions.
It should be noted that most faculty members who remain in those neighborhoods are volunteers, teachers whose salaries have been withheld, or university students who have yet to graduate. Those remaining continuously try to contact official educational bodies asking for required support, and try to secure a semblance of salaries for faculty members.
"The reality experienced by children in Syria and the dangers they face — including the loss of their homes, family members or friends — as well as past and present painful experiences, insecurity, fear and uncertainty towards the future, threaten an entire generation," said Muatassem (names in this report have been changed to protect the identity of interviewees), who supervises a number of schools in Aleppo's eastern neighbourhoods, to Al-Monitor.
Abdullah Badawi, a teacher and second year engineering student, told Al-Monitor of the difficulty of instilling an education curriculum that wasn't politicized or influenced by the old Baathist school system:
"A proper, non-biased understanding of the meaning of country and love for your country causes many problems to a lot of people. For after 40 years of coercive intellectual guidance for the young and old alike, Baathist ideals prevail, as do problems associated with political money. Many backers and supporters of certain ideologies try to impose their philosophies and sway schools towards adopting curricula that agree with their espoused beliefs."
Muatassem invited Al-Monitor to visit one of the schools to listen to the views of students and residents in the Bustan Al Qasr neighborhood, which is under the control of the Free Syrian Army (FSA). As we approached the school entrance, we heard the voices of students repeating their teacher's lessons, and were surprised by the prevalence of drawings on the walls that the students had pencilled to express their thoughts and freedom of choice.
The school has around 300 students who attend morning classes only, their numbers dwindling somewhat as a result of repeated evacuations from Aleppo's neighbourhoods.
In a new habit learned during war, children look upward when they enter and exit the school every day, in search of warplanes and helicopters circling overhead. The effects of the war on the minds of children are plain to see, as evidenced by a school-organized art exhibition that contained mostly student drawings depicting explosive barrels, airplanes, rockets and destroyed houses.
Samir, the father of Mustafa, a student in the school, explained, "I am always fearful for my child's safety when he is at school, because the regime's planes and exploding barrels are indiscriminate. Yet, I am somewhat comforted to see the neighbourhood's children accompanying him to school, despite my knowledge that no place is safe in these areas, and that the regime considers schools, as well as markets and bakeries, to be belligerent targets."
Al-Monitor asked third-grader Alaa why his family had not fled the city. "We do not have the money to travel to the countryside or other safe areas. My father fights with the FSA and is fearful of us going to those neighbourhoods (regime-controlled areas). All our neighbours went there and came back. Had the situation been better there, they would not have returned," he replied.
A few days ago, Alaa lost one of his school friends to a regime sniper hiding in the al-Masharka neighborhood. Shrouding his emotional scars, Alaa said that he was not too saddened by his death because he still had his other neighbours and friends to play with. Such stories are common among the children of Aleppo. Fifth-grader Mais told Al-Monitor about how her home was bombed twice, leading her family to live with relatives, since they had no money to flee to Turkey or the border region.
Mosque-based education is extremely popular here, because it is the only available form of schooling in the area. But education in mosques is limited to teaching Arabic and English, as well as reading the Quran. The burden of education here falls on local committees and charitable initiatives by residents. In brief, everyone here is trying to help this generation overcome the deficiencies they face, for none of them want "an illiterate generation."
Despite the painful neglect suffered by the educational system, well-intentioned people continue to shield Syrian children as much as possible from the surrounding conflict and help them lead normal lives. Many of those children have lost their parents and are alone, without anyone to support them, and are vulnerable to all kinds of dangers, from resorting to begging, to enlisting in the war effort.
Education possesses the greatest potential to bolster understanding, tolerance and friendship among all peoples, ethnic and religious groups. In a country torn by war and hatred, education may be our only hope to a peaceful future.
http://www.al-monitor.com/pulse/originals/2014/04/education-aleppo-syria-war.html#ixzz2zc3LDGBO
-------------
More than 14,000 children missing in 5 years in Turkey: Report
April 22 2014
Over 14,000 children have gone missing in the past five years alone in Turkey, the Gendarmerie General Command has said, noting that many children are kidnapped for their organs, labour or fighting potential.
In the past five years, 14,412 children have gone missing across Turkey, 13,528 of whom were found, Gendarmerie General Command Action head Gen. Arif Çetin told a conference on missing children yesterday in Ankara.
Seven children are lost every day in the area where the Gendarmerie is in charge, but six of the children are found by Gendarmerie forces, Gendarmerie General Command Gen. Servet Yörük said.
Despite the many children who are found, 834 children who were lost in the last five years remain missing, according to Gendarmerie reports. The total number of missing children regardless of the date they went missing is 1,449.
The gendarmerie has launched a unit working for missing children.
"We launched special teams in 81 provinces on April 6, and around 94 percent of the missing children have been found thanks to these teams," Çetin said.
Interior Minister Efkan Ala also told the conference that they were working hard on finding missing children in the country.
"Around 97 percent of missing children are found by the gendarmerie or police in Turkey. This is a significant success," said Ala, calling on families to look after their children.
The highest number of missing children cases is reported in Ankara. The city is followed by İzmir and Bursa, according to the statistics.
The conference came after the death of three children in one month shocked the country. A 4-year-old boy died in the hospital after being found in serious condition with his throat and right wrist slit in the Aegean province of Aydın on April 16.
The boy, identified as C.C., was found in an unused barn belonging to his grandfather after going missing while playing in front of his family house. Doctors have raised the possibility that he might have been subjected to sexual abuse.
The latest murder came less than 10 days after the killing of a 9-year-old boy in the north-eastern province of Kars. The body of the boy, Mert Aydın, was found in a garbage dump five kilometers outside the city.
Police launched a large-scale investigation to find the murderer.
Another young boy, Pamir Dikdik, was found dead in Istanbul on April 5 after going missing a day earlier. A massive search mission that included members of the public was organized for Dikdik before his body was eventually found in the swimming pool of a neighbouring villa.
http://www.hurriyetdailynews.com/more-than-14000-children-missing-in-5-years-in-turkey-report.aspx?pageID=238&nID=65350&NewsCatID=341
-------------
URL: https://www.newageislam.com/islam,-women-and-feminism/new-age-islam-news-bureau/turkish-women-use-twitter-to-fight-sexual-harassment/d/76680