New Age Islam News Bureau
27 Feb 2020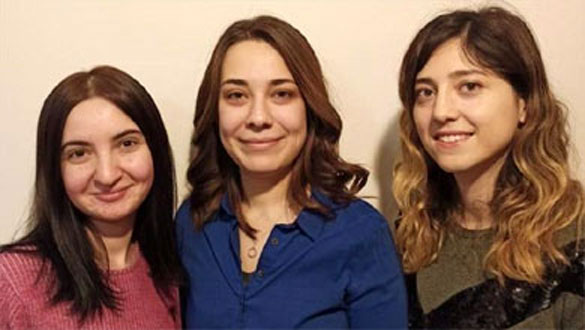 Three women will work as engineers at country's first nuclear power plant, which is scheduled to begin operating in 2023 - Anadolu Agency Three women will work as engineers at country's first nuclear power plant, which is scheduled to begin operating in 2023 - Anadolu Agency
-----
• Muslim and Bedouin Girls Take To the Road on Motorcycles
• Afghan Peace Talks: The Woman Who Negotiated With the Taliban
• As Women in Arab Gulf Fight For Their Rights, Rulers Need Support From Conservative Citizens, Religious Leaders
• 2,838 Working Saudi Women Benefit From Child Support Program
• Female IS Terrorist from Antwerp Sentenced To 5 Years In Prison
• Largest Saudi Olympic Games Announced For Men And Women
• Retno Moves Forward with Planned Indonesia-Afghanistan Women's Network
• W20 welcomes G20 finance ministers' commitment to financial inclusion for women
Compiled By New Age Islam News Bureau
URL: https://www.newageislam.com/islam-women-feminism/turkish-women-set-be-nuclear/d/121169
--------
Turkish Women Set To Be Nuclear Energy Pioneers
FEB 26, 2020
Three Turkish women who have been studying at Moscow's National Nuclear Research University are preparing to become pioneers at Turkey's first nuclear power plant.
Aysel Karacak, 25, Merve Şahin, 24, and Özlem Arslan, 28, were awarded scholarships under a joint project between Russia's state nuclear corporation Rosatom and Turkey's Ministry of Energy and Natural Resources to start working at the Akkuyu Nuclear Power Plant in the southern port city of Mersin.
The students told Anadolu Agency (AA) about the six and a half years of education they have received, their experiences of being women and minorities in the field and the opportunities the power plant will bring. An intergovernmental agreement was signed between Turkey and Russia in May 2010 for the Akkuyu plant, which will consist of four VVER-1200 power units with a total installed capacity of 4,800 megawatts (MW). The students said they encourage all women to follow their dreams without hesitation, even when people say the job is not suitable for women.
Karacak, who went to Russia to study nuclear power plant design, said she has been receiving her education in Russian and had no idea about the language until she moved there. She said there should be no limitations on professions based on gender, noting she was one of the few women in her field. "We are more successful than many male students here, and I am proud of myself as a woman. I suggest that young girls should not hesitate to come," she said. Karacak said she questioned the lack of a nuclear power plant in Turkey after visits to several nuclear power plants in Russia. Waiting for the day she will start her new job at the Akkuyu plant, Karacak said the country needs nuclear energy and she is more than happy to play a role in bringing it to Turkey.
Şahin, who is studying radiation safety at nuclear power plants, said she has been in Russia for five years now. She said nuclear power is a cleaner and more viable form of energy compared to traditional sources. "Fossil fuels used to generate electricity pollute the air, cause health problems and trigger global warming," she noted. Şahin said it is upsetting that Russia's Chernobyl Nuclear Power Plant accident in 1986 is the first thing people think of, emphasizing that nowadays, all kinds of security systems have been developed for any accident scenarios. "Do not mind anyone who tells you that physics or nuclear (energy) is not a field for women because a woman beautifies everything she touches," she added.
Arslan, who graduated from the department of nuclear power plant design at the university, said people had warned her because by the time she returns to Turkey, she would be in her 30s and it would be hard for her to start a family. However, she said her parents were supportive and so she came to Russia taking into account all of the difficulties and responsibilities that follow. "The people in Turkey should know that the power plant to be built in Mersin will be built upon the standards of the 21st Century," she said.
"I realized that this is not an ordinary building. There are multilayered security systems during the process. For example, a reactor cover weighing tons is checked to the finest detail during the production phase. First, it is checked whether there is the smallest gap left in the caps with gamma rays. Then tests are performed using high-frequency soundwaves, and people measure (the caps in) millimeters," she noted. The groundbreaking ceremony for the nuclear power plant was held in 2018, and it is targeted to produce electricity by 2023.
The scholarship program, which started in 2011 for Turkish students to be employed at Akkuyu, had its first graduates in 2018. More than 150 students are continuing their education within the framework of the program in Russia.
https://www.dailysabah.com/turkey/turkish-women-set-to-be-nuclear-energy-pioneers/news
--------
Muslim and Bedouin Girls Take To the Road on Motorcycles
By DIANA BLETTER
FEBRUARY 27, 2020
Even with the long, fake dreadlocks attached to her helmet, people would not guess that the rider confidently leaning into the winding turns of a northern Israel road is a woman. And when 26-year-old Nervana Ali, of Jadeidi-Makr in the Western Galilee, takes off her helmet and reveals that she is wearing a hijab, the traditional Muslim woman's head-covering, people often do a double-take.
When a religious Muslim woman rides a motorcycle, it is big news. In fact, she was recently featured on an Arab TV news program as one of the first religious Muslim women to get her motorcycle license in Israel, if not the first. Ali has garnered almost 9,000 followers on Instagram.
Ali is part of a growing trend, as seen at the Hege Motorcycle Riding School in Kabul, a village of 15,000 near the Ahihud Junction in the Western Galilee. On a recent afternoon, there were four women practicing on the track – doing figure-eights, working on braking and other skills – under the watchful eye of Ahmed Saleh, the owner of Hege. Saleh seemed to take a fatherly pride in the way the women rode around. In addition to Ali, there was her sister, Nancy; Amneh Hebe, a math teacher in Kabul; and Aya Sawad, a 20-year-old Bedouin woman from the nearby town of Tamra.
Sawad said she got her license at the Hege School last year, partly to avoid the traffic she encounters as she rides to Safed College where she studies criminology. Moreover, she had the dream of riding a motorcycle since she was a little girl when she watched movies and saw women in other countries riding them. She said she expected people in her village to criticize her for riding, but "They tell me how brave I am. They say that it is great that I have achieved my dream."
There are currently five women who have received their motorcycle license from his school, said Saleh, a former deputy mayor of Kabul. He said his two daughters, one 27, the other 30, are also learning how to ride motorcycles.
That doesn't surprise him. He isn't at all surprised by how well women ride. A woman sits straighter on the motorcycle seat, he explained. They're more careful than men are on the road, they're more disciplined. When men start learning at his school, "they think they know everything, whereas a woman comes in feeling like she knows nothing and is ready to learn." He cautions novice riders to always use their mirrors and to look over their shoulders.
Latest articles from Jpost
SALEH SAID the people in Kabul are becoming more accepting of women riders, even religious women.
Ali said that when she was eight years old she decided to put on a hijab and that she will never take it off because it is haram, "forbidden." She said her mother wears a hijab but none of her sisters do. It was something she felt inspired to do. About the same time, she saw her brother ride on a dirt bike, (an off-road motorcycle) and told him, "I want to ride."
She said it as a joke. In the Arab sector, women rarely ride bicycles, let alone motorcycles. But her brother took her seriously, and her parents did not object to her learning how to ride at the Hege School. When she got her license, her father agreed to buy her a scooter, but Ali worked hard – she's a make-up artist – and saved her money. With her older brother, Ali bought a Yamaha motorcycle and put the receipt on the table to show her father. She thought he would be angry at her but he, like Sawad's father in Tamra, was concerned for her safety and that people would give her a hard time for riding.
"An Arab woman riding is looked at strangely," Ali admitted.
"I don't pay attention to what anyone says," added Nancy, her sister, who studied sport education and sociology at Ohalo College in Katzrin. In fact, she said that once her sister buys a larger motorcycle, she will buy the bike that Nervana now owns.
On her first ride after she bought her motorcycle, Ali said she was a little nervous because she hadn't ridden in four years while she was saving up her money. She wanted her father's permission because she wasn't sure of herself. He told her, "Be careful. Don't pay attention to what anyone says. Just go."
When asked if she thought about continuing riding once she got married, Ali said she wasn't sure she would even marry.
"You don't always know if a husband will let you go," she said. "He might say that he doesn't have a problem, then you get married and he'll tell you no."
For now, she is planning rides with her girlfriends and has already taken a trip through the Golan with her sister on the back of the bike.
"It is such an amazing feeling to ride a motorcycle," Ali said. "I'm a woman and it was my dream and I did it."
https://www.jpost.com/Israel-News/Culture/Muslim-and-Bedouin-girls-take-to-the-road-on-motorcycles-619011
--------
Afghan Peace Talks: The Woman Who Negotiated With the Taliban
27 February 2020
Fawzia Koofi's childhood dream of becoming a doctor was dashed when Taliban militants took over Afghanistan in the 1990s. The group, which banished women from public life, imprisoned her husband - and tried to kill her when she later became a politician.
But she ended up talking to the Taliban, who are now on the brink of a peace accord with US forces that drove them from power.
"I was not intimidated. For me it is important to be firm. I was representing the women of Afghanistan," she told the BBC.
'Some Taliban were looking at me'
Ms Koofi was one of the few women who were part of a pan-Afghan delegation that held many rounds of dialogue with the country's hardline Islamist former rulers, alongside the months of peace talks the US held.
This time last year, she and another woman, human rights campaigner Laila Jafari, entered a Moscow hotel room packed with 70 men.
On one side of the room were the Taliban. On the other, the two women took their seats among Afghan politicians and activists, all of them men.
"I told them that Afghanistan was now represented by diverse views and the country was not bound by one ideology," she said.
"Some members of the Taliban delegation were looking at me. A few were taking notes. Some others were just looking elsewhere."
During the long talks process, the Taliban have refused to engage directly with the Afghan government, saying they don't recognise a "puppet government".
But after sustained pressure from the US and Russia, a compromise was struck and the group agreed to talk to an unofficial Afghan delegation.
Ms Koofi was part of that team on three occasions.
As someone whose life was dramatically altered by the Taliban, she confronted them directly about women's rights, saying more women should be included in the peace process.
"Since our side had women delegates, I suggested to them [the Taliban] that they should also bring women to the table. They laughed immediately."
During their rule from 1996-2001, the Taliban barred women from education and employment and imposed their own austere version of Islamic laws, including stoning to death and flogging.
Having lived all her life in Afghanistan, Fawzia Koofi knew people who had endured such punishments.
When it was their turn to speak, a Taliban negotiator responded to her demands for sexual equality.
"They said a woman can become prime minister but not president. They also said women can't be judges.
"I didn't agree with that but I didn't argue," Ms Koofi says. The format of the talks did not permit a two-way discussion.
The official Taliban line these days is that women can work and be educated - but only "within the boundaries of Islamic law and Afghan culture".
For people like Ms Koofi this is the crux of the problem. Islam has one holy book, but many streams of theological thought.
"I have heard differing views about Islamic teaching from different scholars. The Taliban follow extreme interpretations of the Koran."
'I never purchased a burka'
Fawzia Koofi first saw a Taliban fighter in September 1996.
"I was studying medicine in Kabul when the Taliban took over the city. I saw them from my fifth floor flat. There was fighting in the street below with militants holding automatic rifles."
Within days her childhood ambition had been destroyed and she was shown the door by the medical college, which was following orders from the militants. She stayed in Kabul and taught English to girls who had been thrown out of school.
"It was a very depressing period. If someone wants to undermine you and stop opportunities for you… it was very painful."
The Taliban issued a decree ordering women to wear the full-body burka in public.
"I never purchased a burka because I won't spend money on something which I don't consider to be part of our culture," she said.
Defiance came at a personal cost. She had to restrict her movements to stay safe.
"The [Taliban's so-called] vice and virtue department used to patrol the streets and they used to beat up women if they didn't wear a burka."
Not surprisingly, most people felt a sense of relief when the Taliban were ousted after the US-led invasion following the 9/11 attacks in the US.
"We could walk in the streets and do our shopping without fear of being beaten up by the Taliban."
'My convoy came under fire'
After the Taliban fell, Ms Koofi worked for the United Nations, rehabilitating former child soldiers.
She was also left with two daughters to bring up on her own after her husband died of tuberculosis, contracted during his time in prison.
But despite this, when parliamentary elections were announced in 2005, she decided to enter the fray. Her father had been an MP and she admits his support base helped her win votes.
"But the important challenge for me was to create a separate identity."
She went on to become deputy speaker of parliament in the first of her two terms as an MP. It was during this time she escaped a Taliban attempt to kill her in the south of the country.
"In March 2010 I went to Nangarhar to celebrate International Woman's Day. On my way back my convoy came under fire."
Bullets were fired from across the river and from a mountain top. Ms Koofi and her two daughters were saved by her security officers, who drove them into a mountain tunnel, from where they were airlifted to Kabul by helicopter.
'Everyone wants to have peace'
Ten years on and the Taliban and the US are inching towards a peace accord, which could be signed this weekend. It took only a few years for the militants to regroup and fight back - they now control more territory than at any time since 2001.
The human toll from the fighting has been immense - tens of thousands of civilians have been killed and injured and Afghanistan remains one of the poorest countries in the world. Some 2.5 million Afghans are registered as refugees abroad and another two million are displaced within their country. An estimated two million widows are struggling to make a living.
"Everyone wants to have peace. We were born during war and grew up in war. Neither my generation nor my children know what peace means," says Ms Koofi.
But not a deal at any cost.
"Peace means the ability to live with dignity, justice and freedom. There is no alternative to democracy."
Whether the Taliban agree remains to be seen - how much they have changed is unclear. Their spokesman, Suhail Shaheen, told the BBC "people who are against peace are using woman's rights to derail the talks".
But Fawzia Koofi says: "Women have lost so much. How much more can we lose?"
Both her daughters are enrolled in Kabul universities and have grown used to life with access to media and the internet.
"No force can confine my daughters and other girls of their age to their homes. Anyone who wants to rule the country has to take that into account."
https://www.bbc.com/news/world-asia-51572485
--------
As Women in Arab Gulf Fight For Their Rights, Rulers Need Support From Conservative Citizens, Religious Leaders
Feb 27, 2020
By Alainna Liloia
Arab women, long relegated to the private sphere by law and social custom, are gaining new access to public life.
All countries of the Arab Gulf now have workforce "nationalization policies" that aim to reduce dependency on migrant labor by getting more women into the workforce. Saudi Arabia set a goal of 30 percent female labor participation by 2030. In Kuwait, female citizens outnumber male citizens in the workforce. And across the Gulf, women outnumber men in higher education enrollment.
Women are making political inroads in the region, too. In Qatar, four women have been appointed to ministerial positions since 2003. Eleven women have held cabinet positions in Kuwait since 2005, including health minister, transportation minister and finance minister.
Even Saudi Arabia, which notoriously restricts women's rights, reformed the guardianship system that grants authority over women to their male relatives. Since August 2019, women may obtain passports, travel abroad and register marriages and births on their own.
These changes have real world benefits for Arab women, giving them greater economic independence and a voice in domestic and international affairs.
But Arab Muslim women in the Middle East still face substantial social and legal inequalities. Even as governments in the region tout female advancement abroad, my research on women in the Arab Gulf finds, at home they still enforce traditional gender roles.
Women as symbols of Islam
The discovery of oil in the Arab Gulf in the 1930s turned these Islamic monarchies into global players. One result of this globalization was that Western leaders put pressure on the region to "modernize" their laws and customs.
Championing women's advancement is one way Gulf rulers can present a positive international image. This helps maintain good political, military and trade relationships with Europe and the United States and allays criticisms of human rights violations.
In recent years, Arab Gulf women have also fought hard for their rights. Saudi women successfully campaigned for the right to drive, which was granted in 2018. In Kuwait, activists are now pushing for better protections against domestic violence.
But Gulf rulers still need the support of conservative citizens and influential religious leaders, too. And these sectors of the population have repeatedly raised fears of Westernization threatening local language, dress styles, food and cultural traditions.
One way Gulf rulers manage this tension, I've found, is by promoting Quranic interpretations that relegate women to traditional roles like bearing and raising children and caring for their families. Celebrating women's domesticity is an easy way to signal their government's commitment to what they consider Islamic values.
In Qatar, for example, the National Vision 2030 – an economic and social development blueprint – states that "Qatar has maintained its cultural and traditional values as an Arab and Islamic nation that considers the family to be the main pillar of society."
And the Qataris propping up this pillar are women.
"Through their nurturing of language, codes of ethics, behavioural patterns, value systems and religious beliefs, women play an indispensable role in upholding traditional familial and cultural values," reads a government document building on the proposals laid out in the National Vision 2030.
Religion and gender
There are, of course, more gender-equal interpretations of the Quran. Islam itself does not require repressing women.
But throughout history male leaders in the Gulf have associated patriarchal gender roles with religious purity. And clerics, who have significant social and political influence in the region, enforce conservative readings of Islamic law that subordinate women.
For example, women in all of the Gulf states must receive the approval of a male guardian to marry. In Qatar, single women under 25 require permission to travel abroad, and Qatari men can argue in court to stop their wives from traveling. In Saudi Arabia, men can file a "disobedience" complaint against female relatives for leaving the house without permission.
In Qatar, Kuwait and Bahrain, a man can stop his wife from working if he feels her employment interferes with her domestic responsibilities or religious conduct.
As a result, women in Gulf countries find themselves caught between two contradictory agendas for the 21st century.
What women want
Many Qatari women I've interviewed say they struggle to balance the conflicting expectations between domestic responsibilities and emerging professional opportunities.
Sheikha, an unmarried Qatari in her late 20s who works as an academic adviser, told me she often wonders: "I have a job and future plans. Why should I marry?"
"I don't want to say that marriage erases the dreams," she said, "but sometimes with the family commitment you can't do it."
Qatari women like Sheikha tend to face significant social pressure to settle down and have children by a certain age and to make sure their education and career goals do not get in the way of domestic responsibilities.
Not all the pressure is external. Many women I met hold conservative views on marriage and the family, too.
"I started work when my last daughter got married," Amina Al-Ansari, an associate professor at Qatar University, told me. "Before that, I took care of the house and kids."
Al-Ansari, like all 15 Qatari women I interviewed, believes caring for the family is a woman's religious duty.
Still can't have it all
Conservative Qataris also view women working or studying in a gender-mixed environment as a violation of Islamic values and a sign of Westernization.
That's why Amal Al-Shammari, a 32-year-old Qatari who now runs a cultural association for expatriates and tourists called Embrace Doha, attended Qatar University – the country's only gender-segregated university.
"My parents wanted me to go there to keep a good reputation. Guys assume you have lots of relationships if you go to gender-mixed universities," she told me. "My parents wanted me to stay with the conservative way."
As political and religious leaders in the Gulf push their national agendas, women must find their own ways to balance newfound freedoms with existing social and religious pressures.
"There is always development, improvement, but always tradition, religion, and culture," the professor, Al-Ansari, told me, summing up these tensions.
"We are living under the umbrella of religion."
Alainna Liloia, Ph.D. Student, University of Arizona
https://www.firstpost.com/world/as-women-in-arab-gulf-fight-for-their-rights-rulers-need-support-from-conservative-citizens-religious-leaders-8070021.html
--------

2,838 Working Saudi Women Benefit From Child Support Program
February 27, 2020
RIYADH: The Saudi Human Resources Development Fund (Hadaf) announced that 2,838 Saudi female employees benefited from accredited centers for nurseries and daycare for children in various regions of the Kingdom, the Saudi Press Agency reported on Wednesday.
The child support program "Qurrah" aims to increase the percentage of Saudi women working in the private sector, and contribute to the stability of Saudi mothers in their jobs to improve and develop their lives and those of their children.
The program provides financial support to mothers who meet certain criteria. It also helps them in researching and selecting centers electronically, and contributes to raising the quality of services provided by these centers.
The program covers all regions of the Kingdom, and the support period can cover up to two children until they reach the age of six.
The fund now contributes to covering part of the cost of daycare as follows: During the first year, the fund contributes to covering a maximum of SR800 ($213) of the cost of daycare per child, SR600 for the second year, SR500 for the third and SR400 for the fourth.
Women working in the private sector can check the details of the program and apply to benefit from its services. The program aims to contribute to the goals of the National Transformation Program 2020 in supporting working women and helping them overcome the challenges they face.
https://www.arabnews.com/node/1633876/saudi-arabia
--------
Female IS Terrorist from Antwerp Sentenced To 5 Years In Prison
25 February 2020
Belgian IS terrorist Saïda El Mimouni was sentenced on Tuesday to five years in prison and a €8,000 fine.
El Mimouni, who is from the municipality of Borgerhout in Antwerp, Flanders, was not present at her trial. The federal court ordered her to be stripped of her Belgian nationality and arrested on sight. However, it is suspected that she is still in Syria at the moment.
Saïda El Mimouni is the wife of Rachid Iba, a member of Sharia4Belgium, which was a Belgian radical Salafist organisation which called for Belgium to convert itself into an Islamic state.
El Mimouni had left Belgium on 8 March 2013 and arrived in Syria in April of that year to join Iba. The couple pledged allegiance to Majlis Shura Al-Mujahideen, then to the Islamic State terrorist group. While in Syria, El Mimouni also met her brother, Brahim El Mimouni, and his companion, Ilhame Hajji.
In late 2014, Saïda El Mimouni returned to Belgium, where she gave birth to her second son in January 2015. Two months later, she returned to Syria via Poland and Ukraine.
International coalition troops recently found a marriage contract, validated by an IS judge, certifying that Saïda El Mimouni was married in May 2017 to a Tunisian IS terrorist, which could mean that Rachid Iba died. Iba had been sentenced to eight years in prison in the 2015 trial against Sharia4Belgium in Antwerp.
https://www.brusselstimes.com/all-news/belgium-all-news/97003/female-isis-fighter-from-antwerp-gets-five-year-sentence/
--------
Largest Saudi Olympic Games Announced For Men And Women
February 26, 2020
RIYADH – Saudi Arabia's Sports Ministry announced the launch of the Saudi Olympic Games on Wednesday, a new competition that will start on March 24.
At a launch event in Riyadh, Prince Abdul Aziz Bin Turki Al-Faisal, minister of sports, said that the event will be open to both men and women and more than 6,000 athletes from 13 of the Kingdom's regions are expected to participate.
"The theme of the event will be 'Heroes Amongst Us'," Prince Abdul Aziz said.
The event will feature 40 games with the participation of 35 sports federations in 18 venues within Riyadh.
"It is a new, happy day that brings with it a new sporting event to be added to the myriad of events organized or hosted by the Kingdom in its history and in the last three years in particular," the prince said.
"All of this would not have been achieved without the unwavering care, attention and support accorded by King Salman and the Crown Prince to the sports sector," he added.
Prizes of SR1 million for each gold medal winner will be on offer, with SR300,000 for a silver and SR100,000 for a bronze.
"I am pleased to announce the launch of the first edition of the largest sporting event in the history of the Kingdom of Saudi Arabia," Prince Abdul Aziz said. — SG
http://saudigazette.com.sa/article/589830/SAUDI-ARABIA/Largest-Saudi-Olympic-Games-announced-for-men-and-women
--------
Retno Moves Forward with Planned Indonesia-Afghanistan Women's Network
Dian Septiari
February 27, 2020
Indonesia plans to establish a women's network with Afghanistan to encourage Afghan women to contribute to the peace process in the war-torn country, the Indonesian Foreign Minister announced on Monday.
"In early March, together with Indonesian women leaders, I plan to visit Kabul to formalize the formation of the Afghanistan-Indonesia Women's Women's Network," Retno L.P. Marsudi said in a press statement issued on Monday in Geneva.
The minister is a speaker at an event of the Good Human Rights Stories Initiative being held on the sidelines of the 43rd session of the United Nations Human Rights Council (UNHRC), which runs from Feb. 24 to March 20 in the Swiss capital.
Indonesia was elected in 2019 as a council member for the 2020-2022 term.
As Indonesia's first female foreign minister who has championed women's empowerment in foreign policy and peacebuilding, Retno has been encouraging the empowerment of Afghan women so they might play a more significant role in peacebuilding. She has consistently called for more inclusive policies and the promotion of affirmative action in the ultra-patriarchal country.
Last year, Indonesia hosted a dialogue featuring dozens of Afghan women led by Acting Minister for Information and Culture Hasina Safi, and promised to follow the dialogue with training and skilling projects for Afghan women.
Indonesia has offered various forms of assistance over the years in support of the Afghan peace process, from training Afghan diplomats and hosting dialogues, to establishing the Indonesia Islamic Center (IIC) in Kabul.
In May 2019, Jakarta hosted a trilateral ulema conference with participants from Indonesia, Afghanistan and Pakistan. Two months later in July, then-vice president Jusuf Kalla met with the Taliban's de facto political leader, Abdul Ghani Baradar, in an effort to broker peace between the movement and the Afghan government.
"Indonesian women have played a role in promoting peace not only at the national level, but also at regional and global levels," said Retno, referring to the many Indonesian women working in a variety of UN peacekeeping operations around the world.
The UN has encouraged countries to deploy a peacekeeping force composed of at least 15 percent female personnel, and Jakarta has declared a commitment to increase the composition of women in its peacekeeping force to 10 percent.
According to the Indonesian Military, however, the current ratio of women in Indonesia's peacekeeping delegations hovers at just 4 percent.
"Women's empowerment is an important element in the promotion and protection of human rights," said Retno, who also spoke about women's empowerment during the UNHRC session.
In addition, she mentioned the importance of preventing human rights violations and strengthening the UNHRC's synergy in promoting and protecting human rights, in particular the issue of human rights for the Palestinian people.
"Non-fulfillment of the basic rights of the Palestinian people, exacerbated by the plan to build more illegal settlements on Palestinian land, is an example of human rights violations that must be resolved immediately," she said.
Indonesia was also working on establishing the Southeast Asia Network of Women Peace Negotiators and Mediators in an aim to "strengthen the contribution of women in promoting sustainable peace in the region" the statement said.
Toward this end, Indonesia has hosted regional training workshops on women, peace and security to increase the capacity of female peace negotiators and mediators in conflict resolution and mediation, it added.
https://www.thejakartapost.com/news/2020/02/27/retno-moves-forward-with-planned-indonesia-afghanistan-womens-network.html
--------
W20 welcomes G20 finance ministers' commitment to financial inclusion for women
February 26, 2020
RIYADH — The G20 Finance Ministers and Central Bank Governors Meeting here had concluded with a communiqué that sets out positive and optimistic conditions for international action in 2020 for women's economic empowerment.
Women 20 (W20) advocates that the inclusion of women in finance is essential for sound and effective economic policies.
The Ministerial Group recognized that gender is a consideration for economic policy making, stating: "An inclusive approach to growth can better harness untapped economic potential, help address inequality and empower all segments of society, especially women and youth. Therefore, we agree to develop a menu of policy options that countries can draw from to enhance access to opportunities for all."
This approach should also be applied to infrastructure projects, which are recognized as a driver of economic growth. W20 welcomes this approach, and urges the OECD and others to build on previous work to apply a gender lens to infrastructure projects and programs in their reports for the G20.
Commenting, W20 Chair Dr. Thoraya Obaid said: "The G20 meetings, including the Symposium on International Taxation which W20 attended this weekend, are an opportunity to ensure that gender considerations are mainstreamed into G20 discussions, because the inclusion of women across the G20 States is smart economics and sound financial policy, resulting in concrete economic gains for all."
The communiqué anticipates new reports this year looking at the procurement processes; and the advance of the Infrastructure Technology (InfraTech) agenda.
The W20 is committed to providing inputs into these reports, including through the expertise of our delegates in these fields, especially as W20 advocates for public procurement contracts that promote women-owned and women led business; and to promote the involvement of women in the research, design and development of InfraTech.
W20 also calls for this focus to include care infrastructure as an instrument for women's economic empowerment. Investment in care infrastructure would boost employment and gender equality by enabling more women to join their national labor markets.
The communiqué also recognized the need to move forward with the Global Partnership for Financial Inclusion (GPFI)'s work on digital financial inclusion for underserved groups, including women, which it found valid and deserving of implementation ahead of a July plan: "We ask the GPFI to develop high-level policy guidelines on digital financial inclusion for women, youth and SMEs and the 2020 Financial Inclusion Action Plan (FIAP) — July 2020."
Dr. Thoraya Obaid, said: "This is a positive start to the G20 ministerial discussion, with a concrete commitment to develop new policy guidelines on digital financial inclusion for women. Technology offers us a way to close the gender gap and ensure that women can exercise their digital rights, both as users and as producers of digital technology." — SG
http://www.saudigazette.com.sa/article/589812/SAUDI-ARABIA/W20-welcomes-G20-finance-ministers-commitment-to-financial-inclusion-for-women
--------
URL: https://www.newageislam.com/islam-women-feminism/turkish-women-set-be-nuclear/d/121169
New Age Islam, Islam Online, Islamic Website, African Muslim News, Arab World News, South Asia News, Indian Muslim News, World Muslim News, Women in Islam, Islamic Feminism, Arab Women, Women In Arab, Islamophobia in America, Muslim Women in West, Islam Women and Feminism