New Age Islam News Bureau
1 Jul 2014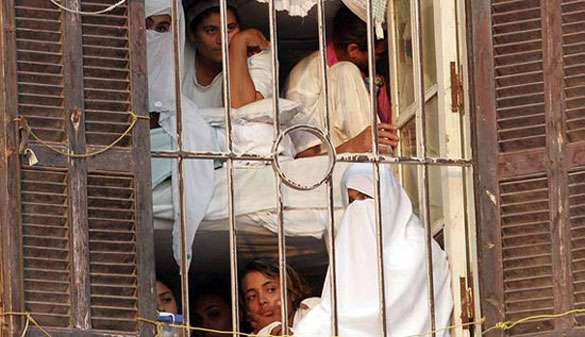 Women prisoners look out a barred window of Al-Qanater prison in Cairo, Oct. 6, 2007. (Photo by REUTERS/Nasser Nuri)
------------
• Female Prisoners in Egypt Suffer Rampant Abuse
• Syrian Women Refugees Suffer In Jordan
• New Video from Yemen Explores Women's Role in the Security Sector
• Yemeni Women Receive the OBE Award by Queen Elizabeth II
• Women and Children Bear the Brunt of Iran's Grim Public Executions
• Marriage Registration Discount to Be Given To Female Religious Seminary Students
• Iraqi Women, Girls Face Further Violence, Exploitation during Crisis: UNFPA
• Nigerian First Lady Urges Moslem Women to Reflect On New Ways to Peace, Harmonious Co-Existence
• Trafficking In Women Will Be Hard To Curb
• Portland Is Ground Zero for the Best Women's Soccer in the World
• UK University launches scholarship to honour slain Saudi student
Compiled by New Age Islam News Bureau
URL: https://newageislam.com/islam-women-feminism/turkish-women-establishing-political-party/d/97834
------------
Turkish Women Establishing Political Party
World Bulletin / News Desk
01 July, 2014
Turkey's first women-only party was established on June 26 after a group of women has submitted a petition to the Interior Ministry, allowing it to participate in parliamentary elections held in 2015.
The party demands the construction of democratic political parties, transparency in election laws and a reduction of the electoral threshold to 3 percent.
Benal Yazgan, the head of the Women Party Initiative stated that what they want is to take the initiative a step further and turn it into a political party.
Regarding the parliamentary election in 2015, Yazgan said that the initiative aims to support at least two independent women candidates in parliamentary elections.
"We [KP] are not a feminist party, but an egalitarian party," Yazgan told Daily Sabah, adding that women want to have a voice in the country's problems. Yazgan stated that Turkish politics would be enriched by women's poin of view and turn its discourse into a humanitarian one.
http://www.worldbulletin.net/todays-news/139725/turkish-women-establishing-political-party
------------
Female prisoners in Egypt suffer rampant abuse
01 July, 2014
CAIRO — At a time when the Egyptian government has recognized the need to stop physical and sexual violence against women, human rights organizations have registered dozens of cases of physical abuse against women in Egyptian prisons pending trial for political issues.
On June 23, 10 Egyptian human rights organizations filed a joint complaint — of which Al-Monitor obtained a copy — with the Egyptian general prosecutor. They requested that the latter quickly investigate the complaints of female prisoners being subject to torture and physical and sexual abuse, and demanded that protection be speedily provided if the complaints are shown to be valid.
The complaint — signed by the Nadim Human Rights Center, the Association for Freedom of Thought and Expression and the Center for Women's Issues — said that female prisoners have suffered violence by the failure by the government to investigate violations, protect the detainees or refer them to an official doctor who can report on their conditions.
Darine Mutawia, 19, was arrested in front of the Court of the Fifth District on March 30, 2014, while she was attending the court session of one of her female colleagues from Al-Azhar University. She spent nearly three months in prison without charge. She said, "We were subjected to all forms of torture, beatings and physical and sexual abuse during our arrest and after it."
Speaking to Al-Monitor immediately following her release from al-Qanater women's prison, north of Cairo, Mutawia recounted the abuse she and her fellow detainees suffered after they were arrested following demonstrations and violent incidents at Al-Azhar University. She said, "During our three months inside the prison, we were verbally and physically harmed the entire time."
"At the beginning of our detention, they put us in wards with female detainees being held for criminal cases," she continued. "They were always stirring us up and provoking problems with us. The prison administration beat us and dragged us, while the criminal detainees would physically harass us."
Mutawia, who was held in the investigations ward with 24 other women for political issues, added, "On June 11, one of the detainees that was with us provoked a problem, resulting from a verbal altercation. The prison administration intervened and beat us with iron and wooden sticks. One of our colleagues was bleeding badly after an officer kicked her forcefully."
According to Mutawia, following this incident, the prison administration separated them into solitary-confinement cells. "They locked me in a bathroom full of insects for four days and forced me to sleep on the floor. They refused to sign off on a medical examination for us after all this physical abuse," she said.
These incidents were not limited to physical abuse, as two of the detainees who spoke to Al-Monitor along with their relatives said they were also subjected to sexual abuse in the detention centers.
The brother of one of the victims, who was released four months ago, told Al-Monitor, "My sister was detained for nine months after participating in a demonstration. She was moved from the police station to the Central Security Camp, then to Damanhour prison. During the period of her detention we were prevented from visiting her multiple times, because we had protested her deteriorating health state."
The victim's brother, who wished not to be named for social and security reasons, added, "After my sister's release, the family discovered that she had been subjected to gang rape within the Central Security Camp. Yet she refused to talk about it during the period of her detention, since the prison administration had threatened to keep her locked up if she talked to anyone."
The girl's brother, who belongs to the Muslim Brotherhood, said, "My sister is still in a bad psychological state, and we don't expect this issue to end just because she left [prison] and without her getting retribution."
Dozens of female prisoners still inside al-Qanater prison are on hunger strike in protest of the continued attacks and violations of their rights. There has been no real action from the government or oversight bodies to investigate what they were exposed to and to provide legal protection for them until the end of the investigation process.
The Bint al-Thawra (Girl of the Revolution) Facebook page has documented daily violations suffered by the women on hunger strike in Egyptian prisons. The page launched the hashtag campaigns #ReleaseEgyptsGirls and #FreeWomenOnHungerStrike to denounce the practices of the security institutions against the female detainees.
Al-Monitor spoke with Mohammed al-Sarifi, the brother of Karima al-Sarifi, who is being held in al-Qanater prison. He said, "Karima has been on a complete hunger strike for 18 days now, and during our last visit she was experiencing a nervous breakdown and refused to meet us/"
"When we visited her after the beatings and collective abuse Karima suffered, along with a number of female detainees in the 'military' ward of al-Qanater prison, her clothes were shredded and there were swellings and bruises on different parts of her body. She refused to take any food and said she was on hunger strike," he added.
"A week after this incident, Karima told us what happened. Female detainees being held on criminal charges had their clothing ripped up and were forced to wear white transparent detainee clothing. They then beat and dragged them and cursed at them," he said.
One of the detained girls, in a written message that was smuggled out of the prison during a visit with her mother, wrote, "None of the human rights organizations have visited us, and the prison administration did not sign off on a medical examination for us, following repeated attacks on us. They only conducted pregnancy tests."
The girl, whose mother refused to name her for fear she would be harmed in prison, related, "During my arrest, I was subjected to severe beating, dragged on the floor and my hijab was removed by soldiers from the Central Security Services and some individuals wearing civilian clothing."
The letter, shown to Al-Monitor, went on, "I was arrested along with three others, and we were blindfolded and thrown into a transfer vehicle full of men who beat and cursed us until they placed us in the Central Security Camp. This was the most difficult stage, as they exerted all kinds of pressure on us — beginning with verbal abuse and reaching physical and sexual harassment — to force us to confess to things we did not do."
The spokesman for the Egyptian Interior Ministry, Maj. Gen. Hani Abdel-Latif, refused to speak about any violations against women in Egyptian prisons.
"These allegations are completely false," he told Al-Monitor. "The Egyptian Interior Ministry welcomes delegations from Egyptian organizations working in the field of human rights, allowing them to visit prisons and ensure that female prisoners are treated properly in accordance with the laws."
Abdel-Latif stressed, "There is no hunger strike among detainees pending trial," adding, "The Brotherhood group is trying to exploit the issue of these girls, but it's nothing but allegations."
Ever since the security crackdown expanded against demonstrators and those suspected of belonging to the Muslim Brotherhood, all attempts by the families and friends of female detainees to advocate for them have failed. The complaints sent to Egyptian and international organizations have also not led to results. The Egyptian security agencies continue to fail to provide a safe climate and atmosphere for detained women during their pretrial detention.
http://www.al-monitor.com/pulse/originals/2014/06/egypt-female-detainees-abuse-harassment-prison.html#ixzz36EisKywl
------------
Syrian women refugees suffer in Jordan
01 July, 2014
Asmahan, a Syrian refugee in the northern Jordanian city of Irbid, has no refuge but silence to escape from the flames of oppression inflicted [on her] by her husband. Perhaps this oppression decreased in intensity after displacement separated her from her relatives. For months, she has not known where they fled to, due to the insane battles raging in her country. She doesn't even know if they are still alive or not.
No one knows the extent of physical abuse Asmahan is subjected to from her husband, aside from some of her female Jordanian neighbors whom she confides in. She is careful not to reveal to them what is happening in the explosive moments where she stifles her weeping and wailing.
She asks in bewilderment: "Where will I flee? How can I leave my son, who isn't even six months old? Is the unknown better?" She said that her husband, who was able to escape from a prison in Daraa after the rebels took control of the city, was insistent on leaving Syria. They crossed the Jordanian border after they paid most of the money they had to a broker to secure their safe crossing.
Asmahan noticed that her husband's temperament changed because of the torture he suffered in prison. He made her taste bitter punishment daily, especially after he became unemployed and waited for aid from charities and international organizations, which barely covered their basic needs. She added that he began to drown himself in alcohol to forget his new situation, after he had worked as an engineer with the Water Authority in Daraa. She noted that he has begun asking her for money to quench his thirst for alcohol, and she has been forced to work cleaning houses.
Most Syrian refugees live in Jordanian cities, outside of the camps set up to accommodate them. The suffering of refugee women adds a new chapter to the suffering of women in general in Jordan. Women are subjected to various forms of violence, among them domestic violence, which includes beatings at the hands of their husbands, sexual abuse of female children, violence related to forced marriage and depriving a girl of dowry and inheritance, and marital rape. This is in addition to what falls within the context of societal violence, including rape, sexual abuse, harassment at the workplace and in education institutions, etc. Moreover, this violence includes the trafficking of women, forced prostitution and forced labor.
The silence of Asmahan, and her acceptance of this injustice, do not differ much from Huda's silence and the injustice of her brothers. The latter forced her to give up her inheritance under the threat of cutting her off.
Huda's husband works as an employee in the mail directorate, and his salary barely covers the cost of feeding his five children bread after he pays rent for the house. Huda was forced to give up her right [to inheritance] at a dinner they held for her. She chose poverty over being cut off from her family.
A study conducted by the international organization Care in 2012 showed that 68% of women [in Jordan] are subjected to violence in the marital home, 59% are subjected to violence at their parents' home and 48% outside the home.
According to the study, the proportion of women subjected to beatings amounted to 59%, while verbal abuse stood at 51% and insults at 42%. These were the three most common forms of abuse.
According to the recorded answers, 82% of the women included in the study were confined to the role of raising children, while 59% worked in household chores and about 50% in serving the husband.
While there is no justification for violence, the causes of violence mentioned in the study include: a poor economic situation, unemployment, poverty, lack of awareness of women's legal rights, the prevailing patriarchal culture, the fear of disclosure or complaining and early marriage.
According to official figures recently released by the Family Protection Department of the [Jordanian] General Security, 7,931 cases of battered women were recorded [in Jordan] in 2012.
Of these, 27% were referred to the courts, 12% to the administrative ruler and 61% to the Office of Social Services affiliated with the Family Protection Department. Moreover, 578 women suffered sexual violence, including 295 adult females and 283 girls.
Dr. Abdul Khaliq al-Khatatna, a processor of sociology at the University of Jordan, said that the official studies confirm that the rates of violence against women are varying and reach their highest levels in areas in the north of the country (42%), then in the south (32%) and finally in the central part of Jordan (27%). Violence severely increases in communities that suffer from poverty and underdevelopment, and between poor social groups.
Khatatna explained that violence against women leads to a disruption of the development process, involving its economic, social and cultural dimensions, given that women constitute half of society.
Dana al-Hajouj, a member of the National Committee for Women's Affairs, noted there is a lack of accurate figures regarding issues of violence against women in Jordan for a number of reasons. According to her, this requires working to provide a database that will help to address abuse cases.
She said the committee monitors cases of abuse through a network of news sites in the regions, indicating that the committee — via its partners — provides economic, social and psychological services to battered women.
Capt. Khawla al-Khirsheh, from the Family Protection Department affiliated with Jordanian General Security, spoke about significant obstacles represented by a lack of society's understanding of the reality of the department's work. He also noted the importance of identifying cases of violence against women.
Jordan recently joined the UN initiative committed to the elimination of violence against women. The secretary-general of the National Committee for Women's Affairs, Asma Khader, announced real steps to be taken in this regard, including preparing a national strategy to eliminate violence against women, legal reforms to improve the legal environment to confront this phenomenon and developing mechanisms to provide information about the extent of its spread.
http://www.al-monitor.com/pulse/culture/2014/06/jordan-syria-refugees-violence-against-women.html#ixzz36EiwMJdN
------------
New Video From Yemen Explores Women's Role In The Security Sector
01 July, 2014
Produced for Yemeni TV, short film raises awareness of the issues surrounding women and the security and justice sector in Yemen.
Women have an essential role to play in linking the security forces with communities, helping the security sector become more gender-sensitive and ensuring that internal police procedures promote equality and fairness. Yet social norms and traditional prejudices are challenging women's capacity to work within the sector, particularly as police and prison officers.
Featuring interviews with staff from the police, the Reform and Rehabilitation Authority, and the Ministry of Interior the film highlights the need for a more responsive security sector, which is developed through reform processes that include women's perspectives and respond to women's specific security concerns.
Presenting the experiences of male and female security personnel, the film describes women's contributions to security forces, the opportunities available to them, and their hopes and impressions about society's influence on women's capacity to take part in building security in Yemen. As Colonel Abdullah al-Hakim, General Director at the Care Reform and Rehabilitation Department at the Reform and Rehabilitation Authority states: "When policewomen worked with women, the results were very positive".
The Interior Ministry intends to establish a special station for women police. The Undersecretary of the Interior Ministry for Criminal Security Gen. Mohammed Mansour Al-Gadara said that the Ministry began planning to establish special stations for women police in many governorates in order to address female issues, especially because traditions sometimes become an obstacle in front of some women to deliver their complaints to the police stations, adding a hotline to receive complaints of women and to provide the necessary services for them.
"The number of police women in the Ministry is 2,908. 108 of them are officers carrying several ranks. They work in different departments of the security devices," added Al-Gadara
Al-Gadara explained that some family issues are sensitive and can't be discussed in public, so people go to the heads of neighborhoods and sheikhs to resolve them, which leads to complicating the issue because these bodies don't give women their rights.
Al-Gadara emphasized that security services are working to serve all citizens and they seek to find a true partnership with the community to provide security and stability.
http://nationalyemen.com/2014/06/30/new-video-from-yemen-explores-womens-role-in-the-security-sector-2/
------------
Yemeni Women Receive The OBE Award By Queen Elizabeth II
01 July, 2014
Under the patronage of Deputy Prime Minister and Minister of Communications Ahmed bin Dagher, the Tamkeen Initiative held a ceremony to honor Ms. Nouria Naji, Director of the Yemeni Education and Relief Organization YERO, who received the OBE award by Queen Elizabeth II.
Nouria Naji, YERO Director, is the first Arabian women to receive the OBE award in recognition of her humanitarian and charity work. Naji expressed her pride in this honor by announcing this medal and title to Yemen's leadership, government, and people.
Nouria Naji, who holds the British citizenship, is one of the most prominent Yemeni activists in human rights and philanthropy and is particularly devoted to the service of children and women in Yemen. She was chosen among a long list of people who work in the field of human rights and humanitarian and charity that were nominated from all over the world.
Yemen Education and Relief Organization has adopted more than 500 children, some of whom went on to finish high school and are now working; still others have enrolled in various colleges under the auspices of the organization.
http://nationalyemen.com/2014/06/29/yemeni-women-receive-the-obe-award-by-queen-elizabeth-ii/
------------
Women And Children Bear The Brunt Of Iran's Grim Public Executions
01 July, 2014
They rape and torture women in Iran: First, at home, as a family matter; then in prison, as a state matter.
They publicly execute women for daring to kill their attackers in self-defense. It is public in order to terrify and sicken others, shame them, make them know that they are really, truly helpless, have them understand that when the authorities come for them, no one will intervene on their behalf. A public execution is a fine way to keep a civilian population permanently cowed.
And yet, there are things that will not allow one to go on, brutalities on a daily basis that are, perhaps, even more sickening than a public execution.
Rayhana Jabbari has been sentenced to hang for the crime of killing the man who was attempting to rape her. She has already been in jail for seven years. Even the United Nations has called for a "fair trial." Her execution was postponed but she remains in danger of being hung at any moment.
As does an Iranian child bride, Razieh Ebrahimi, married at 14, and who now faces imminent execution for killing her violent and abusive husband when she was 17 years-old. She has been languishing in prison for the last four years.
Farzana Moradi was also accused of murdering her husband. She was married to him when she was 15, became a mother at 16, and wanted "out" by the time she was nineteen. "Out" did not exist for her. "Out" meant killing her husband. Despite an international campaign on her behalf, the Islamic Republic of Iran hung her on March 4, 2014. Farzana was 26 years old.
Interestingly enough, if a murderer's family is willing to pay "blood money," the victim's family has the power to spare his life. This is true, even in Iran. Safar Anghouti's family raised fifty thousand dollars via an internet campaign—and he was freed.
I am not familiar with a woman's family buying up her life or a murdered man's family accepting money for his death.
Iran is the world's most notorious executioner of children. They hang homosexuals. They routinely rape female and male prisoners.
Iran is developing nuclear power while the world whistles Dixie. Iran is also a member state of the United Nations and sit on the Disarmament and International Security Committee as its Rapporteur.
Our government believes it can and must make alliances with this country—the same country that has threatened Israel with genocide and has funded Hezbollah, its Islamist striking force in both the Arab Middle East and in South America.
The United States did not act to support The Greens when they marched in Teheran and both they and we will surely reap the whirlwind.
I was first in Teheran in 1961, when I was on my way to visit Kabul. The Iranian women whom I met were elegant and sophisticated. They wore expensive western clothing and perfume, smoked cigarettes, talked in French and English. No one was veiled.
Yes, the poverty was shocking—but still, the smells of the bazaar were enchanting, both ancient and familiar, and I loved the food, the architecture and the wide open sky.
Fifteen years later, I was involved with an organization known as CAIFI, Students Against the Shah. Their leader, Reza Baraheni, an author and intellectual, had a standard talk about having been tortured by SAVAK because he had opposed the monarchy and yearned for liberation.
Eighteen years later, my friends, Kate Millett and Sophie Kier, were in Iran for International Women's Day. Khomeini had come to power and guess what? He arrested the two feminists. For days, we agonized about how to get them out. Amazingly, Khomeini decided to let them go!
Meanwhile, my friend Reza had flown home, ecstatic about the possibility of "freedom." The very next year, he invited me to Teheran to speak on International Woman's Day. "You understand the Muslim soul, you can bring feminism in a soft and feminine way." Needless to say, I did not go and within years, Reza himself was lucky enough to flee the Monster Mullah regime and found asylum in Canada.
Today, the women are garbed in fierce black. They scowl. They are forced to wear chadors while on bicycles and in swimming pools.
And yet: The Iranian women I have met who live in exile are exceptionally feisty and fierce for freedom. They claim Zoroastrian roots, as well as Ba'hai, Jewish, and Muslim roots. In general, they are very accomplished women.
Once, I was asked to join a panel of Iranian and Afghan women associated with the United Nations. Although I had vowed never to return there, I yielded to their request. As the panel began, a force of six to eight Iranian women all in heavy black chadors came in and sat down all in one row in intimidation battle readiness. One of the Iranian women panelists immediately jumped up, pointed them out, pointed to them and then said: "We know who you are. We know why you are here. You do not scare us and you cannot silence us. Just tell your Masters back in Teheran that, one day, women will bring them down."
I was stunned and impressed. Shortly thereafter, the Iranian women, on a signal from their leaders, all walked out.
Oh, how I wish our government would take a lesson from this brave Iranian women panelist and behave in similar ways.
http://www.breitbart.com/Big-Peace/2014/06/24/Women-and-Children-Bear-the-Brunt-of-Iran-s-Grim-Public-Executions
------------
Marriage Registration Discount to Be Given To Female Religious Seminary Students
01 July, 2014
Lobbying group had argues that policy of giving the discount to men and not women was likely discriminatory and in contravention of Israel's gender equality laws.
Deputy Minister of Religious Services Eli Ben-Dahan announced Thursday night that women studying in religious seminaries will be entitled to a discount on marriage registration fees similar to that enjoyed by men.
As reported by The Jerusalem Post on Wednesday, a 40 percent discount in the marriage registration fee of NIS 700 is granted to several population groups, including soldiers, students, disabled people and male yeshiva students.
In a recent case however, a young woman studying in a religious seminary went to her local rabbinate to register and, aware of the discount available to students in institutes of religious learning, requested the 40 percent discount.
She was refused however and brought it to the attention of the ITIM religious services advice and lobbying group, who wrote to Ben-Dahan pointing out that the policy of giving the discount to men and not women was likely discriminatory and in contravention of Israel's gender equality laws.
Ben-Dahan has now indicated that a change to the regulations will be made and that the female students in religious seminaries will also be included in the list of those eligible for the registration fee discount.
http://www.jpost.com/National-News/Marriage-registration-discount-to-be-given-to-female-religious-seminary-students-360907
------------
Iraqi Women, Girls Face Further Violence, Exploitation during Crisis: UNFPA
Kuwit News Agency
01 July, 2014
NEW YORK, (KUNA) -- UN Population Fund (UNFPA) on Monday warned that among the nearly one million people currently displaced throughout North and Western Iraq, some 250,000 women and girls, including nearly 60,000 pregnant women, are in urgent need of care.
"As the conflict escalates and security worsens, UNFPA is concerned that the vulnerability of women and girls to gender-based violence and exploitation will increase. According to estimates, 20,000 women and girls could face an increased risk of sexual violence," the Agency's Executive Director Babatunde Osotimehin said in a statement.
"We must not wait for cases to be counted comprehensively and documented in detail before we act," he stressed. "We must act immediately to ensure that women and girls are protected from sexual violence." The statement said Irbil Maternity Hospital, for instance, handles since the beginning of the crisis 20 Cesarean deliveries per day, compared to eight to 10 cases prior to the crisis, and more than 50 normal deliveries. Because of serious shortages in supplies, beds and staff, it added, mothers and babies are being discharged from the hospital after just three hours from deliveries.
It said that in response to the crisis, UNFPA has provided the Hospital with reproductive health and delivery kits containing medical supplies to cater for emergency obstetric care for 1,200 deliveries, adding, however, that without additional resources, these kits will only meet needs for a few weeks.
It noted that while an estimated 225 women will give birth every day, some 1,000 pregnant women encounter life-threatening complications every month.
"Given the potential enormity of this crisis, we would require financial assistance in order to be able to sustain and scale up our humanitarian activities and those of our partners," Osotimehin urged.
The Agency estimates that it needs USD 6.5 million to provide for the needs of over 200,000 women and girls affected by the crisis by offering reproductive health care services, psycho-social support and activities to raise awareness about gender-based violence.
In a related matter, asked to comment on the 'Islamic State' declaration yesterday of a caliphate in parts of Syria and Iraq, two UN member states, UN Spokesman Stephane Dujarric told the daily press briefing on Monday that the UN was "monitoring events closely, including the impact on civilian populations. The hope remains that the meetings in Iraq on Tuesday will create a positive atmosphere and an Iraqi Government in which all people feel that they are represented." He added that the UN Assistance Mission for Iraq (UNAMI) is working to provide aid to people who have fled the fighting to places such as the Kurdish areas.
http://www.kuna.net.kw/ArticleDetails.aspx?id=2385474&language=en
------------
Nigerian First Lady Urges Moslem Women to Reflect On New Ways to Peace, Harmonious Co-Existence
01 July, 2014
The wife of Nigerian President, Patience Jonathan, who is the President of the African First Ladies Peace Mission, has enjoined Muslim women in Nigeria and across Africa to reflect on new ways of spreading the culture of sustainable peace and harmonious coexistence in their communities. The First Lady stated this in Abuja in her Ramadan message recently, adding that Muslim women should demonstrate submission to the Almighty by upholding the observance of fasting as an important pillar of Islamic injunction. She further demanded them to engage in spiritual exercises and rededicate themselves to God.
Patience Jonathan emphasized that as women, they should always strive to inculcate the virtues of tolerance, peace and humility in their children and wards. She noted that these are important values that should be embraced by Moslems and non-Moslems alike. The wife of Nigerian President called on women in the spirit of the holy month to intensify prayers towards changing the hearts of those who are misguided into perpetrating violence, urging all Nigerians to shun acts capable of fanning the embers of hate, mistrust and instability.
While praying to God to endow the Moslem faithful with the strength to successfully undertake the Ramadan fast, she said that the Almighty will surely reward them in piety and diligent observance of the dictates of the holy month.
http://allafrica.com/stories/201406301986.html
------------
Trafficking in women will be hard to curb
01 July, 2014
Trafficking in women is a global phenomenon comparable to, and often intertwined with, the illicit trade in drugs and weapons. Although it is difficult to obtain statistics for individual countries, in some parts of the world, particularly in South and South-east Asia, trafficking of women and girls is widespread and, tragically, increasing.
One simple reason for this is gender imbalance. As The National reported yesterday, a shortage of brides for Chinese men is putting young women in neighbouring countries, including Vietnam and North Korea, at risk of being trafficked. As we reported, among them was a 16-year-old Vetnamese girl, Kiab, who was sold to a Chinese family by her own brother.
A report by the Chinese Academy of Social Sciences mentioned gender imbalance among newborns as the most serious demographic problem for the country of 1.3 billion people. The reported birth ratio in China is 122 boys for every 100 girls, while the global average is about 105 to 100. The disparity is due to the country's one-child policy and the fact that Chinese society has traditionally valued men over women for their ability to earn money. It is estimated that, by 2020, young males in China will outnumber females by more than 40 million. As a result, prostitution and trafficking in girls and young women has become rampant.
Meanwhile, India is grappling with what is being termed a "rape epidemic", where sexual assault and other violence against women is rife. Again, the problem has its origins in the gender ratio. As of 2011, there were 940 women for every 1,000 men, and the country had 37 million more men than women. As in China, it goes back to the practice of sex selection in favour of a male child. If the gender gap continues to widen, crimes against women will only get worse.
On the positive side, a growing awareness of the problem and public discussion about it is leading governments to pay closer attention to possible remedies. Public pressure in India has resulted in more arrests and harsher penalties for rapists, but more can be done. The authorities in both countries must act to counter the high prevalence of female foeticide which, according to the United Nations, is occurring at the rate of 7,000 a day in India alone.
http://www.thenational.ae/thenationalconversation/editorial/trafficking-in-women-will-be-hard-to-curb#ixzz36F0HBX5S
------------
Portland Is Ground Zero for the Best Women's Soccer in the World
01 July, 2014
If the epicenter of men's soccer right now is Brazil, for women, it's Portland, Oregon, where the National Women's Soccer League boasts the best talent on Earth.
It's a secret that's in plain sight: The best women's soccer in the world is being played right now in the United States—and I'm not talking about the U.S. Women's National Team. The National Women's Soccer League—round three of women's pro soccer here—not only has the best domestic talent, but also draws premier players from across the world.
If we export most of our best men, we keep our best women.
When you glance down the list of U.S. Men's National Team players, 13 of them play for international clubs.
Not U.S. Women's National Team players, who will be showcasing their talents at the Women's World Cup next year in Canada. Every one of the USWNT players—not to mention the majority of Canada's Women's National Team—plays in the U.S., along with dozens of other star players from around the globe. This is intentional on the part of the U.S., Canadian, and Mexican national teams, who handle the salaries of their top players in the NWSL.
And Providence Park in Portland, Oregon, where the Portland Thorns play, is the women's soccer epicenter.
Sometimes it seems that in Portland, we're a bunch of kids who—through the inevitable angst and awkwardness of our high school years—never lost our innocence. We play dodge ball, ride giant tricycles, and craft homespun jalopies for the adult soapbox derby. We don't have NFL football, MLB baseball, or NHL hockey, and we probably never will.
We're the perfect city for soccer, especially women's soccer.
The fanaticism of soccer suits us. The gender equity of women on the pitch suits us. The beer suits us. Our collective unconscious in Portland had been waiting for women's soccer for a long time.
In P-Town we're serious about our Thorns: The team's regular-season attendance during last year's inaugural NWSL season outpaced eight Major League Soccer men's teams (2013 average: over 13,000 fans).
And where else can you get a ticket to see world-class talent in a world-class atmosphere for under 15 bucks?
It's unimaginable to find a power lineup like the Thorns in Major League Soccer: four U.S. Women's National Team players (Tobin Heath, Allie Long, Alex Morgan, and Rachel Van Hollebeke), as well as players from the national teams of Australia, Canada, Germany, and Spain, including the Canadian, German, and Spanish captains (Christine Sinclair, Nadine Angerer, and Vero Boquete, respectively). And the roster is topped off with fan favorites like Meleana Shim and Jessica McDonald. Pride tells me we have the best squad, but teams across the league are bursting at the gills with concentrated levels of U.S. and international talent that are hard for any other professional league to match.
What makes women's soccer truly amazing here in Soccer City, however, are the fans. Led by the Rose City Riveters support group, the fans make the stadium come alive every game. We come in the rain; we don't leave when our team is down; we chant through the entire match.
In a midseason game versus the Western New York Flash, the Thorns went down to 10 players on a red card against goalie Nadine Angerer in the first 17 minutes. With the Thorns already behind 0–1, backup goalie Michelle Betos came in on a PK, and the score went to 0–2. Within the next few minutes the score was 0–3. The Thorns couldn't seem to string together good passes. At each turn toward misery, the crowd support got louder, and more deafening. Thorns fans were on their feet—voices were being lost. Final score: 0–5.
The ardent, fiery Rose City Riveters get the credit for pulling Portland up by its suspender straps, and showing the NWSL what women's soccer support really means, in a raucous, hops-infused, eardrum-shattering way that no other place in the world is able to give women athletes on a regular basis. The Riveters boast capos (chant leaders), tifos (giant club-support banners), drums, brass, and flags. Riveters log hundreds of hours making the banners that drape the stadium throughout the season. (Read this post about the 2014 home-opener tifo, and get inspired.)
Players have said that in women's soccer, the atmosphere in Portland is rivaled only by Women's World Cup. This is the support that women's soccer deserves.
When you go to a game, it's not just youth soccer clubs and lesbians in the stands. There are lines out the door for the men's bathrooms. Thorns support is for everyone, and there are no pastel colors or condescending cursive.
The worldwide energy for soccer right now is intoxicating, and many of us have been World Cup zombies since June 12. Watching the American support in the stands has been almost as exhilarating as watching the play. Our fans are finally crazy, like every other nation's fans. The men finally have a homegrown support base that can go horn-to-horn with any country.
Now it's time to up the profile of the women's game.
Portland will always support the Thorns with classic Cascadian zeal. But we need other franchises to build successful support for their squads. We are Rose-City-till-we-die, and without a league we can't keep singing our 1,000 songs to our girls in red.
We also need ESPN to apply their model for men's soccer coverage to the women's game. Although the network plans on airing upcoming Thorns games on ESPN2, their pulse on the NWSL has been barely beating, and I'm worried that next year—with both the NWSL and Women's World Cup—will be the same.
Portland shouldn't be an aberration: Our U.S. women players, who are widely adored and more successful than the men on the international stage, deserve media who pay attention and cities that show up to make deafening noise.
Watch Thorns upcoming matches versus Boston (July 20) and Houston (August 3) on ESPN2; and while you're at it, tweet to @ESPN and @espnW to start covering the National Women's Soccer League soccer online.
http://www.thedailybeast.com/articles/2014/06/30/portland-is-ground-zero-for-the-best-women-s-soccer-in-the-world.html
----------
UK University launches scholarship to honour slain Saudi student
01 July, 2014
A British university announced a scholarship this week in memory of slain Saudi student Nahid al-Manea, who was killed earlier this month in what British police suspect to be a hate crime.
In an interview with Al Arabiya News, the University of Essex described Manea, a 32-year-old student, as "exceptional" and said the scholarship would help the institution "honor a talented member of our community both now and in the years ahead."
Nahid had been studying on the English Language Program at the International Academy within the University of Essex since January 2014. After completing her studies at Essex she was hoping to go on to study Life Sciences at PhD level.
She was found bleeding to death in a park in the town of Colchester on June 17. Her death has puzzled UK police, who suspect that the killing may have been religiously motivated as she wore Islamic dress. She hailed from Saudi Arabia's Najaf region and had traveled to Britain as part of the King Abdullah Foreign Scholarship Program.
"Our university is incredibly proud of the strength of our international and diverse community and we hope people will stand with us in remembering and honoring Nahid by making a donation to the scholarship fund," Vice-Chancellor Professor Anthony Forster said.
A university spokesman said the scholarship is expected to be awarded to an "international student who wants to work in science education and further information will be released as soon as possible"
The spokesman added: "The university is continuing to discuss additional ways of honoring Nahid's memory."
The university confirmed to Al Arabiya News that it is working "extremely closely" with Essex Police to provide reassurance to students and staff.
Since Manea's death, there have been increased police patrols in the areas around campus and across Colchester.
Last week, the Saudi education ministry announced that an award for distinguished scholarship students studying abroad would also be named after Manea.
http://english.alarabiya.net/en/News/world/2014/07/01/UK-university-launches-scholarship-to-honor-slain-Saudi-student-.html
------------
URL: https://newageislam.com/islam-women-feminism/turkish-women-establishing-political-party/d/97834