New Age Islam News Bureau
15 Nov 2017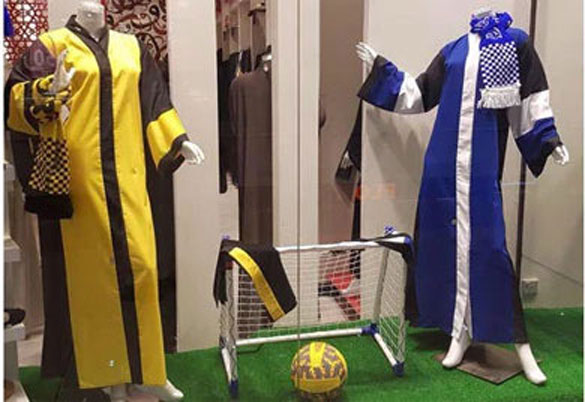 Abayas in store front with similar colours to Jerseys worn by clubs teams of Ittihad of Jeedah, left and Hilal in Riyadh. (Social Media)
-----
• Turkish Marriage Law a Blow to Women's Rights, Say Activists
• Saudi Arabia Concerned Over Female Terrorism at Universities, Schools
• First Football Tournament for Saudi Women
• Dangote Builds N100 Million Mosque in Abuja, Hands It Over Muslim Women
• Kerala Women's Panel Chief Not Allowed to Meet Hadiya
• Gearing Up To Support Their Team: Women in Saudi Can Now Don Abayas in Club Colours
Compiled by New Age Islam News Bureau
URL: https://www.newageislam.com/islam-women-feminism/turkish-marriage-law-blow-women/d/113232
--------
Turkish Marriage Law A Blow To Women's Rights, Say Activists
14 November 2017
Activists and opposition politicians in Turkey have rounded on a law that allows Muslim clerics to conduct civil marriages, describing it as a blow to women's rights and secularism and part of an ongoing effort to impose religious values on a polarised society.
The law allowing "mufti" marriages was passed by parliament and Turkey's president, Recep Tayyip Erdoğan, then published in the country's official gazette on Friday, despite protests by civil society activists and opposition lawmakers. Last month, Erdoğan declared the bill would be passed "whether you like it or not".
"Women's rights are going to decline," said Nazan Moroğlu, an expert on gender law and a lecturer at Yeditepe University. "Everything that has been pushed on to women in this land has been done in the name of religion."
Muftis are clerics empowered with issuing religious opinions on matters of day-to-day life. Previously, only state officers in branches of the family affairs directorate were able to conduct marriages.
A requirement has also been added that prohibits individuals who carried out "immoral acts" before marriage from becoming Turkish citizens.
Many people in Turkey, a Muslim-majority country, conduct religious ceremonies in addition to civil marriages, as do Syrian refugees who tie the knot in the country, and see it as a religious obligation. Other Middle Eastern countries do not allow civil marriages because of religious restrictions on Muslim women marrying non-Muslim men, but often recognise marriages performed abroad. Many couples in the region often travel to Cyprus or Turkey to conduct such marriages.
Supporters of the law point out that it does not change the requirements for a legal civil marriage. They say it does not create a loophole that allows child marriages or polygamy, and simply makes it more convenient for citizens who are religiously observant.
Opponents contend that the law is an unnecessary distraction in a country still reeling from the aftermath of a coup attempt last year and enduring an ongoing crackdown on dissidents under a 16-month long state of emergency. They say it is part of a broader campaign by the government to impose conservative Islamic values on a divided society.
Critics point to other recent changes that they say are indicative of an attempt to establish the dominance of Sunni Islam in a republic created on secular principles. They cite changes to the school curriculum that have ended the practice of teaching evolution in high school and introduced a state-sponsored explanation of the concept of jihad.
They also fear the government is turning a blind eye to other dangerous trends that are harmful to women's rights, such as child marriage. The Turkish legal system sets the minimum marriage age at 17, with some exceptions for girls aged 16, with an estimated 232,000 such marriages conducted in the past four years. Women's rights campaigners estimate that a third of all marriages in Turkey include girls under the age of 18.
"From the way this draft law was prepared without the participation of sides who will be affected, such as muftis or women's groups, it is a sign of an enforcement of an idea," said Selina Doğan, an opposition MP in Istanbul, who pointed out that women campaigning against the law in front of parliament were pepper sprayed. "One man [Erdoğan] has the power and a change to a political Islamist regime is planned."
Efforts to change long-established family legal principles in Turkey have emerged as a lightning rod in the battle between Islamists and secularists. A parliamentary commission established in 2016 by the ruling Justice and Development (AK) party to study the causes for high divorce rates introduced a series of recommendations last year that were seen as a backward step on women's equality and an attempt to impose conservative family values.
Among the recommendations was a widely condemned proposal that would have granted amnesty to some men convicted of child sex assault if they marry their victims. The recommendation was tabled as a bill late last year then withdrawn after widespread protests.
Other proposals included introducing mediation by religious scholars in divorce cases and changes to the penal code that would decriminalise the practice of couples living in a religious marriage without a civil one registered with the state.
"This is another trick by Erdoğan to polarise society and consolidate his 50% base and nothing else," said Engin Altay, a politician with the largest opposition party. "While Turkey is burning with mountains of problems they are bringing this up just to separate his base [from his opponents] with unfounded discussion."
https://www.theguardian.com/world/2017/nov/14/turkish-marriage-law-a-blow-to-womens-rights-say-activists
--------
Saudi Arabia Concerned Over Female Terrorism At Universities, Schools
15 November 2017
RIYADH: The Cabinet on Tuesday highlighted the threat of female terrorism at universities and schools and stressed the need to prevent women from becoming involved in terrorist and extremist acts.
King Salman chaired the Cabinet's session on Tuesday afternoon at Al-Yamamah Palace in Riyadh, which welcomed the success of the Arab counterterrorism meeting in Tunisia to discuss female terrorism.
At the start of the session, the king briefed the Cabinet on the outcomes of his talks with the Palestinian President Mahmoud Abbas and the Lebanese Patriarch Bechara Boutros Al-Rahi.
The Cabinet hailed the Kingdom's progress in the Protecting Minority Investors index, leading to a leap in its global ranking from 36 to 10, according to a report released by the World Bank Group this month.
The Cabinet reiterated Saudi Arabia's condemnation of the explosion that led to a fire in one of the oil pipelines near Buri region in Bahrain, pledging its support for Bahrain against threats to its security and the safety of its citizens.
The king also approved measures to overcome the difficulties facing some camel owners and to help their participation in the Gulf Cooperation Council (GCC) sponsored camel races and achieve the directives of Crown Prince Mohammed bin Salman, which embody the leadership's keenness to support this traditional Arab sport.
http://www.arabnews.com/node/1193591/saudi-arabia
--------
First Football Tournament for Saudi Women
November 14, 2017
Manama: Jeddah is once more leading the way in empowering Saudi women through sports by holding the first formal football tournament for women on Wednesday.
The competition will feature six teams and will be held in a private school four days after the Red Sea city hosted the first basketball tournament for women in the country, massively attended by women spectators.
By holding the tournament, the football teams are aspiring to boost the skills of their players and to gain the formal recognition of the General Sports Authority that oversees sporting events in the kingdom and be able to take part in competitions in the Gulf Cooperation Council (GCC), the Arab region and the world, Saudi daily Al Watan reported on Tuesday.
According to the report, women football players are facing formidable challenges that include finding expert women coaches.
"The comparison with other GCC countries is defavourable as Saudi female players do not even possess basic skills whereas expert and specialised women, including coaches, technicians and medics, oversee the women's teams in other Gulf countries," Reema Al Abdullah, player and coach with King's United, said.
Founded in 2006, King's United was the first women's football team. It played friendly matches with Gulf teams, but it never participated in any formal tournament or championship.
Reema said she and the other players looked forward to support from the General Sports Authority to help them move forward, citing the high expenses needed for the team. The players currently pay for the team gear, the equipment and the rent of school fields that are not fit for football matches. They also pay for their travels to play friendly matches with other teams.
"We look forward to realising our dream to represent the kingdom in tournaments abroad. We feel that it is now nearer than before thanks to the support granted to sports in Saudi Arabia," she said.
http://gulfnews.com/news/gulf/saudi-arabia/first-football-tournament-for-saudi-women-1.2124347
--------
Dangote Builds N100 Million Mosque In Abuja, Hands It Over Muslim Women
Nov 14, 2017
President of the Dangote Group, Alhaji Aliko Dangote has completed a Mosque worth over N100 million at Utako District of Abuja, the nation's Federal Capital Territory (FCT).The Mosque building, undertaken by the Dangote Foundation, was today, Tuesday, handed over to the Federation of Muslim Women Association in Nigeria(FOMWAN).Dangote Foundation was said to have taken over the construction of the Mosque, following appeal by FOMWAN to Alhaji Aliko Dangote. The National Ameera of FOMWAN, Hajiya Amina B. Omoti, who received the keys to the Mosque, said that the Mosque will soon be commissioned and opened for Jumaat prayers.She said that the group had started the building of the Mosque but had to appeal to the Dangote Foundation for assistance to facilitate its completion.She commended and prayed for the Dangote Foundation for the gesture, even as she expressed gratitude to the Sultan of Sokoto, Alhaji Muhammed Saad Abubakar for his supports towards the realization of the Mosque."Words are not enough to express how we feel but suffice it to note that the over 80,000 registered members of FOMWAN and Muslim Ummah across Nigeria are in awe over this beautiful house of worship."She said the Board of Trustees of the Association would soon meet to constitute a management committee for the Mosque.Representative of the Dangote Foundation, Musa Bala, said that the Mosque was part of the philanthropic spirit of the Foundation.He said that the President of the Group is passionate about the place of women in the society, which was why the Foundation instituted a N10 billion micro grant to empower Nigerian women.He said the Dangote Foundation would continue to support the less privilege in the society, including women.Speaking at the event, the National Deputy Ameera, Hajiya Sada Yusuf, prayed that Allah would bless Alhaji Aliko Dangote, even as she requested that the Foundation should continue to support FOMWAN activities in Nigeria."We are like Oliver Twist. We are asking for more, especially in the area of landscaping of the Mosque environment."
http://www.greenbreporters.com/home/faith/dangote-builds-n100-million-mosque-abuja-hands-muslim-women.html
Justice Ministry to hire Saudi women
RIYADH – Saudi women holding master's degrees will be employed as as social researcher, Shariah researcher, legal researcher and administrative aide in the Ministry of Justice.
A directive to this effect was issued by Minister of Justice Sheikh Dr. Waleed Bin Muhammad Al-Samaani.
This is the first time in the history of the Ministry of Justice that Saudi women will be allowed to work officially in these fields, Saudi Press Agency reported Tuesday.
Qualified Saudi women holding master's degrees in any of the Shariah, law, sociology and administration specializations can submit apply for these position.
The applications should be filled and submitted online via the website of the Ministry of Justice www.moj.gov.sa. The jobs will be in Riyadh, Makkah, Jeddah, Dammam and Madinah.
Al-Samaani said the Ministry of Justice is keen to provide jobs to Saudi women.
Female employees will be working in the women's sections in courts and notary public offices. The sections include reception and guidance, lawsuit documentation and appointments, reconciliation and family guidance in the Personal Status Courts. They will also work in the complaints departments.
http://saudigazette.com.sa/article/521902/SAUDI-ARABIA/Justice-Ministry-to-hire-Saudi-women
--------
Kerala Women's Panel Chief Not Allowed to Meet Hadiya
by Shaju Philip
November 15, 2017
Kerala Women's Commission chairperson and CPM central committee member M C Josephine on Tuesday said she was denied permission to meet Hadiya, whose marriage with a Muslim youth has been nullified by the High Court.
Josephine said that Hadiya's father K M Ashokan did not allow her to meet her, citing security reasons, and said that the family was taking care of her.
Josephine also pointed out that the chairperson of the National Women's Commission had met Hadiya at her home near Vaikkom in Kottayam district last week.
Ashokan said he was pained by Josephine's approach. "She felt the need to visit Akhila (Hadiya) only after the National Women's Commission chairperson came from Delhi and visited us. Josephine had tried to join hands with extremist elements on this issue. Hence, I could not allow her to visit my daughter. She should have understood the pain of a mother. Instead of approaching us, she moved the court to win a direction to meet my daughter, which is unacceptable to me,'' he said.
The Supreme Court will hear Hadiya on November 27 before deciding on a petition filed by her husband Shafin Jahan challenging the high court order nullifying their marriage.
http://indianexpress.com/article/india/kerala-womens-panel-chief-not-allowed-to-meet-hadiya-4937864/
--------
Gearing Up To Support Their Team: Women In Saudi Can Now Don Abayas In Club Colours
15 November 2017
JEDDAH: It seems that women looking to support their favourite soccer teams in Saudi Arabia will have a chance to do so with abayas in the style of their club's colours.
Images across social media show stores selling abayas in the famous colours worn by some of the top teams in the Saudi Pro League, the top flight of the country's soccer setup.
Women residing in the Saudi Arabia are expected to wear a loose, full-length garment known as an abaya whenever they are in a public place.
Stores have been quick to take advantage of last month announcement by Turki Al-Asheikh, chairman of the General Sports Authority, that families will be permitted inside the Kingdom's stadiums and other sports facilities at the start of 2018.
The decision came as part of efforts aimed at supporting and stimulating the sports sector.
In September, families were allowed to part take in Saudi National Day celebrations inside King Fahd Stadium in the capital.
http://www.arabnews.com/node/1193611/saudi-arabia
--------
URL: https://www.newageislam.com/islam-women-feminism/turkish-marriage-law-blow-women/d/113232
New Age Islam, Islam Online, Islamic Website, African Muslim News, Arab World News, South Asia News, Indian Muslim News, World Muslim News, Women in Islam, Islamic Feminism, Arab Women, Women In Arab, Islamophobia in America, Muslim Women in West, Islam Women and Feminism