New Age Islam News Bureau
02 March 2022
• Empowered Indian Muslim Women Refused To Given In To the Propaganda around Hijab
• Saudi Arabia: Lawyer Faces Disciplinary Action for Offending Women
• Egypt, World Bank Cooperates To Enhance Women's Representation In Judiciary, Build Inclusive Institutions
• French 'Good Mother' Awarded Best Film at Egyptian Women Film Festival
• AMAN Centre to Celebrate International Women's Day
Compiled by New Age Islam News Bureau
URL: https://www.newageislam.com/islam-women-feminism/turkish-female-invisible-drone/d/126491
--------
Turkish Female Engineering Students Develop 'Invisible' Drone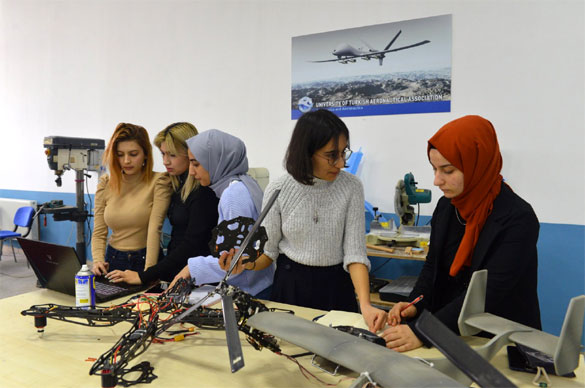 Students work on the drone at the university in the capital Ankara, Turkey, March 1, 2022. (DHA PHOTO)
----
MAR 01, 2022
Five women studying engineering came together to develop an unmanned aerial vehicle (UAV) that is hard to detect and can be used both in border security and as an early warning system for forest fires.
Young women from the University of Turkish Aeronautical Association's (THK) Mechanical Engineering Department in the capital Ankara plan to showcase their design in the upcoming Teknofest. This major tech event allows the youth to demonstrate their talents in technology.
The hybrid drone has a flight time of six hours and its transparent structure keeps it almost invisible. It can carry a helium-filled balloon and is covered with polyvinyl chloride. The team – mechanical engineering sophomores Rabia Tuana Atak and Şeymanur Sırtlı, electrical-electronics engineering sophomore Beyza Nur Büyükyaprak, mechatronics junior Duygu Nur Kibar and computer engineering sophomore Ümmühan Şahin – also installed a battery on the drone to power it.
Atak told Demirören News Agency (DHA) on Tuesday that they were motivated to show "Turkish women's skills" and followed the famous saying of modern Turkey's founder, Mustafa Kemal Atatürk, that the "future is in the skies."
"The helium balloon allows the drone to save on battery life and thus gives it a longer flight time. Existing electric multicopters cannot fly beyond 55 minutes," she said.
Turkey has made a name in the defense industry in recent years thanks to Turkish company Baykar's Bayraktar UAVs, which succeeded both domestically and for international export, inspiring more youth to take an interest in the development of drones and similar vehicles.
Source: Daily Sabah
https://www.dailysabah.com/turkey/5-turkish-female-engineering-students-develop-invisible-drone/news
--------
Empowered Indian Muslim Women Refused To Given In To the Propaganda around Hijab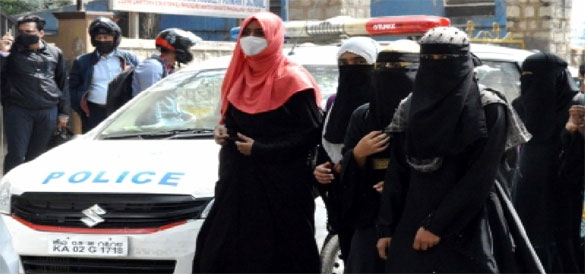 Photo: IANS
----
March 1, 2022
Amid the unnecessary hype surrounding the uniform of students in Karnataka, most commentators seem to have forgotten how the talented community of Indian Muslim women refused to given in to the propaganda around hijab.
In fact, even when numerous lawyers attempted to woo Islamic clerics into the conversation with unfair comparisons between a hijab and a Bindi/Ghunghat, Muslim women in India did not engage themselves, correctly believing that the comparison did not merit any further discussion.
Unlike the hijab, neither Bindi nor Ghunghat alter the uniform scheme of dressing that a school asks students to subscribe to.
It is noteworthy that in many schools of Karnataka, where guidelines have been prescribed as such, the prohibition is only limited to the classrooms and not corridors or canteens or other parts within the school premises.
It is in this context that the demand of clerics for Muslim girl students to wear hijab even inside the classroom is a bullying tactic, aimed at further strengthening the patriarchal structure that has gripped the Islamic community in India.
By constantly bombarding Muslim girl students with the message that wearing hijab is far more essential to their existence than their education, the propaganda machinery and Islamic clerics are doing a great disservice to the nation and the society as a whole.
This stand not only smells of patriarchy, but is also regressive and hypocritical in nature. Time and again, numerous civil society organisations have surveyed a vast number of Muslim women and girls and reported that such issues are of little concern to the community.
Instead, Muslim girls aspire for better security, education and facilities to make their lives easier and uplift their families along with themselves as well.
In fact, one of the most vociferous critics is the famous Bangladeshi-Swedish author Tasleema Nasrin, who believes that the hijab is an attempt to create a mobile prison at all times as punishment for having been born as a female.
Though Article 25 grants the freedom to an individual to practise their religion, most commentators seem to have forgotten that the right is subject to public order, morality and health as well as other provisions.
These educational institutions are free to subscribe to a uniform dress code for their students as well.
In a couple of petitions filed before the Kerala High Court, a uniform dress code was prescribed for the All India Pre-Medical Entrance to ensure that no unfair methods are used.
The court went ahead to state that the students must abide by the rule as the collective right of an institution is far greater than the individual right.
In any case, an atmosphere is being created to showcase that the rights of Muslim woman are under threat. However, most individuals from the community (especially women) are aware that this is not the case.
Instead, the expansion and widening of rights of Muslim women that has happened in the last half a decade has never happened in the history of Independent India.
After the Triple Talaq judgment of the Supreme Court, Muslim women who had approached the court to outlaw the cruel practice expressed happiness for those women who had suffered due to no fault of their own.
Hailed as a historic judgment, it gave a new lease of life to women who were divorced in this manner. In fact, the top court went a step further to state that the government must ratify a new law that guarantees equal rights for women in an Islamic marriage.
With the new law, all propaganda stating that personal laws of Muslims would be interfered was put to rest and a fair law guaranteeing an equal process was put in place.
Adding to that is the recent law that increased the marriageable age for women from 18 to 21 years, which was a big cause of happiness for different generations of Muslim women that were interviewed.
Ensuring a higher minimum age would ensure that girls get a better chance to move forward in society and studies instead of being thrust into a marriage and childbearing responsibilities at a young age.
Overall, it seems fair to state that the hype surrounding the dress code and hijab ban is one that has been propped up by those with vested interests. As equal and rightful partners in the Indian society, the Muslim women and girls are aware that this is yet another attempt by patriarchs to ensure that talented Muslim girls are not given the opportunity to achieve lofty aspirations and goals.
However, a democratic society that has been founded on ideals of equality and fraternity also ensures that Muslims in India are well-integrated, happy, satisfied and daring to go and achieve even more.
Source: The Statesman
https://www.thestatesman.com/india/hijab-issue-empowered-indian-muslim-women-fight-patriarchy-1503049309.html
--------
Saudi Arabia: Lawyer faces disciplinary action for offending women
February 27, 2022
Ramadan Al Sherbini
Cairo: Saudi justice authorities have referred a lawyer to a disciplinary inquiry for posting tweets deemed offensive to women celebrating the kingdom's Founding Day last week, media reports said.
The lawyer, whose name was not given, has been sent to a disciplinary board for acting in a way violating ethics and code of conduct of the profession, the news portal Sabq said.
The man had defamed people celebrating a national occasion, added the paper without specifying the nature of the offence.
If found guilty of infringements, the lawyer could have his name stricken off the legal practice roster in the country.
Some media reports said that the lawyer had posted tweets critical of women who appeared clad in colourful traditional costumes marking the Founding Day that Saudi Arabia celebrated for the first time on February 22.
The Founding Day commemorates the founding of the first Saudi state in 1727 by Imam Mohammed bin Saud.
Last month, Saudi King Salman bin Abdulaziz declared February 22 every year as the kingdom's Founding Day and an official holiday.
Source: Gulf News
https://gulfnews.com/world/gulf/saudi/saudi-arabia-lawyer-faces-disciplinary-action-for-offending-women-1.1645960976039
--------
Egypt, World Bank cooperates to enhance women's representation in judiciary, build inclusive institutions
01 Mar 2022
CAIRO - 1 March 2022: Counselor Mohamed Mahmoud Hossam El-Din, President of the State Council, and Rania Al-Mashat, Minister of International Cooperation, launched the bilateral meetings between the State Council and the World Bank to design a framework of cooperation between the two sides in women empowerment and promoting women's representation in the judiciary, in line with Egypt's gender agenda, which prioritizes women's participation and influence in decision-making processes at all levels and in all fields.
The meeting included the participation of Marina Wes, Country Director for Egypt, Yemen and Djibouti at the World Bank, Counselor Taha Abdo Karso, Vice-President of the State Council Secretary-General, judges and female judges of the State Council, representatives of the Ministry of International Cooperation and the World Bank delegation.
Counselor Mohamed Mahmoud Hossam El-Din, President of the State Council, underscored the council's keenness to optimize international experiences and spur knowledge exchange with the World Bank in developing judicial systems, particularly in regards to enabling the women to work in the State Council, where recently 98 female judges have been appointed.
To build effective, accountable and inclusive institutions at all levels, the Minister of International Cooperation, Rania Al-Mashat, hailed the continuous reforms that Egypt is spearheading to develop the State Council, which led to the appointment of 98 female judges. The transformative power of this step is that it will help to break gender stereotypes and broaden access to justice, as adopting a gender perspective in the judiciary enhances the fairness of adjudication, which ultimately benefits both men and women.
The Minister added that the framework of cooperation between the state council and the World Bank coincides with the March, which is an annual declared month that highlights the contributions of women.
She added that the Ministry is keen on enhancing technical cooperation between the State Council and development partners to build inclusive institutions and promote people-centric governance.
Egypt's development cooperation portfolio with the World Bank amounts to a total of $5.5 billion in 15 projects that target a diversity of sectors such as transportation, education, housing, health, social protection, petroleum, water and sanitation, and environment. In addition, the International Finance Corporation, the arm of the World Bank Group for financing the private sector, directed in 2021 development financing worth $421 million to the private sector in Egypt.
Source: Egypt Today
https://www.egypttoday.com/Article/3/113367/Egypt-World-Bank-cooperates-to-enhance-women%E2%80%99s-representation-in-judiciary
--------
French 'Good Mother' awarded best film at Egyptian women film festival
March 2, 2022
French film Good Mother, by Hafsia Herzi, was named the best film in the Feature Film Competition of the sixth Aswan International Women Film Festival (AIWFF), as announced on Monday evening in Upper Egypt's Aswan city.
The film tells the story of Nora, a housekeeper, whose son is arrested in a gas station robbery and she does everything she can to help him as he remains in custody awaiting trial.
The feature film competition saw the contest of at least 11 films from different countries.
Notably, both the best actor and best actress awards went to actresses, as exceptionally decided by the judges, who explained onstage that female characters in the competing films were not "used as decoration" as usual, but they played major roles that outperformed those of male characters.
The two best acting awards went to Sabine Azema for her role in the French film Secret Name by Aurelia Georges, and Karam Taher for her role in Farha, a film directed by Darin J. Sallam, a Jordanian director who won the best director for the same film.
Farha tells the story of a 14-year-old girl who is left behind by her father in Palestine in 1948, and she watches from a locked cellar as catastrophe consumes her home and changes her dream from seeking education in the city to survival.
"It's very important to have festivals that address women's issues because it puts their causes under the spotlight," Sallam said.
In the Short Film Competition, where 24 films contested, Spanish film Deaf was named the best, while Canadian actress and director Marianne Farley was named the best director of short films for Frimas.
Although Egypt did not join the International Competition for Feature Films at the festival, two Egyptian feature films received awards under the Egyptian Film Competition.
Full Moon by Hadi El Bagoury was awarded the best Egyptian film tackling women's issues, and Back Home by Sarah Shazli was named the best Egyptian film representing women's creativity.
Three other Egyptian films won prizes in a new competition called Films with an Impact: Her Story by Sayed Abdel-Khalek, Doors of Makkah by Mohannad Diab and It Takes a Village by Reem Osama.
AIWFF was founded in 2017 by Egyptian screenwriter Mohamed Abdel-Khalek, and is held in partnership with Egyptian ministries and NGOs.
Held on Feb. 23-28, the sixth AIWFF screened over 50 films from about 40 countries in support of women's causes and rights.
"The awarded films won the votes of the jury members, yet all the competing films were inspiring," said Abdel-Khalek during the closing ceremony.
He congratulated those who won and thanked those who participated.
"I thank them all for attaching importance to and interacting with the festival," the AIWFF president told Xinhua.
Source: China.org.cn
http://www.china.org.cn/arts/2022-03/02/content_78080269.htm
--------
AMAN Centre to Celebrate International Women's Day
02 Mar 2022
Doha: The Protection and Social Rehabilitation Centre (AMAN), of the Qatar Foundation for Social Work, announced the organisation of various awareness-raising events and activities on International Women's Day, which falls on March 8 of each year.
Acting Executive Director of the Centre Abdulaziz Al Ishaq expressed his pride in what women offer in all fields, stressing their important role in building the future of nations.
Al Ishaq affirmed the keenness to ensure that the celebrations, which lasts for a whole week starting today, are in line with the slogan of International Women's Day 2022 entitled 'Gender Equality Today for a Sustainable Tomorrow,' in recognition of the various contributions of women and girls around the world who are leading the task of adapting, mitigating, and responding to climate change to build a more sustainable future for all.
He revealed the Centre's intention to present a gift to every woman in the State of Qatar under the name 'Women's Award', which will be divided into several categories in line with the Centre's objectives, and its details will be revealed during a press conference that will be announced soon.
Source: The Peninsula Qatar
https://thepeninsulaqatar.com/article/02/03/2022/aman-centre-to-celebrate-international-womens-day
--------
URL: https://www.newageislam.com/islam-women-feminism/turkish-female-invisible-drone/d/126491
New Age Islam, Islam Online, Islamic Website, African Muslim News, Arab World News, South Asia News, Indian Muslim News, World Muslim News, Women in Islam, Islamic Feminism, Arab Women, Women In Arab, Islamophobia in America, Muslim Women in West, Islam Women and Feminism