New Age Islam News Bureau
2 May 2012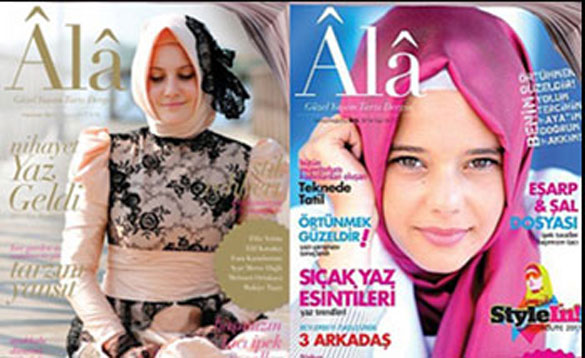 • Women in Secret Service Scandal Not Tied to Cartels, Terrorism
• Yemeni Nobel laureate: Turkish parliament should end hijab ban
• Human rights violation against Hindu women in Pak
• Dutch Burqa Ban Plan Headed for the Garbage Can
• Poor enrollment of Muslim women in colleges prompted her to embark on a mission
• Jamia Millia Islamia vice chancellor backs women's quota bill
• Unveiled former television broadcaster aims to bring a social revolution to Egypt
Complied by New Age Islam News Bureau
Photo: Turkish beauty magazine ties Muslim veil to glamour
URL:
https://newageislam.com/islam-women-feminism/turkish-beauty-magazine-ties-muslim/d/7205
----------
Turkish beauty magazine ties Muslim veil to glamour
02 May 2012
Can the Muslim headscarf be synonymous with glamour?
Turkey's first fashion magazine for conservative Islamic women looks set to win the challenge.
In less than a year since it was launched last June, the monthly Ala -- meaning "beauty" -- has become a mainstream glossy.
With a circulation of 20,000, it is only slightly behind the Turkish versions of Cosmopolitan, Vogue and Elle magazines.
Ala's pages are splashed with models reflecting a conservative Islamic style, all wearing headscarves and long dresses, with their arms and necks covered.
Ala's editor, 24-year-old Hulya Aslan, has first-hand experience with Turkey's headscarf troubles. Because she insisted on wearing one, she had to give up a university education, instead finding work at a bank.
"Now there is normalization, an improvement. Now our veiled comrades can enter university and have more professional opportunities," she told AFP. "For the last five or six years we can say we have turned the corner."
Ala, created by two advertisers, offers the usual fare of health tips, travel pages and celebrity interviews, supplemented by a strong dose of loud and clear Islamic activism.
"Veiled Is Beautiful" proclaims one advertisement, driving home the point with the words: "My way, my choice, my life, my truth, my right."
But such slogans sound more like a reference to the struggles of the past, when secularism monopolized the social scene and the Islamic headscarf, often viewed as a political symbol, met hostile reactions.
The struggle continues despite the 2002 poll victory of Prime Minister Recep Tayyip Erdogan's Justice and Development Party (AKP), which has Islamist roots and many of whose members have spouses who wear headscarves, including Erdogan's wife Emine.
Although the strict application of secularism has been loosened under AKP rule, headscarves are still off-limits for civil servants. It is now allowed in some universities, while many others ban them.
In Turkey, 60 percent of women wear some type of hair covering -- sometimes also hiding their necks and ears -- according to a 2006 survey conducted by the Istanbul-based Turkish Economic and Social Studies Foundation.
The fashion world now sees a growing demand from conservative Turkish women who are keen to assert themselves.
"There are now much prettier things than before," said Merve Buyuk, a 22-year-old trainee at Ala. "Designers have now understood that we exist. They've started making clothes that are not necessarily black or brown. ... I'm pretty happy with this change."
Ala is hoping to influence conservative women's fashion and cash in on it with advertising revenue.
"With this magazine, we are changing trends. We say that women in headscarves can follow trends. There are more and more products on the market they can access," Aslan said.
Communication scientist Nilgun Tutal of Istanbul's Galatasaray University said Ala attests to the rise of middle- and upper-class Muslims who are adapting to the consumer society, thanks to almost 10 years of AKP rule and Turkey's sustained economic growth.
"At one time, Islam, to distinguish itself from the West, took a position hostile to consumer society. But today, these people, to express their success, can only do that through consumer society," Tutal said.
http://english.alarabiya.net/articles/2012/05/02/211628.html
----------
Women in Secret Service Scandal Not Tied to Cartels, Terrorism
May 02, 2012
WASHINGTON (Reuters) - Secret Service personnel implicated in a prostitution scandal in Colombia paid 10 of the 12 women they were involved with and none of the women were found to be connected to terrorism or drug cartels, the Washington Post reported on Tuesday.
Late on Tuesday, Secret Service officials submitted 24 pages of written answers to congressional committees investigating last month's scandal which occurred ahead of President Barack Obama's visit to Cartagena, the newspaper reported.
The Post reported that congressional officials who read the responses said the agency considered the document "law enforcement sensitive" and is asking the committees not to release it publicly.
Secret Service investigators have interviewed 10 of the 12 women involved — who range in age from 20 to 39 — and plan to speak with the others as well, the paper said.
At least three congressional committees are investigating the scandal.
Also on Tuesday, the Homeland Security Department inspector general's office told Congress it would review the incident.
Eight agents have left the Secret Service since the scandal broke, one had his security clearance revoked and three others were cleared of wrongdoing
Separately, an officer investigating the possible involvement of a dozen U.S. troops in the incident has finished gathering evidence and is working on a report of his findings and recommendations, the U.S. military said on Tuesday.
(Reporting By John Crawley and Tabassum Zakaria; Editing by Paul Simao)
http://www.nytimes.com/reuters/2012/05/02/world/americas/02reuters-usa-secretservice.html?ref=global-home&gwh=15C79B83B7B25B2C535F477BC5AEDFD1
----------
Yemeni nobel laureate: Turkish parliament should end hijab ban
May 02, 2012
Nobel laureate Tawakkul Karman has said the rights of Muslim women who wear the hijab must be respected and Turkish women MPs should be allowed to wear the Islamic headscarf in the parliament building.
(Ahlul Bayt News Agency) - Nobel laureate Tawakkul Karman has said the rights of Muslim women who wear the hijab must be respected and Turkish women MPs should be allowed to wear the Islamic headscarf in the parliament building.
The Yemeni activist made the remarks in the Turkish capital Ankara on Sunday in response to a question about the situation in the Turkish parliament, which bans women who wear the hijab, Turkish news websites reported.
"I think that women must participate in all political life fields and they should be in the institutions of the public life, even without speaking about her religion or (saying) if she is wearing hijab or not wearing hijab. It is freedom," Karman stated.
She went on to say that all women should be allowed to participate in political activities, regardless of their religious beliefs or manner of dress.
Karman, who shared the 2011 Nobel Peace Prize with Liberian President Ellen Johnson Sirleaf and Liberian peace activist Leymah Gbowee, has played a key role in the campaigns for women's rights and democracy in Yemen.
http://abna.ir/data.asp?lang=3&id=312241
----------
Human rights violation against Hindu women in Pak: BJP
May 02, 2012
Alleging human rights violation against women belonging to the Hindu minority community in Pakistan, senior BJP leader Murli Manohar Joshi on Wednesday demanded a statement from the government on the flight of over 400 affected families to India.
Responding to the forceful plea by Joshi during the Zero Hour in Lok Sabha, Home Minister P.Chidambaram said the matter required a detailed response. "After consultations with the Prime Minister and the External Affairs Minister, government will make a statement", he said.
In his speech, Joshi alleged that young women were being kidnapped, raped and converted in the Sindh province of Pakistan and added that an average of 25 girls were falling prey to such crimes every month.
"When the local courts grant some relief to the victims, they are threatened," he said, adding that there has been an exodus of a large number of people from the province and over 400 affected Hindu families have fled to India.
"This is a gross violation of human rights as also of their cultural rights. There are many instances of religious persecution. Large scale atrocities are being carried out against minorities in Pakistan," Joshi said quoting reports.
Observing that the government termed these incidents as "internal matters of Pakistan", the BJP leader said, "It is a matter of regret that our government has remained silent on the issue so far."
While 'we want good relations with Pakistan', Joshi said the Prime Minister should assure the House that the government would take up the matter at international human rights fora.
Several BJP members stood in support of Joshi and demanded an immediate statement from the government.
http://www.asianage.com/india/human-rights-violation-against-hindu-women-pak-bjp-244
----------
Dutch Burqa Ban Plan Headed for the Garbage Can
02 May 2012
AMSTERDAM (AP) — Dutch government plans to ban the wearing of burqas and forbid citizens of the Netherlands from holding dual nationality are unlikely to proceed, according to the minister charged with carrying them out.
Both ideas were part of the platform of anti-Islam politician Geert Wilders, who precipitated the collapse of the all-conservative minority Cabinet last week by saying his party would no longer help it reach a majority in Parliament.
In an interview with Dutch newspaper De Volkskrant published Wednesday, Interior Minister Liesbeth Spies of the Christian Democrat party said "Parliament wants to throw the dual nationality (ban) in the trash can, and if the same happens with the burqa ban I won't shed a tear."
A spokesman for her office confirmed the remarks.
http://www.nytimes.com/aponline/2012/05/02/world/europe/ap-eu-netherlands-burqa-ban.html?ref=global-home&gwh=09FAFC17FC634A7BB0453F7E7C35E87B
----------
Poor enrollment of Muslim women in colleges prompted her to embark on a mission.
02 May, 2012
Some people are born with a mission. Others discover it along the way. A few develop it just about when others of their age are ready to retreat into seclusion, to spend their remaining days in contemplation and introspection, doing the little things of life – reading or gardening- that they were too busy to do earlier.
Prof. Hasnath Mansur's life demonstrates that it is never too late to contribute to society. She started active social work after she retired, committing herself to improve the lives of Muslim women, "Education is their way out" she says.
Islam is a religion of justice and mercy. How can it allow for a woman to be instantly divorced at the mere whim of her husband"? asks Hasnath Mansur
Bangalore-based Prof. Mansur should know. For 23 years she was the principal of a girls' college. Throughout her life, what struck her most were the dramatic absence Muslim women in higher education.
She had started her education in Salem, Tamil Nadu. In the local Sharada College, of the 2,000 students, only five were Muslim girls. In a college in Coimbatore where 1,500 students were enrolled, just four were Muslim.
She says "It was so depressing. These were big colleges getting huge grants from the government. But the visibility of Muslims was nonexistent. I started wondering what's wrong with my community?"
Full report at:
http://www.theweekendleader.com/Causes/931/Late-bloomer.html
-------
Jamia Millia Islamia vice chancellor backs women's quota bill
May 2, 2012
NEW DELHI: Jamia Millia Islamia vice chancellor Najeeb Jung on Wednesday advocated the passage of the women's reservation bill to empower the poor and ordinary Indian women.
Giving the Maulana Azad memorial lecture on 'Governments, Governance and Sensitivity' at the university, Jung said: "It took 14 years for the bill to reach the Rajya Sabha and the drama enacted in parliament would be envy for a play writer."
He highlighted the plight of women facing challenges like malnutrition, child marriages and multiple pregnancies.
Full report at:
http://timesofindia.indiatimes.com/india/Jamia-Millia-Islamia-vice-chancellor-backs-womens-quota-bill/articleshow/12966099.cms
----------
Unveiled former television broadcaster aims to bring a social revolution to Egypt
02 May, 2012
No one gives her a chance. But the prospect of an unveiled woman becoming president of Egypt in an election battle with a dozen Islamic male candidates is making headlines internationally.
It's just that in Egyptian newspapers, former radio personality and television news anchor Bothaina Kamel, the first and only woman to run for Egypt's presidency, is usually referred to only as an "activist" — if she is ever referred to at all.
"Some people have come up to me and asked, 'Is it even legal for a woman to run?'" she says. "I hope to set a trend, to open a door."
For nearly a year now, the 49-year-old brunette has been actively campaigning across Egypt, meeting people face-to-face in small rallies and arguing that Egypt needs a social revolution in addition to a political one.
"We are moving through the villages and bringing the revolution to all of Egypt, not just the big cities," she says.
Full report at:
http://news.nationalpost.com/2012/03/30/unveiled-female-former-television-broadcaster-aims-to-bring-a-social-revolution-to-egypt-in-run-for-president/
---------
URL: https://newageislam.com/islam-women-feminism/turkish-beauty-magazine-ties-muslim/d/7205