New Age Islam News Bureau
22 May 2014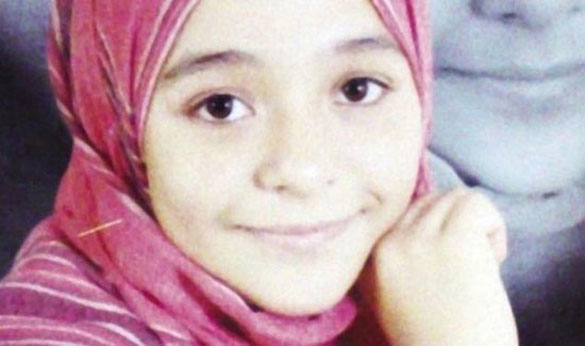 Photo: Sohair al-Bata'a who died from female genital mutilation operation in Egypt
-----------
• UN Slams Sudan for Order to Hang Christian Woman for Apostasy
• FGM Led To the Death of an Egyptian Girl, Her Doctor Stands Trial in Landmark Case
• Lawyer for Pregnant Woman Due To Hang Is Threatened
• Abuja School Kids Demand Immediate Release of Abducted Girls
• No Dress Codes for Pakistani Women
• Women-Only Immigration Counters at Jeddah Airport
• Saudi Businesswomen Call For Level-Playing Field
• Taif Hospital Waives SR128, 000 Bill for Pak Baby
• Release Kidnapped Nigerian Girls- Ugandan Women
• Malaysian Court to Decide If Sharia Law That Criminalises Transwomen Violates Their Rights
Compiled by New Age Islam News Bureau
URL: https://www.newageislam.com/islam,-women-and-feminism/new-age-islam-news-bureau/turkish-actress-becomes-goodwill-ambassador-for-unicef/d/87147
-------------
Turkish Actress Becomes Goodwill Ambassador for UNICEF
May 22, 2014
Turkish actress Tuba Büyüküstün, a celebrity in Turkey and many Gulf nations, has been appointed as a goodwill ambassador of the United Nations Children's Rights and Emergency Relief Organization (UNICEF).
Büyüküstün, who has starred in a number of popular Turkish TV series, said it was an honor to be assigned for this mission and pledged to do her best to actively cooperate with the organization.
Ayman Abulaban, UNICEF's Turkey representative, explained that part of Büyüküstün's mission would be to support Syrian child refugees who have fled to Turkey.
She will also participate in UNICEF's relief plans for the relatives and children of the 301 miners killed in last week's disaster in the western town of Soma.
"People can find themselves in disastrous situations or in a warzone at any time, as in the Soma incident, the floods in the Balkans and the Syrian civil war. But under these situations, the children are the ones most affected," said the actress at a ceremony on May 21.
United Nations nominates leading and well-known figures from various areas as "goodwill ambassadors" in a bid to raise awareness over humanitarian issues and its activities.
Turkish model-turned-actor Kıvanç Tatlıtuğ, who is also famous among Arab audiences and who co-starred in one of the most popular series with Büyüküstün, has been a goodwill ambassador for UNICEF since 2011.
http://www.hurriyetdailynews.com/turkish-actress-becomes-goodwill-ambassador-for-unicef.aspx?pageID=238&nID=66809&NewsCatID=381
-------------
UN Slams Sudan for Order to Hang Christian Woman for Apostasy
May 22, 2014
GENEVA - UN rights experts voiced outrage Monday at a Sudanese court order to hang a heavily pregnant Christian woman for marrying a Christian man and refusing to renounce her faith.
Meriam Yahia Ibrahim Ishag, a 27-year-old who is eight months pregnant with her second child, was convicted last week under the Islamic Sharia law that has been in force in Sudan since 1983 and makes conversions of faith punishable by death.
"This outrageous conviction must be overturned and Ms. Ibrahim must be immediately released," insisted the UN experts on a range of issues, including on the human rights situation in Sudan, violence against women, minorities and the freedom of religion or belief.
They stressed in a statement that under international law, "the death penalty may only be imposed for the most serious crimes, if at all." "Choosing and/or changing one's religion is not a crime at all. On the contrary, it is a basic human right," they said.
The young mother was found guilty of apostasy, or publicly renouncing Islam — a faith she never professed — and sentenced to hang after she refused to "return" to the Muslim religion.
Ishag, who was born to a Christian mother and Muslim father, was also sentenced to 100 lashes for "adultery", for living with the Christian man she has been married to since 2012.
Under Sudan's interpretation of sharia, a Muslim woman cannot marry a non-Muslim man and any such relationship is regarded as adulterous.
The UN experts said that the right to marry and found a family was a fundamental human right, and voiced particular concern that the heavily pregnant Ishag was being held with her 20-month-old son in "harsh conditions" at the Omdurman's Women Prison near Khartoum.
"The imposition and enforcement of the death penalty on pregnant women or recent mothers is inherently cruel and leads to a violation of the absolute prohibition of torture and other cruel, inhuman or degrading treatment or punishment," they warned.
They called on Sudan to repeal all discriminatory laws, adding there was a "pressing need to address the pattern of discrimination, abuse and torture as well as the subjugation and denigration of women in the country."
Sudan has an Islamist government but, other than floggings, extreme sharia law punishments have been rare.
If the death sentence is carried out, Ishag will be the first person executed for apostasy under the 1991 penal code, Christian Solidarity Worldwide, a British-based campaign group, said last week.-AFP
http://www.malaysia-chronicle.com/index.php?option=com_k2&view=item&id=285532:can-this-happen-in-msia?-un-slams-sudan-for-order-to-hang-christian-woman-for-apostasy&Itemid=2#ixzz32QhCsM3C
-----------
FGM Led To the Death of an Egyptian Girl, Her Doctor Stands Trial in Landmark Case
May 22, 2014
In June of last year, a father and daughter arrived at a doctor's office two hours north of Cairo. The father left his daughter, a cherub-faced girl of 13, in the custody of a doctor and a nurse.
She was to be circumcised. And this would be the last time he would see her alive.
"The nurse took my daughter out of the operation room to a nearby room, along with three other girls whom the doctor was circumcising," the father, a farmer, told the Egyptian daily Al-Masry Al-Youm. "I waited half an hour, hoping that my daughter would wake up, but, unfortunately, unlike the rest of the girls, she did not."
The doctor, Raslan Fadl, who also circumcised another girl in the family, allegedly offered the family 20,000 Egyptian pounds – about $2,800 — to keep quiet about her death. But they wouldn't. And a health inspector's report appeared to confirm their suspicions: 13-year-old Suhair al-Bata'a had died of "a sharp drop in blood pressure resulting from shock trauma."
"I want nothing but to hold the doctor accountable and to have justice for my daughter," Suhair's mother said at the time.
Today, nearly one year after her daughter's death, that may finally happen. In what outside observers are calling a landmark case, the doctor will stand trial today on charges of violating a 2008 ban on female genital mutilation, an entrenched practice that removes the clitoris.
The courtroom drama underscores a broader cultural clash between modernity and tradition. In the West, female genital mutilation is considered abhorrent, and prominent leaders from Hillary Clinton to Angelina Jolie have condemned it. But in Egypt, the act isn't universally dismissed.
Far from it. More than 90 percent of women in Egypt have undergone the procedure, according to a UNICEF report. Though it was banned after a 12-year-old girl died following the procedure, prominent political groups such as the Muslim Brotherhood support female circumcision, and many local Christians and Muslims alike contend it has religious merit.
To some Egyptians, the procedure marks a girl's womanhood and defines her femininity. It "is supported by both men and woman, usually without question, and anyone departing from the norm may face condemnation, harassment and social exclusion," UNICEF found in 2010.
In al-Bata'a's community, some locals say circumcision is "good for our girls" and have rallied around the embattled doctor. "Most people will tell you he is a very good man: don't harm him," Reda el-Danbouki, the founder of the Women's Centre for Guidance and Legal Awareness, an Egyptian human rights group, told the Guardian. "If you asked people about who is the best person to do this operation, they would still say: Dr. Raslan."
Even though, in al-Bata'a's case, he denies having done it. He claims the girl died of an allergic reaction to penicillin, which he says she took during a procedure to remove genital warts.
"What circumcision? There was no circumcision," Fadl said, claiming the charges were invented by human rights activists, whom he called "dogs' rights people."
Indeed, the case against Fadl was started through the intervention of a human rights group. The girl's family initially said female genital mutilation killed her. Days later they recanted, however, and the doctor, who had turned himself in to police, was released. Only through an international campaign spearheaded by Equality Now, an international human rights group, was the case reopened.
Equality Now denied that female circumcision was vital to Islam.
"It's not an Islamic issue – it's cultural," said Suad Abu-Dayyeh, regional representative for Equality Now … "In Sudan and Egypt the practice is widespread. But in most of the other Arab countries – which are mostly Muslim countries – people don't think of it as a Muslim issue."
Al-bata'a's father also faces charges for his alleged complicity in her death. The family is expected to waive manslaughter charges against him, but the state can pursue them.
"It's very hard to arrest a doctor," one local police chief said. "You have to catch them in the [illegal] act or it has to be reported by the father. And that's difficult because the father will deny what happened."
Complicating matters further: The family's quest for justice has given way to resignation. Al-bata'a's parents have disappeared. And her grandmother has turned against the trial proceedings.
"This is her destiny," she told the Guardian. "What can we do? It's what God ordered. Nothing will help now."
http://www.washingtonpost.com/news/morning-mix/wp/2014/05/22/female-circumcision-led-to-the-death-of-this-egyptian-girl-today-her-doctor-stands-trial-in-landmark-case/?tid=hp_mm
-----------
Lawyer for Pregnant Woman Due To Hang Is Threatened
May 22, 2014
The lawyer for a pregnant woman sentenced to hang for apostasy in Sudan has received threatening phone calls warning him to drop an appeal against the death penalty.
As international outrage deepens over the ruling by an Islamic Sharia law judge, the lawyer, Mohamed Jar Elnabi, is expected to return to court today on behalf of his client Meriam Ibrahim.
"Meriam's lawyer is filing an appeal but he received a threatening phone call to stop working on the case," said Tina Ramirez, director of Hardwired Global, a religious freedom campaign group that is championing Ms Ibrahim's case.
Ms Ibrahim (27), who is eight months' pregnant, is being held shackled to the floor in a women's prison in Khartoum, where her 20-month-year old son is living with her.
She was found guilty of adultery and apostasy, because she married a Christian and refused to recant her Christianity, despite testifying that she had never been a Muslim.
The court ruling delayed the implementation of its sentence – 100 lashes and death by hanging – for two years so that she can give birth to her second baby and raise the child to be a toddler.
But her family fears that she will not survive a second labour in prison, as her first pregnancy was so difficult.
"It would be dangerous for anyone to give birth in jail in Sudan, where the conditions are hell," Ms Ibrahim's brother-in-law Gabriel Wani said.
"But Meriam had a very difficult first pregnancy and she is not receiving the medical care she needs, so we are really worried about whether she will survive."
Ms Ibrahim was raised in a Christian family and married Daniel Wani, a Sudanese biochemist who now lives in the US, in a Khartoum chapel in 2011.
The Sharia court convicted her because her father was a Muslim, even though he left his family when his daughter was six and she never knew his religion.
Devastated
Mr Wani, who is wheelchair-bound, was "devastated" when he saw his wife for the first time since her sentencing on Monday, his brother said.
"Emotionally, it's really challenging for him," said Gabriel Wani.
He and Daniel fled to the US as refugees in 1998 to escape the civil war in Sudan.
"Daniel is going to stay and fight and we are hopeful that the appeal will be successful," his brother said.
"But it's just so tough. He was devastated when he saw her. We are all praying for her."
Mr Wani had been trying to arrange the paperwork for his wife and their first child, Martin, to move to the US when she was denounced to the police by a man claiming to be her brother. (© Daily Telegraph, London)
http://www.independent.ie/world-news/africa/lawyer-for-pregnant-woman-due-to-hang-is-threatened-30294731.html
-----------
Abuja School Kids Demand Immediate Release of Abducted Girls
May 22, 2014
School children in the Federal Capital Territory (FCT) yesterday urged the Boko Haram insurgents to immediately release the abducted schoolgirls of Government Secondary School, Chibok Borno State.
The students spoke at the 5th Annual Symposium in honour of the late human right activist and pan-Africanist, Dr. Tajudeen Abdul-Raheem organised by the Centre for Democracy and Development (CDD).
Khadijah Garba Nabayi, a student of the Fou'ad Lababidi Islamic Academy, Abuja, said abducting girls and forcing them into marriage or forcefully converting them into Islam is un-Islamic.
She said: "If Boko Haram is fighting the government, they should not take this to the innocent girls. I don't know what government was doing when these girls numbering over 200 were abducted because we have so many checkpoints in Borno".
She asked: "Where are the soldiers? Why was the principal not following the girls? Didn't she want to be in the safe place too?"
On her part Oreoluwa Anibaba of the Anglican Girls Grammar School, Apo, said if she were in Chibok, she would not have loved to go back to the school.
"I feel sad and devastated because those girls are our mates who should be writing their exams by now," she said while backing the international community's intervention in the rescue efforts.
Blessed Odion of the Federal Government Boys College, Apo prayed that God should touch the insurgents' hearts to release the girls alive to their parents.
CDD International Governing Council (IGC) chairman, Dr Kole Shittima, said the event was to commemorate the death of late Taju (as he was popularly called) who died on the 25 May 2009. He said Taju was an un-elected leader of Africa and due to his sense of passion, commitment and dedication he built black people worldwide especially Africa and the struggle he waged as a student, activist, professor to give better life to the continent.
http://allafrica.com/stories/201405220583.html
-----------
No Dress Codes for Pakistani Women
May 22, 2014
The freedom of wearing whatever you want, especially in a country where summer lasts for up to eight months a year, is one that is often taken for granted in Pakistan. I did not realise the immense freedom that women have here until I visited a country in the Middle East where a strict dress code is followed by most women. Pakistan is a country where women have options: they can go out covered from head to toe and also in Western outfits. The choice is theirs as no dress code has been imposed on them by the state. In Western countries, Muslim women often try to wear a Hijab to maintain their identities, which often becomes a security issue in the wake of increasing xenophobia.
I was studying in Scotland when the London bombings took place on July 5, 2005. A wave of hatred spread against Muslims in the county just as the news broke out that British Muslims were behind the bombings. Women, particularly those wearing Hijab, felt insecure as local people were seen to be spitting on some women wearing a scarf and pulling their scarves off their heads. One day, when I was standing at a bus stop to go to university, an old man pointing towards me said, "These are the people; they will burn this bus stop too!" I was speechless.
Whether Muslim women should be allowed to cover themselves from head to toe in public places has become a national issue in some countries. France has labelled the choice as a security issue and banned the wearing of Hijab. At least in our society, women, and even religious minorities, are not hated for what they wear. Many women drive and work alongside men while wearing an Abaya and Hijab. On this front, Pakistan is probably the only country that gives so much freedom to its women to dress up as they want, especially in the big cities.
I don't know about other women but at least I feel blessed. I hope our country's economic and law and order situation improves so that there won't be any better place for women to live and work like Pakistan. I am keeping my fingers crossed!
http://tribune.com.pk/story/711490/no-dress-codes-for-pakistani-women/
-----------
Women-only immigration counters at Jeddah airport
May 22, 2014
JEDDAH – Special counters for women to process their passports will soon be established at King Abdulaziz International Airport (KAIA) in Jeddah, the newly appointed director general of Makkah Province's Passports Department (Jawazat) has said.
"A number of female passports officials have been appointed and will be trained to serve the women travelers at the airport according to the teachings of the Islamic Shariah," Brig. Khalaf Allah Bin Obaidullah Al-Tuwairgi said.
King Khaled International Airport in Riyadh has already prepared special counters to process the passports of women travelers.
The counters will be manned by women passports officials. King Abdulaziz International Airport in Jeddah has appointed 40 Saudi women, who have been rigorously trained, to work at the special counters for female travelers.
A day after his appointment in this position, Al-Tuwairgi made an inspection tour of the airport on Monday.
He denied any possibility of visas being issued at the airport on arrival. "The issuance of entry visas is the sole prerogative of the high authorities," he added.
He said there is a quantitative leap in the work of the Jawazat including the electronic services that are now being provided to customers.
"The Jawazat is keen to provide the best of services to citizens and expatriates," he added.
Al-Tuwairgi was director general of the Taif Passports Department. He was also director of the Jawazat at KAIA and worked for the authority in the Eastern Province.
Last month, a new dress code was implemented for Passports Department (Jawazat) officers at immigration counters at the airports. They now wear the traditional thobe instead of military uniform.
The national dress consists of the traditional thobe, ghutra (headscarf) and iqal (black head ribbon).
The staff also have to wear black shoes and black socks and put on their badges. The decision has been implemented at first at the international airports of Riyadh, Jeddah, Madinah and Dammam before it is gradually introduced in all the Kingdom's air, sea and land inlets.
The objective behind the change in dress code is the motivation to promote the Saudi identity, spokesperson for Passports Department Lt. Col. Ahmed Al-Luhaidan was quoted as saying in a section of the Arabic press.
http://www.saudigazette.com.sa/index.cfm?method=home.regcon&contentid=20140521205950
-----------
Saudi businesswomen call for level-playing field
May 22, 2014
Saudi businesswomen here have called on government to level the regulatory playing field with men so that they can grow their enterprises.
Foaz Al-Eid, a businesswoman, said the greatest challenge they face concerns their rights, in comparison to the scope given to businessmen in Saudi Arabia.
Regulations of the Ministry of Trade and Industry have also constrained them, she said. These include finding workers for their businesses, and the lack of professionalism by officials in dealing with entrepreneurs.
She said women are becoming involved in various sectors of the economy including the stock market, wholesale industry, fine arts, education and training, engineering, construction, real estate, and marketing.
Hanadi Ibrahim, a businesswoman, said that men continue to have the upper hand in Saudi society, despite businesswomen proving they are equally capable as leaders. Many have become successful because of support from their fathers, brothers and husbands.
She said men still dominate some industries but women have recently become more active in challenging perceptions and cultural expectations.
Ibrahim said that women are not fully aware of their rights, but praised government for the changes introduced in recent years, such as the abolition of the requirement that they require male legal representatives and a male guardian to travel. She believes these changes have helped businesswomen develop their businesses.
Ibrahim Eissa, a legal adviser, said the Ministry of Trade and Industry requires businesswomen to fulfill certain criteria to run government projects. These requirements are available online.
http://www.arabnews.com/news/574816
-----------
Taif Hospital Waives SR128, 000 Bill for Pak Baby
May 22, 2014
A Pakistani expat who raked up a SR128,000 medical bill treating his prematurely born daughter was overjoyed after a report published in Arab News highlighting his struggle prompted the hospital to waive all charges.
"I am speechless and delighted to be able to take my baby girl home with us after three months in hospital," said Mohammed Ishaq, an uneducated farm worker. "The article published by Arab News changed my life."
His daughter, born on Feb. 10, had been placed in an incubator, incurring huge medical expenses.
"I undertake random jobs in farming and driving to make ends meet," he told Arab News. "I had no idea the media could be so powerful a tool. I only came to know of the impact of the article published in Arab News when the hospital management informed me that my baby girl had been discharged," he said.
"I could not believe we could go home without paying a single riyal," said an emotional Ishaq. "Generous Pakistani expats had sent in donations, but thankfully, I no longer need financial help because hospital owner has refused to take any money from me."
He said: "I am indebted to Arab News. Childbirth is usually a cause for celebration, but our situation was different. We have not been able to rejoice until now."
Ishaq also thanked Al-Nahda Hospital in Taif for their humanitarian gesture.
The hospital had also issued a birth notification, which is usually withheld by private hospitals until medical expenses are paid in full, to enable Ishaq to apply for a birth certificate with the Civil Affairs office.
Ishaq expressed gratitude to Arab News readers who had tried to reach him to offer their support.
http://www.arabnews.com/news/574306
-----------
Release kidnapped Nigerian girls- Ugandan women
By Francis Emorut
May 22, 2014
Women in Uganda have broken the silence and demanded the release of 273 girls abducted by Boko Haram in Nigeria.
The women on Wednesday demonstrated holding placards with messages "bring back our girls" and "we the women in northern Uganda demand Boko Haram to bring back our girls."
The women in northern region said they still have fresh memories of the abduction of 139 girls from St.Mary's College Aboke in 1996 by the Lord Resistance Army (LRA) rebels during the insurgency in Acholi and Lango sub regions.
"We the women of northern Uganda have fresh memories of the abduction of Aboke girls and Lwala girls and massive episodes of sexual and gender based violence in horrendous conflict that lasted more than two decades perpetuated by Joseph Kony and his serving LRA rebels," Raima Karim the chairperson of Arua district women councillors caucus said.
The women were joined by activists from Forum for Women in Democracy to demand the release of the girls.
The abduction of the girls a month ago has drawn worldwide condemnation of the Islamist militants with the US, France, Israel and China sending troops to Nigeria to search for the girls.
The Nigerian President Goodluck Jonathan has accepted the international community assistance but has rejected Boko Haram demands of swapping the girls for their members captured by the government.
The 273 girls were abducted in Kibo, Bonu state according to the recent released video that has gone viral are said to have converted to Islamic faith.
The campaign to release the girls is being spearheaded by the social media and in some countries demonstrations have been conducted.
The girls need to enjoy peace with their families, they need pads, they need association of their community and all fundamental freedoms like we do," the women said.
The Aboke girls were trekked by Sr. Rachella into South Sudan and the girl's first question was "Sister have you brought pads?"
The women said that the holding of the Nigerian girls will not solve Boka Haram problems.
Charity Farida Yumbe, district chairperson women caucus disparaged those who associate terrorists to Muslims.
"The Islamist militants are after their own agenda and this should not be associated to Islamic faith," Farida said.
http://www.newvision.co.ug/news/655860-release-kidnapped-nigerian-girls-ugandan-women.html
-----------
Malaysian Court to Decide If Sharia Law That Criminalises Transwomen Violates Their Rights
AFP/AFP / Getty Visuals
May 22, 2014
A Malaysian appeals court docket is predicted to rule on Thursday whether a Sharia code that criminalizes transgender people today violates their fundamental rights.
There are state rules all over most of Malaysia that implement Islamic codes, including a provision that criminalizes "any male human being who, in any general public put wears a lady's attire or poses as a woman." Transwomen are routinely detained by the police in many states in Malaysia, in accordance to a by Human Rights Look at, and they are occasionally subjected to actual physical and sexual abuse at the palms of police. Some transwomen documented currently being arrested more than twenty instances.
Much additional is at stake in this scenario than just the security of Malaysia's trans group, say the activists who helped carry it to court. It is fundamentally about judicial independence in a country whose Islamist ruling social gathering has stoked anti-LGBT sentiment as component of a political strategy to maintain on to electricity. (The opposition chief, Anwar Ibrahim, was recently in jail for a sodomy demand he claims was a politically motivated slander.) The rulings will also examination irrespective of whether condition spiritual codes or human legal rights shielded in Malaysia's secular structure are supreme.
"What's specific about this scenario is the truth that we're challenging the constitutionality of state Sharia regulation, which has by no means been done ahead of," said Thilaga Sulathireh of the Malaysian trans legal rights group Justice for Sisters, which is working with the 3 gals who submitted match.
This scenario will be listened to in the appeals court docket of Putrajaya in the point out of Negeri Sembilan, south of the region's cash, Kuala Lumpur. It has been earning its way by means of the courts for a few a long time. 4 litigants first filed a constitutional challenge to the Sharia code in February 2011, and the Negeri Sembilan High Court docket dominated versus them in Oct of 2012. A lawyer doing the job on the case, Aston Paiva, explained that the choose in essence ruled that if Sharia codes are "consistent with the teachings of Islam" then protections for "essential liberties can be excluded."
The ruling arrived as a surprise to those people concerned, claimed Sulathireh of Justice for Sisters, due to the fact the judge had appeared very sympathetic during the listening to and expressed question as to whether or not it was ideal to contemplate the litigants male in the first area. The simple fact that the judge tacked so tricky to the correct &mdash such as what Sulathireh named an "unnecessary" reference to the Quran &mdash termed into question the courts' capacity to take into consideration circumstances rather.
"If the political scenario in the place was not so hostile to LGBT people, possibly the selection could have been unique," she mentioned.
A single of the women who first introduced the fit withdrew from the circumstance when it was appealed, and none of the litigants would concur to be interviewed. But Sulathireh reported at the time they made a decision to go to court, experiences were being coming pretty much each other working day that spiritual law enforcement experienced arrested transwomen, and usually on flimsy pretences. A single of the litigants was truly dressed in gender-neutral clothes when she was arrested, and was not even carrying a bra &mdash several transwomen averted carrying bras because they could be utilised as evidence by police. But officers approached her on the street mainly because she experienced extensive hair and other feminine bodily options, lifted her shirt to check out for breasts, and place her less than arrest.
"The info of this circumstance was excellent [to take to courtroom] in sense it showed the brutish mindset by the Point out authorities towards a defenseless and voiceless minority," reported the law firm, Aston Paiva. Nevertheless these a Sharia provision experienced hardly ever been challenged in court in advance of, he mentioned, there was no explanation why it couldn't be.
There is a intricate romantic relationship between religious and secular law in Malaysia, a nation which is about sixty percent Muslim. The place's structure declares, "Islam is the religion of the Federation," but also claims, "other religions could be practised in peace and harmony in any element of the Federation." The post creating Islam as the formal religion also states, "nothing in this Posting derogates from any other provision of this Constitution," presumably which includes protections for essential rights. Sharia rules also technically only apply to Muslims, but all ethnic Malays & mdash who account for half the place's population &mdash are automatically described as Muslim.
Sharia regulations ended up put in area by the secular legislatures of the Malaysian states, Paiva argued. "What are termed 'Syariah legal guidelines' are in truth secular legal guidelines that codify elements of substantive Islamic legislation. So, there is no cause why these "Syariah legal guidelines" can't be examined from the Constitution or subjected to constitutional evaluate by the Courts like any other law."
If they reduce in the condition appellate courtroom on Thursday, Paiva mentioned, he is ready to choose this argument to the federal courts.
The ruling potentially could have a broader reverberation in the region, said Sulathireh. Ahead of the sultan of the small neighbouring nation of Brunei enacted a new Sharia code on May 1, Malaysia was the only nation in Southeast Asia with Sharia legislation. Activists in the region have been fighting to get the regional trade bloc that involves both international locations, the Affiliation of Southeast Asian Nations, to recognize LGBT legal rights as elementary human legal rights. A court ruling placing down the Sharia code could make their argument much better.
http://www.dailynewsen.com/entertainment/malaysian-court-to-decide-if-sharia-law-that-criminalizes-transwomen-violates-their-rights-h2498119.html
-----------
URL: https://www.newageislam.com/islam,-women-and-feminism/new-age-islam-news-bureau/turkish-actress-becomes-goodwill-ambassador-for-unicef/d/87147