New Age Islam News Bureau
09 September 2020
• Balochistan Has Highest Female Mortality Rate in The World, says Sana Baloch Member of the Balochistan Assembly
• Dubai Sports Council Announces Badminton Tournament for Women
• Petition Filed Against Social Media Attacks on Women Journalists in Pakistan
• Pakistan: Poor Conditions Rife in Women's Prisons
• Funding Crunch Squeezes Women's Rights Pioneer in Bangladesh
• In Turkey, Unions and Women's Organizations Call for Defense of Women's Rights
• Egyptian Women Embrace Natural Hair In Identity Revolution
• Australian Women and Children Reportedly Snatched from Syria's Al-Hawl Refugee Camp
• Female Women's Protection Units Fighter In Syria Allegedly Murdered By Relatives In 'Honour' Killing
Compiled by New Age Islam News Bureau
URL: https://www.newageislam.com/islam-women-feminism/turkey-granted-refugee-status-iranian/d/122820
--------
Turkey Granted Refugee Status to Iranian Activists Maryam Shariatmadari Feared To Be Tortured and Possibly Executed If Returned to Iran
By CHRIS PLEASANCE FOR MAILONLINE
9 September 2020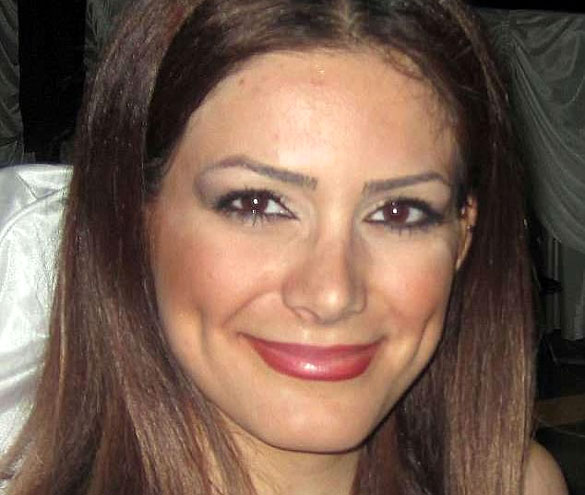 Shariatmadari (pictured) said police pressured her to sign papers agreeing to leave Turkey, before releasing her as international pressure mounted
------
An Iranian women's rights activist has been granted refugee status in Turkey, just hours after she was arrested and threatened with deportation.
Maryam Shariatmadari, 35, who fled Iran after taking part in anti-hijab protests, was arrested in the western Turkish city of Dinizli on Monday and taken to a detention centre for undocumented migrants.
In a video taken from the back of a police van and posted on her Instagram page, Maryam begged for help, with activists warning that she faced torture or execution if she was returned to her home country.
Hours later, amid mounting pressure, Maryam said she had been released and granted refugee status, though lawyers warned her condition remains precarious.
Maryam Shariatmadari, 35, Iranian women's rights activist, was arrested in Turkey on Monday and threatened with deportation back to her home country (pictured in the police van)
Gokhan Bozkurt, president of the Aydin Bar Association, which has been following her case, said: 'She is free now.
'The government might try to hand her over to Iranian authorities. But we lawyers are going to try to keep her in Turkey if she doesn't want to go to Iran.'
In the video of her arrest, Maryam reveals that officers were questioning her right to be in the country, saying: 'This is without cause. My name is in the system but they are refusing to check it.
'They're about to send us for deportation. If there is anything you can do, please do it,' she added.
Her pleas caught the attention of human rights activists in both Iran and Turkey, who began campaigning for her release.
Many of them retweeted the video along with messages saying she faces 'possible torture and execution' if she is returned to Iran.
Maryam was arrested in Iran in 2018 after taking part in anti-hijab protests in the capital Tehran, spending four days in solitary confinement.
After being charged with violating national security she fled to Turkey, where she claimed asylum.
Turkey is home to dozens of Iranians who fled amid fears of persecution, though they are often not recognised as refugees, meaning their legal status is unsettled.
After spending a night in police custody, Maryam revealed on Tuesday that she had been freed and had been granted official refugee status.
However, she told The Independent that she had also faced pressure from police to sign papers promising to leave the country within weeks.
Maryam was part of a group of protesters who became known as 'the girls of Revolution Street' after the road in Tehran where they removed their headscarves during repeated demonstrations.
The movement began in December 2017 but prompted many copycat protests, including one staged by Maryam in February the following year
Video showed her protesting on top of an electrical box before being shoved to the ground by police, which friends said left her needing knee surgery.
Hijabs have been compulsory in Iran since the Islamic revolution in 1979.
Maryam was initially charged with 'encouraging corruption by removing her hijab' and sentenced to a year in jail.
However, she was then re-arrested on national security charges as police seized her computer and arrested some of the lawyers representing her.
While out on bail she managed to flee to Turkey, where she now lives.
https://www.dailymail.co.uk/news/article-8713275/Iranian-anti-hijab-activist-faces-execution-torture-arrested-Turkey.html
--------
Balochistan Has Highest Female Mortality Rate in The World, says Sana Baloch Member of the Balochistan Assembly
Saleem Shahid
09 Sep 2020
They said Rs110 billion was being spent only on the construction of buildings and in the name of development sector, but not a single rupee was sent on service delivery in the province. Saadia Khan/MSF/File
-----
QUETTA: Legislators, representatives of civil society and women working for NGOs have claimed that Balochistan has the highest female mortality rate in the world.
Speaking at a meeting here on Tuesday, Member of the Balochistan Assembly Sana Baloch, Chairman of the Public Accounts Com­mittee Akhtar Hussain Langove, Chair­man of the Standing Committee for Women Ahmad Nawaz Baloch, Gene­ral Secretary of the Quetta Press Club Zafar Baloch and representatives of NGOs working for women and children rights exp­ressed serious concern over increasing female mortality rate in the province.
They claimed that the per capita education ratio of female education was lowest in Balochistan in the entire world.
They said Rs110 billion was being spent only on the construction of buildings and in the name of development sector, but not a single rupee was sent on service delivery in the province.
Representatives of women's rights organisations expressed concern over low female education rate in the province and said that the authorities concerned were not making serious efforts to address this issue.
"A large number of girls drop out of school due to various reasons. There is no middle school facility for them. They have to travel to far-flung areas and cities to get admission in educational institutions. They do not have transport facility to go to schools or colleges. They leave without completing education or their parents withdraw them from schools," they said.
The number of girls' schools is very low. The government should set up more schools for girls and at the same time upgrade them so that the education of girls does not remain incomplete.
Women also face great difficulty in obtaining ID cards. At National Database and Registration Authority's stations, only one day in a week is reserved for women while only one Nadra van is available for different areas and districts. Banks do not give loans to women to start businesses due to lack of identity, they said.
https://www.dawn.com/news/1578631/balochistan-has-highest-female-mortality-rate-in-the-world
--------
Dubai Sports Council Announces Badminton Tournament for Women
September 8, 2020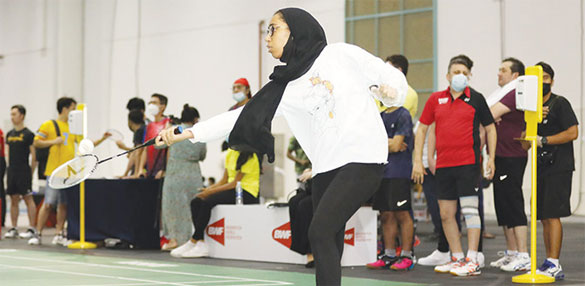 The Women's Shuttle Time Championship will feature Emirati and expat shuttlers competing in separate categories with draws of 32 each. Supplied picture
------
DUBAI – The Women's Sports Committee of Dubai Sports Council (DSC) has announced a badminton tournament for ladies, which will take place at Dubai Sports World, Dubai World Trade Centre, on Sept. 19 and 26.
The Women's Shuttle Time Championship will feature Emirati and expat shuttlers competing in separate categories with draws of 32 each.
Registration for the tournament is open now, through Dubai Sports Council' official website (Women's Badminton Championship 2020), and it will close at 32 players in each category.
The tournament will bring the curtains down on the Women's Shuttle Time Program, which started early August and has helped attract and train a number of Emirati and expatriate ladies in the sport.
"The Women's Shuttle Time Championship is a culmination of the Women's Shuttle Time Program that was launched by the Council to train women in badminton, which has become one of the most popular sports in Dubai with a growing number of practitioners of different nationalities," said Fouzeya Faridoon, manager of Dubai Sports Council's Women's Sports Development section as well as the Women's Sports Committee.
"The aim of this tournament is to give participants of the program an opportunity to test their skills in a competitive atmosphere and, at the same time, motivate and encourage, and support them as they continue their development program."
Faridoon added: "The Dubai Sports Council is always keen to support and develop women's sports by organizing tournaments, training courses and workshops. Indeed, we have been able to achieve a lot of success in this field and the number of women practicing sports keeps increasing.
"A number of government and private institutions now have a women's sports team in their organization with professional trainers, and you can see them participating in all the different tournaments organized or supported by the Council." — SG
https://saudigazette.com.sa/article/597680/Sports/DSC-announces-badminton-tournament-for-women
--------
Petition Filed Against Social Media Attacks On Women Journalists In Pakistan
Kalbe Ali
09 Sep 2020
ISLAMABAD: A public petition has been filed by a large number of mediapersons against social media attacks on women journalists by those affiliated with the government, political parties, their supporters and social media wings, impacting their work, mental well being and security.
The petition said these attacks included gender-based and sexualised abuse, discrediting, targeting and persecution.
The petition demanded an inquiry into the mandate of the social media cells of the federal and provincial governments operating on taxpayers' money. Often it seems like the mandate of these social media cells is to discredit journalists and analysts without any evidence.
It has been demanded that all political parties and institutions ensure transparency regarding the mandate and operations of their respective social media wings while the Election Commission of Pakistan should ask all political parties to submit detailed workings of their social media cells.
The petition added: "We endorse what our fellow colleagues have put on record on 12/08/2020, and widen the scope to reflect the magnitude and degree of trauma being experienced by women in media."
It said women in media were often targeted for reporting on issues that are critical of any political party and those differing from the government or a political party's position on any given issue.
The petition has been signed by around 140 media persons, including Nasim Zehra, Asma Shirazi, Fareeha Idrees, Batul Rajput, Mehar Bokhari, Gharidah Farooqui, Maria Memon and Tanzila Mazhar.
"A journalist's criticism of any given policy of Pakistan Tehreek-i-Insaf (PTI) or of political parties including Pakistan Muslim League-Nawaz (PML-N), Pakistan People's Party (PPP), religious parties and accounts affiliating themselves with state institutions may also unleash a barrage of abuse," the petition said.
It said the aggressive attitude against the women journalists on social media seemed to be met with indifference and in some cases even encouragement from party leadership which further emboldens trolls and abusers.
Such accusations then trigger abusive campaigns targeting journalists.
"So vicious is the campaign against women that even female members of our male colleagues' families are not spared, their photographs and videos are doctored, distorted and leaked on social media."
The petition demanded that the government and all political parties immediately draw up and adopt a code of conduct for social media teams of political parties, public bodies and other public/state institutions.
The parties should investigate and identify networks engaged in launching and running coordinated attacks, hashtag and abusive campaigns against women in the media and take action against those involved.
The complaints lodged by journalists with the Federal Investigative Agency (FIA) or the police regarding intimidation, threats and other forms of digital abuse should be processed fairly and efficiently without any pressure to withdraw or an environment of victim-blaming, it added.
https://www.dawn.com/news/1578641/petition-filed-against-social-media-attacks-on-women-journalists
--------
Pakistan: Poor Conditions Rife in Women's Prisons
September 7, 2020
(New York) – Pakistan's Human Rights Ministry has issued a report finding that women in prison face poor conditions and receive inadequate medical care, Human Rights Watch said today. The government should immediately carry out the ministry's recommendations to ensure adequate care and end mistreatment in women's prisons.
The report, "Plight of Women in Pakistan's Prisons," submitted to Prime Minister Imran Khan on August 26, 2020, found that Pakistan's prison laws did not meet international standards and that officials often ignore laws meant to protect women prisoners. Of the 1,121 women in prison as of mid-2020, 66 percent had not been convicted of any offense and were detained while awaiting conclusion of their trial. More than 300 women were detained in facilities outside the districts where they lived, making family visits nearly impossible. The prisoners included 46 women over the age of 60 and 10 girls under the age of 18. Only 24 female health workers are available to provide full-time care to women and girls in prisons across the country.
"The Human Rights Ministry has highlighted the massive scale of mistreatment of women in prison and the need for broad and sustained reform," said Brad Adams, Asia director at Human Rights Watch. "While an important step, this report can only bring change if Pakistani authorities follow its recommendations and end widespread abuse."
The report was the work of a committee appointed by Prime Minister Imran Khan on May 29 to examine the situation in women's prisons. The federal minister for human rights, Dr. Shireen Mazari, chaired the committee, which included representatives from provincial and regional governments and civil society groups.
On September 2, Khan ordered officials to carry out a Supreme Court decision compelling the release of women prisoners to reduce prison congestion and limit the spread of the virus that causes Covid-19. The women to be released are awaiting trial for minor offenses or have served most of their prison terms. Khan also asked for "immediate reports on foreign women prisoners and women on death row for humanitarian consideration" and possible release.
The committee found that prison staff routinely failed to observe appropriate protections against the spread of the coronavirus. Prison staff failed to put social distancing measures in place or require prisoners and staff to wear masks. The committee urged comprehensive medical screening for all entering prisoners.
Children who accompany their mothers in prison face additional risks. The committee found that 134 women had children with them in prison, some as old as 9 and 10, despite the legal limit of 5 years. At least 195 children were housed in prisons as of 2020. A critical lack of funding in the prison healthcare system has meant that mothers whose children are with them in prison often lack essential health care, leaving both the women and the children at risk of contracting infections. One prisoner reported that her child, who had a developmental disability, was not offered any support services or medical care despite the prisoner's repeated requests during her six years of incarceration.
The committee recommended reducing the proportion of prisoners held in pretrial detention, allowing women to be detained close to their homes to facilitate family visits, and reducing the number of women and girls in prison by developing alternative sentencing options and non-custodial measures for women and girls. The committee also said that individual cases should be reviewed to identify possible human rights violations and humanitarian needs, and recommended more training of prison staff, resources, and policies to address the mental health needs of women in prison, and development of post-release programs to help women and girls reintegrate into the community.
The report includes a detailed analysis of the extent to which Pakistan's national and provincial laws comply with the United Nations Rules for the Treatment of Women Prisoners and Non-custodial Measures for Women Offenders (the "Bangkok Rules"). The committee found important gaps requiring reform in the provincial and national legislative framework. They found that only Sindh province has enacted prison rules that comply with international standards.
Under the Bangkok Rules, non-custodial alternatives to custody should be preferred where possible if someone facing imprisonment is pregnant or has sole child-caring responsibilities. Children accompanying their mothers must receive suitable health care, at least equivalent to that available in the community. The decision as to whether a child is to accompany their mother in prison or be separated from their mother must be based on individual assessments and the best interests of the child. Children in prison with their mother should never be treated as prisoners, and their environment must be as close as possible to that of a child outside prison.
Pakistan needs urgent and comprehensive prison reform, with a particular focus on the rights of women, children, and at-risk prisoners, Human Rights Watch said. Widespread problems in Pakistani prisons were previously highlighted in a January 2020 Human Rights Ministry report submitted to the Islamabad High Court. The ministry found at that time that almost 2,400 prisoners suffer from chronic contagious diseases such as hepatitis, HIV, and tuberculosis. A lack of adequate medical facilities and healthcare workers for prisoners has exacerbated the situation. Half of the positions for prison medical staff were unfilled, and there have been acute shortages of medical equipment and ambulances.
Overcrowding remains a major problem. A November 2019 government report found that 77,275 inmates were held in 114 prisons with a total capacity of 57,742. The majority of people detained were awaiting trial and had not been convicted.
"The Human Rights Ministry report is an opportunity for the Pakistan government to take meaningful steps to improve the treatment of women in prisons in the country and start a much-needed process of systemic, large-scale prison reform," Adams said.
https://www.hrw.org/news/2020/09/07/pakistan-poor-conditions-rife-womens-prisons
--------
Funding crunch squeezes women's rights pioneer in Bangladesh
Stephan Uttom
September 09, 2020
More than four decades after a Catholic laywoman founded a community group that paved the way for the socioeconomic emancipation of countless Bangladeshi women, it is struggling for survival amid dwindling funds.
"We are in a serious crisis. Donors and donations have declined significantly, and we get no funding for administrative costs. Salaries of our workers remained unpaid for months. Moreover, our training centers and microcredit programs have been shut due to Covid-19. I never thought such challenges would befall us," Angela Gomes, 68, founding executive director of Banchte Shekha (Learn How to Survive), told UCA News.
"Our annual donations have dropped to about a half — from 10 million taka (US$117,647) to about 5 million taka. Large NGOs that used to finance our various projects have stopped funding due to their own funding restraints."
Gomes set up the organization in Jessore district in 1976 and registered it in 1981. It covers 18 out 64 districts of Bangladesh, benefiting about one million women and their families in up to 400 villages.
Over the years, the organization has promoted social, economic and human rights empowerment for thousands of rural women including victims of domestic violence, divorcees, single mothers and widows.
It has undertaken programs on justice, governance and leadership, food security and nutrition, education for disadvantaged children, health services (disabled, immunization, mother and child care, breast cancer), capacity building, water, sanitation and hygiene, and income generation.
It has mobilized poor rural women in community groups to teach them about their social and legal rights in order to end widespread domestic violence and to offer them financial and legal support. For economic empowerment, the group provided poor women support for livelihood training in agriculture, livestock rearing, fisheries and handicrafts.
It also started a medical-cum-care center for disadvantaged and disabled children and microcredit schemes for women's groups in dozens of villages.
The group became a leading organization for sustainable socioeconomic development for women in Bangladesh.
Gomes' decades-long dedicated work has brought her national recognition and numerous awards. In 1999, she was awarded the Ramon Magsaysay Award for her outstanding contributions to community leadership. In 2014, KIIT University in Odisha, India, conferred her an honorary doctorate degree for lifelong contribution to women's empowerment.
A story of defiance and resilience
Angela Gomes' life is an extraordinary story of defiance, resilience and success against various challenges — poverty, conservative society and brain cancer.
She battled poverty in the family, escaped from a looming child marriage, and faced abuse and insults from conservative villagers and clerics in the Muslim-majority country.
Gomes was born in 1952 to a Catholic family at St. Augustine of Hippo Church in Mathbari area of Gazipur district in central Bangladesh, the seventh of nine children.
As there was secondary school for girls in the area, her poor schoolteacher father wanted to marry her off after grade five, but she escaped with the help of the local parish priest. She was only 13.
She studied at a Catholic school in Kushtia district of western Bangladesh and later moved to Jessore to teach at church-run Sacred Heart School.
"I told my father that I would come back after completing grade 10. But I couldn't come back and never had time to get married," Gomes recalled.
While visiting poor families in slums and villages in Jessore, Gomes found women were facing widespread abuse and disrespect in families and society. She made up her mind to uplift downtrodden women and Banchte Shekha was born.
Villagers and Muslim clerics hated her advocacy for women's rights and dignity. They hurled abusive words, bricks and human excrement to stop her, but she didn't back down. Instead, she studied the Quran and explained to them how the scripture denotes dignified lives for women. It helped her win over her enemies.
In 1998, Gomes was diagnosed with brain cancer, but she recovered in 2010 after long, perilous treatment for years.
"By the grace of God, I am still able to move and work. I don't know how long I can continue, but I hope I can keep my efforts as long as I am alive," she said.
A dream to be fulfilled
For years, Gomes has dreamed of building a school, a college and a residential hostel for disadvantaged rural children. It has been delayed as it took a long time to secure funding for the project. The work was supposed to begin this year, but the plan has also been hit by Covid-19.
She believes this dream can be fulfilled in her lifetime, and even without her Banchte Shekha can continue the mission.
"I have tried to serve the purpose of the mission. Women are empowered and men are supportive of them. As this organization is based on women's rights, not a financial organization, it will survive and move on," Gomes said.
"I don't worry much nowadays. I have created many Angela Gomes in the past years and they will keep this organization running when I die."
https://www.ucanews.com/news/funding-crunch-squeezes-womens-rights-pioneer-in-bangladesh/89464
--------
In Turkey, unions and women's organizations call for defense of women's rights
September 1, 2020
Activists have called for an organized defense of women's rights in Turkey, where at least 15 women have been murdered in the last 10 days. Thirteen were killed by men and two died in suspicious circumstances.
President Recep Tayyip Erdogan's government is trying to take Turkey out of the Istanbul Convention, which obliges signatories to tackle gender-based crime, provide protection and services for women, and ensure that perpetrators are prosecuted. In March 2012, Turkey became the first country to ratify the convention. But the government now claims that it is incompatible with "family values," bowing to conservative and Islamist pressure.
Opposition politicians and women's organizations have warned that the ruling Justice and Development Party (AKP) is using rape and femicide as a weapon. Turkey has been rocked by a number of high-profile femicides such as the murder of Kurdish student Pinar Gultekin, which triggered mass protests across major cities in July.
The recent suicide of Kurdish teenager Ipek Er, who was allegedly repeatedly raped by Turkish soldier Musa Orhan, has increased scrutiny of the state's protection of alleged attackers after the sergeant was released from custody after less than a week.
Interior Minister Suleyman Soylu led the charge to defend Orhan, accusing women of protesting over the issue to divert attention away from problems within the Peoples' Democratic Party and Kurdistan Workers' Party. Today, Baris Altay, a Workers' Party of Turkey MP, was assaulted after Soylu inferred that the parliamentarian was a rapist. Altay had been calling on Soylu to have Orhan rearrested.
Emine Aksahin, chairwoman of the Egitim-Sen teaching union's Diyarbakir branch, warned that violence against women was being perpetrated by those in uniform. "Murders are being made a part of our lives. We women do not accept this," she said. Aksahin said that women from all walks of life were uniting across Turkey in resisting femicide.
Free Women's Movement activist Beritan Oner said that women were being murdered as a direct result of the government's attacks on the Istanbul Convention. "These men say, 'whatever I do, I will not be punished.' In other words, they say, 'men murder, the state protects'," she said.
Women's organizations and individuals have been targeted by security services with at least 54 detained in raids last month. Democratic Regions Party co-chair Sebahat Tuncel, who is currently in jail, called for unity today against assaults on women. "We know that women's struggle for equality and freedom is a difficult and long-lasting one, and the way for this struggle to succeed is by organized women's power," she said.
The Istanbul Convention and other legal protections were gained through women's fight against the "male-dominated capitalist system," Tuncel insisted, as she urged people to strengthen women's networks across the world.
https://peoplesworld.org/article/in-turkey-unions-and-womens-organizations-call-for-defense-of-womens-rights/
--------
Egyptian Women Embrace Natural Hair In Identity Revolution
Youssra el-Sharkawy
Sep 8, 2020
Every time Talaat combs her daughter's hair, it takes her back her own school years. She was bullied for having the same kinky hair, ruining her teenage life. But she's determined her daughter will have a different experience.
"I was, like, fighting every day for no reason except that I have curly hair in a society that believes in one kind of beauty," Noha Talaat, a 37-year-old English teacher, told Al-Monitor.
As a girl with dark skin and kinky hair in a society that embraces European beauty standards, Talaat used to hear people describe her as a "house maid" when she was just 13 years old. Her colleagues would also bully and reject her.
"I tried hundreds of methods and products to straighten my hair to avoid bullying, but the result was that I got depressed and I damaged my hair. I don't want my daughter to suffer like me," said Talaat. She found refuge in emerging online platforms that offer help on how to take care of her natural hair.
Although this hair type is common among Middle Eastern people, Egyptians with it are often regarded as inferior. The discrimination pushes many people, especially women, to straighten their hair using heat and chemical treatments and to even cover it with wigs.
Last year, CAPMAS estimated the value of Egypt's imports of wigs, mostly from China, at 3 million Egyptian pounds (about $181,000), or about 7.5% of Egypt's total imports from China during the first quarter of 2019.
But a new movement has emerged as women, beauty salons and online platforms have revolt against the norms. They sought and offered services and advice for taking care of their natural curly hair.
There are now many groups and social media pages like Curly Hair Egypt, which offers advice and fights discrimination. Egyptian Curls offers reviews on relevant hair products, The Hair addict sells appropriate products and The Curly Studio is a hairdresser dedicated to curly hair.
Sara Safwat, founder of The Curly Studio, is a pioneer of the natural hair movement in Egypt. She opened her salon three years ago.
"Curly hair is an identity for us. … About 80% of us have curly or wavy hair. But this identity has been obliterated or became indistinct as many people have sought straight hair," Safwat told Al-Monitor.
Safwat established her studio because she didn't find anyone to help her take care of her own hair.
"My mother never urged me to straighten my hair. I grew up loving my hair. But I faced bullying in the street. Surprisingly, it was by women," she said.
"When I was 12 years old, I used to go to school by subway. I was thin with thick, long, curly hair. Women used to stare at me and speak about me as if I were odd. So I decided never to take the women-only subway car and take the mixed one instead. I chose to ride in the mixed car and to be anxious of harassment, to escape the bullying and curious eyes," she explained.
The natural hair movement started about three years ago. After Safwat opened her hair studio, other groups and hairdressers emerged along the same path, revolting against societal beauty standards. Together they urged more women to accept their natural hair and to feel confident.
"When we go to any European or American county with our curly hair, people stop us in the street to ask us how we do our hair. It's our special feature so we should take care of it," Safwat said.
"I feel that now, with the help of many guiding groups and natural products, that the beauty standards have changed. More women are wearing their hair curly and this encourages other women to go natural," Safwat added.
Men also face bullying for their hair.
"We don't care about people's opinion much, but sometimes it hurts when you are called 'the guy with the messy hair.' They don't understand that it's natural, they always feel it's carelessness by me," recent university graduate Hassan Mohamed told Al-Monitor.
"I joined some online groups for curly hair because I want to help spread awareness about us. We need people to accept us," he added.
But some mothers still urge their daughters to straighten their hair.
"Beauty standards are planted in women's minds since childhood. And as life standards change from place to place, culture also changes. Communities with less education and understanding often bully others [over their] curly hair. But these cases have decreased. Now I receive mothers who come to me with their daughters asking me to take care of their curly hair," Safwat explained.
Many young women, even brides, are wearing their hair naturally on formal occasions without a hint of shyness.
"I think that natural hair is my identity. You need to accept your natural hair as it is, just like you have to accept your name, your skin color or anything else that identifies you," university student Wesal Aboelsoued told Al-Monitor.
Aboelsoued joined many curly hair groups and learned a healthy hair routine that avoids damaging heat treatments.
"I love the movement as I don't want to live my whole life with hair that's not mine," she told Al-Monitor. "It's not just about the curly hair, it's about accepting yourself and the people around you — and even if you still can't accept them, at least be nice," she added.
For Safwat, Aboelsoued and many other women and men, the natural hair movement is about more than hair care. It promotes self-acceptance.
"Our aim is to help every woman feel and say 'I love myself, I accept myself, I won't change the real me for anything or anyone.' Wearing your hair natural definitely boosts your self-confidence; don't settle for less," Safwat said.
https://www.al-monitor.com/pulse/originals/2020/08/egypt-natural-curly-hair-movement-bullying-beauty-standards.html
--------
Australian Women and Children Reportedly Snatched from Syria's Al-Hawl Refugee Camp
Ben Dohertyand Naaman Zhou
8 Sep 2020
Australian women and children have been snatched from the al-Hawl refugee camp in north-east Syria, where families of Islamic State fighters are detained, according to reports from inside the camp.
It is understood at least four women and 10 children, all Australian, were removed from the camp, handcuffed and driven away in a white van overnight on Saturday.
Their location and the identities of the men who took them are still not known.
Kamalle Dabboussy, whose daughter and grandchildren are in the camp, but were not taken, told the ABC the Australian women and children had been taken by unidentified men in the middle of the night, and none had yet made contact with their relatives.
"There was a lot of screaming and shouting," he heard from others in the camp. "Kids were crying … It was very traumatic the way they were taken. They were apparently handcuffed."
The deputy chief executive of Save the Children, Mat Tinkler, said he was deeply concerned about the welfare of the Australians.
"It's hard to imagine more vulnerable children than these Aussie kids, who have endured another brutal summer in north-east Syria living in a camp without running water or adequate health services, and where people live in flimsy tents at the mercy of the elements," he said.
The Australians in al-Hawl camp are family members of former foreign fighters who have been captured or killed. None of the women in the camp have been charged as being combatants, though arrest warrants have been issued for some, and many were coerced, forced or tricked into travelling to Syria.
Before Saturday night, there were 19 Australian women and 47 Australian children in the camp, and the youngest child is one-year-old. The government is aware of their identities and the bona fides of their citizenship or right to claim that citizenship.
Conditions in the camp are poor and in February a three-year-old Australian girl contracted severe frostbite on her left hand during the winter.
On Tuesday, Dabboussy urged the Australian government to take up the offers made by the US, the Red Cross and the UN to help it repatriate its citizens from the camp.
Tinkler said the government should "do everything possible" to ensure their safety.
"Australia has had numerous opportunities and offers of assistance to bring these Aussie kids and their mothers home from one of the most dangerous places on Earth," he said. "The government must do everything possible to ensure the safety of these Australian children and women, and those remaining in al-Hawl."
Women in the camp have previously said they would agree to monitoring, such as control orders, if they returned to Australia.
Were the children and their mothers able to get to an Australian embassy or consulate, the Australian government would be legally obliged to provide them travel documents to return home.
But the Canberra has consistently refused to repatriate its citizens, despite the urgings of the US and Kurdish forces running the camp, and other countries such as the UK, Germany, Denmark and France repatriating their citizens.
A small group of Australian orphans has been repatriated home, but no family members with adults have been brought back since the Australians were taken to the camp a year ago.
The home affairs minister, Peter Dutton, has said the government is not prepared to risk other Australian lives in any repatriation effort. He said some of the Australians in the camp were "hardcore" and "have the potential and capacity to come back here and cause a mass casualty event".
"So I don't think it should come as a surprise when we say we're not going to send our soldiers to rescue people of this nature."
Sources in the camp say repatriating foreign nationals remains relatively straightforward. Kurdish forces have been taking foreign citizens across the nearby Iraqi border, without the involvement of third country troops or diplomatic staff.
The Department of Foreign Affairs and the Department of Home Affairs have been contacted for comment.
https://www.theguardian.com/world/2020/sep/08/australian-women-and-children-reportedly-snatched-from-syrias-al-hawl-refugee-camp
--------
Female Women's Protection Units Fighter In Syria Allegedly Murdered By Relatives In 'Honour' Killing
September 03-2020
ERBIL (Kurdistan 24) – The UK-based Syrian Observatory for Human Rights (SOHR) on Monday reported that a member of the Women's Protection Units (YPJ) was killed by her brother in the Syrian town of Darbasiyyah, located near the Turkish border.
One source claimed that her brother said he killed her because she "brought shame and dishonour upon the family."
In the region, there is a history of men being accused of killing women or girls perceived to have brought shame to a family or tribe being given token sentences, or in other cases, escaping justice entirely.
Even though such acts are technically illegal in Syria, Iraq, and other nearby countries, their prosecution, in practice, is sometimes dealt with as a "family" matter and kept out of the courts.
In other cases, the murders are made to look like suicides.
A source from Kongra-Star in Darbasiyyah, a confederation of women's organizations, told Kurdistan 24 that the woman was known as Beritan, had lived with her family in the town until she told them she had joined the YPJ. According to the source, her father and step-siblings were not pleased with her decision. After her two stepbrothers tried to force her to go with them to go to Hasakah instead and she refused, one of them allegedly shot and killed her.
The source added that the family members are ethnic Arabs, remarking, "As you know, joining YPJ is not something uncommon among the Arab community."
An official Kongra-Star statement read, "Violence against women is one of the most common violations of human rights, but most of these violations are not reported because of the absence of penalty."
"We, as women's movement, call on all the women, civil rights institutions and the civic society institutions to take a rapid initiative to stop these crimes and not to be slow in holding the criminal accountable and applying the heaviest penalty so we can see that justice is done."
Thomas McClure, a Syria-based researcher at the Rojava Information Center, told Kurdistan 24 that the YPJ, established in 2013, is known the world over for their efforts to establish a new form of autonomous, female-led democracy in northeastern Syria.
"But this week's honor killing underscores a reality many miss - that many parts of society in NES (Northeast Syria) remain deeply patriarchal, conservative and religious," he said.
"Northeast Syria's population is overwhelmingly Sunni Muslim - both Kurds and Arabs. Though ISIS have been defeated and driven out of their strongholds in Raqqa and Deir ez-Zor, ISIS' mentality and sleeper-cells still enjoy strong support in these regions," he continued, "while Turkish-controlled groups continue to abuse, abduct and murder women and in some instances impose sharia law in regions under their occupation."
Moreover, he added that, although the local Autonomous Administration of North and East Syria (AANES) promotes and enshrines women's rights into their laws, females living in areas under their control "continue to face major violence and oppression in the family home."
"Bodies like Mala Jin (Women's House) and the women's movement Kongra-Star work tirelessly to provide routes for women to escape abusive or dangerous situations, while YPJ, too, has provided a route for thousands of women to leave the family home and achieve newfound autonomy," said McClure. "But profound entrenched misogyny is not changed overnight, and this latest honor killing underscores how much work remains to be done in Northeast Syria."
On Aug. 21, Kongra-Star and other women's rights institutions westward in the city of Kobani also started a campaign entitled "She did not commit suicide, you killed her," reported the Hawar News Agency. The campaign was launched after an increase in murders of females there, plus other deaths that were officially ruled suicide, but where so-called honor killing is strongly suspected.
https://www.kurdistan24.net/en/news/d0a68985-8a31-46b9-8c8d-9dde8d116d75
--------
URL: https://www.newageislam.com/islam-women-feminism/turkey-granted-refugee-status-iranian/d/122820
New Age Islam, Islam Online, Islamic Website, African Muslim News, Arab World News, South Asia News, Indian Muslim News, World Muslim News, Women in Islam, Islamic Feminism, Arab Women, Women In Arab, Islamophobia in America, Muslim Women in West, Islam Women and Feminism