New Age Islam News Bureau
22 December 2020
• Karima Baloch a Vocal Critic Of The Pakistan Government In Balochistan And A Strong Proponent Of Gender Equality, Found Dead in Cnada
• Intisar Foundation's Drama Therapy Heals Arab Women Effected by Wars
• Sheikha Al-Harbi, First Saudi Woman To Receive COVID-19 Vaccine
• Islamic Feminists Speak on Fight to Reclaim Rights
• Alkhorayef: Industrial Sector Opens Up Great Space for Women
• Female Participation In Non-Agri Sector: Bangladesh Better Off Than India, Pakistan
• Mothers At Work: Project For Women's Employment In Turkey Expands Scope
Compiled by New Age Islam News Bureau
URL: https://www.newageislam.com/islam-women-feminism/turkey-gives-22-year-jail/d/123845
--------
Turkey Gives 22-Year Jail Term to Kurdish Female Politician, Leyla Guven, On Terror-Related Charges
21 December 2020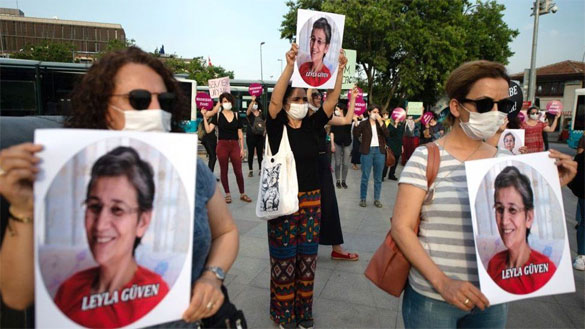 Leyla Güven's legal team said they would appeal against the verdict
------
A court in Turkey has sentenced a former pro-Kurdish lawmaker who was stripped of her parliamentary status earlier this year to more than 22 years in jail on terror-related charges.
On Monday and at the court hearing in the predominantly Kurdish southeastern city of Diyarbakir, Leyla Guven was given 14 years and three months on a charge of membership in a 'terrorist organization,' and an additional eight years for two separate charges of disseminating 'terrorist propaganda.'
Guven, an opposition Peoples' Democratic Party (HDP) deputy, was not present at the hearing and her whereabouts were not immediately clear.
The court ordered Guven's immediate arrest. Her legal team said it would appeal.
The daughter, Sabiha Temizkan, said her mother was convicted for her work with the pro-Kurdish Democratic Society Congress (DTK), a civil society group which remains under close scrutiny by the Turkish state. She called the Turkish government "the enemy of the law."
The 56-year-old female politician shot to fame two years ago by spearheading a hunger strike by thousands of inmates who called for an end to jailed Kurdish leader Abdullah Ocalan's years of isolation.
Last year, Guven was freed under judicial control after serving a one-year term for labeling the Turkish military operation against Syrian Kurdish militant groups an 'invasion.'
"I uttered a scream in the dark... I started by daring to die for this cause," media outlets then quoted Guven as saying.
The Turkish government-backed militants were deployed to northeastern Syria in October 2019, when the Turkish military launched a long-threatened cross-border invasion in a declared attempt to push militants of the Kurdish People's Protection Units (YPG) away from border areas. Ankara views the US-backed YPG as a terrorist organization tied to the homegrown Kurdistan Workers' Party (PKK).
In recent years, Ankara has jailed dozens of mayors and other officials from the HDP, which is the third largest party in the Turkish parliament.
Guven had been accused of having links to the PKK.
Other members of the HDP, including its co-leaders, face similar charges. They deny the charges, saying they are victims of a crackdown by the government which was launched after a failed coup less than two years ago.
Thousands of people, including a large number Kurds, have been jailed over alleged links to the July 15, 2016 coup or other terrorism-related charges.
Rights advocates have criticized Ankara for suing people over expressing opinions, describing it as a means of aggressive muzzling of dissent in Turkey.
https://www.presstv.com/Detail/2020/12/21/641214/Turkey-HDP-Guven
--------
Karima Baloch a Vocal Critic Of The Pakistan Government In Balochistan And A Strong Proponent Of Gender Equality, Found Dead in Canada
Pia Krishnankutty
22 December, 2020
Activist Karima Baloch | Twitter | @KarimaBaloch
------
New Delhi: Human rights activist and former chairperson of Baloch Students Organisation – Azad, Karima Baloch was reportedly found dead in Toronto, Canada Sunday.
According to a report in The Balochistan Post Monday, 35-year-old Karima, who was a vocal critic of the Pakistan government, went missing Sunday and was last seen at approximately 3 pm in the Bay Street and Queens Quay West area. The Toronto Police carried out a search along with public assistance before Baloch's family confirmed that the body was found.
The activist, who had taken refuge in Canada, was critical of the atrocities meted out to the people of Balochistan in Pakistan. She had also raised the issue of gender inequality in Pakistan at the United Nations during the 39th Session of the Human Rights Council in 2018.
"If a woman is killed by her brother in the name of honour, the Islamic law allows him to settle the case with the father or the rest of the family. In most of the cases, the family forgives the murderer who goes scot-free. Also, as a testimony of two women is equal to one man, rape cases are less likely to be decided in favour of the victims," said Karima in her speech.
She added: "Apart from these basic flaws in the legal system, religious groups have launched an assault against the women's freedom throughout Pakistan, especially in Balochistan."
Part of BBC's 100 most influential women in 2016
In 2016, she was named as one of the world's 100 most "inspirational and influential" women by the BBC, which she said she would share "with countless inspirational women in Balochistan freedom struggle (sic)".
Baloch last tweeted on 11 December about Shabeer Baloch, activist and Baloch Students Organisation – Azad information secretary who was allegedly abducted by the Pakistani Army on 4 October 2016, from Gowarkop in Balochistan.
This is not the first time an activist from Balochistan has died under mysterious circumstances. In May this year, Baloch journalist Sajid Hussain was found dead in Sweden after going missing from the city of Uppsala earlier in March.
The Balochistan province, located in southwestern Pakistan, is one of the longest-running insurgencies in the world with several Baloch groups engaged in an armed conflict with the Pakistani Army due to Punjabi dominance and economic alienation, among other issues.
https://theprint.in/world/baloch-activist-gender-inequality-critic-karima-baloch-found-dead-in-canada/571456/
--------
Intisar Foundation's Drama Therapy Heals Arab Women Effected By Wars
Jackie Abramian
Dec 20, 2020
Women comprise 50 percent of the over 25 million refugees, internally displaced, or stateless population worldwide. Of the nearly 80 million displaced people worldwide, over 50 percent are from the Arab region. With the Arab world plundered in escalated militarism and wars, over one million Syrian refugees live in Lebanon–nearly 70 percent live below the poverty line, one in four suffers from anxiety, one in three from depression and two-thirds of Syrian refugees in Lebanon have post-traumatic stress disorder (PTSD).
"There's an aversion in the Arab world about seeking psychological help," explains HH Sheikha Intisar AlSabah of Kuwait, founder of the UK-registered charity, Intisar Foundation which in 2018 became the world's first and only nonprofit, charitable organization that offers Drama Therapy for Arab women traumatized by wars. "Arab women affected by wars are uncomfortable about discussing their problems with male psychologists–alone in a room. And there's a cultural habit of burying your trauma so it's not surfaced."
Sheikha AlSabah's mission is to empower 1 million Arab women for peace across the Arab world as women remain frontline victims of the consequences of war, domestic abuse and cultural oppression. With only few female Drama Therapists in the Arab world currently, the Foundation has signed recently an MOU with Lebanon's Holy Spirit University of Kaslik (USEK) to offer 15 scholarship grants every year to female students from across the Arab world to enroll in USEK's Drama Therapy Master's degree program. It hopes to have 300 certified Drama Therapists and 300 supporting aids to build the foundations for peace, empowering Arab women affected by wars.
The Foundation's advisory board are top experts in the field including Dr. Nisha Sanjnani, Associate Professor and Director, Drama Therapy Program at NYU and Richard Hougham, Principal Lecturer, Drama and Movement Therapy at UK's Royal Central School of Speech and Drama, and the Foundation's CEO, Karima Anbar attest to its continued success.
To date, the Foundation has completed 10 Drama Therapy programs with 200 women participants who spent nearly 400 hours learning and practicing transformational exercises. The women have performed six Acting Out Our Mission of Peace plays for audiences across Lebanon and Jordan–the countries where the Foundation is currently active.
Sheikha AlSabah's humble, charismatic and spirited personality is refreshing and a testament to her commitment to Intisar (victory in Arabic) Foundation's mission having herself traumatized by war during the Iraqi invasion of Kuwait in August 1990. Within hours of the invasion, the over four million populated, oil-rich country's capital city fell and its head of state, Sheikh Jaber al-Ahmad al-Sabah, fled to Saudi Arabia.
The invasion ended Sheikha AlSabah's peaceful life surrounded by nature, palm oasis, and wildlife. As a young mother of four daughters, she focused on protecting her children from the bombings and violent scenes, while suppressing her own trauma after witnessing corpses of soldiers, and her country's destruction.
"I had no emotions throughout the violent invasion," Sheikha AlSabah remembers shielding her daughters from bombings as they escaped through the desert into Saudi Arabia and from there to London, where they remained until Kuwait's liberation. "Reflecting, I know I suppressed emotions. I was traumatized and angry–fearful and scared of angry emotions."
Sheikha AlSabah found "positive psychology as a way to overcome the chaos" around her. To share the impact of focusing on the positive aspects of life with the masses, she created a six-week mini curriculum that piloted in Kuwait's schools in 2016. The curriculum is currently in 47 public schools, taught by 470 teachers to over 11,000 students.
"While everyone thought at first that I lived in a bubble, was rich and wasn't in touch with realities of the world, studies prove that attitudes can change from negative to positive. If you highlight the bad, people follow it. If you highlight the good, people follow it and see a way to change," Sheikha AlSabah is proud of the curriculum's significant impact on the students' academic achievements–which was measured, presented to the Ministry of Education in 2018 and now integrated into Kuwait Vision 2035. An MOU with Kuwait University will further develop the curriculum. Its impact will be measured and published as part of KU's Master's program.
Drama Therapy's Transformational Powers
The idea for the Intisar Foundation came about when Sheikha AlSabah and the International Committee of Red Cross (ICRC) organized an art exhibit in Kuwait on women affected by wars. Well aware of the powers of positive psychology, AlSabah found there were no mental health programs for women victims of war. She joined ICRC and UNHCR for a trip to Lebanon to work with women living in refugee camps.
Of the various therapy sessions, Drama Therapy–a therapeutic approach using theatrical techniques to facilitate psychological healing– proved the most altering mental and emotional outlet, reversing the adverse effects of war among women. The multi-generational group of participating women opened up, discussed fears, laughed, made friends with a community of supportive women–showing affirmation, self-confidence, and self-worth.
Partnering with local NGOs, which Sheikha AlSabah vetted to ensure their full and genuine dedication to humanitarian work, not profiteering, the Foundation uses the NGOs' networks and space to work in Lebanon's Shatila camp and Tripoli and in Jordan. They focus on women refugees and socio-economically disadvantaged, suffering from problems stemming from atrocities of war. Living in dire circumstances lacking basic human rights and infrastructure, the women suffer from post-migration trauma, escalated rates of abuse, high rates of "comorbidity of post-traumatic stress disorder, depression, generalized anxiety, low self-esteem, and a distorted self-image."
While the NGOs provide women participants, the Foundation underwrites the free Drama Therapy programs, rental fees for a safe site to hold the sessions, transportation to and from the site and food and refreshments during the sessions. The Foundation also hires Drama Therapists and the assistants for the intensive 12-16-week sessions, where up to 20 women (Lebanese, Palestinian, Syrian and Jordanian), between the ages of 16 to 70-years-old, spend three hours per week. The sessions integrate storytelling, dance, movement, socio-drama multidisciplinary tools from playback and physical theatre, to theatre of the oppressed, and psychodrama–integrating music, theater and props.
"Women who are numb to pain can also become numb to pleasure. But with the right training, the women blossom," AlSabah's face brightens as she admits that witnessing the change in the women is one of the best things she has seen. "The most noteworthy change among the war traumatized women is they gain the courage to minimize the abuse done to them. After seven or eight weeks of training, the women raised their arms to stop their husbands from hitting them. They also became gentler with their children."
The women have also learned to better manage anger, shame and grief as they "revisit and transform rage into empathy within a safe, contained environment." The four stages of the sessions begin with developing a rapport among the women to contain social and "emotional skills and self-confidence enabling both inter–and intrapersonal skills." Women open up, cry, share their pain, push their boundaries to move and express their inner feelings, phobias, fears, oppressed silences and find solace among a community of women. Research has shown that through Drama Therapy war refugees have reduced symptoms of impairment and improved mathematical performance, suggesting a boost in cognitive abilities.
Monthly follow-up sessions continue after the completion of the program. Amidst the pandemic, Drama Therapists check in on the women via virtual sessions–a new way of working not thought possible. Due to domestic chores, sessions are shorter but remain efficient.
Research has shown that transforming 12 or 14 percent of the women will impact their entire community. To create a "ripple effect" the Foundation plans to train 100,000 women to impact nearly one million across the Arab world. Intisar Foundation's publication of a new research booklet, "Can Drama Therapy Evoke Neuroplastic Changes in The Brain?" is an unprecedented study on the neurobiological aspect of trauma and Drama Therapy–proving "constant, repeated, and strong stimuli" activities of new learning experiences foster positive alterations in the brain and behavior, builds and strengthens certain brain pathways reinforcing "thinking habits, emotional processing, and physical activities."
"We advocate that women can and will be advocates of peace. Why can't peace start from the bottom–war starts from the bottom? When we talk about Arab women bringing peace to the Arab world–we show the research. Neuroscience of Drama Therapy and peace prove women spiritually and physically change through the use of cognitive, narrative, emotional and body movement," confirms Sheikha AlSabah.
Measuring the impact of its success to date will be used as evidence to change policy. As a social philanthropist, Sheikha AlSabah dedicates 50 percent of profits from her other businesses–mainly her two brands of jewelry, to fund the Foundation. Now with social impact results measured and available, the Foundation now seeks support in the Arab world.
"People are hungry for things that make them feel good – not only in Kuwait, but around the world. When you feel good, you can conquer the world," Sheikha AlSabah says determined. "It's critical for women to have access to mental health support to feel safer and stronger. Mental health must be a priority to stop trauma from solidifying among war victims–only then can women become actively involved in achieving peace."
https://www.forbes.com/sites/jackieabramian/2020/12/20/intisar-foundations-drama-therapy-heals-arab-women-effected-by-wars/?sh=49edf4453eaa
--------
Sheikha Al-Harbi, First Saudi Woman To Receive COVID-19 Vaccine
Ismaeel Naar
21 December 2020
Sheikha al-Harbi became the first Saudi Arabian woman to receive the Pfizer COVID-19 vaccine in Saudi Arabia and said she advises all throughout the Kingdom to get vaccinated in order to reach an end to the coronavirus pandemic.
"I insisted because since this disease came and we have not been able to get out and leave the house. We were kept being told not to visit others and not let others visit us. The moment they told us there was a vaccine, I said I'd take it," al-Harbi told Al Arabiya during an interview.
Al-Harbi's decision to be the first to take the COVID-19 vaccine has a personal reason as well, after the virus took her own sister and her brother-in-law's life recently.
"It has taken my sister and her husband. And people are afraid of diseases and of mixing with each other. My sister was older than me. She had blood pressure, diabetes and asthma. She herself was in a poor health state. She was in Medina and I wasn't with her, but it didn't last long, one week and she passed away," al-Harbi said.
Saudi Arabia's Ministry of Health on Monday confirmed 168 new coronavirus infections, bringing the total number of total confirmed cases in the Kingdom to 361,178. The health ministry also reported nine more virus-related deaths over the past 24 hours, marking the lowest single-day fatalities in as many months.
Earlier in the weekend, Saudi Arabian citizen Emad al-Daihan became the first citizen from Saudi Arabia on Thursday to receive the Pfizer-BioNTech COVID-19 coronavirus vaccine (Tozinameran) in the capital Riyadh.
https://english.alarabiya.net/en/coronavirus/2020/12/21/Coronavirus-Coronavirus-Meet-Sheikha-al-Harbi-first-Saudi-woman-to-receive-COVID-19-vaccine
--------
Islamic Feminists Speak on Fight to Reclaim Rights
By Mariya Salim
22 December 2020
NEW DELHI, India, Dec 22 2020 (IPS) - The court victory to allow women into the inner sanctum of a Sufi shrine in Mumbai was a significant victory for a secular rights-based movement led by Muslim women. However, there is a fear the political climate in India regarding Muslims, could put the women's rights agenda on the back foot.
Zakia Soman, co-founder of the Bhartiya Muslim Mahila Andolan (BMMA) or the Indian Muslim Women's movement, in an exclusive interview to IPS, said the historic victory was important for the women-led group to check this (Patriarchal male clergy-led) arrogance.
"Most of our members have an intimate devotion to Sufism. We cannot allow a bunch of conservative men to take it away from us. We are equal humans, equal Muslims, and equal citizens in a democracy," she says.
"When they refused to listen to us and continued to bar us from entering the shrine, we unanimously decided to take them to court."
The BMMA in 2016 filed Public Interest Litigation when after years of unfettered access to a Sufi shrine, the Haji Ali Dargah, a sudden restriction was placed on women entering the inner sanctum of the shrine.
The submissions made by the organisation to the High Court questioned this prohibition both based on constitutional guarantees as well as women's rights in Islam. The verdict was in their favour and in 2016 the High court held that 'Women must be permitted to enter the sanctum sanctorum on a par with men'.
Soman says the Haji Ali victory was personally a tribute to her maternal grandmother who was a devout Sufi.
Another achievement for the BMMA has been the slow acceptance of Female Qazi's performing the 'Nikah' or marriage for Muslim couples. A domain which has exclusively remained with men, despite there being nothing in the religion that prohibits a woman from solemnising a Nikah.
However, the BMMA has been at the receiving end of criticism for their fight to codify Family laws in India. Many believe the anti-Muslim communal climate in the country calls for other issues to take the lead.
"Today Indian Muslims are facing tremendous onslaught in the form of lynching, discriminatory laws citizenship laws and the looming National Registry of Citizens, so-called love jihad laws etc.," says Soman.
"There is a direct onslaught that puts a question mark on the citizenship and patriotism of Muslims. I am not sure how many women would come forward to fight for rights in the family when faced with such huge political dangers."
She recognises the need to keep fighting for gender-just reforms in family laws from within.
BMMA and many other Muslim women's movements across the globe question the patriarchal interpretations of religious texts which treat women as unequal. As Islamic Feminists, they believe that their religion believes that they are equal to their male counterparts.
Zainah Anwar, Executive Director of Musawah, the global movement for equality in the family and Co-Founder of Sisters in Islam, Malaysia says: "For many of us Muslim women who choose to engage with religion in the realm of women's rights, it is an article of faith that Islam is just, and God is just".
"If justice is intrinsic to Islam, then how could injustice and discrimination result from the codification and implementation of laws and policies made in the name of Islam," she asks in an exclusive interview with IPS, questioning the patriarchal family laws implemented in the name of religion.
Historian and academic Dr Margot Badran defines 'Islamic feminists' and says that they draw on the 'Quranic concept of equality of all human beings' and thereby insist on applying this concept to everyday life. Defining 'Islamic feminism' she says that it "explicates the idea of gender equality as part and parcel of the Qur'anic notion of equality of all insan (human beings) and calls for the implementation of gender equality in the state, civil institutions, and everyday life."
Throughout the world, Muslim men have been at the realm of interpreting Quranic texts, and these interpretations have been mostly patriarchal. Islamic feminists, however, are changing the contours of these debates.
The movement has a long history and in March 2005, Amina Wadud, an Islamic scholar, and feminist was at the centre of the debate, criticism, and discussion. Dr Wadud accepted the invitation to lead a mixed prayer, and led it, in the Synod House, New York. At the receiving end of death threats and criticism from those who believed that Islam prohibits the act, the former Islamic studies professor at Virginia University said in many media interviews that followed, that, "There is nothing in the Qur'an or the hadith that forbids me from doing this."
Post the Shah Bano judgment in India and the passage of the Muslim Women's bill in 1986, and amidst a communally polarised atmosphere, Muslim women who developed a feminist consciousness tried to address gender injustice in the Muslim personal law being followed at the time by invoking and relying on Islamic reinterpretations of sacred texts.
As in Muslim societies at the time, in India as well, in this period, women were perceived as symbols of religious tradition with any dissent on their part being construed as a betrayal to community identity.
This paradox, however, came to a halt in Muslim societies, as the twentieth century drew to a close. Like their counterparts in the Muslim majority states, conservative (mostly Ashraf or higher caste) male clergy in India started laying greater emphasis on patriarchal gender notions which in turn provoked many women to take up activism to counter these claims.
These women saw no inherent connection between patriarchy and Islam. By the end of the 1980's there was an emergence of a movement which was 'feminist in its aspirations and demands yet Islamic in its language and sources of legitimacy, one version of this new discourse is Islamic feminism'.1
In recent times, there have been several efforts in various parts of the country for Muslim women to enter the religious realm interpreting the Quran and Shariat from a women's perspective. They have worked towards reclaiming spaces using constitutional means and the law of the land as well, that have been increasingly taken away from them.
Questioning status quo, however, is not easy and Muslim women across the world challenging patriarchal norms have faced resistance from within and outside their communities. Anwar tells IPS: "We are often accused of being westernised elites, anti-Islam, anti-Shari'ah, women who have deviated from our faith and have weak Iman (faith). Reports are made against us to the police, to the religious authorities to take action against us, to silence us, to charge us for insulting Islam, to ban our groups."
"We cannot be told that Islam is a way of life … and then confer on Muslim men the sole authority to decide what Islam is and what it's not. That's despotism. As we can see from Muslim women leading movements all over the world for reform and rights – we will not be silenced and intimidated," says Anwar.
1 Ziba Mir‐Hosseini, 'Muslim Women's Quest for Equality: Between Islamic Law and Feminism' (The university of Chicago Press 2006) 32 (4) Critical Inquiry 629
Mariya Salim is a fellow at IPS UN Bureau
http://www.ipsnews.net/2020/12/islamic-feminists-speak-fight-reclaim-rights/
--------
Alkhorayef: Industrial sector opens up great space for women
December 21, 2020
RIYADH — Bandar Alkhorayef, the minister of industry and mineral resources, and the chairman of the board of directors of the Saudi Authority for Industrial Cities and Technology Zones (MODON), said that the industrial system is working to enhance the participation of women in the development process and to create opportunities for them in this vital sector.
Addressing the virtual conference on "Women in Industry 2020" on Monday, the minister said that the industrial sector is passing through a golden and historic phase in which women can play a greater role.
Alkhorayef said that the industrial sector has begun to change radically, which opens up a great space for women to work in this sector, in a manner befitting their capabilities. He indicated that the ministry sought to create an appropriate environment for women in the sector, especially in light of the adoption of the techniques of the Fourth Industrial Revolution, and the automation of work, which will provide many opportunities for entrepreneurs and young women who are eager to take advantage of the opportunities. There are also ample qualitative jobs appropriate and suitable to the capabilities of women.
Alkhorayef noted that the factories of today and the factories of the future are different from the factories that were in the past, as the latter is more amenable to creative work apart from the routine work, especially with the spread of technology that will replace many jobs. "The industrial system relies heavily on the female component, to be a source for creativity and change, moving from the realm of typical work in the industrial sector to that of the future work," he added.
In his speech, the director-general of MODON Eng. Khalid Al-Salem said that the conference represents an exceptional platform that brings together officials, experts, specialists, and interested parties to discuss the best ways to empower women in the industrial sector and to enhance their vital role in the national economy as well as to achieve sustainable development.
https://saudigazette.com.sa/article/601684/SAUDI-ARABIA/Alkhorayef-Industrial-sector-opens-up-great-space-for-women
--------
Female participation in non-agri sector: Bangladesh better off than India, Pakistan
Kamrul Hasan
December 22nd, 202
In the non-agri sector of Bangladesh 20.7% of the employees are women
Among the three countries with a comparatively big economy and population in South Asia, a higher number of women is participating in non-agriculture jobs in Bangladesh, than in India and Pakistan, finds a latest report.
The Human Development Report 2020 titled "The Next Frontier: Human Development and the Anthropocene" by the United Nations Development Programme published globally six days ago and in Bangladesh on Monday morning, came up with the ranking.
The Life Course Gender Gap data of the report says 20.7% of the employees in this sector are women in Bangladesh while the share is 15.9% in India and 11% in Pakistan.
According to the Gender Development Index, estimated gross national income per capita (in Purchasing Power Parity -- PPP, in theory, 1 PPP dollar has the same purchasing power in the domestic economy of a country as $1 (USD) has in the US economy), is PPP$2,873 for Bangladeshi female employees while it is PPP$2,331 for Indian female employees. Income for Pakistani employees stands at PPP$1,393.
Ironically, the presence of women at mid and senior management is less in Bangladesh than India. According to the Women's Empowerment data of the report, some 11.5% people are female at mid or senior level management in Bangladesh while it is 13.7% in India.
Only 4.2% employment is occupied by female participants in Pakistan.
Same scenario could be found in the case of women with accounts in financial institutes or mobile money service providers. This indicates how many women have been empowered in a family and is enjoying money spending rights.
In Bangladesh, 35.8% women have at least one such account while it is 76.6% in India, more than double from Bangladesh. Only 7% of the Pakistani women are enjoying the right.
UNDP warns that multidimensional poverty would turn into a crisis if no inclusive measures are taken soon.
According to a report in 2019, 24.6% of Bangladesh's population was multidimensionally poor, with a further 18.2% classified as vulnerable to multidimensional poverty.
In India 27.9% of their population was multidimensionally poor, with a further 19.3% classified as vulnerable to multidimensional poverty.
The situation is much worse in Pakistan. In the country, 38.3% population was multidimensionally poor, with a further 12.9% classified as vulnerable to multidimensional poverty.
Again, the report has mentioned that Bangladesh's 2019 Human Development Index (HDI) value falls by 24.4% when discounted for inequality in the HDI dimensions. India's HDI falls by 26.4% for inequality and the losses stand at 31.1% for Pakistan.
The female HDI value is 10% lower than for males (for Nepal, this difference is about 7%; for Pakistan, markedly higher at about 25%).
https://www.dhakatribune.com/bangladesh/2020/12/22/female-participation-in-non-agri-sector-bangladesh-better-off-than-india-pakistan
--------
Mothers at work: Project for women's employment in Turkey expands scope
DEC 21, 2020
Aproject launched by the government two years ago to boost women's employment has reached out to more than 42,000 people. Minister of Family, Labor and Social Policies Zehra Zümrüt Selçuk said in a written statement released on Monday that Mothers At Work launched by the Turkish Employment Agency (IŞKUR) benefited women with its vocational training courses and programs.
The government launched the project in September 2018 for disadvantaged women, namely those who cannot work since they have to care for their children at home. It prioritized women who relied on social benefits, those suffering from domestic violence and women with children below the age of 1 and up to the age of 15.
The project, applied in 81 provinces across the country, first provides job training and consultancy services for applicants. Further vocational training and on-the-job training are also provided and IŞKUR partially guarantees that the women will find jobs once going through the training programs. Each woman is entitled to a daily allowance throughout the training and an additional TL 400 ($52) monthly to pay for child care, therefore allowing housewives who devoted their time to their children rather than a career, to join the workforce. "We took important steps for empowerment of women. We work for women to have qualified education, to help their access to the job market, have social security and to help more women be entrepreneurs," the minister said.
Women's employment rate in Turkey stands at around 34%, but the government hopes to raise this number using several incentives. This includes financial support for women's cooperatives and interest-free loans for female entrepreneurs. It also increased the length of maternity leave for working women and provides financial support for daycare needs. Grandparents looking after the working mothers' children also are entitled to allowances as part of the employment scheme.
https://www.dailysabah.com/turkey/mothers-at-work-project-for-womens-employment-in-turkey-expands-scope/news?gallery_image=undefined#big
--------
URL: https://www.newageislam.com/islam-women-feminism/turkey-gives-22-year-jail/d/123845
New Age Islam, Islam Online, Islamic Website, African Muslim News, Arab World News, South Asia News, Indian Muslim News, World Muslim News, Women in Islam, Islamic Feminism, Arab Women, Women In Arab, Islamophobia in America, Muslim Women in West, Islam Women and Feminism