New Age Islam News Bureau
5 Jan 2018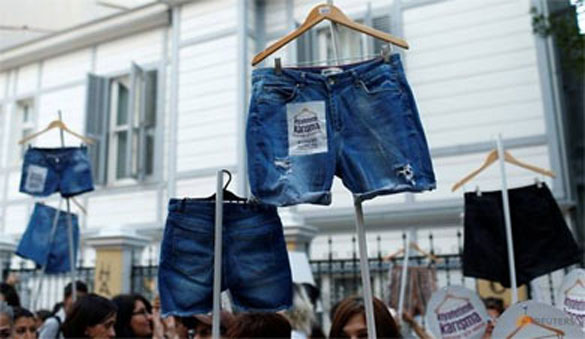 FILE PHOTO: Women rights activists display shorts with slogans that read, "Don't Mess With My Outfit" during a protest against what they say are violence and animosity they face from men demanding they dress more conservatively, in Istanbul, Turkey, July 29, 2017. REUTERS/Murad Sezer
-----
• 'Don't Drag Me into Politics': Muslim Girl Tells Ulema Who Issued Fatwa against Her
• Vani: 12-Year-Old Girl Married To 35-Year-Old Man in Vehari, Pakistan
• Iran: Senior Woman Politicians Declare Support for Iran Uprising
• Nigerian Military Rescues One of 270 Girls Kidnapped By Boko Haram In 2014
• Tunisia Restarts Emirates Flights after Women Security Row
• A Young Woman and Her Hijab: Symbols of Iran's Unrest
Compiled by New Age Islam News Bureau
URL: https://www.newageislam.com/islam-women-feminism/turkey-fines-tv-channel-girls/d/113827
--------
Turkey fines TV channel over girls in shorts in talent show
4 January 2018
ANKARA: Turkey's broadcasting watchdog has fined a TV station nearly one million lira ($266,000) over footage of young girls dancing in shorts in a talent competition after viewers complained of "child abuse," a board member said on Thursday.
Citing moral dangers for the children, it penalized TV8 channel for footage in the "Yetenek Sizsiniz" ("You Got Talent") program which showed a group of girls, aged from 7 to 11, who peformed in shorts and tank tops, the board member who did not want to be named told Reuters.
The move by the Turkish Radio and Television Supreme Council (RTUK) is likely to further anger government critics, who accuse President Tayyip Erdogan and his Islamist-rooted ruling AK Party of trying to roll back secularism and civil rights for minorities, gay people and women.
Last year, hundreds of Turkish women marched in Istanbul to protest against violence and threats from men demanding they dress more conservatively.
RTUK ruled that the footage had violated its ethical broadcast regulations and fined the channel 2 percent of its advertising revenues, amounting almost to 1 million lira.
The regulations state that "programs which contain content that could harm the physical, mental and moral development of children and youth cannot be broadcast."
RTUK said in a report that it had received complaints that the channel had exploited the children in an "immoral" show.
"There were reactions from citizens for making minor children, aged 7-8, dance half-naked for ratings, amounting to child abuse," the report said.
Turkey's Family and Social Policies Ministry said the children were "dancing with clothes that were not appropriate for their age and development level."
Hurriyet newspaper said RTUK also fined several music channels for broadcasting a music video which it described as "one tick below an erotic film."
The video of the "Sifir Tolerans" ("Zero Tolerance") song by Belgium-born singer Hadise depicts the artist in intimate scenes with her male co-star. The video includes scenes of the singer in a bed with the male actor and in a bathtub.
http://www.arabnews.com/node/1218976/middle-east
--------
'Don't Drag Me into Politics': Muslim Girl Tells Ulema Who Issued Fatwa Against Her January 5, 2018
A 15-year-old Muslim girl from Meerut has asked not to drag her into politics after the Ulema of Deoband Darul Uloom issued a fatwa against her for dressing as Krishna and reciting Gita for a competition.
To those who called her act as un-Islamic, the girl, Alia Khan has said that "Islam is not so weak".
Earlier, Alia Khan had won accolades for winning second prize for reciting Bhagwad Gita at a function organised by Yogi Adityanath-led Uttar Pradesh government.
"Islam is not so weak that we will be dismissed from it just for reciting Gita or wearing a costume. They issued fatwa but will request all not to drag me into politics," as quoted by ANI.
"I have not shunned Islam by reciting Shlokas from Bhagwad Gita and dressing up as Krishna. These things do not affect the religious belief and identity of any person," she said, adding, ""I do not read Gita for any religious reference. I read it to gain knowledge and we can get knowledge from anywhere."
Earlier, an Ulema of Deoband had expressed his displeasure over Alia, saying: "How could she dress up like Lord Krishna. It is anti-Islamic".
In December, 2017, another Muslim girl, Afreen Rauf had emerged victorious in a Gita recitation competition organised by Education Board of Lucknow.
Afreen had then said that she was inspired by Prime Minister Narendra Modi and Chief Minister Yogi Adityanath. "I heard Modi ji & Yogi ji recite shlokas ,it inspired me to learn & recite them," she had said. She had also expressed her wish of Yogi Adityanath recognising her feat saying, "I hope UP CM Yogi Adityanath acknowledges my efforts."
In 2015, a 12-year-old Muslim girl from Mumbai, Mariyam Asif Siddiqui had also hit headlines for securing the first place in a Bhagwad Gita competition organised by the International Society for Krishna Consciousness.
https://www.outlookindia.com/website/story/dont-drag-me-into-politics-muslim-girl-tells-ulemas-who-issued-fatwa-against-her/306405
--------
Vani: 12-Year-Old Girl Married To 35-Year-Old Man in Vehari, Pakistan
January 5, 2018
In an apparent case of vani, a 12-year-old girl was married to a 35-year-old married man on the orders of a village panchayat (council) in Punjab's Vehari district.
According to police, a man named Farooq from Vehari's town 97/WB married a girl of his choice, who lived in 101/WB.
The couple married five days ago, following which a village council session was held under Union Council In-charge Nazim Raja Fida.
In the session, it was ordered that Farooq's 12-year-old sister be married to his wife's 35-year-old brother Sadiq.
Police said four suspects had been arrested, while a case had been registered against eight suspects.
A search is also underway to arrest the remaining suspects in the case.
Police added that the minor girl's father was also part of the village council.
The girl's father has also been arrested, who claimed that he accepted the decision under duress.
https://www.pakistantoday.com.pk/2018/01/04/vani-12-year-old-girl-married-to-35-year-old-man-in-vehari/
--------
Iran: Senior woman politicians declare support for Iran uprising
04 January 2018
Senior woman politicians in the U.S. and Canada declared support for the ongoing uprising in Iran.
Nancy Pelosi, the Minority Leader of the United States House of Representatives, tweeted on January 2, reiterating, "Iran must pay attention to voices of the courageous protesters speaking out for their rights and well-being. That is the only way forward."
At the same time, Senator Elizabeth Warren (D-MA) tweeted, "I stand with the right of the Iranian people to peacefully protest. The people of Iran deserve a government that respects human rights and works to address their grievances."
On January 3, 2018, Hon. Chrystia Freeland, Canadian Minister of Foreign Affairs, issued a statement in which she said, "Canada is deeply troubled by the recent deaths and detentions of protesters in Iran. The Iranian people have the right to freely assemble and express themselves without facing violence or imprisonment.
"As we said last week, Canada is encouraged to see the Iranian people who are bravely exercising their basic right to protest peacefully. We call on the Iranian authorities to uphold and respect democratic and human rights, which are too often ignored.
"We remain concerned for the well-being of protestors and will continue to closely monitor the protests."
http://www.women.ncr-iran.org/iran-women-news/4648-iran-senior-woman-politicians-declare-support-for-iran-uprising
--------
Nigerian military rescues one of 270 girls kidnapped by Boko Haram in 2014
Jan 4, 2018
Nigeria's military has announced in a statement that its soldiers have rescued one of the 270 schoolgirls kidnapped in 2014 by Daesh-linked Boko Haram terrorist group from the town of Chibok.
The statement declared on Thursday that Salomi Pagu was discovered by troops deployed in the town of Pulka along with another girl and a small child, noting that the second girl was not among the Chibok pupils abducted by the notorious terror group.
"They...are in the safe custody of troops and receiving medical attention," said the military statement without elaborating on the circumstance of their rescue.
The mass kidnapping of more than 270 female students triggered global condemnation and intense criticism of Nigerian officials in the country as well as an international "Bring Back Our Girls" campaign.
Of the 276 originally abducted students, nearly 60 escaped soon after the incident. Some 100 are still believed to remain in captivity.
This is while the Takfiri terror group released 82 of the young girls last May following a swap deal involving a ransom payment to the terrorists and the release of a number of the group's imprisoned senior members. Prior to that, 24 of the kidnapped girls had been freed or found in 2016.
While the mass abduction in Chibok attracted international attention, aid groups insist that Boko Haram has kidnapped thousands more adults and children, whose fate have largely been neglected by local authorities.
The development came amid earlier reports that at least 31 loggers were believed to have been abducted by Boko Haram militants after they went missing in northeast Nigeria.
Security sources were cited as saying on Wednesday that the alleged kidnapping took place just days after 30 troops vanished following a raid on a military base in the same area.
Boko Haram fighters still operate in hard-to-reach rural areas where military operations are minimal.
Boko Haram's eight-year insurgency against the Nigerian government has further spilled into neighboring Niger, Chad and Cameroon, leaving nearly 20,000 people dead and displacing over 2.6 million more.
Most of the displaced rely on food handouts from aid agencies while others have turned to logging in the arid region for firewood which they sell to purchase food.
The Takfiri terrorists have increasingly targeted loggers in their armed campaign, accusing them of spying and relaying information to the military and the local militia battling them.
On Christmas Day, the militants killed 25 loggers at a logging site outside the city of Maiduguri.
http://www.presstv.com/Detail/2018/01/04/547852/Nigeria-abducted-schoolgirls-Boko-Haram-troop-rescue-Chibok-Salomi-Pagu
--------
Tunisia restarts Emirates flights after women security row
January 5, 2018
TUNIS — Tunisia said Thursday it was allowing Emirates Airline flights to the country again after halting them following outcry over security measures by the United Arab Emirates targeting Tunisian women.
Tunisia suspended flights by the Dubai-based carrier on December 24 after women from the North African state complained they were delayed after being targeted for additional checks as they flew to the UAE.
Tunisian officials said the authorities in the UAE told them they had "serious security information about the possibility of terrorist attacks" involving either Tunisian women or a women with a Tunisian passport.
The controls sparked ire in Tunisia and the presidency complained that the rights of Tunisian women should not to be violated "whatever the justification".
In a statement Thursday, Tunisia's transport ministry announced the "resumption of Emirates flights to Tunisia" after the "lifting of measures against Tunisian women".
The ministry said an agreement was struck with the airline that would see it "respect rights and international accords". — AFP
http://www.saudigazette.com.sa/article/525473/World/Mena/Tunisia-restarts-Emirates-flights-after-women-security-row
--------
A Young Woman and Her Hijab: Symbols of Iran's Unrest
January 04, 2018
As protests continue across Iran for the seventh day, one woman is being hailed as a "hero" after a video of her removing her hijab in an apparent protest was posted on a social media site.
The footage shows the woman standing on a box, waving the hijab at the end of a stick like a white flag.
The video of the woman's defiant gesture was posted on Twitter by Armin Navabi, a former Muslim from Iran and author of Why There Is No God.
"This woman in Iran took off her Hijab to protest the mandatory Islamic dress code imposed on Iranian women," he tweeted, using the hashtag #IStandWithHer. The tweet has been retweeted more than 15,000 times and liked more than 33,000 times.
There were unconfirmed reports that the unidentified girl was taken into custody, but there was no way to confirm it.
Iran and women's rights
A few weeks before the May 2017 election, more than 180 women's rights activists signed a declaration stating their demands to the next president and thousands of local council members. Among the demands: the call for women to fill at least 30 percent of ministerial positions and an end to all gender discrimination.
But that effort largely fell on deaf ears.
This is a sharp departure from the June 2009 presidential campaign when two reformist candidates backed women's rights. And, after winning the election that year, hard-line President Mahmoud Ahmadinejad nominated three women as ministers amid opposition from conservative MPs and some senior clerics.
One of his appointees, Marzieh Vahid-Dastjerdi, was approved and she became the country's first post-revolutionary female minister, serving as minister of health and medical education.
After President Hassan Rouhani won the election, he claimed he would open up social and political opportunities for women.
One prominent appointee was Shahindokht Molaverdi, who became the vice president for women and family affairs. Despite her hands being tied as she came under huge pressure from hard-liners, Molaverdi contributed to the national gender debate by condemning those hard-liners who threatened female spectators at a men's volleyball match.
During her term, Molaverdi stated repeatedly that she did not have the executive power to advance her own projects. Her attempts to take measures in favor of women's rights were all met with such pressure she was forced to back down.
No 'executive status'
In an interview in August 2015, she revealed, "Since we do not have an executive status, we have not yet found any desirable, effective relationship with other systems and provinces, and have faced serious obstacles from the beginning."
When Molaverdi was eventually removed from her post, she was replaced by Massoumeh Ebtekar, who was removed from her position as head of the Environmental Protection Agency, to be replaced by a man.
Rouhani's failure to appoint a single woman minister to his Cabinet was likely the result of the regime in Tehran, namely the Supreme Leader Ayatollah Khamenei, who continued his campaign of the suppression of women. The ayatollah sought to reduce the Islamic Revolutionary Guard Corps' power it gained when it quashed the protests after the 2009 election of Ahmadinejad. Khamenei found the ideal candidate in Rouhani, a respected cleric who appealed to moderates but was loyal to the system.
But, many who counted on Rouhani's election promises felt betrayed.
Parvaneh Salahshouri, who heads the women's faction in parliament, has criticized Rouhani.
The state-run ISNA news agency in August quoted her as saying, "It is incredible and shocking that the president has ignored half of the Iranian society.
"Creating equal opportunities for women and elimination of gender discrimination was among the promises made by the president (during his election campaign)," she added. "Unfortunately, not only women were not granted equal opportunities, but they were granted no opportunity!"
Demonstrations
This disappointment fomented into the largest demonstrations to strike Iran since its disputed 2009 presidential election.
To date, at least least 21 people have been killed and hundreds of people have been arrested, including several women. Last week, police in Tehran announced they would no longer arrest women for failing to observe the Islamic dress code. They will be given counseling instead.
Several images will likely be iconic of this year's demonstrations including a young woman – reported to be a student – covering her face as she runs from tear gas just outside the University of Tehran, her fist raised defiantly in the air.
In another video, a woman is seen saying, "You raised your fists and ruined our lives. Now we raise our fists. Be men, join us. I, as a woman, will stand in front and protect you. Come represent your country."
https://www.voanews.com/a/iran-protests-women-hijab/4192023.html
--------
URL: https://www.newageislam.com/islam-women-feminism/turkey-fines-tv-channel-girls/d/113827
New Age Islam, Islam Online, Islamic Website, African Muslim News, Arab World News, South Asia News, Indian Muslim News, World Muslim News, Women in Islam, Islamic Feminism, Arab Women, Women In Arab, Islamophobia in America, Muslim Women in West, Islam Women and Feminism