New Age Islam News Bureau
28 March 2017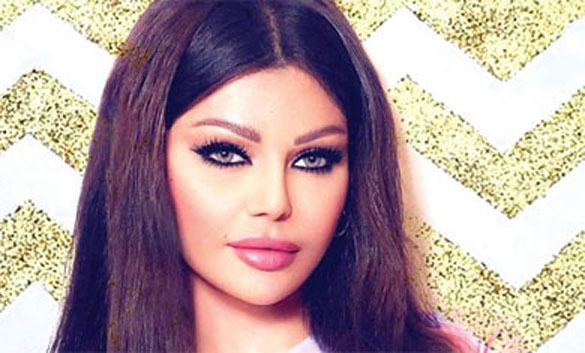 Lebanese superstar Haifa Wehbe
---------
• Tunisians Demand Change to Muslim Marriage Decree
• Muslim Daughter of Terror Victim: I Fear Isis and Racists In France
• Lebanese Superstar Haifa Wehbe among the World's Most Beautiful Women
• Malaysian MPs Unite For Law against Child Sexual Crime
• First Woman Named To Head Major Pakistani Bank
• Why We Need a Muslim Women's Day
• Project Launched To Improve Working Conditions For Women In Pakistan
Compiled by New Age Islam News Bureau
URL: https://www.newageislam.com/islam-women-feminism/tunisians-demand-change-muslim-marriage/d/110564
--------
Tunisians Demand Change to Muslim Marriage Decree
2017-03-27
Tunis - An alliance of Tunisian human rights groups on Monday called on authorities to scrap a 1973 decree that bans Muslim women from marrying non-Muslims.
The alliance of some 60 groups signed a statement calling for the decree to be revoked, saying it undermines "a fundamental human right: which is the right to choose a spouse".
Sana Ben Achour, president of the Beity association, told a news conference "it is inadmissible today for a simple decree, which has almost no judicial value... to command the lives of thousands".
The decree issued in 1973 by the justice ministry stipulates that a non-Muslim man who wishes to marry a Tunisia woman must convert to Islam and submit a certificate of his conversion as proof.
Wahid Ferchichi, of the Adli association for the defence of individual liberties, said the decree violates Tunisia's constitution which promotes equality between all citizens, regardless of gender.
The coalition said it would mount a campaign to mobilise public opinion and seek meetings with the ministers of justice, interior and the head of government, hoping the decree will be scrapped by November.
Tunisia is viewed as being ahead of most Arab countries on women's rights.
The North African country and birthplace of Arab Spring protests that ousted several regional autocratic, adopted a new constitution in 2014 which guarantees equality between men and women.
Article 21 of the constitution states: "All citizens, male and female, have equal rights and duties, and are equal before the law without any discrimination."
But discrimination against women in Tunisia remains rife, particularly in matters of inheritance and the country's Code of Personal Status designates the man as the head of a family.
http://www.news24.com/Africa/News/tunisians-demand-change-to-muslim-marriage-decree-20170327
--------
Muslim Daughter Of Terror Victim: I Fear Isis And Racists In France
27 March 2017
Hanane Charrihi never felt shunned by the country of her birth until a radical drove a truck through a crowd celebrating France's national holiday in Nice, killing 86 people, including her mother.
Born in the Riviera city to Moroccan parents, the 27-year-old was still trying to come to terms with her loss when she suffered the added ignominy of being told she was no longer welcome in France -- as she grieved at the site of the carnage.
The incident, one of several involving Muslims in Nice recorded in the days after the July 14 attack, highlighted a spike in anti-Muslim sentiment in France after the third major jihadist attack in a year and a half.
In an interview with AFP, Charrihi, who wears a headscarf, said the taunts she endured that day left her doubly scarred.
"I'm living in fear of Daesh (the Islamic State group) like everyone else, but also in fear of racists," said the young author, who has written an ode to her mother, country and religion titled "Ma Mere Patrie" (My Motherland).
"When I take the metro in Paris, I stay away from the edge. I'm terrified someone might give me a push."
France's presidential election has upped the ante, she said, accusing candidates on the right and far right of "hounding" Muslims in speeches that conflate Islam and terrorism.
"It's a turbo-charged race," she said. "If you put a bit of Islam in the tank, it goes faster, because everyone is afraid of Daesh."
'We don't want you here'
Charrihi said she first noticed a shift in attitudes toward Muslims, particularly those wearing headscarves, after the January 2015 attack on the offices of Charlie Hebdo, a magazine that had printed cartoons of the Prophet Mohammed.
On trips into Paris from the suburb where she lives with her husband and two boys, she drew stares -- even if most were "out of curiosity rather than unkindness".
It was in her native Nice that she came face-to-face with blatant racism.
As thousands of mourners gathered to pay tribute to the dead on July 18 on the seafront avenue where the massacre took place, a man on his way to the beach with a deckchair harangued Charrihi and her sisters who had come to lay flowers at the site.
"We don't want any more of that here. We don't want you here anymore," he told them.
As the women were leaving, another man taunted them.
"So you move in packs now?" he asked, adding heartlessly, when learning that their mother was among the victims: "Good! That's one less."
Charrihi accuses the news media of abetting the prejudice by focusing on a radicalised minority that "does not represent all French Muslims".
"They interview 16-year-old imbeciles who speak rubbish," said Charrihi, a trained pharmacy assistant who defends an Islam "of peace, respect and tolerance", including the right for Charlie Hebdo's cartoonists to savage Islam and other religions with their pencils.
Buoyed by hundreds of messages of support, she and her siblings have set up an association to deter young people from radical Islam and promote unity -- following the example of Latifa Ibn Ziaten, the mother of a soldier who was among seven people killed by Mohamed Merah in Toulouse in 2012, who has become a peace ambassador.
Charrihi said her book and association were her way of fighting back against the IS group, which claimed the Nice attack as the work of one of its "soldiers".
"Dividing us is exactly what Daesh wants," she said. "I lost the person who is most dear to me... This is my way of taking revenge."
https://www.thelocal.fr/20170327/muslim-daughter-of-terror-victim-i-fear-isis-and-racists-in-france
--------
Lebanese Superstar Haifa Wehbe among the World's Most Beautiful Women
28 March 2017
JEDDAH: Lebanese superstar Haifa Wehbe has been ranked among the most beautiful women in the world, according to Wonderlist's annual poll.
The 41-year-old Arab pop singer ranked 10th on the "2017's Top 10 Most Beautiful Women Over 40" list that also names many global celebrities such as, Jennifer Lopez, Aishwarya Rai, Angelina Jolie, Penelope Cruz and Monica Bellucci.
South African beauty, actress and film producer, Charlize Theron topped the list.
"These are, no doubt, the prettiest women of the world, definitely the top 10 most beautiful women of 2017," Wonderlist said.
"Lebanese singer and actress, Haifa Wehbe comes at number 10 position. Wehbe is one of the most notable singers in the Arab World and is considered one of the most successful Lebanese singers. In 2006, she was on People Magazine's 50 most beautiful people list," the website said.
Last year, designer Ali Qarawi described Wehbe on his Instagram page as the "most beautiful woman on earth."
In its "Top 10 Most Beautiful Women of 2017" list, the website named another Lebanese beauty, Mona Abou Hamze.
"Lebanese TV personality and presenter, a pop culture superstar, Mona Abou Hamze is known for her intelligence, elegant beauty and maturity. Despite being one of the most beautiful Muslim ladies, she was recognized as one of the '100 Most Powerful Arab Women' by CEO Middle East magazine," it said.
http://www.arabnews.com/node/1075116/offbeat
--------
Malaysian MPs Unite For Law against Child Sexual Crime
BY KAMLES KUMAR AND IDA LIM
March 28, 2017
KUALA LUMPUR, March 28 — Barisan Nasional (BN) and Opposition lawmakers have united to support the Sexual Offences against Children Bill 2017 which was tabled today.
The Bill which was tabled today proposes a law that will criminalise the making and owning of child pornography, as well as various offences such as child sexual assault.
Minister in the Prime Minister's Department Datuk Seri Azalina Othman Said who tabled the Bill, said that perpetrators of child sexual acts will not escape the law.
"To all perpetrators out there you can run but you cannot hide. We will go after you.
"All MPs of the Malaysian Parliament will be united on this issue. We won't allow any excuses," she said during a press conference at the Dewan Rakyat today.
The media conference was attended by Women, Family and Community Development Datuk Seri Rohani Abdul Karim, Umno's Kuala Kangsar MP Datin Mastura Mohd Yazid, PKR's Lembah Pantai MP Nurul Izzah Anwar, DAP's Seputeh MP Teresa Kok and DAP's Kulai MP Teo Nie Ching among others
Azalina also said that under the new laws, even family members who commit such crimes would be unable to escape punishment.
"The child depends on family members to make police reports but sometimes that doesn't happen as family members at times are the biggest perpetrators. No one is going to escape," she said adding that even those who abet such crimes would be charged.
The minister also stressed that a special court would be established to look into the matter in Kuala Lumpur and soon after in each state.
The Attorney General's Chambers also has a "wider reading of evidence" for the Bill and will be amending the Penal Code to accommodate new provisions, Azalina said.
The Pengerang MP added that that so far 115 MPs from both sides of the divide has supported the Bill but hoped that all 222 MPs would support it by next week.
"Those who don't support this Bill I define them as perverts," she stressed.
Azalina also urged all lawmakers to support the Bill and help make any suggestions for amendments necessary in areas like punishment.
Rohani meanwhile was enthusiastic that the Bill will enable authorities to go after child sexual crime offenders on a harsher note compared to the current Child Act.
"This law is important because what is not covered in the Child Act is covered here. Child Act is to protect children but perpetrators escape. So we welcome this Act.
"We are happy that sexual grooming is contained in this Act," she said.
PKR vice-president Nurul Izzah said that the law was important for the future of children in the country as sexual crimes are currently rampant.
"There should be a holistic solution. Everybody needs to join hands to ensure that this Bill is passed.
"This is an important and fundamental issue. We have to protect children," she urged.
http://www.themalaymailonline.com/malaysia/article/mps-unite-for-law-against-child-sexual-crime
--------
First Woman Named To Head Major Pakistani Bank
March 28, 2017
KARACHI: The first woman to head a major commercial bank in Pakistan was named Monday, a landmark move in a country where the economy is growing but the glass ceiling holds firm.
Sima Kamil, currently a deputy CEO at the country's third-largest lender United Bank Limited (UBL), will take charge on June 1, its directors said in a statement.
"She is of course is the first chief of any commercial bank, and it is a huge step forward in the banking and corporate sectors of Pakistan," Muneer Kamal, the chairman of Pakistan's Stock Exchange, told AFP.
He described Kamil as a "solid professional".
Women in Pakistan have fought for decades to secure rights for themselves, in a country where so-called honour killings and acid attacks remain commonplace.
They face routine discrimination in the workplace as well as harassment in public, and few women have headed any high-profile firms in the country.
Kamal cited Shazia Syed as another female pioneer after she was last year made head in Pakistan of Unilever, a Dutch-British multinational. "Things are transforming in Pakistan now, the world must know that," he said. UBL, headquartered in the financial hub Karachi, employs 15,000 people and has branches in 15 other countries, including the US, Qatar and the United Arab Emirates.
http://nation.com.pk/national/28-Mar-2017/first-woman-named-to-head-major-pakistani-bank
--------
Why We Need A Muslim Women's Day
Carol Kuruvilla
27/03/2017
Faced with an increasingly hostile climate of Islamophobia, Muslim women have remained strong, fierce, and unapologetically themselves ― and it's about damn time we had a day to honor their resilience.
MuslimGirl, a website made for and by Muslim women, is partnering with dozens of media organizations to designate March 27 as Muslim Women's Day. Coming at the end of Women's History Month, the campaign seeks to center the voices and experiences of Muslim women.
Media partners including MTV, Refinery29, Teen Vogue, and HuffPost Women are joining in to feature stories that elevate Muslim women's narratives.
Amani Al-Khatahtbeh, MuslimGirl's Editor-in-Chief, sees the day as a chance for allies to "pass the mic" to Muslim women.
"There are so many conversations unfolding around us right now about the women's movement and the Muslim ban, and Muslim women are rarely given the space to be heard above the noise. This also comes at a time when Muslim women have become the most visible targets of anti-Muslim bigotry," Al-Khatahtbeh told The Huffington Post. "I hope that #MuslimWomensDay is a launching pad for greater and more inclusive representation for Muslim women in the media."
Muslim women who are active online are often targeted with Islamophobic rhetoric and hate speech. The threats and cyber abuse from trolls make it harder for women seeking to create safe spaces for themselves online.
A recent survey from The Institute for Social Policy and Understanding found that Muslim women were more likely than Muslim men to report discrimination in the last year (68 percent vs. 55 percent). They were also more likely than Muslim men to say that they feared for their safety from white supremacist groups (47 percent vs. 31 percent).
Nevertheless, Muslim women have remained incredibly resilient. They were no more likely than men to change their appearance to be less identifiably Muslim (with roughly 15 percent of both men and women saying they did so). And they report increasing their donations Muslim organizations.
"It's time to hear from a community that's often talked about but rarely given the chance to speak," Al-Khatahtbeh wrote in a post about the campaign.
"Contrary to what people might think, Muslim women talk back. And on Muslim Women's Day, the world will be listening."
http://www.huffingtonpost.in/entry/muslim-womens-day_us_58d54cfae4b03692bea55663
--------
Project Launched To Improve Working Conditions For Women In Pakistan
ASMA KUNDI
ISLAMABAD: A project, 'Women's Action for Better Workplaces', aimed at improving the working conditions for women in public and private sectors and advocating for gender sensitive labour laws, was launched on Monday.
The launching ceremony was organised by the Free and Fair Election Network (Fafen). The one million-Euro project, funded by the embassy of Netherlands will span 24 months.
It will be implemented by the Trust for Democratic Education and Accountability in collaboration with the member organisations of Fafen - Sangat Development Foundation, Centre for Peace and Development, Urban Rural Development Organisation and Now Communities.
The project aims at enhancing capacities of women workers and their organisations to negotiate and advocate with employers, policymakers and legislators for an improved legislative framework and effective implementation of the existing laws.
Inaugurating the project, Ambassador of Netherlands Jeannette Seppen said she fully understands the struggle for empowering women around the world and in Pakistan. She recalled that women of Netherlands were given the right to vote in 1922, which was not much old.
She said a lot had changed and much was changing for good.
"Our history leads us to work together as our problems are same…we believe in Pakistani men and women and have seen progress in empowering women. But still a lot needs to be done," she said.
Rukhsana Shamma, Programme Manager, said according to the Economic Survey, out of the 98 million women only 14.7 million were officially recognised to be economically active.
"Working conditions for women in the formal sector are not conducive and in line with nationally and internationally accepted standards. The situation in the sector such as brick kilns or home-based industry is even worse. Labour laws in vogue are either gender blind or gender insensitive."
She said provinces were yet to fully grasp the post-18th Amendment opportunity to revamp labour conditions through improvements to the labour policy, laws and enforcement.
Chairperson of the Punjab Commission on the Status of Women (PCSW) Fauzia Viqar said the lack of data on women workforce was a major impediment in devising appropriate policies.
She said there was a need to know about the facts and figures of working women at the district level.
She said the PCSW was planning to conduct a survey on the participation of women in economic activities as a prerequisite for targeted policies and actions.
Representatives of provincial implementation organisations also talked about the working women conditions in their provinces and identified gaps which could be filled through this programme. They showed the number of working women in each province which was very low.
Executive Director Sangat Development Foundation Zahid Islam from Lahore, Executive Director Centre for Peace and Development Nasrullah Khan from Quetta, Chief Executive National Organisation for Working Communities Farhat Parveen from Karachi and Programme Manager Amir Iqbal of Urban Rural Development Organisation from Peshawar also presented an overview of issues that working women faced at the provincial levels.
Published in Dawn, March 28th, 2017
https://www.dawn.com/news/1323178/project-launched-to-improve-working-conditions-for-women
--------
URL: https://www.newageislam.com/islam-women-feminism/tunisians-demand-change-muslim-marriage/d/110564
New Age Islam, Islam Online, Islamic Website, African Muslim News, Arab World News, South Asia News, Indian Muslim News, World Muslim News, Women in Islam, Islamic Feminism, Arab Women, Women In Arab, Islamophobia in America, Muslim Women in West, Islam Women and Feminism