New Age Islam News Bureau
27 Dec 2017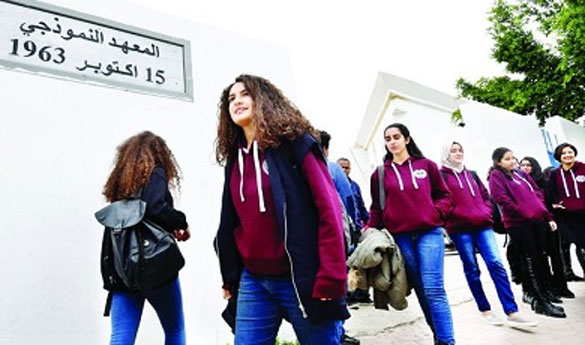 Photo: In Tunisian high schools, the dress code is not uniform. Actually, it is: But only for girls. Boys can wear what they like, and now the girls are up in arms.
------
• Defying Algeria's Odds to Become a Female Mayor
• WWE Just Got Its First Arab Woman in the Ring, and She's Ready To Rumbleds
• German Authorities Target Islamist Women's Network
• Dissolve AIMPLB for Triple Talaq Stand, Demands Agra's Muslim Group, Burns Effigy
• A Big Year for Women in the Arab World
• Female Inspectors Clamp Down On Commercial Concealment
Compile by New Age Islam News Bureau
URL: https://www.newageislam.com/islam-women-feminism/tunisian-schoolgirls-rebel-having-wear/d/113717
--------
Tunisian schoolgirls rebel against having to wear uniform
AFP | Published — Wednesday 27 December 2017
BEZERTE: In Tunisian high schools, the dress code is not uniform. Actually, it is: But only for girls. Boys can wear what they like, and now the girls are up in arms.
One morning, instead of turning up for class wearing the regulation navy blue smock, a defiant group of adolescent girls came to school in white T-shirts instead, demanding an "end to discrimination."
At the elite Bizerte public school in the north, as is the case in most high schools in the North African country, pupils have to sign a school rule stipulating that wearing a uniform applies to girls only.
One day in September, supervisors reminded senior female students who did not abide by this rule that if they did not wear the smock, a loose-fitting, long gilet, they would be sent home.
Ironically, the warning was passed on during a philosophy class — about the human body.
This "injustice" inspired many of the girls to take to social networks and vent their feelings, 18-year-old SiwarTebourbi told AFP.
She said the girls agreed to take collective action from the following day "to demand that this discrimination must cease."
So dozens duly turned up for class, wearing white. Several boys did the same, in solidarity with their classmates.
How did the school authorities react? By saying nothing. Thus was born the "Manish Labsetha" ("I won't wear it") campaign, referring to the offending garment.
It was the culmination of a dispute that had been brewing for years.
Outraged that the navy blue was imposed on everyone in primary and secondary school but was compulsory in high school only for girls, pupils regularly appeared without it, risking expulsion or seeing their parents summoned.
Monia Ben Jemia, head of the Association of Democratic Women of Tunisia, an independent feminist group, called the smock rule "a terrible message" because it implies that young girls' bodies can have a disruptive effect on their peers.
She called it a complete aberration, especially since the country's new constitution of 2014 says that men and women are equal.
The high school students who launched the campaign, both male and female, are also against what they perceive as a wider "hypocrisy."
"They drill into us at school that men and women are equal, but in practice this is not the case," said Adam Garci, 17.
That the navy gilet is actually supposed to erase social inequalities between pupils is a source of some amusement to Tebourbi.
"If it was really meant to conceal any differences between rich and poor, then boys as well as girls would have to wear it," she smiled.
Imposing the blue uniform on girls at a time when their bodies are undergoing change is not a trivial issue, said her friend Farah Ben Jemaa.
"One supervisor told me I couldn't wear leggings without a smock because I was 'shapely', and another told us 'It bothers the men teachers'," Ben Jemaa said. The whole affair would appear to be somewhat embarrassing for the authorities.
Speaking on condition of anonymity, one senior education official found it difficult to explain exactly what was happening.
He acknowledged the sensitivity of the subject, even though Tunisia is considered to be a pioneer in North Africa and the Middle East in the field of women's rights.
If the official line is that equality between men and women is an asset, large sections of Tunisian society remain conservative and "there is resistance," said Ben Jemia, at the Association of Democratic Women of Tunisia.
In the courtyard of another school in Bizerte, the Habib ThameurLycee, equality is a topic for passionate debate among students.
Of around 15 boys asked about it, just one — Nader — spoke up for the traditional view.
"Girls must cover the shape of their bodies," he said.
"That's how we have been raised. It's our mentality, and it should stay that way."
The others were firm backers of the campaign.
One final year pupil tried to argue with a supervisor seeking to enforce the rules.
"But madame," he asked. "What if the regulation is wrong?"
She thought for a moment. "For me, it's not unfair, it's the rules. That's the way it is," she murmured.
School director IadhToulgui admitted that the supervisor's view was unlikely to sway pupils who had lived through the revolution of 2011, which toppled a 23-year police state and brought about freedom of expression.
"This is a revolutionary generation, open to the world. When you try to impose something on them it doesn't work," he said.
It is a view shared by Ben Jemia.
"These young people are much more aware of their rights — they have grown up with freedom of expression," she said.
"This is the revolution generation, and it is incredible."
For Bizerte's regional education commissioner Nabil Smadhi, discussion is the way ahead.
"It is time to address this issue in a national dialogue" involving the Education Ministry, parents, trade unions and civil society, he said.
"This agitation is effective, not just in the public high school but in the majority of establishments in Bizerte and in several high schools" across the country, he said.
In the meantime, SiwarTebourbi, Farah Ben Jemaa and girls like them still come to school without the regulation uniform.
"We're not doing it just for us," said Ben Jemaa.
"Next year we'll be gone. But it's important for the generations who follow."
http://www.arabnews.com/node/1214926/middle-east
--------
Defying Algeria's odds to become a female mayor
By Ahmed Rouaba | Publish Date: Dec 27 2017 4:00AM
Some say that in Algeria it is easier for a woman to become president than mayor of her home town.
ZahiaBenkara knows this more than most: She is one of only four women across the entire North African country to be voted in as mayor during recent local elections.
Her victory is particularly surprising because of the nature of Chigara, an eastern town rooted in traditions where women rarely take up leading public roles.
Combined with the fact she ran for an Islamist party - potentially alienating more liberal supporters - the fact she won is even more surprising.
But the woman known locally as as "El Ustadha," meaning "the professor", seems unperturbed.
"They voted for me because they know me. They know what I have done for them and they trust me," she told the BBC.
Indeed, her CV is impressive. Ms Benkara is not only a devoted activist, helping support the most vulnerable in the community, she is also director of the local secondary school, where she has been teaching Islamic law for years.
However, those lessons are not restricted to the classroom - she also lectures on Islamic law, education and human development at mosques, social clubs and charities.
It meant when she announced her intention to run, she already had widespread support in the community.
"Zahia is no ordinary woman," Brahim, a cattle farmer, told Algerian website el Watan (in French). "She is better than 15 men."
But after she announced her intention to run for the Islamic party HarakatMujtamaaEsilm (The Society of Peace Movement), her picture went viral - with both sides of the political arena taking shots.
Some of the more secular voters lashed out at her hijab, others went further, mocking her appearance.
Ms Benkara shrugged it off.
"Ignorant and mean people who will learn and understand that what matters in life is how good you are at what you do and how good is what you do to the human kind," she said.
However, those of a more conservative persuasion questioned whether she should be standing at all.
"Allah's curse upon a people governed by a woman," one person wrote on social media.
Another warned: "You have disobeyed the teachings of the prophet who ordered women to stay home. Who will save you from hell?"
Ms Benkara acknowledged she had seen comments like these - and even tried to fight back.
"I spent hours and hours debating on social media with those who think it is wrong in Islam to elect a woman for public office," she said.
"I know how to handle this issue and managed to convince a lot of people that they were wrong thinking that Islam bans women from taking public office and a lot of them changed their mind and voted for me."
There were others, though, who fought for Ms Benkara.
"Shame on the people of my country," one wrote. "You are making degrading comments on the brave woman. You are so low and she is a brave Algerian and Muslim woman. She is educated. Why do not you talk about issues that are important for you and your country?"
And support did not just come from the faceless world of the internet.
The leader of HarakatMujtamaaEsilm, AbdelmadjidMensara, knew he had a strong candidate all along.
"She has a strong character, competence and devotion. She knows what she is doing," he told the BBC.
And speaking to her, it is clear he is right. She knows people are waiting for her to fail - something she has no intention of doing.
"I will prove my people were right to vote for me," she said. "I will fight nepotism, corruption and mismanagement. I will work for the people of my town as I have always done."
https://www.dailytrust.com.ng/defying-algeria-s-odds-to-become-a-female-mayor.html
--------
WWE just got its first Arab woman in the ring, and she's ready to rumble
Shadia Bseiso is training to become the Arab world's first professional female wrestler.
Shadia Bseiso, a Dubai-based TV host and voice artist, is a CrossFit aficionado and Jiu Jitsu blue belt holder. ("It's a grappling sport; no black eyes.")
Viewers in Dubai know her mainly for hosting widely televised regional sporting events, but they're about to see a new side. Come January, she'll join the incoming class of World Wrestling Entertainment (WWE) hopefuls, ready to rumble as the Arab world's first professional female wrestler.
Her enrollment at WWE's Performance Center, the group's official training school in Orlando, Fla., is the end of a journey that began in January, when Bseiso, 31, was invited to participate in auditions to be an announcer for the WWE's first Arabic offering, Wal3ooha (a Latinized rendering of an Arabic word that means "light it up").
Somewhere in her interview, Bseiso said, she began to talk about much she enjoyed martial arts — "and that if I wasn't a full-time [announcer] I would be a full-time athlete."
That pushed Canyon Ceman, WWE's senior vice president of international talent development, to offer her a spot in athlete tryouts held earlier this year in Dubai. Bseiso was the only one among 33 other competitors — seven of them women — who wasn't a full-time athlete.
Over four days, Bseiso and those with her ran drills for hours, performed moves before a crowd and tested their performing chops in "promo" classes, where would-be wrestlers learn to hone their character.
"On the fourth day, just before we all went home, Matt Bloom [WWE's head trainer] pulled me aside and said, 'Are you ready to move to the U.S.?'"
At first, Bseiso only told her sister, Arifa.
"How [do you] tell your parents you want to be the next WWE superstar? You don't tell them except in person," Bseiso said. She added that they were "extremely supportive" when she did finally tell them.
Shadia Bseiso
How [do you] tell your parents you want to be the next WWE superstar?" says Shadia Bseiso, shown in Dubai. (World Wrestling Entertainment)
Growing up in Jordan, Bseiso had only a passing knowledge of WWE, where she would occasionally see matches broadcast on television or on tapes from video rental stores.
But by the time the WWE tryout had come to Dubai, she had made a name for herself hosting major sporting events like "Desert Force," a mixed martial arts tournament.
Part of her passion came from her parents, who treated the Bseiso children (three sisters and a brother) as equals and inculcated in them the discipline to excel. Shadia isn't the family's first athlete: Arifa is a boxer who recently became one of Nike's brand ambassadors in the Middle East.
Bseiso's hiring comes at a time when WWE is mounting a full-scale expansion into markets outside the U.S. and Europe. In 2016, Ceman said, the focus was on China. This year it was the Middle East.
"You see the metrics on social media, and you find we have something like 11 million Facebook followers in Egypt. That's stuff that makes you go, 'What? Really?"' said Ceman.
That global push has extended to WWE's growing roster of athletes. One of the reasons for the tryout in the Middle East was to provide characters whom wrestling's "surprisingly ethnically large and diverse audience … can identify with," Cemen said.
"We're looking for size, charisma, work ethic, diversity, language, country of origin … and we train them as sports entertainers from zero," he said.
At the Performance Center, candidates spend three hours of in-ring and technical-skill training, then an hour and a half of conditioning and an hour of acting class. There also are anywhere from three to six live events every weekend.
There's no guarantee new recruits will ever make it to the WWE roster, Ceman said, but the grueling schedule compresses roughly 10 years of work experience into about a third of that time.
So far, Bseiso is reveling in the work.
"I spend the whole day in my gym when I'm on my day off. Now it's my job. That's something I love," she said.
She demurred from discussing plans for her character, though she joked that her friends are convinced she'll "never play the villain."
I can't wait to see what the reaction will be," she said.
She also knows there's a lot at stake in getting her character right.
In the past, WWE wasn't known for the most flattering portrayals of Middle Eastern characters.
During the 1980s, the so-called golden era of wrestling featured stereotypical villains such as the Iron Sheikh (aka the Iranian-born Hussein Khosrow Ali Vaziri) or General Adnan (real name Adnan Kaissie, an Iraqi wrestler who took down Andre the Giant in Baghdad in 1971).
They would square off against all-American figures such as Hulk Hogan, with story lines that often revolved around the 1979 Iranian hostage crisis.
"Now you neither want to nor can you get away with that so easily," Cemen said. "There is evolving complexity over how to portray someone's cultural heritage in a way that it is respected, interesting and creates love or animosity in the audience."
"Shadia has to make a character that will get a reaction, and it's our writers job to make sure it's not offensive even while being subtle, culturally sensitive, intelligent and interesting."
As WWE's first Arab woman, Bseiso said she feels a sense of responsibility.
"It's something I don't take lightly," she said.
"I don't know wrestling yet, but I'm going to be as good as I can be," she added. "I'm in this to headline Wrestlemania. I want it all."
http://www.latimes.com/world/middleeast/la-fg-dubai-bseiso-20171227-story.html
--------
German authorities target Islamist women's network
Germany's domestic security agency has identified a terror network made up of Islamist women. Female extremists are becoming increasingly common, as they aim to fill the gap left by their detained husbands.
German intelligence services said on Tuesday that they had identified an Islamist terror network made up of around 40 women in North Rhine-Westphalia, Germany's most populous state.
BurkhardFreier, the head of the North Rhine-Westphalian Office for the Protection of the Constitution (BfV), told Germany's Frankfurter AllgemeineZeitung newspaper that the network followed a strict Salafist doctrine — from how to raise children and cooking ingredients, to how to interpret the rules of Islam and stir up hatred against so-called "non-believers."
Read more: Number of Salafists in Germany reaches record high
The result, Freier said, could be something "much more difficult to dissolve, namely Salafist pockets within society."
The Islamist women's network also advertises and proselytizes Salafist ideology — which subscribes to an extremely conservative interpretation of Islam — aggressively on the internet, Freier said. And while it was wrong to conflate Salafism with extremism, every European jihadi in Europe in recent years had been a member of the Salafist scene, the BfV head added.
A 'family affair'
Freier also warned that this network of women had been indoctrinating children from an early age. "Salafism has become a family affair," he said.
The 40 so-called "sisters" identified by German authorities had also won the approval of their male counterparts. "The men have noticed that women can network much better and are therefore more capable of expanding the scene and keeping it active," Freier said.
Read more: Between romance and Kalashnikovs - the women of 'Islamic State'
The BfV chief's remarks followed reports in mid-December by Germany's DPA news agency, which revealed that German authorities had classified several dozen Muslim women and young people as potential risks to domestic security.
Increasing number of Islamists on the home front
Germany's BfV also warned that the so-called "Islamic State's" territorial losses in the Middle East had led to a drop in the number of jihadists travelling out to Syria and Iraq, while the number of returnees was also increasing.
Among those returnees were an increasing number of women, Freier said.
http://www.dw.com/en/german-authorities-target-islamist-womens-network/a-41939883
--------
Dissolve AIMPLB for triple talaq stand, demands Agra's Muslim group, burns effigy
If the Muslim Personal Law Board does not stop opposing the government's steps to criminalise triple talaq, then the government should dissolve it, said a group of Muslim women.
SirajQureshi | Edited by Kritika Banerjee
Agra, December 27, 2017
The Central government and the All India Muslim Personal Law Board (AIMPLB) have been locked in a fight over the issue of triple talaq.
In Agra, a group of Muslims, led by the BJP's minority wing city president AshfaqSaifi, burned an effigy of the Muslim Personal Law Board outside the District Magistrate's office over the board's stand against government's efforts to criminalise triple talaq.
The group also presented a memorandum to the District Magistrate, which was addressed to Prime Minister Narendra Modi and sought dissolution of AIMPLB.
A bill seeking to criminalise the practice of instant triple talaq will be tabled in Lok Sabha tomorrow.
Talking to India Today, Muslim women, who were part of the protest group, claimed that AIMPLB is a private NGO which does not want any relief for Muslim women.
If the Board does not stop opposing the government's steps to criminalise triple talaq, then the government should dissolve the board, the women said.
AshfaqSaifi said that the BJP government is with the Muslim women and wants to alleviate their suffering. He said Muslim men under the excuse of religion use triple talaq to exploit women.
He said Prime Minister Narendra Modi has taken a step towards criminalising triple talaq and bringing Muslim women on an equal footing with Hindu women on matters of marital rights.
Criticising AIMPLB, Saifi said the Board should be immediately dissolved and alleged that a number of clerics, who are members of this board, support exploitation of Muslim women in the name of Islam.
In a counter attack, Bhartiya Muslim VikasParishad chairman Sami Aghai called AshfaqSaifi a "BJP stooge" and alleged he is distributing money among poor Muslim women to buy their support for the party.
Aghai said Saifi does not have any knowledge of Islam and Muslims should be cautious of such pseudo-Muslims.
http://indiatoday.intoday.in/story/dissolve-aimplb-for-triple-talaq-stand-demands-muslim-group-in-agra/1/1118860.html
--------
A big year for women in the Arab world
OLIVIA CUTHBERT | Published — Wednesday 27 December 2017
LONDON: Reforms came in quick succession across Middle East countries this summer, sparking renewed optimism in the women's rights community after years of setbacks.
In July, Tunisia passed a landmark law criminalizing violence against women and soon afterward governments in Jordan and Lebanon abolished legal loopholes enabling rapists to escape punishment by marrying their victims.
In the Gulf, Saudi Arabia's decisions to lift a longstanding ban on female drivers marked a turning point for women's emancipation in one of the region's most conservative countries.
For women's rights activists, these reforms are a symbol of progress after decades of campaigns.
"It's an indication that governments are changing their position toward women's rights, albeit at a very moderate pace," said Layla Naffa, director of projects at the Arab Women's Organization in Jordan.
"After six years of closing the doors, a window of hope has opened and we will continue to fight the battle," she said.
Speaking at a recent conference on violence against women in the Middle East and North Africa (MENA) region, Sara Fallstrom, head of the international department at IM Swedish Development Partner, said while these "major steps forward" are to be celebrated, "legislation alone is not enough to end violence against women."
In patriarchal societies where gender inequality is ingrained across all aspects of social, economic and political life, the greatest challenge comes with confronting cultural conceptions of women's roles and responsibilities.
"The law has an important part to play in changing behaviors and attitudes, however, the law is not enough," ElieKayrouz, a Lebanese MP said.
The legal environment may criminalize certain forms of violence against women, but it does not eliminate these practices from people's mindsets, he explained.
Even with the necessary laws in place, women face hurdles at every level when it comes to reporting violence. Fear of bringing shame on their family and community — potentially inciting further violence — is compounded by the frequent failure of authorities to take complaints of gender-based violence seriously.
"Shame culture and stigmatizing the victim is a very widely spread phenomenon which is preventing most victims from reporting or seeking help," said AsmaKhader, former minister of culture in Jordan and president of SIGI, a women's rights NGO.
"It's not enough to have a shelter or a policy slogan, you need to make sure that the people who are implementing the support services and upholding the laws really believe in the concepts behind them," she added.
Discussing the comprehensive new Law on Eliminating Violence Against Women in Tunisia, Amal Amraoui from Chouf Organization, an NGO focusing on women's issues, said the next step is to raise awareness among a population with limited knowledge of gender rights.
"It's a law that can protect women against violence but now we have to work on explaining it to people."
"Having this law doesn't mean I can take a holiday now. We have to finish this."
The new ruling, which criminalized all forms of violence against women, as well as introducing penalties for sexual harassment in public spaces and fines for wage discrimination, was greeted with cautious optimism by activists across the region.
"By enacting this new law, the Tunisian authorities have shown a commitment to the rights of women and are setting a standard that many others would do well to follow," said AmnaGuellali, Tunisia office director at Human Rights Watch.
"But other steps are needed for full equality. The government should now fund and support institutions to translate this law into genuine protection."
WafaDikahHamzeh, vice president of the National Commission for Lebanese Women and secretary general of the National Coalition Women for Politics, expressed hope that legal developments in Tunisia, Jordan and Lebanon would have a domino-effect across the region.
To date, only a handful of Arab countries have developed national strategies for tackling violence against women, including Jordan, Lebanon, Tunisia, Saudi Arabia and Morocco.
"In order to reach a comprehensive system of gender equality, we still have a lot to do," Hamzeh said. "As long as there are discriminatory texts and legislation that consider women as second-degree citizens, there will always be violence."
http://www.arabnews.com/node/1214811/middle-east
--------
Female inspectors clamp down on commercial concealment
ASEEL BASHRAHEEL | Published — Wednesday 27 December 2017
RIYADH: A team of female trade inspectors has carried out an inspection tour in various stores in the city to apprehend those involved in commercial cover-ups. The inspectors visited 75 womenswear establishments, 18 of which were shut down as a result.
The Ministry of Commerce and Investment (MCI), which sent the team, aims to empower Saudi women by providing more jobs in the trade sectors. Through these rounds, they will continue to monitor, inspect and keep track of irregularities in the markets and shops selling women's supplies.
An MCI spokesperson revealed to Arab News that "the ministry has been employing female trade inspectors and their first assignment took place last August (during the Hajj season) when they monitored the female market there. They're employed in accordance with the employment regulations under the civil service law to supervise women's centers and shops in different parts of the Kingdom.
"In addition, female trade inspectors contribute to the MCI's efforts in fighting off commercial concealment by monitoring and capturing counterfeit and forged goods, as well as ensuring products are safe for use through scheduled visits to womenswear shops."
Female trade monitors are also in charge of uncovering commercial fraud and trademark impeachment of precious metals and stones stores.
http://www.arabnews.com/node/1215001/saudi-arabia
URL: https://www.newageislam.com/islam-women-feminism/tunisian-schoolgirls-rebel-having-wear/d/113717