New Age Islam News Bureau
06 July 2022
• Sania Mirza Two Wins Away From Elusive Title, the Wimbledon Mixed Doubles
• Legal, Yet Virtually Banned: Turkish Women Denied Right To Free, Safe Abortions
• Terrorists Kidnapping Hundreds of Nigerian Women, Using Them as Sex Slaves
• Islam Ensures Rights to Women, Says Lollywood Star Armeena Khan
• Saudi Arabia Deploys More Than 1,380 Nurses at Holy Site Hospitals To Serve Pilgrims
• Ex-Afghan President Urges Immediate Return Of Girls to School To Help Economic Future
Compiled by New Age Islam News Bureau
URL: https://newageislam.com/islam-women-feminism/tunisian-ons-wimbledon-sania/d/127418
--------
Tunisian Ons Jabeur Makes History as 1st Arab Woman to Qualify To Wimbledon's Last Four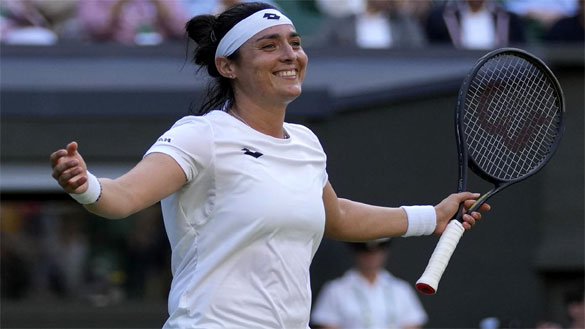 Tunisia's Ons Jabeur returns to Marie Bouzkova of the Czech Republic in a women's singles quarterfinal match on day nine of the Wimbledon tennis championships in London on Tuesday. (AP)
-----
July 05, 2022
LONDON: Ons Jabeur has become the first Arab woman to book a place in the last-four of a Grand Slam after the world number two, of Tunisia, defeated Marie Bouzkova on Tuesday.
Meanwhile, defending champion Novak Djokovic battled back from two sets down to reach an 11th Wimbledon semifinal.
Djokovic triumphed 5-7, 2-6, 6-3, 6-2, 6-2 over Italian 10th seed Jannik Sinner, recovering from a two-set deficit for the seventh time in his career.
The Serb will face Britain's Cameron Norrie, who also needed five sets to get past David Goffin of Belgium, 3-6, 7-5, 2-6, 6-3, 7-5.
As for Jabeur, she defeated Bouzkova 3-6, 6-1, 6-1.
She will next face close friend and mother-of-two Tatjana Maria, who defeated fellow unseeded German Jule Niemeier, 4-6, 6-2, 7-5.
Djokovic, a 20-time major winner, said he had to give himself a talking to after going two sets down.
"The first two sets compared to the next three were like two different matches," he said.
"But at the end of the second set I took a toilet break, gave myself a little pep talk, tried to gather my thoughts.
"I broke early in the third set. I saw a little bit of doubt start to come into his movement. I have many years' experience of playing on these courts and coping with the pressure."
Djokovic is no stranger to Grand Slam adversity, having twice come back from two sets down as recently as last year's French Open.
The second of those stunning recoveries was in the final against Stefanos Tsitsipas.
After Tuesday's bathroom break, he returned to court and grabbed a break in the fourth game of the third set as he trimmed his quarter-final deficit.
In control, the 35-year-old levelled the tie with a double break in the fourth set as Sinner took a worrying tumble on his ankle scrambling to the Center Court net.
Djokovic carved out two more breaks in the decider, the second off the back of a stunning, cross-court backhand on the stretch to go to 5-2 before calmly serving it out.
"I played well but he raised his level," said Sinner, who had never won a grass-court match before Wimbledon.
Ninth seed Norrie got the better of 58th-ranked Goffin to make the last four of a Slam for the first time.
Left-hander Norrie said he was struggling at the start of the match, admitting he was forced to dig deep.
"It was all just adrenaline, using my legs and trying to put the ball in the court, and it's great to get over the line," he said.
Norrie, the first British man to reach the Wimbledon semifinals since Andy Murray in 2016, said he was going to "take it" to top seed Djokovic.
The result was tough on Goffin, who made the quarter-finals on his last appearance at Wimbledon in 2019.
The Belgian hit more winners, 49 to 38, and won more points, with his 151 trumping Norrie's 145.
Jabeur, the only top 15 seed to make the last-eight in the women's tournament, battled back to see off 66th-ranked Bouzkova of the Czech Republic.
The Tunisian was broken twice as she lost the first set but lost only two games after that to power to a 3-6, 6-1, 6-1 win.
Jabeur described semifinal opponent Maria as her "barbecue buddy."
"It's going to be tough to play her, she is a great friend," she said.
"I am really happy she is in a semifinal — look at her now, she is in a semifinal after having two babies. It is an amazing story."
Maria, 34, who saved two match points in the previous round against Jelena Ostapenko, made her Grand Slam debut in 2007 and had never progressed beyond the third round at a major before this year's Wimbledon.
"I have goosebumps everywhere," said the world number 103, who returned from maternity leave just under a year ago.
"My two little girls, it's a dream to live this with my family, to live this with my two girls. Almost one year ago I gave birth, it's crazy."
The remaining quarter-finals take place on Wednesday.
In the men's event, Rafael Nadal faces Taylor Fritz of the United States while Nick Kyrgios takes on Chile's Cristian Garin.
Simona Halep, the 2019 women's champion, tackles Amanda Anisimova of the United States while Ajla Tomljanovic takes on big-serving Elena Rybakina.
Source: Arab News
https://www.arabnews.com/node/2117131/sport
--------
Sania Mirza Two Wins Away From Elusive Title, the Wimbledon Mixed Doubles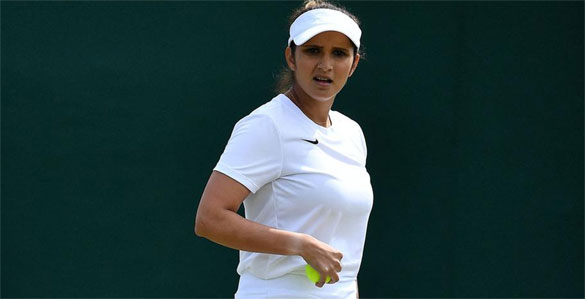 File image of Sania Mirza | AFP
----
Elora Sen
06.07.22
The 2022 season is set to be Sania Mirza's last and for the Indian icon, nothing would be more satisfying than getting her hand on a trophy that has eluded her till now — the Wimbledon mixed doubles title.
And she is just two matches away.
With six grand slam titles (three in women's doubles and three in mixed) under her belt, Sania would look to complete a career grand slam.
In mixed, she has already won the Australian Open (2009), French Open (2012) and the US Open (2014). In women's doubles, the French Open has stayed out of her grasp.
She had last played in a grand slam final in 2016, winning the Australian Open women's doubles final.
On Monday, Sania, with her Croatian partner Mate Pavic, made it to the semi-finals at SW19. Seeded sixth, the Indo-Croatian duo beat the fourth-seeded Australian-Canadian pair of John Peers and Gabriela Dabrowski 6-4, 3-6, 7-5 in one hour and 41 minutes at the All England Club.
The 35-year-old Sania last played in a grand slam semi-finals at the 2017 US Open in the women's doubles, where she lost. It will also be her maiden appearance in the Wimbledon mixed doubles semi-finals. She was knocked out in the quarters thrice before, in 2011, 2013 and 2015.
Incidentally, this will also be her first last-four appearance at the grass-court grand slam since 2015, having won the doubles title then with Martina Hingis.
Paired with Czech Republic's Lucie Hradecka, Sania was knocked out in the opening round of the women's doubles event this year..
Sania had announced her retirement plans after her first round exit in the women's doubles at the Australian Open. "I think I have achieved almost everything I could have ever dreamed about when I started out on this amazing game of tennis," Sania had then told The Telegraph.
She had also set some realistic goals for her farewell year: "First things first, I would like to finish this year without having to face any major injury. It would be amazing, of course, if I could win a tournament or two in my final year on the circuit."
And that goal may well come true this week if she manages to win the title.
"There is no one in the world who goes through his or her career and feels that he or she has had a flawless run in their chosen sport. That is the beauty of sport and makes it different from a Bollywood movie where you could incorporate a flawless story of achievements at will," she had said.
But Sania's career, and the inspiration she has been to hundreds of women fighting to take up sport as a career in India, is nothing short of a blockbuster.
Source: Telegraph India
https://www.telegraphindia.com/sports/sania-mirza-two-wins-from-elusive-title/cid/1873316
--------
Legal, yet virtually banned: Turkish women denied right to free, safe abortions
5 Jul 2022
When Esra*, a 27-year-old from Istanbul fell pregnant by mistake, she knew she had no choice but to get an abortion.
Abortion is legal on request in Turkey to all women up to the 10th week of pregnancy, and up to the 20th week for medical reasons. According to the law, it should be done in any public hospital for free.
Yet Esra visited one hospital after another in Istanbul, trying to arrange a termination, and was turned away from them all.
"I was told over and over, you can't get an abortion here, we don't perform it," says Esra. "I told them that it was my right, but they still refused."
In growing desperation, she visited several private hospitals but was told they would charge a fee that she had no way of paying on her teacher's salary. "The weeks were passing and I was more and more nervous, imagining that I would end up in some clandestine and unhealthy place," she says.
When she eventually found a private clinic she could afford, she still had to sit through a lecture by the resident gynaecologist, telling her she should try to persuade her partner to marry and have the baby.
The operation seemed to go smoothly, but three weeks later she began to bleed.
"I had a fever, and pieces of coagulated blood were coming out of my body," she says. At the nearest public hospital, doctors performed an emergency operation after discovering her abortion was incomplete. "They treated me in one of the hospitals where I had been told that no abortions are performed. It would have been so easy and safe if they had just agreed in the first place," says Esra.
She now worries that she will be unable to have children after experiencing persistent pain after her operation.
In Turkey, women's right to access free and safe medical abortions is increasingly under threat. After the law legalising abortion was introduced in 1983, the number of abortions rose over the next five years to 45 per 1,000 women aged between 15 and 49. Ten years later, it had fallen to 25. A study by Kadir Has university found that by 2020, there was not a single public hospital performing on-demand abortions in Istanbul.
According to the survey, only eight of Turkey's 81 provinces have at least one public hospital performing on-demand abortions, and only two of them have more than one. From the 295 clinics surveyed, 14% said they would not perform abortions for reasons other than a medical emergency.
The study found that health workers often tell women that abortion is forbidden, or legal only for married women. Single women either cannot access the operation or must bring a permit from the local prosecutor's office. All of this is false.
The Guardian interviewed more than a dozen Turkish women who had all had abortions in the last three years. All said they were forced to seek terminations in private clinics, since public hospitals refused to perform the procedure. They said they were told in some hospitals that it was forbidden for them to carry out terminations.
"There is a de facto ban in many places," explains Filiz, a nurse at a public hospital in Istanbul where abortions are not performed. "Under Turkish law, a doctor cannot tell a woman she cannot have an abortion, but refusal is very common, forcing women to go begging from hospital to hospital," says Filiz, who prefers not to give her surname.
This de facto ban appears to be shaped by the increasingly populist and hardline approach to abortion taken by the Turkish government. In 2012, Recep Tayyip Erdoğan, who was prime minister at the time, described abortion as "murder", and proposed a bill to restrict it to only the first six weeks. Massive protests erupted in the country and the proposal was never voted into law.
Yet reproductive health activists say that, since then, many parts of the public health system have fallen into line with the government's increasingly anti-abortion position, underlined by Erdoğan's often-repeated wish that "every woman should have at least three children".
"We have increasingly seen hospital administrations put pressure on physicians to not practise abortions," says Irmak Saraç, an obstetrician and member of the women's commission at the Istanbul Medical Chamber. "The conservative atmosphere and debate over the foetus's right to life is increasing the rate of conscientious objection."
She adds: "On many occasions, the family planning units where abortions were performed have been closed, or new doctors have not been assigned when the obstetricians retired."
A private clinic told the Guardian that the fee for an abortion is about 3,000 liras (£146), although prices increase with each passing week of pregnancy. This makes access to an abortion difficult for many women in a country where the minimum monthly wage is about £243 and only 30% of women of working age are in formal employment.
Many of the women who spoke to the Guardian said they had faced hostility, discrimination and abuse from healthcare workers while trying to access their right to a safe and legal abortion.
Ilknur, 28, is from Köycegiz, a small town on the Aegean coast. A year ago, she became pregnant and travelled to Istanbul to have an abortion. "Coming from a small town, I was afraid the doctor would know my parents, and they would find out," she says.
Ilknur was five weeks' pregnant, and with the help of two friends called more than 20 public hospitals in Istanbul. All refused her an abortion. "I began to get really scared because I just presumed it would be straightforward," she says. "I even talked to hospitals in other cities near Istanbul but found nothing."
Two weeks passed, and Ilknur started consulting private clinics. Using her savings, she paid 3,500 liras for the abortion. "All the time, I kept wondering about women in more conservative cities who don't have this kind of money," she says.
On her first visit to the clinic, the doctor was kind and courteous. "But when I went in for the abortion, the same doctor and the nurse started behaving very coldly," she says.
Ilknur was given a local anaesthetic but a few minutes into the procedure she felt a strong pain in her stomach that made her move her legs. "The doctor said to me: 'Open your legs, this is nothing. If you have been able to open your legs to get pregnant, now you can too'."
Ilknur was stunned. "I just couldn't look at him again. The nurse didn't say a thing. I was so embarrassed."
After the abortion, she didn't return to the clinic for a check-up. She thought about filing a complaint but didn't want her family to find out about her abortion.
Across Turkey, some healthcare workers – including Filiz – are now attempting to help women access their right to a safe abortion, drawing up lists of medical staff still willing to carry out free abortions.
Filiz says: "Several of us wrote up a list of doctors who agree to perform abortions, and we distributed it among grassroots organisations and feminist groups to help other women. But it is impossible to get this information to all of those who need it."
Source: The Guardian
https://www.theguardian.com/global-development/2022/jul/05/legal-yet-virtually-banned-turkish-women-denied-right-to-free-safe-abortions
--------
Terrorists Kidnapping Hundreds of Nigerian Women, Using Them as Sex Slaves
By Masara Kim
July 5, 2022
NIGERIA—Hundreds of women are being kidnapped every week and held as sex slaves by bandit terrorists in Nigeria's north, according to a national politician.
And the government is unconcerned, said Umar Barde a member of the Nigerian House of Representatives in a phone interview with The Epoch Times.
"They [terrorists] rape both young and old women, even teenagers," said Barde, who represents Kajuru and Chikun counties of Kaduna state.
Large bandit gangs who identify chiefly as members of the Fulani tribe have waged endless war on farming communities in northwest and north-central Nigeria since 2011, according to reports.
The Fulani, a large ethnic group in West Africa that claims more than 20 million members in Nigeria, has been blamed for thousands of "genocidal massacres" in the country in recent years—according to Greg Stanton, the founding president of Genocide Watch.
"They target members of a religious group," wrote Stanton in a recent report. He rejects claims by U.S. officials, including the ambassador to Nigeria Mary Berth Leonard, that the massacres are traditional herder-farmer "conflicts."
In a recent strike in a frequently terrorized Niger state on June 29, the terrorists killed more than 30 soldiers and policemen at a mining site in Ajata-Aboki town, according to local media.
The attackers also killed six civilians and kidnapped three foreigners working at the site, the reports say.
The late-night raid followed weeks of sustained attacks by kidnap-for-ransom gangs 186 miles away in neighboring Kaduna state.
Forced Marriage
In one of the latest instances, motorcycle-riding terrorists struck a small farming town in Kachia county known as Kasan-Kogi.
They kidnapped 27 residents—21 women and six males according to Ezekiel Garba, a pastor at the Chapel of Good News Church in Kasan-Kogi.
The terrorists killed two residents and threatened to marry off the female abductees to their gang members within days of demanding 100 million Nigerian naira (US$240,818.78), Garba said.
"They said they will use our women to produce children that will, in turn, fight us," said Garba whose wife is among the abductees.
The attack occurred at dawn, Garba said, lasting two hours without intervention by the military. The distance from the nearest military station, the Kalapanzi Artillery Barrack Kakuri, is less than 15 miles, Barde said.
According to Garba, the band of 300 terrorists on motorcycles swooped in on the small farming town at 6.30 a.m. after a 30-man civilian guard group had closed from a routine night watch.
"They split themselves throughout the village—some went and circled an Evangelical Church Winning All in the center of the town where 15 women were attending a morning fellowship," he said.
"They shot the pastor of the church—Rev. Ezra Shamaki and another person within the church premises and kidnapped 14 of the women who could not escape," Garba said. "Among the women kidnapped was the wife of Pastor Ezra," he said.
He added: "Another group chased and took me, my wife, and my daughter at different locations. They later released me and my daughter who … recently gave birth and asked me to go and mobilize a ransom.
"They went on to kidnap six others—five females and one male in one village close to us called Gora."
"We told them we cannot pay the amount they are demanding," said Garba. "They have stopped us from going to the farms and we don't have any source of income," he said.
His colleague at the Chapel of Good News church in Kasan-Kogi, Pastor Andrew Garba—whose wife is also being held—told The Epoch Times, "This is the second time my family members are being kidnapped this year and I don't have anything left."
Two days before the attack, a similar raid on a complex of villages known as Rubu in nearby Kajuru county on June 19 saw 36 residents kidnapped.
They included 31 females, according to Jonathan Asake, president of the Southern Kaduna People's Union (SOKAPU).
Three people were killed in the attack on Christian worshippers on a Sunday morning, Asake said.
The Epoch Times had reported an earlier attack on June 5 in Dogon Noma and Maikori towns in the same count.
In that incident, terrorists firing from a helicopter killed 33 people and kidnapped 27 others. The abductees were predominantly females, said Asake in a phone call.
"They kidnap women and turn them into sex slaves," Asake said. "Many of the women have returned traumatized with many of them dying after being released."
Shared With Terrorists
Approximately 320 miles away in Kebbi state, Epoch Times reporter Beloved John interviewed villagers who said dozens of women kidnapped in the terror-battered east of the state have returned pregnant.
"People don't talk about them," said John in a phone call. "They are scared of stigma," she said.
In a nearby Sokoto state where terrorists are taking towns and standing up to their own governments, husbands are forced to share their wives with bandits and remain silent, according to reporters speaking to The Epoch Times.
"They mostly come into towns and … demand that men release their wives to them or they will be killed," said one reporter, Mansur Buhari who is also a lecturer at the Sokoto State University.
"Sometimes they chase all men from a town and rape all the women there," said Buhari.
A former county chairman in Sabon Birni, Idris Gobir told The Epoch Times, "The raping of women by terrorists has become part of everyday life in Sabon Birni and Isa [areas].
Gobir is currently standing to represent Sabon Birni in the Nigerian House of Reps.
"On a particular day in one village, they lined up more than 100 women and raped them in front of their husbands," he said.
In another instance in November 2021, Gobir said terrorists gang-raped more than 20 women in a Mosque in a town called Allakiru in Sabon Birni county.
The incident has been confirmed by an Islamic cleric in Sokoto—Sheikh Bello Yabo.
"These terrorists captured women in a particular village and raped them in a mosque," Yabo said on the internet. He then berated President Muhammadu Buhari for failing to protect citizens in Sokoto.
Officials Ignore Queries
Police and officials of the National Agency for the Prohibition of Trafficking in Persons (NAPTIP)—an agency that tracks and prosecutes trafficking offences—did not provide the information requested by The Epoch Times.
An agency official who identified as Rose Paul—replying to one of The Epoch Times' emails wrote—"I am directed to inform you that the statistics showing trends in trafficking can be retrieved from the agency's website."
The Epoch Times found that of 1,112 trafficking cases reported on the website in 2021—the latest figures published by the agency, none was reported as a case of sex slavery involving terrorists.
The U.S. State Department in its 2021 Trafficking Report on Nigeria links this to corruption and lack of coordination among relevant agencies.
Boosting Terror Groups
Sex slavery is a predictable strategy by terrorists aimed at repopulating their groups, wrote Elizabeth Baklaich, a Human Rights Educator and Christian Rights Activist in Washington.
"This is a pattern of terrorism we have seen before," wrote Baklaich to The Epoch Times in a text message.
"We understand the how and why, so what makes us incapable of keeping history from repeating itself, protecting the innocents and helping those who are facing brutal persecution, rape, and slaughter?" said Baklaich, who condemned the silence of the United Nations and other governments.
The Nigerian government is helpless to act, or is unwilling to do so, wrote British activist and spokesman of Release International, Andrew Boyd.
"This has grave implications for the whole of Africa," wrote Boyd in an email to The Epoch Times.
"The culture of impunity is spreading; and the repercussions for Nigeria and its citizens, already horrific, are set to worsen," he wrote.
Source: The Epoch Times
https://www.theepochtimes.com/terrorists-kidnapping-hundreds-of-nigerian-women-using-them-as-sex-slaves_4578204.html
--------
Islam Ensures Rights to Women, Says Lollywood Star Armeena Khan
JULY 6, 2022
Lollywood star Armeena Khan has opened up about women tights. The actress has said that Islam ensures provision of rights to women but these are Muslim men who become hurdle in the way. Taking to Twitter, Armeena Khan wrote, "Islam does but Muslim men don't allow those "rights" to be passed on so women are still without their basic rights. And you only have to look at all the gender-based violence as evidence," The actress often talks about Islam and its beautiful code of life whenever some western people try to make any criticism.
Source: Daily Times Pakistan
https://dailytimes.com.pk/963281/islam-ensures-rights-to-women-says-armeena-khan/
--------
Saudi Arabia deploys more than 1,380 nurses at holy site hospitals to serve pilgrims
July 04, 2022
Tawfiq Nasrallah
Dubai: Saudi Arabia has announced the deployment of as many as 1383 male and female nurses at the holy site hospitals to serve pilgrims participating in the Hajj, local media reported.
According to the Ministry of Health, the nurses include 556 men, 827 women, 1,237 of whom (89 per cent) are Saudis, and 146 are non-Saudis (11 per cent).
The nurses were distributed to the Holy Sites Hospitals as follows: Mina Emergency Hospital (126), Mina Al Jisr Hospital (134), Mina New Street Hospital (75), Mina Al-Wadi Hospital (175), East Arafat Hospital (82), Jabal Al-Rahma Hospital (85), Namera Hospital (97), Arafat General Hospital (167), Muzdalifah Hospital (51), Jamarat Hospital (62), and health centers in Mina (329).
According to Saudi Press Agency, more than 650,000 pilgrims have so far arrived in the kingdom, coming through air and land ports to perform Hajj this year.
The Ministry of Hajj and Umrah said that a total of 294,377 pilgrims left Medina during the past days on their way to the holy sites in Mecca, while the total number of pilgrims remaining in Medina yesterday reached 74,758 pilgrims.
Source: Gulf News
https://gulfnews.com/world/gulf/saudi/saudi-arabia-deploys-more-than-1380-nurses-at-holy-site-hospitals-to-serve-pilgrims-1.89030900
--------
Ex-Afghan president urges immediate return of girls to school to help economic future
05 July, 2022
Afghan girls should return to school immediately, Afghanistan's former President Hamid Karzai told Al Arabiya, stressing that education was needed to help the war-torn country "move ahead" and reduce its reliance on the rest of the world.
"The most important and pressing issue is the return of Afghan girls to school from grades 6 to 12," Karzai said.
"These are the issues and these are the decisions of the Afghan people [that] require of the current government to make so that Afghanistan moves ahead with education, so that Afghanistan is able to stand on its own feet rather than being a country that is in need of the world, rather than being a country from which its people are running away, that has to stop."
The former president, who ruled the country from 2002 to 2014, said that a power-sharing model of governance was "not necessary" so long as the Taliban interim government earns the approval of the Afghan people.
"…The whole idea [is] to bring about a feeling that Afghanistan belongs to all its people and that the government of Afghanistan is representing all its people, and that it is moving in a direction where the aspirations of the people are being fulfilled."
Karzai said that one way the Taliban can gain the approval of the country's people was to ensure the return of girls to school. He added that the government needed to take policies that were in the "direction of progress, self-sufficiency, and economic wellbeing" to ensure a sense of unity among the people.
He continued, "It is in the interest of the Afghan people to have Afghan women get educated. The entire Muslim world is getting girls educated. Islam emphasizes the education for girls, [it] lays immense emphasis on education and learning, and Afghanistan cannot be an exception. The Afghan woman obey hijab fully among the best in the Western world in this regard. Therefore, there is no reason there cannot be an excuse not allowing girls to go to school."
The ex-president's comments come after a three-day meeting which ended on Saturday that failed to address some of the country's most pressing issues, including girls' education.
Afghan women activists said on Sunday that they still viewed the Taliban as illegitimate rulers despite a declaration by thousands of male Afghan critics endorsing the government, according to an AFP report.
Last week, they insisted that women would be represented at the three-day meeting, but only by their sons and husbands. It was attended by over 3,500 men.
The Taliban seized power last August and have since tried to present their vision of an extremist country governed by their interpretation of the Sharia law. Since returning to power after the US' failed attempt to repel their influence in the country, the Taliban's harsh policies have imposed severe restrictions on Afghans – particularly women.
Karazi said Afghan women have been wearing burkas in the country for a "very, very long time," adding that "Afghan women are fully obeying the hijab in many forms. Some wear burkas, some wear a big scarf for their heads. Others do it in some other forms..."
However, what is needed "is not so much a discussion on this on hijab," he said.
"This is something that the society is doing anyway. What we are asking about, what the country is asking about is the return of women back to work. As half of the society, that is extremely important," Karazi told Al Arabiya.
"I must emphasize for the well-being of Afghanistan, any government that wants to see the country do well must understand that that cannot happen without women working shoulder to shoulder with the men of that society for a better future."
Source: Al Arabiya
https://english.alarabiya.net/News/world/2022/07/05/Ex-Afghan-president-urges-immediate-return-of-girls-to-school-to-help-economic-future
--------
URL: https://newageislam.com/islam-women-feminism/tunisian-ons-wimbledon-sania/d/127418
New Age Islam Islam Online, Islamic Website, African Muslim News, Arab World News, South Asia News, Indian Muslim News, World Muslim News, Women in Islam, Islamic Feminism, Arab Women, Women In Arab, Islamophobia in America, Muslim Women in West, Islam Women and Feminism