New Age Islam News Bureau
24 February 2022
• Saudi Arabia's First-Ever Women's Rally Race Gets Royal Backing
• 11 Saudi Women Prepare For World and Asian Snooker Championships
• Young Girls in Lebanon Forced To Marry To Secure a Semblance of Financial Security
• Hijab Row: How Artists Are Celebrating Women as Political Agents
• Two Arab Female Designers to Watch Out For At Milan Fashion Week
Compiled by New Age Islam News Bureau
URL: https://www.newageislam.com/islam-women-feminism/ons-jabeur-mayar-sherif-arab-athletes/d/126443
--------
Tunisian Ons Jabeur, Egyptian Mayar Sherif Opening Doors For Female Arab Athletes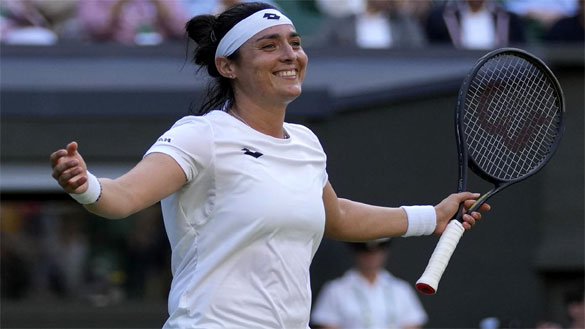 Tunisia's Ons Jabeur. (Reuters)
----
Lilian Tannoury
February 23, 2022
RIYADH: When Moroccan Nawal Al-Moutawakel climbed the podium to receive the gold medal for the 400-meter hurdles at the 1984 Los Angeles Olympics, it was the first time that an Arab had pulled off such a feat.
To this day, it remains an unforgettable moment for Arab sports fans of that era.
A national hero, Al-Moutawakel later became the first woman to hold the International Olympic Committee membership at the London 2012 Games. Before that she was one of eight women to carry the Olympic flag at the opening of the 2006 Winter Olympics in Turin, Italy.
Over the years Al-Moutawakel became a role model and inspiration for Moroccan, Arab, and African female athletes.
In the two decades or so after that, however, few Arab women have followed in her Olympic footsteps.
Until the current generation that is, when female athletes from various sports have emerged to excel in raising their countries' flags across major international sporting competitions.
And in Tunisian tennis star Ons Jabeur, the perfect ambassador and role model for a whole new generation of female Arab athletes may just have been found.
Jabeur has "inspired the new generation of Arab tennis players, realizing her pioneering role for future generations," the International Tennis Federation recently said on its Facebook account, accompanied by a video explaining the player's history, her upbringing, and her most prominent achievements.
Jabeur came to prominence in 2011 after she won the Roland Garros youth tournament, but it was the last year that has seen a meteoric rise in her career. She became the first Arab woman to reach the quarterfinals at Wimbledon on the way to breaking into the top 10, having been the first to reach the quarterfinals of the Australian Open a year earlier.
After she made the quarterfinals in Melbourne, Tunisian President Kais Saied, said: "Her racket is a shield and a sword to achieve more successes, and she remains the best ambassador for Tunisian sports, and an example for the brilliant Tunisian women and youth in all fields."
Despite getting knocked out of the recent Dubai Duty Free Tennis Championships in the quarterfinals, Jabeur once again delighted the home crowd who have taken her to their hearts, as well as continuing to act as an inspiration for aspiring Arab players.
It was not that long ago that young female athletes had few avenues for progress in most Arab nations, but what was once taboo — a professional career in sports — is now actively encouraged thanks to the example set by Jabeur and others.
Another Arab who has shone in the world of tennis is Egypt's golden girl Mayar Sherif, who has been creating her own piece of history by reaching No. 74 in the world rankings, jumping 22 positions after becoming the first female player from her nation to play at a major (French Open 2020) and the first to win a Grand Slam match (Australian Open 2021).
At Tokyo 2020, Sherif also became the first Egyptian female tennis player to take part in the Olympics, after she had won the gold at the African Games in Morocco in 2019.
She was not the only one to make a mark in Japan. Egypt participated with a record 137 athletes, the women distinguishing themselves with Feryal Abdelaziz becoming her country's first ever female gold medalist, in the karate competition. There was another gold for Hedaya Malak in taekwondo, and a bronze for Giana Farouk in karate.
Tunisia's women, too, have made their mark on the Olympics in the past decade. The runner Habiba Ghribi won a gold at the 2012 London Olympics in the 3,000-meter steeplechase, while the Tunisian delegation competed at Tokyo 2020 with 16 entries, including one for a team sport, volleyball.
Elsewhere, there was a silver medal for Bahraini runner Kalkidan Jezahin in the 10,000 meters, and major hope for the future came in the shape of 12-year-old Syrian tennis player Hind Zaza, who despite losing her first match, became the youngest player to participate in the history of the Olympics.
The number of Arab female athletes taking part in the Olympics and sports in general may still only be a trickle but thanks to Jabeur, Sherif and others, young women throughout the region are taking notice and starting to believe they could be next, hopefully turning the trickle into a flood.
Source: Arab News
https://www.arabnews.com/node/2030291/sport
--------
Saudi Arabia's First-Ever Women's Rally Race Gets Royal Backing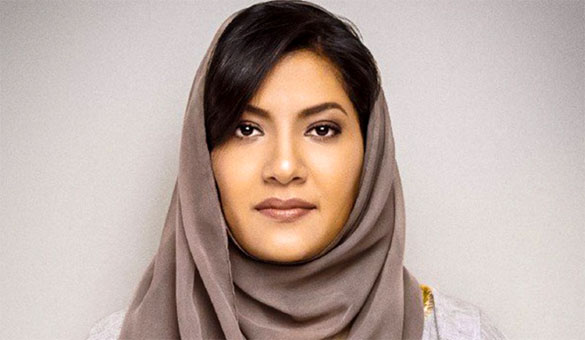 Rally Jameel will be held under the patronage of Ambassador of Saudi Arabia to the United States Princess Reema bint Bandar Al-Saud. (SAMF)
---
February 23, 2022
JEDDAH: Saudi Arabia's Rally Jameel, the Middle East's first-ever women's navigational rally, will be held under the patronage of Princess Reema bint Bandar Al-Saud, Saudi ambassador to the US, it has been announced.
The rally, which begins just weeks away on March 16, looks to empower Saudi women in sport.
The backing of Princess Reema comes under the Kingdom's Vision 2030 ambitions. The rally is sanctioned by the Saudi Automobile and Motorcycle Federation and has the support of the FIA Women in Motorsport Committee.
Princess Reema has a background in promoting Saudi Arabian sporting initiatives, having previously served as vice president of women's affairs at the Saudi General Sports Authority, a role in which she developed policies and programs that targeted women and children throughout the Kingdom.
She was later promoted to deputy of development and planning, and was appointed president of the Mass Participation Federation, making her the first woman to lead a multi-sports federation in the Kingdom, a role that she occupied until her appointment as Saudi ambassador to the US.
Princess Reema is also a member of the International Olympic Committee Women in Sports Commission and a member of the Saudi Arabian Olympic Committee.
"It is an honor to be involved with this first-of-its-kind rally, which will shine a light on the positive steps being taken across Saudi Arabia to empower women to pursue their passions in their everyday lives," she said. "It is also fantastic to see this opportunity being made accessible to women, not only across the country, but the region and globally. I am confident that all participants will enjoy a truly unique experience, enjoying our wonderful country's hospitality and beautiful scenery."
"Undoubtedly, we believe that all sports will benefit from higher levels of interest from the region's trailblazing women like Her Royal Highness," said Hassan Jameel, deputy president and vice chairman of Abdul Latif Jameel.
Up to 30 teams of women drivers and navigators from Saudi Arabia, the GCC and across the globe will be taking part in the rally, which will take place from March 16-19. The rally will begin in the north-central city of Hail, passing through Al-Qassim and then heading to the capital, Riyadh, via hidden checkpoints and challenges.
"We are honored to have the endorsement of Her Royal Highness Princess Reema bint Bandar bin Sultan bin Abdulaziz Al-Saud and her support for the rally," said Jameel. "The patronage of Her Royal Highness demonstrates the progressive nature of Kingdom and its views on women's empowerment in line with the transformative Vision 2030 framework."
Source: Arab News
https://www.arabnews.com/node/2030456/sport
--------
11 Saudi women prepare for World and Asian Snooker championships
February 24, 2022
JEDDAH — The Saudi Billiards and Snooker Federation is continuing to prepare for their first official international participation by its women's team in the World Championships and the Asian Snooker Championship, which will be held in Doha, Qatar, from March 1 to 12.
The participants' final preparation stage began on February 22 in Dammam, and the training camp will run through the end of this week when three players will be chosen to compete in the next two competitions.
The players who were elected to join the camp included Sohrab Shukri, Nada Al-Zahrani, Naglaa Al-Nuaimi, Alaa Al-Helweh, Rehab Shukri, Murouj Felimban, Noura Al-Daman, Dalal Al-Shamry, Iman Gibran, Lujain Al-Madani, Al-Batoul Al-Hamza.
The national team's coach, Captain Mansour Al-Khanfari, chose the players after several stages of preparation, the last of which will be an international friendly tournament in Cairo.
The Saudi Billiards and Snooker Federation's President, Dr. Nasser Al-Shammari, stated that everything is in place for the World Snooker Championship and the Asian Snooker Championship.
He also mentioned that the preparation had gone through multiple stages, including the establishment of numerous camps and extensive player preparation. He wished the team success and an honorable performance that reflects the Kingdom's prestigious status in the Gulf, Arab, Asian, and worldwide arenas.
Source: Saudi Gazette
https://saudigazette.com.sa/article/617450/Sports/11-Saudi-women-prepare-for-World-and-Asian-Snooker-championships
--------
Young Girls in Lebanon Forced To Marry To Secure a Semblance of Financial Security
Nadia Al-Faour
February 23, 2022
DUBAI: Nadia, 14, should be in school in her native Syria. Instead she is married to someone 13 years her senior in neighboring Lebanon.
She was married off by her father, Yasser, a Syrian refugee, on the promise of $8,000, half upfront and the rest when the marriage contract was signed.
"Her suitor approached me when she was studying," Yasser told Arab News. "He promised he would treat her right and help me open a minimarket to better my finances. But he turned out to be a liar and an abuser."
Among refugees in Lebanon, Nadia's plight is not uncommon. Grinding poverty and a dearth of opportunities have forced many families to make similarly desperate decisions — in effect selling their daughters to secure a semblance of financial security.
Yasser regrets his decision. "Her husband won't let her talk to me," he said. "I called once. He overheard her saying baba (father) and then snatched the phone away. I felt like my heart was set on fire."
In addition to the perils of poverty in exile, the estimated 1.5 million Syrian refugees in Lebanon must also endure the myriad of challenges facing their host country amid its crippling economic crisis.
Add to that the effects of the COVID-19 pandemic, political paralysis and the ongoing violence in Syria that militate against the return of displaced families, and the options for many appear bleak.
Against such a backdrop, marrying off children is seen by some communities — including impoverished Lebanese — as one of the few avenues available to them.
Reem, who is Lebanese, was only 16 when she consented to an arranged marriage. She did not object to the idea because several of her friends and neighbors were also tying the knot at around the same time.
One of the main factors in her decision — which in reality was only partly her own to make — was a desire to ease the financial burden on her parents. Now, three years into her marriage, she feels trapped.
"I wish I never went through it," she told Arab News. "What did I know? I have a daughter. Where will I go with her? I thought I was helping my parents to have one less mouth to feed. Now it seems I added one."
In Lebanon and Syria, children continue to be married off, with neither government paying much heed. Under Lebanon's constitution, personal-status laws are decreed by each individual sect, combining common law with religious doctrine.
As a result, matters such as marriage, divorce, custody and inheritance are often governed by religious courts. Each of the major sects has a different legal age for marriage; for Catholics it is 14, Sunnis have raised it to 18, and Shiites have set it at 15.
According to the constitution: "The state guarantees that the personal status and religious interests of the population, to whatever religious sect they belong, shall be respected."
Civil society groups in Lebanon have long urged the government to introduce an all-encompassing personal-status law.
A report published by Human Rights Watch in 2017 said it would be a "common sense measure" to raise, without delay, the minimum age of marriage to 18 without any exceptions. Such a law was drafted that same year but never passed.
"The impact on girls is devastating," Aya Majzoub, a researcher for HRW, told Arab News. "They are at heightened risk of marital rape, domestic violence and a range of health problems due to early childbearing.
"Lebanon's parliament can help end this practice. The Lebanese government and local authorities should develop programs to prevent child marriages, such as empowering girls with information and support networks, as well as engaging parents and community members about the negative effects of child marriage."
The high number of children who have missed out on an education in Lebanon over the past two years, because of the pandemic and the economic crisis, has increased the likelihood of premature marriage, particularly among vulnerable refugee communities.
A recent report titled Searching For Hope published by UNICEF, the UN's children's agency, revealed that 31 percent of children in Lebanon are out of school and that enrollment in classes had dropped to 43 percent in the current academic year.
The figures are thought to be much worse among refugee communities, where in many cases children have little access to any education at all.
Aid agencies have made efforts to end the custom of underage marriage by raising awareness of the effects it has on girls' lives and the potential for traumatic physical damage to pre-teens whose bodies are not sufficiently developed to endure the rigors of childbirth.
KAFA, which translates as "enough" in Arabic, is a Lebanese nongovernmental organization that was established in 2005 with the aim of eliminating all forms of gender-based violence and exploitation.
In 2016, it launched a campaign to highlight the plight of child brides. It also provides psychosocial support to survivors.
The campaign went viral on social media thanks to an extremely powerful image that showed a middle-aged man posing with a 12-year-old girl on their wedding day.
"Based on the abused women who come to our center, our statistics show that 20 percent of them were actually child brides," Celine Al-Kik, supervisor of the KAFA support center, told Arab News.
"There is a link between violence and child marriages. We are permitted by law to intervene and provide legal assistance when the underage girl is kidnapped, and when her parents oppose her marriage when her suitor has her convinced."
Besides legal reforms and active public-awareness campaigns, aid agencies believe the key to ending child marriage is poverty reduction and providing vulnerable communities with economic security.
"Families experiencing the economic crisis in Lebanon are increasingly resorting to marrying off young girls as a coping strategy for the deepening crisis," Nana Ndeda, policy director with Save the Children, told Arab News.
"It is important that the economic drivers of child marriage are urgently addressed. Girls who marry are most likely to drop out of school and have limited access to decent work. Child marriage is a violation of human rights."
Rawda Mazloum, a Syrian refugee, campaigns on the issues of women's rights and gender-based violence in the camps of eastern Lebanon's Bekaa Valley.
She organizes community workshops and partners with local nongovernmental organizations, such as KAFA, to try to raise awareness about the growing rates of child marriage, divorces and violence within the Syrian refugee community.
"The youngest girl I know of (who got married) was only 13," Mazloum told Arab News. "Her parents, like the rest, were struggling. These girls often get abused. They are not aware of their rights as they are still children. They are victims of ignorance, poverty and war."
As the crises on both sides of the Syrian-Lebanese border bleed into one another, the daily fight for survival, and the desperate decisions that come with it, is unlikely to end soon.
A report published in 2019 by Save The Children in Lebanon, titled No I Don't, lists poverty, conflict and lack of education as the primary factors driving child marriage.
However, it notes that child marriage can also be a means by which families try to protect their daughters from sexual harassment.
Parents who have married off young daughters often say security is a key motivation. Indeed, when refugees and impoverished households live in densely populated spaces among many strangers, there is a higher perceived risk of sexual harassment and violence toward girls.
Providing a male figure who can offer protection is often a consideration. In the case of Yasser and his daughter Nadia, however, the opposite proved to be the case.
"I thought I was offering her a better alternative, a better life," he told Arab News. "But he wasn't serious about her. He used her for fun."
Source: Arab News
https://www.arabnews.com/node/2030696/middle-east
--------
Hijab Row: How Artists Are Celebrating Women As Political Agents
Trisha Mukherjee
24 FEB 2022
Wrapped in an iridescent red shawl, an elderly woman is looking down, engrossed in reading a book. Over her eyes is a pair of red spectacles and on her head is a black headscarf, a hijab.
The seemingly ordinary portrait celebrates the extraordinary life of Sumana Bano (52), a physics lecturer. She was the first woman in her family to be educated, one of the few women in her university to study physics. She fought against all odds — took up two jobs to run her household after her father passed away, she took tuitions and embroidered clothes to make money, to achieve what and who she wanted to be.
Painted by artist Shilo Shiv Suleman, the artwork is part of a new campaign "Haq" by the Fearless Collective (founded by Suleman) that is extending solidarity to all Muslim women fighting for their right to choice amid the ongoing hijab row in the country.
The Karnataka government earlier this month introduced a ban on hijab in colleges across the state triggering outrage over what is being termed imposition of majoritarian values on the minorities, forcing young girls and women to choose between their right to education and their right to faith and choose what they wear.
As part of the Haq campaign, Suleman and her team make portraits of ordinary Muslim women, who have overcome numerous obstacles, asserted their voices at difficult crossroads in their lives to become who they are. The campaign celebrates these women as agents of their own lives.
Source: Outlook India
https://www.outlookindia.com/culture-society/hijab-row-how-artists-are-celebrating-women-as-political-agents-news-183756
--------
Two Arab female designers to watch out for at Milan Fashion Week
February 24, 2022
DUBAI: Zineb Hazim and Lara Chamandi are the names to know this Milan Fashion Week, currently underway until Feb. 28.
The Arab designers are set to showcase their latest Fall 2022 collections this season, and they are certainly ones to keep on the radar.
This will be the second time Moroccan-born Hazim has showcased her designs in MFW since her digital debut last season with We Are Made in Italy, a digital fashion show that presents BIPOC fashion designers, and who she is working with again this year.
Hazim started her label more than a year ago after graduating from Italy's Burgo Fashion Institute, and uses her native country of Morocco as a constant source of inspiration.
She launched her label after realizing there was no type of clothing that could combine her needs as a professional and as a Muslim woman. Her collection is a modern reinterpretation of modest aesthetics merged with business.
She combines traditional Islamic fashion with modern structures, giving customary clothing an unexpected twist.
Her brand offers a range of modest pieces, including abayas and pantsuits, with unusual fabric combinations including denim, tweed and embellishments.
Meanwhile, Milan-based Chamandi will be debuting her luxury namesake womenswear brand this season.
Inspired by the moon, more specifically, her favorite place in her homeland, the Monastery of the Moon in Lebanon's Chouf Mountains, the collection is also peppered with references to the constellations, particularly Scorpio, and other elements such as crystals and fire.
Chamandi's Fall 2022 collection reflects many of the moon's effects, including its gravitational pull on the tides, through the fluidity of the designs and fabric, all while making sure pieces are versatile and evoke confident femininity.
The range is also eco-conscious, using sustainable plant-based "leather." She is presenting the collection via private appointments.
In addition to a new jewelry line in the works, Chamandi is set to debut a special 20-piece capsule collection for spring, which will be available on the brand's e-commerce website launching on March 2 — the day of the new moon.
Source: Arab News
https://www.arabnews.com/node/2030901/lifestyle
--------
URL: https://www.newageislam.com/islam-women-feminism/ons-jabeur-mayar-sherif-arab-athletes/d/126443
New Age Islam, Islam Online, Islamic Website, African Muslim News, Arab World News, South Asia News, Indian Muslim News, World Muslim News, Women in Islam, Islamic Feminism, Arab Women, Women In Arab, Islamophobia in America, Muslim Women in West, Islam Women and Feminism