New Age Islam News Bureau
20 July 2022
• Just A Call from Pilgrims Makes Us Forget Fatigue; Say Female Security Officials
• Lahore Court Sends Dua Zehra to Women's Shelter at Her Request
• 'We Are Not Safe Anywhere': Egyptian Women Fear Systemic Normalisation of Gender-Based Violence and Femicide
• What's Behind Iran's Claims Of Iraqi Women Trafficking Crackdown?
• Turkish Court Upholds Exit from Treaty Protecting Women
• Panjshir Women Demand Justice Following Shooting of Afghan Woman by Taliban
• Muslim-German Women's Delegation Visits Israel to Learn About Women's Religious Study
Compiled by New Age Islam News Bureau
URL: https://newageislam.com/islam-women-feminism/tunisian-jabeur-egyptian-hemida-arab/d/127527
--------
Tunisian Ons Jabeur and Egyptian Bassant Hemida Gave Arabs Tremendous Joy, Pride, and Hope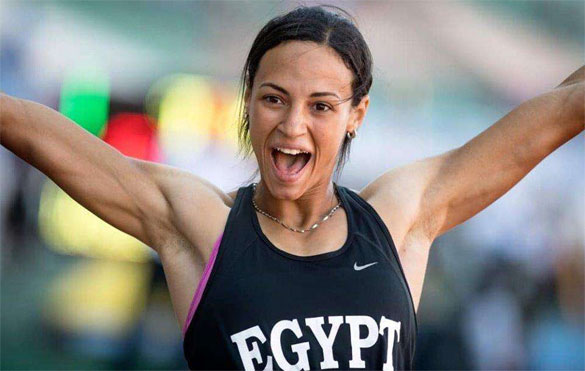 Egyptian Bassant Hemida
----
July 14, 2022
Ons Jabeur and Bassant Hemida gave Arabs tremendous joy, pride, and hope last week. The Tunisian professional tennis player and the Egyptian Olympic sprinter, respectively, did one of the most difficult things to do in Arab societies – translate hard work and talent into meaningful results despite overwhelming obstacles.
Arab economies and societies need more women like Ons Jabeur and Bassant Hemida because they demonstrate what could be, instead of what most often is. And that is desperately needed to drive things forward.
This week Jabeur became the first Arab and African to reach the Wimbledon or any other tennis Grand Slam final. At the Mediterranean Games, Hemida became the first Egyptian to ever win gold medals and set records for the 100-metre and 200-metrs sprints in the major international competition.
Talent and hard work can have very little to do with what you can achieve in Arab societies. Privileges enjoyed by a few continue to stifle and suffocate economies, robbing millions of people of opportunities.
Privilege is probably the most notable aspect of Arab economies. It stubbornly undermines the growth and productivity of economies and sectors. Therefore, there are less new companies and less new jobs.
Finding a job is not easy in the Arab countries. The region features high unemployment rates, especially among youth and women. Arab economies barely create new jobs. In addition, most women do not seek a job.
So, it is no surprise that Arabs have so much joy and pride about these two women. They are what so many Arabs hope for, not what people often experience, an opportunity to have hard work and talent mean something.
Arab economies need to become places where the economically marginalized can have more opportunities. Jabeur and Hemida are rare exceptions. Arab countries lose out on enormous potential benefits to economies and societies from better, including women, youth, people with less financial means, and the disabled.
For societies that take great pride in negotiating skills, there is a lot of value left on the table. Rather than having a bigger economy that includes more citizens, the few with privilege and the governments that favor them hold back growth and productivity so that a select group can have a bigger piece of a smaller pie.
Hany Ragy, a cardiologist at Egypt's National Heart Institute (@Hrafy) tweeted, "Today is a historic day for Egypt! For the first time ever, one of us wins an international competition, and guess what? It's a woman!! Bassant Hemeida makes history. Give women a chance, and everyone wins!"
Talking about Jabeur and Hemida, many expressed that same sentiment on social media this week and they are totally correct.
Research shows removing barriers for female participation in the workforce could have a significant positive impact on the growth of sectors and the economies of Algeria, Egypt, Jordan, Lebanon, Morocco, Palestine, Syria, and Tunisia. A lot is being lost.
The IMF estimated that Egypt's GDP would be about one-third bigger with more equal inclusion of female labour not too long ago. Women's economic power is key for growth, affecting output and productivity, and through higher domestic demand. It is also true that even the biggest and best companies perform better with more female labour and management.
Now more than ever, Arab economies need to find practical ways to include the economically marginalized because people are really suffering. The COVID pandemic had a bigger impact on women, youth, the low-skilled and migrant workers relative to men. Unlike past economic crises, informal workers were not as spared as before.
This past week, Jabeur and Hemida gave a lot of Arabs hope. After all, people love superheroes and role models because they can do what a person wishes or hopes to do. But these women are not just inspirational. Their stories are also informative.
At twelve years old, Jabeur moved from her hometown Sousse to the capital city of Tunis to attend a national sports high school for the country's up-and-coming athletes, the Lycée Sportif El Menzah. Both she and Hemida showed great success at international junior competitions and have now repeated that success as young adults.
Identifying and championing talent from younger ages is key. And it can also be relatively easily operationalized.
A well-conceived and executed national strategy with the intentional goal of better capturing what is now being lost would produce results faster than most people think. Too often these strategies are toothless tokens. Sound strategies and operations will include more interventions that are already known to be effective.
Specialized high schools can develop and champion young talent for many economic sectors, for example. Jabeur no doubt benefited from attending a sports high school. If you look around the world you will see this is a common intervention, just not that common in Arab countries. High schools for science, technology, engineering, and math (STEM) and the arts have direct benefits for sectors and economies.
Education and achievement are not the problem in Arab countries. While there are significant issues with the approach to, and quality of education in countries around the region, globally speaking, the economically marginalized in Arab countries are often better educated than their counterparts in other countries around the world.
Companies in key sectors in the region would benefit by better including the economically marginalized because of their talent. For instance, technology companies could really benefit because more of the STEM talent among the youth is now female. Notably, the Arab region leads the world in female founders of online-based companies. Interventions that help translate doing well in STEM to acquiring skills companies demand can be done in large numbers.
The more talent and knowhow can be tested and championed without regard to gender, age, financial means, or disability, the better. Technology companies with a need for a technical skill and knowhow-heavy workforce could provide a more level playing field. It would be a good reason to favor them, for instance, by providing them more government benefits if they could demonstrate that they do.
While Jabeur and Hemida are better off than most in the region because they face fair and objective measures of their performance, they are not exempt from Arab cultural attitudes and perceptions.
Egypt's first professional squash player, Salma Shabana said, "It's tough. It's a man's world and for the most part everyone is there to look at your legs. You have to do what [Hemida] did for people to start taking you seriously and that's why she deserves all the praise and respect she's getting." And there certainly was a lot of talk about what Hemida was wearing when she won both her gold medals at the Mediterranean Games.
Focusing on irrelevant things like appearance is a common obstacle for the economically marginalized, not unique to the Arab world. The focus on what a woman is wearing or how nice the shoes of a job candidate with less financial means can reflect one assessing their own talent compared to the marginalized or an attempt to dismiss and exclude them.
Attitudes towards and perceptions about women, youth, people with less financial means, and the disabled in Arab countries is a problem. But these things change and can be changed. People often worry that things do not change, but how often has an event, a crisis, or new technology changed so much about what people think and do?
Mohamed Salah, an Egyptian professional and currently one of the world's best football players, wrote to Hemida on Instagram after her wins, "Congrats our champ, we are all proud of you." She replied, "you can't imagine how I'm motivated right now because of your support, you are the idol for all the athlete[s] in Egypt. Thanks Mo."
Role models can change attitudes, perceptions, and behavior both in and outside the household. Seeing someone that looks like you matters. It is important for Arabs living in societies where privilege too often dominates merit to see economically marginalized people have hard work and talent translate into something individually meaningful. Success does not necessarily make you a role model, especially because of privilege.
After her defeat in the Wimbledon final, Jabeur tweeted, "I hope to have inspired Tunisia, the African continent and the Arab world throughout my Wimbledon journey. I'll be back on Centre Court! Keep dreaming young girl." The tweet included two pictures, one of her hugging a Wimbledon silver plate and the other, a picture of a much younger Jabeur with a bunch of trophies and medals.
https://twitter.com/Ons_Jabeur/status/1545840570458902530?cxt=HHwWhMC4meDz9vMqAAAA
I asked a few young, Egyptian girls about Jabeur and Hemida. By chance two were athletes who have played in televised football matches. They found both women to be inspirational because they could translate hard work and talent into meaningful results despite overwhelming obstacles. In their young lives they were already well acquainted with obstacles. Serena Williams, the tennis superstar, also inspires them because she directly responds in public to the same obstacles they personally face.
These young, Egyptian girls expressed the importance of a person's hard work and talent being supported, not just success, and obstacles acknowledged. They already had the experience of being praised when they won and demonized when they lost. They also faced having their appearance be a focus in a variety of places in their lives.
Better inclusion happens better and faster with role models and champions in and outside the household. Jabeur's mother introduced her to tennis and encouraged her to move to attend the specialized sports high school. One of the young girls I spoke with was the niece of Egypt's first female iron man athlete. Another who met Salah through playing football in Egypt expressed how supportive he was to young, female football players. Both had role models and champions and faced obstacles in and outside the household.
"If you can leave, you do," one said to me. Arab societies and economies lose hard working, talented people of all kinds to much larger economies all the time. The mother of one young girl has encouraged her daughter to move abroad to better develop her career. Egypt is losing this young, promising talent, a thoughtful, well-spoken, impressive Egyptian.
Jabeur and Hemida give Arabs joy, pride and hope. They do what so many hope for – an opportunity to translate hard work and talent into what is individually meaningful despite overwhelming obstacles. To drive things forward, Arab economies and societies need to demonstrate more of this. Economic advice for Arab countries often focuses on stopping privilege by starting at the top, working with the government to tackle the ways privilege happens. This is important but addressing privilege is only a part of presenting opportunities. Smart strategies and interventions can help. Attitudes, perceptions, behaviors, and culture will change, especially when that is the intentional goal. So very much of what is important is being lost by never coming to be. At least this week, Arabs had two very good reasons to have hope.
Source: Daily News Egypt
https://dailynewsegypt.com/2022/07/14/why-do-arab-economies-and-societies-need-more-women-like-ons-jabeur-and-bassant-hemida/
--------
Just A Call From Pilgrims Makes Us Forget Fatigue; Say Female Security Officials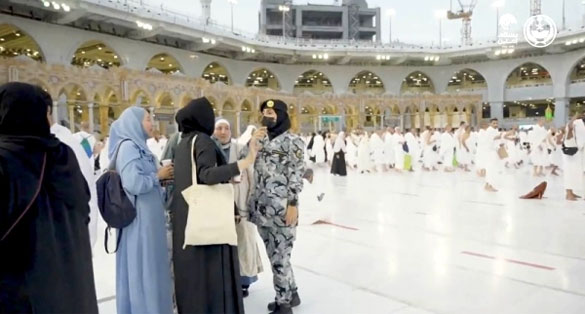 Photo: Saudi Gazzette Leading the Way
-----
July 18, 2022
MAKKAH — Women staffers of the Ministry of Interior spoke about their exciting experience while participating in the recently concluded annual pilgrimage of Hajj, stressing their pride and prestige in serving the pilgrims. They shared their feelings of gratification in offering dedicated and selfless services to the guests of God.
The female employees say that they feel excited over the very thought of getting an opportunity to serve pilgrims who came from all corners of the globe, answering the call of the Almighty. It was a unique opportunity to serve the guests of God, especially in the vicinity of the Holy Kaaba within the Grand Mosque. They noted that just a call from the pilgrims, seeking their service, is enough for them to offer dedicated services during which they forget all their fatigue in the midst of hours long field duty.
Ghada Ahmed, a member of the Special Forces for Hajj and Umrah Security, said that the security forces who were deployed in serving the pilgrims attended a military training course at the Women's Institute in Riyadh, during which they learned and practiced physical fitness exercises and self-defense skills.
Many other women soldiers shared their unique experiences when they served the pilgrims. They spoke about the way they worked, the major tasks assigned to them and what they have accomplished through their work. They said that their major takeaway from this year's Hajj season was an enhanced sense of security.
Source: Saudi Gazette
https://saudigazette.com.sa/article/623056
--------
Lahore court sends Dua Zehra to women's shelter at her request
Imran Gabol | Rana Bilal | Naeem Sahoutara
July 19, 2022
A district and sessions court in Lahore on Tuesday sent Dua Zehra — a Karachi girl who was reported kidnapped in April and later discovered to have purportedly eloped in Punjab — to the Darul Aman (shelter home) at her request.
Dua had submitted an application with the court, a copy of which is available with Dawn.com, in which she requested to be sent to Darul Aman, citing "constant threats" from her parents while also underlining that she was "not on good terms" with Zaheer Ahmed, the person said to have contracted a marriage with her.
Responding to her petition, Judicial Magistrate Rizwan Ahmad said Dua submitted a plea with the court saying she had "serious threats from parents and other relatives".
"She is in constant danger from her parents who use to tender severe beating her (sic) and threaten [her] with dire consequences [...] keeping in view the above consideration, the petitioner's plea is accepted and she be sent to Darul Aman, Lahore," the magistrate said in his order, a copy of which is available with Dawn.com.
A police official privy to the development confirmed to Dawn.com that the girl had been sent to the shelter home after court orders. He said he was not authorised to speak to the media but said the police had implemented the orders.
Salman Sufi, the head of the prime minister's strategic reforms unit, said on Twitter that the Punjab government "has secured Dua Zehra at Darul Aman under strict security and protection after a court order".
He added that the Sindh government has been "requested to dispatch a child protection bureau team to take her to her parents" and that "Mr Zaheer is being traced for arrest".
He also tagged Jibran Nasir, the lawyer of Dua's parents, in the tweet.
'Allegations against parents not new'
Separately, Jibran Nasir, told Dawn.com that her allegations against them were not new as they were made in previous statements too.
He, however, said what was more concerning were the accusations she made regarding her alleged marriage.
He thanked the Punjab police for ensuring that Dua stayed under security at the shelter home.
Investigation officer changed
Meanwhile, a sessions court in Karachi directed the Additional IG (investigation) to change the police officer investigating the case.
Additional District and Sessions Judge (East) Muhammad Mehboob Awan passed these directives while allowing a 'second' application filed by Dua's father, Syed Ali Mehdi Kazmi, against the AIG (investigation) and East-SSP (investigation) for not entertaining his requests to change incumbent IO, DSP Shoukat Ali Shahani.
The case
On April 16, Dua's parents filed a first information report alleging that their daughter had been kidnapped when she left the house to dispose of some trash. The incident had provoked an outcry, especially on social media, which had prompted authorities to take notice.
After nearly 10 days, on April 26, the teenage girl was recovered from Okara. In a video statement that day, Dua had said that she wasn't kidnapped and had married Zaheer of her "free will".
She had said that she had left her house of her own accord. "I have married out of free will. No one forced me. I'm happy with my husband here. For God's sake, don't bother me," she had stated.
Dua had also claimed that her parents were lying about her age.
Subsequently, she and Zaheer approached a Lahore district and sessions court and filed a petition against Dua's father and cousin.
Meanwhile, the police had also filed a plea in court demanding that Dua be sent to Darul Aman. However, the magistrate rejected the request and allowed the teenager "to go wherever she wanted to".
On the other hand, Dua's parents were adamant that their daughter had been kidnapped and said that she had been forced to give the statement.
The teenager's father had also approached the SHC in May with a plea against the Punjab court's orders. Kazmi had stated in the petition that as per her educational, birth certificates and other records, Dua's age was 13 and under the Sindh Child Marriage Restraint Act 2013 it was illegal to marry a minor.
He had asked the court to order a medical examination of his daughter. In the following days, Karachi police repeatedly failed to produce the teenager in court earning the judges' ire.
On June 6, the SHC had ordered an ossification to determine Dua's age. She was also sent to a shelter home for the time being after she refused to meet her parents.
Two days later, the court ruled that the teenager was at liberty to decide who she wanted to live with. During the hearing, the IO filed his report along with an age certificate issued by the office of the police surgeon which stated that as per the opinion of doctors and the Civil Hospital's department of radiology, the bone age of the alleged abductee was between 16 and 17 years of age.
In its order, the bench said the petition had served its purpose as it was only to the extent of the whereabouts of the alleged minor/abductee.
Later, Kazmi challenged the verdict in the SC, which had in turn asked him approach the relevant forums for the constitution of a medical board. Subsequently, a judicial magistrate in Karachi had ordered the constitution of another board to determine Dua's age.
Source: Dawn
https://www.dawn.com/news/1700530/lahore-court-sends-dua-zehra-to-womens-shelter-at-her-request
--------
'We are not safe anywhere': Egyptian women fear systemic normalisation of gender-based violence and femicide
Yousra Samir Imran
19 July, 2022
Shock, fury, heartbreak, and outrage; these are the sentiments women in Egypt have felt over the past two months since the day 21-year-old university student Nayera Ashraf was stabbed to death outside her university in Mansoura as she was on her way to her final exams.
"Women in Egypt are outraged and furious, and I think most people are in incomplete shock, but Egyptian women no longer feel safe," Egyptian feminist and former TV and radio broadcaster, Reem Ayed, tells The New Arab.
"When you think about it, Nayera Ashraf was murdered outside of campus, and it's terrifying because your university is like your second home – when you're a university student, you end up spending more time on campus than you do at your own home. The two places that you're supposed to feel the safest are your own house and your school.
"The fact she was murdered right outside her school is terrifying because it means that safe place is no longer safe for women. Egyptian women never felt safe on the streets, to begin with, so now it's even worse."
Nayera's murderer Mohammed Adel, who has been sentenced to death by hanging, was a man who had been stalking her for some time after she refused his marriage proposal.
According to Egyptian news outlet Cairo 24, Adel's neighbours said he had never caused any trouble and they only heard him when he was beating his mother and sister, exhibiting the social acceptance of a man who was known to have been committing acts of violence against his female family members.
The murder of Nayera Ashraf had a knock-on effect. Just a couple of days later, the Arab world was shaken once more when nursing student Iman Irshaid in Amman, Jordan, was shot five times outside her campus at the University of Applied Sciences. Her murderer, 37-year-old Uday Abdullah Hassan, reportedly sent her this text message the day before:
"Tomorrow I am coming to speak to you and if you don't accept I am going to kill you just like the Egyptian killed that girl today."
He died by suicide after refusing to surrender himself to the Jordanian authorities.
Within days of Nayera's murder, Egyptians woke up to the news that missing TV presenter Shaima Gamal's body had been found on a farm in Giza – she had been murdered by her husband, a judge, her face burned with acid in an effort to disguise her identity.
His judge immunity has been lifted and he is to be trialled in a criminal court. And if this isn't enough, in June a woman in the district of Halwan in Cairo was stabbed by her husband 20 times followed by having her right ear cut off. When asked why he did it, her husband said, "because she does not listen to what I say."
The murders of Nayera Ashraf and Iman Irshaid are reminiscent of those of Farah Akbar in Kuwait and Noor Mukadam in Pakistan just last year, whose murderers took their lives after having their proposals rejected.
Similar to the case of Farah, Nayera and her family had made repeated formal complaints to the Egyptian authorities. In both Akbar and Ashrafs' cases, the authorities failed to keep them safe, leading to their deaths.
Yet sadly neither the authorities in Kuwait nor in Egypt have been held accountable for their part in failing to take action.
These acts of femicide are not new to Egypt. In October 2020, three men sexually assaulted 24-year-old Mariam Salah and then proceeded to attempt to steal her handbag, dragging her to her death with their microbus.
Two of the men were sentenced to death and the third was acquitted. And last year, three men broke into a 34-year-old woman's flat in El Salam district in Cairo for receiving a male visitor, torturing her visitor and then terrorising her to the point she reportedly jumped off the balcony of her 6th-floor apartment and died.
However, her body was found lying on the floor outside another building, making the claim that she threw herself off unclear. The men were charged with unlawful imprisonment and thuggery, not with murder.
What this all proves is that targeted gender-based murders and violence have become systemic in Egypt, something that Amira Salah-Ahmed, Chief Media Officer and Executive Producer at Womena, agrees with.
In a public statement following Nayera's murder, Amira said, "Nayera Ashraf's murder cannot be seen as an isolated incident, but needs to be accurately portrayed as part of a dangerous narrative that normalises gender-based violence.
"The dangerous cultural narrative not only discriminates against women on a daily basis but goes further to normalise gender-based violence by depicting it lightly or comically as entertainment in all forms of media. Patriarchal and misogynistic mindsets are further cemented by these fatal narratives that are brought directly into our homes. This is worsened by the lack of legal frameworks to protect women who actively seek protection from authorities."
Gathering statistics on cases of femicide and the numbers of girls and women subjected to gender-based violence is a mammoth task in Egypt.
The Edraak Foundation for Development and Equality is one of a few reliable organisations that has undertaken this incredibly difficult task.
In their report issued last year, they estimated that 7.8 million girls and women in Egypt have experienced some form of gender-based violence.
There were 415 violent crimes committed against girls and women in Egypt in 2020, 113 cases of women murdered as a result of domestic abuse, and a total of 165 cases of femicide in that same year.
In the days following Nayera Ashraf and Iman Irshaids' murders, some on social media referred to their murderers as incels. However, Arab writers and academics have disagreed with the use of this term which has been created by the West to describe men who find themselves involuntarily celibate and as a result target women with misogynistic abuse and violence.
Egyptian American feminist, journalist, and author of The Seven Necessary Sins for Women and Girls, Mona El Tahawy, tells The New Arab that there is an important distinction that needs to be made between incels in the West, and men like Nayera Ashraf and Iman Irshaids' murderers.
When it comes to sex and the ability to express one's self sexually and openly, we're talking about very different cultural contexts, because today for most people in the so-called West, you can have sex with whoever you want whenever you want and it's a different scenario in Egypt, in Jordan, and in what we now call South West Asia and North Africa," explains Mona.
"There's much more taboo connected with it, there's much more shame, there's much more silence, so it is a different playing field. When we look at a country like Egypt or Jordan and other countries in the region, you're socialised into waiting to get married until you have sex. Because of patriarchy in South West Asia and North Africa, men have much more leeway when it comes to this; they are able to express their sex drive in ways that women can't, so it's a different kind of involuntarily celibate men," Mona continues.
"These men in Egypt and Jordan believe that women must succumb to their advances, these women owe them their attention and their love, and if they don't, then these men believe – because patriarchy protects and enables men's violence against us – that they have the right to punish women. And there is nothing in our societies that holds those men accountable."
The outpouring of rage and anger from people in Egypt following Nayera's murder meant that her murderer's trial and conviction was one of the fastest ever seen in Egypt's Criminal Court, as murder cases tend to take months or even years to reach a verdict.
However, this is not the norm, and the Egyptian legal system is greatly lacking when it comes to laws that punish femicide and acts of gender-based violence. In fact, terms such as "misogynistic hate crime" and "femicide" are not recognised.
Article 60 in the Penal Code allows a perpetrator of domestic violence to be pardoned if he "acted in good faith," and Article 17 allows a judge to lower a sentence for rape or an honour killing as an act of "mercy," although recently there has been talk of Article 17 being abolished.
Furthermore, when you are living in a country where the state itself commits acts of gender-based violence against women, such as the sexual violence and forced virginity tests perpetrated by the military during the Arab Spring in 2011 and anti-military protests in 2014, it is no wonder that men like Nayera Ashraf's murderer kill so brazenly and with such impunity.
"It is essential that we identify these violent men, while not forgetting that femicide is an act fuelled by misogyny and the absence of laws that view women as equal citizens. We cannot stop at blaming these men, or calling them incels, without working to dismantle the larger patriarchal system we live in," says Huda Jawad, Co-Director of Musawah, the global movement for equality and justice in the Muslim family.
For over a decade Musawah has been campaigning for reform to personal status laws and family laws in both Egypt and other Muslim-majority countries.
"It is important to note here that we do not yet see femicide as a crime in our region. We do not differentiate between the act of killing and the act of killing a woman because of the sole fact that she is a woman, so the penal code is lacking when it comes to femicide.
"We hope we will be able to get justice for these women. We also hope that we start building a collective discourse on femicide that translates into systemic and legal efforts. At Musawah, we believe equality and justice are necessary and possible and we know that the time for this change is now."
Yousra Samir Imran is a British Egyptian writer and author who is based in Yorkshire. She is the author of Hijab and Red Lipstick, being published by Hashtag Press in the UK in October 2020
Source: The New Arab
https://english.alaraby.co.uk/features/egyptian-women-fear-growing-normalisation-femicide
--------
What's behind Iran's claims of Iraqi women trafficking crackdown?
JULY 19, 2022
Iranian media on Monday published accounts of a major bust of a human-trafficking operation. The story, however, is more salacious than the usual reports coming out of Iran's pro-government media.
The report said the Islamic Revolutionary Guard Corps intelligence organization was involved in arresting the leader of a "gang" involved in trafficking Iranian women and girls to northern Iraq.
The report is interesting because it references Iran's intelligence officers, known as "anonymous soldiers of Imam Zaman." Why the IRGC and its intelligence arm was involved is unclear. The report said the agents arrested the leader of the trafficking organization and accused the group of involvement in promoting vice.
Human trafficking between Iran and Iraq
According to Iran's Tasnim News Agency, which is close to the IRGC and is pro-government, vice can mean the promotion of "homosexuality, gambling, fraud and illicit sexual relations."
It would appear that the report insinuates that young women were trafficked for sexual exploitation.
The Iranian intelligence agents "reached Erbil," the report said. This means they operated deep inside northern Iraq's autonomous Kurdish Region. Erbil is the capital of the Kurdistan Regional Government.
The intelligence agents penetrated the network, supposedly, and were able to stop this gang of traffickers, which Iran said was the "largest" of its kind. Several months of surveillance took place. The trafficking group had several operators and was accused of taking "hundreds" of girls to Erbil and that some "thousand people" were "sold" by this group.
Rudaw media in the Kurdistan Region also reported the story. The Erbil police department had not commented on the arrest yet, the report said.
"Human trafficking is a stain that Tehran has not been able to get rid of for years now," Rudaw reported. "It was among the 'worst human traffickers' in 2018, a year after it ranked third in global human trafficking, according to a US State Department Report. Iranian women, boys, and girls are vulnerable to sex trafficking abroad, including in Iraq and the Kurdistan Region, the department said in its annual report last year."
The report said some 2,000 young Iranian women and girls had entered the KRG in 2018. Many of them ended up victims, working in "cafes, hotels, and massage centers," it said.
Honeypot operations
Iran's regime has often used women or fake social-media accounts pretending to be women as a way to target adversaries abroad. These online "honeypot" operations have been revealed several times over the year. A Defense Connect story said Iran had targeted a US employee of an aerospace company in such an operation. Terrorist groups linked to Iran have also targeted Israel.
"Hackers believed to be working for the Iranian government have impersonated a young female photographer on social media for more than a year, luring men working in industries strategically important to Tehran's regional adversaries, according to research," Reuters reported in 2017.
It is believed that Iran has also used women or people posing as women in other intelligence operations. A "'Honeytrap' snares Iranian dissident Ruhollah Zam," The Times of London reported in 2019. While the full details of the case may not be known, Zam was lured to a meeting in Iraq and then kidnapped and taken to Iran, where he was executed in 2020.
Another dissident may have been a victim of a similar scheme, Sky News reported in 2020.
"Habib Chaab: Files show how Iranian dissident was kidnapped in Turkey after 'honeytrap by Iran… The string of security pictures, uncovered by the Turkish investigation, claim to show a plan was hatched to lure Mr Chaab to Turkey on the pretext of a romantic meeting with a young woman… The Turkish investigators claim she was, in reality, an Iranian spy who was acting as a 'honeytrap,'" the report said.
The overall context of the IRGC being involved in busting a human-trafficking ring that targeted women may be more than is reported. It was unclear why the IRGC and its intelligence agents were sent to Erbil, why they focused on this ring and why Iran seems to have viewed this as an important security operation, whereas cracking down on vice and human trafficking, including prostitution and kidnapping of women, would normally be a police and law-enforcement issue, rather than an intelligence case.
Source: J Post
https://www.jpost.com/middle-east/iran-news/article-712526
--------
Turkish court upholds exit from treaty protecting women
July 20, 2022
ANKARA, Turkey (AP) — A top administrative court in Turkey ruled Tuesday that President Recep Tayyip Erdogan's decision to pull the country out of a key European treaty protecting women from violence was lawful, rejecting petitions seeking its cancellation, the state-run news agency reported.
Erdogan withdrew Turkey from the Council of Europe's Istanbul Convention last year, prompting condemnation from women's rights groups and Western countries. The landmark convention was signed in Istanbul in 2011.
Several women's groups and other organizations had petitioned the Council of State, arguing that Erdogan's move to pull out of the treaty through a presidential decree was unlawful. The court's judges, however, ruled by a majority decision to reject the petitions, Anadolu Agency reported.
Yilmaz Tunc, a member of Erdogan's ruling party, welcomed the court's decision, saying it would put an end to "discussions that lack a legal basis." The main opposition party leader, Kemal Kilicdaroglu, vowed to return Turkey to the convention "within a week or even 24 hours" should his center-left party come to power in an election next year.
Last year's decision to leave the convention came after some officials from Erdogan's Islam-oriented party had advocated for a review of the agreement, arguing it was inconsistent with Turkey's conservative values by encouraging divorce and undermining the traditional family unit. Critics also claimed that it promoted homosexuality.
Erdogan insisted it wouldn't be a step backward for women and in March, Turkey's parliament ratified a bill aimed at combating violence against women that included introducing tougher sentences if the victim of a violent crime is a woman and making persistent stalking punishable by prison.
At least 226 women have been murdered in Turkey so far in 2022, and 425 last year, according to the We Will Stop Femicide group.
Source: AP News
https://apnews.com/article/middle-east-turkey-recep-tayyip-erdogan-istanbul-52fe1ada82b11c4e51f279fff49fc688
--------
Panjshir women demand justice following shooting of Afghan woman by Taliban
19 July, 2022
Kabul [Afganistan], July 19 (ANI): A group of women in Panjshir province of Afghanistan have been voicing their demand for justice following the killing of a woman by the Taliban forces.
A woman who was trying to take food to her husband in Panjshir Abshar district was shot by a Taliban sniper earlier this week, local media reported.
Afghan women have been protesting against the Taliban for the violations of their rights and the removal of women from government institutions since they took over Afghanistan last August.
The atrocities of the Taliban against Afghan women have been on an incessant surge since the organization seized power in Afghanistan in August last year, banning young girls and women of humanitarian rights.
Taliban on Monday issued a new diktat against female employees and told them to send male relatives as their replacements.
With regular reports of the use of torture and extrajudicial executions of civilians by the Taliban, serious human rights violations in the region have created a climate of fear and distrust.
Earlier, in June, a London-based rights group raised concerns about the reports of unlawful killings and arbitrary arrests in Afghanistan's Panjshir province.
"Constantly, reports are coming of arbitrary arrests and unlawful killings of civilians by the Taliban in Panjshir. Events in the last couple of weeks leave little room for doubt that there is a growing pattern of extrajudicial executions and arbitrary arrests committed by the Taliban," said Zaman Sultani, Amnesty International's South Asia Researcher.
The amnesty researcher in a statement said these serious human rights violations create a climate of fear and distrust in the region and violate international humanitarian law and may constitute war crimes.
While the Taliban have rejected any reports of civilian deaths, these incidents are accompanied by a lack of accountability within the Taliban rank and file.
As the de facto authorities in the country, the rights groups have asked the Taliban to take immediate steps to conduct thorough, impartial and independent investigations of these incidents and prosecute those responsible for the torture, arbitrary arrests and extrajudicial execution, according to rights groups.
"To ensure accountability, transparency and safeguard civilians from torture, arbitrary arrests and enforced disappearances, the Taliban must release information on all those who have been arrested or detained and permit detainees to communicate with their families."
On 12 June, the Taliban shot dead Murzataza, a resident of Khesa-Awal district of Panjshir who reportedly was also suffering from mental illness.
Prior to that, the spokesperson for the Taliban Governor of Panjshir Province in a video statement to the media said that fewer than 40 people were arrested. In Panjshir the National Resistance Front of Afghanistan, an armed group fighting against the Taliban, has strong presence.
According to Sultani, events in the last couple of weeks leave little room for doubt that there is a growing pattern of extrajudicial executions and arbitrary arrests committed by the Taliban. (ANI)
Source: The Print
https://theprint.in/world/panjshir-women-demand-justice-following-shooting-of-afghan-woman-by-taliban/1046455/
--------
Muslim-German women's delegation visits Israel to learn about women's religious study
By ZVIKA KLEIN
JULY 19, 2022
It's not every day that you'd expect to find a group of women fully dressed in their traditional hijabs sitting in a Talmudic study hall alongside Jewish texts. But that is exactly what one saw upon entering the Midreshet Lindenbaum Seminary of Ohr Torah Stone earlier this month, when a delegation of 20 Muslim women came to visit.
The women were in Israel as part of the Alliance of German Dialogue Institutions (BDDI), an Islamic union that works across Germany to develop relationships between people of different faiths. Their time in Israel included visiting institutions of higher learning for women in an effort to better understand various perspectives on women's religious study.
The Israel mission, an initiative of the Stuttgart Fund for Interreligious Dialogue under the direction of Karl Hermann Blickle, was coordinated with the Israeli Blickle Institute for Interfaith Dialogue. A division of the Ohr Torah Stone network, the Institute's fellows include men and women who are active in positions of spiritual and halakhic leadership throughout Israel.
The Israel mission, an initiative of the Stuttgart Fund for Interreligious Dialogue under the direction of Karl Hermann Blickle, was coordinated with the Israeli Blickle Institute for Interfaith Dialogue. A division of the Ohr Torah Stone network, the Institute's fellows include men and women who are active in positions of spiritual and halachic leadership throughout Israel.
The BDDI visit to Midreshet Lindenbaum began by meeting with students in the Women's Institute for Halachic Leadership, and an opportunity to meet with its director, Rabbanit Devora Evron, regarding developments in integrating women into positions of communal leadership and how women are increasingly being found in roles previously reserved for men.
While visiting the religious study hall, the German guests were introduced to Jewish texts and met with other educators from the seminary. The delegation had an emotional discussion with Rabbi Ohad Teharlev, Director of the Israeli programs at Midreshet Lindenbaum, who shared his personal story following murder of his son in a terror attack. Teharlev said that his educational vision in the wake of his son's death was to always work to spread the positive aspects of life and act in ways that urged people not only to "think outside the box, but to think that there actually shouldn't be any box at all."
"It was important for us to share with the members of this group that beyond the advancing role of women in the world of halacha, this extends far beyond the study hall and into positions within the community," Rabbi Dr. Yaakov Nagen, Director of the Blickle Institute explained. "The visitors were therefore also introduced to the rabbinical court advocates working in Ohr Torah Stone's Yad La'isha organization that represents 'chained women' who are suffering from get refusal and use halachic and legal tools to gain their freedom."
Israeli-Palestinian coexistence
The second part of the BDDI visit in Israel was dedicated to highlighting co-existence between Israelis and Palestinians in the Gush Etzion region. The delegation toured the "Shorashim Center" where they heard about ongoing initiatives to bring together the communities and overcome the well-known political and social divides.
At the offices of the Blickle Institute, the group met with Rabbi Sarel Rosenblatt, a fellow in network's Beit Midrash for Judaism and Humanity, as well as Ishmael, a Palestinian who has been working within the educational network for over 15 years and who shared his personal story and how the working relationship he has was particularly helpful during his and his family's challenges during the Corona pandemic.
One of the program participants said, "What we heard today and the remarkable work we were introduced to was deeply moving and gave me a sense of inspiration unlike anything I've felt before."
"In Germany I heard a great deal about Jews, but after meeting Israeli Jews for the first time, I realized how different things are from what I had thought," another commented.
"We know that at the end of the day, if we want to change relations between peoples of different faiths, both in Israel and around the world, we need to ensure that these interactions occur and have these face-to-face meetings," Nagen stressed. "This is the only way to create lasting connections between the various sides."
Source: J Post
https://www.jpost.com/j-spot/article-712542
--------
URL: https://newageislam.com/islam-women-feminism/tunisian-jabeur-egyptian-hemida-arab/d/127527
New Age Islam Islam Online, Islamic Website, African Muslim News, Arab World News, South Asia News, Indian Muslim News, World Muslim News, Women in Islam, Islamic Feminism, Arab Women, Women In Arab, Islamophobia in America, Muslim Women in West, Islam Women and Feminism