New Age Islam News Bureau
24 Nov 2018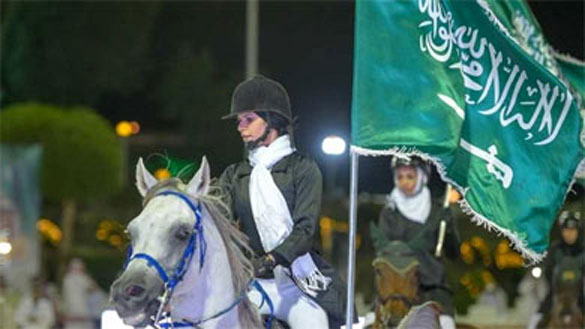 Saudi women equestrian riders showcased their equestrian skills during Makkah Championships for Arabian horses breed, which was held at al-Sawary International Ranch in Jeddah
-----
• Woman Seeks Peshawar High Court Nod for Sex Reassignment Surgery
• Saudi Women Shine at Jeddah International Equestrian Show
• Dubai's Women Delegation in Senegal to Set up A School for Girls
• 'Westernised Afghan Women Can Claim Asylum On Certain Grounds'
• Number Of Female Lawmakers in Parliament Not Enough: Turkish President
• Women's Fight for Toilets in Rural Pakistan
• Pakistani Women Must Keep Fighting the Patriarchy
• Campaign Planned to Highlight Women's Issues in Hyderabad
• Iran Has One of the Highest Statistics on Violence against Women
Compiled by New Age Islam News Bureau
URL: https://www.newageislam.com/islam-women-feminism/tunisian-cabinet-approves-controversial-gender/d/116973
--------
Tunisian Cabinet Approves Controversial Gender Equality in Inheritance Law
24 November 2018
The Tunisian cabinet has approved on Friday the law of gender equality in inheritance, to be discussed in the parliament dominated by Ennahda Movement before being effective in the country.
The Tunisian president, Beji Caid Essebsi, had suggested the law in August 2017, on the occasion of national women's day.
The controversial law entitles women and men an equal inheritance, disagreeing with the Qura'anic verse stating that males should inherit what two females should.
The law will also ensure freedom of choice between following the constitution or the Sharia Islamic law.
Supervising the Tunisian cabinet, Essebsi said that he based his legislative initiative on the Tunisian constitution which states that "Tunisia is a civil country that is based on three elements: Citizenship, the will of the people, and the supremacy of law."
He also said that the constitution states that "the rights and duties of Tunisian men and women are equal, and that the state is committed to defending women's rights and works on supporting and developing them."
The Tunisian president had formed the Individual Freedoms and Equality Committee in August 2017, and assigned it to propose reforms for the Tunisian legislative system, aiming to expand freedoms in the state.
https://english.alarabiya.net/en/News/north-africa/2018/11/24/Nine-dead-in-suspected-ISIS-attack-in-Libya-.html
--------
Woman Seeks Peshawar High Court Nod for Sex Reassignment Surgery
November 24, 2018
PESHAWAR: A 22-year-old woman on Friday moved the Peshawar High Court seeking permission to undergo the sex reassignment surgery (SRS) to become a man.
Kainat Murad filed the petition saying she suffers from gender dysphoria, a condition in which the feelings of one's biological and psychological identity is opposite to one's biological sex and therefore, she has problems like depression, anxiety and insomnia, which could only be treated through the SRS.
She said she was the only child of her parents, while her father has been suffering from paralysis for over a decade and that she was unable to earn a livelihood for family.
The petitioner said the violation of women's rights was very common in the underdeveloped and developing countries and that women couldn't move freely from home to workplace.
She said she had been living a life of a male person since childhood as she loved to play sports, wore men's clothes and was friends with men whom she played cricket with.
The petitioner claimed that she rode motorcycle and all her hobbies were men's.
She requested the court to direct the hospital directors of the three major public sector hospitals of Peshawar to provide free treatment to her for changing sex from a woman to a man by experts in the province for SRS.
She prayed the court to direct the respondents, including Nadra chairman, to change her name in the official records to Mohammad Kaif.
The petitioner claimed that she was advised by doctors to approach the high court for permission to undergo the SRS to prevent legal complications.
The petition filed through advocate Saifullah Muhib Kakakhel.
The respondents in the petition are the federal government through secretary of the federal secretariat, Khyber Pakhtunkhwa government through its chief secretary, Nadra chairman, and hospital directors of Khyber Teaching Hospital, Peshawar, Hayatabad Medical Complex and Lady Reading Hospital.
The petitioner claimed that her condition was called gender dysphoria, a condition in which the feelings of one's biological and psychological identity was opposite to one's biological sex and as a result, she suffered from depression, anxiety and insomnia, which could only be treated through the SRS.
She said women were not even safe at their workplace and are sexually harassed, humiliated and exploited on ground of their sex.
The petitioner claimed that very few women had come forward and lodged complaints before the forums constituted under the Protection against Harassment of Women at Work Place Act, 2010.
She said it was her legal and constitutional right to live life of her choice and change her sex from female to male by undergoing the required surgery.
Highlighting importance of her petition, the petitioner said it was the first ever case in KP and the court would be hearing and adjudicating it to lay down a law which would permit not only a person suffering from genetically as well by psychological diseases which could only be cured by SRS to change his/her gender but also transgender would get benefit out of it.
She said she belonged to a poor family and won't be able to afford private treatment and therefore, the court should direct the government hospitals for treatment.
https://www.dawn.com/news/1447287/woman-seeks-phc-nod-for-sex-reassignment-surgery
--------
Saudi Women Shine at Jeddah International Equestrian Show
23 November 2018
Saudi women equestrian riders showcased their equestrian skills during Mecca Championships for Arabian horses breed, which was held at al-Sawary International Ranch in Jeddah, with a Saudi, Gulf, Arab and International participation.
Saudi women highlighted their presence in the equestrian world by participating in international and local tournaments, and achieving a number of accomplishments representing Saudi Arabia.
Sama Hussein, leader of Sama el-Khail team, told Al Arabiya English that the participation of Saudi women horse riders in this tournament included a horse show, jumping the barriers and picking up the wedges for 14 minutes, which highlighted the skills of the team.
She said: "The passion for the equestrian world is the reason behind the establishment of the team of 5 equestrian who are Nada al-Qahtani, Khouloud al-Shammari, Areej Shafi, Duaa Feid and Hanin Balubaid, as well as four colleagues so that we can have a team in the most difficult types of equestrian sport, bringing the total number of athletes to 20. We also presented the first horse march during the National Day 88 sponsored by the General Authority for Entertainment."
Sama pointed out that the team is undergoing continuous training in equestrian clubs in Jeddah on jumping barriers.
She added: "I designed the costume of the jockeys which is an Arab Abbaya embroidered in red worn during jumping of the barriers competition; as for picking up the wedges it is considered to be one of the most difficult equestrian sports and the most dangerous."
She said: "Saudi equestrian women achieved success, we are professional equestrians and we are looking for excellence through training. Prince Khaled al Faisal was pleased and proud with the recent show."
Sama called for the need to sponsor young talents involved in international tournaments, to develop equestrian sport in the Kingdom and make it available for everyone, especially that it is considered to be one of the most expensive sport.
Prince Khaled Al Faisal crowns the winners. (Supplied)
Prince Khaled Al Faisal crowns the winners
Prince Khalid Al Faisal, Advisor to the Custodian of the Two Holy Mosques, Prince of Mecca Region, crowned the winners at the closing ceremony of the Championship.
The tournament lasted for three days with the participation of international referees, highlighting the status of Saudi equestrians and activities among the countries of the world.
The tournament witnessed a wide follow-up from different segments of the society to learn about the characteristics and qualities of Arabian horses such as their endurance and beauty, with the implementation of all the international standards in the tournament in addition to large prizes to encourage the owners and breeders of this rare breed.
https://english.alarabiya.net/en/features/2018/11/23/Broken-promises-The-bitter-story-of-sugar-production-in-Iran-.html
--------
Dubai's Women Delegation in Senegal to Set up A School for Girls
November 21, 2018
The educational programme in Senegal is the first of a series of programmes to be implemented in developing countries.
Advocating for girls education, a delegation from the Dubai Women Establishment and Dubai Ladies Club, along with a few high-end Emirati designers are visiting Senegal to lay the foundation stone of an elementary school as part of their 'teacHER' campaign to provide quality education for girls. The delegation will not only lay the school's foundation stone but will also be actively involved in the first practical steps of its set up and will also participate in a number of local educational and cultural activities and events.
The project, in line with the Year of Zayed, will be implemented in collaboration with Dubai Cares, part of the Mohammed bin Rashid Al Maktoum Global Initiatives, and is among the ongoing humanitarian efforts of Al Manal Humanitarian Initiative, which was established in 2013 by Sheikha Manal bint Mohammed bin Rashid Al Maktoum, president of the UAE Gender Balance Council, president of Dubai Women Establishment (DWE), president of Dubai Ladies Club and wife of Sheikh Mansour bin Zayed Al Nahyan, Deputy Prime Minister and UAE Minister of Presidential Affairs.
The educational programme in Senegal is the first of a series of programmes to be implemented in developing countries as part of the 'teacHER' campaign, which was launched by Al Manal Humanitarian Initiative in 2017 to advocate for girls' education.
The programme is primarily supported by 'Designs of Hope', an annual charitable exhibition organised by Dubai Ladies Club in which pre-loved luxury gowns and high-end clothing items by Emirati designers are sold to raise money for charity. All proceeds from the exhibition in 2017 and 2018 were dedicated towards supporting educational programmes in Egypt, Nepal, Senegal, Ethiopia, and Uganda.
Headed by Lamia Abdulaziz Khan, director of the Dubai Ladies Club, the delegation is visiting Senegal from November 18 to 23 for the official inauguration of the school that will be built in the western region, Thiès.
Highlighting the importance of empowering girls across the globe with education, Sheikha Manal stated: "We understand that there are social and economic factors in many developing countries that prevent children - particularly girls - from receiving the education they need, negatively impacting their future. Consequently, this affects their societies as a whole, as it hinders overall development processes and economic growth. This initiative aims to make a difference in the lives of girls and contribute towards their happiness as productive, effective and successful members of society."
Lamia Khan highlighted the importance of education as a valuable tool that equips young girls with the necessary knowledge and skills required to participate as equal partners in the development of the vocational, cultural and economic spheres of society. She said: "In line with the Club's commitment to the values of unconditional generosity and giving, we aim to become a global platform for female empowerment." Lamia Khan highlighted that the Club has been organising the annual exhibition since 2013 to support various humanitarian causes, the latest of which is the 'teacHER' campaign. The educational programme in Senegal will be implemented in collaboration with the philanthropic organization Dubai Cares and its partner, buildOn.
https://www.khaleejtimes.com/nation/dubai/dubais-women-delegation-in-senegal-to-set-up-a-school-for-girls-3
--------
'Westernised Afghan Women Can Claim Asylum On Certain Grounds'
November 21, 2018
The Council of State has told junior justice minister Mark Harbers to rethink his decision not to give asylum to two women from Afghanistan and one from Somalia who say they are too westernised to be sent back. A western lifestyle is not enough by definition to merit the right to asylum but it is, if this is the result of a religious or political conviction, the Council of State said in its ruling. 'If a woman has become less or not at all religious in the Netherlands, or has come to act in a more western way out of political conviction, then they could face persecution and so have the right to asylum,' press spokeswoman Hanna Sevenster said. In addition, women who can no longer adapt to the way of behaving in their country of origin can also qualify for asylum, she said. 'This could be behaviour which is totally normal in the Netherlands … such as looking straight back at men or having conversations with them – things which can get you into trouble in your country of origin.' The council said the minister must assess each case individually on its merits. This should include evidence about how the woman behaved when she came to the Netherlands and how she has developed since then. In none of the three cases had this been done, the council said. One woman, a 21-year-old Afghan woman who has been in the Netherlands for seven years, told broadcaster NOS earlier this year she has made her life in the Netherlands. 'Here I can chose what I wear, what I do and who I am,' Mohadese Moradi said. 'I cannot do that in Afghanistan.'
https://www.dutchnews.nl/news/2018/11/westernised-afghan-women-can-claim-asylum-on-certain-grounds/
--------
Number Of Female Lawmakers in Parliament Not Enough: Turkish President
November 23 2018
The number of female lawmakers is 104 in the 600-seat Turkish Parliament, which corresponds to 17.5 percent of the total number of MPs, but this is not enough despite being one of the highest in history, President Recep Tayyip Erdoğan has said.
"This figure is 17.5 percent of the Turkish Parliament. It set a new record, but it is not enough," President Recep Tayyip Erdoğan said at the 3rd Women and Justice Summit.
On the role of Turkish women in politics, academia and other fields, he said women's labor force participation rate had gone up since his ruling Justice and Development Party (AKP) came to power in 2002.
Speaking about the increase, Erdoğan announced that women's participation in the labor force increased from 28 percent to 38 percent during their tenure, and the number of women in the labor force increased from 21 percent to 30 percent.
"In Turkish universities, almost half the academics—at least 44 percent—are women," he said.
According to statistics provided by Erdoğan, 44 percent of architects and lawyers, 31 percent of judges and prosecutors, more than 20 percent of diplomats, 56 percent of teachers and 51 percent of bankers are women. Erdoğan said the percentage of women in public employment was 38 percent.
"The 9.12 million women in the workforce strengthened our country and made us proud with their successes," he added.
The religion of Islam does not justify any form of gender discrimination, the president stressed.
"As members of a faith [Islam] which sees each human being, beyond all their differences from gender to color, as a creation of Allah, it is not possible for us to discriminate against women," he said.
The president praised women as an indispensable element of family and business life, saying that families are shaped by the joint efforts of women and men in Turkish culture and Islam.
"An understanding that isolates women from business life and men from home harms the family concept at the very beginning," he said.
The president also said Turkey should look at its own history and culture to improve its position on humans, women, children, and animal rights, as opposed to those of Western countries, which, according to him, are harmed by contested discussions on them.
Erdoğan accused the West of commodifying women, saying women were sold and forced to work throughout the centuries. "It is not surprising for us that the mentality that used women as a commodity in the past uses women with the same concept under the guise of equality today," he said.
Speaking at an Istanbul Medeniyet University department opening ceremony, Erdoğan said universities were "cleared of terrorist organizations that transformed some universities into militant training camps."
Claiming universities have been modernizing since his party took power in 2002, Erdoğan said the "fascist mindset of the Feb. 28 [1997] period" in universities were mostly removed, referring to a so-called "post-modern" coup that ousted Turkey's first Islamist-led government.
"Our universities are now freed from the oppressive and unliberated atmosphere of the status quo," he said.
http://www.hurriyetdailynews.com/number-of-female-lawmakers-in-parliament-not-enough-turkish-president-139148
--------
Women's Fight for Toilets in Rural Pakistan
November 24, 2018
BASTI AMEERWALA, Pakistan: For as long as she can remember, Ayeesha Siddiqua has fought her male relatives for access to toilets — but a sanitation drive by new premier Imran Khan could make life easier for women in patriarchal Pakistan.
"I told them: 'You can go where you want, but me, my movements are restricted!'," said Siddiqua, who is in her 60s, in Basti Ameerwala, a small agricultural village in central Punjab province where residents have been relieving themselves in the open for generations.
Women in the village have long been forced to hide their bodily functions from the conservative, deeply patriarchal society, Siddiqua and other female residents told AFP.
Restraining themselves over long days working in the fields, they wait for night and the cover of darkness — braving snakes, dogs, or even unpleasant encounters with strange men, Siddiqua's daughter-in-law Tahira Bibi said, her face hidden by a brown veil.
"I would limit my consumption of water and eat less just to avoid going to the bathroom in the daytime," the 35-year-old said, describing a ploy used by all the women interviewed by AFP in the region.
For the last month and a half, however, Tahira Bibi has not had to wait. A small red-brick cottage housing a pastel green squat toilet has been erected in front of her house.
The initiative has come from a Pakistani non-profit, the Lodhran Pilot Project (LPP), whose team has ventured into the remote hamlet to preach hygiene — mainly, they say, to men.
Providing toilets is the responsibility of men in the region, according to Altaf Hussain, a program officer for LPP.
"When we ask them, they are ashamed that their women have to defecate outside," he said.
"So they tell us they have never thought about toilets. They are surely lying. They can spend money on TV, smoking, other things, but latrines are not a priority."
Added to this, he says, is a cultural issue: "People see open defecation as routine, and as fertilizers for their soil. They are not aware of the consequences."
The United Nations children's agency says 22 million Pakistanis relieve themselves in the open. In rural areas just 48 percent of the population has access to toilets, compared with 72 percent in the cities.
Some 53,000 children die each year from diarrhea in Pakistan after consuming polluted water, according to UN data.
Typhoid, cholera, dysentery and hepatitis are common. Those who do not die "tend to see reduced capacity of their body to absorb nutrients," says Kitka Goyol, a UNICEF expert on water and hygiene.
That can be a factor in stunting, which afflicts 44 percent of Pakistani children.
Tahira Bibi says one of her four children died after "stomach problems," while another was at one point in critical condition.
"We thought it was God's will," she said soberly.
The UN, which marked World Toilet Day this week, says the lack of toilets costs Pakistan up to $2.5 billion per year.
Khan, who came to power in August, vowed last month to "eradicate the deficit of toilets in the country by 2023."
His counterpart in neighboring rival India, Narendra Modi, launched his own aggressive sanitation drive in 2014.
New Delhi claims it has slashed the number of people forced to defecate in the open from 550 million that year to less than 150 million today.
Khan's government, meanwhile, has launched "Clean Green Pakistan," a massive social and environmental initiative seeking to shift behavior in areas including sanitation, minister of climate change Malik Amin Aslam said. He did not offer details, however.
Non-profits such as LPP, which is not part of Clean Green Pakistan, are already paving the way in places like Basti Ameerwala, where 15 out of 60 households now have latrines.
In the neighboring hamlet of Chah Jamalianwala, where LPP also works, 35 out of 60 houses have one, six of which have been built in recent weeks.
Mohammad Nasir, a frail man of 45, is one of the last to have taken the step.
Like many other men in the area, he did not consider a toilet a priority — having relieved himself in neighboring fields for 28 years, and spending his money instead on a satellite dish, television and solar panel.
Finally, after his doctor warned him about his wife's health, his small field is equipped with roofless latrines.
The construction cost him 15,000 rupees ($110), a month's salary — but, he says, he feels "pride" at finally having a toilet.
http://www.arabnews.com/node/1410116/offbeat
--------
Pakistani Women Must Keep Fighting the Patriarchy
Nazo Shinwari
NOVEMBER 20, 2018
As a woman born into a family who considers their daughters equal to their sons, it is often quite hard for me to come face-to-face with inequality in the present-day society of Pakistan. I am among some of the few women whose rights have not been taken away from her by her family in any way. My brother and I were given equal opportunities at everything, be it the choice to study what we wanted, the choice to wear whatever we wanted, the choice to hang out with whoever we wanted, or the choice to marry whoever we wanted. Not only that, but I was taught things many only consider teaching boys in Pakistan. Like changing a flat tire, changing the car oil, fixing a broken shelf, hopping over our 8-foot tall main gate if I ever got locked out, you know, "manly things."
However, no matter how much I was told by my family that I am equal to my brother and that I have as much right to things as him, society always poked its fingers at me telling me that I was not deserving of the privileges I had gotten. Be it jealousy or years of being taught women are inferior, the Pakistani society always brought down its sword on me. From being allowed to wear jeans and a shirt, to being allowed driving a car, to being allowed having a boyfriend, to traveling alone, everything I did, was the talk of the town among everyone we knew. But for my brother, it was, as per usual, never a problem.
As a kid, I never gave much thought to what others thought of me but as I grew older, day in and day out I started to see in me what people saw in me when they saw me. It was my very first semester in university when I found out that being a girl in this society – and being a bold girl at that – is something that this society will not come to terms with. I am a student of media sciences and field work covers the majority of our work. Handling heavy equipment, running to locations, fixing heavy lights on the ceiling, controlling a situation and your team, these are just some of the tasks we have to deal with. Now, my father had always taught me never to be dependent on anyone in any way. Both his children were taught to do their work by themselves and not depending on anyone. So, imagine my surprise when all of my classmates, both boys, and girls, made me out to be the odd one out, as I willingly took tasks upon myself. Tasks that a girl just shouldn't do.
My guy friends in university always offered to do all the work for me failing to see what they were doing wrong by offering me help, while all the girlfriends I had, told me it was inappropriate for a girl to be doing these sorts of things and that I should just let the boys do my assignments like they did. To this day, I cannot understand why these girls thought they were incapable of doing these things by themselves. Grabbing a camera, going out on a heated day and shooting a documentary or ad or short film… To this day it haunts me to see girls my age totally oblivious of what they're capable of, just because they are told since birth that, that is not what women do.
I saw the girls and boys in my class appreciate me for my individuality and over time, resent me for it. The girls because I was given a privilege they were not, and the boys because I refused to be the damsel in distress. By doing things myself and not depending on others I learned skills I would not have otherwise. Skills that have helped me become the woman I am today. While the cameras bought by my fellow classmates are gathering dust in the back of their cupboards, I am working as a photographer and cinematographer. Something I would not have been able to do if it weren't for my upbringing.
It troubles me to see my fellow classmates being married off one by one because their families didn't allow them to be bold. To be independent. As that is not what a girl in our society should be. It haunts me to this day that the potential in these girls is being butchered every single day just because this patriarchal society refuses to change its ways.
Even now, there are times I get told I should not be doing what I am doing. That it is wrong for a woman to be doing such improper things. The people who hire me for my services are often among those who have rebuked me for what I do. Picking a career in media is considered unsuitable in Pakistan even now. While there are women out there like Sharmeen Obaid-Chinoy and Qandeel Baloch, winning Oscar awards and praise for their work in media outside the country, inside, these women are ridiculed and considered a stain on the patriarchal society.
I still face criticism from my classmates for being bold. For being independent. But one thing that I've realized is that for a lot of women I know, I am a sort of hope that they might be capable of doing great things someday as well. And that is enough for me to keep my head straight, chin up and keep doing what I'm doing without even an ounce of hesitation or deliberation of what the patriarchal Pakistani society around me thinks.
https://dailytimes.com.pk/324396/pakistani-women-must-keep-fighting-the-patriarchy/
--------
Campaign Planned to Highlight Women's Issues in Hyderabad
November 24, 2018
HYDERABAD: In an atte­mpt to spread awareness about women rights in Sindh, the provincial women development depart­ment in collaboration with non-governmental organisa­tions (NGOs) has planned a 16-day campaign from Nov 25 to Dec 10.
Addressing a press conference held at the local press club on Friday, Sindh Minis­ter for Women Development Shehla Raza said society could not be uplifted without women's development; med­ia should come forward and play its vital role in ensuring women's rights.
The drive was aimed at creating and spreading aware­ness among communities about women's rights related to inheritance, family court matters, underage or child marriages, harassment, domestic violence, breast cancer, honour killings etc.
Some memorandums of understanding (MoUs) were also inked, she said, adding that various programmes, workshops and seminars would be organised to promote and protect women's rights among the masses.
She said media and people should participate in it and make the drive successful.
She said her ministry was working with the UN and civil society organisations for women development in all divisions of Sindh.
In the developed countries, government departments also worked with NGOs and Sindh women dev­elopment department was also working with NGOs.
She said the women suffering from breast cancer would be given free-of-cost medical treatment. She asked for bringing about a change in the entire society as poverty bred all evils, including early and child marriages.
Condemning blasts in Karachi and Orakzai, she said that if the federal government properly implemented the National Action Plan (NAP), the situation would have been different.
She said the opposition must support the government to focus on restoration of peace.
Such kind of blasts was alarming as Afghan Taliban and the US were holding parleys in Qatar while Pak­is­tan was being attacked, she added.
She said that both federal and provincial governments should ponder over the action plan again as the blasts in the business hub of the country, Karachi, were spreading panic. She said that recent blasts in Karachi were a conspiracy to vitiate peace of the city.
She said corruption was the problem of the whole country, but PPP leaders were being victimised without any evidence.
She said that oil, gas and electricity tariffs skyrocketed while they were low under the PPP-led federal government. She said that during the 100-day plan, new taxes were imposed on the poor masses.
She predicted that dollar would go up to Rs150 in comparison with rupee in the days to come.
She said the PML-N and PPP were not on the same page over many issues.
https://www.dawn.com/news/1447289
--------
Iran Has One of the Highest Statistics on Violence against Women
23 November 2018
As the world is observing the International Day for the Elimination of Violence Against Women, the NCRI Women's Committee calls for action by the international community to hold the Iranian regime accountable for its state-sponsored and institutionalized violence against women in Iran.
The clerical regime's Constitution and laws institutionalize violence against women and sanction the cruel punishments of flogging, stoning and blinding.
Iran is the only country in the world where thousands of women have been executed or tortured to death for dissent.
Nearly one thousand women have been arrested just last year and brutalized in detention for participating in anti-government protests.
85 women have been executed so-far since the mullahs' president Hassan Rouhani took office.
Yet, official acknowledgements over the past year attest to a drastic rise in violence against women in Iran. Regime experts have confessed that under the mullahs' rule, "Iran has one of the highest statistics on violence against women." (The state-run ILNA news agency, September 18, 2018)
While admitting that the latest research done on violence against women in Iran was done 14 years ago, regime's experts have revealed that 66% of Iranian women have experienced violence in their lifetime. (The state-run ISNA news agency, November 16, 2018) Although, this is double the world average but it is clearly an understatement of the reality of women's life in Iran.
A member of the mullahs' parliament asserted that "currently domestic violence against women is pervasive in society." (The official IRNA news agency – November 25, 2017)
However, the regime has hampered the adoption of the bill on prevention of violence against women. The Judiciary has not only omitted about half of the articles of this bill, but it has held up the bill for 8 years and has not passed it to the parliament for adoption.
The most common form of violence inflicted against women in Iran is the state-sponsored measures to impose the compulsory veil. Dozens of video clips were posted on the social media over the past year, revealing the savagery of the so-called guidance patrols in dealing with Iranian women on the streets and parks.
Another common form of violence against women in Iran are the forced early marriages widely practiced across the country. It has been officially acknowledged that some 180,000 girl children in Iran are forced to get married every year. The regime's social experts have also noted registration of hundreds of marriages of girls under 10. (The official IRNA news agency - August 5, 2018)
The regime's experts have also admitted that the existing legal, judicial and disciplinary structures in Iran allow men to apply force and commit violence against women. (The official IRNA news agency - July 18, 2018)
The state-sponsored and institutionalized nature of violence against women in Iran calls for action by the international community to hold the Iranian regime accountable for violating its obligations to uphold women's rights and alleviate the suffering of Iranian women.
https://women.ncr-iran.org/statements/5594-iran-has-one-of-the-highest-statistics-on-violence-against-women
--------
URL: https://www.newageislam.com/islam-women-feminism/tunisian-cabinet-approves-controversial-gender/d/116973
New Age Islam, Islam Online, Islamic Website, African Muslim News, Arab World News, South Asia News, Indian Muslim News, World Muslim News, Women in Islam, Islamic Feminism, Arab Women, Women In Arab, Islamophobia in America, Muslim Women in West, Islam Women and Feminism