New Age Islam News Bureau
30 Dec 2016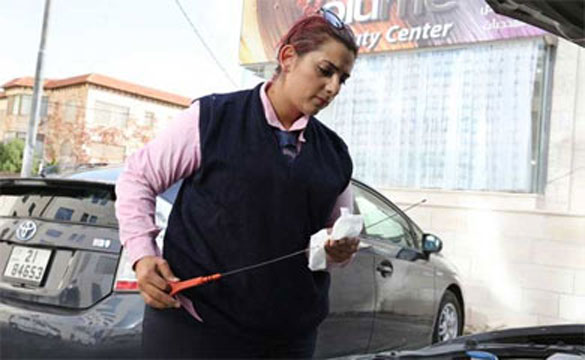 Jordanian female taxi driver Nisrin Akoubeh checks the oil before getting into her vehicle (AFP)
--------
• Women At Wheel Of 'Pink Taxis' Challenge Jordan Norms
• Queen Bees: How Honey Co-Ops Help Afghan Women Take Control
• How To Deflect A 'Hijab Grab' And Other Lessons From A Muslim Black Belt
• Boko Haram May Have Used Chibok Girls As Shields During Attack: Nigerian Army
• Deport Niloofar Rahmani to Afghanistan, Open Letter to Obama requests
• Brother Kills Mother Of Four In Pakistan Over 'Honour'
Compiled by New Age Islam News Bureau
URL:
https://www.newageislam.com/islam,-women-and-feminism/new-age-islam-news-bureau/triple-talaq-on-email,-phones-and-messages-is-valid,-says-deoband-fatwa/d/109547
-------
Triple talaq On Email, Phones And Messsages Is Valid, Says Deoband Fatwa
December 30, 2016
Bengaluru, Dec 30: There is a raging debate on triple talaq and the Supreme Court of India too has seized off the matter. But Islamic seminaries in Deoband have decided to go ahead and state that triple talaq over the phone is valid. The fatwa says that triple talaq can be pronounced through emails and messages too. Also read: HC verdict will boost Muslim women's rights, says SC petitioner From Islamic point of view, triple talaq pronounced by the husband to his wife over phone would be valid, the Fatwa department of the seminary has said. Maulana Arshad Farooqi of the department, however, clarified that divorce over phone would be valid only if the husband is in his senses.
Farooqi goes on to state that the husband can also divorce his wife through a letter, email or even a message. He says that in this age of technology, divorce through such electronic communication is necessary provided the same is verified that it was pronounced by the husband.
The SC is hearing a matter pertaining to triple talaq in which it has been sought to declare the practise as illegal. The court has sought the opinion of the Union government on the subject as well. The government is in favour of declaring this process as illegal. However, the All India Muslim Law Personal Board has objected and says that this practise must continue.
http://www.oneindia.com/india/triple-talaq-goes-tech-savvy-now-valid-on-email-phones-and-messsages-2304135.html
--------
Women At Wheel Of 'Pink Taxis' Challenge Jordan Norms
December 30, 2016
Amman: Nisrin Akoubeh checks the oil and water before getting into her taxi and pulling into Amman's heavy traffic for another day of shuttling fellow women across the Jordanian capital.
The red-haired mother of three works a gruelling 10-hour shift in her taxi -- a rare occupation for a woman in this conservative Muslim society.
"I want to break the culture of shame and prove to Arabs and the Arab world that women are strong and are able to work in any area that could be monopolised by men," she said.
"Women have been able to drive normal cars for a long time, so why shouldn't they drive taxis?"
Akoubeh is one of a group of women who want to turn taxi driving into an acceptable profession for women, challenging Jordan's social norms.
The 31-year-old widow and former nurse drives one of a fleet of 10 "Pink Taxis" driven by women ... for women passengers.
Most of their customers are nurses on late shifts, university students or mothers whose children they shuttle to and from nursery or school.
Wearing a pink shirt and blue tie as she navigates Amman's congested roads, Akoubeh often also picks up visiting Saudi women whose husbands don't allow them to ride unaccompanied with male taxi drivers.
"I thank God that I have lots of customers," she said.
Ghena al-Asmar, a 19-year-old student who often uses the service, said she feels safer riding the women-only cars.
"When I finish my studies at university in the evening or when I leave the house at night, I prefer to take these taxis because it's a woman taking a woman somewhere," she said.
"I don't think there's any shame in a woman working as a taxi driver -- it's a profession like any other profession, and it shouldn't be limited to men," she said.
Around half a million women in Jordan have driving licences, about 20 percent of the country's total drivers, according to the national traffic department.
- Seen in a bad light -
Akoubeh said some people give her encouragement but "there is always someone to remind me that 'this is men's work and you should be in the home.'"
Jordan is relatively liberal in terms of women's rights compared to other countries in the region, such as Saudi Arabia which does not allow women behind the wheel at all.
But more conservative attitudes are still common.
Mohammad al-Ahmad, a 50-year-old civil servant, said driving a taxi is not appropriate work for women.
"We live in a conservative Eastern society governed by tribal customs and traditions," he said.
"There are lots of jobs and professions women can do that fit their abilities and preserve their place in society, without them being seen in a bad light."
But Eid Abu al-Haj, head of an investment group behind a company that runs the Pink Taxi service, says encouraging women to drive is a service to society.
"Women are more careful and cause fewer accidents," he said. "By providing these cars exclusively for women, we are hoping to give women more comfort and privacy."
The service was launched on March 21, when most of the Arab world marks Mother's Day.
"We started with five cars just for women, with women drivers, and now we have 10 drivers, between 30 and 45 years old, and we're hoping to expand soon," said Abu al-Haj.
The concept has already been tried and tested in Cairo, another conservative city where women taxi drivers were previously unheard of.
Akoubeh said she has a good salary, health insurance, social security and holidays, and she can choose what hours to work.
Other taxi drivers in Amman say they take home at most 25 dinars ($35, 33 euros) a day after paying a share of their takings to the companies that own the cars.
Driving in Amman is not easy work. Home to four million people and 1.4 million vehicles including over 11,000 taxis, the city is prone to choking congestion.
"It takes a lot of concentration and care, especially during rush hours," Akoubeh said.
But she enjoys the work.
"I get to know new people every day," she said. "I enjoy my conversations with them and hearing their stories and experiences."
http://nation.com.pk/international/30-Dec-2016/women-at-wheel-of-pink-taxis-challenge-jordan-norms
--------
Queen bees: how honey co-ops help Afghan women take control
December 29, 2016
Yakawlang, Afghanistan: "I make my money for me," declares Afghan beekeeper Jamila pointing emphatically at her chest.
Her small honey-making business provides not only an income, but a sense of pride.
In the mountainous central province of Bamiyan, one of the country's least developed but most liberal regions, beekeeping complements its only other commercial crop, potatoes, and gives rural women the chance to become entrepreneurs.
Four beekeeping cooperatives have been set up here in recent years, backed by NGOs and foreign aid. Starting from scratch, they now employ around 400 people, half of them women, and produce 14 tonnes of honey a year.
The district of Yakawlang, around 100km from the famous giant Buddhas destroyed by the Taliban, sits around 2,600 metres above sea-level. Residents are worried the arrival of winter will kill off their bees.
Bundled up tightly, they walk for more than an hour in the snow to fill their pots with honey and fix labels on them, though few know how to read.
'I'm my own boss'
Jamila got her start a year ago thanks to her neighbour, Siamui, a pioneer of the cooperative five years ago who gave her her first colony.
"It was in April and I remember that day perfectly. I was so happy: when I was done with my housework, I could spend the whole day watching my bees and how they work!" she confesses, making the other women around her laugh.
This cooperative has collected about 400 kilogrammes of honey this year, according to its supervisor Habitullah Noori. Each kilo fetches 800 Afghanis in Bamiyan and 1,000 in Kabul — about $15.
Jamila is a grandmother whose children have left the home; Siamui is raising eight of her own; Siddiqa, an orphan, takes care of four brothers and sisters.
Each of them maintains one to four hives on average — the few thousand Afghanis earned supplements their household incomes.
"I can pay for the bus when I want to visit my daughter, I can buy her chocolate," says Jamila.
"I can buy notepads for the kids," adds Halima, who is in her twenties with two children.
For widowed Marzia, the honey is key to her very survival. She hails from the village Qatakhan, 30 minutes from Yakawlang. It was an area overrun by the Taliban in early 2000, with many of its residents butchered after one commander instructed his charges "to kill everyone, even the dogs and chickens".
Her husband was pulled out of his mosque and shot dead on January 19 that year.
She keeps four hives, explaining: "Earlier I started farming, sewing, reaping weeds in the mountains. My brother assisted me but I was mostly on my own.
"Now with the honey I can support my family, I am my own boss."
"When you invest $100 in the first year you will make $100 in the next," says Daud Mosavi, director of agricultural programmes for New Zealand's foreign aid agency in Bamiyan.
Elevated status
Further down the hill, Fatima and her daughters, wearing beekeepers hats and visors, adjust the honeycombs in their beehives on the slopes of Qatakhan. Her husband, Ahmad Hossaini, is helping his wife by bringing the bees their sugar.
"It's the first time we've worked together!" he smiles.
"When they get a revenue for the first time it helps to establish their position better in the household", especially girls who are otherwise seen as potential burdens on their families, explains Sadia Fatimie, a consultant for international institutions. Fifteen years after the fall of the Taliban regime, Afghanistan remains a harsh place for women: in 2016, only 10 per cent of salaried female employees worked outside the agricultural sector, earning 30 per cent less than their male counterparts.
In the countryside, they constitute an ignored, exhausted and poorly paid workforce.
"Only 34 per cent of women in this country say they are allowed to spend the money which they earn," emphasises Fatimie.
"There was no tradition of beekeeping here until the 1960s, when it was launched by King Zahir Shah," says Marc Jeanjean, a French beekeeper sent by AFD, the French aid agency, to help revive the sector.
"When we started working in 2005 there was nothing left, but things really began to take off in 2012 when the ministry of agriculture began pushing it," he adds.
"It is widely accepted here by the society that women can be at the front line to support the family," says provincial agricultural official Abdul Wahab Mohammadi. "It's increasing — people see it as a success story and they are copying it."
http://gulfnews.com/news/asia/afghanistan/queen-bees-how-honey-co-ops-help-afghan-women-take-control-1.1953558
--------
How to deflect a 'hijab grab' and other lessons from a Muslim black belt
December 29, 2016
Rana Abdelhamid was just 15, walking to a volunteer job in Queens, New York, when a man came up behind her and tried to yank off her headscarf, or hijab.
"I just remember he was taller than me because I remember him hovering over me," she says, "and he was wearing almost like a bomber jacket."
What he couldn't have known was that his 5-foot-1 target was a black belt in Shotokan karate. Abdelhamid pivoted to face her attacker, deflected his grab, and was able to escape unharmed — physically at least.
"The look he had in his eyes and the hate he was carrying towards me was something that followed me around for a long time," she says.
But the incident also gave her an idea. She began knocking on the doors of mosques, offering self-defense classes for Muslim women. Eventually she founded the Women's Initiative for Self-Empowerment, WISE, which has offered classes in seven cities. More than 1,000 women have signed up.
Today, demand for the classes is surging. Anti-Muslim hate crimes in the United States posted a 67 percent increase in 2015, according to the FBI. And experts and advocates say divisive rhetoric during the presidential campaign added fuel.
In the days following the election, a man reportedly threatened to cut the throat of an off-duty police officer in New York who was wearing a hijab. In California, a college student said she struggled to breathe when an attacker grabbed her hijab from behind.
"I remember the day after [the election], I didn't feel comfortable taking public transportation, to be honest. I would take a lot of Ubers," Abdelhamid says. "And then when I was in New York I would wear my hijab differently so it looks more fashion-y, less Muslim."
Concern that an attacker might target Muslim women for wearing a hijab is one of the reasons women come to this self-defense class. Abdelhamid's team at WISE has devised three techniques for deflecting a "hijab grab," depending on whether an attacker approaches from behind, the side, or the front.
Abdelhamid tells women to tuck their chin if they're attacked, to avoid the scarf tightening around their neck, choking them.
Women are often pressured to be soft-spoken, says Pallavi Mittal, an instructor at a recent self-defense class for Muslim women in Washington, DC. When they need to draw attention to themselves, sometimes their voices fail them.
"Even when our instincts are telling us that it's not a safe environment, or there's something like the heebie-jeebies. We often still are in that socially conditioned mode," Mittal says. "It's really important to use your voice and be heard ... to shout, and say clearly, 'No.'"
In a chilly church basement under fluorescent lights, Mittal coaches a dozen students on kicks, elbow jabs and strikes. She volunteers her time, and the class is free.
Some students wear street clothes, some sweats, and some hijabs.
"I'm not fearful for myself. I am for my children," says Mirriam Shah, who brought her two daughters, 4 and 12, to the class. "I want them to experience the America that I love."
Shah says she'd like to help her daughters face the world head-on. And she says her faith offers a few role models.
"Hadija, Zaineb, Fatima," she says, listing several. "Look up those women. They are fierce, they are strong. They were not in the shadows. They did not take a step back. They were diplomats. They were revolutionaries."
Instructional self-defense videos are also cropping up online. One of them, featuring a Chicago-based Muslim woman, Zaineb Abdulla, has had more than 3.7 million views.
"Besides these techniques, I think the most important thing these women should be able to take away from these classes is just their own power," Abdelhamid says. "Both their agency over their voice, [and] their body."
http://www.pri.org/stories/2016-12-28/how-deflect-hijab-grab-and-other-lessons-muslim-black-belt
--------
Boko Haram may have used Chibok girls as shields during attack: Nigerian army
December 30, 2016
Boko Haram fighters fleeing an attack on their base last week may have used some of the girls kidnapped in 2014 from northeast Nigeria's Chibok as human shields to prevent being fired upon by fighter jets, a military commander said on Wednesday.
Major General Lucky Irabor, theater commander of Nigeria's military campaign against the group, showed a news conference aerial footage he said was filmed during the operation in the Sambisa forest that showed Boko Haram fighters moving with women and children.
"The haggard fighters were just using them as a shield," Irabor told reporters in the northeastern city of Maiduguri. "That is why we did not engage them from the air."
"We had always believed and hoped that going into the Sambisa would afford us the opportunity to get the remaining Chibok girls. What we can't tell is whether those women we can see were the Chibok girls," he said.
Boko Haram militants kidnapped more than 200 girls from their school dormitories in the town of Chibok in April 2014. The first of the girls to be found said most of them were being held in the Sambisa forest, where she was discovered in May.
The group has kidnapped hundreds of men, women and children during its seven-year insurgency aimed at creating an Islamic state in northeast Nigeria, some of whom may also be held in the forest.
The abduction of the Chibok girls, 21 of whom were released in October, brought worldwide notoriety.
President Muhammadu Buhari said on Saturday the Islamist militants' last enclave in the forest, the vast former game reserve in northeast Nigeria that was their stronghold, had been captured.
Reuters has been unable to independently verify that the area has been captured, but the comments from the general were the first reference by a military official to the suspected whereabouts of the girls since Buhari's announcement.
The president said the capture of Camp Zero in the forest marked the "final crushing of Boko Haram" but security analysts say the group's ability to carry out attacks in neighboring Niger, Cameroon and Chad suggests it has multiple bases.
They also say the group split this year with one faction led by Abubakar Shekau operating from the Sambisa forest and the other, allied to Islamic State and led by Abu Musab al-Barnawi, based in the Lake Chad region.
Irabor said the military was pursuing those who fled, adding that 1,240 people suspected of being militants, their relatives or sympathizers had been arrested between Dec. 21 and 28.
Boko Haram has killed 15,000 people and displaced more than 2 million during its insurgency. It controlled an area the size of Belgium in early 2015 but has been pushed back by troops from Nigeria and neighboring countries since then.
Separately, dozens of Boko Haram fighters have given themselves up to authorities in southern Niger, the interior minister there said.
http://nation.com.pk/international/29-Dec-2016/boko-haram-may-have-used-chibok-girls-as-shields-during-attack-nigerian-army
--------
Deport Niloofar Rahmani to Afghanistan, Open Letter to Obama requests
Dec 30 2016
A group of Afghan activists have requested the US President Barack Obama to reject asylum application of Captain Niloofar Rahmani and deport her to Afghanistan, insisting that the first fixed-wing female Afghan pilot does not face any kind of threats.
"The findings of the White Assembly's Research Team show that Ms. Nelofar Rahmani, the Fixed-wing Air Force aviator of Afghanistan, who filled an asylum application for the United States of America, is not facing any forms of threats, while she enjoys a safe atmosphere with some extraordinary security masseurs. Furthermore, there is no threat and obstacle for her to carry out her duties safely and securely in Afghanistanboth in her career environment and her personal life," the activists said in an Open Letter to US President Barack Obama.
The letter further states that "Thus, the White Assembly, which is consisted of educated youths, policy makers, human rights activists, university professors, civil society activists, and analysts across Afghanistan, is requesting the government of the United States of America and all other respective organizations to reject her asylum application and deport her back to Afghanistan in the soonest possible, because the Afghan government has invested and spent millions of dollars on her education and capacity building. On the other hand, she is one of the main and vitalcadres for Afghanistan, and we severely need her for our country."
"We believe that accepting and granting asylum to such individuals, who hold vital position and have important responsibilities, not only has bad impact to our country, but also encourages other citizens to seek asylum through illegal ways and/or seek asylum while their send to official visits by Afghan government to the United States of America and other developed countries," the letter adds.
The Afghan nation was shocked when news regarding Captain Rahmani emerged last week of requesting asylum in US with some condemning the act while some speaking in her favor.
She is one of the celebrated pilots in the history of Afghanistan for being the first female pilot to fly fixed-wing plane and was presented the International Women of Courage award for the year 2015 in Washington DC.
Capt. Rahmani broke a sobering piece of news to her American trainers, saying she still wants to be a military pilot, but not under her country's flag. This summer, she filed a petition seeking asylum in the United States, where she hopes to eventually join the Air Force.
"Things are not changing" for the better in Afghanistan, Captain Rahmani told The New York Times in an interview on Friday. "Things are getting worse and worse."
http://www.khaama.com/deport-niloofar-rahmani-to-afghanistan-open-letter-to-obama-requests-02582
--------
Brother kills mother of four in Pakistan over 'honour'
Dec 29, 2016
KARACHI: A mother of four in Pakistan was allegedly killed by her brother on Thursday in a suspected honour killing in the southern Sindh province, police said.
Recommended By Colombia
Ghulam Hussain Gopang, the brother of the woman, was arrested following the incident in the Loung Gopang village near Kot Diji of Khairpur district, they said.
Gopang confessed to have murdered his sister, saying he was motivated to commit the crime on the suspicion that his sister was in an illicit relationship with a local man, police said.
The woman's husband, however, did not comment on his wife's murder, the Dawn reported. Every year, hundreds of women are killed in Pakistan by their male relatives for "dishonouring" the family.
In July, a high-profile murder of social media starlet Qandeel Baloch allegedly by her brother over "honour" prompted the government to pass a bill in the parliament invoking stronger punishments for those involved in such killings.
http://timesofindia.indiatimes.com/world/pakistan/brother-kills-mother-of-four-in-pakistan-over-honour/articleshow/56239022.cms
--------
URL:
https://www.newageislam.com/islam,-women-and-feminism/new-age-islam-news-bureau/triple-talaq-on-email,-phones-and-messages-is-valid,-says-deoband-fatwa/d/109547
New Age Islam, Islam Online, Islamic Website, African Muslim News, Arab World News, South Asia News, Indian Muslim News, World Muslim News, Womens in Islam, Islamic Feminism, Arab Women, Womens In Arab, Islamphobia in America, Muslim Women in West, Islam Women and Feminism, Moderate Islam, Moderate Muslims, Progressive Islam, Progressive Muslims, Liberal Islam