New Age Islam News Bureau
20 Oct 2016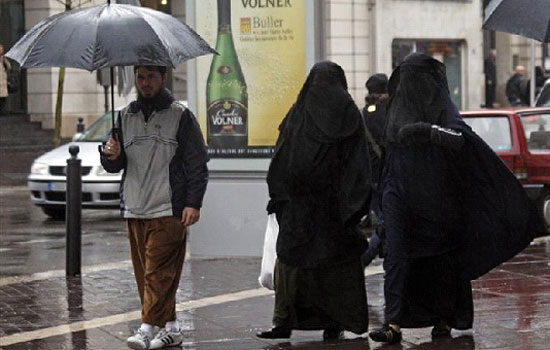 Dress Code Row: Now 'No Jeans, Noisy Ornaments' For Girls at Kerala Medical College
--------
• Dress Code Row: Now 'No Jeans, Noisy Ornaments' For Girls at Kerala Medical College
• If We Want Peace We Must Find Ways of Living Together, Says Hürriyet Chairwoman
• What It's Like To Be In a Polygamous Marriage: Two Muslim Women Share Their Stories
• Meet the Muslim Woman Running For State Legislature in Minnesota
• I Was Cut With A Sharp Razor Blade and No Anaesthetic' – FGM Survivor Recounts Her Ordeal
Compiled by New Age Islam News Bureau
URL: https://www.newageislam.com/islam,-women-and-feminism/new-age-islam-news-bureau/triple-talaq--imams-across-india-to-give-sermons-on-muslim-women's-rights-every-friday/d/108897
----
Triple Talaq: Imams across India to give Sermons on Muslim Women's Rights Every Friday
October 20, 2016
With the annual national conference of the All India Muslim Personal Law Board (AIMPLB) scheduled to be held in Kolkota next month, imams from mosques across India are to be directed to create awareness among Muslims through sermons every Friday against the currently prevalent triple talaq (instant divorce) practice. They will are also to teach Muslims the rights granted to women in Islam and the duty of all Muslims to honour these rights.
The campaign to enlighten Muslims on Shariah laws is to be launched from Lucknow. Letters in this regard have already been sent out to the imams of every mosque in UP state's capital.
The Urdu daily Rashtriya Sahara has quoted Maulana Khalid Rashid Firangi Mahal, a Board member and imam of the Aishbagh Eidgah, as saying that the Board is of the view that Islamic Shariah is being misused on a large scale. The proposed weekly sermons, he believed, would go a long way in addressing this problem. He added that such Friday sermons will be delivered from mosques all over India.
Citing 2011 statistics the maulana claimed that the incidence of divorce among Muslims as percentage of its total population was way below the comparative figure among Hindus. He also maintained that only a small percentage of divorce among Muslims is through resort to the triple talaq practice.
https://sabrangindia.in/article/triple-talaq-imams-across-india-give-sermons-muslim-women%E2%80%99s-rights-every-friday
--
Dress code row: Now 'no jeans, noisy ornaments' for girls at Kerala Medical College
October 21, 2016
Trivandrum: The Government Medical College here has come under flak for issuing a dress code for girls prohibiting them from wearing jeans, leggings or 'noisy ornaments'.
In a circular issued on Thursday, the Vice Principal of the College has stated a set of rules in regards to the MBBS course to ensure regular attendance and the final internal marks. However, right at the bottom of the circular there appears to be a Do's and Don't for both 'gents and 'ladies' which ensures the students appear to be formally dressed. The boys have been ordered to maintain a 'neat and clean dress and appearance with formal dress and shoes', which appears to be reasonable enough.
However, the women have been asked to wear formals which specifically mean 'churidar or saree' and that their hair must be 'put up'. But what stood out in the Don't section besides not asking them to wear 'short tops or chappals' was the part prohibiting them from wearing 'jeans, leggings or noisy ornaments'.
This is not the first instance of the 'dress code' menace having hit educational instituted in the state, as a Kozhikode college had banned girls from wearing jeans on campus earlier this year.
Last year, 18-year-olds at a northern Kerala college were ordered to wear a uniform of a kurta, a churidaar and an overcoat instead of a dupatta, said officials at the women's college in the district of Kozhikode.
Female students, especially in the medical and engineering courses have complained that it becomes a herculean task to manoeuvre themselves while clad in a saree or worrying about dupattas, especially during exams or in practical's where ease of movement and being comfortable are of paramount importance.
http://www.siasat.com/news/dress-code-row-now-no-jeans-noisy-ornaments-girls-kerala-medical-college-1046594/
--
If We Want Peace We Must Find Ways of Living Together, Says Hürriyet Chairwoman
October 21, 2016
Vuslat Doğan Sabancı, Hürriyet Chairwoman and Vice President of Aydın Doğan Foundation, called the world against Islamophobia as saying, "If we want peace, we have to find ways of living together" at a panel titled "Islamophobia: Overcoming Myths and Engaging in a Better Conversation" organized by Turkey's Doğan Group, in cooperation with the U.S.-based Atlantic Council think tank and the Smithsonian Institution, in Washington.
Doğan Sabancı delivered the opening speech of the panel, which was moderated by the president and CEO of the Atlantic Council, Frederick Kempe. The panel also featured author and comparative religion commentator Karen Armstrong; former Turkish State Minister Mehmet Aydın; the dean of the School of Advanced International Studies of Johns Hopkins University, Vali Nasr and renowned human rights activist Zainab Salbi.
Vuslat Doğan Sabancı started her opening remarks by reminding US President Barack Obama's speech during his most recent address at the United Nations meeting, as saying, "We are too packed together and the world is too small for us to simply be able to build a wall and prevent [extremism] from affecting our own societies – without answering the question how we can live together" and added:
"A very accurate observation indeed... The world is too packed together: A threat anywhere in the world is not limited to that particular place, and affects the entire world. And the outcomes of how that threat is perceived, defined, and is struggled with are global indeed. And because the threat is global, peace can only be ensured at a global level. People's destinies have become dependent on each other, as it has never been before. If we cannot prevent ourselves or if even the most developed arms technologies cannot help prevent the spread of the threat, we need to stop and think."
"The word 'wall' entered our lives this year as a solution to prevent the Syrian refugees" she went on, adding that such a destructive proposal for solution coming from the Europe of 2016, considered the most civilized region in the world will acquire its place in history as one of the biggest disgraces of humanity.
"So what is the solution?" she said, adding that the solution is to learn to live together. "And for that, we must respect each others' differences, remember our common points, and listen to each other attentively. We must even spend an effort in good intentions to understand each other. It is only this way that we can create the rules of living together" she said and added:
"That is, learning to live by actually internalizing the concept of 'pluralism', one of the most important principles of democracy… First and foremost, we must very carefully and very sensitively differentiate between those who are attempting to present Islam as an excuse for their atrocities, and those who are members of the faith of Islam."
"When you incriminate millions of Muslims, just because of the barbarism displayed by a bunch of heretics in the name of Islam, you will have lost those millions who are your most important allies, partner, to build a better world" she said, stating that the issue of Islamophobia is not only about being unfair to Muslims; at the same time, there is also the risk of offending the most important ally in the struggle against terrorism.
"Islamophobia not only exacerbates an anti-Western sentiment, but also equips those radicals, and those who ignite terrorism in the name of Islam with a priceless propaganda tool. ISIS mostly plays the oppressed, looked down upon, and alienated Muslim card for recruiting young European Muslims" she added.
"It is for this very reason that we have gathered today. And we are going to discuss the matter thoroughly with our distinguished panelists who have given much thought and dedicated much work to this matter. I would like to first hold the torch to the role of the media in this area" Vuslat Doğan Sabancı said. "To begin with, media should not become the instrument and the objective of polarization for Islamophobia. Media should not develop hate speech about Islam with wrong and biased information."
"On the country, media should ensure that the voice of Islam which expresses itself accurately is much louder than the noise of the bombs set off in various places across the world by a bunch of heretics... I'm now going to take a risk, and try to describe the role of media by stepping outside the classical boundaries adopted until now" she said.
"Freedom of thought and speech is one of the most fundamental human rights. It is the sine qua non of enlightment and progress. And of course, free press is the backbone of democracies" she went on, adding that, "However, such right should not be exercised as grounds for offending others' personal and religious feelings. 'Integrity' is also a fundamental human right. And no one's integrity should be assaulted through the exploitation of freedom of press."
Vuslat Doğan Sabancı said, "We must treasure the freedom of asking questions. We should vigorously defend it. However we must exercise such freedom, not only to have our prejudices verified, but sometimes also to ensure that our counterpart's voice is heard better, and that he can express himself as accurately as possible. If we are creating the rules for living together, we must defend others' right to be heard as much as we defend our freedom of speech. We are all on this boat together. And we have nowhere else to go other than this boat."
If we want peace, we have to find ways of living together... And for this, we have to put aside our stereotypical opinions and prejudices, and we have to lend an ear to the other without fear and with regard. We must invite each other to understand, and listen to, each other, and to converse together. We must listen to all voices, and defend our freedom to converse together, which belongs to all of us. One of the best expressions of what I'm trying to say is stated in the 18th verse of the Zumar Surah in Holy Quran: Listen to all voices and chose the best of it."
http://www.hurriyetdailynews.com/if-we-want-peace-we-must-find-ways-of-living-together-says-hurriyet-chairwoman-at-washington-event.aspx?pageID=238&nID=105201&NewsCatID=393
--
What it's like to be in a polygamous marriage: Two Muslim women share their stories
Friday, October 21, 2016
Ten years ago, an Indian techie K Suryanarayana from Hyderabad was beheaded by the Taliban in Afghanistan. But when the government approached his wife Manjula to give her compensation, a second woman, Swapna, also approached them, claiming to be his second wife. But Manjula had no idea about her husband's second "love" marriage.
The government had to walk a tightrope between the two families Suryanarayana had left behind: Manjula attempted suicide and Swapna threatened self-immolation if she wasn't given Rs 5 lakh as compensation. Amidst the drama that followed, there was hardly any conversation about how common polygamy is in the country.
With the current debate on triple talaq, there is increasing dialogue on Muslim women's rights and dignity. While the above case involved two Hindu families, where Manjula did not know that her husband had been a bigamist, Islamic personal law allows a man to take as many as four wives.
For Asmina*, it was the fear of being unable to support herself and her children, as well as the love for her parents which compelled her to stay in a loveless marriage. Her husband, Sheraz* is 12 years older to her, abusive, and constantly scrutinizing her character and questioning her fidelity. Asmina knew Sheraz as a distant cousin and got engaged to him when she was in Class 8. She married him in 1995, against her wishes, after finishing Class 10.
"I didn't like him, or his constant scrutiny. We were poor and my parents were afraid of what people would say if my engagement broke. I was only 15 and could not bear to hurt my parents, so I did not protest after a point," Asmina says.
Asmina describes life after that day as a cycle of fighting and making up. "I loved studying, but Sheraz wouldn't have it. I couldn't even speak to my uncle without him questioning my intentions," she shares. Five months after the wedding, Asmina was pregnant with their first child. In the sixth month, Sheraz fought with her over something trivial, and walked out of the house, returning only after Asmina's parents pleaded with him. This was the first of many such instances.
"I thought that things would change after our child was born. But there was no happiness for me within those four walls," Asmina confesses.
Somewhere in 2003-2004, Asmina decided she had had enough and came to her parents' house with her two children. Four months later, Sheraz, now 40 years old, had remarried. His second bride, like Asmina, was only 15. But Asmina didn't learn about the wedding until seven months later. "What hurt me was his deceit. He said that I had eloped with another man in order to marry again. Why couldn't he be honest?" she says with anguish.
Asmina took the case to the jamaat leaders. "Sheraz admitted his mistake and said that I could come and live with him again. I refused, because I could not bear his atrocities any more," Asmina says. She also refused to divorce him. "My children were very young. When they grew up and if he (husband) got any benefits, I did not want my children to be excluded from those," explains Asmina.
Now, 11 years later, Asmina has made a life for herself by working in the health department of BMMA. Her son is studying to be an engineer and her daughter is in PUC, 1st year. She still crosses paths with her husband sometimes but they both do not look at each other in the eye. "I no longer care about the benefits but I will not approach him to divorce him. If he comes to me and asks for it, I will. But he never approached me again. I have made a life for myself and my children. I am no longer afraid of how I will live the rest of my days," says the 35-year-old.
Asmina also bears no ill-will against the second bride, but only has empathy for the young girl. "Like me, she was also a child when she got married. I'm sure she did not have a choice. People tell me that now she is facing the same problems as me. I do not resent her at all," Asmina maintains. She also could not bear the thought of her children being ill-treated, so remarriage was not an option. "But I'm happy now. My children will have a bright future. That's all that matters," she says.
Noorjehan Safia Niaz, founder of Bhartiya Muslim Mahila Andolan (BMMA), says that fear of divorce may be one of the reasons women end up staying in polygamous marriages, even if they are unhappy. "First, there's socio-economic dependence on the man. Then, there is the stigma of living as an abandoned or divorced woman which often forces them to stay," she says.
While Asmina had the courage to walk out of the polygamous marriage, many others are unable to. Kasargod-based Feroz* for instance, is ridden with guilt almost a decade after her husband married for the second time, because of what her religion preaches and how she feels about it. "I have heard religious leaders preaching that wives should allow husband to marry twice or thrice. Maybe I am selfish, I don't know," she says.
In 2007, when her eldest daughter was in class 12, Feroz's husband Shafaq* married an 18-year-old girl. "He said she belonged to a poor family and that her parents had to marry her and her two sisters off. He said that the Prophet asked to protect the abandoned and the poor. 'You and I will get blessings from God and enter heaven,' he told me," Feroz recounts.
When she tried asking Shafaq why he couldn't find another groom to help the family, he got angry. "I was scared. I couldn't bear it, I cried day and night. I gave birth to his four children and now he was marrying someone else," she rues. The nikkah took place as per religious customs. "No one asked for my permission," says Feroz.
She first contemplated suicide and then divorce, but decided against both for the sake of her children and because she did not want to bother her brothers. Her parents passed away when she was a child.
Feroz says that because of the atmosphere in the house, her eldest daughter always wanted to escape from home and was happy when they married her off at 19. "But I made the boy promise me that my daughter would never have my fate," Feroz says.
Now, almost a decade later, Feroz lives with her three daughters, her husband, his second wife, and the two children she bore. Confusion, guilt and hurt are still her companions. "I feel like crying loudly sometimes. I used to apologise to Allah for feeling hurt. But I've realized I'm human, not god," says the 48-year-old.
Nasreen works as the convener for BMMA for Karnataka and in her experience, women who come from lower socio-economic backgrounds are often more willing to walk out of unhappy polygamous marriages than those from the middle-class.
"Many middle-class women are indoctrinated with staunch religious values, which they are afraid to defy. It's something we are still trying to understand but we cannot make a generalization," Nasreen cautions.
Noorjehan points out however, that polygamy is not limited to the Muslim community alone. "The only difference is that we do not have legislation which outlaws polygamy, which makes women's cases difficult," she says.
http://www.thenewsminute.com/article/what-its-be-polygamous-marriage-two-muslim-women-share-their-stories-51707
--
Meet The Muslim Woman Running For State Legislature In Minnesota
20/10/2016
Ilhan Omar is a former refugee, a Somali-American activist, and a proud Democrat.
On November 8, the 33-year-old is poised to become one of the few Muslim women ever elected to a state legislature in the country.
Omar is on the path towards winning a spot on the Minnesota State Legislature, after defeating a 44-year incumbent during the state's primary election. Her Republican opponent in the heavily Democratic House District 60B suspended his campaign in August.
Born in Mogadishu, Omar was forced to flee her home when she was about eight years old, after war broke out in Somalia. Her family lived in a refugee camp in Kenya for several years. She was 12 years old when she arrived in in the United States, soon becoming part of a wave of Somalis who settled in Minnesota during the 1990s. Her political conscience was awakened when she was 14, after she began attending local Democratic caucus meetings with her grandfather and acting as his translator.
http://www.huffingtonpost.in/entry/ilhan-omar_us_5807a089e4b0b994d4c31f19
--
I was cut with a sharp razor blade and no anaesthetic' – FGM survivor recounts her ordeal
October 21, 2016
Kemi Omololu-Olunloyo still remembers the secluded area behind the Oja Oba market in Ibadan, capital of Nigeria's Oyo state, where she was subjected to female genital mutilation (FGM).
Olunloyo, now a renowned journalist in Nigeria, was five-years-old when her family took her and her sister to visit an old man, who made the two girls lay on his laps "and then cut part of our vagina and clitoral area off."
Nearly 50 years later, memories of the encounter that would leave an indelible mark in Olunloyo's life are still vivid in her mind.
"There was no anaesthetic and a sharp razor blade was used. I remember my sister and I screaming afterwards. We went home bleeding in diapers and, for a week, it was like we were little girls with menstrual periods. My mom was bathing us and diapering us. Deep down, mom was not happy for some reason," Olunloyo told IBTimes UK.
After years of resentment towards her mother, Olunloyo finally confronted her in 2012. "She burst into tears telling me that our late paternal grandmother ordered my dad to have us do it," she explained.
"This tradition is over 70-years-old. Our grandmother was a traditional Muslim woman who dictated many rules to her young son, my dad."
What is FGM?
Usually carried out for cultural and religious purposes, it involves the alteration and removal of female genitals for non-medical reasons.
The UN defined the practice as a human right violation and, and "an extreme form of discrimination against women and girls."
It also warned that more than 140 million girls and women alive today have undergone some form of FGM and, if it continues, some 86 million additional females worldwide would be subjected to it by 2030.
Haemorrhage and infection deriving from the practice can cause girls, usually under the age of 15, to die.
Long-term consequences include recurrent bladder or urinary tract infections, cystits, infertility, childbirth complications and newborn deaths.
FGM is practised in countries in Africa, Asia and Latin America. In August 2015, Somalia announced it intended to implement a nationwide ban on FGM.
The practice has been also outlawed in another 18 African countries, including Benin, Central African Republic, Egypt and South Africa.
Lifelong repercussions
Some women and girls who undergo FGM, have their entire genitalia cut and "sewn closed."
Olunloyo's genitalia were only partially removed, meaning she did not experience difficulties while giving birth.
However, the psychological and physical consequences of the mutilation still linger in her life.
"Calling it an operation is nothing. It was a cultural barbaric act used to decrease the female libido. It caused me post-traumatic stress disorder (PTSD) for life," she said.
"I don't experience orgasm during sex and when I tried to promote the use of sex toys among Nigerian women, men started attacking me saying I was discouraging African women 'from the real thing'.
"Sex is not important. I have no libido or urge to have sex and I've been celibate for 10 years. Millions of women in Nigeria go through this, but they cannot talk or be outspoken like me. It is shameful and a disgrace to them," she continued.
"Many women say they fake orgasms and others have husbands who go out to prostitutes and girlfriends. FGM has destroyed marriages here."
In 2015, former Nigerian president Goodluck Jonathan passed a law banning FGM. Among other things, the legislation also forbids men from abandoning women and children without economic support.
However, a report by NGO 28 Too Many claimed earlier in October that around 24.8% of girls and women aged between 15 and 49 still undergo FGM in Nigeria, where an estimated total of 20 million women and girls have undergone the practice.
The organisation said the practice is more prevalent in urban areas (32%) compared to rural ones (19.3%) and among Christian and traditional religions in the south-east (49%) and south-west (47.5%). The north-east and north-west areas of the country have the lowest prevalence.
"Oyo state still practices it . Only the Ijebus people across the Yorubaland where I am from in Nigeria don't do it at all," Olunloyo said.
"My message to girls who have been through it is to stay strong and get into support groups. I would like to be a UN Ambassador and travel around Africa forming support groups in communities and educating girls about sex education the right way, instead of cutting part of their genitals off causing a lifelong traumatic problem," she concluded.
http://www.ibtimes.co.uk/i-was-cut-sharp-razor-blade-no-anaesthetic-fgm-survivor-recounts-her-ordeal-1587375
--
URL: https://www.newageislam.com/islam,-women-and-feminism/new-age-islam-news-bureau/triple-talaq--imams-across-india-to-give-sermons-on-muslim-women's-rights-every-friday/d/108897
New Age Islam, Islam Online, Islamic Website, African Muslim News, Arab World News, South Asia News, Indian Muslim News, World Muslim News, Women in Islam, Islamic Feminism, Arab Women, Women In Arab, Islamophobia in America, Muslim Women in West, Islam Women and Feminism