New Age Islam News Bureau
17 Dec 2016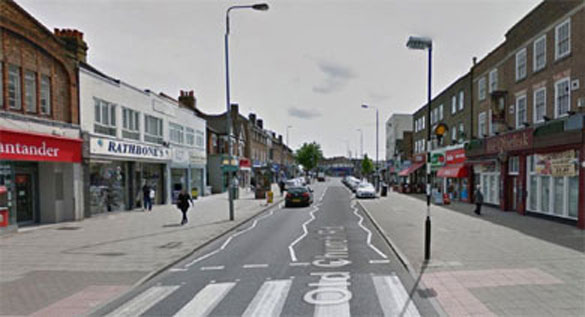 The woman was attacked in Old Church Road, Chingford Google Streetview
--------
• Muslim Woman Dragged On Ground by Her Hijab in London
• Umno MP Elected To Lead Commonwealth Women Parliamentarians
• Norway Helps Female Victims of Boko Haram in Nigeria
• Nestlé, Descon Help Women to Develop Industrial Skills
Compiled by New Age Islam News Bureau
URL: https://www.newageislam.com/islam,-women-and-feminism/new-age-islam-news-bureau/triple-talaq-denies-equality-of-law-to-muslim-women-in-india--kerala-high-court/d/109409
-------
Triple talaq denies equality of law to Muslim women in India: Kerala High Court
16 Dec 2016
The Kerala High Court said equality before law has been denied to Muslim women in India in the matter of triple talaq. Disposing of three cases involving divorced Muslim women including change of name in spouse in passport for a person who had ended his marriage by triple talaq, the high court urged the need for codified law with regard to divorce.
In its 60-page judgement, the court said entire exercise is to alert the state that justice has become elusive to Muslim women and remedy lies in codification of law of divorce.
Delivering the judgement, Justice A Muhamed Mustaque observed that it is for the lawmakers to formulate the law relating to divorce through the process of legislation.
The court asked the registry to forward the copy of judgement to the Law Ministry and Law Commission of India. The state is committed to respect the promise of dignity before law and it cannot shirk its responsibility by remaining mute spectator of malady suffered by Muslim women in the name of religion, the court said.
The court also urged the need for a state legislation to regulate triple talaq.The court added that the Quran nowhere approves triple talaq in one utterance and on the other hand promotes conciliation as best method to resolve marital discord. Even Islamic countries like Egypt, Iraq and UAE have totally derecognised the concept of triple talaq. One has to wonder how equality before law has been denied to Muslim women in India, the court said.
State, as a measure, must strive to achieve meaningful action to sustain equilibrium towards national oneness in character of society while giving freedom to remain as one group, the court said.
The need for common civil code, though it is debated at different levels, still remains as mirage for want of agreement among different groups, it said.
It is possible to have a common code at least for marriage laws in India, the court said.
The judgement concluded quoting verses from the Quran. "It is for the state to consider formulation of codified law to govern the matter. Therefore, I conclude drawing attention of those who resist any form of reform of the divorce law of Muslim community in India to the following verses of Holy Quran (Chapter 47:2);
"And those who believe and do good works and believe in that which is revealed unto Muhammed- and it is the truth from their Lord-He riddeth them of their ill deeds and improveth their state";
"Thus we display the revelations for people who have sense" (Chapter 30:28)."
http://www.dnaindia.com/india/report-triple-talaq-denies-equality-of-law-to-muslim-women-in-india-kerala-high-court-2283629
-------
Muslim woman dragged on ground by her hijab in London
December 17, 2016
A young Muslim woman was forced to the ground in a busy shopping precinct and dragged along by her hijab by two men in what police are treating as a racist attack.
The woman, who police said was in her 20s, was walking alone in Chingford, east London, when the two men dressed in black approached her, tried to pull off her headscarf and pushed her to the ground.
She reportedly said she was then dragged along the ground during the struggle.
Police said the attackers, described as two white males aged 17 to 19, ran off north along Old Church Road.
Witnesses told the Evening Standard the victim was lying on the pavement for almost 20 minutes after the attack, before managing to call police and limp to a nearby Turkish restaurant, where she was helped by staff.
Koksal Zeyek, 40, the owner of Fes restaurant on Old Church Road, said his staff first noticed the woman sitting on a table outside.
"My colleague, he went out and talked to her and she was explaining she had been attacked because she had been wearing a scarf – a hijab – and two white men were trying to take off her scarf," he said.
A waiter at the restaurant told the Evening Standard: "She told us two white guys shoved her then dragged her along the floor by her headscarf and left her on the pavement. She was having a panic attack when we saw her and could barely breathe."
Zeyek said he noticed that the woman's injuries were compounded by the scars from a recent operation, and that she was struggling to move.
"I held her hand and I helped her to walk in and she called the police and ambulance," he said.
"The ambulance didn't come, the police didn't turn up and then after 45 minutes first aid came, they checked her blood pressure and then after 15 minutes … the ambulance came. And then 20 minutes after the ambulance, the police came. They took more than one hour or something like that.
"We were shocked as well, don't get me wrong, because the lady had been attacked. Police didn't come, the ambulance didn't come and she was shaking and she was struggling and everything."
The Metropolitan police said officers answered reports of a woman having been assaulted at 8.35pm on Wednesday. "No arrests have been made. Officers from Waltham Forest CID are investigating," the force said in a statement.
http://nation.com.pk/international/17-Dec-2016/muslim-woman-dragged-on-ground-by-her-hijab-in-east-london-assault
-------
Umno MP elected to lead Commonwealth Women Parliamentarians
December 17, 2016
KUALA LUMPUR, Dec 17 — Parit Sulong Member of Parliament, Datuk Noraini Ahmad became the first Malaysian to be elected as chairman of Commonwealth Women Parliamentarians (CWP).
Noraini, who is also chairman of Malaysia External Trade Development Corporation (Matrade), was elected through voting at the 62nd Commonwealth Parliamentarians' Conference in London, United Kingdom today.
During the voting session, Noraini garnered 53 votes beating Joyce Watson of Wales who received 15 votes, Poto Williams of New Zealand (10 votes) and Linda Reid from Canada who received nine votes.
With this victory, she will hold the position as new chairman of CWP for the next three years to replace the Speaker of the Ugandan Parliament Rebecca Kadaga who nominated Noraini for the post.
In a statement to Bernama, Noraini said she was grateful for the mandate and trust given CWP members to Malaysia and Southeast Asia to take on trust on the big international stage.
"I promise I will set aside any differences for the sake of struggle and unity among CWP members in particular as well as members of the Commonwealth Parliamentary Association (CPA).
"I will also use my eight years of experience in CWP in the best possible way to increase women's participation in politics and parliament," she said. — Bernama
http://www.themalaymailonline.com/malaysia/article/umno-mp-elected-to-lead-commonwealth-women-parliamentarians
-------
Norway helps female victims of Boko Haram in Nigeria
17 December 2016
Norway has donated $11.5 million to girls and women affected by Boko Haram violence in Nigeria's northeast, specifically targeting basic education and assistance for female victims of violence in the region, according to a statement by UNICEF.
"The funding will also support approximately 1,600 of the thousands of girls and women that UNICEF estimates have been raped, abducted and forcibly married as a result of the conflict," according to the statement issued Friday night in Abuja.
The statement said the funding is part of the government-backed Safe School Initiative in the northern region.
In 2013, Norway was a pioneer member of the initiative's committee established in response to Boko Haram attacks on schools in the region and the urgent need to provide a safe learning environment for children.
The statement said the fund will further boost access to education for an additional half a million boys and girls in internally displaced persons' camps, host communities and areas of Borno state that have recently become accessible areas to humanitarian assistance.
"We believe in the IMPORTANCE of doing what we can to break the cycle of violence in northeast Nigeria", it quoted the Norwegian Ambassador to Nigeria, Jens-Petter Kjemprud who spoke at the signing ceremony to formalize the funding.
"This funding will provide more children complete basic education in a good learning environment and will provide much-needed counselling for girls who have suffered unimaginable trauma at the hands of Boko Haram," he said.
UNICEF said the funding from Norway will provide children, especially girls affected by the conflict, with uniforms to wear at school and will enable them to learn in secure, safe and protected environments.
Nigeria's northeast is ravaged by Boko Haram violence, which has killed estimated 20,000 people and displaced over two million.
http://www.worldbulletin.net/africa/181836/un-mission-accused-of-supplying-arms-to-ssudan-rebels
-------
Nestlé, Descon help women to develop industrial skills
December 17, 2016
Nestlé Pakistan and Descon Technical Institute (DTI) marked the successful completion of the first Vocational Training for women.
Nestlé also announced that the eight women who had completed the training would be given jobs at the company.
The 8-member batch received their certificates at a ceremony that was held at the Nestlé Head Office. Bruno Olierhoek, Managing Director, Nestlé Pakistan and Abdur Razzaq Dawood, Chairman Descon were the Chief Guests on the occasion.
The two-month training imparted knowledge and EQUIPPED the women with skills on safety, forklift and electrical/technical training that can help them secure apprenticeships or jobs in the industrial sector.
Bruno Olierhoek underlined the role that women can play in fostering business growth through skill development. He said, "Nestlé believes in Pakistan and the women here and encourages them to become a part of the company.
Nestlé Pakistan has a strong commitment to women's skill development and plans to hire more female apprentices in future to have them trained through DTI."
In his address, Abdur Razzaq Dawood congratulated the graduates. "Nestlé has made a great contribution to Pakistan and we are proud to be associated with them. We, like Nestlé, believe that diversity is strength and that women should play a bigger role in the workplace and economic development in the country," he said.
http://pakobserver.net/nestle-descon-help-women-to-develop-industrial-skills/
-------
URL: https://www.newageislam.com/islam,-women-and-feminism/new-age-islam-news-bureau/triple-talaq-denies-equality-of-law-to-muslim-women-in-india--kerala-high-court/d/109409
New Age Islam, Islam Online, Islamic Website, African Muslim News, Arab World News, South Asia News, Indian Muslim News, World Muslim News, Womens in Islam, Islamic Feminism, Arab Women, Womens In Arab, Islamphobia in America, Muslim Women in West, Islam Women and Feminism, Moderate Islam, Moderate Muslims, Progressive Islam, Progressive Muslims, Liberal Islam