New Age Islam News Bureau
28 Jun 2019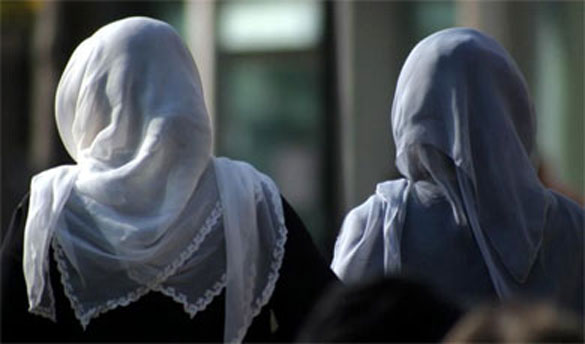 Representative Photo: Major Fatima Isaacs has worked as a forensic pathologist at a military hospital for 10 years
------
• Pools in France Close after Women Defy Burkini Ban
• The Legal Loophole of Religious-Only Marriages Is Trapping Victims Of Grooming And Forced Relationships
• Major Fatima Isaacs a Senior Female Officer Charged Over Headscarf, Outrage In South Africa
• Women's Universities May Appear in Turkey for First Time
• Free Self-Defence Class for Dunedin Muslim Women
• Columbia Police Investigate Threat against Muslim Woman
Compiled by New Age Islam News Bureau
URL: https://www.newageislam.com/islam-women-feminism/trial-resumes-some-saudi-women/d/119019
--------
Trial Resumes for Some Saudi Women Activists, Rights Record in Focus
June 27, 2019
Several Saudi women activists were to stand trial on Thursday, said people familiar with the proceedings, after a two-month hiatus in a case that has drawn international scrutiny of the kingdom's human rights record, Reuters reports.
Among those appearing at the courthouse in Riyadh were academic Aziza al-Yousef, who is in her 60s, and conservative preacher Ruqayya al-Mohareb, the sources said. Blogger Eman al-Nafjan was also expected to be present.
The three are part of a group of around a dozen women arrested in the weeks before and after a ban on women driving cars in the conservative kingdom was lifted in June 2018.
Few charges have been made public but those against at least some of them are related to contacts with foreign journalists, diplomats and human rights groups.
The public prosecutor said last year that they were suspected of harming Saudi interests and offering support to hostile elements abroad.
The women's arrests – and the torture alleged by some of them, which Saudi authorities deny – has heightened Western criticism of a pivotal Middle East ally following last year's murder of Saudi journalist Jamal Khashoggi inside the kingdom's Istanbul consulate.
They appear to be part of a broader crackdown on dissent that has netted scores of other activists, intellectuals and clerics over the past two years even as Saudi Arabia eases some social restrictions and seeks to reform its economy.
Yousef, Nafjan and Mohareb were granted temporary release in March conditional on attending future court sessions. Four more were later released on similar terms. The rest of the women remain in prison.
It was unclear if others who had appeared in previous sessions, including rights campaigner Loujain al-Hathloul and university professor Hatoon al-Fassi, would also have a new hearing.
Foreign diplomats and reporters are barred from entering the courtroom, and the government communications office did not reply this week to a request for comment about the case.
Local media has branded some of the women as traitors and Crown Prince Mohammed bin Salman said they worked for Qatari and Iranian intelligence.
Activists and diplomats have speculated that their arrests may have been meant as a message to activists not to push demands out of sync with the government's own agenda.
The CIA and some Western countries believe the crown prince ordered the killing of Khashoggi, a royal insider turned critic who wrote for the Washington Post. Saudi officials deny that.
The UN executions investigator said on Wednesday that leaders attending the G20 summit in Japan this weekend should press Riyadh to take "full responsibility" for what she called the state murder of Khashoggi.
https://www.middleeastmonitor.com/20190627-trial-resumes-for-some-saudi-women-activists-rights-record-in-focus/
--------
Pools in France Close after Women Defy Burkini Ban
27 Jun 2019
The two public swimming pools in southeast France have shut down despite the current heatwave after a row over the use of full-body Islamic "burkini" swimsuits.
Seven burkini-clad women, accompanied by activists from the Alliance Citoyenne rights group, went to the Grenoble pools on Sunday demanding the right to bathe - despite a municipal ban on the swimwear worn by Muslim women. They said the ban was discrimination.
The women want the public pools, which currently require men to wear swim briefs and women to wear bikinis or one-piece swimsuits, to change their regulations to accommodate burkini wearers.
Eric Ciotti, a member of parliament of the right-wing Republican Party, said on Twitter the burkini "has no place in France where women are equal to men".
But Alliance Citoyenne likened the women's action to that of American civil rights icon Rosa Parks.
The lifeguards at the pools asked for the shutdown on Wednesday because "they are there to maintain safety and they can't do that when they have to worry about the crowds" generated by the controversial swimsuits, the town hall said in a statement.
"We are working towards a positive solution" to the problem, it added.
Banning burkinis
The row is the latest in France over face-and-body-covering garments worn by Muslim women, which many perceive as subjugating women in a country with strict laws on secularism.
France - the country with Europe's largest Muslim population - was the first European country to ban the full veil in public spaces in 2011.
The European Court of Human Rights upheld the move in 2014, rejecting arguments that outlawing full-face veils breached religious freedom.
Earlier this year, French sports retailer Decathlon was forced to back down from a plan to sell a runner's hijab in France after criticism.
Far-right politicians expressed their opposition to the burkini on Monday, the day after the event in Grenoble.
The burkini was at the centre of a standoff in several French seaside towns three years ago. Some towns banned the garment claiming it was a security threat, only to have the bans later overturned by a court.
https://www.aljazeera.com/news/2019/06/pools-france-close-women-defy-burkini-ban-190627055424354.html
--------
The Legal Loophole of Religious-Only Marriages Is Trapping Victims Of Grooming And Forced Relationships
Nazmin Akthar
Jun 28, 2019
Last week saw the launch of Muslim Women's Network UK (MWN)'s latest hard-hitting research, Muslim Women's Experiences of the Criminal Justice System. The report shines a light on the struggles faced by female Muslim victims of abuse when trying to obtain justice.
Issues range from poor standards of investigation, disempowering flaws in victims' right to review, incorrect information being given, a lack of understanding of the links between revenge porn and honour-based violence, and, if all that wasn't enough, there is even an element of victim-blaming (apparently, the natural consequence of texting an ex-partner to leave you alone is for him to punch your car).
Amidst all this, however, there is an issue that goes beyond the realm of the criminal justice system and extends into the world of family law; that of religious-only marriages.
Fiza* started a relationship with Tariq*, who soon became controlling and emotionally abusive. With the couple both being Muslim, he began pressurising her to marry him and misusing faith to guilt-trip her. It seems Tariq had decided all of a sudden that "dating" was now a sin, something that apparently he hadn't thought of when they started their relationship. Fiza did not want to get married but felt she had no choice. She was taken to a house where an Islamic ceremony took place in the presence of an Imam and two men acting as witnesses. Fiza eventually ended the relationship; she did not accept she was married and certainly did not want to continue with the marriage even if she was. Tariq, however, demanded she return to him, and started a campaign of harassment.
The above case was included in MWN's report as an example of where police had missed that a forced marriage had potentially taken place (they logged it as a harassment case only). However, it also highlights how Islamic marriages are being performed as easily as getting a haircut and are being used as a means to trap and control victims. It goes beyond the subject of a lack of rights and legal recourse in the event of marital breakdown; these religious-only marriages are actually being used to tie victims to their perpetrators. Although Fiza found the courage to break the shackles, many others would not feel able to.
This isn't the first time MWN's research has highlighted the use of Islamic marriages as a means to abuse Muslim women and girls. In 2013, its report Unheard Voices shared how a network of groomers would use Islamic marriages to snare victims. Jamila's* "husband", for example, said they needed to get married in secret until he could get his parents' approval to the marriage. Unknown to her, he was already married with children.
Using various exploitative tactics, he coerced her into having sex with other men to "earn additional income" to help pay off his debts and buy him designer watches and clothes. He started taking Jamila to various houses so his friends could have sex with her. She was not the only one exploited in this way either; the network had many so-called "wives" that were "religiously" married.
This legal loophole needs to stop – and the way to do this is to criminalise the conducting of religious marriages that cannot or do not create a lawful marriage (unless of course the couple are already legally married). This means that the "Imam" (or celebrant) who married Fiza to Tariq would be guilty of an offence, as would those who performed marriages for the network of groomers.
Yes, there are other laws available that could potentially be relied upon in such cases. However, we also know of the difficulties female Muslim victims, and victims generally, can face in cases of domestic abuse, forced marriage and sexual exploitation. The internalisation of concepts of shame and honour aside, they may be financially dependent, in danger of homelessness, at risk of community ostracisation or even honour-based violence if their ordeal came to light.
Plus, they may face various hurdles even when they do seek justice. In some of the aforementioned issues outlined in the Muslim Women's Experiences of the Criminal Justice System report, for example, victims have had to deal with evidence in the form of a laptop disappearing without explanation as well as expecting a victim of rape to discuss a victim impact statement over the phone while travelling on public transport.
More often than not, crimes of forced marriage and sexual violence need the cooperation of the victim to bring about charges and prosecution; unless a child is involved, generally lack of consent needs to be established which rarely can be achieved without the victim's corroboration. Perpetrators know this, which is why they use various tactics to ensure the victim's silence is assured. They're smart, and we need to be smarter.
Closing the loophole would provide us with an alternative means by which to curb abuse and exploitation because it will place the onus on celebrants. Granted, celebrants are also required to ensure that a marriage is not forced, and yet forced marriages continue to be prevalent. However, the difference here is that it would be irrelevant whether the victim "consented" to the religious-only marriage – it would be a procedural offence.
We could ask of celebrants: have you performed a marriage that is legally recognised? Were you provided with a marriage certificate that proved they were already legally married? If the answer to both those questions was no, they would be found guilty. To save themselves, celebrants will insist on proof of a civil marriage – but that will, of course, be too onerous for abusers because, aside from the legal rights that would be afforded to the victim and the fact that they would be unable to be married to more than one woman at the same time, they would no longer be able to hide in plain sight.
Admittedly, this new offence would not guarantee an immediate end to religious-only marriages (if criminalisation was enough of a deterrent, then we would live in a crime-free world), but it would certainly make a dent. If introduced, potential victims would be more likely to question why the "love of their life" wants to break the law by having a religious-only marriage, celebrants would not want to to risk getting involved, and, if nothing else, at least no one would be able to place blame on UK family laws. This law reform makes sense, and if we are serious about ending violence against women and girls, it needs to be implemented now.
https://www.independent.co.uk/voices/muslim-women-religious-only-marriages-grooming-domestic-abuse-a8973531.html
--------
Major Fatima Isaacs a Senior Female Officer Charged Over Headscarf, Outrage In South Africa
Hassan Isilow
28.06.2019
JOHANNESBURG
South Africans have expressed outrage after the army took disciplinary action against a senior female officer for wearing a Muslim headscarf under her military beret.
Major Fatima Isaacs, 47, was charged in a military court in Cape Town on Tuesday for disobeying orders not to wear the hijab while in uniform.
"We have written to the Minister of Defense raising both our concern and objection to this matter. We believe it's unconstitutional. It's contrary to both the spirit and letter of our constitution," Faisal Suliman, chairman of the South African Muslim Network (SAMNET), told Anadolu Agency late Thursday.
Suliman said he believes disciplinary action against Fatima hinders the development of a multi-plural society.
"We believe the headscarf does not interfere with the uniform nor the abilities of Major Fatima or any other person," he said.
He also urged the South African National Defence Force (SANDF) to make necessary amendments to its dress code to accommodate all faith groups.
Fatima has been working as a forensic pathologist at a military hospital in Cape Town, where she has worn the headscarf for years, despite orders to remove it.
However, last week, the officer received a final written warning and appeared this week before a military court.
The Chief of the Royal House of Mandela also issued a statement condemning the incident.
"It is inconceivable that the South African National Defence Force would deny an employee the right to pursue her religious freedom to wear a headscarf," it said.
The Royal House also urged the Minister of Defense to set aside the disciplinary action against Fatima, saying this was an absolute denigration of her rights to exercise her religious freedom.
https://www.aa.com.tr/en/africa/south-africa-outrage-as-officer-charged-over-headscarf/1517838
--------
Women's Universities May Appear in Turkey for First Time
27 June 2019
Turkish President Recep Tayyip Erdogan does not exclude the opening of women's universities in the country, Trend reports referring to Turkish media.
As reported, President Erdogan made such a statement while delivering speech at the Mukogawa Women's University in Japan.
He stressed that out of 800 universities in Japan, 80 are women's universities. The president added that such universities may open in Turkey.
Presently, there are 207 universities in Turkey. The oldest university, namely Turkish National Police Academy, was set up in 1937. According to the Turkish Ministry of National Education, 7.740 million students study at universities in Turkey in 2018/2019 academic year.
https://en.trend.az/world/turkey/3082214.html
--------
Free Self-Defence Class for Dunedin Muslim Women
28 June 2019
Both before and after the shootings of March 15, Dunedin Muslim women reported on social media of people grabbing at their Hijab, or head scarf.
Dunedin self-defence teacher Bell Murphy is now offering a free class specifically for women who wear head coverings.
She hopes the course will give Muslim women defensive options.
"It's just a three-hour course I've organised in partnership with the Omani students association here on campus."
Murphy is an accredited self defence teacher and has taught in Dunedin for six years.
She is also a member of Wahine-Toa, a nation-wide network encouraging self defence among women.
Her initial introduction to the art of self defence was a short class she took while holidaying in Europe.
"It was only a couple of hours long, but a few of the basic messages and techniques I learned really helped to give me confidence for the rest of my time travelling."
Because of concerns about Islamophobia, she going to great lengths to maintain the privacy of those attending.
"The location will only be revealed to those who register closer to the time," she said.
https://www.odt.co.nz/news/dunedin/free-self-defence-class-muslim-women
--------
Columbia Police Investigate Threat against Muslim Woman
Jun 27, 2019
A Muslim civil rights group is calling for a hate crime investigation after a woman said a man harassed and pulled a gun on her and her two children in downtown Columbia because she was wearing a hijab.
Heba Jassim said she was driving south Monday evening on Providence Road on her way to the Islamic Center of Columbia when a white male driving a late 1990s or early 2000s gold Buick sedan pulled up behind her in an aggressive manner. She said she was obeying all traffic laws and did nothing to provoke the man.
"I don't know why," she said. "I was driving 35, which is the speed limit, and he wanted to pass me. I was driving on the right so he got a chance to drive next to me. He looked at me and gave the middle finger to me. I was like why, what's going on? I was driving legally."
The man then pulled in front of Jassim and slowed down, she said. She passed and tried to leave him behind, but he sped up and pulled dangerously close behind her in the left turn lane near the intersection of Providence and Locust Street.
"He stopped behind me and started pointing at me like he wanted to grab my attention," Jassim said. "So I opened the window and said, 'Really, are you threatening me?' And he said 'yes.' I said 'why' and then he pulled a gun. And he was laughing. I don't know why. Is he insane or is he normally like that? I don't know."
Afraid for the safety of herself and her 12- and 15-year-old children in the car with her, Jassim took out her phone and threatened to call the police. Before she could, the man then turned around in the parking lot of Midwest Petroleum and sped away in the other direction, Jassim said.
"I was really shaken and kept asking why," Jassim said. "It's a gun, and I kept thinking is this what really just happened to me? The girls were terrified and said mommy please drive, drive, he's going to kill us. I said no, we didn't do anything to him." The family drove to the mosque located on Fifth Street, and after speaking with others, called police.
Jassim believes the man targeted her because she was wearing a hijab, a traditional covering for the hair and neck worn by Muslim women, and his actions constitute a hate crime.
The incident drew the attention of the Missouri chapter of the Council on American-Islamic Relations, one of the largest civil liberties and advocacy organizations for Muslims in America, which issued a news release early Wednesday in response.
In the release, organization Executive Director Faizan Syed calls on city officials to set a meeting to discuss safety and security of the Muslim community in light of the incident and years of FBI data showing a rise in hate crimes.
"We believe that what started out as road rage quickly escalated to a hate crime as the man seemed to only target her after he saw that she wore the hijab," Syed said. "We call on city officials and the police department to take this case seriously and respond accordingly."
Jassim and Iman Eldeib, who was with Jassim when police arrived at the mosque to take the report and is assisting her as an advocate throughout the ordeal, said they initially felt officers did not seem to take the case seriously.
"In the end, and I'm paraphrasing, he essentially says we are going to try and find this guy and tell them to 'knock off the craziness,'" Eldeib said. "It was a very disappointing and deflating feeling because we felt we were not being taken seriously, and what happened was not being considered a serious situation."
Eldeib said, however, that those concerns were put to rest after Interim Police Chief Geoff Jones reached out to her Wednesday and assured her the agency would investigate thoroughly. She said the chief confirmed detectives are working the case and he also offered a meeting with the victim and children to alleviate any concerns they might have.
"I can say that I'm very pleased with the response of our city and police department to the concerns we brought up and that this now can be looked at as a positive example of how a city and police department should respond to a situation like this," Eldeib said. "I'm grateful and highly look forward to improving things for everyone in the future."
Jones also said the department takes the incident, the safety of the Muslim community and all Columbia residents seriously. He said investigators will look for any violation of law that may have occurred, including a hate crime, which is a class D felony in Missouri.
"We will investigate the incident, starting with the statement provided by the victim," Jones said. "At this point, we will consider all motives. I am reluctant to share any details of the investigation. I don't want to jeopardize the integrity of the investigation. The responding officer reported this incident as a law violation and it was reassigned to an investigator."
Police have not indicated if they will seek FBI assistance at some point, but The Matthew Shepard and James Byrd Jr. Hate Crimes Prevention Act of 2009 also makes it a federal crime to cause bodily injury or attempt to do so using a dangerous weapon because of race, religion, national origin or other protected class.
The man has been described by the victim as white, with blonde hair and arm tattoos. Other details were not available because he was inside a vehicle. There is also believed to have been a passenger in the car. Jones said he will try to see if surveillance footage collected from near the scene can yield a better description.
Jassim said at this point she only wants to see the man arrested, so that others in the community are not subjected to the threatening behavior he displayed.
"I hope they catch him. He doesn't have any right to do that to another person even if it's not me, even if it's not a Muslim, white or black or any kind of person. He doesn't have the right to do that. It's not legal to do that. It's not right."
https://www.columbiatribune.com/news/20190627/columbia-police-investigate-threat-against-muslim-woman
--------
URL: https://www.newageislam.com/islam-women-feminism/trial-resumes-some-saudi-women/d/119019
New Age Islam, Islam Online, Islamic Website, African Muslim News, Arab World News, South Asia News, Indian Muslim News, World Muslim News, Women in Islam, Islamic Feminism, Arab Women, Women In Arab, Islamophobia in America, Muslim Women in West, Islam Women and Feminism