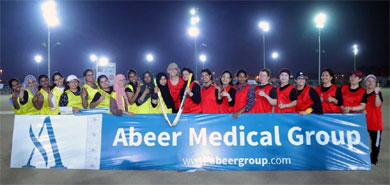 The winning team Jeddah Strikers posing (via Abeer Medical Group).
------
• Abeer Hosts First Women's Cricket Match in Jeddah
• Meet Kabul's Fleet of First All-Women Fast Food-Sellers
• Forbes Top 100: Meet the Six Arab Women Topping the Tech Game
• Women Revive Old Yemeni Factory to Produce Facemasks
• Arab Women Aren't Just into Design and Fashion, They're Dominating STEM
• STC Signs Women's Empowerment Principles of UN
• Saudi Women's Driving Activist On Trial Almost 2 Years after Ban Was Lifted
• Coronavirus: Egypt Releases Four Women Who Held A Protest Demanding Release Of Prisoners
• The Malala Yousafzai Scholarship Act
• Afghan Women Appeal to Pompeo to Monitor Taliban's Treatment Of Women
• Women-Run Businesses Squeezed by Iran's Coronavirus Crisis
• Syrian Army Accused of Targeting Older Women
• Study: 33pc Malaysian Women Hold Senior Leadership Roles In Country, Higher Than Global Average
Compiled By New Age Islam News Bureau
URL: https://www.newageislam.com/islam,-women-and-feminism/new-age-islam-news-bureau/'tortured'-saudi-women's-rights-activist,-loujain-al-hathloul,-to-face-court/d/121346
--------
'Tortured' Saudi Women's Rights Activist, Loujain al-Hathloul, To Face Court
MARCH 18, 2020
A prominent Saudi Arabian activist who campaigned for her right to drive a car and was allegedly tortured and threatened with rape while awaiting trial was due in court overnight.
Loujain al-Hathloul, 30, was arrested with other women's rights campaigners two years ago, even as the Saudi Arabian government lifted a ban on women driving and pledged to relax male guardianship laws.
Her appearance comes days after Riyadh arrested nearly 300 government employees on suspicion of corruption in a crackdown that critics fear is a renewed power grab by Crown Prince ­Mohammed bin Salman, 34.
Two of the royal family's most influential figures, potential rivals of Mohammed, were arrested in March: Prince Ahmed bin Abdulaziz, 77, the youngest brother of King Salman, and Mohammed bin Nayef, 60, the former crown prince.
The latest series of arrests mirrors the crackdown in November 2017 when dozens of prominent businessmen, members of the royal family and serving and former government officials were held for three months at the Ritz Carlton hotel in Riyadh. Most were forced to reach financial settlements with the government before they were released.
Ms Hathloul's trial, alongside fellow activist Mayaa al-Zahrani, has been called ludicrous and a sham by human rights groups. Her family says she has been beaten, held in solitary confinement and threatened with rape and murder in prison.
Both are charged with offences linked to their campaign, ­including spying, flouting cyber­security laws and contacting foreign diplomats and human rights groups.
Ms Hathloul's sister, Lina, called for her immediate release amid fears the coronavirus may spread to Al-Ha'ir prison south of Riyadh, where she is being held.
Having first been arrested for flouting the driving ban in 2014, Ms Hathloul and others started campaigning for women's rights on social media. In March 2018 she was "kidnapped" in the United Arab Emirates and returned to Saudi Arabia before being ­detained two months later.
https://www.theaustralian.com.au/world/the-times/tortured-saudi-womens-rights-activist-to-face-court/news-story/89302d4dce3f0921439fcec60f40fc75
--------
Abeer Hosts First Women's Cricket Match in Jeddah
March 8, 2020
JEDDAH — A women-only cricket match was organized in Jeddah to mark the International Women's Day, which is held on March 8 every year.
Women players from eight countries participated in the match held at the Kingdom Sports Complex, Jeddah, on Friday. Jeddah Strikers emerged champions in the match, beating Makkah Thunders.
The players included citizens of eight countries, namely Saudi Arabia, India, Pakistan, South Africa, Philippines, Indonesia, Sudan and Egypt. Abeer Medical Group, one of the premier health-care providers in the Gulf, organized the event as part of its 20th year celebrations.
Khlood Bayazeed, senior HR Manager of Abeer Group, who was part of the winning team, said that she was delighted to be part of the history making event, especially the strong message of women empowerment that such an initiative delivers on the eve of the International Women's Day.
Veteran journalist Khaled Almaeena, the chief guest of the event, said that this was a giant step in the sporting history of Saudi Arabia. He encouraged the players to devote time to professional cricket and assured that the feat would be showcased to the General Sports Authority and Ministry of Entertainment.
It was a new experience for the players and spectators alike. The 10-over match was played in compliance with international regulations concerning the game and was officiated by professional umpires.
Angelene, native of South Africa, and an ardent cricket fan was the captain of one of the teams. She recalled her earlier days in her homeland where she was more active in sports. She hadn't had much exposure to play her favorite sport since she started working in the Kingdom. For the players from countries like Saudi Arabia, Egypt and Philippines, it was a chance to become part of the history of the sport in KSA. They had practice sessions in their respective work places, trained by their colleagues who were from cricket playing countries. "We were taught the rules of the game, watched many cricket matches on TV and tried practice sessions for the last two months in the build up for the game," commented Joy and Maha Halwani.
Alungal Mohammed, president of Abeer Medical Group, congratulated all the players on their achievement and praised the Saudi government, under the leadership of Custodian of the Two Holy Mosques King Salman and Crown Prince Muhammad Bin Salman. "Something like this would not have been thought to be possible couple of years ago. With the encouragement from the government and the vision of the ministries, this is an example that the country is progressing fast on the track to achieving its Vision 2030 goals," he said.
Senior officials from the Jeddah Cricket Association, including president Aijaz Khan and executive secretary Haroon Mahfouz, also attended the event. "We have been successfully organizing tournaments in Jeddah for over two decades and throughout, we had been dreaming of this moment for a long time. We are glad that Abeer Medical Group took this initiative to raise awareness for women empowerment & gender equality."
The event was planned and organized by Abeer Medical Group's Corporate affairs & Marketing team, with the motto of investing in women's participation in sport so as to enable their all-round development.
http://saudigazette.com.sa/article/590552
--------
Meet Kabul's Fleet of First All-Women Fast Food-Sellers
SAYED SALAHUDDIN
March 19, 2020
KABUL: Wearing a long flowing chador through which only her eyes are visible, 36-year-old Freshta Rasooli drives her solar-powered rickshaw cart around Kabul, selling noodles, beef burgers and traditional spicy rice outside offices and university campuses.
Rasooli's presence on the streets, behind the handlebar of a rickshaw cart and partaking in a traditionally male-dominated profession, is a rare sight in Afghanistan. It's not an easy country to be a woman, with forced marriages, domestic violence and high maternal mortality rates.
But access to public life has improved, especially in cities such as the capital Kabul, where many women like Rasooli now work outside the home and more than a quarter of the parliament is female.
So far, Rasooli and the other 55 women drivers at Banu's Kitchen have not faced any attacks from militants or opposition from conservatives, who in the past have harshly deplored women drivers.
"People appreciate and have good words for me for working to earn an income for my survival, rather being a burden," Rasooli told Arab News outside Kabul University as she packed burgers for two female students. "I enjoy the work and it has given me courage and self-confidence."
The business is owned by 27-year-old Farhad Wajdi, who was born in a refugee camp in Pakistan and returned to Afghanistan in 2017. The following year, wanting to help Afghan women, he set up Banu's Kitchen, starting with hand-pushed carts that he soon realized were too cumbersome to push during Kabul's hot summers and blistering winters.
Wajdi then came up with the idea of using solar-powered rickshaw carts. His business now employs 60 women, of whom 55 are drivers while five cook the food at a rented compound.
"Our experiment worked," Wajdi told Arab News.
The women drivers earn around $4 a day and work six days a week. Rasooli described the meagre salary as a blessing in a country where, according to the Ministry of Economy, 34 percent of the population is unemployed.
"I see Afghan women as a big human resource that deserves to be equipped with knowledge and other skills to have equal contribution in the economic development of Afghanistan," Wajdi said.
A customer, Dawlat Shah, said he supported women entering male-dominated professions.
"I'm glad women are getting involved in such work and businesses, just like men," Shah said, as he stood next to a cart and paid the equivalent of 80 cents for a plate of macaroni noodles.
Wajdi hopes that he can expand his fleet of 25 carts to 80 carts by the end of the year, and said he was overjoyed to be invited to meet Afghanistan's first lady, Ruhla Ghani, this January.
He is hopeful, he said, that the government would allot him land free of cost so he could move out of the expensive rented compound from where his business currently operates. "The first lady invited us for a meeting and we met her and discussed how we can involve the government to help us expand this initiative across Afghanistan," Wajdi said. "She wanted to know what help she could offer to help our organization expand."
https://www.arabnews.com/node/1643586/world
--------
Forbes Top 100: Meet the Six Arab Women Topping the Tech Game
By Marina Makary
Feb 18, 2020
From the UAE to Oman, Egypt and Jordan, Arab women are shattering stereotypes and making us proud. Forbes recently featured six Arab women in the Middle East's 100 Power Businesswomen 2020 list, who are killing it in the field of tech! This is what you need to know about them.
Aisha Bin Bishr
Dr. Aisha Bin Bishr, who ranked number 10 on Forbes' list, is the Emirati Director General of Smart Dubai, the government organization entrusted with the city's smart transformation. Bin Bishr is also the Chairperson of the Sustainable Development Goals 11 Global Council, a Member of the World Economic Forum's Global Future Councils, and was selected as one of the world's most influential Arabs for 2019 by Arabian Business.
Hind Bahwan
Hind Bahwan is the Founder and Chairperson of Bahwan CyberTek (BCT), a global provider of digital transformation solutions and services. Bahwan received several distinguished awards, including Ernst & Young's 'Oman's Young Entrepreneur of the Year 2000', and 'Global Young Leader' by the World Economic Forum in 2007. This Omani lady ranked as number 29 on the list.
Maryam Al Suwaidi
Dr. Maryam Al Suwaidi is the Emirati woman responsible for the licensing, supervision, and enforcement of all the financial exchanges in the UAE, with a combined market capitalization of more than $500 billion. Al Suwaidi, who strongly believes in the importance of technology, earned the spot number 47 on Forbes' list.
Reem Asaad
Ranked as number 69, Reem Asaad is the Egyptian CEO of Raya Contact Center, which caters to clients that include Forbes Global 2000 companies in the Middle East, Europe, Africa and North America. Asaad returned to Egypt after years of experience in information technology & financial services in the USA.
Hoda Mansour
Hoda Mansour is Egyptian-British, and was ranked as number 75 on the list. She is the Managing Director of SAP Egypt, a leader in business applications. Since she was appointed in February 2018, the company has recorded its best performance since its establishment.
Doha Abdelkhaleq
Doha Abdelkhaleq is the Managing Partner and Co-Founder of ESKADENIA Software. Founded in 2000 as a world-renowned software development company to offer distinguished software systems, today, the company has grown to be a market leader in the region. This Jordanian woman earned the spot number 99 on the list.
https://scoopempire.com/forbes-top-100-meet-the-six-arab-women-topping-the-tech-game/
--------
Women Revive Old Yemeni Factory to Produce Facemasks
March 19th, 2020
More than a decade after it closed, 20 Yemeni women have revived the war-torn country's oldest factory to make face masks in anticipation of an outbreak of the new coronavirus.
The situation is especially fraught because Yemen's health system has all but collapsed following years of conflict.
In the factory in the capital Sanaa, rows of desks line a cavernous hall with women in black niqab and white gloves hunched over sewing machines meticulously assembling medical masks, AFP reported.
Yemen, ravaged by an ongoing war described by the United Nations as the world's worst humanitarian crisis, has not yet registered any COVID-19 cases.
It has not taken drastic measures to prevent the virus' spread, but is also less vulnerable to imported virus cases, with swathes of the country under siege and air links severely curtailed. Yemen has not taken drastic measures to prevent the virus' spread, but is also less vulnerable to imported virus cases, with swathes of the country under siege and air links severely curtailed.
"We have been working on the masks since Monday and, thank God, we started working on them before the disease reaches us as a precautionary measure, without the need to import from outside," mask maker Faten al-Masoudi told AFP.
"I am willing to work here for free for the health of our children, infants and women," added Masoudi who, like all the women, does not receive a regular salary but is paid per mask.
In another section, one women sanitized plastic bags as another filled them with masks.
"We have stood firm against war and we will stand firm against this disease," Abdulbasit al-Gharbani, the factory's sewing director, told AFP.
"To beat it, we must stand together."
- Run-down mill -
The storied Chinese-designed factory opened in 1967 producing cotton, which was a major contributor to Yemen's economy in the 1970s, making garments including army uniforms before shuttering in 2005.
Parts of the complex have been damaged in airstrikes while others have become dilapidated.
Abdullah Shaiban, the factory's chairman, hopes the crisis preparations will see the site achieve its "full potential".
"There is a great demand for this kind of mask, which people use to protect their health," he told AFP.
"We transformed a section of the sewing department that manufactures clothes into one that produces masks."
He was hopeful that with 80 machines, the plant could make 8,000 to 10,000 masks daily.
Another factory in Sanaa is now manufacturing hand sanitiser.
- 'Viruses don't respect borders' -
The World Health Organization confirmed Tuesday there were no registered cases in Yemen.
"The virus does not respect borders," said Yemen's WHO representative Altaf Musani.
"There is a shortfall in the number of tests... we're about to increase... testing capability."
Musani added the WHO had distributed protective kit, including masks and gloves, but not "nearly enough", and was working to get more.
https://www.albawaba.com/editors-choice/women-revive-old-yemeni-factory-produce-facemasks-1345629
--------
Arab Women Aren't Just into Design and Fashion, They're Dominating STEM
By Leyal Khalife
March 19, 2020
Did you know that one in three start-ups in the Arab world is founded or led by women? If you did not, then you're not following the ecosystem in the region well enough nor are you acknowledging the grounds that women have been breaking.
Before delving into the stem of the topic at hand, it is worth noting that women in the region outnumber men at the tertiary level of university enrolment by a ratio of 108 to 100. Standardized tests have also shown that women (and girls) in some Arab countries, like Jordan for example, achieve higher results than their male classmates across different levels of education. And contrary to popular belief, women in the Arab world are very much interested in sciences, earning more science degrees on a percentage basis than those in the United States. According to UNESCO, 34–57 percent of STEM grads in Arab countries are women, a higher share than in universities in the U.S. or Europe.
So, that's got to count for something, right?
Well, in a region where success most often stops at the educational level, it's hard to say. Many Arab women are left out of the labor force, which makes it harder for those who do enter the market to reach high positions due to the high levels of male dominance in several sectors and fields. According to reports, women in the region continue to face less favorable labor market conditions than men. In 2018, the unemployment rate among women (15.6 percent) was almost three times higher than the male rate (5.7 percent).
But women are carving their own paths in certain sectors
Because of male dominance and the traditional hierarchal company systems, many Arab women are picking their own brains when it comes to business plans. This is especially true when it comes to internet companies in the region as 35 percent are founded by a woman, compared to the global average of just 10 percent.
The technology sector is a relatively new field with no pre-attached gender stereotypes, fortunately, making it moderately easy for women to enter the market without being told that her "womanhood" doesn't belong in that field. But even in older sectors, Arab women have been challenging the gender roles by breaking into fields like science, math, and engineering ... and have achieved massive success in those sectors, too.
The number of women dominating those fields dates back decades. Queen Hatshepsut founded medical schools in ancient Egypt and encouraged women to pursue medicine, Iraqi mathematician Sutayta al-Mahmali left behind a legacy of algebraic equations, and Egyptian Sameera Moussa - dubbed Mother of Atomic Energy - is one of the very few Arab figures of her time to contribute to the advancement of medical nuclear power. And the list goes on and on. Over time, the list grew in quantity and quality, too.
We now have countless women conquering STEM like never before.
Ruling tech, entrepreneurship & the future
Let's start with the famous Ayah Bdeir. She's not your typical engineer who ended up working for a consulting firm, no. Bdeir is a Lebanese engineer and interactive artist who founded littleBits, "an award-winning platform of easy-to-use electronic building blocks that is empowering kids everywhere to create inventions."
The company is basically a library of modular electronics that snap together with a magnet. It's no surprise considering the MIT media lab alumna's career was always centered around creating a platform that would make innovation and education available to as many people around the world as possible. She is now considered one of the leaders of the open-source hardware movement and has made a huge impact on the lives of millions across the world. Her company has sold millions of products and now writes curricula that are used in 3,500 schools worldwide.
Bdeir has been featured on Forbes, Business Insider, and many other international publications. She was also named on Fast Company's "Most Creative People in Business" list in 2013.
And since we're talking about innovation and creations, we must dedicate some time to talk about groundbreaking Lebanese entrepreneur Hind Hobeika, the founder of wearable tech company Instabeat. The latter is a device that allows swimmers to monitor their heart rate and other metrics through a real-time display and is often referred to as the "Google Glass" of swimwear.
The device has won many awards and Hobeika's story is often hailed as a successful one due to the global recognition and appeal of the product. A newer version of the product was officially launched mid-2019; the company has raised a total of $6 million in funding and has spent a total of 8 years on R&D between Lebanon, China, and the U.S as of July 2019, according to LebNet.
In the field of innovation and technology, another name comes to mind, i.e. Noor Shaker. In 2008, computer scientist Noor Shaker left Syria for Europe to pursue her passion for Artificial Intelligence. Following her master's degree, she spent eight years as a machine learning researcher in Copenhagen, Denmark, focusing on the application of technology in computer games.
Academia was clearly her first step; an entrepreneurial storm was her second. She eventually co-founded Generative Tensorial Networks (GTN), a company that combines quantum computers with AI to speed up the creation of new medicines.
Her significant advances for the pharmaceutical industry have landed Shaker a spot on the "Innovators Under 35 Europe" list in 2018. One year later, she occupied space on BBC's "100 Women" list.
You also have Egyptian Dina El-Mofty, the woman behind one of the country's most successful companies, INJAZ Egypt. The organization partners with schools and universities across the country, impacting over half a million Egyptian students and helping train them to become future entrepreneurs.
In recent years, the company "has seed funded and supported over 50 successful startup businesses." After her great success in creating an innovative platform that helps build a better future for young Egyptians, Arabian Business nominated El-Mofty in 2016 as one of the world's most influential young Arabs under 40.
All these women mentioned above have one thing in common: an entrepreneurial heart. And the epitome of that kind of spirit is Elissa Freiha, who also happened to snatch a spot on BBC's "100 Women" list last year.
Emirati-Lebanese Elissa Freiha is the founder of Womena, an angel investment platform for female investors. Freiha's passion for female empowerment, education, and growing UAE's SME space have always been key in driving her goals forward.
"We're here to show that women in tech not only exist, but they are rockstars and kick-ass business leaders," Freiha once said in an interview with Vogue.
"They're worth your backing – not just moral backing, but financial backing."
Womena, which first started in 2014, has since launched a media platform and the first female-focused tech accelerator in the Arab world. Womena and its 40 angels invested more than 2 million dirhams ($544,000) in seven UAE-based startups as of 2017.
Groundbreaking Arab women in science
Lebanese-born Huda Zoghbi is a professor of pediatrics, molecular and human genetics, neurology, and neuroscience at Baylor University in Texas. She is also the director of the Jan and Dan Duncan Neurological Research Institute at Texas Children's Hospital.
Throughout the course of her career, the medical researcher and physician has left a mark with her medical work and has been recognized for that. In 2016, she was awarded a $3-million prize by the Breakthrough Foundation, co-founded by Mark Zuckerberg, also known as the "Oscars of Science."
She was the only female award-winner at the award show that year. The Breakthrough Awards 2017 recognized Zoghbi's work in Spinocerebellar ataxia and Rett Syndrome, delving into the genetic causes of Alzheimer's and Parkinson's. Zoghbi, an American University of Beirut Trustee and Alumna, is all about helping people with her work and her list of awards is proof of that.
She's been awarded the Jessie Stevenson Kovalenko Medal, a Shaw Prize, and a Mechthild Esser Nemmers Prize in Medical Science.
In the world of science, we also have Lebanese Najat Saliba who is conducting world-leading research on the chemical and toxic composition of polluted air. Through her work, she hopes to address the most pressing environmental challenges burdening Lebanon and the Middle East.
There's also Saudi Khawla Al Khuraya, a physician and pathology professor who broke through when she was the first to discover the cancer-triggering FOSM1 gene in the human body. She is currently a cancer specialist at King Faysal Specialist Hospital and Research Centre.
But that's not to say science and tech don't intersect. Just think about robot-assisted surgical procedures and how they are on the rise. None of that would have happened if technology wasn't introduced to the field of science.
When it comes to the sciences, computer science specifically, the full integration of tech has allowed for legendary advancements in the field, starting with AI.
Emirati Rouda Al Shamsi, a graduate of the American University of Sharjah, is an example of someone who took charge of AI to help protect the UAE. She's the brainchild of the Forecasting Defence Smart Center, which uses AI to help solve crimes in the Gulf nation.
"The artificial intelligence can work as a movement analyzer, thereby, helping the police in solving crimes by reading faces," she said.
The center can also "help in forecasting future occurrences, it could be used as a tool for detecting narcotics since it analyzed and compares current and past situations by programming repetitive patterns."
Egyptian computer scientist Rana El-Kaliouby is another person whose innovation started with the use of AI as well. El-Kaliouby is a major contributor to facial expression recognition research and technology development after founding MIT startup Affectiva to help computers read facial gestures more accurately.
In April 2019, Affectiva raised $26 million in a funding round with aims of advancing its emotion and object detection AI for monitoring vehicle passengers. Affectiva wants its solution to be incorporated into cameras used in car safety systems to recognize when a driver is happy, sad, drowsy, or frustrated.
Bridges can be built between any two sectors of STEM. An example of an Arab woman who connected entrepreneurship and science is Saudi national Ghazael Al Dossary who works in the petrochemical industry.
She is the founder of Oriental Promises Trading, a company that delivers waste materials to large manufacturers who then repurpose them to fit their needs. Al Dossary's organization prevents tons of waste from going to landfills. In 2016, Al Dossary's business won the Merit Prize at Shell LiveWIRE's "Top Ten Innovators" global competition.
Another woman who fused tech and entrepreneurship is Saudi Manal Al Sharif, the founder of Women2Hack Academy, a program that aims at fostering tech talent in the kingdom with a focus on information security. She's been mentioned on lists such as Forbes Top 50 Women in Tech, Newsweek's world's top 10 Digital Revolutionaries, Time magazine's 100 Most Influential People in the World, and Foreign Policy's 100 Global Thinkers to name a few.
Long before her journey as an entrepreneur, the computer scientist was the only woman working as an IT specialist at state-owned oil producer Saudi Aramco.
Omani Hind Bahwan brought together tech, engineering, and entrepreneurship having founded Bahwan CyberTek Group. The latter is an IT, logistics, and engineering corporation.
The Harvard business school graduate also serves as a board member for several important companies; organizations have rendered her one the most esteemed Arab businesswomen.
She is the recipient of numerous prestigious awards including the World Economic Forum's "Global Young Leader" award, which she received in 2007, and the Asian Business Leadership's 2011 "Woman of Power Award."
Why is this important?
Many of the women mentioned above have started their own business. This is a major step forward for the ecosystem as a whole and for women, specifically. How?
Female-led businesses hire more women (25 percent) than their male counterparts (22 percent). Female-owned firms also employ more women to managerial roles, allowing women to reach the top of the ladder based on merit rather than their assigned sex.
So more female-owned businesses means higher female employment and more female managers... which means women get just as many opportunities to shine without the help of any man. And that's why it's important, just in case you were wondering.
https://stepfeed.com/arab-women-aren-t-just-into-design-and-fashion-they-re-dominating-stem-1764
--------
STC Signs Women's Empowerment Principles of UN
March 17, 2020
As part of the Sustainable Stock Exchanges (SSE) initiative "Ring the Bell for Gender Equality," STC has signed the UN Women's Empowerment Principles (WEPs). The event was organized by Saudi stock exchange Tadawul, on the occasion of International Women's Day. The WEPs document was submitted in the presence of Maha Al-Nuhait, general manager of sustainability program at STC, and Janneke van der Graaff-Kukler, deputy regional director at UN Women.
The SSE initiative has five pillars of activity: Partnerships to achieve goals, climate action, responsible consumption and production, decent work and economic growth, and gender equality.
"STC's interaction with International Women's Day confirms the company's commitment to achieving sustainable development goals and implementing best sustainability practices in the company by supporting Saudi women and allowing them to hold executive positions," a statement said.
The telecom operator previously launched the first board to empower women and enhance their participation in the market. This stems from the company's belief in the importance of investing in its employees and providing them with the best opportunities to develop their skills and knowledge. The move is in line with Saudi Arabia's Vision 2030, and STC's commitment to the National Transformation Program, which aims to increase Saudi women's contribution to economic growth.
https://www.arabnews.com/node/1642461/corporate-news
--------
Saudi Women's Driving Activist On Trial Almost 2 Years after Ban Was Lifted
By Guy Davies
18 March 2020
LONDON -- The trial of a prominent human rights activist who campaigned for women being allowed to drive in Saudi Arabia held its first open-court session Wednesday, nearly two years after her arrest.
Loujain al-Hathloul, 30, was arrested in the Kingdom in May 2018, along with 11 other women's rights campaigners. Just over a month later, women in Saudi Arabia got behind the wheels of their cars and drove for the first time after over three decades of campaigning from activists to overturn the ban on women's driving.
The lifting of the ban was initially met with euphoria by women drivers in the Kingdom, although the trial of al-Hathloul highlights that reforms have been limited and Saudi Arabia still faces intense criticism on its human rights record.
In total, 13 women's rights activists remain on trial, with al-Hathloul and four others held in detention, according to Amnesty International.
"The very existence of this sham trial pulls the veil off of the authorities' so-called push for reforms in the Kingdom," Lynn Maalouf, Amnesty International's Middle East Research Director, said in a statement to ABC News. "How can they initiate change in the country when the very women who fought for these reforms are still being punished for it?"
While she was expected to make an appearance, al-Hathloul did not appear in court Wednesday, although her family members are believed to have attended, sources familiar with the case told Amnesty International. After the opening of the trial, the court has now been closed for two weeks, and the human rights group has not been told when the rescheduled court date is. If found guilty, she could face jail time.
The trial of al-Hathloul, which began on March 13 with a series of closed hearings at the Criminal Court in Riyadh, comes as the kingdom has faced increasing scrutiny over its human rights record. The spotlight has fallen on Crown Prince Mohammed bin Salman, who initially promised an agenda of reform, after the murder of journalist Jamal Khashoggi and the unfolding humanitarian disaster in neighboring Yemen.
In 2019, the kingdom executed a record number of prisoners, despite the Crown Prince's promise to curb the use of the death penalty.
Amnesty International and other rights groups have called for al-Hathloul's immediate release, and said she has been tortured and sexually abused while in detention.
"In prison, Loujain has suffered torture, sexual abuse and solitary confinement -- compounding the fact that she has been deprived of her freedom unjustly for almost two years now," Maalouf said. "It is high time the authorities not only drop these ludicrous charges but also ensure independent and impartial investigations into her treatment in detention, and hold those responsible accountable for their actions. This is the only course of action that would lend some credibility to the authorities' reform drive."
https://abcnews.go.com/International/saudi-womens-driving-activist-trial-years-ban-lifted/story?id=69662620
--------
Coronavirus: Egypt Releases Four Women Who Held A Protest Demanding Release Of Prisoners
19 March 2020
Egyptian authorities released on Wednesday four human rights defenders who staged a protest calling for the release of prisoners to prevent the spread of coronavirus, lawyer Khaled Ali said.
Egypt has so far reported 210 cases of the virus and six deaths.
The four women are novelist Ahdaf Soueif, her sister Laila Soueif, Mona Seif, and political science professor Rabab el-Mahdy.
They were arrested after a protest in front of the government headquarters in central Cairo earlier on Wednesday, when a number of officers told them they were not allowed to protest.
The four women held posters with demands to release prisoners, including their family members held in pre-trial detention.
According to Ali, a Cairo prosecution has ordered their release on bail, after paying EGP 5000 ($317).
Mona Seif, Laila Soueif's daughter, is the sister of Alaa Abdel Fattah, a left-wing activist currently in pretrial detention.
"We are in front of the cabinet headquarters, demanding the state to take serious measures regarding the coronavirus crisis in Egyptian prisons," Mona Seif said.
"We all know that Egyptian prisons are epicentres of diseases even in normal situations, with overcrowded cells, poor ventilation, and lack of sunlight," she added.
Several human rights groups have called on Egyptian authorities to release prisoners temporarily as an urgent measure to prevent an outbreak of Covid-19 in the country's notoriously overcrowded jails.
Human Rights Watch has estimated that more than 60,000 political prisoners languish in Egyptian jails since president Abdel Fattah el-Sisi came to power in 2014.
Sisi has routinely jailed critics, including secular and Muslim Brotherhood politicians, journalists, and human rights defenders. Hundreds have died in custody due to medical negligence or other poor detention conditions.
Overcrowded prisons
According to the official National Council for Human Rights, police stations in 2015 were 300 percent overcapacity, and prisons were 160 percent overcapacity.
Amr Magdy, Middle East and North Africa researcher for Human Rights Watch, has urged Egyptian authorities to release those in pre-trial detention, those who served most of their sentences and the terminally ill, to prevent "a disaster" in the country's prisons.
"Previous Human Rights Watch reports show that prison officials have "let die" many prisoners in recent years, even though their illnesses were manageable, such as diabetes or heart conditions," he wrote for Middle East Eye.
"Even those who were terminally ill because of advanced liver cirrhosis or metastatic cancers have been denied release, robbing them of the opportunity to rest and die among their loved ones," he said in a column.
"If that's already daily life in Egyptian prisons, then the system is definitely not prepared to face a pandemic such as coronavirus."
https://www.middleeasteye.net/news/coronavirus-egypt-releases-bail-four-women-who-called-releasing-prisoners
--------
The Malala Yousafzai Scholarship Act
MARCH 18, 2020
SEATTLE, Washington — As of March 3, 2020, the Malala Yousafzai Scholarship Act passed the House of Representatives with the overwhelming support of 374-16. Rep. Hakeem Jeffries spoke during the house session held on March 3 in support of the bill. He said, "empowering girls with access to education is not just the right thing to do, it's the smart thing to do for Pakistan and for the global community." The passage of the Act reflects that the U.S. House of Representatives shares Rep. Jeffries' belief. Although the Act still has a long journey left until it becomes a law, March 3 marks the first step to a transformative change that is coming to girls' education in Pakistan.
Malala's Story
The Malala Yousafzai Scholarship Act is named in honor of Malala Yousafzai. In 2007, the Taliban took control of the region where Malala and her family resided. As part of their terror campaign, the Taliban banned girls from attending school entirely. Believing in her basic rights to access to education, Malala started to blog anonymously on the British Broadcasting Corporation (BBC) in 2009. She was 11 years old at the time. In retaliation to Malala's defiant act against them, the Taliban shot her on October 9, 2012. Malala was transported to an intensive care unit in Birmingham, England.
After extensive therapy, Malala was able to attend school in Birmingham by March 2013. In 2014, Malala co-founded the Malala Fund with her father. The Malala Fund works around the globe to ensure "12 years of free, safe and quality education" for women and girls. In October 2014, at just 17 years old, Malala received the Nobel Peace Prize for her humanitarian actions for the girls' rights to education around the globe. She remains the youngest person to receive the noble peace prize.
What the Act Will Do
The Malala Yousafzai Scholarship Act aims to ensure that at least 50 percent of USAID's scholarships will go to Pakistani women who have limited opportunities to education. Pakistan has the second-highest number of girls out of school in the world. Multiple factors, such as lack of school funding, early marriage, lack of facilities in rural areas and terror campaigns by the Taliban, have restricted girls' rights and access to education in Pakistan.
The passage of the Act in the House of Representatives further reflects the U.S. government's commitment to the U.N.'s 2030 Sustainable Development Goals. Goal four includes equal access to quality education for men, women and children around the globe. The act requires a yearly briefing to Congress in which a USAID official will present data on the total number of scholarships that were awarded through the program, gender of the recipients and the level of degree that the recipients of the scholarship are persuing.
The Status of the Act
Rep. Hakeem Jeffries and Rep. Ann Wagner introduced the bill to the House of Representatives on September 26, 2019. As of March 4, 2020, the U.S. Senate received the Act and referred it to the Committee on Foreign Relations. Like any other legislation, the Malala Yousafzai Scholarship Act still needs to go through the Senate and the White House. Although the humanitarian mission of the Act is clear, there are many Americans who are unsure about the act's long-term effects.
The opposition to the Act believes that it is an unnecessary bureaucratic step that will get in the way of USAID's operations. The opposition also believes that the USAID is already providing more than 50 percent of its scholarship to Pakistani women and that the USAID scholarship should only go to the most qualified candidates in Pakistan. However, The supporters state that the unequal education opportunity for numerous women and girls in Pakistan far outweighs the argument for scholarships should be only merit-based.
The positive impact and opportunities that the Malala Yousafzai Scholarship Act can bring to many women and girls in Pakistan cannot be overstated. In a country where nearly 22.6 million children are out of school, at least 56 percent of whom are girls. The Act has the potential to transform the lives of many young women in Pakistan.
The passage of the Malala Yousafzai Scholarship Act in the U.S. House of Representatives is a small step toward a better future for many disenfranchised women and girls in Pakistan. However, the Act still has a long road ahead. Many hope that the opposition will come around to see the transformative power that the Malala Yousafzai Scholarship Act will bring to many women and girls of Pakistan.
https://www.borgenmagazine.com/the-malala-yousafzai-scholarship-act-2/
--------
Afghan Women Appeal to Pompeo to Monitor Taliban's Treatment Of Women
BY CHRISTINA RUFFINI
MARCH 4, 2020
Days after the U.S. signed a deal with the Taliban, a group notorious for its mistreatment of women, a female mayor from Afghanistan said the women of her country are worried about their future, and she appealed directly to Secretary of State Mike Pompeo for support.
Zarifa Ghafari, who fought oppression and sexism to become the head of her conservative Afghan town at age 26, was one of twelve honorees Wednesday at the annual Women of Courage Awards Wednesday in Washington. Chosen to make remarks on behalf of the diverse group of winners, Ghafari said women's empowerment can contribute to the peace and stability of a nation. She then addressed the situation in Afghanistan directly.
"The women of my generation have not forgotten the reign of the Taliban, and we are, as always, worried for the future," she said, turning directly to Pompeo, who was seated over her right shoulder. "Therefore, let me ask for your continued support to ensure the Afghan Peace Process does not erase the gains that have been made since the dark days of the Taliban regime."
The agreement between the U.S. and the Taliban, signed Saturday in Doha, makes no specific mention of women's rights. Instead, it says that if the Taliban upholds its counter-terrorism promises and enters inter-Afghan talks with the government in Kabul, U.S. forces will leave the country over the next 14 months.
At the signing ceremony, Pompeo urged the Taliban to "embrace the historic progress obtained for women and girls and build on it for the benefit of all Afghans." U.S. officials have repeatedly said that women will have a seat at the table during the inter-Afghan dialogue, but at the same time, they have mostly left the negotiations up to the Afghans themselves.
Under Taliban rule, women were banned from working or holding office, were forced to wear face-covering robes in public, and could not attend school. Today, 30% of students are women, burkas are no longer compulsory and an historic number of women ran for parliament last fall.
"Whatever we women of the world have already achieved, let us not taken for granted," Ghafari warned the audience. "It can be taken from us if we are not vigilant and strong."
The International Women of Courage award started in 2007 and "recognizes women around the globe who have demonstrated exceptional courage and leadership," according to the State Department. This year's winners include a journalist from Armenia, a student activist from Nicaragua and an anti-FGM activist from Burkina Faso and a Pakistani human rights attorney nicknamed the Iron Lady of Balochistan.
https://www.cbsnews.com/news/afghan-women-appeal-to-pompeo-to-monitor-talibans-treatment-of-women/
--------
Women-Run Businesses Squeezed by Iran's Coronavirus Crisis
March 19, 2020
SANANDAJ, Iran – A small shop in downtown Sanandaj, a city in Iran's western Kurdistan province, sells Kalana, a traditional filled bread which forms a staple of every Kurdish dinner table. Like the bazaar, it today stands empty.
Its owner, 57-year-old Rabia Ahmedi, packs away her ingredients. Her grey hair and lined face make her look older than her years. Pain in her leg forces her to sit on the ground while she works. No customers means no Kalana.
Ahmedi is one of Iran's many female breadwinners. Most of them are street vendors who get no government welfare or subsidies.
She has been baking bread here for 20 years to earn money to feed her family. The coronavirus pandemic has caused business to grind to a halt.
"My husband died 20 years ago. The rearing of my three children has fallen solely on me since then. I have been making ends meet by making Kalana," Ahmedi told Rudaw English.
"I have not made Kalana for a month and I only bake bread for my relatives. I pay a million tomans ($80) each month in rent but this month I did not even earn $40. Therefore, I have decided to close my shop as no one is supporting me," she added.
The first cases of coronavirus were confirmed in Iran in late February. It has since exploded, killing more than a thousand people and infected at least 14,000, according to official figures.
Iran has been particularly hard hit by the virus, with fears it could kill "millions" if citizens do not heed advice to stay indoors.
Opposition groups claim the official numbers fall way short of the reality and accuse the government of deliberately delaying reports of the first case to help boost the turnout in Iran's recent parliamentary election.
Nahida Tajaddin is a member of the Iranian parliament's Social Commission. She estimates 3.5 million female breadwinners in Iran are vulnerable to the pandemic's ravaging effects on the local economy.
Because these women play such a central role in Iran's informal economy, Tajaddin says they must get financial help from the government in addition to postponed debt repayments and utility bills.
How will Ahmedi make an income without her business and while ordered to stay indoors?
"I have to [work]. What else shall I do? The landlord wants the rent and I do not want to lose money," she said.
"Why should I come out of my house at this age if I do not have to? They [officials] always call on people through television broadcasts not to come out. [But] if we stay at home, what shall we eat? The government does not support us. Those people who are currently out of their homes are all obliged to do so just like me," she added.
Bayan Azizi is a researcher working on women issues. She told Rudaw English there are many women in Iran who are their family's main breadwinner. Among them are divorcees, widows, and women whose husbands are unable to work, through disability or drug addiction.
Other working-age men have left the Kurdish areas in search of work elsewhere in Iran, or even in the neighboring Kurdistan Region of Iraq.
And socially conservative Iran doesn't make it easy for women to work or rent independently.
Azizi says 18 percent of Iranian families are financially dependent on working women, according to the government's most recent population figures.
The same statistics indicate the number of female breadwinners increased by 1.4 million between 2007 and 2017, while around 800,000 women live alone across the country.
Zuhre Ashtiyani, head of the family committee in the Iranian parliament, says 16 percent of these women are under the age of 20, leaving them especially vulnerable, according to the Iranian Red Crescent Society's Shahravand newspaper.
Although a law was passed in 2018 to help support families without a breadwinner, it was never implemented.
Mohsen Shujaei, the deputy head of Kurdistan Province Welfare Organisation, a government agency assisting deprived households, told Rudaw English: "Even though our organisation financially assist some of the women that are their family's breadwinner, and gives them a small allowance per month, this is a small percentage of the women who are the head of their families."
https://www.rudaw.net/english/middleeast/iran/19032020
--------
Syrian Army Accused of Targeting Older Women
Bethany Brown
March 3, 2020
The Syrian government's elite special mission force opened fire on older women as they prepared to flee from advancing troops in western Aleppo, media reports suggest. Video recordings reportedly obtained by the United Kingdom's Daily Telegraph newspaper show the older women gathering their belongings and preparing to escape when they appear to come under attack.
The Telegraph also said it had access to intercepted radio transmissions of the soldiers' communication before and during the attack. The newspaper reported one of the soldiers as saying: "She looks elderly. It's clear she's coming to pack her belongings, then she's leaving." Another replies, "I am watching them. They are about to enter a house. Go! I am firing now, fire, fire!"
In the first two weeks of February alone, more than 100 civilians were killed by the Syrian-Russian military alliance in the course of their offensive on Idlib and western Aleppo, according to the United Nations.
If confirmed, a Syrian army attack on local residents trying to flee violence would belie the claims by the Syrian and Russian governments that their offensives solely target fighters.
It would also be a disturbing case of targeting older women in conflict, a tactic which the UN has found is used by armed groups in other contexts to forcibly displace communities. For example, a May 2019 report found that in 2018, armed groups in South Sudan targeted older women, among other groups, with sexual violence in order to force entire communities from their homes.
International humanitarian law requires the safe removal of older people from besieged areas to safety zones. Any attack targeting civilians violates international humanitarian law and may be prosecuted as a war crime. Syria's civilians have already suffered terribly during the country's nine-year conflict, and its soldiers should not add the needless targeting of older people to the terrible list of crimes that its people have endured.
https://www.hrw.org/news/2020/03/03/syrian-army-accused-targeting-older-women
--------
Study: 33pc Malaysian Women Hold Senior Leadership Roles In Country, Higher Than Global Average
06 Mar 2020
BY SOO WERN JUN
KUALA LUMPUR, March 6 — Malaysian women today make up 33 per cent of positions in senior management teams within companies in the country, the Grant Thornton International Business Report (IBR) has found.
According to the report, Malaysia has seen positive gains of 10 percentage points from last year and is the highest since 2007. This is above the global percentage of 29 per cent, the report stated.
The report also revealed that 90 per cent of businesses in Malaysia have at least one woman in senior management. This is above the global percentage of 87 per cent — a figure which has held steady since last year.
The top three senior management positions are human resource directors (52 per cent), chief financial officers (29 per cent) and chief operating officers (28 per cent).
"The 2020 data sees an encouraging pattern in women holding significant roles in business operations, especially in the areas of people and strategy in Malaysia.
"The percentages have increased this year for the roles of human resource directors, 52 per cent from last year's 44 per cent, which means Malaysia has the highest number of businesses with women as human resource directors in the Asean region," said Country Managing Partner of Grant Thornton Malaysia PLT, Datuk NK Jasani.
He added that Malaysia also has the highest number of businesses with women as chief operating officer in the Asean region — 28 per cent from last year's 11 per cent.
However, he noted there was a decline in the number of women holding the chief financial officer position in Malaysia.
"Our number is the lowest in the Asean region," he said
Another area covered by the report also revealed that 60 per cent of Malaysian businesses are actively working on removing barriers to gender parity at senior levels, the lowest number in the Asean region.
It pointed out Vietnam is the country with the highest number of businesses taking action (100 per cent) followed by Indonesia (99 per cent), the Philippines (94 per cent), Singapore (77 per cent) and Thailand (69 per cent).
The report also highlighted that, in Malaysia, businesses that are taking action to improve or preserve several areas, including gender balance of their leadership teams, are ensuring equal access to developmental work opportunities (32 per cent), providing mentoring and coaching (23 per cent), creating an inclusive culture (17 per cent) and flexible working (17 per cent) as well as setting targets or quotas for gender balance at leadership levels (17 per cent).
In addition, the report noted that leaders play a crucial role in creating an inclusive culture especially for women, the report stated.
On promoting a sense of inclusion among women, businesses surveyed have indicated that their most senior leader personally encouraged colleagues to speak up with ideas and issues (35 per cent), visibly considered the full talent pool for progression into leadership roles (25 per cent), asked female talent what it is like to work at the company and how it can improve as well as instil new working practices to better engage all employees (both at 21 per cent).
"In Grant Thornton Malaysia, we are proud to note that we have an increased number of women holding senior positions in our firm at 34 per cent from last year's 32 per cent.
"Our firm practices inclusive and open communication to gather opinions from our female leaders. In terms of their development, equal opportunities are given to our female leaders to go through leadership programmes. The key factors are valuing the dedication and contribution towards the firm's growth and goals, regardless of the gender," Jasani said.
He also stressed that if Malaysia wants to see more women in senior positions, businesses need to express this intention.
"Policies that ensure diversity of thought at the decision-making table, that address equal opportunity in career development and bias in recruitment and develop inclusive cultures can't just be a nice to have — they are a must.
"Once implemented, these policies must be enforced and regularly reassessed to judge their effectiveness.
"When that is combined with real commitment from senior leadership, only then will real transformational change take place," he added.
Grant Thornton is one of the world's leading organisations of independent assurance, tax and advisory firms.
The Grant Thornton International Business Report (IBR) is a survey of both listed and privately held businesses. Launched in 1992, the IBR now provides insight into the views and expectations of around 10,000 businesses across 32 economies.
https://www.malaymail.com/news/malaysia/2020/03/06/study-33pc-malaysian-women-hold-senior-leadership-roles-in-country-higher-t/1843809
--------
URL: https://www.newageislam.com/islam,-women-and-feminism/new-age-islam-news-bureau/'tortured'-saudi-women's-rights-activist,-loujain-al-hathloul,-to-face-court/d/121346
New Age Islam, Islam Online, Islamic Website, African Muslim News, Arab World News, South Asia News, Indian Muslim News, World Muslim News, Women in Islam, Islamic Feminism, Arab Women, Women In Arab, Islamophobia in America, Muslim Women in West, Islam Women and Feminism