New Age Islam News Bureau
7 Jun 2013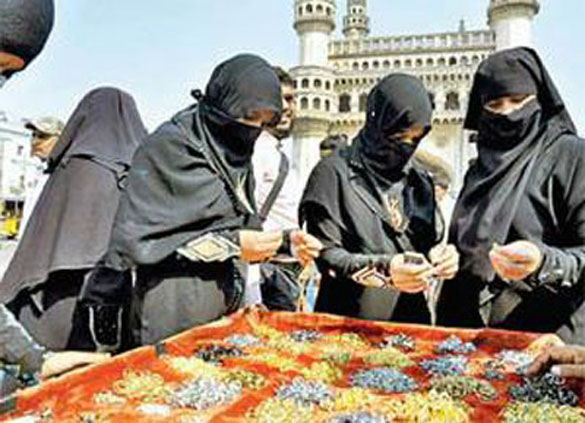 Photo: Burqa-Clad Women Prone To Vitamin D Deficiency
------------
• Encourage Muslim women to join the mainstream: Activists
• Muslim Clothing Gets Chic With 'Hijab Couture'
• Indian Women Continue To Be Violated With Impunity: UN Special Rapporteur
• Burqa-Clad Women Prone To Vitamin D Deficiency: Doctors
• Indonesian Housemaids Worked As Prostitutes in Sharjah
• Therapy for Victims of Sexual Violence Shows Promise in Congo
• Young Female Egyptian Musicians Break Barriers
• Investigator of Taliban Attack on Malala Case Directed to Record Her Statement
• PTI Accuses Fauzia Kasuri of Levelling "False Allegations"
• Pakistani Woman Climber Hopes To Inspire With Everest Feat
• PTI's Aisha Gulalai Seeks Empowerment of Tribal Women
• Educational Workshop Held for Girl Students at Indian School Dammam
• Pension Card for Women Approved In Saudi Arabia
• Saudi Judge Ignores Wife's Mercy Plea, Upholds Flogging Sentence against Husband
• Wife of Killed Journalist Says Syrian Regime Plotted Death
• Reshma starts new job at Westin
Compiled by New Age Islam News Bureau
URL: https://newageislam.com/islam-women-feminism/topless-protesters-rally-outside-german/d/11950
-----------
Topless Protesters Rally outside German Chancellor's Office
7 June 2013
German police on Friday broke up a protest by topless activists from radical women's rights group Femen outside Chancellor Angela Merkel's offices against the visiting Tunisian prime minister, an AFP photographer said.
The three bare-breasted protesters chanted "Merkel free Femen" and two of the women had the first names of women on trial in Tunis for a protest last month in support of a detained Tunisian activist scrawled in black ink across their torsos.
One of the demonstrators outside the chancellery in central Berlin wore a black hood over her head.
Officers dragged the women away from the iron security fence surrounding the building.
Merkel was to meet Tunisian leader Ali Larayedh later Friday for talks on the democratic transition in the birthplace of the Arab Spring, human rights and the potential for German investment.
Their working lunch will be followed by a joint press conference.
At an industrial fair in the northern German city of Hanover in April, Femen activists disrupted a tour by Merkel with visiting Vladimir Putin and shouted obscenities at the Russian president.
A Tunis court on Wednesday adjourned the trial of three European Femen activists, ordering that they remain in detention.
The women, two French and one German, risk six months in prison for baring their breasts outside the main courthouse in Tunis on May 29, in solidarity with a Tunisian activist with the same "sextremist" group who had been arrested 10 days earlier.
The case has been seen in the West as a test of democratic freedoms under Tunisia's Islamist-led government.
http://english.alarabiya.net/en/News/world/2013/06/07/Topless-protesters-rally-outside-Merkel-office.html
-----------
Encourage Muslim women to join the mainstream: Activists
TNN | Jun 7, 2013
MUMBAI: Groups working with Muslim women in the city came together on Tuesday to demand more inclusion in the state's women draft policy that is currently under review. The draft prepared by the department of women and child was released by Chief Minister Prithviraj Chavan on March 8 and a committee has now been set up to review the feedback received from various social groups.
For starters, the policy needs to clearly address the question of Muslim women in its objective. "The policy should spell out its effort to increase the participation of Muslim women in mainstream activities as well as have affirmative action for them," said educationist Farida Lambay. She pointed out that there was very little mention of the security of tenure for Muslim women in terms of housing or even identity cards such as ration cards, or Aadhar.
The gathering under the aegis of the Federation of All Minority Educational Organisations thought the education of minority girls and scholarships were crucial issues that needed underlining in the policy, particularly in terms of simplifying the paperwork involved.
Nasreen Contractor of the Women Research and Action Group pertinently pointed out that Muslim women had been completely absent in the framing of the draft policy, a lacuna that needed correcting in the process of policy-making.
The policy must spell out the need for a women's monitoring committee that could oversee the implementation of schemes related to minorities and track their budget spending, believed the group.
Fauzia Khan, minister for state women and child development who chaired the gathering assured that the government would deliberate on every suggestion that had come up from minority groups and would incorporate appropriately.
The draft policy has come in for flak from women's groups as well, many of whom believe the draft has tried too many multiple tasks, which are not feasible in practice.
http://timesofindia.indiatimes.com/city/mumbai/Encourage-Muslim-women-to-join-the-mainstream-Activists/articleshow/20469705.cms
---------
Muslim Clothing Gets Chic With 'Hijab Couture'
Jun 7, 2013
Muslim fashion has taken off in recent years, as the mainstream fashion industry finally turns its attention to the more modest world of Islamic style. Bloggers like Mariam Sobh, founder of Hijab Trendz, and stylists like Yasmine Yasmine are the ones changing the game, drawing attention on the runways and Internet to how trendy and beautiful modest fashion, including hijabs, can really be.
Sobh joined us on HuffPost Live to talk about the increasing presence of Muslim women in fashion. "I went ahead and started this blog [Hijab Trendz] where I felt like I could have an outlet for Muslim women like myself, who grew up reading Seventeen and Cosmo and we never felt like we exactly fit in," she said.
Yasmine Yasmine agreed, saying that fashion provides an outlet for self-expression to Muslim women. It also engages others, she says, as many people are not used to seeing a woman wearing a hijab with, say, a Chanel bag. But there's no reason a Muslim woman, like any other woman, couldn't do so.
Individuals like Yasmine Yasmine and Sobh, as well as designers like Rabia Z. and Abel Haraba, are helping shift the conversation and the perception of Muslim women through clothing. Check out their HuffPost Live conversation -- and watch Yasmine style our very own HuffPost Live host -- in the videos above and below.
http://www.huffingtonpost.com/2013/06/06/muslim-clothing-hijab-_n_3396559.html
---------
Indian Women Continue To Be Violated With Impunity: UN Special Rapporteur
Swati Mathur
Jun 5, 2013
LUCKNOW: The Indian government invited UN Special Rapporteur Rashida Manjoo to visit the country from 22 April to 1 May and look into the prevailing living standards of woman in India. In her initial findings, Manjoo found that the government of India has signed and ratified numerous international human rights instruments. It has also adopted many progressive laws and policies at the Union and State levels, including amendments to existing laws, to address various manifestations of violence against women. At the institutional level, the duty of promoting and protecting the rights of women and children is vested in numerous Union and state level Ministries, departments, commissions, committees and missions.
Furthermore numerous programs and policies have been put in place in recent years to address the issue of violence against women within a human rights and development framework.
These include schemes addressing the needs of victims of rape, trafficking, domestic violence, and so on. Some of these schemes address counselling, support, skills development, access to benefits and also to shelters. Public-private partnerships have been forged within different spheres including the police sector.
However, despite these various positive developments, the unfortunate reality is that the rights of many women in India continue to be violated with impunity. Redress mechanisms of mediation and compensation erode accountability imperatives, further fostering norms of impunity.
A law and order approach to sexual wrongs, as in the aftermath of the Nirbhaya case, foreclosed the opportunity to establish a holistic and remedial framework. It fails to address the structural and root causes and consequences of violence against women.
Manjoo, in her report, excerpts of which was released by National Alliance for People's Movement, also said several instances of direct and indirect violence in different spheres, whether perpetrated by state actors or condoned by the State, were shared with her during the mission. In India, she said, gender violence manifests in numerous ways and varies in prevalence and forms based on several factors including geographic location.
http://articles.timesofindia.indiatimes.com/2013-06-05/india/39762979_1_indian-women-violence-public-private-partnerships
-----------
Burqa-Clad Women Prone To Vitamin D Deficiency: Doctors
Syed Mohammed, TNN | Jun 7, 2013
HYDERABAD: In an alarming trend, an increasing number of women from across the city who wear the Burqa or observe Purdah are being diagnosed with vitamin D deficiency on account of inadequate exposure to sunlight. Exposure of at least hands or feet to sunlight every day for 15-20 minutes is necessary for the vital compound to be absorbed into the body, advice doctors.
"Around 15 per cent of the body should be exposed to sunlight for around 20 minutes a day. It could be hands or feet," National Institute of Nutrition deputy director Dr N Lakshmaiah told TOI. "Otherwise supplements in the form of conventional tablets should be used regularly."
Scientists from the NIN, who are now working on a study on vitamin D deficiency, said women wearing the veil are prone to the deficiency, more than ones who do not. Studies have also been carried out in Saudi Arabia which showed deficiency levels between 76 per cent and 85 per cent among women there, NIN scientists pointed out.
City doctors also voiced concerns, pegging the susceptibility levels to around 35 per cent more than those who do not wear the Burqa.
They estimate roughly 65 out of 100 patients who complain of muscle pains are those who wear the veil.
"Many Burqa-clad women do not venture out. That coupled with the garment directly blocking sunlight makes them suffer from osteoporosis and various psychosomatic disorders. Based on my experience, I would say that these women have a 30 to 40 per cent increased chance of being vitamin D deficient," says Mazharuddin Ali Khan, a senior orthopaedic surgeon at Owaisi Hospital.
Khan says that medication is pre-emptive as getting a test done is expensive costing around 2,500 rupees. Exposure to sunlight is also a 'mood elevator' apart from stimulating improvement in bones and muscles.
"Around 65 per cent such patients I receive wear the Burqa. The reason is the same. The deficiency is because the Burqa blocks most of the sunlight," Dr Ahrar Ahmed Feroz from Olive Hospital said.
He said number of cases have increased in the past couple of years when patients have been diagnosed with muscle and bone pain and even dementia on account of low vitamin D intake.
Doctors said they are not advising patients to shed the burqa, but maintain women should expose themselves to sunlight every day. Feroz said exposure to sunlight causes 'mild pinkness to the skin and is equal to 20,000 international units of vitamin D.'
He said though deficiency is noticed in burqa clad women, those using sunscreens or staying indoors for too long also suffer from it.
http://timesofindia.indiatimes.com/city/hyderabad/Burqa-clad-women-prone-to-vitamin-D-deficiency-Doctors/articleshow/20468505.cms
-----------
Indonesian Housemaids Worked As Prostitutes In Sharjah
By Bassma Al Jandaly
Jun 7, 2013
Sharjah: Three housemaids who absconded from their sponsors have admitted to giving birth to four illegitimate children from an unknown man.
A senior police official told Gulf News that a Pakistani school security guard was suspected of fathering the children, aged between one and three.
According to the official, the three Indonesian housemaids had been living illegally and working as cleaners in different houses and schools. They have been arrested on charges of having children outside of marriage after a tip-off from an Indian man.
The women, who live in Al Qadisiya area and work as prostitutes by night, claim they do not know the father of their children because they slept with so many customers.
After entering the country on housemaid visas, the women absconded from their sponsors, according to police.
The women told police they gave birth to their children at home and medical checks are being done to establish if their story is true.
The trio and their children are currently in Sharjah central jail.
http://gulfnews.com/news/gulf/uae/crime/housemaids-worked-as-prostitutes-in-sharjah-1.1191836
-----------
Therapy for Victims of Sexual Violence Shows Promise in Congo
By DENISE GRADY
Jun 7, 2013
A type of group therapy designed for trauma victims has proved extraordinarily helpful for survivors of sexual violence in Democratic Republic of Congo, enabling women to overcome the shame, nightmares and terrifying flashbacks that had left them unable to work or take care of their families or themselves, researchers report.
An article about the therapy, published Wednesday in The New England Journal of Medicine, is a rare event: a rigorous study of a treatment meant to heal the mental and emotional scars of women in a part of Africa where rape has become a routine weapon of war. Congo, with two decades of civil war, has been called the rape capital of the world by the United Nations. The country has little or no treatment for those with mental health problems.
A team of researchers from Johns Hopkins University, the University of Washington in Seattle and the International Rescue Committee brought a type of treatment called cognitive processing therapy to Congo. They adapted the method to treat women who could not read or write, and taught it to local health workers who had a high school education or less. The workers then conducted group therapy sessions in five languages with survivors of sexual attacks who had severe anxiety, depression and post-traumatic stress disorder. In Swahili, the treatment was called "mind and heart" therapy.
Full report at:
http://www.nytimes.com/2013/06/06/health/therapy-for-rape-victims-shows-promise.html
-----------
Young Female Egyptian Musicians Break Barriers
Jun 7, 2013
For Bosaina II, a singer and electronic music producer who performs sensual dances in wild outfits, winning the love of Cairo has been a rocky mission. But for all the resistance she encounters, grateful audiences in the community abroad continue to reinforce her faith in her sound and style's place in Egyptian society.
Egypt is known for some of the Arab World's most famous female classical singers, among them the legendary matriarch Umm Kulthum (1898-1975), Mounira El Mahdeya or "The Sultana" (1885-1965), Asmahan Amal al-Atrash (1917-1944) and Leila Mourad (1918-1995).
Throughout the last three decades, Egyptian women in music have been mostly limited to the mainstream Arabic pop scene. But that seems to be changing. Bosaina II, Rasha Shaheen, Dina El Wedidi, Maii Waleed, and Omnia are just some of the new young, independent female musicians to influence Egyptian music and society. But pioneering new music and being a woman takes guts, patience and endurance.
Full report at:
http://www.al-monitor.com/pulse/originals/2013/06/egypt-female-musicians-break-barriers.html#ixzz2VWK6YUKK
-----------
Investigator of Taliban Attack on Malala Case Directed to Record Her Statement
Jun 7, 2013
PESHAWAR, June 6: The Khyber Pakhtunkhwa Directorate of Prosecution has directed the investigator to record statement of Malala Yousafzai, who was shot by Taliban militants in Mingora, Swat district in October 2012.
Provincial director general (prosecution) Arif Khattak told reporters in his office here on Thursday that the statement of Malala Yousafzai, who was currently abroad with her family, would be recorded by modern electronic devices.
"The directorate has recently directed the investigation officer of the case to record Malala's statement," he said.
Full report at:
http://beta.dawn.com/news/1016529/investigator-directed-to-record-malalas-statement
-----------
PTI accuses Fauzia Kasuri of leveling "false allegations"
Jun 7, 2013
The Pakistan Tehrik-i-Insaf (PTI) on Thursday issued "factual clarification" regarding grounds on which Fauzia Kasuri took the decision of parting ways with the PTI and accused her of leveling "false allegations" against its leadership.
The clarification, issued on the PTI's official website, said the party has highest regards regarding efforts she had made for the party. However, it added that it was the party's right to clarify some "erroneous" statements made by Kasuri lately.
Full report at:
http://beta.dawn.com/news/1016494/pti-accuses-fauzia-kasuri-of-levelling-false-allegations
-----------
Pakistani woman climber hopes to inspire with Everest feat
Jun 7, 2013
ISLAMABAD: The first Pakistani woman to climb Mount Everest says she wants her achievement to stand as an inspiration to all the women of her troubled country that they can achieve their dreams.
Samina Baig last month became the first woman from Pakistan to reach the 8,848 metre (29,029 foot) summit of the world's tallest mountain, after a gruelling expedition in rough weather.
As she unfurled the green and white Pakistani flag on the peak, tears of joy and pride rolled down her cheeks, she told AFP in an interview at her Islamabad home.
The 22-year-old said that as she stood with the world at her feet, her mind turned to the millions of women back home denied opportunities because of their gender in Pakistan's conservative, patriarchal society.
Full report at:
http://beta.dawn.com/news/1016456/pakistani-woman-climber-hopes-to-inspire-with-everest-feat
-----------
PTI's Aisha Gulalai seeks empowerment of tribal women
By Zahid Gishkori
June 6, 2013
ISLAMABAD: With late Benazir Bhutto as her ideal, Pakistan Tehreek-e-Insaf (PTI) MNA Aisha Gulalai wants to empower women of the tribal areas.
The newly elected MNA made her way to the Parliament last week on a reserved seat. "I'm worried about the condition of women in the troubled valley of South Waziristan—worst affected by the militancy," she told The Express Tribune in an exclusive interview on Sunday
Gulalai had been a worker of Pakistan Peoples Party Parliamentarian (PPPP) and All Pakistan Muslim League (APML). "Benazir Bhutto treated me like her daughter," she recalled.
Vocal critic of drones, Gulalai – who is a sister of Pakistani Squash player Maria Toor – entered politics during her student life. "Drones violate state's sovereignty," she said, adding that PTI chief Imran Khan wants to end foreign involvement in Pakistan's affairs.
Full report at:
http://tribune.com.pk/story/559692/inspired-by-benazir-ptis-aisha-gulalai-seeks-empowerment-of-tribal-women/
-----------
Educational Workshop Held for Girl Students at Indian School Dammam
6 June 2013
An educational workshop for female students at the International Indian School in Dammam (IISD) and other Indian schools in Dammam was conducted by the Hyderabad Association.
The workshop was attended by 80 female students of grades VIII to XII and 30 parents.
Syeda, a student in class XI at the IISD, anchored the event, explained the importance of the workshop and read out a message from IISD Principal Dr. E.K. Mohammed Shaffe.
Mohammed Fayazuddin, a member of the association and former member of the IISD management committee, briefed guests on the association's educational and philanthropic activities.
Full report at:
http://www.arabnews.com/news/454147
-----------
Pension Card for Women Approved In Saudi Arabia
7 June 2013
Fatima Al-Ali, head of the women's department at the Public Pension Agency, has said that the Saudi system for retirement is superior to that of other countries in many respects.
"Retirees who have worked for 40 years in civil service or 35 years in military service are eligible for full basic salary monthly," she said, adding that other countries grant only between 70 to 90 percent of the basic salary.
The issue came up during a procedural initiative entitled "Ejraaie" that was held recently under the aegis of Princess Hesa bint Salman and organized by the women's department at the Council of Saudi Chambers.
A number of government bodies and ministries participated at the meeting with the aim of raising awareness between women on the different procedural issues related to work and services.
Full report at:
http://www.arabnews.com/news/454251
-----------
Saudi judge ignores wife's mercy plea, upholds flogging sentence against husband
By Habib Toumi
Jun 7, 2013
Manama: A judge in Saudi Arabia has upheld a flogging sentence against a husband for slapping his wife even though the wife later said that she forgave the husband and wanted the case dropped.
The man was sentenced to 30 lashes and 10 days in jail and ordered to attend special sessions on marriage counseling and on how to treat and deal with spouses.
The court in Al Qateef in the Eastern Province said that the wife could witness the flogging in retribution for the physical pain her husband caused her.
Full report at:
http://gulfnews.com/news/gulf/saudi-arabia/saudi-judge-ignores-wife-s-mercy-plea-upholds-flogging-sentence-against-husband-1.1193486
-----------
Wife of killed journalist says Syrian regime plotted death
6 June 2013
Wife of Gilles Jacquier, a French journalist killed in Syria in January 2012 while covering the war, accused the Syrian regime of planning her husband's killing.
In her book "Attentat Express," which was released last week, photojournalist Caroline Poiron said the Syrian regime planned her husband's killing via air force intelligence, Maher al-Assad and Michel Samaha, a former Lebanese information minister arrested in August 2012 for involvement in "terror plots."
Poiron was present when her husband died in the Syrian city of Homs while covering events for the French channel France 2.
"I accuse Bashar al-Assad's regime [of murdering my husband]. It was a planned operation. I have [lots of] evidence, video [tapes] and witnesses. Criminal experts confirmed that the operation was planned and quickly implemented," Poiron told Al-Arabiya.
Full report at:
http://english.alarabiya.net/en/perspective/features/2013/06/06/Wife-of-killed-journalist-says-Syrian-regime-plotted-killing.html
----------
Reshma starts new job at Westin
JUNE 07, 2013
Reshma, who survived for 17 days under the Rana Plaza rubble, started life anew yesterday by joining as Public Area Ambassador at the Housekeeping Department of The Westin Dhaka.
"I used to work in a garment factory but the work environment was not good. Here it is better and I like it here," she told journalists after her orientation at the hotel.
Earlier in the day, Reshma was released from Savar Combined Medical Hospital where she was receiving treatment after being rescued on May 10. The nine-storey building collapsed on April 24, claiming 1,131 lives.
Major General Chowdhury Suhrawardy, general officer commanding of Savar Cantonment, told journalists that Reshma had recovered completely.
Full report at:
http://www.thedailystar.net/beta2/news/reshma-starts-new-job-at-westin/
-----------
URL: https://newageislam.com/islam-women-feminism/topless-protesters-rally-outside-german/d/11950