New Age Islam News Bureau
14 Sept 2015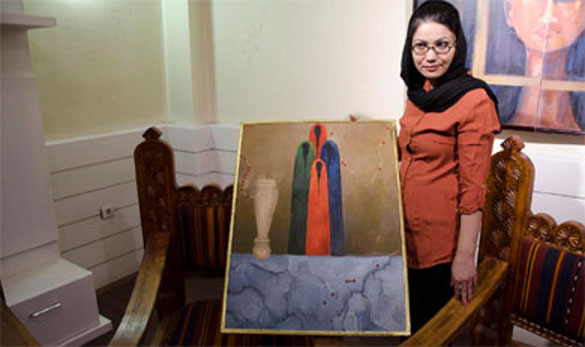 Munera Yousefzada shows off a painting from her gallery's current exhibition at the Shamama Contemporary Arts Gallery in Kabul. After living in Iran, Yousefzada returned to Afghanistan and started SCAG because she wanted to give Afghan female artists a place to exhibit their work.
---------
• Malala Calls World's Response to Syrian Refugees Pitiful
• My Mother's Dream Was to Die in Mecca, Says Daughter of Crane Tragedy Victim
• Gallery's Nudes Raise Eyebrows – And Tensions – In Afghanistan Capital
• This CEO Is Helping Saudi Women Break A Gender Barrier
• RSS All-India Women's Meet: Gujarat CM Attends Event at Disputed Shrine
• Two Hyderabad Women among Makkah Tragedy Victims
• Dubai Women's Establishment Excels
• Pakistan Diocese Highlights Role of Women as Peace Builders
• Pilot Programme to Reduce Violence against Women Established In Pak Punjab
• Shrine Blast: 3 Women Detained In Bangkok; 3 Others Arrested In Malaysia
• Discriminatory Laws Hold Indonesian Women Back, World Bank Report Finds
Compiled by New Age Islam News Bureau
URL: https://www.newageislam.com/islam,-women-and-feminism/new-age-islam-news-bureau/topless-protesters-disrupt-muslim-conference-on-women-in-paris/d/104576
---------
Topless Protesters Disrupt Muslim Conference on Women in Paris
13 Sep 2015
Two Femen protesters were arrested after baring their breasts at a controversial conference near Paris on the role of Muslim women.
According to Inna Shevchenko, a spokeswoman for the feminist protest group, two fundamentalist preachers were discussing the question of "whether wives should be beaten or not" when the activists, aged 25 and 31, ripped off their Arab-style cloaks and jumped on to the stage on Saturday evening. One had the slogan "No one subjugates me" inked across her torso. The other bore the words "I am my own prophet."
The protesters, aged 25 and 31, grabbed microphones and shouted feminist slogans in French and Arabic before being roughly bundled off the stage by about 15 men and handed over to police. Video footage of the incident shows a man apparently kicking one of the women.
The women were arrested after protesting at conference near Paris on the role of Muslim women
According to Ms Shevchenko, some of the men shouted "dirty whores" and "kill them". She thanked the police for protecting the two women, who were taken into custody. They were released after being questioned by prosecutors, who said they would continue investigating what happened. Conference organisers said they would press charges against the activists.
They were not alone in taking exception to the presence of fundamentalist preachers at the event, where shopping and cooking were showcased as appropriate "feminine activities". One speaker at the conference has reportedly posted calls on social networks for women to veil their faces or risk hellfire and sexual assault in the afterlife.
Nearly 6,000 people signed an online petition against the event.
Twitter posts called for the protesters to be stoned or collectively raped.
On Facebook, the conference organisers urged Muslims to "stand together" and attend the final day of the event on Sunday. They said it was "the victim of an anti-Muslim media frenzy."
http://www.telegraph.co.uk/news/worldnews/europe/france/11862220/Topless-protesters-disrupt-Muslim-conference-on-women.html
---------
Malala calls world's response to Syrian refugees pitiful
September 14, 2015
NEW YORK/Athens - In an op-ed for Time magazine, Pakistani education activist and Nobel Peace Prize recipient Malala Yousafzai said the world's response to refugees fleeing Syria "has been pitiful.
"
"Only 37 percent of the UN's response plan for this year has been funded and more than 63 percent of funding needs are unmet," she added.
"Food rations for refugees are being cut because nations will not contribute their fair share to help.
Entire refugee camps have only one or two schools for children.
If we say we care, we must not just use words, but take action.
"
The UN estimates that at least 11 million Syrians have been displaced due to the raging civil war, with more than 7 million inside Syria and 4 million outside the country.
"Syria's refugees have committed no crime that justifies their suffering," Malala wrote.
"They are doing what anyone would do if their home were no longer safe.
"
Malala wrote, "After seeing the small body of Aylan Kurdi washed ashore in Turkey, I have prayed every day that his death will not be in vain.
I have been asking myself: Is this the moment that our politicians will finally see that the children of Syria are the same as any other children? Will they finally acknowledge that people fleeing conflict have the right to be protected?
"Syria's refugees have committed no crime that justifies their suffering.
They are doing what anyone would do if their home were no longer safe.
I myself know what it is to have to leave your home, when my family was forced to leave our home in Swat Valley because of conflict and terrorism in 2009.
We lived for three months as internally displaced people (IDPs).
"I know very well how hard it is to live like that, and how desperate is the desire of parents to find a safe place for their children to call home," she added.
Although she is "distressed" that more isn't being done to help Syrian refugees, Malala said she is moved by people greeting refugees at train stations, and hopes other governments follow German Chancellor Angela Merkel's lead and allow refugees to settle in their countries and apply for asylum.
Separately, the Organisation of Islamic Cooperation said Sunday that United Nations should consider a peacekeeping force for war-ravaged Syria to help curb the surge of refugees which is destabilising the region and beyond.
An emergency meeting of the 57-member group called on the UN Security Council to urgently consider creating "a multi-dimensional UN peacekeeping operation in Syria as a prelude to restoring security and stability in the country".
It also called for more to be done to find a rapid political solution to the Syrian conflict.
The OIC blamed the humanitarian crisis on "the war crimes committed by the regime in Syria".
"The meeting stressed the common responsibility of all nations, particularly OIC member states, to open their doors to the Syrian refugees as a mark of Islamic compassion and solidarity," a closing statement from the meeting said.
In the meantime, at least 34 people, among them 15 babies and children, drowned when their overcrowded boat capsized in high winds off a Greek island on Sunday, the latest migrant tragedy at sea.
The latest deaths came as Athens angrily defended its handling of the mounting refugee crisis in Europe and appealed for more help.
http://nation.com.pk/international/14-Sep-2015/malala-calls-world-s-response-to-syrian-refugees-pitiful
---------
My mother's dream was to die in Mecca, says daughter of crane tragedy victim
September 14, 2015
IPOH, Sept 14 — "My mother's dream to die in Mecca came true," said the third child of the late Rusiah Suar, 56.
Hariyanti Ahmad Badri, 31, however, said she accepted her passing because it was fated.
"I am saddened with her passing," she told reporters when met at her house at Felda Besout 2, here last night.
She said her family had been informed about the news by Tabung Haji officers who came to the house about 7.45pm.
"They said her body was found at a hospital in Mecca, but they didn't tell us how the incident happened," she said.
Hariyanti said Tabung Haji would arrange her mother's funeral in Mecca.
She said her mother's roommate told them that her late mother collapsed and fainted when the incident occurred.
"After receiving news of the incident, my husband had contacted my mother's friend. Her friends wanted to help her, but the people there did not allow them...after that she got separated from her friends," she said.
Rusiah was among four Malaysian pilgrims killed in the Mecca crane collapse tragedy.
The tragedy that occurred at the Grand Mosque on Friday, claimed the lives of over 100 pilgrims and injured hundreds of others, including 10 Malaysians. — Bernama
http://www.themalaymailonline.com/malaysia/article/mecca-tragedy-victims-dream-was-to-die-in-mecca-says-daughter
---------
Gallery's nudes raise eyebrows – and tensions – in Afghanistan capital
Sept. 14, 2015
KABUL – At first glance, the tastefully decorated rooms, embellished by dark wood floors and soft mood lighting, seem like an unlikely incubator of radicalism.
The occupants of this space, in a glassy residential tower overlooking one of Kabul's poshest neighborhoods, wield master's degrees, not Kalashnikovs.
Their weapons aren't bombs but canvases – painted with searing images of agony and frustration, as well as something else never before seen in public in this deeply conservative country: nude female bodies.
This is Shamama Contemporary Arts Gallery, a female-owned commercial enterprise that represents a new front in the fight for women's rights in Afghanistan. Munera Yousefzada, the gallery's 30-year-old founder, said she opened the space last year to give Afghan women a bold new voice.
"Before I opened the gallery, I felt like I was trapped at the bottom of a well and nobody could hear my screams," she said, recounting her struggle to live in a male-dominated society. "Now they can hear me, and they can hear the other women whose paintings hang on the walls."
For women in Afghanistan, being heard too often means putting their lives at risk.
Despite years of liberalizing international influence and the influx of girls' schools and women's shelters since the Taliban were toppled in 2001, Afghan women still endure exceptional levels of violence and discrimination. Even now – amid a growing number of female television anchors, police officers and entertainers – the only way to ensure the female form is stripped of controversy is to cover it head to toe in a burqa and place a man at its side.
For this reason, the gallery has restricted access to the paintings to people in Kabul's tight-knit, invitation-only arts community, but Yousefzada hopes to change that and begin exhibiting the paintings to the broader public as soon as possible.
To many, it sounds a lot like a suicide mission.
"Nude paintings are not acceptable in our society," Mina Habibi, a 26-year-old government employee, said. "Afghans are so sensitive regarding Islamic- related issues. If anyone creates or displays nude paintings, then mullahs will issue a fatwa to kill them."
For some, the paintings are a sign of progress, evidence that a new generation of women has benefited from the influence of Western nongovernmental organizations that have spent the previous decade financing initiatives that encourage female education and agency. For others, the paintings are a stunt created by attention-obsessed asylum seekers, people intent on escaping the country's deteriorating economic and security situation with a provocative ploy.
The nudes are the work of one of the artists who exhibit here, an outspoken 21-year-old studying at Kabul University. Farah Sultani said her paintings may draw undue attention but are foremost a celebration of the female form.
Colored black, but surrounded by bright greens and blues, the nudes she has created are shapely and explicit. They are based on photographs she snapped of a local sex worker.
"In Afghanistan, men don't care about the personality of the women, and they're judging a woman based on her body," Sultani said. "I wanted to reclaim the female body, because it is something extraordinary and beautiful."
Besides, she added, "I enjoy painting nude paintings of women personally, so why should I stop?"
Sultani was born in Afghanistan, but, like many in Kabul's emerging arts community, she spent a large portion of her childhood in Iran, where she was exposed to the country's thriving contemporary arts scene. She returned to Afghanistan as a teenager with a new sense of possibility and pride, she said.
She began painting images of nude women about a year ago, which led her family to ban her from working at home. Sultani has also been criticized on Facebook, where she was cursed at and questioned for posting images of her paintings.
She said she is generally unconcerned about her safety but sometimes fears becoming the next Farkhunda, the Afghan woman who was stoned to death and set on fire by a mob in downtown Kabul in March after she was falsely accused of burning a copy of the Koran.
Since Farkhunda's murder, there have been at least 450 attacks on women in Kabul and surrounding areas, a 12 percent increase over the same period last year, according to the Afghanistan Independent Human Rights Commission. The attacks are rarely associated with sacrilege, but usually arise from a culture of violence that is inflicted on women in a male-dominated society.
Others think Sultani will end up the next Kubra Khademi, an Afghan artist who narrowly avoided serious injury after she took to the streets in Kabul in suggestive body armor in March to protest street harassment. After her 10-minute walk, she received death threats and was forced into hiding. Critics accused her of using the performance to seek asylum in Europe.
Sultani said she has no intention of leaving the country and vows to continue painting.
"I was born to be a good painter and a good artist," she said. "I was born to help my people. I am a strong Afghan girl, and I will never stop working because other people are ignorant."
M. Alem Farhad, a member of the fine arts faculty at Kabul University, said that if Sultani was intent on creating nude paintings, she was probably attempting to make a name for herself instead of producing art in the service of Afghan society. Perhaps, he wondered, the artist is being influenced by foreign interests.
"In the West, nude paintings don't create contradictions within the society," he said. "In Afghanistan, we are a traditional society, and we should not create contradictions. An Afghan artist should consider the Islamic values and the cultural values of the people, or the people will hate Afghan artists."
During his time as an art student in Ukraine, Hamid Kabuli, a member of the fine arts faculty at Kabul University, painted countless nudes. Since he returned to Afghanistan more than a decade ago, he has been asked to censor many of his paintings, and he said he has no problem with doing so, pointing to a large painting in his office in which he was forced to hide a female figure's hair and remove a suggestion of her lower leg.
"In Afghanistan, nobody can draw the figure of a woman better than me, but I always consider the sensitivity of the issue," he said. "I think it's too early to introduce such ideas into this country. It will create a big problem for the artist, their work will be discredited, and people will assume they are an American instrument."
Yousefzada, who spent eight years in Iran, also returned from living abroad with a new appreciation for contemporary art. To critics who assert that her gallery is a gathering place for asylum seekers, she said the opposite is true. The day she returned to Afghanistan from Iran, she said, was the day she decided not to leave again under any circumstances.
"It doesn't matter if ISIS is here or any other extremists groups," she said. "I want to work and fight here. Afghanistan needs people like me because the international community is leaving, so it's the responsibility of Afghans to take care of our country."
http://www.ocregister.com/articles/paintings-682379-afghanistan-women.html
---------
This CEO is helping Saudi women break a gender barrier
SEPTEMBER 14, 2015
Lubna Olayan was once the only woman at a 4,000-employee company; now she's helping hundreds of Saudi women enter the workforce for the first time.
In 1983, Lubna Olayan became the first woman to work for her father's business—Olayan Financing Co. (OFC), a sprawling multinational conglomerate based in Saudi Arabia.
It would be 18 years before she got her first female colleague.
By then Olayan was running the company, and she'd had time to consider her singularity. "I was privileged to be a woman CEO of a large family business," she says. "I recognized there is something wrong with this—I can't be the only woman."
With her family's support, Olayan began a quiet, measured effort to expand the ranks—consulting colleagues and embarking on at least one stealth persuasion campaign to win over an especially resistant OFC partner. After months of careful planning, woman No. 2 was finally brought onboard.
That the arrival took so long reflects the difficulty of making changes in a profoundly conservative country where tradition had long kept women out of the workforce almost entirely. But the fact that OFC now employs some 400 Saudi women—including 56 who bustle alongside Olayan and their male colleagues in the Riyadh head office—shows how far the company and Saudi society have come since then in bringing women greater economic power.
Gradual though it is—those 400 women account for just a bit over 3% of Olayan's 12,000 Saudi-based employees—OFC's integration is a testament to the persistence and tactical savvy that have earned Olayan respect as a business leader in the Middle East and beyond. A Davos regular, she's a corporate board fixture and perennial member of Fortune's international Most Powerful Women list. She has steered her 30-company conglomerate through a period of significant expansion; headcount has almost quadrupled since 2001. (Outside estimates put Olayan Group's annual revenue at upwards of $7 billion; the company declined to discuss its finances.) And while Olayan takes no credit for it, her drive for diversity has put OFC at the leading edge of a historic shift that has brought hundreds of thousands of Saudi women into private-sector jobs over the past five years. OFC's share of that total is modest, but the example Olayan sets as a rare female business leader in the region has had a profound influence.
Olayan, a matter-of-fact 60-year-old who shuns publicity, would be the last to label herself a pioneer. Her efforts are grounded in pragmatic beliefs: that meritocracies are better for business and that letting talented women find employment is better for the economy. "I'm all for diversity—but diversity for deserving people," she says. Even as she helps guide Saudi women into roles they've never held before, from factory work to sales and management, she's careful to respect Saudi Arabia's deeply religious culture and traditions. Tom Linebarger, CEO of Cummins CMI 1.24% , one of OFC's longest-standing international partners, has worked with Olayan to hire Saudi women into engineering jobs. "She makes a constant push toward modernization and empowerment of women—from inside the system," he says. "She is one of the most courageous people I've ever met."
Saudi women "are very productive, very conscientious, and very much on time. I think it has been a very successful endeavor. We're looking for more."
—Asadullah Sherazee, General Manager, Coca Cola Bottling Co. of Saudi Arabia
When Olayan first sought to integrate OFC in 2001, there was no playbook for a company like hers to hire women—and plenty of obstacles to doing so, since labor law and social customs left a lot of room for interpretation and confusion. In deeply conservative Saudi Arabia, women are expected to be covered in an abaya (a long robe) and a head scarf in public, and they don't traditionally mix with men they aren't related to. Cultural norms like these had largely limited female employment to the few industries that were clearly open to women: health care, education, and banking, all industries in which they theoretically would interact only with one another.
OFC's activities didn't fall into such neat buckets. It's a sprawling holding company, whose activities run the gamut from investing and real estate to the manufacture and distribution of foreign-brand cola, cookies, computers, and heavy equipment. (It includes wholly owned businesses and joint ventures: Nabisco, Xerox XRX 1.16% , Colgate Palmolive CL -0.02% , and Burger King BKW 0.00% are among OFC's Western partners.) None of its companies was equipped to provide the required degree of segregation: Women would need their own restrooms, canteens, prayer rooms, and workspaces, not to mention transport to and from the job, since Saudi women aren't allowed to drive.
With so many factors to weigh, the hire Olayan truly needed was a woman who could hire more women. Ultimately she chose Hana AlSyead, a computer scientist and systems engineer who trained in Boston and rose through the ranks in the (relatively coed) Saudi subsidiary of Citibank C 0.04% . AlSyead embraced the challenge, and within a year OFC had 21 female employees. Most of them were disadvantaged women whom OFC hired to sew surgical gowns at Enayah (its joint venture with Kimberly-Clark KMB 0.38% and another Saudi firm). These seamstresses made history: They were Saudi Arabia's first female factory workers.
Since then a transformation has swept through the kingdom: In shops, offices, kitchens, and manufacturing plants, women in Saudi Arabia have flooded into private-sector work, their numbers rising from 23,000 in 2004 to 48,000 in 2009 to over 400,000 in 2014, according to Saudi government statistics. The growth has been driven by mass education (women dominate the kingdom's ranks of university graduates), economic necessity, and gentle nudges from the government.
Still, overall only 19% of Saudi women work, according to the World Economic Forum. Many of the jobs recently opened to women are ones that bafflingly didn't belong to them to begin with—like tending the kingdom's lingerie shops. Numerous professional roles, including a majority of those at OFC, remain largely unavailable to women (or "ladies," as managers at OFC often call them) because the jobs demand driving, heavy lifting, or frequent public interactions with males. According to the WEF's most recent Global Gender Gap report on economic opportunity for women, Saudi Arabia ranks 137th of 142 countries—despite all that recent progress.
To understand how Olayan rose to power in such an environment, it helps to know the story of her father and mentor, Suliman. Born in a small Saudi trading town, Suliman learned English, which proved indispensable when Western firms arrived to tap the region's oil riches. He spent some successful years at oil giant Aramco before realizing he could do even better business by providing such firms with equipment and provisions. In 1947 he founded the company that became the Olayan Group, which gained a reputation as a favored "local partner"—a requirement at the time for all foreign companies.
Lubna grew up in cosmopolitan Beirut, the youngest of four siblings, three of them girls. Suliman was a stern but invested father who closely tracked his daughters' academic performance and imparted lessons of financial management. Lubna spent nine years in the U.S., a period to which she credits her freethinking ways. She studied at Cornell University and then at Indiana University, where, alongside her sister Hutham, she earned an MBA. (Hutham is now CEO and president of Olayan Group's U.S.-based investment arm.)
Lubna went on to work for J.P. Morgan JPM -0.18% and met her husband, John Xefos, a lawyer, before moving to Riyadh in 1983 to continue her banking career. Suliman was living there by then as well, and he happened to need an executive assistant. The two worked closely together for almost two decades; in 1986 she was named CEO of OFC, which was then Olayan Group's industrial holding company; her responsibilities expanded in 1999 when the company merged with the group's Middle East consumer arm. (Suliman died in 2002.)
Saudi business woman Lubna Olayan speaks during the Egypt Economic Development Conference (EEDC) in Sharm el-Sheikh, in the South Sinai
Olayan speaking during this year's Egypt Economic Development Conference. Her arguments for encouraging women to work are based in pragmatism: letting talented women find employment is better for the economy. "I'm all for diversity—but diversity for deserving people."
Photograph by Amr Dalsh—Reuters
As an executive, Olayan has made her gender almost a second thought among her peers. "Even my most chauvinist of Saudi friends and clients have great admiration for the way that she manages her companies," says Bernd van Linder, CEO of Saudi Hollandi Bank, the first Saudi-listed company to include a woman on its board. (That woman is Olayan.) "She is respected as a person rather than as the first Saudi woman to do this or that."
Olayan dislikes being the center of attention. It's telling that in OFC's 150-page networking directory, in which a page with a photo and biography is devoted to each manager, Olayan's entry falls in the middle of the book, per alphabetical order, on page 80.
It was also telling that when I traveled to Saudi Arabia in late July to interview her, Olayan was not there. (She had traveled abroad to attend the birth of her first grandchild, a hitch in planning that she apologized for repeatedly.) We ultimately connected via videoconference—a screen and thousands of miles between us. That we were having a meeting at all, she joked, was my good fortune for having contacted her while her longtime colleague Serene ("She says no to everything") was on vacation.
When Olayan discusses gender issues in her own career, she focuses on the light and superficial. Hardship? There were the visits to the company's factories, which had no women's bathrooms. Not being allowed to drive or mix in public with men? That may have been a blessing, especially for a working mother with three daughters: "Everyone had to come to me. Time was my most important asset."
Asked whether she felt respected as a female leader, she seems taken aback. "Respected? In Saudi society, women are extremely respected. I never had an issue with that at all." She really didn't think in gendered terms, she says; she was "more concerned about being the daughter of the founder and therefore needing to perform better than others so as not to give the impression of nepotism."
Still, Olayan has a complicated relationship with her home country. In 2004 she became the first woman to give the keynote address at the Jeddah Economic Forum, a high-profile Saudi conference that drew luminaries like former President Bill Clinton and Turkish Prime Minister Recep Tayyip Erdogan that year. To a gender-segregated audience, Olayan delivered "A Saudi Vision for Growth"—a 15-minute speech calling for a prosperous, diversified economy that included "more jobs and career opportunities for women." Yet her message was quickly overshadowed: Her head scarf had slipped slightly during her speech—a cultural affront, however inadvertent, that riled the country's conservative elements and -dominated national headlines for days. Olayan looks back on the event with disgust and a sense of loss. "I was so proud of that speech," she says, noting that it still holds up.
Today Olayan lives in that world—but also apart from it—in Al-Bustan Village, a gated compound on the outskirts of Riyadh that OFC built to be a premier oasis for Western expats. (Such compounds are common in the kingdom.) Here, women can swim outdoors, exercise in coed workout facilities, and walk around the sprawling campus without an abaya. Olayan, who is waiting for her home in Riyadh to be refurbished, temporarily resides in one of the community's 608 villas and is often seen biking around its campus. As we drove up, my OFC host explained, "Beyond this gate, it's like you're in another country."
Thirty-five minutes away in central Riyadh is OFC's headquarters, a discreet multistory structure with minimal signage. Today it teems with more than 300 head-office employees whose diversity is staggering by any standard, a mix of men, women, Saudis, and foreign nationals representing 23 different countries. Men and women participate in meetings together; some women work in their abayas and head scarves, others in conservative Western dress. English is the working language, and employees of all ranks are addressed by their initials, a time-saving practice that dates back to the firm's early days. Olayan is known as LSO.
By all accounts Olayan is a caring but demanding boss. She wakes early, travels often, and likes to sleep on decisions, which she makes by consulting as many people as possible—she talks with some of her managers several times a day. That she is encyclopedic in her knowledge of OFC's manifold holdings and extremely detail-oriented is both dazzling and wearying to employees. (She even had a hand in choosing the pool furniture at Al-Bustan.)
Those qualities also show up in her considerable board and philanthropic work. Rafeal Reif, the president of MIT, sits on the Schlumberger SLB -0.50% board with Olayan and marvels at her mastery of individuals and personalities alongside the big geopolitical picture. That mental nimbleness is "an asset and a gift that few people have," says Reif. "Lubna reminds me of nobody."
Even my most chauvinist of Saudi friends and clients have great admiration for the way that she manages her companies. She is respected as a person rather than as the first Saudi woman to do this or that."
—Bernd Van Linder, CEO, Saudi Hollandi Bank
Reif also remarks on Olayan's ability to lead quietly—to direct and drive the conversation not by dominating it, but by chiming in with important ideas. That distinction seems particularly important to Olayan. When asked about her relationship with power, she says the term has a negative connotation for her—she prefers "influence," which she describes as more important than power and as a sort of currency earned. "The more challenges you face in life, the more of life you experience—this lived experience gives one the 'influence' to impact others' lives," she says.
Plenty of challenges loom for OFC. Foreign companies can now operate independently in the kingdom without a Saudi partner. And a booming economy—between 2010 and 2014, Saudi Arabia's non-oil sectors grew at an average annual rate of 7.2%—with a rich and relatively young population has made the country a magnet for Western firms facing slow growth at home. All this means the environment has grown far more competitive for OFC.
The company also faces workforce changes that go beyond gender diversity. For years, Saudi firms like OFC imported most of their talent; roughly 85% of the kingdom's private workforce is foreign, while many Saudis remain unemployed. The government wants to reverse the situation through "Saudization," which requires companies to meet quotas in local hiring. Though OFC exceeds its quota, managers at the firm consider it to be their greatest challenge: For many jobs, hiring Saudis—who often require training and who by law are paid considerably more than expats—is expensive.
By 2011, OFC had introduced female workers into its consumer-goods businesses, food service, packaging and distribution, even construction. Still, total female headcount hovered around just 1% of OFC's workforce. Eager to make faster progress, Olayan launched the Olayan Women Network, an internal group designed to "keep an eye on all issues females were facing" and help nurture their careers. She eventually set a new target: Olayan wanted 1,000 women employees by 2016, in all 30 of OFC's companies, at all levels of the organization.
This was not universally welcome news. Asadullah Sherazee, the general manager of OFC's Coca-Cola Bottling Co. COKE 0.65% of Saudi Arabia, recalls that when Olayan approached him about hiring female employees—"Coke says the workforce should be 40% women. You're at zero," she told him—he had all the typical concerns: the cost of women-only spaces, fears about legality, how they'd fit in.
But orders were orders. Sherazee, a Canadian of Pakistani origin, worked with his staff to set up the accommodations that have been installed across other OFC companies—the female prayer room, and the partitions in offices and on factory floors to give women privacy in line with labor regulations. Three years later his business has 30 female employees, including 18 who work on an all-female bottling line, many in burkas. He's tickled with the results, which he tells me about over mid-morning Cokes with his female HR manager, Ghadah AlSous. He now sees a strong business case for hiring women: "They are very productive, very conscientious, and very much on time … We're looking for more."
Genuine delight and surprise about what Saudi female employees could do was a reaction I encountered more than once at OFC. "We're living a social experiment," says Khalid Alkhudair, CEO of Glowork, a female recruiting company in the kingdom that has helped place 26,000 Saudi women in jobs since 2011. AlSyead says that issues arise only occasionally: Once, for example, a male job applicant walked the other way when he encountered one of OFC's female HR recruiters. She also says that Saudi managers are often more comfortable dealing with female talent than are expats, who tend to fear violating cultural norms.
There are now women at all but two of the conglomerate's companies. Though AlSyead says reaching Olayan's 1,000-woman goal in 2016 is statistically impossible, she touts the company's milestones: It has hired the first-ever female worker in the Saudi city of Yanbu, for example. And she's especially proud of having placed a Saudi woman in a sales role for a distributor of Scania—a company that makes long-haul trucks. She's now focused on keeping OFC's female talent—many firms try to poach, she says—and helping them develop their skills.
Olayan too remains very involved, regularly asking about her female employees' concerns and challenges and inviting candid feedback. AlSyead tells a story about a time when Olayan got input of a less amenable kind, when a handful of ladies requested more vacation and reduced working hours. When Olayan asked them about their goals, they assured her they were ambitious: They wanted to be managers and executives. Olayan was bemused, but also a bit exasperated, and finally asked her colleagues, "Well, with all those vacation days, how do you expect to get there?" 
Women at work for Olayan
Until 2001, Lubna Olayan was the only woman working for the OFC conglomerate. Today there are more than 400, at 28 of its 30 companies, including these:
Enayah (joint venture with Kimberly-Clark)
In 2002 this medical supplier hired 18 seamstresses to sew surgical gowns; they were Saudi Arabia's first female factory workers. There are now about 100 at the company.
Saudi Xerox Agencies
In 2014, Saudi Xerox won OFC's Diversity Index award; among its 40 female employees is a marketing executive.
Coca-Cola Bottling Co. of Saudi Arabia
Three years ago this affiliate had no female employees; now they work in IT, finance, accounting, and legal, among other departments.
Nabisco Arabia
The Middle East's primary supplier of Ritz crackers and Oreos launched a woman-only production line in 2013; it also employs two female machine operators.
http://fortune.com/2015/09/14/lubna-olayan-saudi-arabia/
---------
RSS All-India Women's Meet: Gujarat CM Attends Event at Disputed Shrine
By Satish Jha
Ahmedabad
Sep 13, 2015
The two-day All India Women's meet of Rashtriya Swayamsevak Sangh (RSS) kicked off on Saturday at the disputed premises of Imam Shah Bawa dargah at Pirana on the outskirts of Ahmedabad. It's a sufi shrine where Hindus and Muslims have been offering prayers for centuries. This is for the first time that a chief minister attended an event organised by the RSS on the disputed campus. Chief Minister Anandiben Patel, who inaugurated the event, said that "the current condition of women and children was a subject of concern and debate". The convener of "Akhil Bharatiya Mahila Samanvay", Gita Gunde, did not allow mediapersons to sit through the event, although they had been invited to attend one part of the inaugural session. Anandiben watched as Gunde asked all mediapersons to leave the room a second time when they were escorted back by the RSS media manager Abhimanyu Samrat. The Muslims residing in the area are upset that the participation of a chief minister, in a way, gave legitimacy to what Muslims have been objecting to – saffronisation of the shrine. They said since 2003, Muslims have been barred from taking out tazia procession during Muharram or celebrating their festivities due to "law and order problems", wondering whether the same didn't apply to Hindus who keep organising their events on the premises.
"The dargah is a disputed site and she shouldn't have come to participate in the event. We have been saying that the real identity of this place has been ruined by Hindutva forces. The shrine belongs to both Hindus and Muslims. But, for the past three decades, we can't even offer namaz at the dargah while they can do anything they want, hold any celebrations they like," said Nuroddin Bade Miya Saiyed, a local resident and one of the three Muslim trustees of the Pirana Imam Shah Bawa Roza Trust, which manages this over 600-year-old shrine. The trust also has eight Hindu trustees, originally from Saurashtra region, who have been followers of Imam Shah, a Sufi saint. The Hindu followers of the saint are known as Satpanthi. The three Muslims trustees – who all are Saiyeds – are said to be direct descendants of the saint who allege that they have been cornered for being in the minority in the trust. Over the years, the name of "Pirana Imam Shah Bawa Roza Trust" has been changed to "Imam Shah Bawa Sanstha Trust". The Hindu trustees said that the place was not a "shrine" but a "samadhi" of "Sadguru Imam Shah Maharaj" who was a "Hindu". Bharat Patel, one of the trustees, said over phone, "The place is not a shrine but samadhi. This place belongs to Nishkalanki Narayan Bhagwan, who is the 10th incarnation of Lord Vishnu." Patel has been a trustee for the past 10 years. There are several on-going litigations over the ownership of the property in Ahmedabad city civil court as well as Gujarat High Court. According to advocate MTM Hakim, who is representing Muslim trustees against the Hindu counterparts, said that all the litigations are pending for long and courts have directed to maintain the status quo. Despite that, he said, the nature of shrine was changing. The Muslim trustees have been claiming that the shrine and the entire campus belonged to Waqf board since it was a Muslim property.
http://indianexpress.com/article/cities/ahmedabad/all-india-womens-meet-gujarat-cm-attends-rss-event-at-disputed-shrine-muslims-allege-saffronisation-bid/
---------
Two Hyderabad women among Makkah tragedy victims
September 14, 2015
Hyderabad: Two women Haj pilgrims from Hyderabad were among 11 Indians who died in the crane crash accident at the Grand Mosque in Makkah in Saudi Arabia.
More than 100 pilgrims died when a huge crane fell at the Grand Mosque on Friday (September 11).
The two deceased from Hyderabad have been identified as Shameem Bano and Khader Bee, who had gone for Haj through private tour operator Fazal Tours.
The Indian consulate general in Jeddah confirmed this late Sunday, hours after Haj Committee officials announced that a couple from Andhra Pradesh were also among the dead.
Abdul Khader, 38 and his wife Fatima Begum, 32 hailed from Machilipatnam in Krishna district of Andhra Pradesh.
Telangana State Haj Committee's special officer S.A. Shukoor told IANS on Sunday night that the bodies of the couple were identified in Mina Hospital.
Nineteen Indians, including three from Hyderabad, were among the 331 injured.
According to the Jeddah mission, Saudi authorities had displayed photos of 108 killed in the tragedy. As many as 83 missing cases were registered with the Indian Mission. Ten of them, including three from Maharashtra, are still reported missing.
Nine missing Indians identified by their relatives on Sunday are — Mohammed Abdul Khader and Fatima Begum (Andhra Pradesh), Shameem Banu and Khader Bee (Telangana), Hassan Kharaj (Jammu and Kashmir), Zakira Begum (Karnataka), Zafar Sheikh (Maharashtra), Tabassum (Punjab) and Mohammed Hanif (Uttar Pradesh).
The officials on Saturday had identified two victims – Moniza Ahmed (West Bengal) and Muameena Ismail (Kerala).
The external affairs ministry spokesperson Vikas Swarup said in tweets on Sunday that "after opening of mortuary on Sunday evening, officials working with relatives have confirmed that nine more Indians have unfortunately died" in the accident.
He said the Indian mission in Jeddah was extending all possible assistance to the families of the 11 deceased pilgrims to complete the formalities in Makkah.
He said Indian officials in Makkah were continuing to provide assistance to the 19 injured Indian pilgrims.
The Indian mission has published its 24/7 helpline — 00966125458000, 00966125496000 — and toll free number 8002477786 for pilgrims within Saudi Arabia, the ministry statement said.
Over 136,000 pilgrims from India will be performing Haj this year. The Haj rituals will begin on September 21.
A total of 5,436 pilgrims left from Hyderabad embarkation point through the Haj Committee. They include 2,963 from Telangana, 1,819 from Andhra Pradesh and 654 from Karnataka.
http://www.siasat.com/news/two-hyderabad-women-among-makkah-tragedy-victims-835463/
---------
Dubai Women's Establishment excels
September 13, 2015
Dubai
Cindy Generosa and Hazel Chaelio from the Dubai Women's Establishment did well on the opening weekend of the Shaikha Hind Women's Sports Tournament, on Saturday.
Generosa took the top honours in the open category of the cycling race at the Nad Al Sheba cycle track, while Chaelio took two gold medals in the swimming competition held at Al Wasl Club.
Generosa completed the 16kms route in a time of 28 mins, 17.03 seconds to win the gold medal and a cash prize of Dh6,000 in the open category of the cycling race, while Chaelio won the 25m breaststroke and 25m freestyle with times of 19.75 seconds and 14.35 seconds respectively.
Chaelio's team-mate Fairina Boushba put up a good fight before settling for silver medals in both the swimming races while finishing the 25m breaststroke in a time of 21.79 secs and the 25m freestyle in 15.34secs. Jessica Katela of Dubai Municipality took bronze medals in both events while UAE swimmer Nada Mohammad was fourth in the breaststroke with a time of 22.22 secs.
In the emirati category of the cycling, Hessa Abdul Rahman Al Ahli (30:11.32) bagged the top honours leaving Shatra Al Hajjaj from Dubai Health Authority (DHA) in second (31:51.18), while Suwad Abdullah from Dubai Electricity and Water Authority (Dewa) took third place in a time of 32:42.22.
Meanwhile, the semi-finalists for the basketball and volleyball tournaments were also decided over the weekend. Dubai Public Prosecution and Dubai Educational Zone (DEZ) both finished at the top of Group A and B respectively to confirm their spots in the last four stages. In Group A, Dubai Public Prosecution first defeated DHA 2-0 (25-14, 25-17) and then accounted for Dubai Customs 2-0 (25-15, 25-21), while in Group B DEZ beat Knowledge and Human Development Authority (KHDA) 2-0 (25-15, 25-17) and Dubai Municipality 2-0 (25-12, 25-15).
Dubai Municipality and DHA took the other two spots in the semi-finals with DM defeating KHDA 2-0 (25-17, 25-15), while DHA fought hard for a 2-1 (25-13, 17-25, 15-10) win over Dubai Customs.
In Monday's semi-finals, Dubai Municipality will take on Dubai Public Prosecution while KHDA will take on DEZ.
The basketball semi-finals will also be held on Monday evening with Dewa meeting Dubai Police and Dubai Public Prosecution taking on Roads and Transport Authority (RTA).
http://gulfnews.com/sport/more-sport/dubai-women-s-establishment-excels-1.1583428
---------
Pakistan Diocese Highlights Role of Women as Peace Builders
September 11, 2015
[Anglican Communion News Service] The Church of Pakistan's Diocese of Raiwind held a three-day peace building workshop for female teachers from a number of key educational institutions of Raiwind and Lahore last month. More than 20 teachers from St. Peter's High School, Lucie Harrison High School, and Wesleyan Schools, took part in the workshop which was designed to increase capacities of working women to ensure that more women are meaningfully involved in peace processes, conflict resolution, and peacebuilding activities.
The concept behind staging a women peace building workshop was to make the women aware that they can play an important peace building role; and to help the teachers impart this knowledge to their students to make the world a better place.
"All cultures are continuously undergoing change," the diocese says. "There are no cultural traditions that have always existed. Humanity examines whether our cultural traditions serve our basic human needs and improve our lives. Many men and women believe that discriminating against women hurts communities. The state of the world now requires women's skills and energies for peacebuilding more than ever. It is time for all cultures to encourage and allow both women to build peace."
The Rev. Evelyn Bhajan, the presbyter-in-charge of Central Church of Praying Hands, talked about the role of Abrahamic religion in contemporary conflicts. She highlighted that all the Abrahamic religions viewed themselves as an oppressed minority; despite the fact that they build kingdoms and countries.
"Religion does not mean the same thing in all places, at all times and to all people," she said. "Any conflict may have multiple causes. One cannot understand religion's relationship with conflict unless it is considered within its political and cultural contexts wherever, religion is involved, it is a very powerful factor."
She also suggested ways in which teachers can play their role in peace building. She said that substitution periods are the best time for teachers to talk about concept of conflict and its management, resolution and transformation. She further said that teachers must show their conviction through their actions. She further suggested that students should be given a free and safe space where they can express themselves fully.
http://episcopaldigitalnetwork.com/ens/2015/09/11/pakistan-diocese-highlights-role-of-women-as-peacebuilders/
---------
Pilot Programme to Reduce Violence against Women Established In Pak Punjab
LAHORE
A spokesperson of the Special Monitoring Unit (SMU) of Chief Minister (CM)'s Office said on Sunday that recognizing that violence against women was rampant in Punjab and that conviction of such crimes was abysmally low, SMU, on directive of the Punjab CM was in the process of establishing Violence against Women Centre (VAWC) across Punjab.
The spokesperson said that Pakistan would be the first country in the region to launch such an initiative.
He said that VAWCs would be the first line of defence for victims and would ensure access to justice by converging all relevant services under one roof including first aid, police reporting, FIR lodging, medical examination, collection of forensic and other evidence, psychologist evaluation, prosecution as well as post-trauma rehabilitation. VAWCs would be integrated with shelter homes and would assist in victim's placement back into the society. A pilot VAWC is being established in Multan district.
The spokesperson said that VAWC would be 24 hour, all-women run facilities that would provide immediate relief and protection to women with zero interference from outside (no incoming calls).
He said that case flow process would be streamlined with real-time data integration between all the relevant departments- a specifically designed real time, key stroke monitoring software would connect all the justice delivery departments; evidence would be collected within 24 hours of the assault and thus, prosecution will be strengthened; post-trauma rehabilitation, with the help of a VAW-specific trained psychologist, would also take place at VAWC. He said that affiliations with various organizations would be made to assist victims' placement back into the society. Victims would be placed in shelter homes post-investigation, audio-visual recording of all actions would be done. Helpline and transport to facilitate the victims would also be provided.
VAWC will act as a mediation centre for non-cognizable offenses. VAWC will also collaboration with Punjab Information Technology Board (PITB) on facilitation centre at VAWC to assist women on any government-related query.
http://www.pakistantoday.com.pk/2015/09/14/uncategorized/pilot-programme-to-reduce-violence-against-women-established-in-punjab/
---------
Shrine Blast: 3 Women Detained In Bangkok; 3 Others Arrested In Malaysia
SEPTEMBER 14, 2015
Six Bangkok blast suspects — four women and two men — have been detained or arrested in separate police operations in Thailand and Malaysia during this weekend.
A combined Thai force Sunday searched a female-only apartment complex in Bangkok's Din Daeng area and detained three women for questioning, Nation reported.
The operation was part of an investigation into the suspect behind the Sathorn pier bomb. The suspect, who wore a blue shirt, was caught on CCTV carrying a bag and leaving it on Taksin Bridge before kicking it into a canal on August 17. It exploded the following afternoon without causing any casualties.
In Sunday's joint operation, luggage and a computer were seized and fingerprints and DNA evidence collected to check for links to the Erawan Shrine and Sathorn bombings.
An informed source said that two female students rented the room before the mother of one of the students arranged for a middle-aged woman to stay with them two months ago.
The source said that a police probe found that three men, who were believed to have fled the country, had left items at the apartment.
An initial search of the apartment did not uncover any bomb components or substances used in bombs, the source added.
Sriwara said the search stemmed from information that an individual involved in the bombings had left personal items at the apartment a few days ago.
The authorities wanted to get details on that individual and possibly come up with a sketch of the person after speaking with the three women, he said.
"We cannot confirm if the person that left the items was among those wanted in this case. We can just say it wasn't Wanna Suansan," he said, in reference to the Thai woman wanted in connection with the case.
Another informed source said that initial inquiries found that the mother's friend who resided at the apartment might be linked to the man in a blue shirt who carried the Sathorn Pier bomb. It is thought she may have arranged a taxi to get him to the pier.
She is also believed to be the person who collected personal items of another suspect in the case at an apartment located between Soi On Nut 44 and 46 police searched on Saturday night.
Malaysia arrested three suspects in connection with Erawan blast the investigation, Reuters said quoting police chief Khalid Abu Bakar Monday.
Two Malaysians and a Pakistani national were arrested and were assisting with the investigation, Khalid told reporters.
"We believe the suspects can help in the investigation… our arrest was made to assist the Thai police in the Thai bombing investigation," he said. "Malaysian and Thai police are working closely in cooperation."
Khalid said the Pakistani suspect is male while one of the local suspects is female. He said there were no plans to move the suspects to Thailand yet.
Khalid said Malaysian police were unsure if the main suspect was in Malaysia. The Thai investigation unearthed a lead earlier this month that suspected bomber may have crossed Thailand's southern border into Malaysia.
According to an AFP report, the police investigation into the shrine blast increasingly points towards a game-changing attack on Chinese tourists by Uighur militants or sympathisers, analysts say — but Thailand and Beijing are loath to admit it.
Nearly a month after the August 17 attack, Thailand has two foreigners in custody and a dozen arrest warrants issued, and insists the network responsible for the explosion is in their cross hairs.
But investigators have yet to provide a compelling motive for the carnage in Bangkok's commercial heart, which left 20 people dead — the majority ethnic Chinese tourists.
The leading theory they have offered is that the bomb was an act of revenge by criminals striking back at a police crackdown on a people-smuggling network.
That take has been shredded by analysts and the Thai public, unconvinced a criminal gang holds the means or motivation to carry out such a brutal act.
In recent days, links with militants from the Chinese Uighur minority — or ethnic Turkic supporters — seem to have firmed up with the passports, ethnicities and travel plans of key suspects all appearing to point in that direction.
If the police investigation is on track, "there is definitely a Uighur or radical Turkish national connection," Zachary Abuza, an expert on Southeast Asian militant groups, said.
Yet Thai police are bending over backwards not to use the words "Uighur" or "terrorism" largely, analysts say, for fear of putting off tourists or angering China — one of the junta's few international friends.
That determination reached near comical proportions Saturday when a warrant for a key suspect named as Abudusataer Abudureheman, or "Ishan", was issued.
Police said he was a Chinese national of Uighur ethnicity who left the country before the attack, only to rescind the word "Uighur" hours later and call on the press to drop the term entirely.
http://atimes.com/2015/09/shrine-blast-3-women-detained-in-bangkok-3-others-arrested-in-malaysia/
---------
Discriminatory Laws Hold Indonesian Women Back, World Bank Report Finds
SEPTEMBER 14, 2015
Jakarta. Women continue to be discriminated against in Indonesia through prevailing laws, despite progress on some fronts, according to a study by the World Bank.
The "Women, Business and the Law 2016" report, released on Wednesday, found there were eight laws still on the statutes that continued to discriminate against women, including on household and tax matters.
"While progress has been made in many economies to allow women more access, legal restrictions on their ability to take action persist," the report said.
In Indonesia, that includes a prohibition on women serving as the head of a household – a restriction that puts the country in the same league as Iraq, Saudi Arabia and Yemen.
Inheritance laws rooted in a deeply patriarchal tradition also favor men over women.
"Giving women greater access to assets through inheritance can change outcomes for children, particularly girls," the report said, adding that "[a]ccess to assets through inheritance is particularly important for widows, who may depend on inheritance for economic security and survival."
Indonesia, though, is one of four economies in East Asia and the Pacific – the others being Brunei, Malaysia and Tonga – that do not grant widows equal inheritance rights. Similarly, sons and daughters have different inheritance rights.
The country is also one of 16, out of a total of 173 covered in the report, where "tax provisions directly favor men."
"These economies either grant men an explicit tax deduction or credit, or an implicit tax deduction or credit is granted to the male head of household," the report said.
The report also highlighted the lack of legislation, civil remedies or criminal penalties to protect against sexual harassment, and no protection under domestic-violence legislation for unmarried partners.
However, Indonesia has taken a progressive stance on other issues, such as women's representation in politics, with electoral laws setting minimum quotas for female candidates in parliamentary and regional council elections; maternity leave, with employers obliged to give their workers' 90 days of paid leave; and property rights, with men and women having equal ownership rights.
"In the East Asia and Pacific region, substantial gains have been made towards women's economic inclusion, including through labor legislation," the World Bank said in a press release accompanying the report.
"Economies in the region also show innovative access to credit and tax policies to support women's economic opportunities."
World Bank President Jim Yong Kim called it "a grave injustice when societies place legal restrictions on women's ability to get a job, or participate in economic life."
"Women – like men – deserve every opportunity to fulfill their potential, no matter where they live. These restrictions are also bad economics. Women represent over half the world's population. We can't afford to leave their potential untapped – whether because laws fail to protect women against violence, or exclude them from financial opportunities, property ownership or professions," he said.
"When women can work, manage incomes and run businesses, the benefits extend far beyond the individual level – to children, communities and entire economies. We will not rest until women have full economic rights everywhere."
Kaushik Basu, the World Bank's chief economist and senior vice president, said it was clear that despite nearly every country's pledges to end gender discrimination, women continued to "face numerous restrictions in the workplace."
"I hope this report will motivate governments everywhere to treat men and women equally in the workforce and help to achieve a collective ambition of countries and a world without extreme poverty and with opportunity for all," he said.
Sarah Iqbal, the report's lead author, said that while laws could not guarantee equal treatment for women, "they are the first step towards creating an even playing field in which women have the opportunity to thrive."
http://jakartaglobe.beritasatu.com/news/discriminatory-laws-hold-indonesian-women-back-world-bank-report-finds/
---------
URL: https://www.newageislam.com/islam,-women-and-feminism/new-age-islam-news-bureau/topless-protesters-disrupt-muslim-conference-on-women-in-paris/d/104576