New Age Islam News Bureau
23 May 2012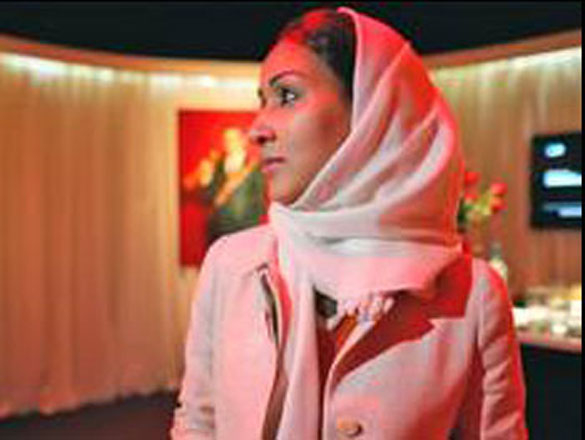 • The lot of Saudi women is shaped by Wahhabism, the most rigid form of Muslim faith
• In Kuwait Women Law Graduates closer to working as general prosecutors
• Female nuclear scientist set to enter record books
• At New Jersey Mall Muslim woman told to take off Niqab
• Insights to women's needs in the Middle East
• Western female doctors kidnapped in Afghanistan
• Activists Urge NATO to Protect Afghan Women's Rights
• AFC puts Iran on the spot on women's rights
• Egypt elections: The challenge of appealing to women
• Bilawal Bhutto wants 50% women in Pakistani parliament
Complied by New Age Islam News Bureau
Photo: Manal al-Sharif
URL: https://www.newageislam.com/islam,-women-and-feminism/new-age-islam-news-bureau/top-saudi-cleric--ban-christian-churches-in-arabia,-let-girls-be-forced-to-marry-at-10/d/7409
---------
Top Saudi Cleric: Ban Christian Churches In Arabia, Let Girls Be Forced To Marry At 10
Irfan Al-Alawi
May 23, 2012
"How could the grand mufti issue a fatwa of such importance behind the back of his king?"
In late April of this year, the Wahhabi grand mufti of Saudi Arabia, Sheikh Abdul Aziz Ibn Abdullah Aal Ash-Sheikh, who controls all Sunni Muslim clerics in the desert kingdom, announced that girls could be forced into marriage at age 10 or 12, without their consent, by contractual arrangement between families.
Aal Ash-Sheikh delivered this opinion in an address to faculty at the Imam Muhammad Ibn Saud Islamic University in Riyadh – known to ordinary Saudis as "the terrorist factory." Aal Ash-Sheikh said, "Our mothers and grandmothers got married when they were barely 12. Good upbringing makes a girl ready to perform all marital duties at that age."
The Saudi chief cleric then proceeded to conflict with repeated promises of the Saudi King, Abdullah, to foster interfaith respect and dialogue, by calling, in mid-March, for the destruction of all Christian churches in the Arabian Peninsula. Responding to a query in Kuwait by Muslim clerics affiliated with the "Revival of Islamic Heritage Society," favorable to Wahhabism, Aal Ash-Sheikh based his argument on a weakly-transmitted hadith, or oral commentary on the life of Muhammad, in which the Prophet allegedly mandated that there should not be "two religions" in Arabia.
"How could the grand mufti issue a fatwa of such importance behind the back of his king? We see a contradiction between the dialogue being practiced, the efforts of the king and those of his top mufti," said leaders of the Catholic Bishops' Conference in Vienna, where, with the cooperation of Austria and Spain, Saudi foreign minister Saud al-Faisal had inaugurated the "King Abdullah Bin Abdulaziz International Centre for Interreligious and Intercultural Dialogue" in 2011.
Aal Ash-Sheikh owes his position to his lineal descent from the 18th century religious ideologue, Muhammad Ibn Abd Al-Wahhab, after whom the ultra-fundamentalist, ultra-exclusivist Wahhabi sect – the official and sole recognized Islamic interpretation in Saudi Arabia – is named. The family of Ibn Abd Al-Wahhab has, for generations, intermarried with the royal Al-Saud clan. Along with their claims to a "pure Islam" imitative of the Prophet Muhammad, Wahhabis are known for their violent hatred of spiritual Sufism, of Shia Muslims, and for their hostility to non-Muslims. It must be emphasized that Wahhabi shariah is new, representing a break with traditional Muslim jurisprudence and a radical innovation in Islamic law.
In Muslim lands and Muslim minority communities around the world, radical Islamist tendencies following, or imitating, Wahhabism have gained new energy in the aftermath of the faded "Arab Spring." As the pro-democracy mobilizations in Arab lands have resulted instead in victories for the radical Muslim Brotherhood in Tunisia, Morocco, and Egypt, and with the increasing prominence of radical groups in Egypt, Syria, Libya and Yemen, an Bahrain, Islamist victories have coincided with a new offensive among South Asian Muslims by Deobandis, precursors of the Taliban, and allied with the Saudi Wahhabis.
In Nigeria, a similarly extremist, Wahhabi-oriented group, the "Boko Haram" [literally, "Western Education is a Sin"] has spread terror, especially targeting Christians, across the Muslim north.
According to the British Broadcasting Corporation, "Boko Haram" has murdered 1,000 people since its appearance in the country in 2009; is crossing Nigeria's borders into the neighbouring state of Chad, and threatening Niger and Cameroon -- as well as having links with Al-Qaida in the regional branch of the terror-force founded by the late Osama Bin Laden, which claims the entire Islamic Maghreb, or western North Africa,
Nigerian Islamist fanatics have demonstrated two features in common with Saudi Wahhabism: hatred of Christians and contempt for women. The contempt for women is exemplified by marriages to underage females by the former governor of Zamfara State in northwestern Nigeria, and now a federal senator, known as Sani: Alhaji Ahmad Sani Yariman Bakura.
Representatives of two other Sharia states, Saudi Arabia and Sudan, appeared with Sani when he announced the imposition of a new legal system of Wahhabi law in Zamfara in 2009 [Radical Islam's Rules: The Worldwide Spread of Extreme Shari'a Law, by Paul Marshall, Freedom House, Washington DC, 2005]. Following the Saudi paradigm in focusing on standards for public conduct, Sani created a religious morals militia, the "Joint Islamic Aid Group" or "yanagaji," similar to the Saudi "mutawiyin" or morals patrols. The adoption of Wahhabi Sharia law in Zamfara included a ban on trade in alcohol, movie houses and video sales, a prohibition on women riding motorcycles, and gender segregation in public conveyances – all strictures enforced by the "yanagaji," who "arrest" alleged violators and hand them over to the police.
Sani, it was disclosed in 2010 – in violation of the 2003 Nigerian Child Rights Act, which bans betrothal or marriage of girls under the age of 18 – had also apparently paid USD $100,000 to marry an unnamed 13-year old Egyptian girl, reported to be the daughter of Sani's Egyptian driver, in a wedding celebrated at the national mosque of Abuja, the Nigerian capital.
Local media noted that Sani had divorced one of his four wives to make room for the Egyptian girl in a wedding that would have been illegal in Egypt, where the "bride" would be considered a minor.
"What we are concerned with," the President of the Women's Medical Association and Nigerian women's advocate, Mma Wokocha, told the BBC, "is that our minors, the girl child, should be allowed to mature, before going into marriage…. This very evil act should not be seen to be perpetrated by one of our distinguished legislators."
Representatives of the United Nations condemned the marriage; the International Criminal Police Organization (Interpol) told its Nigerian office it would conduct an examination of the case, and the Nigerian Senate was charged with investigating Sani's wedding to the Egyptian 13-year old. Sani had earlier been accused, in 2006, of marrying a girl of 15, but Nigeria's National Agency for Prohibition of Traffic in Persons and Other Related Matters announced in 2010 that it lacked evidence to file a complaint against Sani, and shifted responsibility for the inquiry to the country's attorney general. No legal proceeding against the Nigerian senator has been sustained.
Although Saudi Arabia is, of course, different from Egypt or Nigeria – notwithstanding the signatures of all three to the UN Convention on the Rights of the Child (CRC) and Convention for the Elimination of All Forms of Discrimination Against Women (CEDAW) – the Saudi chief cleric, Aal Ash-Sheikh, has apparently has had no comment on an issue raised in the case: the physiological and psychological capacity of female children to fulfill the demands of marriage. Islamic radicals simply claim that in approving such relationships they emulate Muhammad's marriage to the allegedly-underaged Aisha, although Aisha's age at the time of her marriage to Muhammad cannot be confirmed in any contemporary records. More importantly, various practices of the Arabs at the time of Islam's emergence have since been abandoned. With the coming of Islam to Arabia, the terrible habit of female infanticide was abolished and the right of women to divorce was introduced.
Aside from condemnation by Christian representatives, Aal Ash-Sheikh's "advice" calling for the destruction of all Christian churches was rejected by the Kuwait Minister of Religious Endowments, Jamal Al-Shahab. The Kuwaiti official affirmed that "the constitution of Kuwait guarantees its citizens [freedom of] religion and worship.… Demolishing churches and forbidding the members of the Christian community from worshipping [according to their belief] contravenes the state's laws and regulations." Aal Ash-Sheikh's stance was also condemned by Al-Azhar, the Sunni University in Cairo, and by Mehmet Görmez, head of the Turkish Religious Affairs Directorate (Diyanet).
Except for the closed Islamic cities of Mecca and Medina, the Arabian Peninsula has been shared with Christians and Jews throughout most of Islamic history. A shuttered Christian church and graveyard exist in Jedda, the Saudi commercial capital, near Mecca. Jews have a long history of residence in Yemen and Hadhramawt, in southern Arabia, as well as in Bahrain, where a synagogue still functions. Christian churches, Hindu temples and Buddhist shrines are found in Kuwait, Bahrain, the United Arab Emirates, Qatar, Oman, and Yemen. Some 3.5 million Christians live in the Gulf countries, including indigenous Arab Christians, Catholic migrant workers from the Philippines, India, and South Korea, and Western expatriate technicians and business representatives.
Despite widespread claims that King Abdullah and Aal Ash-Sheikh are close, the Wahhabi clerical caste has always resisted even the most limited reforms. Although rumors that Aal Ash-Sheikh's announcement was meant to undermine the position of King Abdullah cannot be excluded, to this day Aal Ash-Sheikh's opinion on Christian churches in the Arabian Peninsula has never been released or publicized anywhere inside Saudi Arabia.
http://www.gatestoneinstitute.org/3073/saudi-fatwa-ban-christian-churches
---------
The lot of Saudi women is shaped by Wahhabism, the most rigid form of Muslim faith
23 MAY 2012
She is the Saudi woman who became a symbol of female emancipation when she was filmed behind the wheel of a car. In a rare interview, she tells Guy Adams of the persecution she has endured in her fight for equality – and why she will not be silenced
She was the plucky young woman who, in splendid defiance of one of the world's most repressive societies, steered a car through the streets of the city of Khobar, railing as she went against the misogyny of laws that make it illegal for women in Saudi Arabia to drive.
Manal al-Sharif was arrested for her pains and spent nine days in jail on suspicion of a crime called "incitement to public disorder". She emerged, almost a year ago, to worldwide fame: an eight-minute film of her protest drive, shot on a friend's smartphone, spread across YouTube, in various iterations, at a rate of a million hits per day.
Since then, Ms Sharif has used her notoriety as the "Saudi Girl Driving" to pursue radical change. She has led mass "protest drives", filed lawsuits against her nation's chauvinistic traffic laws, and recently started a feminist pressure group, My Right to Dignity, which aims to undermine the conservative excesses of an Islamic state which treats women as second-class citizens.
Her struggle hasn't all been plain sailing, though. For all the plaudits (she recently joined Barack Obama and Pippa Middleton in Time magazine's list of the world's "100 most influential" people), she is subjected to daily death threats, and fears for the safety of her parents and her six-year-old son. "I measure the impact I make by how harsh the attacks are," she says. "The harsher the attacks, the better I am doing."
A few months ago, Saudi "sources" convinced several media outlets, among them the Agence France Presse news agency, that Ms Sharif had died in a car crash. "The whole idea was to say 'see, God is punishing her; women really shouldn't drive!'," she recalls. She soon rang her family, before informing her 90,000 Twitter followers that rumours of her demise were "rubbish".
This month, Ms Sharif has suffered the ultimate sanction for any single mother: the loss of her livelihood. The oil company Aramco, her employer for more than a decade, told her she was to be sacked for daring to stick her head above the political parapet.
We meet in Norway, where she has just given a barnstorming speech to the Oslo Freedom Forum, an annual gathering of global human rights activists. A film of her extraordinarily moving presentation, which received an ovation, hit YouTube last week. A quarter of a million people have already watched.
"After I was invited to speak here in Oslo, I asked for four days off and my company refused," she says of her sacking. "My boss called me and said, 'If you are going to talk at another conference, you will lose your job. You are not allowed to go. We don't want our name to be associated with you'."
Ms Sharif went anyway and, at 33, now finds herself jobless and homeless (her flat was owned by Aramco). A lesser woman might feel ground down by that pressure but, looking impressive and poised in her very un-Saudi business attire, she seems energised instead. In a hotel lobby, she angrily rattles through the daily indignities of life in a country which, despite her university education and high-flying CV, forces her to live according to a set of ultra-conservative Islamic protocols which hark back to the Dark Ages.
The lot of Saudi women is shaped by Wahhabism, the most unbending form of the Muslim faith, she explains. The Koran is effectively her nation's constitution and gender apartheid is a cultural obsession. Shops, restaurants, schools and workplaces are sexually segregated, while strict rules, enforced by shadowy religious police, govern every aspect of a woman's existence.
"I'm a single mother and I'm 33 but I can't even rent my own apartment without getting my father to sign a piece of paper saying he gives permission," she says. "I went to renew my passport the other day and they told me to come back with my male guardian. That is life, for a Saudi woman; wherever we go, whatever we achieve, we are the property of a man."
A Saudi woman who is beaten or raped by her husband and goes to the police must bring that husband along to formally "identify" her, she adds. Saudi women are forbidden from dancing or playing competitive sports and are not due to get the vote until 2015.
The irony of Ms Sharif's life is that she has a deeply conservative background. Born in 1979, she grew up in Mecca, the holiest of holy cities. Her working-class home had separate entrances for men and women. As a child, she remembers burning her brother's pop cassettes in the oven after mullahs told her music came from "Satan's flute".
Later, at university in Jeddah, her class of 60 women was taught computer science in a segregated campus, by professors lecturing from remote locations via closed-circuit television. In keeping with convention, she wore a vast black niqab and long gloves.
Her life changed, almost overnight, on 9/11, orchestrated by her countryman Osama bin Laden. "The extremists told us it was God's punishment to America," she recalls. But on the news that evening, she was sickened by footage of office workers jumping from the twin towers. "I said to myself, 'something is wrong. There is no religion on earth that can accept such mercilessness, such cruelty.'"
Ms Sharif began questioning literalist aspects of her faith. "I realised it is impossible to live with the rules they give Saudi women," she says. "Just impossible. You trying to do everything by the book but you can never stay pure."
After leaving university, she gained further independence by landing a job in information security for Aramco, which at the time was US-owned. It was a lucky break: of Saudi Arabia's five million women graduates, only about 500,000 are employed. At 24, she got engaged to a co-worker and at 25 they married.
It didn't work out. While Ms Sharif is reluctant to dwell on the details, she says that the kingdom's staggeringly high divorce rate of 60 per cent is rooted in tensions surrounding gender inequality. "My father's generation of Saudi men are more liberal than the men of my generation," she says. "But with women it's the opposite. Women are much less conservative than the men now, and that leads to clashes."
After her divorce, she spent a year in family courts. She won custody of her son but has no legal recourse to maintenance. The experience further convinced her that Saudi women must stand up for their rights. "I cannot make him pay, and this is one of the things we are fighting for," she says. "To have family courts and family laws which protect women and children from abuse."
In 2009, Ms Sharif's employer sent her temporarily to its US office, in Boston. "I remember just thinking it was so incredibly normal," she says. "There were no complications. I could just live a normal life. I could go and look at apartments and sign a contract myself. I went to the bank, and opened an account."
Most importantly, she drove a car. "I thought, 'This is how life should be'."
Not long after returning home, Ms Sharif took her now-famous car journey. It was the start of a long campaign that she says will end only when women in Saudi Arabia become the equals of men. It is a tall order, but she is adamant that it can be done.
"You know what?" she tells people who ask the secret of her success. "They just messed with the wrong woman."
Fight for rights: Worst places to be female
Yemen
Rated the worst of 135 countries for women by the World Economic Forum's Gender Gap Report 2011. With limited access to education, Yemeni women take only two per cent of skilled jobs. Around 14 per cent of girls are married before the age of 15, and some are forced to marry as young as eight, Human Rights Watch says.
Chad
Three times as many men are enrolled at university as women in the central African country, one of the poorest nations in the world. From 2005-11, Chad closed only 52 per cent of its gender pay gap – the lowest out of all countries surveyed.
Pakistan
Women have greater than average political empowerment in Pakistan (which came one place above the UK in the ratings), but health, education and economic participation are areas of inequality. The nation's labour force is made up of four times as many men as women.
Mali
Women are treated as second-class citizens in Mali, where more than half are married by the time they are 18 and 69 per cent of women aged 15 to 24 are illiterate, according to Unicef. Under the new Family Code law adopted this year, which had been heralded as a step forward, women's rights have been set back to the original 1962 Bill, which rules a woman must obey her husband.
http://www.independent.co.uk/news/people/profiles/manal-alsharif-they-just-messed-with-the-wrong-woman-7778800.html
---------
In Kuwait Women Law Graduates closer to working as general prosecutors
By Nawara Fattahova, Staff Writer
23 May 2012
KUWAIT: The post of General Prosecutor in Kuwait is still limited to male law school graduates. Yet, this fact will soon change after female Kuwait graduates of the Faculty of Law filed a case at the court demanding to work in this position and recently won the case in the first instance. Marwa Al-Sairafi, is one of the six young women who won the case and is looking forward to working as a prosecutor.
"It all started after I graduated from the law faculty. I saw an ad in a daily about a job vacancy as legal researcher. One of the conditions for the applicant to this ad was to be a male, which I considered illegal, and along with five other colleagues, after not being allowed to apply to this post, we filed a case at the court to be accepted to apply for this job. The law didn't discriminate against females, and has never mentioned that the post of general prosecutors is only limited to men," she told the Kuwait Times yesterday.
"We are happy with the verdict that ruled in our favor. But, this is not a final verdict. The government appealed the verdict on May 20 and we are waiting for the judge's decision. Then there is the final instance of the Supreme Court. Then, only, will we be able to work in the post that females were not allowed to work in," added Al-Sairafi. She is confident of winning the case and aims to apply for the legal course for the post of Legal Researcher. "Kuwait has signed different international conventions on bringing to light discrimination between males and females in the work field. Also, there is international pressure on Kuwait to apply equality to both genders. Kuwait is a civil state and has a constitution that directs its laws and life," she noted.
"It's true that Islamic Sharia is the main source of legislation, but not the only source. And many of our laws are not Islamic. The judge recommended that the rules of Sharia be legalized and put them in a legal framework to become law," Al-Sairafi further said. Al-Sairafi and her five colleagues were not the first to file such a case. Shurouq Al-Failakawi filed a similar case in the past, but failed to be accepted to the post of legal researcher as she had not met one of the other conditions, which was also necessary for male applicants; she did not meet the condition of being a new graduate, as she was already working when she applied for this post and filed the case.
This condition is applied to all applicants, so she did not win the case. However, Al-Sairafi and her colleagues are all new graduates.
"The legal course for prior working has already started, so I will submit my papers along with a copy of the verdict to either open a new course for me and other colleagues or to be accepted next year, as the delay in registration was not from my side," concluded Al-Sairafi.
http://news.kuwaittimes.net/2012/05/22/women-closer-to-working-as-general-prosecutors-female-graduate-wins-case/
---------
Female nuclear scientist set to enter record books
2012-05-23
By Awad Mustafa
When 26-year-old mother of two completes her master's degree at Khalifa University in August, she will be nation's first female nuclear scientist.
Amani Al Hosani is just months away from entering the history books.
When the 26-year-old mother of two completes her master's degree at Khalifa University in August, she will be the nation's first female nuclear scientist.
"You do not have to be a superwoman to be a mother and nuclear scientist," she said. "It is a job and all you need is to love science and be passionate about it."
Mrs Al Hosani matriculated from Hunain Girls' School in Abu Dhabi in 2003, and studied chemical engineering at UAE University.
"I graduated in 2009 and started work on onshore oilfields with Adco [Abu Dhabi Company for Onshore Oil Operations]," she said.
"I used to ask my science teachers to teach us about nuclear science at school, but they always said it was not in the curriculum."
Once she graduates, she hopes to work in the safety department of the Braka nuclear sites.
"I want to be a nuclear engineer in the simulation field where I can simulate the safety scenarios to see how I can enhance the safety of our power plants," she said.
Mrs Al Hosani is one of several Emiratis who benefited from the "Energy Pioneers" programme run by the Emirates Nuclear Energy Corporation (Enec). The programme awards scholarships and advancement courses to those wishing to work in the nuclear energy field.
Azza Al Sharhan, the human resources director at Enec, said: "Amani is one of the first generation of Emirati nuclear scientists and there are lots more to follow."
The programme is designed to encourage the most talented science students to pursue a career in the nuclear energy sector.
"The UAE's need for energy is growing by 9 per cent each year, and the Government has identified nuclear energy as a safe, clean, efficient and reliable way to power the nation's growth. By 2020, nuclear energy could provide up to a quarter of the nation's energy needs," said Ms Al Sharhan.
More than 170 Emiratis are studying as a result of Enec's scholarship programmes. But the corporation expects it will require more than 2,000 employees by 2020, with a target of 60 per cent Emiratisation.
"Emirati students want to play a role in the development of their nation. This desire to make a difference is what drove people to join the oil and gas industries in the 1960s as pioneers of a new sector. Today's generation of energy pioneers are turning to nuclear," Ms Al Sharhan said.
Her patriotic reasoning is not just rhetoric: a recent study by Enec polled 76 current and 151 potential students about their attitudes towards the nuclear energy. Eighty-three per cent of current students said they chose nuclear energy because they want to be part of the energy industry of the future.
"The research shows that Emirati students now favour science in higher education because they believe it gives them the skills to excel in work," Ms Al Sharhan said.
Of prospective engineering students polled, 85 per cent said they were pursuing that line of study because it offered good career opportunities.
The Energy Pioneers programme sponsors Emiratis interested in pursuing a bachelor's degree in chemical, nuclear, mechanical and electrical engineering. It also sponsors those seeking a master's degree in nuclear engineering through a fellowship at the Khalifa University's School of Science, Technology and Research.
Although Mrs Al Hosani will soon become one of the first to complete the course, it might easily have been a very different story.
She says her first application to enter the programme was turned down. "I applied a second time and when I was accepted I felt like my dream was becoming a reality," she said.
http://www.middle-east-online.com/english/?id=52416
---------
At New Jersey Mall Muslim woman told to take off Niqab
BY MEGHAN NEAL
May 22, 2012
Woman called police after feeling threatened by security guard at New Jersey mall
A woman shopping at a New Jersey mall said Saturday that she was shocked when a security guard told her to take off her Niqab, the traditional face veil worn by some Muslim women.
Wakeelah Salaam, born in the U.S. and raised Muslim, told WABC Ch. 7 Eyewitness News she felt threatened after the same guard at Bridgewater Commons mall approached her twice.
"He said, Maam, Im telling you, you cannot wear that mask in here," Salaam told ABC. Salaam said she felt so uncomfortable she eventually called the police. After speaking to police, she left the mall.
"He came as close to me as though he was going to kiss me," she said. And then he made the hand gesture like he was going to lift it up for me.
Salaam regularly wears a face covering, a hijab, or headscarf, and a long dress in public, leaving only her eyes exposed, the ABC reported
Some women choose to wear the scarf so men don't judge them by their appearance.
"This is a protection for me," Salaam told ABC. "This is my honor.
She said shes worn the niqab to court and to visit a relative in prison without complaint, so was surprised by the security guards actions.
Later, an executive from the company that runs security at the mall called Salaam to apologize.
Full report at:
http://www.nydailynews.com/news/national/muslim-woman-told-niqab-shopping-mall-article-1.1082739#ixzz1vfy5ldue
---------
Insights to women's needs in the Middle East
May 22, 2012
UAE. Dubai-based fire starter Carol Talbot is set to energise timely conversation among the region's business sector at this month's sixth upcoming 'Gulf Marketing Review Marketing to Women' conference on May 28 2012.
Organised by the Mediaquest's Gulf Marketing Review (GMR), regional and international experts from both the private and public sectors are poised to take the stage in Dubai to share studies, research, trends, ideas and changes in terms of marketing to women.
Talbot advised that the Middle East is rich in opportunities, much of which is yet to be realised, appreciated and put to good use. "Understanding female consumers is fast becoming an essential to effective, sustainable marketing communications.
"As world economies experience a season of unprecedented transition the time is nigh for the many brave marketers looking for change to fast learn to look in new places for new answers to business and growth," she said.
Talbot will chair the one day event, now in its sixth year.
Full report at:
http://www.bi-me.com/main.php?id=57909&t=1&c=129&cg=4&mset=1011
---------
Western female doctors kidnapped in Afghanistan
23 May 2012
Two Western women doctors are among five aid workers who have been kidnapped in north eastern Afghanistan.
The aid workers working for a foreign-based aid group were making their way from central Faizabad city and were abducted on Tuesday in Yaftal-e Bala district, said Abdul Marouf Rasikh, a spokesman for the governor of Badakhshan province.
Police in the area, which is not a focus for Afghan insurgents but which is home to groups of mainly criminal gunmen, said the aid workers had been visiting a health clinic in Yawan district, where the road had been destroyed by floods.
"They were travelling by donkey. Two foreign women and their Afghan translators were kidnapped and we have started a search operation," said Lal Mohammad Ahmadzai, police spokesman for northern Afghanistan.
Nato-led forces said they had no information on the kidnapping, while NGOs operating in the area declined to comment citing the sensitivity of the issue.
The kidnapping of foreigners has become relatively common in parts of Afghanistan since U-S.-backed Afghan forces toppled the former Taliban government in 2001, heralding a 10-year anti-insurgent war.
http://www.telegraph.co.uk/news/worldnews/asia/afghanistan/9284370/Western-female-doctors-kidnapped-in-Afghanistan.html
---------
Activists Urge NATO to Protect Afghan Women's Rights
Aru Pande
May 20, 2012
CHICAGO - As world leaders gather in Chicago to discuss the future of Afghanistan, human rights groups say Afghan women are being left out of the conversation. Afghan activists say they fear gains made in women's rights since the fall of the Taliban will be erased after foreign troops leave the war-torn country.
Like so many Afghans, Manizha Naderi has concerns about the fate of her country after 2014, when international forces complete their withdrawal from Afghanistan after more than a decade of war.
Watch the Video
??"The whole country could fall apart; civil war could ensue. Everything that we have gained in 10 years can be undone if [the] U.S. and NATO leave too fast or too abruptly," she said.
Women in Afghanistan have gained numerous rights since the Taliban-led government was ousted in 2001. Under Taliban rule, women were not allowed to work, receive an education or leave their homes unless they were escorted by a man.
Full report at:
http://www.voanews.com/content/activists-urge-nato-to-protect-afghan-womens-rights/727483.html
---------
AFC puts Iran on the spot on women's rights
By James M. Dorsey
2012-05-22
Iranian women soccer fans set their hopes on Asian Football Confederation to return them to terraces after having been banned from stadiums for years.
Iranian women soccer fans have set their hopes on the Asian Football Confederation (AFC) to return them to the terraces after having been banned from stadiums for years to prevent them from looking at men's bodies.
The women expect the AFC's insistence that Iran adhere to the Asian soccer body's standards when it hosts this fall the AFC Under-16 Championship to grant them access to matches during the tournament but would like to see that spark a permanent lifting of the ban imposed after the overthrow of the Shah in 1979.
"So far as AFC is concerned, there should be no sex discrimination regarding the presence of men and women at stadiums," AFC Director of National Team competition Shin Mangal was quoted as saying by Shiite news agency Shafaqna.
The AFC said it had received assurances from Ali Kaffashian, the head of the Islamic Republic of Iran Football Federation (IRIFF) that it would comply with AFC regulations.
Full report at:
http://www.middle-east-online.com/english/?id=52402
---------
Egypt elections: The challenge of appealing to women
By Jon Leyne
22 May 2012
Egypt's presidential candidates have discovered an important, but strangely neglected, constituency in the election, which begins on Wednesday.
They have been making a last-minute push for the women's vote. Pollsters believe women make up one of the highest proportions of undecided voters, in a country where the most recent polls suggest more than a third of voters have yet to make up their minds.
Women played a prominent role in the demonstrations that led to the downfall of Hosni Mubarak. So far, they have not reaped much of a reward.
In the first parliamentary elections under the new order, only nine women were elected as MPs, with two more added later as appointed members. Women's activists fear the Islamist-, and male-, dominated parliament could roll back on women's rights.
Full report at:
http://www.bbc.co.uk/news/world-middle-east-18156479
---------
Bilawal Bhutto Zardari wants 50% women in Pakistani parliament
23 MAY, 2012
ISLAMABAD: Pakistan Peoples Party chairman Bilawal Bhutto Zardari says that he dreams of a Pakistani parliament that will have 50 per cent women, it was reported here.
Zardari attended a discussion hosted by the United States Institute of Peace in Washington where he highlighted the role of women in Pakistan, reported Associated Press of Pakistan.
He quoted his mother Benazir Bhutto, a former prime minister who was assassinated in 2007, as saying that "the people who resent me do so because I am young, I am a Bhutto and I am a woman".
Bilawal said: "The same people resent me because I am young, I am a Bhutto and I am proud to say I am a feminist."
Full report at:
http://economictimes.indiatimes.com/news/politics/nation/bilawal-bhutto-zardari-wants-50-women-in-pakistani-parliament/articleshow/13406197.cms
---------
URL: https://www.newageislam.com/islam,-women-and-feminism/new-age-islam-news-bureau/top-saudi-cleric--ban-christian-churches-in-arabia,-let-girls-be-forced-to-marry-at-10/d/7409