New Age Islam News Bureau
23 Nov 2016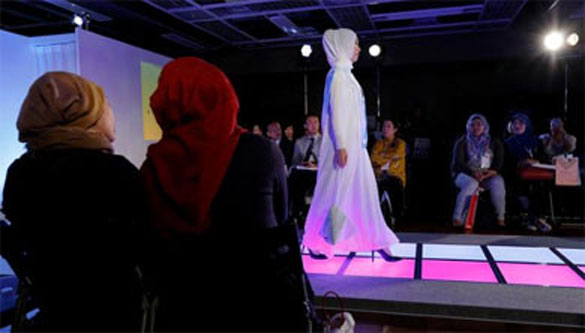 Muslim women look at a model (C) presenting a creation by brand Meem Clothings during Tokyo Modest Fashion Show, Muslim fashion show, at Halal Expo Japan in Tokyo, Japan, November 22, 2016. REUTERS/Toru Hanai
----------
• Saudi Girl Who Ran Away From Family Blames Women for 'Inciting' Escape
• Boko Haram Reportedly on Rampage near Site of Girls' Abduction
• Triple Talaq: AIMPLB's Decision to Establish a Women's Wing Is Just A Token Gesture
• BISP and UN Women Sign MOU to Tackle Gender Inequality
• Women Police in Bangladesh: Significant Rise in Number, But Challenges Still There
• Two Qatari Women Robbed On Paris Motorway in 5m Euro Heist
• Man arrested for raping 9-year-old girl in North of Afghanistan
• Hundreds of women march to Parliament demanding Maria's release
• Meet the Women Helping Muslims Stay Safe after the Election
• Migrating Children Being Indicted In Crimes They Never Commit: Jail Evidence
Compiled by New Age Islam News Bureau
URL: https://www.newageislam.com/islam,-women-and-feminism/new-age-islam-news-bureau/tokyo-holds-its-first-fashion-show-for-muslim-women/d/109177
--------
Tokyo holds its first fashion show for Muslim women
Nov 22, 2016
Models wearing an array of colorful hijabs walked down a Tokyo catwalk on Tuesday in what organizers said was the first such fashion show for Muslim women in Japan.
Floral patterns were among the designs adorning long robe garments and matching headscarves at Japan's first "Muslimah Fashion Show", which is taking place as part of a two-day Halal Expo Japan event.
Around 10 brands, mainly from Singapore, were showcasing their creations at the Tokyo Modest Fashion Show.
http://www.reuters.com/article/us-fashion-japan-muslim-idUSKBN13H1HP
--------
Saudi girl who ran away from family blames women for 'inciting' escape
23 November 2016
A Saudi girl who ran away from her family in Turkey and made her way to Georgia in July has returned to the kingdom, accusing a group of Saudi women of inciting her escape.
Now the authorities are investigating the girl's claims and interrogating the women accused of inciting her to run away.
The case was initially closed in August after the girl initially claimed she ran away because her parents had physically abused her – a claimed she later denied on her Twitter account.
The Saudi embassy in Azerbaijan said in a statement earlier this year that the girl was in Turkey on vacation with her parents before she fled. The statement added that she had been found, and that she escaped because of a dispute with her family.
The girl had to return to Saudi Arabia after she was refused asylum in Georgia where she had been staying in a shelter. She returned to Riyadh and filed a complaint against a group of Saudi women human rights' activists, including an academic. She accused them of deceiving her and helping her escape.
https://english.alarabiya.net/en/News/gulf/2016/11/23/Saudi-girl-who-ran-away-from-family-blames-women-for-inciting-escape-.html
--------
Boko Haram reportedly on rampage near site of girls' abduction
November 22, 2016
MAIDUGURI, Nigeria -- Boko Haram fighters are overrunning villages near the northeastern Nigerian town of Chibok, forcing hundreds of people to flee as the insurgents loot and burn in the area where nearly 300 schoolgirls were kidnapped in 2014, local leaders said Tuesday.
"Chibok is now under Boko Haram siege," the chairman of the Chibok local government area, Yaga Yarkawa, told journalists Tuesday in Maiduguri, the birthplace of Nigeria's homegrown Islamic extremist group some 80 miles northeast of Chibok.
The accounts of Boko Haram violence around Chibok, along with multiple suicide bombings in Maiduguri city and attacks on army outposts raise doubts about military and government claims that the 7-year-old insurgency is nearly defeated. Instead, the rebels have stepped up attacks as the rainy season draws to an end, making them more mobile.
Nine villages within 16 miles of Chibok town have been razed in the past two weeks with the most recent attack at Thlaimaklama at the weekend, Yarkawa said.
Boko Haram is employing scorched earth tactics, rustling livestock, looting crops just ready to harvest, and burning homes and what crops they cannot carry, he said. "Contrary to claims by government and security operatives, Chibok is not safe."
It's not known if anyone has been killed because people are too scared to go back to the deserted villages, civilian self-defense fighter Bulama Abogu said. No soldiers have intervened, he said.
Many of the villages fringe on the Sambisa Forest, where Nigerian security forces have been carrying out near-daily air bombardments and ground attacks in which they have freed thousands of Boko Haram captives and cut food supplies.
The forest stronghold was where Boko Haram initially took 276 schoolgirls kidnapped from the government high school at Chibok April 14, 2014. Nigeria's government last month secured the first negotiated release of 21 Chibok girls. Another Chibok girl escaped captivity in May and one was rescued in an army raid earlier this month. The government says it is conducting negotiations with Boko Haram for the freedom of nearly 200 Chibok girls remaining in captivity.
The chief of army staff, Lt. Gen. Tukur Buratai, last week insisted that "the terrorists have been defeated" and said the army is conducting "mop-up operations aimed at ensuring that we clear the rest of them."
That is disputed by former Nigerian Vice President Atiku Abubakar, who said at the weekend that "The insurgents still occupy a specific geographical space. They still retain the capacity for occasional deadly attacks. Many citizens in the zone still remain vulnerable and live in fear."
Some Boko Haram fighters are moving south into east-central Taraba state, according to some recent reports. There are fears that as the extremists come under greater military pressure Boko Haram fighters will disguise themselves as nomadic Fulani herders, who are blamed for deadly conflicts for land and water with farmers in central Nigeria, said analyst Jacob Zenn.
The Islamic uprising has killed more than 20,000 people, spread across Nigeria's borders and created 2.6 million refugees and a humanitarian crisis that the U.N. estimates has 14 million people in desperate need of food aid.
http://www.cbsnews.com/news/boko-haram-islamic-militants-nigeria-chibok-rampage-schoolgirls-abduction/
--------
Triple talaq: AIMPLB's decision to establish a women's wing is just a token gesture
By Nilanjan Mukhopadhyay
Nov 22, 2016
The recent decision of the All India Muslim Personal Law Board (AIMPLB) to establish a separate women's wing — to dwell on issues exclusive to women like triple talaq and polygamy — will not bring about any change in the status of Muslim women within the family, but is indicative of the pressure on Muslim clerics to display a semblance of concern on gender issues within the community.
The so-called Kolkata Declaration, released at the conclusion of AIMPLB's 25th conference on 20 November, was keenly awaited given the recent debate over triple talaq and the Uniform Civil Code (UCC). There was, however, no change in AIMPLB's stance as it unanimously passed a resolution saying that triple talaq is sacrosanct, as per the Shariah laws which are divine, and cannot be modified, changed or altered by any person or authority under any circumstances.
Attacked by vocal liberal sections within the Muslim community for holding a brief for patriarchy, AIMPLB's decision on the new women's wing does not mark a change in its position on rights for women within the family.
The resolution is undoubtedly not of their own volition but a result of pressure from below. The semblance of a response by the Board to the growing demands of Muslim women for equal rights within the family is also indicative of new pressure groups that have emerged in recent years.
These organisations have ranged from activist groups like Bharatiya Muslim Mahila Andolan (BMMA), who have backed their programmes with solid research, and the All India Muslim Women Personal Board that despite its limited capacity has recently become party in the ongoing case in Supreme Court.
More than six years after four elective seats were allocated to women in AIMPLB in March 2010, the Board's decision to form a separate wing for women indicates that pressure from progressive forces within the community is far greater now than at the time of the last churn in the mid-1980s following the Shah Bano verdict of the Supreme Court.
Pro-changers of that time were eventually marginalised after the Rajiv Gandhi government sided with conservatives within the community and enacted the Muslim Women (Protection of Rights on Divorce) Act. The decision heralded the process of communalisation of Indian politics as it galvanised the Sangh Parivar into re-launching the Ayodhya agitation that had been abandoned in October 1984, following Indira Gandhi's assassination.
Unlike in the past, the debate for removal of triple talaq has raged for close to a decade with the initiative being taken by progressive Muslim women who decided to treat the treacherous path of questioning the clerics. In a community that is known for poor levels of awareness and coupled with the trajectory of Indian politics towards majoritarianism, the path chosen by groups like the BMMA was daunting because it was often considered a part of the Sangh Parivar's 'sudharak' agenda for the Muslims.
Indeed, the BMMA has been accused of being in cahoots with the government in undermining minority rights. However, its denunciation of the government initiative on introducing UCC puts paid such charges.
In recent months, the Supreme Court has been seized with a clutch of cases challenging the legal validity of triple talaq and polygamy, beginning with the case filed by Shayara Bano, a woman from Uttarakhand, who was instantaneously divorced. When asked to present its viewpoint, the Centre pleaded in the apex court that it should declare the practices as illegal. In its affidavit, it argued that neither of the practices can be "regarded as essential or integral part of the religion".
Simultaneously, the Law Commission released a questionnaire to assess public opinion on if triple talaq should be abolished. But more contentiously, the Commission also asked if UCC should be introduced. Law panel chairman Justice BS Chauhan (retd) stated that the commission aimed to "begin a healthy conversation about the viability of a uniform civil code".
Statements by BJP ministers and leaders stirred the hornet's nest because UCC has long been a political objective of the Sangh Parivar. That a common family law has been a constitutional goal listed in the Directive Principles of State Policy enabled the BJP to claim that it was simply pursuing constitutional obligations.
In October, Prime Minister Narendra Modi too waded into the controversy by taking up the cause of Muslim "behne" or sisters saying that triple talaq was discriminatory and outlined his government's position on the issue. Predictably, the AIMPLB reacted negatively to the proposal of the Law Commission and declared what has now been reiterated in Kolkata.
Several non-BJP parties, like Bahujan Samaj Party and Trinamool Congress, have also supported this position and in turn have been accused by Modi and other BJP leaders of indulging in "vote bank politics" by pandering to the conservative sections among Muslims.
By introducing the demand for UCC at this stage, the BJP has mired the pitch for progressive groups in the community as the conservatives led by AIMPLB — which still retains great relevance and support in the community — will hijack the issue and argue that when minority rights are under threat from the Centre, organisations like BMMA are weakening the battle against the government's plan to marginalise Muslims. Token gestures like formation of a women's wing will enable them to project a facade of being sensitive towards gender issues.
Ironically, the state of Muslim women, being used as pawns in a political game, will remain as abysmal as it is currently.
http://www.firstpost.com/india/triple-talaq-aimplbs-decision-to-establish-a-womens-wing-is-just-a-token-gesture-3119044.html
--------
BISP and UN Women Sign MOU to Tackle Gender Inequality
23-Nov-16
ISLAMABAD: The Benazir Income Support Programme (BISP) signed a memorandum of understanding (MoU) with the United Nations Entity for Gender Equality and the Empowerment of Women (UN Women) on expanding social protection coverage.
The MoU was signed by UN Women Country Representative Jamshed Kazi and BISP DG Shahid Gul Qureshi. BISP Chairwoman Marvi Memon was also present.
Under this MoU, both partners will take on joint ventures related to gender equality, violence against women, women's economic empowerment, female leadership and social reconstruction. BISP beneficiaries will be linked to relevant UN Women projects to benefit from its social protection services. The two bodies will also launch joint campaigns for the commemoration of key international days on women's rights. This cooperation will leverage community outreach, resources and technical expertise in gender equality to contribute towards closing the gender gap and bring transformative changes in the lives of women.
Memon stated that BISP is a social safety net in regard to the financial inclusion of women and the central point for women empowerment. In addition to providing cash assistance to 5.3 million women, it is engaged in raising awareness through the BISP. The partnership with UN Women would further strengthen BISP's empowerment initiative, she said.
She stated that plans to educate BISP women on women rights, nutrition, mother and child health, sanitation, basic finance and entrepreneurship will empower them to make more informed decisions. She added that for making women's empowerment a reality, all organisations concerned would be encouraged to work together.
Kazi said that as the transition from the millennium development goals to the sustainable development goals begins, the main focus would be on tackling poverty with the principle of "leaving no one behind". This requires the redoubling of efforts and the need to go the extra mile to identify and reach the most marginalized segments of society, he said.
Forging a partnership with BISP, with its millions of poor female beneficiaries, will generate a catalytic, multiplier effect for UN Women's ongoing initiatives in Pakistan, he remarked. He mentioned that this includes the advancing of women's economic empowerment, tackling gender-based violence in private and public spaces as well as strengthening women's leadership and resilience. Kazi noted that this is essential to prepare for and cope with natural disasters and displacement due to conflict and extremism. He said, "Through this alliance, we firmly believe that we will make significant headway towards removing gender inequalities in Pakistan by 2030."
http://dailytimes.com.pk/islamabad/23-Nov-16/bisp-and-un-women-sign-mou-to-tackle-gender-inequality
--------
Women Police in Bangladesh: Significant rise in number, but challenges still there
November 23, 2016
Recruitment of women into the Bangladesh Police has increased significantly in the last one decade, but still they are facing a number of challenges in the profession compared to their male colleagues, reveals a survey.
According to the survey report, there were 8,827 women police serving all over the country in 2015, which was 6.03 percent of the total police workforce of 1.55 lakh. It was only one percent of the total number in 2007 and 4.63 percent in 2013.
The report, "Rough Roads to Equality: Women Police in Bangladesh", said they did not face any obstacle from their families during recruitment but they faced hurdles in the workplace.
A significant number of women expressed dissatisfaction over maintaining both professional and family responsibilities as they found it hard to work extra hours, sometimes over 12 hours a day, which they think can be solved by fixing the shifting hours properly.
The report, by Commonwealth Human Rights Initiative (CHRI), was launched at a roundtable of CHRI and Manusher Jonno Foundation in the capital's Cirdap auditorium yesterday.
There are only one additional inspector general, two deputy inspector generals and two additional DIGs and 19 superintendents in the force, says the report.
As many as 227 female police personnel of four ranks -- inspectors, sub-inspectors, assistant sub-inspectors, and constables -- took part in the survey at three divisional ranges of Dhaka, Chittagong and Sylhet between 2013 and 2015.
A few from Khulna, Rajshahi and Rangpur ranges also took part in the survey.
Many feel equal to their male colleagues while serving as a police official, but they said they did not want limit themselves to administrative tasks, they wanted to take challenging tasks as well.
For example, female police think that they were not given important cases to investigate.
They also think they do not get proper behaviour from their subordinates while their seniors behave well with them.
A few number of sub-inspectors, assistant sub-inspectors, and constables complained of sexual harassment at the workplace, while almost all of them stressed the need for recruitment of more women in the police force.
Speakers at the roundtable said the situation of women police in Bangladesh personnel was better than other South Asian countries such as India, Pakistan and the Maldives, as the Bangladeshi policewomen were more co-operative.
Of the participants, 100 percent of the inspectors and sub-inspectors said their families supported their job while this was respectively 96.7 percent and 97.39 percent for ASIs and constables, says the report.
It added that 2.7 percent of SIs, 3.3 percent of ASIs and 10.46 percent of constables alleged that they faced sexual harassment at the workplace.
Of the participants, 33.34 percent of inspectors, 62.16 percent of SIs, 40 percent of ASIs and 43.8 percent of constables said they worked over 12 hours a day.
Addressing the roundtable, Manusher Jonno Foundation Executive Director Shaheen Anam stressed the need for more women in the higher ranks.
"The role of women police personnel is important for women empowerment," she said, adding that the association of women police personnel could play a vital role in this regard.
Maja Daruwala, senior advisor and board member of CHRI, highlighted the role of police in addressing citizens' concerns.
Christine Hunter, country representative of UN Women in Bangladesh, said the world agreed to eliminate all forms of violence against women by 2030.
"And we are so far from there," she said, adding that more than 70 percent of Bangladeshi married women still faced violence.
Reading out a written statement, DIG (logistics and procurement) Mily Biswas said over the past few decades the concept of policing had changed.
The job now requires persons with ethics and excellent interpersonal and problem-solving skills, said Mily, also president of Bangladesh Police Women's Network.
The police official added that there might be incidents of sexual harassment, which needed to be addressed.
http://www.thedailystar.net/city/women-police-bangladesh-significant-rise-number-challenges-still-there-1319134
--------
Two Qatari women robbed on Paris motorway in 5m euro heist
November 23, 2016
PARIS - Two Qatari women were held up on a Paris motorway and robbed of valuables worth more than five million euros ($5.3 million) in the latest heist targeting wealthy visitors to the French capital.
The women, in their sixties, had just left Le Bourget airport northeast of the capital on Monday when their chauffeur-driven Bentley was held up by two masked men who sprayed them with tear gas, a police source said Tuesday. The robbers stole "everything in the vehicle: jewels, clothes, luggage", the source said.
Last month, American reality TV star Kim Kardashian was tied up and robbed at gunpoint of $10 million in jewels in a luxury apartment in the heart of Paris. Police said the robbers held a gun to Kardashian's head, bound and gagged her and shut her into a bathroom in the biggest jewellery robbery of an individual in France in more than 20 years.
In another incident, Bollywood actress Mallika Sherawat was punched in the face and sprayed with tear gas by three masked men in an upmarket area of Paris this month. The 40-year-old star and her partner were attacked as they returned to an apartment building in the chic 16th district by three masked men who tried to steal her handbag.
The incidents have done little to help efforts by the government to coax tourists back to France in the wake of the November 2015 jihadist attacks in which 130 people died, followed by the Bastille Day truck massacre in southern city Nice that killed 86.
In the Paris area alone, tourism revenue is expected to plunge by 1.5 billion euros ($1.6 billion) this year. Security has been stepped up around tourist magnets in Paris in response to the high-profile robberies.
The attack on the Qatari women took place on a section of motorway leading north from Paris to the Charles de Gaulle and Le Bourget airports which is often the scene of hold-ups targeting wealthy foreigners in luxury cars, some of whom carry large amounts of cash.
The robbers often take advantage of traffic jams near the Landy tunnel, which is some 1.3 kilometres (0.8 miles) long, to pounce. Last month, a taxi transporting the chief executive of a French furniture chain among other passengers was held up after leaving Le Bourget, which is often used by private jets. The three robbers made off with an estimated 100,000 euros in valuables.
A Korean art collector was the target of a similar heist last year, with three attackers snatching four million euros in Chanel jewels from her car in the Landy tunnel.
http://nation.com.pk/international/23-Nov-2016/two-qatari-women-robbed-on-paris-motorway-in-5m-euro-heist
--------
Man arrested for raping 9-year-old girl in North of Afghanistan
Nov 23 2016
A man has been arrested over alleged rape of a 9-year-old girl in northern Sar-e-Pul province of Afghanistan, local official said Wednesday.
Provincial governor's spokesman Zabiullah Amani said the 36-year-old suspect was arrested during an operation on Tuesday.
He said the man is accused of raping the child in Shiram are who allegedly forced into the house of the girl and subjected her to sexual violence.
Amani further added that the incident took place last week as the family of the girl was out of the house.
According to Amani, the suspect has been identified as Gulbuddin and is currently in custody of the police as his case has been referred to the provincial attorney general for the trial.
This is not the first time the minor girls have became the victim of sexual violence in the country.
A 10-year-old girl was also raped by a man in Kohistanat district of Sar-e-Pul province nearly two months ago.
According to the local officials, the man managed to flee the area after raping the girl and a search operation is underway to arrest the culprit.
http://www.khaama.com/man-arrested-for-raping-9-year-old-girl-in-north-of-afghanistan-02344
--------
Hundreds of women march to Parliament demanding Maria's release
BY RAM ANAND
November 23, 2016
KUALA LUMPUR, Nov 23 ― More than 500 women marched to Parliament today demanding the immediate release of Bersih 2.0 chief Maria Chin Abdullah from her Security Offences (Special Measures) detention.
The women, led by individuals from various civil society organisations marched from Padang Merbok to the Parliament gates, while also calling for Sosma to be abolished.
Maria, 60, has spent the last five days in solitary confinement after she was arrested on November 18, on the eve of the Bersih 5 rally.
43 female activists signed a memorandum with the group's demands, which includes the return of items confiscated from Bersih"'s office by police during a raid on November 18.
A group of 30 activists were later allowed into the Parliament compound and handed their memorandum demanding Maria's release to Minister in the Prime Minister's Department Datuk Seri Shahidan Kassim.
"I can only receive the memorandum, I will pass it to the prime minister," Shahidan said later.
The memorandum was addressed to Prime Minister Datuk Seri Najib Razak.
Among those who led the group was former Bersih 2.0 co-chairman Datuk Ambiga Sreenevasan.
http://www.themalaymailonline.com/malaysia/article/hundreds-of-women-march-to-parliament-demanding-marias-release
--------
Meet the Women Helping Muslims Stay Safe After the Election
By Samantha Cooney
Nov. 22, 2016
Muslim women are taking their safety into their own hands in the wake of the presidential election.
During his campaign, President-Elect Donald Trump called for a "complete shutdown" of Muslims entering the United States. And after Trump's win, some Muslim women say that they don't feel safe in the country. A report released after Election Day showed a spike in hate crimes last year against Muslims and other minorities. And the Southern Poverty Law Center, a national civil rights organization, said Saturday that there have been at least 700 cases of intimidation and harassment since the election.
Zaineb Abdulla, the vice-president and self-defense instructor at deaf advocacy group Deaf Planet Soul, told the Washington Post that she taught a self-defense class for nine mostly Muslim women on the Sunday after Election Day. There, she trained them how to avoid a "hijab grab" and how to report and identify a hate crime. "It gives us confidence," Abdulla told the Post. "I have a lot of messages from women saying they didn't think it was possible to fight back."
Abdulla later uploaded videos of the self-defense moves to Facebook, and one video has been viewed 3.5 million times, according to the Post. She says she's also received at least 75 requests from Muslim women for similar classes, and plans to schedule classes across the country.
In addition to the uptick in interest for self-defense classes, Amani Al-Khatahtbeh, a Muslim entrepreneur and the founder of MuslimGirl, will begin selling a $20 "post-election care package," Fortune reported. The box includes a keychain with pepper spray and MuslimGirl's Crisis Safety for Muslim Women, which advises Muslim women on the precautions they should take to stay safe.
"It's really sad that we have to talk about [safety], but it's really the level of insecurity that Muslim woman are feeling right now," Al-Khatahtbeh told Fortune. "A lot of social interactions are: 'Are you staying safe?' 'Are you feeling okay?' That's where we are right now and it sucks."
http://motto.time.com/4579900/muslim-women-safety-election/
--------
Migrating children being indicted in crimes they never commit: Jail evidence
November 23, 2016
KARACHI: A case of 15-year old child Adnan, who originally belongs to Multan and now languishing in Youthful Offenders Industrial School (YOIS) in Karachi central jail since six months, is eye opener for government system, universal conventions implementers and child rights defenders in the country.
Ms Nazra Jahan, working on children rights and facilitated the session, quoting this boy said she talked to him during the recent visit to conduct session with children in Youthful Offenders Industrial School (YOIS) Karachi on the occasion of Universal Day 2016, which was celebrated with child inmates there.
Adnan narrating the plight said he migrated alone to Karachi in search of livelihood to ease his poor family early this year. He joined factory for work within a few days staying here with some children. After some days, the factory owner shifted Adnan alone to another firm in the city. For 18 months he was doing hard work there.
One day while returning home from his job at nighttime patrolling police caught him, alleging as if he was the same boy who fired at police.
After brutal torture police forced Adnan to confess the crime he never committed. Adnan was kept in custody for four days in Mauripur police station. After that he was shifted to Kalari Thana, where he was kept for six days. During these days he was badly tortured, harshly abused and treated brutally by police, who implicated them for crime which they had not committed.
Then Adnan was transferred to the industrial Home for youthful offenders in Karachi Central Jail. He reported that he was taken by police in front of Judge on 2nd September 2016. Since then he has not been produced before the court. "Since then neither my boss in factory nor my parents have been informed about my presence in jail," he said. "I am not allowed to call my parents and factory boss to inform them about the situation and seek their help. My days are passing in darkness without any reason. I have been forced to confess the crime which I even never to imagine," he said, narrating his case.
This was not single case in which police put a minor boy in jail, there are several children victimized in similar way and putting in jail. There are 14 juvenile offenders in YOIS, who were migrants from different cities of Pakistan and came to Karachi in search of employment to support their families. They all later were forced by police and sent them to jail.
This was learned during the Universal Day celebrations organized by Foundation for Research and Human Development (FRHD) in collaboration with DevCon and Tere Des Home (TDH) under global campaign Destination Unknown (DU) recently. The purpose of the session was to explore juvenile offenders potential for success and bright future as well as chasing the causes of children on move to come into conflict with law within the vicinity of YOIS.
During interactive sessions conducted at youthful offenders Industrial School, Karachi, it was found that 22 juvenile delinquents were involved in repeated crimes and 174 were the first time offenders, who were involved in minor crimes.
Ms. Nazra Jahan said hundreds of children in Pakistan are on the move. They have lost home, shelter and are struggling under generational poverty culture, violence or disaster. They may end up exploited or abused at their destination is Unknown. During the session, she said, some victim offenders complained that police have kept with them under custody for two --three days and tortured them badly. Probation officer neither reported their detention nor informed to their guardians.
According to her 196 juvenile offenders are languishing in prison, out of them 191 are under trials while 5 convicted. Seven juveniles came into prison against the violation of foreigners Act, 1946 among them one is convicted. Around 50 juvenile offenders admitted that they were doing child labor by working as servant in hotel, doing loading work, work in factories, auto workshops, etc, she said. She said the children's universal day is the fight to protect the rights of children of Pakistan to promote well-being and security of children especially those who are suffering from the impact of discrimination, exploitation, poverty and armed conflict.
She quoting law said "Child protection refers to the protection of children from violence, exploitation, abuse and neglect. Article 19 of the UN convention on the Rights of the Child provides for the protection of every child in and out of the home. Child Protection consists of reducing risks to children's holistic well-being, making children's rights a reality, restoring hope and a dignified living where abuse has occurred and creating an enabling environment that supports children's positive development." She appealed to the government and human rights defenders to come forward for help, investigate to see why these children are languishing in jails without committing any crime. Why black sheep in police are given free hand to violate the law and bring bade name to the government? she asked and demanded release of these innocent children.
http://nation.com.pk/national/23-Nov-2016/migrating-children-being-indicted-in-crimes-they-never-commit-jail-evidence
--------
URL: https://www.newageislam.com/islam,-women-and-feminism/new-age-islam-news-bureau/tokyo-holds-its-first-fashion-show-for-muslim-women/d/109177
New Age Islam, Islam Online, Islamic Website, African Muslim News, Arab World News, South Asia News, Indian Muslim News, World Muslim News, Womens in Islam, Islamic Feminism, Arab Women, Womens In Arab, Islamphobia in America, Muslim Women in West, Islam Women and Feminism, Moderate Islam, Moderate Muslims, Progressive Islam, Progressive Muslims, Liberal Islam