New Age Islam News Bureau
16 Nov 2017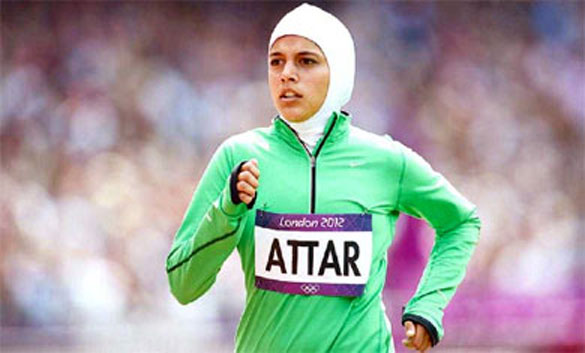 The forum will honour Saudi athletes like Sarah Al-Attar who competed in the women's 800m heats at the athletics event of the London 2012 Olympic Games.
------
• Noh Omar: Withdraw Licences Of Hotels Banning Hijab For Staff
• First Women's Sports Forum In Jeddah Next Month
• Saudi Women Visiting Neighbouring Countries To Take Driving Lessons
• ECP Official Says 12.1m Women Missing From Electoral Rolls
• Iran: Women Entering Addiction Cycle Doubled In 10 Years
• Women And Youth 'Will Drive Saudi Arabia's Digital Future"
• Through Ties Of Friendship, Muslim And Jewish Women Unite Against Hate
• Rohingya Woman In Bangladesh Helps Others Flee Myanmar
• Pennsylvania: State Commission For Women Gets First Muslim Member
• PPP Empowering Women At Every Level: Nasir
Compiled by New Age Islam News Bureau
URL: https://www.newageislam.com/islam-women-feminism/tiss-woman-denied-job-delhi/d/113245
_____
TISS Woman Denied Job In Delhi Orphanage. Reason: She Is A Muslim With Hijab
by Saba Rahman
November 16, 2017
Islamophobia persists globally and in our country as well. And its latest victim is a 27-year-old woman from Patna who is in the national capital on a job hunt. One of the reasons why Nedal Zoya, a Masters in Social Work from Tata Institute of Social Sciences (TISS), Mumbai, did not make the cut for the post of a social worker at one of the orphanages in Delhi is because she wears the Hijab – a headscarf to be precise. Something, her recruiters said, "will make her look like a Muslim from even a distance of a kilometre".
After the Orphanage for Girls in Kotla Mubarakpur floated the vacancy on a website in October, Zoya mailed across her job application. She was then asked to write an online test the same day and also send her photographs.
Later, a mail, while commenting on her test, stated that their institution is "religion-free" for both staff and students. The mail, signed by Harish Varma, President and CEO, Delhi Orphanage, went on to say that "I am sorry to inform that from even a distance of one kilometre you look like a Muslim lady due to your external Muslim gears".
Zoya, who has faced similar exclusion owing to her Hijab earlier, wrote back saying she is a Muslim woman who covers her head and that it was a "priority" for her.
On Varma's claim that he wanted his institution to be religion-free, she had a poser: "Would you be performing Pooja during festivals? Or would you allow girls in the orphan to offer Namaz or do Pooja".
In the following mail that came on Tuesday, Varma, in an angry tone, wrote he was "shocked" to know that "conservative Islam was Zoya's priority, not humanity" and that "her higher education has gone down the drain".
He reiterated that he wanted to keep his orphanage "religion-free", "even free from Hinduism", and "will not allow any kind of religious activities inside his orphanage". He underlined he believed religion to be a private activity.
He further wrote that they have hired another Muslim girl — "who has modern thoughts with religion-free mindset despite the fact that she is born, raised and is living in Batla House, New Delhi".
Indianexpress.com reached out to Varma and he stood by the contents of his mail. He refused to accept that rejection of Nedal's application, one of the basis of which was her head scarf, was an act of Islamophobia.
Zoya said earlier a reputed private school in Patna had told her outrightly that they cannot hire her because of her hijab.
http://indianexpress.com/article/india/tiss-woman-denied-job-in-delhi-orphanage-reason-she-is-a-muslim-with-hijab-4939034/
--------
Noh Omar: Withdraw licences of hotels banning hijab for staff
November 15, 2017
IPOH: The Urban Well-being, Housing and Local Government Ministry today instructed local authorities to withdraw the licences of hotels which prohibit Muslim women employees from wearing the hijab at work.
Minister Noh Omar said the policy of prohibiting Muslim women from wearing the hijab at work was contrary to the federal constitution and human rights advocated internationally.
"If it is true that there are such complaints, I suggest that the local authorities withdraw the licence of the hotels because it is the right of Muslim women to wear the hijab, even if it involves international hotels.
"The international hotels should be more rational because freedom of religion and attire are advocated at the international level. Don't tell me one cannot be allowed to work just because one wears the hijab," he said to reporters here.
Noh was asked to comment on the statement by the chairman of the Malaysian Association of Hotels (MAH), Samuel Cheah Swee Hee, that it was the standard operating procedure of international hotel chains to prohibit the wearing of the hijab at work.
http://www.freemalaysiatoday.com/category/nation/2017/11/15/noh-omar-withdraw-licences-of-hotels-banning-hijab-for-staff/
--------
First Women's Sports Forum in Jeddah next month
November 16, 2017
JEDDAH — The first ever Women Sports Forum will be held next month in Jeddah under the patronage of Princess Reema Bint Bandar Bin Sultan, vice president of the General Authority of Sports and Planning.
The forum is being organized by various sports organizations to help Saudi women who wish to pursue athletics, Al-Watan Arabic newspaper reported on Wednesday.
The forum also aims to honor and host Saudi women champions who have made a mark internationally.
Among those to be honored are: the first Saudi female equestrian to participate in the Youth Olympics in Singapore 2010 Dalma Malhas, the first Saudi woman to participate in the Olympics in 2012 Sarah Attar, the first Saudi woman to climb Mount Everest Raha Al-Moharrak, the first Saudi woman fencer to participate in the Olympics held in Rio in 2016 Lubna Al-Omair, and the first Saudi woman to represent Saudi Arabia at the Abu Dhabi's World Professional Jiu-Jitsu championship and win fourth place Farah Al-Zahrani.
http://saudigazette.com.sa/article/521996/SAUDI-ARABIA/First-Womens-Sports-Forum-in-Jeddah-next-month
--------
Saudi Women Visiting Neighbouring Countries To Take Driving Lessons
November 16, 2017
JEDDAH — Travel agencies in Jeddah have received requests from women seeking tour packages to neighboring countries with the sole purpose of taking driving lessons.
Women want to try their hands at the wheel before joining driving schools in Saudi Arabia, Al-Watan Arabic newspaper reported on Wednesday.
Travel agencies have customized tour packages costing SR3,900 per person. The package includes tickets, accommodation, and driving lessons by professional trainers for five days for two hours a day.
Abdulhadi Al-Arjani, a member of the National Committee for Driving Schools in the Kingdom, told Al-Watan newspaper that women must take lessons at Saudi driving schools because traffic regulations differ from one country to another.
Travel agency owner Abdullah Al-Ramadan said many women prefer going to Egypt as part of the packages that offer driving lessons.
The Directorate General of Traffic (Muroor) announced a few days ago that driving lessons are a must to get a driver's license.
Earlier, anyone wishing to obtain a driving license had to take driving test. But now no new license will be issued unless the applicant attends driving lessons ranging between 30 and 120 hours, Makkah Arabic newspaper reported on Monday.
Brig. Mohammed Al-Bassami, Muroor spokesman, said there will be 90 hours of rigorous training for those who are not good drivers while those who can drive properly will get 30 hours of lessons.
Training sessions will increase to 120 hours for those wishing to obtain general driving license but are not good drivers.
http://saudigazette.com.sa/article/521997/SAUDI-ARABIA/Saudi-women-visiting-neighboring-countries-to-take-driving-lessons
--------
ECP official says 12.1m women missing from electoral rolls
Akhtar Amin
November 16, 2017
PESHAWAR: An official of the Election Commission of Pakistan (ECP) said on Wednesday that 12.1 million women were still missing from the electoral rolls.
"The Election Commission is trying to bridge the gap of missing female voters before the 2018 general election," said Nighat Siddique, ECP's Additional Director General for Gender Affairs. She was speaking at a workshop on the Election Commission Act 2017 and other steps for the 2018 general election held here at a hotel.
Nighat Siddique said the National Database and Registration Authority (Nadra) had no data about the missing female voters as these women didn't have the computerised national identity cards (CNICs).
She said the ECP had taken up the issue with the Nadra and they would soon start CNIC registration campaign through mobile registration vans to register the missing females.
"The ECP has completed its work and it is fully prepared to conduct the polls if there is an early election, but on the old electoral rolls," explained Haroon Shinwari, the spokesman for ECP. He said the only hurdle before ECP was delimitation. "It would be resolved as the political parties had agreed to delimitation after the meeting of Council of Common Interest (CCI)," he added. Additional Secretary ECP Zafar Iqbal Hussain gave a briefing on the Election Act 2017.
Under the new law, he said, the ECP was empowered to make rules, create new posts, declare an election void, establish monitoring system, constitute benches and cancel enlistment of an existing political party if it failed to provide list of 2,000 members and enlistment fee of Rs200,000.
He said that under the new law the ECP could declare the poll void under section 9 of the act if the turnout of women voters was less than 10 percent of the total votes polled in the constituency. He said that restraining women from casting vote was a crime and violators would face three years imprisonment or fine of Rs100, 000 or both.
Haroon Shinwari said that postal ballot facility had been extended to persons with physical disabilities through Section 93 of the act. He said this would benefit who are unable to travel and hold a CNIC with logo for physical disability issued by the Nadra. He added that there were about 0.2 million disabled voters in Pakistan. "This would enable the ECP to achieve participation of such voters in the polls," he said.
He explained that under the new laws the Result Transmission System (RTS) and Result Management System (RMS) were introduced to count the votes electronically for expeditious counting, tabulation, compilation, transmission, dissemination and publication of results. He noted that the returning officer shall compile the provisional results and communicate electronically with the ECP. He claimed that transparency would increase through the use of these systems in the election.
A criterion for registration of a voter was also introduced as Section 27. The voter shall be registered on the basis of temporary or permanent address mentioned in the CNIC. "Voters who are presently registered at their third address will be eligible voters till December 31, 2018," additional secretary Zafar Iqbal Hussain said.
For the first time, he said, administering of oath from election staff and security personnel was introduced in the new law. Under Section 56 of the act, he said all election officials would make an oath before the commencement of the polls and the election official would be obliged to observe the limits of their authority and act in accordance with the duties they are entrusted with.
He said that oath would serve as a solemn reminder that they were under official duty to hold elections in free, fair and transparent manner. Under the Election Act, 2017 if two candidates secured equal votes they shall be entitled to be declared as returned candidates and each one of them shall represent his constituency in assembly for half the term of office.
It said that returning officer shall draw a lot to determine as to which candidate shall serve as member for the first half of the term of office. About election petitions, he said, section 140 provided for sitting or retired judge of the high court to serve as Election Tribunal.
He said previously the election petition used to be filed with ECP and after examination it was required to be forwarded to the Election Tribunal concerned, but the petition will now be filed with the Election Tribunal directly.
However, he said under the new law the decision of ECP shall be directly challenged before the Supreme Court instead of high court. Director General ECP Yousaf Khan Khattak explained the procedural conduct of the Election Act 2017.
He said that the voters' list for 2018 general election would reach 104 million. He said the current voters' list would stand frozen on May 1, 2018 and assemblies would complete term on June 1, 2018.
https://www.thenews.com.pk/print/244663-ECP-official-says-121m-women-missing-from-electoral-rolls
--------
Iran: Women entering addiction cycle doubled in 10 years
15 November 2017
The number of women entering the cycle of addiction in Iran has doubled compared to ten years ago.
This was announced by Mostafa Hadizadeh, Isfahan Province's Secretary of the Counter-Narcotics Coordination Council. "We have seen special developments over the past 10 years in the area of addiction including a drop in the age of addiction," he added.
"Prostitution is an inevitable road for women and girls who get addicted. They have to rent their bodies for just 2000 toumans (less than a Dollar)," he added. (The state-run Fars news agency – November 13, 2017)
http://www.women.ncr-iran.org/iran-women-news/4496-iran-women-entering-addiction-cycle-doubled-in-10-years
--------
Women And Youth 'Will Drive Saudi Arabia's Digital Future"
AISHA FAREED
15 November 2017
RIYADH: Women and young people will lead Saudi Arabia's drive to embrace a digital future, a leading technology entrepreneur told a forum in Riyadh on Wednesday.
"The excitement and embracing of change is so palpable here," said Diane Greene, chief executive of Google Cloud. "I'm very optimistic about what's possible here."
Greene said Saudi Arabia already had female experts and leaders in the field of technology, who would find no difficulty in participating in the technical future of the Kingdom.
On her first visit to Saudi Arabia, she said she was impressed by young people and their enthusiasm for change and making a difference.
Greene was speaking on the first day of the Misk Global Forum, which brings young leaders, creators and thinkers together with established innovators to explore ways to meet the challenge of change. The Misk Foundation was established by Crown Prince Mohammed bin Salman to empower Saudi youth to take part in the knowledge economy.
The Google Cloud chief took part in a panel discussion with Saudi Minister of Communication and Information Technology Abdullah Alswaha. The session was moderated by Faisal J. Abbas, editor in chief of Arab News.
They spoke against a background of rapid change in Saudi Arabia, with an end to the ban on women driving and the crown prince's launch this month of the $500 billion Neom "city of the future" project.
"There couldn't be a much better time in terms of unprecedented change," said Alswaha. "The rate of change right now is giving us a unique and a big window to leapfrog into the future."
The digitization of the Saudi economy will be fully powered by youth, said Alswaha, with 70 percent of the population under the age of 30. "This gives the Kingdom a unique and competitive advantage powered by knowledge, entrepreneurship and innovation."
Alswaha announced a new partnership between his ministry, Misk and the Mohammed bin Salman College for Business and Entrepreneurship to adopt 30 young local entrepreneurs and tech companies, such as Careem, the taxi app, and Telfaz, the internet TV app. "We will put them through a one-year program, get them exposure to the Silicon Valleys of the world, to the European successes in the world, introduce them to some venture capitalists and accelerators, and join hands with some big tech and knowledge powerhouses," he said.
In September, the Saudi Communications and Information Technology Commission lifted the ban on applications that provide voice and video call services over the internet. Alswaha said the move had benefited a wide variety of people, from Saudi soldiers on the southern border to scholarship students who could now more easily contact their loved ones at home.
Communication and information technology managed to engage people and offered a better way of life, Alswaha said, and the Kingdom had a golden opportunity in the world of digital transformation. "Competitiveness relies on you," he told Saudi youth.
The two-day forum concludes on Thursday.
http://www.arabnews.com/node/1193876/saudi-arabia
--------
Through ties of friendship, Muslim and Jewish women unite against hate
November 15, 2017
Sheryl Olitzky, cofounder of the Sisterhood of Salaam Shalom (SOSS), stood up before a largely female audience of some 630 Muslims and Jews and said, "For every relationship between sisters in this room, there is a ripple effect." She was speaking about more than the rapid expansion of chapters, now numbering 115 across the country, and a growing list of 1,000 women waiting to be placed.
For Saba "Sabs" Khan, a member of the first Essex County chapter, and for others who are part of SOSS chapters where Jewish and Muslim women meet to share their commonalities and explore their differences, that ripple can feel very personal. For Khan, it affected how her son responds to hate.
Her son, who was born and raised in Michigan, was in a summer leadership program focused on neuroscience and psychology in Washington, D.C. During an argument between two groups over rights to the TV room, someone said, "Well, we don't want to negotiate with a terrorist."
Although Khan's son was the only "brown boy" in the group, she said, he didn't even realize he was the target. He told her, "I looked around to see who he was talking to." Once he realized it was him, all the conversations at home about the Sisterhood and interfaith issues came into play, she said.
He calmly told the boy, "That's not cool," and informed him that he would report him for the "really racist" comment. And he followed through.
The fomenting of anti-Semitic and anti-Muslim feelings in the country, and a determination to do something, is attracting new members into the Sisterhood, which held its fourth annual Muslim Jewish Women's Leadership Conference at Drew University in Madison on Nov. 5.
Guest speaker Sen. Cory Booker (D-NJ) talked about the example set by Abraham in Vayera, the Torah portion for that week, and his warm welcome of three strangers who he soon learned were actually God's messengers, as well as how the Jewish and Muslim forefather desperately argued with God to save the mostly evil city of Sodom.
Booker said we should model ourselves on Abraham's "goodness, kindness, decency, and love," and "stand for justice, no matter if we have to fight with God himself." Booker said that even the smallest act of justice can have unexpected benefits. When the former Newark mayor's family moved to New Jersey after his father, the first African-American salesman hired by IBM in Va., was promoted, his parents were told by a real estate agent that every house they liked in the white suburbs had either been "sold" or "pulled off the market."
But having witnessed the brutal beating of civil rights marchers on the Edmund Pettus Bridge in Ala., Marty Friedman, a Jewish lawyer in New Jersey, was moved to act. Friedman linked up with the Northern New Jersey Fair Housing Council, as the agent was in violation of fair housing law, and helped the Bookers get a house they wanted in Harrington Park.
But this year's SOSS conference went beyond inspiring participants to make the world more just. With the maturing of the Sisterhood, now four years old, chapters are considering how to begin the "difficult conversations" that require them to move out of their comfort zones, even to the point of being willing to criticize their coreligionists.
Letty Cottin Pogrebin, founding editor of Ms. Magazine, encouraged chapters to grapple with what she called "the elephant in the room, Israel-Palestine relations."
"You have to be able to hear each other's narrative without feeling like you are losing yourself," she said. "Listening with curiosity is not the same as being converted…. Yom Ha'Atzmaut and the Nakba — you have to be able to hold both in your mind."
Olitzky, however, preached patience, and encouraged SOSS members to wait until they have developed the requisite skills before they rush into those conversations.
"You avoid the complicated discussions until you're ready to listen with your heart and not your ears," she said. "You are seeing the world through your sisters' eyes, learning about the commonalities. As you develop those relationships, then you start entering into the things where you are different."
Just by having these discussions, people run the risk of being considered traitors to their own people or religion.
But conference speaker, Ingrid Mattson, an Islamic studies scholar and interfaith activist, told participants that with the current anti-Muslim and anti-Semitic undertones today, "it is necessary to pull away from comfort of our own group and take risks, to progress and become strong so we can return and rectify the wrongs."
Deborah Wohl, who lives in South Orange and belongs to Bnai Keshet in Montclair, attended a workshop on faith and friendship in an age of extremism. Leading the discussion were Dr. Yehuda Kurtzer, president of the Shalom Hartman Institute of North America, and Imam Abdullah Antepli, a senior fellow in Jewish-Muslim Relations at the Institute and the co-director of its Muslim Leadership Initiative, a formal educational program that allows North American Muslims to explore how Jews understand Judaism, Israel, and Jewish peoplehood. Wohl said she was struck by "the openness" of Antepli.
"What this program does is allow people to be very honest about the strengths and weaknesses of each faith and culture," she said.
At one point Antepli shared an important realization he reached through the initiative: "When I said, 'I am not an anti-Semite, I am anti-Zionist and anti-Israel,' that that was thinly masked anti-Semitism became apparent."
At the end of the conference, participants said they were inspired to take actions both to effect change and to better understand each other. Lawrenceville resident Beverly Rubman, a member of the new Princeton-Somerset chapter (which, she said, still has room for a few more members), said, "Everything in the conference was positive — a feeling that in this world we Jewish and Muslim women matter, and we will stand together in solidarity, and that we are going to spread that message — not just protecting ourselves and those inner worlds of learning and sharing, but all those rings going out to bring that message of solidarity to more and more people."
http://njjewishnews.com/article/35955/through-ties-of-friendship-muslim-and-jewish-women-unite-against-hate#.Wg1cIlSCyzc
--------
Rohingya woman in Bangladesh helps others flee Myanmar
November 16, 2017
Zahida Begum doesn't remember her home village, a tiny speck amid the mountains and forests of Myanmar. She was only 18 months old when her mother smuggled her across the Naf River on a fishing boat, carrying her into Bangladesh, among hundreds of thousands of Muslim Rohingya fleeing persecution in their home country.
Begum has been a refugee ever since. She grew up in Bangladesh's Rohingya refugee camps, and now earns a living working for a string of international aid groups. On quiet days, she's the kind of person who wanders around looking for someone to help.
So when frantic relatives called her in late September to tell her that Myanmar soldiers were burning Rohingya villages and tens of thousands of Rohingya were fleeing, the 28-year-old jumped into action.
She made calls to a half-dozen countries. She raised thousands of dollars. She called in favors and arranged for boats and smugglers.
And one day later, some 400 people — including some of Begum's relatives and other people from nearby villages — were safe.
"Had Zahida not sent those boats, we would have died in Myanmar," said 35-year-old Abdul Matlab, one of the people rescued that night.
Matlab now lives in Bangladesh with his extended family in a small shelter of bamboo and plastic tarp where they sleep huddled together on the floor.
He said from his village alone, Begum saved 70 people. But about 400 others from the village were killed by Myanmar government forces, he said.
Begum, a smiling, self-confident woman in a long black cloak and headscarf, grew up listening to stories about the persecution of Rohingya in Myanmar's Rakhine state, just across the Naf River.
Myanmar's Rohingya have been called one of the world's most persecuted minorities, a community of Muslims in a largely Buddhist country whose government refuses to recognize them as a lawful ethnic minority. Though some Rohingya families have lived in Myanmar for centuries, they are widely disparaged as illegal immigrants from Bangladesh.
Not long before she heard from her frantic relatives in Myanmar, Begum had heard about the start of "clearance operations" by the country's security forces that eventually led to 618,000 Rohingya fleeing their homes and crossing the border into Bangladesh. The United Nations has said Myanmar's actions appeared to be "ethnic cleansing."
Begum knew she had to act quickly. There were mothers and children trying to flee. She remembered her mother's stories of their own journey out of Myanmar in 1990, when more than 250,000 Rohingya fled to escape forced labor, rape and religious persecution.
Begum told the group she was in contact with that they should make their way toward the Naf River border and wait for more instructions.
"I called my brother-in-law, who lives abroad, and told him our brothers and sisters have arrived near the river, and asked him how we can bring them across to Bangladesh," said Begum, who works as a translator and door-to-door health educator for aid and rights organizations including Human Rights Watch.
With the help of relatives in Australia and Malaysia, Begum said she raised more than $4,000 in a matter of hours. The money was wired to her through a shady middleman who charged a hefty fee.
She then contacted a fisherman in the Bangladeshi coastal village of Shamlapur, close to her home in the congested Kutupalong refugee camp, and asked him to hire two boats and set them off toward the Myanmar border.
Eventually, 70 families were brought out in the two boats, which had traveled more than 60 kilometers (100 miles) from Bangladesh to the pickup point in Myanmar, traveling through the Bay of Bengal and along the Naf River under the night sky. The smugglers charged more than $4,200.
Begum waited for the boats in Shamlapur, and first settled the new refugees around her own bamboo-and-tarp home. Eventually, she used what was left of the money, combined with more donations she had received, to give each family $35, then sent them to another refugee camp nearby to build their own shelters.
"If they are safe and healthy, I am content," Begum said when asked why she decided to help. "Nothing makes me more happy than that."
http://www.thedailystar.net/rohingya-crisis/zahida-begum-rohingya-woman-in-bangladesh-helps-others-flee-myanmar-1492057
--------
Pennsylvania: State Commission For Women Gets First Muslim Member
Nov 15, 2017
The governor's office appointed the first Muslim woman to serve on the Pennsylvania Commission for Women last month.
After being appointed on Oct. 18, Salima Suswell said she realized immediately that she was the first Muslim out of about 30 members over the commission's two-year existence.
"I'm grateful. I feel like it's a great time to have a Muslim woman, particularly an African-American Muslim woman, in a leadership role that affects change for women and girls in the Commonwealth of Pennsylvania," said Suswell, the CEO of Evolve Solutions.
"I think that through my role with the [commission], people will take notice — 'Wow, here it is a young African-American woman who is Muslim, who wears Hijab, that is getting things done.' Because of that, I find myself sort of pushing myself to do more. I feel like it's a responsibility for myself to be present, to be at the table when decisions are being made that affect my community," she added.
Even as a minority, however, Suswell says her service will not be devoted solely to people who look like her, but will be oriented toward women in general but with a specific interest.
"Muslims are women and girls. We have the same needs as all women and girls, so definitely I maintain a certain perspective based upon the unique needs of the Muslim community. However, I'm here at service to the commonwealth for all women and girls," she said.
"I have an interest in serving the African-American girls and young women and girls that are a product of DHS. Based upon my research, a lot of the women in prisons — they have come through the foster care system. It's a lot of things that have happened to girls that came through the foster care system and I want to pay special attention to that group. I want to identify the issues and also develop solutions."
The commission meets quarterly and, according to its statement of purpose, is "responsible for advising the governor on policies and legislation that impact women; supporting economic and civic opportunities for women; encouraging mentoring programs for girls and young women; identifying programs and opportunities for the benefit and advancement of women; and serving as a resource center for Pennsylvania women."
Prior to her appointment, Suswell consulted with the governor's office on Muslim affairs and was an adviser to the planning team for the Eid-al-Adha dinner at the governor's mansion for the past two years.
"Part of our mission is to represent the diverse needs and interests of women all across the commonwealth," said Megan Healey, executive director of the commission. "As a Muslim woman with strong ties in her community, Salima will bring a welcome perspective that will further serve Pennsylvania's women and girls."
Throughout her career, Suswell has advocated for the Muslim community on a grass-roots level and in political circles.
She, along with other Muslim leaders and elected officials, organized an effort that resulted in Mayor Jim Kenney and the School District of Philadelphia recognizing the Eid holy days on the public school calendar, closing schools for all staff and students, and City Council adopting a 2016 resolution to recognize the holy days as official holidays.
Suswell also serves as an executive committee member for the Council of American Islamic Relations-PA, which advocates against discrimination and hate toward Muslims. In 2016, she served as the Democratic National Convention's chair of the Muslim-American Host Committee, coordinating events for Muslims from across the country.
"If I were to describe Salima with one word, it would be balance — the balance of being a mother, being a Muslim, being a wife, being a professional, being a leader — and making it look easy. I'm impressed with that ability to juggle priorities and still get stuff done," said City Councilman Curtis Jones.
Jones worked with Suswell on the Eid holiday resolution, and she works as a consultant for his office on special projects and Muslim community affairs.
"She deals with a bunch of males, which ain't easy, strong-willed alpha males, and she will diplomatically navigate all of us to keep us focused," Jones said. "That is not easy, to keep our eyes on the prize."
Suswell's work for the Commission for Women is volunteer. She does not think of herself as a pioneer, but is considering and preparing for the next mission.
"I'm still young and I've done a lot in my years but I have so much more I am planning to do," she said. "I am excited about what I am going to do."
http://www.phillytrib.com/metros/state-commission-for-women-gets-first-muslim-member/article_c97b197c-51a3-5af2-ac45-2ed05a84a71a.html
--------
PPP empowering women at every level: Nasir
November 16, 2017
KARACHI - Sindh Minister for Transport, Information and Labour Syed Nasir Hussain Shah has said that the PPP is initiated various programmes of women empowerment under vision of Shaheed Mohatarma Benazir Bhutto and the Chairman PPP Bilawal Bhutto Zardari, Government of Sindh is taking concrete steps in this regard at every level in every sector to further empower women in a practical manner. This he said while speaking at Soft Skill and Vocational Training joint initiative taken by the Paxi Pink Taxi Service in collaboration with the IAct and Habib Foundation at Malir Saudabad.
The Minister Transport while appreciating the service of Paxi Pink Taxi Service that this would be extended to other divisional and district level of the Sindh province so that commuters of the respective areas would also get such modern and rapid service at affordable rates in this regard all possible cooperation and assistance would be provided to the companies.
Syed Nasir Hussain Shah has further said that to empower women such taxi service who driven by educated talented women pilots is a practical step and support to them is a chain of PPP Manifesto and vision to led the women in main stream as they are playing an important role in the society and it would be encouraged at every level to provide not only good education and skills but ensure the safety and protection to them so that their parents who allowed them outside the home they should be satisfied and their trust could not be melted at any cost.
Earlier, CEO Paxi Pink Taxi Service Shaikh Muhammad Zahid COO, Arif Khan, Head of Projects Institute of Advancing Careers and Talents (iACT), Faheem Bokhari, First ever Women Pot of Taxi Kiran Rao, Salman Ellahi of Pakistan Blind Sports Association and other highlighting the one and half month training course for women pilots including life skills personality development, customer services, personality grooming besides learning of English language and First Aid. Paxi and Government of Sindh is already in MoU to extend such service and to extend further projects across the Sindh. Shield was also presented by Owner of Paxi Salim Shaikh to the Guest.
http://nation.com.pk/16-Nov-2017/ppp-empowering-women-at-every-level-nasir
--------
URL: https://www.newageislam.com/islam-women-feminism/tiss-woman-denied-job-delhi/d/113245
New Age Islam, Islam Online, Islamic Website, African Muslim News, Arab World News, South Asia News, Indian Muslim News, World Muslim News, Women in Islam, Islamic Feminism, Arab Women, Women In Arab, Islamophobia in America, Muslim Women in West, Islam Women and Feminism