New Age Islam News Bureau
7 Sept 2017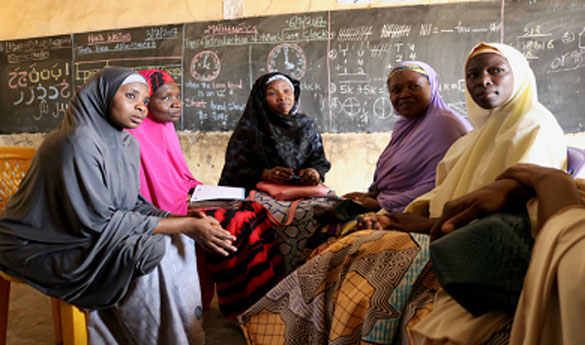 Members Of The Angwan Rogo Peace Network With Hadiza Adam (Center). Photo: Un Women/Ladi Eguche
--------
• Iran Establishes Special Parliament for Women
• Woman who sought to join Islamic State group gets 8 years
• Uniform Civil Code: Modi's concern for Muslim women lacks sincerity
• Girls college teachers protest 'manhandling' by officials
• 'Malala hate' is still real in Pakistan
• Rights group: Cops forced 12 women from village over sexuality
• Iran hackers demand women be allowed to watch football
• Saudi Labor Ministry: Number of women working in retail reaches 200,000
• Sisters who survived family suicide in recovery
• Iraq suspects four Germans, including teen girl, of supporting Islamic State
• DAP dismisses claim that Guan Eng bullied PKR woman rep
• Over a million women pilgrims perform the Haj: GaStat
Compiled by New Age Islam News Bureau
URL: https://www.newageislam.com/islam-women-feminism/tired-communal-conflicts-northern-nigeria/d/112461
--------
Tired of communal conflicts in northern Nigeria, women-led peace networks take action
09/06/2017
"We need peace. We are tired of conflicts. So many innocent people have died and we have to stop the violence. That is why I contribute to peace-making", says Hadiza Adam, a 38-year-old woman from Angwan Rogo community in Jos North, located in the northern Nigerian state of Plateau.
At least 4,000 people have been killed in the recurring communal violence in the Plateau State since 2001. The predominantly Muslim community of Angwan Rogo, 2.1km (1.3 miles) from the state capital, Jos, was one of the hardest hit areas. The ethno-religious crisis was precipitated by political and economic rivalry, and disputes among indigenous and non-indigenous groups. Tensions continue to simmer over land rights, allocation of state resources, as well as politics and religious differences, among other issues.
Ms. Adam is one of the 400 members of the women-led peace network in Plateau State, created with the support of UN Women under the European Union-funded programme, Promoting Women's Engagement in Peace and Security in Northern Nigeria. The four-year programme (2014-2018) supports the Nigerian Government in three northern states (Plateau, Adamawa and Gombe) in strengthening women's leadership, advancing gender equality and improving protection for women and children in conflict settings. It is being implemented in partnership with the federal and state ministries of women affairs, UNICEF and grassroots leaders and organizations.
Maijidda Garba, 43, leader of the Angwan Rogo peace network describes their efforts to unite communities of different faiths: "We went to churches to share our mission to bring Muslims and Christians together again. They said they wanted the same thing, asked where we were from and if it was safe for them to visit. We decided to organize a meeting in Angwan Rogo to foster more interaction. It was a truly beautiful experience. That was the first time many of the Christians had stepped into our community since 2001. Some of them used to live here."
Nearby, in Farin Gada community, where the population is segregated into a Christian area called Agwan Jarawa and a Muslim area called Sabon Layi, Agnes Wanpe, 50, echoes similar sentiments: "We stopped interacting after the 2001 crisis. It is because of the UN Women programme that our community is more united now. Members of the peace network, both Muslims and Christians, meet at the end of every month. We discuss the issues facing the Farin Gada community and escalate any serious concerns to the community leaders."
Aisha Usman, 33, leader of the Farin Gada peace network adds, "women have realized that we have so many things to speak about, but previously did not have the channels to do so. We have been enlightened on the importance of making peace right from our homes because, we, women have a significant role to play." Ms. Usman goes on to say: "the women peace network was able to bring the community leaders from Agwan Jarawa and Sabon Layi together for the first time in decades. They had previously not met, even before the 2001 crisis".
'It is gratifying to see the efforts of women supported by the EU-funded programme bearing fruit," says UN Women Programme Manager, Njeri Karuru. "Strengthening women's engagement in peace dialogue and mediation is part of the peace building process and could lead to sustainable peace, and the women-led peace networks in Jos North clearly illustrate this."
In Plateau State, UN Women-supported women peace networks are active in four local governance areas of Jos North, Mangu, Riyom and Wase. The networks are increasing the participation of women in conflict prevention, peace-making and peacebuilding, thus furthering the Nigerian government's commitment to implement the provisions of UNSCR 1325 through the National Action Plan. Plans are underway to expand the peace networks in Adamawa, Gombe and Plateau states.
huffingtonpost.com/entry/tired-of-communal-conflicts-in-northern-nigeria-women_us_59b01f32e4b0bef3378cdce4
--------
Iran Establishes Special Parliament for Women
September 6, 2017
According to a provincial official, 'Women's Parliament' is a new initiative based on which female representatives of all cities and villages of the province will gather in a council to discuss and help resolve local issues regarding women.
Just like the national parliament, the 109 female members of this local parliament will discuss plans and motions, and if approved, will send them to the Provincial Commission on Women's Affairs.
"Khorasan Razavi province in northeastern Iran is the first province to establish such special parliament for women," Iranian Vice-President for Women and Family Affairs Massoumeh Ebtekar said.
In the latest City and Village Council elections in Khorasan Razavi, 290 women candidates managed to open their way into the local councils, which shows a 20-percent growth compared with the last year's elections, she added.
"This shows that the presence of women in the decision-making processes in various cultural, social, political and environmental fields across the cities and villages is highly significant," a Farsi report by ISNA quoted her as saying.
Speaking in a meeting with members of local NGOs, Ebtekar added, "The formation of women's parliament is a turning point."
"As of today, women will play a key role in the decisions made on the municipal affairs of the province. The government will monitor their decisions to measure their practical effects on the society. Meanwhile, their non-governmental and voluntary efforts to attract more women in the executive field of the government are taken seriously by the government," she said.
The vice-president went on saying the significant move in Khorasan Razavi province can decrease dramatically the social problems of the province. "We are closely monitoring the changes and we are sure that they will have prominent effects on the society," she said.
ifpnews.com/exclusive/iran-establishes-special-parliament-for-women/
--------
Woman Who Sought to Join Islamic State Group Gets 8 Years
Sept. 6, 2017
PHILADELPHIA (AP) — A Philadelphia mother who admitted to plotting to travel to Syria to aid the Islamic State group and spent years spreading the terrorist organization's message online said she isn't an evil person before being sentenced to eight years in prison Wednesday.
Authorities said Keonna Thomas lived a double life, one as a hardworking mother of two children, the other as an outspoken online personality who spread violent propaganda, took steps to travel to the Middle East and maintained close relationships with radicalized figures, including an Islamic State fighter who prosecutors said she married online.
"I'm not a evil or malicious person," Thomas, 33, said. "I'm just someone who, I guess, at one point, was impressionable."
She was arrested in 2015 and pleaded guilty last year to attempting to provide material support to a terrorist group.
Prosecutors compiled Thomas' social media postings and her correspondence with a known overseas Islamic State fighter, a radical Islamic cleric and a Somalia-based jihadi fighter to establish evidence of her willingness to support and join the terrorist organization.
In 2015, she said it "would be amazing" to participate in a martyrdom operation around the same time she bought an electronic visa and conducted online research regarding indirect routes into Turkey, a frequented point of entry for people seeking to slip into Syria and join the Islamic State group, according to an affidavit that cited a Islamic State group manual.
Thomas, who went by the online moniker "YoungLioness," also sought to raise money for the terrorist organization, re-posting a statement from a Twitter user that read, "Did you know... For as little as $100 you can provide a #Mujahid with his basic necessities for 1 month?" A mujahid is person who engages in jihad.
But as prosecutors lined up examples of her descent into racialization, Thomas' attorneys depicted her as woman with a troubled soul. They said she fell prey to promises of an Islamic utopia in Syria that could give her the kind of pious life she couldn't get in the local Muslim community.
"She lost her way, in a very, very real way," her attorney, Kathleen Gaughan, said at Thomas' sentencing hearing.
Thomas spent countless hours between 2013 and 2015 absorbing Islamic State propaganda and became enthralled with the idea of marrying a faithful Muslim man, according to a her attorneys. And when she found what she was looking for through communications with a member of the Islamic State group, Thomas made arrangements to join him in the Middle East.
"Trust me u haven't seens anything yet," the Islamic State member wrote to her in December 2014 after she congratulated him for starting to train with the terrorist group in Raqqa, Syria, according to an affidavit. "U need to be here to see it."
Copyright 2017 The Associated Press. All rights reserved. This material may not be published, broadcast, rewritten or redistributed.
usnews.com/news/us/articles/2017-09-06/woman-who-sought-to-join-islamic-state-group-to-be-sentenced
--------
Uniform Civil Code: Modi's concern for Muslim women lacks sincerity
06-09-2017
SUMAN QUAZI
History was made when the Supreme Court declared instant triple talaq unconstitutional. Moments later, BJP leader Subramanian Swamy told a television channel (and the entire nation), "Uniform Civil Code (UCC) should be the next step."
Celebrations over the Supreme Court verdict had not even ended when the landmark judgment was reduced to a decoy for a larger political agenda.
This was not the first time the Hindu Right had piggybacked Muslim women to carry out its agenda. The trend is as old as the movement itself. So, while it was gut-wrenching to see bhakts hailing BJP for the verdict, it wasn't shocking at all.
Modi ji's promise to his Muslim sisters had reached the perfect climax, one that would have been predictable had we paid more attention.
In 1987, when Shah Bano, a poor and desolate woman, sought maintenance and failed, BJP called for a UCC.
In 2005, when Imrana sought justice for being raped and instead received a fatwa, BJP called for a UCC.
In 2017, when the entire gamut of Indian Muslim women sought equality and won, BJP called for a UCC.
On October 7, 2016, less than 10 months before the passing of the judgment, the Law Commission of India released a "Questionnaire on Uniform Civil Code" under an order issued by the Law Ministry.
This controversial questionnaire sought public opinion on personal laws in an attempt to gauge if India was ready to be homogenised. That the current chairman of the law ministry is senior advocate Ravi Shankar Prasad, the lawyer in the Ayodhya Ram Temple case, might be purely coincidental.
The minorities have been suspicious of the UCC from the very beginning. Their suspicions are not ill-founded. To begin with, the order that was issued to the Law Commission mentions three major impediments to the successful implementation of UCC - separatism, conservatism and misconceived notions of personal laws.
Albeit ambiguously, the order seems to be targeting Muslim Personal Law. Even back in the 1990s, the argument that had been pushed forward was that since Hindu laws had successfully carried out many reforms internally, unlike the Muslim laws (which remain uncodified), the former was the right basis for a UCC.
The dubiousness surrounding a UCC - with no other drafts except a schematic one in the BJP manifesto - its legality with respect to the constitutional confusions that arise from the challenges that article 25 poses to article 44 and its repeated use by the Hindu Right to undermine Muslim Personal Law in its half-baked effort to uphold constitutional morality, are all part of a necessary but different debate.
Giving Modi credit for the verdict on triple talaq is problematic. As Hasina Khan, an important leader in the Muslim women's rights movement said, "The jingoistic congratulations of the ruling BJP government for its univocal support to the cause of Muslim women feels like an appropriation of the decades-long struggle by grassroots women's groups who worked with the Muslim community. After all, it was women, not the government, who went to the judicial system to seek redress in the courts."
It doesn't take a genius to understand BJP's support for Muslim women and see its dirty political game. The question that needs to be asked here is, how long can Muslim women be treated merely as baits of the saffron brigade?
A quick look at the history of the Indian Muslim women's rights movement amply clarifies the reasons for some of its failures. The primary amongst them is the continued pitting of Muslim women against the rest of the community, to further majoritarian agendas.
It is true that Modi ji's support was missing when it came to Bilkis Bano and the widowed and harrowed wives of Pehlu Khan and Mohammad Akhlaq. If he truly is on our side, then how is it that his selectively liberal shoulders are only there for women to cry on as long as they are complaining about triple talaq? The PM's sworn allegiance to Muslim women has been questioned on innumerable accounts and while all these questions are valid, I have a new one to ask.
If you are with us then why is your government pushing for a legislation that has been unanimously denied by all Muslim women and Muslim women's rights groups? The truth is we didn't want triple talaq and we do not want a UCC.
The history of women's rights movement in India resembles one that is not only scattered but also for the most part exclusive. However, it was during the 1980s and the 1990s that women's rights movements gained some uniformity, if not in terms of ideology, then at least in terms of organisation.
Together, the growing forces of regionalism, majoritarianism and democracy contributed to the beginning of a new era in Indian women's rights movements, generally and Indian Muslim women's rights movements, specifically. With the passage of time, the movement bifurcated into what Mogadham explains as 'Muslim' feminists and 'Islamist' feminists. While the former seeks to find redressal outside Muslim Personal Laws, the latter seeks it within the tenets of Islam.
These two sects find semblance in groups such as the AeN (Awaaz-e- Niswaan) and BMMA (Bharatiya Muslim Mahila Andolan) in India, both of which have played different but equal roles in the larger movement for women's emancipation.
So, whether it is a more traditional approach as say the BMMA partakes in, which has pushed for reform within the MPL or the more liberal perspectives, as adhered to by AeN, which wants to do away with the MPL, neither have ever wanted and equivocally denied the UCC.
Even groups such as AeN that have lost hope in reforming the MPL have demanded a new body of gender-just laws, sharing the same insecurity with respect to UCC.
The continuing tussle between Muslim women's rights vis-à- vis minority identity has amply contributed to the impasse the movement has reached. But the vile and vicious manner in which this impasse has been fanned and protected by the forces of Hindu majoritarianism, would have perhaps been more bearable, had it not been for their perfunctory support.
Calling the triple talaq verdict a necessary move for the 'way ahead' might serve the needs of your bandwagon, dear Prime Minister. But with this verdict, we have carved nothing more than the pathway for our eventual and total freedom and not a legislation we do not want. We will get our freedom with or without your bogus and phony support.
dailyo.in/voices/triple-talaq-uniform-civil-code-muslim-women-narendra-modi/story/1/19366.html
--------
Girls college teachers protest 'manhandling' by officials
September 07, 2017
ABBOTTABAD: The teachers of Government Girls Degree College No 1, Abbottabad, on Wednesday protested alleged manhandling of the principal and teachers by the assistant commissioner and ASP police, and demanded action against them.
Khyber Pakhtunkhwa Colleges Teachers Association has set a two-day deadline for action against the officers for entering the college along with police personnel and allegedly misbehaving with the college principal and teachers before Eid holidays.
A four-member action committee has been formed to take up the issue with the authorities. It threatened that protest rallies and boycott of colleges across Khyber Pakhtunkhwa would be held in case their demand for removal of assistant commissioner Rohan Barhana and ASP Taswar Iqbal was not met within two days.
The protesters said sanctity of girls educational institutions was violated when the government officials entered it without any intimation and approval by the high ups of education department. They said their action had created panic among students. They said the officers even entered the classrooms and drew pictures.
The protest rally was taken out from Government Boys College No 1, Abbottabad which, after passing through various roads, ended in front of the deputy commissioner's office.
The rally was addressed by office-bearers of KP college teachers association.
They said the teaching community was the most humble segment of the society and never thought of coming onto the roads, but the illegal and unlawful act by the district administration and police officials had forced them to do so.
Prof Dilawar, a participant of the rally, told reporters on the occasion that they had asked both the AC and ASP to tender an apology to the college principal and teachers for their 'illegal step', but they had refused. He said the officers had violated the code of conduct, especially for the women educational institutions, where no one except the secretary education could visit. The reason for the alleged raid at the college by the AC and ASP could not be known. The action has been condemned by civil society organisations.
dawn.com/news/1356129/girls-college-teachers-protest-manhandling-by-officials
--------
'Malala hate' is still real in Pakistan
Pamela Constable
September 07, 2017
ISLAMABAD: It's safe to say that most people in Pakistan were glad that Malala Yousafzai, then a 15-year-old student, did not die from the bullet wounds a group of Taliban militants left in her face and neck when they ambushed her school bus in Swat in 2012.
It's probably also safe to say that two years later, most Pakistanis were proud — even if that pride was mingled with other, more complicated emotions — when Ms Yousafzai, an activist for girls' education, became at 17 the youngest person ever to win a Nobel Prize and her country's second Nobelist.
Beyond that, the young woman's story has become so distorted by a bewildering list of honours and accomplishments, and a parallel litany of accusations and suspicions, that it is almost impossible to generalise how she is viewed by her fellow citizens — except that they seem exhausted of hearing about her.
Two weeks ago, Ms Yousafzai announced that she had been accepted to study at Oxford University—her tweet was politely couched in praise for her fellow winning candidates.
"So excited to go to Oxford!! Well done to all A-level students - the hardest year. Best wishes for life ahead!" Malala posted on her Twitter account on Aug 17.
The British press loved the story, but there were few mentions in Pakistan's media. Reaction from Pakistanis on social media ranged from sincere and congratulatory to snide and envious.
"Well done, Malala," one man posted on Facebook, praising her humanitarian efforts and success abroad but noting wistfully that many Pakistanis were unable to get ahead except by bribery.
"Time to shoot myself in the head for my next degree," sneered another person on Twitter, using an expletive to suggest she had done little to deserve it. While some called her a hypocrite and fake, others called her father— a principal by profession— an agent for Israel and the Central Intelligence Agency.
On Tuesday, police officials in Karachi reported that they killed several suspected Taliban and ISIS militants in a raid and shootout, including one who they said was involved in the attack on Ms Yousafzai.
The news made headlines but drew little public interest. News reports seemed sceptical of the police claims. They included scant detail of the long-ago incident and no photos of Ms Yousafzai. The coverage had a perfunctory, "old news" tone.
In a way, it is understandable that this young woman — who appears to have remained a gracious and modest individual despite her global celebrity — has nevertheless become a permanent lightning rod for the muddled grievances, conspiracy theories and thwarted ambitions of a struggling society. A society where many people look to "foreign hands" to blame for their problems and may resent the limelight that comes to some, but only a few, of those who have suffered.
By some estimates, more than 30,000 Pakistanis have been killed in a decade of terrorism and conflict. Ms Yousafzai survived and then went on to become a best-selling author, a winner of numerous international prizes and a United Nations Messenger of Peace.
Now she is going to Oxford to study philosophy and politics.
By arrangement with The Washington Post.
dawn.com/news/1356162/malala-hate-is-still-real-in-pakistan
--------
Rights group: Cops forced 12 women from village over sexuality
September 6, 2017
JAKARTA, Indonesia -- A rights group is calling on the Indonesian government to immediately investigate a raid by police and village leaders that forced 12 women described as lesbians out of their community.
Human Rights Watch said Wednesday that the Sept. 2 raid and eviction in West Java province's Tugu Jaya village violated rights to privacy, non-discrimination and basic due process.
Homosexuality is not illegal in Muslim-majority Indonesia, but anti-gay discrimination has increased since early 2016 when officials began calling for society to reject LGBT individuals.
The country faced international condemnation in May when two men were publicly flogged in conservative Aceh province for gay sex after vigilantes broke into their home and reported them to Shariah police.
The rights group says the raid of the women's homes in Tugu Jaya came after local Islamic youth groups and religious leaders complained that their cohabitation was against the teachings of Islam.
"What's most offensive about this incident is that police and government officials steamrolled privacy rights and rule of law to appease the bigotry of a few neighbors," it said.
cbsnews.com/news/indonesia-lgbt-women-west-java-lesbian-human-rights-watch-raid/
--------
Iran hackers demand women be allowed to watch football
Sept. 7, 2017
TEHRAN — The website of Iran's main stadium was hacked on Wednesday with a demand that women be allowed to watch football matches, a day after female lawmakers were permitted to attend.
Iran's nail-biting World Cup qualifier against Syria in Tehran's Azadi stadium was notable for more than just the last-minute equalizer by the visiting team.
The presence of at least two female lawmakers was thought to be the first time Iranian women were allowed to watch a men's match since the 1979 revolution.
The next day, the ISNA news agency said the stadium website had been hacked, with a banner placed across the front page for several hours saying: "Let Iranian women enter their stadiums".
It emerged that the Ministry of Sport had granted special permission for female members of parliament to attend the Syria match following a request by lawmaker Tayebeh Siavoshi.
Some women MPs rejected the offer.
"At a time when girls of this country have no choice but to dress as men to get into the stadium, I as a representative of these people would not like to be present in the stadium by receiving a special permit," Parvaneh Salahshouri, another member of parliament, told the reformist Shargh newspaper.
"I go in when they too can come in," she said.
But Siavoshi accepted the invitation, saying it was a sign of progress.
"I believe we should make officials hear our demands through proper channels. I went to the stadium for this very demand," she told the Etahmad newspaper.
Sports Minister Masoud Soltanifar suggested further change could be coming.
"We will try to pave the ground for the presence of families in stadiums by consultation and coordination," he said, according to the Tasnim news agency.
"I am confident that the fans would respect boundaries which need to be respected."
Female foreigners are allowed to attend matches, and many noted the presence of Syrian women in the crowd at Azadi stadium on Tuesday night.
That prompted a rare comment by one of the announcers on state television, saying it was "a shame" that Iranian women were barred.
Women are not allowed to watch men's football — and some other sporting events such as wrestling — because the atmosphere is considered too vulgar for them.
Some gather outside the stadium during matches as a protest, while many also sneak through the gates in disguise.
President Hassan Rohani has vowed greater freedoms for women as part of a liberalizing agenda that helped secure him re-election in May.
He has faced criticism from reformists after failing to appoint a single female minister, but his defenders say he is trying to avoid too direct a clash with the conservative establishment and has appointed several women outside the cabinet.
The issue of women and sport remains fraught and unpredictable, with females suddenly banned from volleyball matches in 2014 only to be gradually allowed to return in segregated seats.
This week, there was joy and surprise for female football fans when they were allowed to buy tickets for the Syria match on the Azadi stadium website, only for officials to say this was due to a "technical glitch" and that their tickets would be refunded. — AFP
saudigazette.com.sa/article/516658/World/Mena/Iran
--------
Saudi Labor Ministry: Number of women working in retail reaches 200,000
7 September 2017
JEDDAH: A report released by the Ministry of Labor and Social Development in revealed that the number of Saudi female workers in the retail sector reached about 200,000, despite the difficulties facing the Saudization of the female workforce in this sector since 2011.
Faten Al-Sari, acting head of the women's employment policy and programs at the Labor Ministry, said that the ministry is trying to solve the problem of transportation facing working women.
Al-Sari noted that 400 vouchers have been distributed to test the possibility of using smart technology offered by Uber and Careem car transportation companies. She also said the ministry hoped to increase the number of women benefiting from this new technology to 150,000 by 2020.
Dr. Al-Sari stressed the importance of the decisions regarding the Saudization of women's jobs in the labor market since 2011, and said that the third phase of this program would start within weeks.
arabnews.com/node/1157086/saudi-arabia
--------
Sisters who survived family suicide in recovery
September 6, 2017
Sharjah: The two sisters who survived a group family suicide attempt on August 29 are recovering and their condition is improving, an official at Obaidallah hospital in Ras Al Khaimah told Gulf News on Wednesday.
The official said the two sisters had been transferred to the psychological unit in the hospital to assess their mental and psychological condition.
The women are reportedly the nieces of a woman who along with her husband and son committed suicide in an incident police say was motivated by financial burdens.
The two sisters, identified as D.I., 17, and P.I., 27, are being kept under medical observation.
The girls told the medical staff that the family had lived in UAE for a long time and had moved to a hotel apartment in Sharjah as their residency visa had expired and they could not rent a house without legal residency.
The father had several financial cases against him for outstanding bank loan obligations.
The family is of Sri Lankan nationality.
At one point, the father had decided to surrender himself to police, but his wife threatened to kill herself if he did so.
The entire then family decided to end their lives with the father penning a suicide note giving reasons for why he and his family had decided to end their lives.
The two sisters will be handed over to Sharjah Police once their condition improves.
Investigations into the incident are continuing.
The bodies of the 55-year-old man have been identified as J.K. and his 54-year-old wife, B.S., and their 19-year-old son, J.N., were sent to Al Kuwaiti Hospital, and thence to the forensic laboratory for autopsy.
The two women who survived received treatment at Al Kuwaiti Hospital and were transferred to Obaidallah Hospital in Ras Al Khaimah for psychological assessment.
The incident came to light on August 29 at 2.30am when the man jumped to his death from the 7th floor of the building and a witness in a neighbouring building immediately reported the incident to the police operations room.
Police and forensic experts rushed to the scene of the incident.
Upon checking the identity of the man, police found that he had been residing in the same building from which he jumped to his death.
The police immediately visited his seventh floor apartment and found it doubled locked from the inside upon which they obtained permission from public prosecution and broke the apartment's front door and entered the house.
Inside, they found an older woman and two young women in a pool of blood with their wrists slashed while the son's body lay on the ground covered with a white sheet.
gulfnews.com/news/uae/crime/sisters-who-survived-family-suicide-in-recovery-1.2086178
--------
Iraq suspects four Germans, including teen girl, of supporting Islamic State
09/06/2017
Iraq has opened an investigation into four Germans, including a 16-year-old girl, suspected of sympathizing with the Islamic State (IS) group, the German Foreign Ministry said Wednesday.
Authorities in Germany said in July that the four, all of whom are female, were located as Mosul was liberated from IS.Officials are attempting to find out whether the suspects can return to Germany for investigation, according to the Associated Press. Berlin's Foreign Ministry spokesman Martin Schaefer said Iraq can legally demand that they stand trial there.A number of teenagers in Western countries have been arrested on suspicion of sympathizing with IS or planning attacks inspired by the group, including in France, Austria, and the United States.
A teenage girl in Germany was convicted in January of stabbing a police officer, an assault allegedly "ordered" by the Islamic State organization but which was not claimed by the jihadist group.The teenager was already known to police before the attack as she had sought to travel to Syria to join IS fighters a month earlier.Her mother flew to Istanbul to bring her home and as they landed back in Germany, Safia S. was taken away by police and interrogated over her botched attempt to reach the war zone.Germany's domestic intelligence agency (BfV) warned in 2015 that a growing number of women had gone to Iraq and Syria to fight alongside IS militants. Hans-Georg Maassen, the head of the agency, told reporters in Berlin there had been a sharp increase in the number of young women under 25 leaving Germany to join the insurgents.
i24news.tv/en/news/international/154831-170906-iraq-suspects-four-germans-including-teen-girl-of-supporting-islamic-state
--------
DAP dismisses claim that Guan Eng bullied PKR woman rep
September 7, 2017
PETALING JAYA: Selangor state assembly speaker Hannah Yeoh defended DAP secretary-general Lim Guan Eng over accusations that he had bullied Penanti assemblywoman Dr Norlela Ariffin in the Penang state assembly.
Referring to a statement released by Puteri Umno chief Mas Ermieyati Samsudin yesterday, Yeoh said after having served as Subang Jaya assemblywoman for nine years, she can tell if someone is being bullied.
"As a state assemblywoman, I have not been able to get things done my way all the time.
"But nine years in politics have given me just enough experience to identify a political bully when I see one and I will tell you Guan Eng is definitely NOT one," Yeoh wrote on her Facebook wall today.
Mas Ermieyati had accused Guan Eng of bullying Norlela saying it was uncalled for.
"What Guan Eng did was most regrettable. Women may be weak but this does not give the Penang chief minister the right to belittle Dr Norlela.
"As a woman, I can say this should not have happened. We must not allow any man or even another woman to bully us," said Mas Ermieyati, who is the Masjid Tanah MP and deputy tourism and culture minister.
Yeoh turned to her own experience in the Selangor state assembly to counter the Umno leader's argument.
"Just because a woman doesn't get what she wants in the state assembly or parliament doesn't mean she is bullied.
"If she is corrected by her peers in the House for indiscipline, incompetency or lack of maturity, it does not mean others are bullies.
"From my own experience as Speaker, when a ruling or decision has to be made and it is not favourable towards a woman/women leaders, I will not entertain talks of 'not supporting my own'," she said.
Yeoh also addressed the issue of Norlela having been driven to tears in the Penang state assembly when her pleas for the shutting down of an illegal carbon filter factory went unheeded.
"Just because you cry doesn't mean others must give you what you want.
"We don't do that for our children who throw tantrums and we shouldn't be expected to do the same in politics.
"Threats to quit and throwing tantrums are signs of immaturity," she said.
Yeoh, who is also a vice-chairperson with the DAP Women' wing, said it would be wrong to let the women empowerment argument be used to cover up insufficiency.
freemalaysiatoday.com/category/nation/2017/09/07/dap-dismisses-claim-that-guan-eng-bullied-pkr-woman-rep/
--------
Over a million women pilgrims perform the Haj: GaStat
Sept. 7, 2017
MAKKAH — A total of 1,334,080 men and 1,018,042 women have performed Haj this year, according to the latest statistical report by the General Authority for Statistics (GaStat).
It said the number consisted of both the pilgrims coming from outside who were 1,752,014 and the domestic Hajis who were 600,108.
The report said the pilgrims from the non-Arab Asian countries were 1,042,335 constituting about 59.49 percent of the total number of the pilgrims while 186,873 came from the non-Arab African countries with a ratio of 10.67 percent.
According to the report, there were 84,894 pilgrims who came from a number of European countries and 22,268 from North and South America in addition to Australia.
The report said the pilgrims who came from the Arab countries were 383,044 while those who came from the GCC countries were 32,600.
It said 229,308 pilgrims came from various regions of the Kingdom while 370,800 came from Makkah and consisted of both Saudis and expatriates.
The pilgrims who came from Makkah consisted of 79,116 Saudis and 291,684 non-Saudis. According to GaStat, 1,648,332 outside pilgrims arrived by air, 14,827 by sea and 88,855 by land.
The report said the manpower, which was in charge of providing services to the pilgrims, were157,538 consisting of 30,870 who provided health and ambulance services, 86,987 in charge of the distribution of electricity and water and 35,938 in the transportation and other logistical sectors.
This is in addition to more than 300,000 military and civil personnel who provided security to the Guests of God.
saudigazette.com.sa/article/516676/SAUDI-ARABIA/Haj
URL: https://www.newageislam.com/islam-women-feminism/tired-communal-conflicts-northern-nigeria/d/112461
New Age Islam, Islam Online, Islamic Website, African Muslim News, Arab World News, South Asia News, Indian Muslim News, World Muslim News, Women in Islam, Islamic Feminism, Arab Women, Women In Arab, Islamophobia in America, Muslim Women in West, Islam Women and Feminism