New Age Islam News Bureau
03 January 2022
• Afghan Woman Freezes To Death Near Turkey-Iran Border
• Islamic Emirate Of Afghanistan Close Women Baths In Northern Afghanistan
• 'Bulli Bai Came Post Narsinghanand Campaign': Hyderabad Muslim Woman Alerts Cops
• China Donates Study Centre For Balochistan Women At SKB University
• Victims Turned Activists: Iraqi Women Battle Abuse
• Delight For Saudi Women's Team After Finishing Second At 2021 Arab Weightlifting Championship In Iraq
• Najd Crowned Women's Handball Champions
• The Entrepreneur Helping Middle Eastern Women Enter The Digital Economy
• Young Activists Combat Stereotypes To Prevent Violence Against Women In Azerbaijan
• Pakistan's Balochistan Most Neglected Province In Terms Of Girls Education
• Campedelli Named Iran's Women's Volleyball Coach
Compiled by New Age Islam News Bureau
URL: https://www.newageislam.com/islam-women-feminism/saudi-haramain-train-makkah-madinah/d/126088
-------
Ticket To Ride As Saudi Women Prepare To Drive High-Speed Haramain Train that Links The Holy Cities of Makkah and Madinah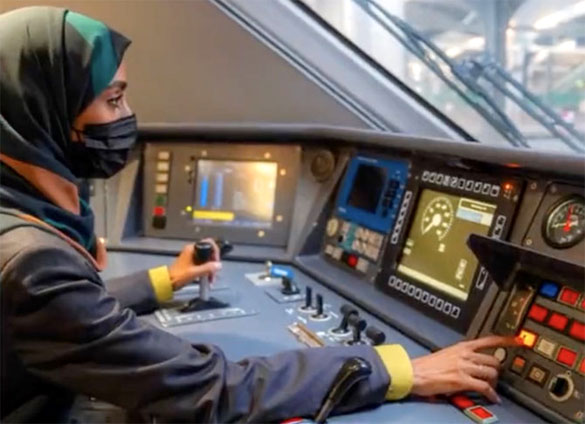 In this screen grab from a video posted on the Saudi Railway Polytechnic's Twitter account, a young Saudi woman undergoes training in the Haramain Express Train Leaders program. (Credit: @SRP_KSA video)
------
January 03, 2022
RIYADH: Saudi women could soon be driving the Kingdom's Haramain express train, the high-speed service that links the holy cities of Makkah and Madinah, and is expected to carry up to 60 million passengers a year.
The Saudi Railway Polytechnic announced on Sunday that it has opened registration for Saudi women to train in the Haramain Express Train Leaders program.
Female graduates will work together with male counterparts who have graduated from previous programs.
Registration for the program, which lasts for a year and ensures a position with Renfe KSA — one of the companies operating the high-speed train project — is open until Jan. 13 through the polytechnic's website.
Abdul Aziz Al-Sugair, SRP general manager, said the training program will begin on Feb. 15 in Jeddah, and includes practical training at work sites linked to the rail project.
Saudi women will help meet the need for more qualified drivers following high demand for the Haramain service, he added.
Trainees will receives a monthly SR4,000 ($1,065) bonus during the training period, and will be registered in the social insurance scheme as an employee under training. After graduating, women will receive a monthly salary of up to SR8,000.
"The daughters of the homeland constitute an important component of the fabric of young national talents worthy of localization, as they will contribute to the advancement of the railway industry and its sustainability. Their excellence will also contribute to raising efficiency and quality of services, and achieving the Kingdom's Vision 2030 by transforming Saudi Arabia into a global logistical center," Al-Sugair said.
Source: Arab News
https://www.arabnews.com/node/1997096/saudi-arabia
-------
Afghan Woman Freezes To Death Near Turkey-Iran Border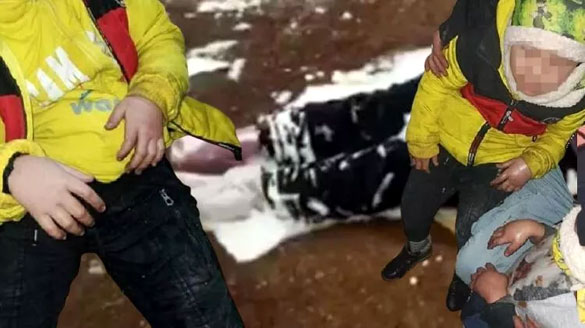 An Afghan woman froze to death in an Iranian village close to the Turkish border while trying to enter Turkey illegally with her two children on Jan. 1.
-----
January 03 2022
An Afghan woman froze to death in an Iranian village close to the Turkish border while trying to enter Turkey illegally with her two children on Jan. 1.
Footage taken by villagers showed that the feet of the woman were wrapped with plastic bags, and the hands of the surviving children were covered in their mother's socks.
The shocking incident took place in the village of Belasur in Iran.
An unnamed Afghan woman tried to enter Turkey with her two children, ages 8 and 9. But she succumbed to the freezing cold and died.
Residents found the two children and the body of their mother. It was seen that the mother had given her socks to protect her children's hands from the cold and covered her own feet with plastic bags.
The eastern province of Van's governor's office made a statement about the sad incident.
"On Jan. 1, some social media accounts shared photos of a mother with two children trying to cross the border, where the mother froze to death, but her children survived by taking shelter in a village," the statement said.
"There was no incident reported to Turkish law enforcement units. After a deep investigation, it has been determined that this sad event did not take place in our [Turkish] soil," it added.
Residents of Belasur handed the children to Iranian soldiers safely.
According to the U.N. refugee agency (UNHCR), Afghans make up one of the largest refugee populations worldwide.
There are 2.6 million registered Afghan refugees in the world, of whom 2.2 million are registered in Iran and Pakistan alone. Another 3.5 million people are internally displaced, having fled their homes searching for refuge within the country.
On Aug. 20, 2021, Turkish President Recep Tayyip Erdoğan said that Turkey is hosting around 300,000 documented and undocumented Afghan refugees, adding Ankara has been putting in the necessary effort for Afghanistan's development and will continue to do so.
Source: Hurriyet Daily News
https://www.hurriyetdailynews.com/afghan-woman-freezes-to-death-near-turkey-iran-border-170522
-------
Islamic Emirate Of Afghanistan Close Women Baths In Northern Afghanistan
03 Jan 2022
As the Islamic Emirate of Afghanistan is taking root across the country, their restrictions especially on women have begun.
Local officials of the IEA in northern Balkh-bordering Uzbekistan- province have announced the closure of all general baths of women.
The decision was made unanimously by religious scholars and provincial officials of the directorate of promotion of virtue and prevention of vice in the province.
Based on the new decision, women can only take showers in private baths while observing Islamic hijab, not in general baths.
The Head of the directorate of promotion of virtue and prevention of vice in Balkh province said that the decision was made after consultations with religious scholars (Ulama).
"Since people do not access modern baths at home, men are allowed to go to general baths but women are supposed to go to private baths while observing hijab." Said the head of the directorate.
In the meantime, boys under age are also banned from general baths and body massage is also banned in the baths.
Earlier, local officials in western Herat province temporarily closed general baths of women.
It is worth mentioning that, ministry of promotion of virtue and prevention of vice has restricted women's travel to 45 miles across the country and drivers are recommended not to seat two women in the front seat of their cars.
Source: Khaama Press
https://www.khaama.com/taliban-close-women-baths-in-northern-afghanistan/
-------
'Bulli Bai Came Post Narsinghanand Campaign': Hyderabad Muslim Woman Alerts Cops
NIKHILA HENRY
03 Jan 2022
For Khalida Parveen, a 67-year-old Muslim woman and activist from Hyderabad, Bulli Bai app featuring her name, Twitter handle, and photograph did not come as a surprise.
"They targeted vocal Muslim women. It is not a coincidence that my name figured in the list a day after I campaigned on Twitter for the arrest of Narsinghanand," she said.
Parveen and Ayesha Minhaz, a Hyderabad-based journalist and Muslim woman, are expected to file complaints against the app and its users with the city police's Cybercrimes Wing on Monday, 3 January.
Parveen had campaigned against Narsinghanand Saraswati, a self-styled godman, who had made incendiary speeches against Muslims in a conclave organised by the Hindu right-wing in Haridwar, between 17 and 19 December 2021.
'App Targets Vocal Muslim Women'
Parveen, who is popularly known as Khalida apa (sister) in the Hyderabad activist circles, has been a human rights activist for close to four decades. She said that Bulli Bai app specifically targets vocal Muslim women, who have found their voice. "Muslim women of Shaheen Bagh, who left their home to sit on a dharna for months together, showed the country that Muslim women are a force to be reckoned with. For the right wing, such women are threats, be it online or on ground," Parveen told The Quint, while she was on her way to file the police complaint.
The 67-year-old's name figured in the auction list on 2 January, a day after the app was launched on 1 January. "I had extended my solidarity to women who were already on the list when my name, too, appeared. It did not come as a shock because I realised that they targeted Muslim women activists and those who have a voice on social media," Parveen said.
Mihanz had tweeted, "The unfortunate reality of being a Muslim woman in India is that I have prepared myself for far worse. No amount of caution will spare us till we overthrow fascists."
Parveen insisted that Bulli Bai targeted women who have vociferously criticised the Bharatiya Janata Party (BJP) government at the Centre. Among those targeted are women who have criticised the Haridwar conclave where Hindu 'godmen' reportedly called for violence against Muslims in the country.
"They (the accused) have realised that Muslim women will not go back home till they achieve success. So they want to silence such women," Parveen said.
Her campaign against Narsinghanand Saraswati had got traction online, she added. "Bulli Bai appeared soon after several Muslim women, men and other activists spearheaded an online campaign against Narsinghanand. The app was meant to divert attention from this campaign."
Parveen has decided to include this aspect of the case in her complaint to the Hyderabad police.
'I Am Not Ashamed'
The seasoned activist said that the 'auction' has not deterred her resolve. "I am not ashamed because my photo appeared on that app. The ones who put up the photo there should be ashamed," she said.
Parveen said that since the app targeted both young and older Muslim women, it is safe to assume that the perpetrators want all Muslim women to be silenced. "They are scared even of the older Muslim women like me," she said.
When Hyderabad-based activists lead the cybercrime police to her plight, the officials acted promptly, she said. "The Hyderabad police reached out to me on Twitter and asked me to approach them without any hesitation. The response has been good so far. I hope the investigation nails the culprits."
Source: The Quint
https://www.thequint.com/news/india/bulli-bai-came-after-narsinghanand-saraswati-campaign-hyderabad-muslim-woman-khalida-parveen-alerts-cops#read-more
-------
China donates Study Centre for Balochistan women at SKB University
By Mian Abrar
January 2, 2022
QUETTA: Governor of Balochistan Syed Zahoor Ahmed Agha inaugurated China Study Centre (CSC) at Sardar Bahadur Khan Women's University (SKBWU) Balochistan, according to a report published by Gwadar Pro.
Mr. Li Bijian, Chinese Counsel General in Karachi, spoke online on the occasion and highlighted a decades-old friendship between the two neighbouring countries who have always stood side by side. Chinese Consulate General in Karachi funds the CSC at Women's University.
"The establishment of CSC for female students of SKBWU by the Chinese Embassy is a sign of deep friendship between Pakistan and China," said Syed Zahoor Agha who was chief guest on the occasion.
"China has stood by Pakistan in every difficulty and we are thankful to the Government of China and the Chinese people for their kindness," Mr. Agha added.
According to the governor of Balochistan, China has undoubtedly progressed in a very short time; "we must follow in the Chinese footsteps towards economic prosperity and development.
CSC will provide an opportunity to our students to reach Chinese culture," he said, adding "In order to further strengthen Pak-China relations, it is important that Chinese students also learn Urdu".
The Governor lauded the role of SKBWU which is a great facility of "modern knowledge and research" for female students of Balochistan.
Dr. Naheed Haq, Pro Vice Chancellor of SKBWU, said CSC will promote research on Pak-China relations and will stimulate the study of Chines language, history and culture.
"The center can also help further promote people-to-people contact between the two countries," she added.
Source: Pakistan Today
https://www.pakistantoday.com.pk/2022/01/02/china-donates-study-centre-for-balochistan-women-at-skb-university/
-------
Victims turned activists: Iraqi women battle abuse
January 03, 2022
BAGHDAD: After a day's work in an Iraq public sector job, Azhar offers legal support to women who are victims of domestic abuse, something she knows well given her experience with a brutal husband.
After she was forced into marriage by family pressure, Azhar, 56, battled in court for almost a decade to divorce the man who would beat her up.
"I believed I was going to die," she said, recalling one attack and showing pictures of purple bruises on her arms and legs.
"That was the moment when I decided to break my chains."
She eventually won her freedom, and the ordeal prompted her to study law.
"I felt I was weak in the face of the justice system," recalled Azhar, who heads a non-government organization that offers legal support to victims of violence and is part of the Iraqi Women's Network coalition.
"I help any woman who is a victim of violence or in need of legal aid, so that these women become aware of their rights and can defend themselves," she said.
From marriage of minors to economic coercion, feminists and lawyers struggle to defend the rights of women in the overwhelmingly patriarchal country.
They cite regressive laws and the indifference of authorities as key obstacles.
In a country of 40 million, about 17,000 complaints of domestic violence were registered in 2021 by the interior ministry's family protection unit, said media official General Saad Maan.
The marriage of minors is on the rise in Iraq, according to a government survey.
For females under 18 it jumped to 25.5 percent last year, up from 21.7 percent in 2011.
Azhar, who did not wish her surname to be published for security reasons, was around 20 when she first got married.
But she was soon widowed and forced again into marriage seven years later.
She eventually left her abusive second husband with her eight children and filed for divorce.
The first judge knew the man and rejected the request, despite three medical certificates proving her injuries, she said.
"'I will not break up families on the basis of certificates'," she recalled the judge telling her.
"'So what if a man beats his wife?'," she quoted him as saying.
In cases of domestic abuse, judges often push for "reconciliation," said the head of the family protection unit, Brig. Ali Mohamed.
But "it is the victim who pays the price," said Hanaa Edwar who heads the Al-Amal organization and has worked for 50 years as a rights defender.
"The justice system's considerations for affairs involving women is much weaker than the machismo that dominates the minds of judges."
Iraq has no specific law dealing with violence against women, and the 1969 penal code contains an article that allows rapists to escape punishment if they agree to marry their victims.
Rights groups are seeking parliament's endorsement of a draft law on domestic abuse, but it has been blocked by Islamist parties since 2010.
A key provision of the bill is the creation of shelters for victims of domestic violence, said lawyer Marwa Eleoui.
\Mobilizing public opinion is often the only way to make headway and score the smallest of victories in Iraq, as in the case of Mariam, 16.
The teenager was disfigured by a man who broke into her home and sprayed her with acid, after her family spurned his offer of marriage, media quoted her parents as saying.
Mariam's story drew sympathy nationwide when it was reported by Iraqi media in December, seven months after the acid attack.
Authorities say two suspects have been arrested over the assault.
"If it weren't for media pressure, Mariam's case would have taken two years before it went to court," said Eleoui.
In the northern province of Kirkuk, Lina was among the young women for whom the Al-Amal organization became a critical lifeline.
At just 13 years of age, she was married off against her will to a man she said was violent.
"I was 25 when I told myself I'd had enough," she said. "He would beat me up in a way I cannot describe."
When she complained, her husband — and her father — tried to obtain a certificate from a doctor saying she was mentally unstable, eager to avoid a social scandal.
"The doctor saw the bruises and put me in contact with the association," said Lina, who uses a pseudonym, fearing for her safety.
Now she works with Al-Amal and makes house calls to tell women about their rights.
"Leaving the courtroom after I got my divorce was like leaving a prison," she said.
Source: Arab News
https://www.arabnews.com/node/1997076/middle-east
-------
Delight for Saudi women's team after finishing second at 2021 Arab Weightlifting Championship in Iraq
January 03, 2022
The coach of the Saudi women's national team Rania Bahloul has expressed her delight with the senior team's second-place finish at the 2021 Arab Weightlifting Championship, which ended in Irbil, Iraq on Dec 31.
The Saudi girls' team also finished third in the junior and youth category.
"I am happy with what was achieved after we intensified the training in order to have a team that represents the Kingdom well, especially as we benefited from our experience in the international weightlifting championship that was held in Jeddah months ago," Bahloul said.
The Saudi women's success follows that of the men's team from the Kingdom, who were crowned champions in the senior category and runner-up for the junior and youth category at the same championship.
Source: Arab News
https://www.arabnews.com/node/1997206/sport
-------
Najd crowned women's handball champions
January 01, 2022
RIYADH: Najd have won the first women's handball championship cup organized by the Saudi Handball Federation at Dar Al-Uloom University Hall in Riyadh.
The teams were Najd, with Jeddah Hands and Al-Majd in the first group, and Najd Al-Mustaqbal, Elite and Al-Himma making up the second group.
Opening the tournament, the women of Najd showed their strength and determination to win the title early, beating Jeddah Hands a 4-11.
Jeddah Hands player Alaa Sindi said she underwent intensive training with her team in preparation for the launch of the first women's league in the Kingdom for the game.
And she said she joined referee courses and participated as a goalkeeper and a referee at the same time in the tournament that concluded in Riyadh.
"With my team, Jeddah Hands, I played this tournament as a goalkeeper," she said. "I followed many training courses in goalkeeping as well as referee courses. I was hoping that we would win the championship. In Riyadh, we competed with five other teams from Jeddah and Riyadh."
She said she was relatively new to the game, but said loved it a lot, adding that she was not put off by the roughness of the sport.
Source: Arab News
https://www.arabnews.com/node/1996326/sport
-------
The entrepreneur helping Middle Eastern women enter the digital economy
January 03, 2022
DUBAI — Mona Ataya, a Palestinian-Lebanese entrepreneur based in the United Arab Emirates, runs the largest online marketplace for mothers in the Middle East. In recognition of her achievements, she has been chosen as one of the six eTrade for Women Advocates for 2021-2022, by the UN trade agency, UNCTAD.
Ms. Ataya is the founding partner and CEO of Mumzworld, and has been on the Board of Directors of the Dubai Chamber for Digital Economy since 2011. In a conversation with May Yaccoub from UN News, she shared the challenges faced by businesswomen in the Middle East, and why she is committed to supporting them.
"I have been working in the digital economy in the MENA Region for the last two decades, and I have seen how it has gone through some revolutionary changes. The digitalization of the global economy is core to the way the world is moving, but women remain very underserved, and we need to bring more of them on board.
UNCTAD's eTrade for Women is doing just that: it's helping women by providing the information and resources that allow us women to have our voices heard and our contributions felt.
I'm looking forward to using my new role as a mentor, and sharing my knowledge, skills, and successes with other women in the region, as well as creating tools, information, and resources for them to tap into.
I started my corporate career outside the Middle East, and I used those years to build the skillset that would allow me to return home to the region, and leverage what I have learned to build businesses in this part of the world and create value.
Mumzworld was built in 2011 to support women in the Arab world and help them to make informed decisions for their families. Before, access to products for them was limited, prices were very high, and an online community for mothers to tap into did not exist. We set out to solve these problems, and built up a business that reaches the homes of more than 2.5 million mothers, with the largest offer of quality products in the region, and which has become the go-to destination for global brands that want to reach Middle Eastern consumers.
Today we have over 350 staff, with over 6,000 brands and more than 300,000 products for sale on the website: a successful, homegrown business that has become a gold standard, and has created momentum for other women to succeed and create more jobs in the region.
The e-commerce industry in the Middle East is heavily male-dominated, from suppliers, to delivery companies and financiers. For a woman operating in this space, this can be a big challenge: you have to use your unique skills and abilities to manoeuvre through the corporate maze and succeed.
The good news is that, when women do succeed and build scalable businesses, we give other women the courage to also come in and start their own ventures.
I have been helped by the fact that my husband and three teenage sons are very understanding. Their support has been instrumental in my success, because an entrepreneur has to compromise, sacrifice time and give a tremendous amount of effort, financial risk and compromise in order to build a successful company." — UN News
Source: Saudi Gazette
https://saudigazette.com.sa/article/615429/World/Mena/The-entrepreneur-helping-Middle-Eastern-women-enter-the-digital-economy
-------
Young activists combat stereotypes to prevent violence against women in Azerbaijan
January 03, 2022
BAKU — Azerbaijani activist Maryam Majidova is fighting to improve gender equality in her country, and address the daily challenges faced by women and girls.
Maryam Majidova is a co-founder of the Gender Hub social platform, which brings together advocacy groups, non-profit organisations, feminists, and human rights activists, to fight against gender-based violence. The platform also aims to empower women and girls and support them in overcoming gender-related challenges.
"I have had to fight against gender stereotypes and discrimination since my childhood, ever since I lost my father. At school and university, when I was successful, people would ask me about 'the man' behind me. They could not accept that a woman can succeed without a man's support.
I believe that gender stereotypes have harmful effects on women's capacity to develop their personal abilities, pursue their professional careers, and make choices about their lives. I decided to fight against these stereotypes, which, unfortunately, are dominant throughout Azerbaijan.
As a gender activist, trainer, and youth policy expert, I have been working on positive youth development for about ten years. During this period, I partnered with international organisations, including the United Nations, on projects supporting women's participation in public and political life.
According to the National Survey on Violence Against Women in Azerbaijan, 24 per cent of women aged 15-59 had been subjected to violence by either a non-partner or an intimate partner. This is a national problem, and it should be on the top of the government's agenda.
Key to preventing and addressing violence against women is the active engagement of men and boys. Having men speak out against gender-based violence will also contribute to changing society's perceptions about gender roles and patriarchal norms.
To raise awareness of the consequences of gender-based violence and the benefits of a gender-equal society, my colleagues and I organized a series of events across the country, using the hashtag #menengage, a key topic of the 2021 '16 Days of Activism' campaign against gender-based violence, launched by the UN in Azerbaijan
The UN partnered with an Azerbaijani football team, Neftchi FC, which agreed to play one of their league matches in orange jerseys featuring the slogan "Stop violence against women". The UN also collaborated with local influencers who helped spread this slogan through traditional and social media.
It is difficult to achieve rapid changes with such a deeply rooted cultural and structural issue. Nevertheless, I am confident that these kinds of projects send the right message and help in the push to bring about the kind of change we dream of.
Sometimes, companies hire women because of quotas, for symbolic inclusivity, but I don't want to be hired for the sake of numbers. I also believe that no one should tell a woman what she deserves, or how she should behave. I simply want women to have the same rights as men." — UN News
Source: Saudi Gazette
https://www.saudigazette.com.sa/article/615428/World/Asia/Young-activists-combat-stereotypes-to-prevent-violence-against-women-in-Azerbaijan
-------
Pakistan's Balochistan most neglected province in terms of girls education
1st January 2022
Islamabad: Pakistan's Balochistan is the most neglected among all the four provinces in terms of education, health, and employment, with only 24 per cent of women are literate here in the region.
According to Pakistan Today citing a non-governmental organisation report that 76 per cent of Balochistan's girls as out of school with a primary enrollment of 322,000 girls; of whom only 20,046 persist after they finish their matriculation.
The Pakistani publication said that Balochistan is the richest-in-resources province of Pakistan with a small population of 12.34 million, but still the most neglected among all the four provinces – especially when it comes to education, health and employment.
Girls, in particular, are going through challenging times owing to a cries of educational facilities despite the human rights charter of the United Nations, declaring education as a basic human need.
Meanwhile, Balochistan's poverty ratio is going from bad to worst.
At least 37 per cent population of Pakistan is suffering from malnutrition, said chairperson of the women parliamentarian forum in the Balochistan Assembly Dr Rubaba Khan Buledi, adding that this ratio rises to nearly 50 per cent in Balochistan.
As per a nutrition survey, more than one-third of the children are victims of malnutrition in the country and the majority of these children are from Sindh and Balochistan provinces, Express Daily reported.
Dr Buledi said that Nutrition Stabilization Centers are being established in Balochistan with the help of the World Health Organization for taking care of the children suffering from malnutrition.
Source: Siasat Daily
https://www.siasat.com/pakistans-balochistan-most-neglected-province-in-terms-of-girls-education-2251365/
-------
Campedelli named Iran's women's volleyball coach
January 2, 2022
She has penned a one-year contract with Iran volleyball federation with an option to extend for another year.
Campedelli will lead Iran's women's volleyball team at the 2021 Asian Women's Volleyball Championship.
Mohammadreza Davarzani, head of Iran volleyball federation, has already said they want to book a place in the Asian competition's top four.
The 2021 Asian Women's Volleyball Championship will be held in the Philippines in May 2022.
The event was Originally scheduled for Aug. 29 to Sept. 5, 2021, but was postponed to May 15 to 22, 2022 due rising COVID-19 cases.
Source: Tehran Times
https://www.tehrantimes.com/news/468698/Campedelli-named-Iran-s-women-s-volleyball-coach
-------
URL: https://www.newageislam.com/islam-women-feminism/saudi-haramain-train-makkah-madinah/d/126088
New Age Islam, Islam Online, Islamic Website, African Muslim News, Arab World News, South Asia News, Indian Muslim News, World Muslim News, Women in Islam, Islamic Feminism, Arab Women, Women In Arab, Islamophobia in America, Muslim Women in West, Islam Women and Feminism