New Age Islam News Bureau
7 Jul 2017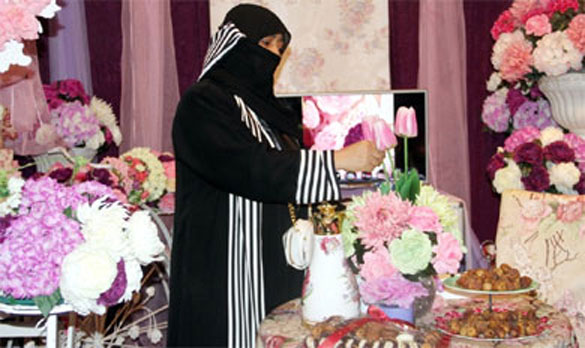 Saudi women are proving once again that they are capable of becoming entrepreneurs
------
• 'Not Love Jihad': Muslim Man Moves SC as Kerala HC Scraps Wedding To Hindu Woman
• Madras HC Comes To Rescue of Muslim Woman Who Fled Her Marital Home
• Boston Woman Claims Hijab Discrimination While Shopping
• Saudi Women Entrepreneurs Make Businesses Bloom
• NASFAT Women Strategise To Enhance Capacity Development
• Six In Ten Dutch Converts Making Their Way To Syria And Iraq Were Women
Compiled by New Age Islam News Bureau
URL: https://www.newageislam.com/islam-women-feminism/thrown-home-after-triple-talaq/d/111816
--------
Thrown Out Of Home After Triple Talaq for Bearing a Baby Girl, the Victim Says Might Convert To Hinduism
(Translated from Urdu by New Age Islam Edit Bureau)
Ikhbar e Mashriq, 07 July 2017
In the Jhansi district of Uttar Pradesh, a man divorced his wife through 'triple Talaq' – verbally repeating 'Talaq' thrice – after 12 years of his marriage, for giving birth to a daughter. The victim straying for justice approached the Shariat Court, but she was denied help there too. The Qazi (judge) of the Muslim Personal Law Board said that three divorces were pronounced together; the way is wrong, however if husband says it, the divorce will be valid.
On not having been helped by the Sharia Court, the victim Mumtaz Begum said outside the Court, crying bitterly that she would change religion if she could not get help. "What kind of religion it is, the woman is thrown out of home after the husband pronounces divorce three times" she said. Now she would plead Prime Minister and Chief Minister Yogi Adityanath for help.
It is reported that Mumtaz Begum, a resident of Sipri area of Jhansi, was married to Waris Zama on December 21, 2003. Begum said that she got pregnant immediately after marriage. During pregnancy, her husband and in-laws asked her to produce a son, but in December 2004, she gave birth to a daughter. After this, her husband and in-laws started torturing her. Mumtaz alleged that the in-laws asked her to bring five lakh rupees for the daughter's marriage, after that her maternal family gave a plot under her name and said that when the daughter grew up, the plot should be sold for the arrangement of her marriage. After that, the in-laws kept quiet. Later, the woman gave birth to a son, and then a daughter again.
Mumtaz says that her in-laws including her husband again started torturing and beating her. According to the victim, a few days ago, she was beaten and thrown out of home after her husband pronounced three divorces together. A notice of three divorces was also sent to her. She contacted her husband but he did not pay attention to her. Then she approached the community leaders for justice but she was denied help. She also sought help from the Shariat Court, but even then she did not get justice. The victim says she might convert to Hinduism if she does not get justice and the community people will be responsible for that.
Mufti Siddiqui Naqvi, the Qazi of the Shariat Court associated with the All India Muslim Personal Law Board said that divorce is the right of husband; if he has divorced her, it will be valid. According to him, though the divorce method is wrong, the divorce is valid. Shariat Qazi said, "if the woman changes her religion, it will be her personal decision. Shariat Court has no police power to use". He said, "The way she was divorced is wrong. People are misusing this Islamic law; which is leading to the defamation of the religion". Meanwhile, when asked for her help, he kept silent.
General Secretary of the Shariat Court, Mufti Imran Nadvi said, "We will socially boycott the husband". The woman started weeping bitterly and said, "If she does not get help, she will change her religion. "She has children. Where will she go with her children? She does not have food to eat. She will go to the PM Modi and the CM Yogi to take support. She will convert to Hinduism" she said.
--------
'Not Love Jihad': Muslim Man Moves SC as Kerala HC Scraps Wedding To Hindu Woman
Jul 06, 2017
A Muslim man has moved the Supreme Court challenging a Kerala high court order scrapping his marriage with a Hindu woman to stop what it said was a case of so-called love jihad, his lawyer told HT on Thursday.
Shafin Jahan, 27, filed a special leave petition in the top court on Wednesday saying the lower court's order was an "an insult to the independence of woman in India".
In January last year, the same court gave legal sanctity to his wife's conversion as she was an adult. Jahan has argued that his 24-year-old wife, who changed her name to Hadiya, did not convert to Islam for marrying him.
Hadiya, earlier known as Akhila, is a homeopath doctor.
Love jihad is a term used by right-wing Hindu groups to describe inter-faith marriages which they say is an Islamist conspiracy to convert Hindu women through marriage or coercion.
Shafin's lawyer Haris Beeran said the petitioner had responded to an advertisement for marriage by Hadiya. "The two did not know each other before that," he told HT.
He added that the woman's father had twice moved the high court against his daughter's decision to convert.
"Both the times, Hadiya tendered affidavits affirming she converted on her own volition and the HC accepted her stand," he added.
In is petition, Shafin said his wife embraced Islam two years prior to their marriage and hence there was no possibility of coerced conversion.
On a petition by Hadiya's father, the HC had on May 25 declared the couple's marriage as a sham and directed the woman to remain in the protective custody of her parents. Her father had also told the HC that she was likely to be sent to Afghanistan, where 21 missing youth from the state are believed to have joined Islamist rebels. Six of them were converts.
Saying that "national interest is at stake", the high court also asked the Kerala director general of police (DGP) to conduct an investigation into cases of love jihad and probe incidents of forced conversion.
The verdict had sparked a wave of protests across Kerala, with rights groups criticising the court for curtailing the rights of an adult woman.
Some outfits staged a violent march outside the HC and termed the judge an "RSS agent".
http://www.hindustantimes.com/india-news/not-love-jihad-muslim-man-moves-sc-as-kerala-hc-scraps-wedding-to-hindu-woman/story-CnhLS8nbPwNnBvIl1EkzKO.html
--------
Madras HC Comes To Rescue of Muslim Woman Who Fled Her Marital Home
6 Jul 2017
The Madras High Court has come to the rescue of a newly-wedded Muslim woman who had to fled her matrimonial home in Tiruchirapalli district following a dispute with her in-laws over dowry.
Justice R Mahadevan directed the All Women Police Station at Avadi near here to escort the 26-year-old estranged woman to her in-laws' place to help her recover her belongings and jewelleries.
The bench gave the direction last week on a plea by the woman who submitted that she was married to one Mohammed, an engineer, in 2015.
She alleged her husband and in-laws soon began harassing her for more dowry following which she ran away to her maternal home in Pattabhiram on May 12 last.
She said fearing for her life, she fled the place leaving behind all her belongings and jewelleries.
Later, she approached the All Women's Police Station in Avadi to seek help to retrieve her belongings, but they made no heed to her pleas.
While hearing the woman's petition, the judge asked the woman to approach the police with complete details of all her belongings.
The police shall recover the same from her in-laws' residence and report the same to the court after executing the order, the judge said.
http://www.dnaindia.com/india/report-hc-comes-to-rescue-of-muslim-woman-who-fled-her-marital-home-2494301
--------
Boston Woman Claims Hijab Discrimination While Shopping
July 7, 2017
A human-rights activist is speaking out this week about the anti-Muslim discrimination she says she experienced while shopping, when a sales associate insisting on making subtle jabs against her Hijab.
"Discrimination against Muslims, request for help," Nadia Alawa, of Boston, wrote in a lengthy July 3rd Facebook post describing the recent incident. Earlier that day, she explained, she had been browsing at the White House Black Market, a popular women's chain store, in Lynnfield, Mass. She was dressed, she says, "in my usual Muslim American clothing, which includes a hijab," when a store manager approached her "with a smug smile" to ask how she was doing.
Alawa, who spends much of her time supporting Syrian widows and orphans through her non-profit humanitarian relief organization NuDay Syria, went on to recount in her post how, when she told the manager she was fine, the woman's voice then shifted to an unfriendly tone as she asked, "No, how are you REALLY doing?"
Alawa continued: "I say I am fine, how are you? She then says, you must be hot, that is why I am asking. I say, I am fine. She says you ARE hot, the store has AC and I am dressed like *this* (looks at herself in shorts and a top), and I am hot, so you must be hot dressed like that. I turn around and look at her, put the hanger back and say I am very fine, thank you."
"I stand there for a minute, try to look casual, but feel so upset and humiliated. A basic shopping experience with two credit cards and cash in my purse and I have to defend my attire and am made to feel uncomfortable by a clerk that very clearly targeted me like a hungry shark out for fodder."
"A minute later I go to the counter to filed a complaint, but get distracted by my kids entering the store, so all I can do is ask for the woman's name and store card and tell her I will be in contact with the higher manager. At that point, Carisa's face changed from snarky and arrogant to slightly surprised. SO. If you believe this is NOT the way to treat customers of ALL backgrounds, call the store + make a complaint to the manager."
According to the American Civil Liberties Union, 69 percent of women who wore hijab have reported at least one incident of discrimination compared to 29 percent of women who did not wear hijab. Other statistics have found that Muslim women who wear headscarves are routinely passed over for jobs and sidelined in the workplace, and that one out of every eight Muslim women is asked illegal questions during interviews — compared to one out of every 30 non-Muslim women.
Alawa did not respond to an interview request from Yahoo Style.
A White House Black Market spokesperson provided the following statement to Yahoo Style: "We have reached out to Ms. Alawa to hear her perspectives directly. We are committed to providing an environment in all of our stores that is free of harassment and discrimination. We value the diverse backgrounds, experiences, and uniqueness of all of our customers and employees, and we hope to have the opportunity to speak directly with Ms. Alawa."
Alawa's supporters have vowed, through Facebook comments, to call the store. Others say they could relate to her story.
"I was actually in another WHBM store about ten days ago when I was being ignored until I was way in the back and an elderly clerk walks by me and snarks that I must be very hot. I just smiled and say I am fine," one commenter noted.
Yet another supporter — who had heard these comments before but not understood them to be discriminatory — thanked Alawa "for teaching me this lesson, especially that they could be this mean or worse to other Muslim women who cannot or will not defend themselves, and this will maybe help and give us equal rights just like any citizen in this country is allowed to have."
Among those calling on Alawa's behalf was her own daughter, Laila, who called and spoke with a manager named Mindy, according to Facebook. Mindy, Alawa reported, defended the behavior of the sales associate, Carisa, she wrote, adding that the manager "said that I was wrong for being offended, and that I had a responsibility to 'explain' to Carisa why I was feeling the way I did. When Laila said she would post it on social media, Mindy got very agitated, and continued to say that Carisa didn't have a 'mean bone in her body.' This is after 10 minutes of Laila explaining WHY the behavior was wrong."
https://www.yahoo.com/style/woman-claims-hijab-discrimination-shopping-210037103.html
--------
Saudi women entrepreneurs make businesses bloom
By Sarah Al-Shareef
July 7, 2017
ILLUSTRIOUS Saudi women are proving once again that they are capable of becoming entrepreneurs in a market where the challenges of scarce opportunities and male dominance are apparent.
The production and trade in floral designs is a profession that Saudi women have gotten to master through online marketing and e-commerce.
Female florists create floral designs and bouquets, merchandise and deliver them to the desired destination. This saves time and effort for the customers and at the same time highlights the success of women in creating new business opportunities, taking advantage of materials available at home and recycling them without the need for any substantial investment.
Ibtisam Al-Saadi developed the idea of setting up an e-shop for gifts and roses. She targeted customers on specific occasions anywhere and was able to attract 59,000 followers.
The first phase of her project was launched taking advantage of the materials available at home. After making some financial profit, she started to acquire the rest of the requirements to expand the project in its second phase, without requesting any funding. She put up a clear plan to benefit from after noticing that social media projects do not need a large budget to start up with.
Al-Saadi however did not underestimate the prices of raw materials and roses. She bought her tools from outside the Kingdom. She wanted to offer her products to customers at an appropriate price with a guaranteed profit. She also attracted and trained a number of assistants to promote the website.
Hanouf Al-Radadi agreed with Al-Saadi that rising prices of roses and flowers is becoming a problem in the absence of monitoring.
Bedoor Al-Harbi believes that floristry is a job for women because of its beautiful side. Al-Harbi points out that the field holds a successful and enjoyable future especially for those with an artistic taste.
Eman Mohammed, a client of the e-floral shop, expressed her admiration for the workers and affirmed her confidence in Saudi women is what motivates her to support them while abandoning shops where men work. She said women have a natural sense for aesthetics and therefore floristry.
As for allowing Saudi women to work in flower-arranging shops, she said: "These shops should allow women to work there. This field has opportunities that will attract women and allowing talented girls or students to get busy in floral shops will help reduce unemployment among women."
Director General of the Ministry of Labor and Social Development in Madinah Ali Al-Ghamdi said a decision to allow Saudi women to work in floral shops was not included in their plans yet. "However, Saudi laws do not prohibit Saudi women from working in any business as long as it is in accordance with the requirements of the Islamic law," he added.
http://saudigazette.com.sa/article/512272/SAUDI-ARABIA/Saudi-women
--------
NASFAT women strategise to enhance capacity development
07 July 2017
The women's wing of Nasirul llahi Fathi Society of Nigeria (NASFAT) has commenced arrangements towards conducting a more robust capacity development programme as part of its Women Week 2017.
Thousands of members of the women's wing of NASFAT drawn from various zones and branches of the society in the country as well as the west coast who converged on Lagos recently pledged greater commitment to the vision and mission of the society as well as upgrade their contributions to its growth and development.
The 2017 Women's Week is scheduled to hold between August 13-20 at the various branches of the Society across the federation and beyond while the grand finale would be held at the NASFAT Islamic Centre, along Lagos-Ibadan Expressway, Aseese, Ogun State.
The National Women Affairs Secretary, Alhaja Samiat Mumuni, said this year's event is being designed to attract more participation of NASFAT women and strengthen the unity of Islam.
She also cautioned against discrimination among Muslims irrespective of any Islamic organisation to which any one of them belongs, stressing that Islam preaches unity and frowns against hero worshipping.
NASFAT President, Kamil Yomi Bolarinwa, represented by 1st Vice President of the Society, Engr. Muhammed Mijinyawa, congratulated the women and tasked them on the need to work harmoniously towards hosting a befitting 2017 NASFAT Women's Week.
He, however, seized the opportunity to shed some light on the circumstances surrounding the exit of the former Chief Missioner of NASFAT, Alh. Abdullahi Gbade Akinbode and the efforts made by various stakeholders to make him stay.
He, therefore, enjoined the Society's members and other members of the public to always refrain from rumour mongering but seek truth at all time.
https://guardian.ng/features/friday-worship/nasfat-women-strategise-to-enhance-capacity-development/
--------
Six in ten Dutch converts making their way to Syria and Iraq were women
JULY 7, 2017
Young, male, with a petty criminal background and of migrant heritage is the profile of the European jihadi that made his way to Syria and Iraq to build the utopia of the Islamic Caliphate.
According to a study of The Hague Center for Strategic Studies (HCSS) reported by the Dutch public broadcaster NOS on Wednesday, European Jihadis are indeed young. Their average age is 23, the youngest being a 15-year old and the eldest 50. The typical European Jihadi in Syria was between 18 and 25. But, in two respects, the "average" jihadi volunteer does not match our expectations.
Among the Dutch, German, and French Jihadi volunteers who bought into the Caliphate utopia there has been a very high proportion of converts to Islam and a substantial number of women.
A large number of young Dutch men and women that do not have a migrant or even a Muslim background made their way to Syria and Iraq. While converts make up less than 2% of the Dutch Muslim population, they made up 14% of Jihadi volunteers or 280 individuals. The share of converts among the ranks of German Jihadist was similar, with 12% of the content. But, among the ranks of the French, the number of converts made up an impressive 23% of the total, according to HCSS researcher Reinier Bergema.
Women made an overall 26% of the volunteers making their way from the Netherlands to Syria and Iraq. However, among the ranks of Dutch converts, women are overrepresented, 61% being women.
It is believed that converts are will more easily adaptable to the ideological precepts of the Raqqa-based regime, as they had been radicalized at home with material and ideas that came out of radical websites. In sum, they were a direct product of jihadi indoctrination rather than a radical version of indigenous Islam.
Over half of the Jihadi volunteers making their way from the Netherlands to Syria originated from the same community and mosque in South Holland. Groups of Jihadi volunteers knew each other and moved to Syria in groups. More than half of them dropped out of the Jihadi volunteer force at training.
https://www.neweurope.eu/article/report-one-ten-european-recruits-non-muslim-origin/
--------
URL: https://www.newageislam.com/islam-women-feminism/thrown-home-after-triple-talaq/d/111816
New Age Islam, Islam Online, Islamic Website, African Muslim News, Arab World News, South Asia News, Indian Muslim News, World Muslim News, Women in Islam, Islamic Feminism, Arab Women, Women In Arab, Islamophobia in America, Muslim Women in West, Islam Women and Feminism