New Age Islam News Bureau
25 May 2018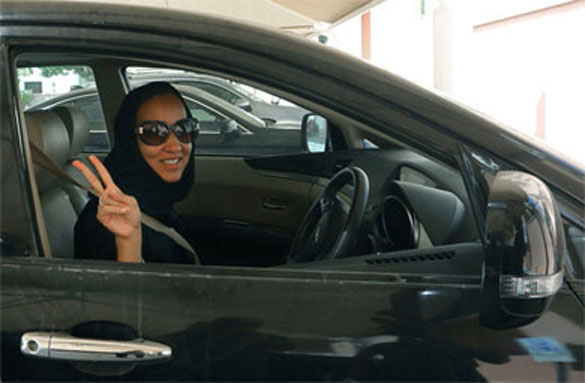 Saudi Arabia's decades-old driving ban on women is slated to end on 24 June (AFP)
-----
• Women with International Licenses to Be Allowed To Drive in Saudi for A Year
• Saudi Women Take To Tennis Courts
• Iran: More Guidance Patrols To Crack Down On Women
• Sudan: Teen Bride Who Killed 'Rapist' Husband Appeals Her Death Sentence
• 'I Don't Fear Death': Pioneering Egyptian Feminist Defies Threats
• Pakistan Woman Flies Back To Italy after Forced Abortion
• Nigeria: Female Senators Silent Over Rape of Zamfara Women - - Marafa
• Saudi Minister to Focus on Women's Empowerment At Global Meet
• Saudi Arabia Supports Women In Professional Roles: Ministry
• Iran: Women Employees Stage Protest At A University In Mashhad
• Women Leadership Councils Empower Syrian Females to 'Make Their Voices Heard'
Compiled by New Age Islam News Bureau
URL: https://www.newageislam.com/islam-women-feminism/three-prominent-womens-rights-advocates/d/115353
--------
Three Prominent Women's Rights Advocates Released after Crackdown
May 25, 2018
DUBAI - Saudi authorities have released three prominent women's rights advocates following their detention in a sweeping crackdown against activists, a month before the kingdom lifts its ban on women drivers, campaigners said Thursday.
"We can confirm the release of Aisha al-Mana, Hessa al-Sheikh and Madeha al-Ajroush, but we don't know the conditions behind it," said Samah Hadid, Amnesty International's Middle East director of campaigns.
"We call on Saudi authorities to release all other human rights defenders unconditionally and immediately," she added.
The three elderly campaigners were among at least 11 activists arrested last week, mostly identified by rights groups as veteran women campaigners for the right to drive and to end the conservative Islamic country's male guardianship system.
There was no immediate comment from Saudi officials and the fate of other detained activists remains unclear.
The released activists, including 70-year-old Mana who is said to be in frail health, are well-known for being part of a group that launched the first Saudi protest movement in 1990 for the right to drive.
One other Saudi campaigner confirmed their release.
Without naming those detained, authorities last week accused the detainees of "suspicious contact with foreign parties", providing financial support to hostile nations and attempting to undermine the kingdom's "security and stability".
State-backed media branded them traitors and "agents of embassies".
The detainees include three generations of activists, among them 28-year-old Loujain al-Hathloul, also held in 2014 for more than 70 days for attempting to drive from neighbouring United Arab Emirates to Saudi Arabia, and Aziza al-Yousef, a retired professor at Riyadh's King Saud University.
The Gulf Centre for Human Rights voiced concern that Hathloul, one of the most outspoken activists, was being held incommunicado, while other campaigners said the detainees had no access to lawyers and their whereabouts were unknown.
The crackdown has sparked a torrent of global criticism, casting a shadow on the kingdom's much-publicised liberalisation push launched by powerful Crown Prince Mohammed bin Salman, who recently undertook a global tour aimed at reshaping his kingdom's austere image.
The self-styled reformer has sought to break with long-held restrictions on women and the mixing of the genders, with the decades-old driving ban on women slated to end June 24.
"This wave of repression in Saudi Arabia must end," Hadid said.
"These arrests are completely unjustified."
https://nation.com.pk/25-May-2018/three-saudi-activists-released-after-crackdown
--------
Women with International Licenses to Be Allowed To Drive in Saudi for A Year
24 May 2018
Well-informed sources said women who visit Saudi Arabia and have international and foreign driving licenses will be allowed to drive for a year from the date of their entry into the country.
The sources told the Saudi daily Okaz that traffic departments will begin replacing recognized international driving licenses of women with Saudi driving licenses, noting that there are designated offices in all areas to do so.
According to sources at the traffic department, there are three steps, which are registration, submission of the required documents and booking an appointment. Afterwards, the applicant must go to the traffic department to certify the documents and undergo a field test. The applicant then receives the license after her driving is evaluated.
The traffic departments have begun receiving applications from women who have driving licenses and it's expected that the first licenses will be issued in Jeddah.
https://english.alarabiya.net/en/features/2018/05/24/Women-with-international-licenses-to-be-allowed-to-drive-in-Saudi-for-a-year.html
--------
Saudi Women Take To Tennis Courts
May 25, 2018
Jeddah: On weekends, when Nejat Alireza wants to re-energise her body and clear her mind after a draining school week, she picks up her tennis gear and heads to the Sweet Spot Tennis Academy. "When I'm on the tennis court, I forget about everything. It's where I release stress. Doing well on the court is both thrilling and relaxing," Alireza, 17, told Gulf News.
The academy, which was started six years ago in Jeddah, is the first and only one endorsed by the Saudi Olympic Committee to train girls in Saudi Arabia. It also works in close collaboration with the Saudi Tennis Federation. Sweet Spot officially represents Spain's Rafa Nadal Academy in Saudi Arabia.
Alireza was interested in sports from a very young age. She was only five when she picked up the racquet for the first time, and started playing with her sports-loving parents at home. Years later, when a relative casually spoke about an academy teaching tennis to young girls, Alireza's parents made their enquiries and enrolled the then 10-year-old at the academy.
Alireza's mother, Nirmeen Alireza, told Gulf News: "Nejat has always been athletic, and interested in sports. So I wanted to give her the opportunity to indulge her passion. The Sweet Spot academy had a clear vision when it came to developing high calibre tennis players, and the commitment from, and the quality of, its coaches was probably the biggest factor in enrolling Nejat at the academy."
Currently a student at the Jeddah Knowledge School, Alireza has a passion for tennis because "despite being a competitive sport, it exudes elegance". Before games at the academy, players are required to exercise for two hours under the supervision of their coaches. "We work on our stamina by running laps with different footwork exercises. We also work on strengthening our muscles with body weight exercises such as planks, leg lifts, and handstands."
The Sweet Spot Tennis Academy is the brainchild of Mariam Polding, a Jeddah-based Saudi entrepreneur with multiple businesses and a gym in Saudi Arabia and London. She has two girls, and the lack of sports opportunities for girls in Saudi Arabia compelled her to open the academy. "Sweet Spot Tennis Academy was created from my passion for tennis, sports and my belief that children, especially girls, should be inspired to love sports from a young age, and it should become part of their lives," she told Gulf News.
Among a host of international coaches recruited to mentor the players at the academy, Alireza's favourite is British national Jonathan Horn. She said he helped her improve her game tremendously. "Coach Johnny introduced me to a different side of tennis. He improved my technique and taught me about the mental half of the game, something I never learned from other coaches. He taught me how to predict incoming shots from opponents, and how to position oneself on the court in response. I also learned how to hit the ball using its momentum, rather than simply straining my muscles," she said.
Horn told Gulf News that "Saudi women's tennis is in a good place for now. And for boys, tennis provides a fantastic alternative to the kingdom's most popular sport, football. At the academy, girls outnumber boys 2:1".
Alireza's inspiration has been Roger Federer, the global tennis ace. She loves watching him play. "I admire him not only for his famous backhand and his ability to make tennis seem so effortless, but also because of his perseverance, his calmn and composure during moments of failure, and his humility."
Alireza began playing competitively when she was 15. She participated in and won a few tournaments in tennis academies in Bahrain.
She has also taken part in tournaments organised by the Sweet Spot Tennis Academy. Although Alireza is flying to America next year to pursue a course in molecular biology, she will not quit playing tennis. In fact, on her return, she said she would like to play professionally for Saudi Arabia, if given an opportunity.
In the next few years, Sweet Spot plans to have a purpose-built facility to provide state-of-the-art training grounds for players. Polding hopes that that will lead to the country producing more female players.
https://gulfnews.com/news/gulf/saudi-arabia/break-point-saudi-women-take-to-tennis-courts-1.2224640
--------
Iran: More Guidance Patrols To Crack Down On Women
25 May 2018
New groups of guidance patrols will begin their crackdown on women in Ardebil, northwestern Iran.
The General Prosecutor of Ardebil announced that new vice patrols are going to begin their activities in Ardebil.
In an interview on Wednesday, May 23, 2018, with the state-run ISNA news agency, Seyed Nasser Atabati, stated, "In addition to the activities of the patrols of the Prosecutor's Office, Talayedaran Patrols in charge of promoting virtue and forbidding from evil are going to guide and issue verbal warnings to women who are improperly veiled and to businessmen who break the laws in various arenas. These teams are obliged to offer their warnings and guidance verbally. Practical measures are needed to further educate people in protecting their covering, chastity and other related matters." (The state-run Jamaran website – May 23, 2018)
The Women's Committee of the National Council of Resistance of Iran issued a statement on April 19, 2018, on beating of and violence against women under the pretext of improper veiling. In the statement, the NCRI Women's Committee reiterated, "Clamping down on women under the pretext of improper veiling is a means for stepping up suppression throughout the society. This is what Iran's freedom-loving women have been bravely resisting against over four decades of the clerical regime's rule."
https://women.ncr-iran.org/iran-women-news/5199-iran-more-guidance-patrols-to-crack-down-on-women
--------
Sudan: Teen Bride Who Killed 'Rapist' Husband Appeals Her Death Sentence
24 MAY 2018
By Sebastien Malo
New York — A Sudanese teen sentenced to death after killing her husband as he tried to rape her has appealed the ruling amid growing support by celebrities and on social media.
Lawyers defending 19-year-old Noura Hussein said they filed the appeal on Thursday, according to U.S. rights group Equality Now, which has worked with the Khartoum-based Seema Foundation to bring attention to the case.
Hussein faces death by hanging after a Sharia court, which follows Islamic religious laws, found her guilty of premeditated murder for stabbing her husband as he tried to rape her in April. It sentenced her to death earlier this month.
The case has drawn condemnation by the United Nations and international rights groups who have said Hussein is a victim of child marriage and acted in self-defense.
"Let it be known here today that Noura was a victim of child marriage, forced marriage, rape and denial of justice," said a statement by Hussein's defense team passed on to Equality Now.
"Noura and indeed the women and girls of Sudan have too often been treated as chattels to be traded and given away as though they are property and as though they have no rights," it said.
After her marriage ceremony, Hussein refused to have sex with her husband who raped her as three of his male relatives restrained her.
A day later, as he attempted to rape her again and she struggled to stop him, she stabbed and killed him.
Hussein had a 15-day period to appeal following her sentencing on May 10.
Celebrities from model Naomi Campbell to actresses Emma Watson and Mira Sorvino have promoted an online campaign to rescue the teenager, adopting the hashtag #JusticeForNoura in Twitter messages of support.
"Her life hangs in the balance," said Sorvino in a tweet on Tuesday.
She urged her fans to sign an online petition calling on the government of Sudan not to execute Hussein. The petition on Change.org has garnered more than 1.1 million signatures.
Her life hangs in the balance!Pls sign petition #JusticeForNoura 19 year-old Sudanese girl #NouraHussein sentenced to death for killing her rapist in self-defense. Help get to 1M signatures for her appeal to be submitted Thurs https://t.co/AtR72AXzbV https://t.co/B7bT1AUYAx - Mira Sorvino (@MiraSorvino) May 22, 2018
Agencies UN Women, UN Population Fund and the UN Office of the Special Advisor on Africa have all appealed to President Omar Hassan al-Bashir's government for clemency for Hussein.
Sudan is ranked 165 out of 188 countries on the U.N.'s Gender Inequality Index, which measures how women fare compared to men in terms of access to health, education, political participation and employment opportunities.
UN Women says violence against women and girls is prevalent in Sudan. Marital rape and child marriage are not considered crimes in the predominately Muslim African nation.
http://allafrica.com/stories/201805250001.html
--------
'I don't fear death': pioneering Egyptian feminist defies threats
MAY 24, 2018
LONDON (Thomson Reuters Foundation) - When the Egyptian feminist Nawal El Saadawi was a young child, she wrote a letter to God challenging him to explain why women were treated differently to men.
"He never replied," said El Saadawi, who is still as passionate about women's rights. "I told him, 'if you are not fair, I'm not ready to believe in you.'"
El Saadawi's writing and political activism have made her many enemies over the intervening eight decades, upsetting governments, religious authorities and extremist groups alike.
She has received countless death threats.
Sacked from the health ministry in the 1970s, she was jailed in 1981 after criticizing President Anwar Sadat and spent nearly two decades in exile during President Hosni Mubarak's rule.
"When I was in jail, the jailer said, 'If I find paper and pen in your cell, it's more dangerous than if I find a gun,'" El Saadawi told the Thomson Reuters Foundation in an interview in London this week.
Described as the "Simone de Beauvoir of the Arab world", El Saadawi has written more than 50 books, covering taboos from sexuality to prostitution to female genital mutilation (FGM).
But she dislikes any comparison to the pioneering French feminist, saying: "I'm much more radical than her."
Unlike de Beauvoir, whom she says was dominated by her partner, the French philosopher Jean-Paul Sartre, El Saadawi proudly lives alone, having divorced all three of her husbands.
With her shock of white hair, bright eyes and ready smile, she is a force of nature who never minces words.
Now 86 and living in Cairo, she says she does not fear her opponents and enjoys huge support from young people across the Arab world. "I have lost my fear of death, I have lost my fear of prison," she said.
CHILD MARRIAGE
In a new edition of her autobiography "A Daughter of Isis", El Saadawi describes growing up in a patriarchal culture where girls were subjected to abuse, including child marriage and FGM.
Aged 10, she was dressed up and told to serve coffee to her first prospective husband. Unaccustomed to heels, she tripped, pouring hot liquid all over him.
An outspoken child, the young radical managed to fend off a succession of suitors before persuading her parents to let her pursue her studies, which led to medicine and psychiatry.
It was while working as a doctor in the 1950s and 1960s that she became an early campaigner against FGM.
Although El Saadawi had been cut as a young girl, she says she developed "amnesia" around the event.
It was not until she met some Sudanese women who had undergone the most extreme form of FGM – in which the vaginal opening is sealed - that she began to examine her experience.
"(The psychological effect) is terrible," she said. "It's the feeling you lack something, that they cut part of you. Women are deprived of (pleasure in) sex. They feel humiliated."
Egypt outlawed FGM in 2008 but it continues.
El Saadawi says the government is too scared of Islamic groups to take robust action.
About 87 percent of women and girls aged 15 to 49 have been cut, according to U.N. data, making Egypt the country with the highest number of women in the world to have undergone FGM.
El Saadawi disputes the figures, saying educated families have abandoned the tradition.
"A lot has changed. There is marvelous progress," she said.
El Saadawi has also courted controversy for her views on the veil - another "tool of oppression".
She says the veil is not Islamic and is annoyed when images of veiled women are used to symbolize Arab women on her books.
STILL DREAMING
Although much of her writing examines the status of Arab women, she says patriarchal oppression is everywhere. She ranks Islam as less oppressive than either Judaism or Christianity.
"After traveling all over the world ... I discovered that girls are brought up in a very similar way – we are all in the same boat. The patriarchal, religious, capitalist system is universal."
El Saadawi does not believe anyone will hand women their rights - women need to organize themselves and fight.
"I have had a dream since I was a child. A very mad dream, but very simple - to change the world," El Saadawi said.
"The dream is still alive."
https://www.reuters.com/article/us-egypt-women-rights/i-dont-fear-death-pioneering-egyptian-feminist-defies-threats-idUSKCN1IP2V9
--------
Pakistan Woman Flies Back To Italy after Forced Abortion
May 25, 2018
ROME: Italy's foreign minister proudly announced the return to the country on Thursday of a Pakistani woman who it claimed had been taken by her family to Pakistan to have an abortion against her will after she got pregnant by her Italian boyfriend.
The case of young Farah attracted a lot of interest in Italy following the recent strangulation in Pakistan of Sana Cheema, an Italian of Pakistani origin who police suspect was killed by her family because she refused an arranged marriage.
Farah, 19, didn't have Italian citizenship, only a residency permit. Nevertheless, the foreign ministry activated Italy's embassy in Islamabad after Verona authorities heard from Farah's friends that she had been tricked into going home and was forced to have an abortion.
Foreign Minister Angelino Alfano tweeted on Thursday that Farah was safely back in Italy, and he thanked Pakistani authorities who had removed Farah from her family's home in a Lahore area and brought her to the Italian embassy in Islamabad.
Alfano had previously said that Italy acted in Farah's defence as a matter of respecting her human rights and "fundamental rights based on the equality of men and women."
According to Italian news reports, Farah managed to sneak text and audio messages to her friends in Italy, recounting that her parents had tricked her into returning to Pakistan for her brother's wedding and then forced her to abort her child. She wrote of being afraid for her life.
Once in the embassy, Italy arranged for Farah's Pakistani passport to be renewed as her family had destroyed the one she travelled with and issued her a visa to return to Italy.
Farah's case prompted an outpouring of solidarity from Italian politicians from across the political spectrum eager to prevent a repetition of the Cheema case.
Verona's social services office, which had received complaints from Farah previously about her abusive father, guaranteed her needs would be met and safety ensured.
Left-leaning lawmaker Laura Boldrini, the former house speaker, praised Farah for raising her voice and "making us understand that when a woman rebels against those who want to oppress her, she will never be left alone". Right-wing leader Giorgia Meloni, who has demanded a harsher crackdown on illegal immigrants, went so far as to call for Italy to grant Farah citizenship.
https://www.dawn.com/news/1409843/pakistan-woman-flies-back-to-italy-after-forced-abortion
--------
Nigeria: Female Senators Silent Over Rape of Zamfara Women - - Marafa
25 MAY 2018
The senator representing Zamfara Central, Kabir Marafa, yesterday, expressed surprise about the fact that female senators have been silent over the plight of women in his state, noting that they protested when Ahmed Yerima, a former governor of the state, married an underage girl.
Yerima's marriage to a 13-year-old girl in 2010 drew widespread criticisms, as human rights organisations said the senator broke the law and should be arrested.
Marafa while contributing to a debate, yesterday, on a motion to commemorate Children's Day, said there was an estimated 5,000 cases of rape in the state.
He said: "I expect the women, especially of this Senate, to stand up shoulder to shoulder with women in Zamfara State.
"A situation was raised where a commissioner's wife and her six children were kidnapped in their house and three days into the journey, nobody knows where she is.
"This caught the attention of the media and everybody because it is a commissioner's wife. But the issue of kidnapping is a daily thing in Zamfara State today. There is an estimated 5000 victims of rape and we have said it in this chamber but up till now, the women have not stood up to say enough is enough of this very bad incident.
"Whereas in the 6th assembly, when my colleague and my leader, Senator Ahmed Yerima, fulfilled one of his religious rites by marrying a lady with the consent of her parents, almost whole of this chamber was pulled upside down.
"That he married an underage girl, which is nobody's business in anyway because her parents consented to the marriage and Yerima is a Muslim and he married the girl according to Muslim rites. But so much noise was made in this country to the extent that they staged a protest on the streets of Abuja."
The senator said the children in Zamfara had right to life, noting that "you are talking of child's rights. We in Zamfara are talking of child's survival. I want to see you stand up to say the children of Zamfara have the right to survive. There is humanitarian crisis in Zamfara."
http://allafrica.com/stories/201805250120.html
--------
Saudi Minister to Focus on Women's Empowerment At Global Meet
May 25, 2018
RIYADH: Minister of Labor and Social Development Ali bin Nasser Al-Ghafis will lead the Saudi delegation to the 107th Session of the International Labor Conference.
The conference opens in Geneva on May 28 under the theme "Generation Safe and Healthy" and will shine a spotlight on the global need to end child labor and improve the safety and health of young workers.
Participants will discuss the reports of the chairperson of the governing body and of the director-general titled "The Woman at Work Initiative: The push for equality," which aims to empower women in the workforce and enhance equality in wages, income and employment, in addition to shedding light on "The Women at Work Centenary Initiative."
Employer and worker delegates are nominated in agreement with the most representative national organizations of employers and workers.
During the session the ILO financial reports for December 2017 will be discussed, and the report of the committee of experts on the application of conventions and recommendations explored.
The participants will address items including effective development cooperation in support of sustainable development goals (SDGs), violence and harassment in the workplace and social dialogue and tripartism.
On the sidelines of the conference, the Saudi delegation will meet with representatives from ILO member states, Arab League, Non-Alignment Movement (NAM), Asia Pacific countries and the G-20, the ministry said.
The ministry's participation is part of Vision 2030 which aims to enhance international relations and benefit from international experiences that help generate job opportunities, reduce unemployment rates, achieve sustainable growth, increase women's participation in the workforce, in addition to enhancing an attractive environment and empowering social dialogue and tripartism.
The conference, often called an international parliament of labor, has several main tasks, which includes crafting and adopting international labor standards in the form of conventions and recommendations.
http://www.arabnews.com/node/1309271/saudi-arabia
--------
Saudi Arabia Supports Women In Professional Roles: Ministry
May 25, 2018
RIYADH: The Foreign Ministry of Saudi Arabia announced support for the women in their professional lives, adding that the kingdom 'strives for a dynamic community'.
The ministry said, "Saudi Arabia supports its women in their professional lives, as the Kingdom strive for a dynamic community. #Vision2030."
The Saudi kingdom also voiced encouragement as it joined the celebration of women role in developing countries to multilateralism and the agenda 2030.
WOMEN RIGHTS ACTIVIST FREED:
Saudi Arabia on Thursday released veteran women rights activist Aisha Al-Manea following her arrest last week with several other activists in a crackdown on suspected contacts with foreign entities.
However, Amnesty International had reported the detention of at least 11 activists, mostly women who previously campaigned for the right to drive and an end to the Kingdom's male guardianship system, which requires women to obtain the consent of a male relative for major decisions. The arrests were made just weeks before the ban on women driving is set to end.
"We welcome her [Al-Manea's] release but we still do not know the conditions around it, and we call on authorities to release the other human rights defenders immediately," said Samah Hadid, Amnesty's Middle East Director of Campaigns.
Earlier, the Saudi authorities had arrested seven people for suspicious contacts with foreign entities and offering financial support to enemies overseas, state news agency SPA said on Saturday.
Citing a state security spokesman, SPA statement said the suspects arrested "had suspicious contacts with foreign entities to support their activities, recruited people working in sensitive government sites and offered financial support of hostile elements overseas."
They aimed at undermining the security and stability of the Kingdom and dividing national unity, the statement said, adding that work was still underway to identify everyone involved in their activities and take all legal measures against them.
https://www.pakistantoday.com.pk/2018/05/24/saudi-arabia-frees-leading-womens-rights-activist/
--------
Iran: Women Employees Stage Protest At A University In Mashhad
25 May 2018
Employees of Payam Noor University of Mashhad, northeastern Iran, including women employees, staged a protest at the university.
More than 90 women and men working at Payam Noor University of Mashhad walked out of their offices and held a gathering on Wednesday, May 23, 2018, to protest reduction of their wages and increasing the number of their working days by one day.
This the second protest this year by the staff of this university due to cut in salaries and increasing the number of their working days.
Mashhad is the second largest city of Iran, capital of Razavi Khorassan Province, in northeastern Iran.
https://women.ncr-iran.org/iran-women-news/5200-iran-women-employees-stage-protest-at-a-university-in-mashhad
--------
Women Leadership Councils Empower Syrian Females to 'Make Their Voices Heard'
May 23,2018
AMMAN — Over 400 Syrian women have been trained on human rights and gender through the four Women Leadership Councils (WLCs) established by CARE International over the past year in the governorates of Amman, Zarqa, Irbid and Mafraq, aiming to support Syrian women and girls in Jordan in achieving "effective engagement" with their local communities.
"Based on CARE's belief in the need to establish partnerships in all aspects of life, our objective was to integrate Syrian women into the Jordanian society," the NGO explained in a statement issued last Monday, adding that the WLCs also helped participants in "enhancing their ability to deal with the isolation and depression they may be facing after leaving their homes, in addition to the consequences of sexual and gender-based violence (GBV) and their engagement with working environments that are not safe enough for them".
"When I was first contacted by CARE, I remember being so excited because I felt like my voice was going somewhere and I was actually using the intellect that I worked hard for over the years to help people, like I always did," said Rana, a former lawyer and Syrian refugee member of the WLC in Amman.
She explained that the team "works closely with women to teach them all kinds of things, from literacy courses in English to GBV awareness and legal advice".
"We had many sessions about the issue of early and forced child marriage and, right after the first session, girls started asking us for more information like reasons why they shouldn't get married at an early age, and how to use effective arguments to change the minds of their parents or caretakers," Rana recalled, expressing her joy over "being able to make a change in the mindset of the young girls, by being the lawyer who had an impact back in Syria".
The initiative started in 2017, when CARE International selected a total of 48 Syrian women and girls to train them on ways to start the change within their communities. With 12 leaders per governorate, intensive training and workshops were implemented on topics such as leadership skills, communication, human rights, gender, conflict resolution and women's empowerment — and now, beneficiaries are seeing the results.
"When CARE called me and asked me if I'd like to be interviewed for a spot in the WLC, I had my doubts," Syrian refugee Yasmin recounted, remembering how she went to the interviewer and told her that "they must have gotten something wrong", as she did not have "a proper education".
"But she reassured me saying that this isn't about education, but about leadership," Yasmin remembered, elaborating on how the initiative has changed her. "I can visibly see a difference in myself, my personality, and the way I deal with people and situations," she said, adding "my role in the WLC is to ensure that the voices of women — especially Syrians — are heard by organisations and stakeholders. We also listen to people in general and note down their challenges so that we can, in turn, formulate them in a better way and present them to organisations."
Up to this point, the WLC project resulted in the implementation of 8 community initiatives, according to CARE International sources, who noted that the initiatives were "based on meaningful topics such as combating early marriage, enhancing the role of women and educating the beneficiaries on public safety standards, in addition to teaching English and Arabic and enhancing the positive outlook for the future".
http://www.jordantimes.com/news/local/women-leadership-councils-empower-syrian-females-make-their-voices-heard'
--------
URL: https://www.newageislam.com/islam-women-feminism/three-prominent-womens-rights-advocates/d/115353
New Age Islam, Islam Online, Islamic Website, African Muslim News, Arab World News, South Asia News, Indian Muslim News, World Muslim News, Women in Islam, Islamic Feminism, Arab Women, Women In Arab, Islamophobia in America, Muslim Women in West, Islam Women and Feminism