New Age Islam News Bureau
4 Aug 2020
• Malak Al-Shaya, Saudi Figure Skater Nurtures Olympic Dream
• Kylie Moore-Gilbert, British-Australian Woman in Iran Prison 'Is Well'
• Businesswomen Showcase Products at Saudi Festival
• Iran Women's Podcast Gives Voice to Victims Of Abuse
• Report Details Scores of Women Missing In Northern Syria After Kidnap By Turkish-Backed Jihadists
Compiled by New Age Islam News Bureau
URL: https://www.newageislam.com/islam-women-feminism/three-arab-women-top-forbes/d/122543
--------
Three Arab women top the 'Forbes Middle East' list as richest businesswomen
2020-08-03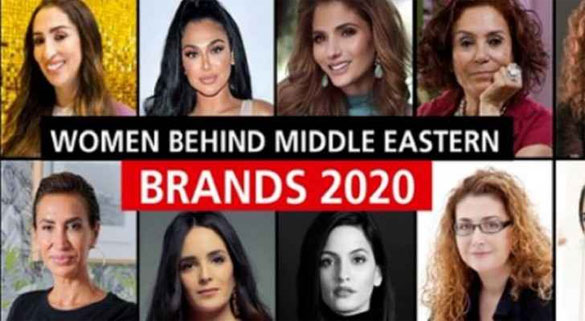 Egyptian, Iraqi and Lebanese women topped the Forbes Middle East list as richest businesswomen.
-----
Iraqi-American makeup artist, Huda Kattan, topped the Forbes Middle East list this year with her Huda Beauty makeup brand which boasts more than 46 million Instagram followers. Her estimated worth stood at $610 million last year.
The fashion sector represented 42% of the list with 17 businesswomen, led by famous Lebanese fashion designer, Reem Acra. The jewellery sector took the second place in the list, with nine brands, led by Egyptian, Azza Fahmy, and her two daughters, Amina and Fatma Ghaly.
This year, the magazine launched the list of businesswomen, which featured top 10 women behind the most successful tech-based companies in the Middle East, that have succeeded in collecting investments and financing millions of dollars from investors. Mona Ataya and her partner Leena Abi Khalil topped the list with their brand Mumzworld, which has raised more than $50 million from investors.
Lebanese women topped the list with 14 entries, followed by 10 Saudi entries, 10 Egyptian entries, and five Jordanian women.
https://en.royanews.tv/news/21674/Three-Arab-women-top-the-%E2%80%98Forbes-Middle-East%E2%80%99-list-as-richest-businesswomen
--------
Malak Al-Shaya, Saudi Figure Skater Nurtures Olympic Dream
August 04, 2020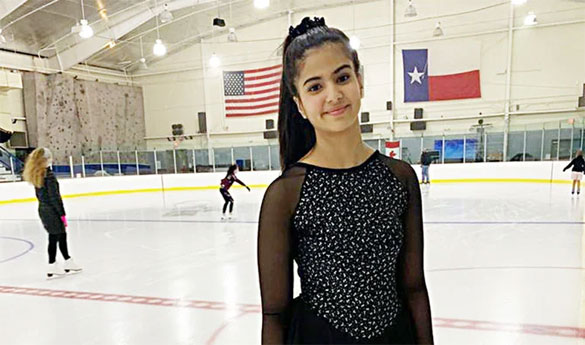 Malak Al-Shaya says when in the ice rink everything feels 'magical' around her. (Photo/Supplied)
------
JEDDAH: A Saudi teen who picked up ice skating three years ago at a friend's birthday party is now dreaming of taking part in the Olympic Games.
"It all started at my friend's birthday party three years ago where we ice skated and I fell in love with the sport. I started going every day after that. My mom signed me up for classes when she saw my love for the sport," Malak Al-Shaya told Arab News.
She said: "My mom was the one that encouraged me. At that birthday party, my mom and the coach said I was a natural because I just went for it."
She came 4th at the Houston Invitational 2020 in March. She said that she will work harder next year to win first place.
The 13-year-old hopes to emulate the Russian figure skaters Elena Radionova and Alexandra Trusova who inspired her and even to get to the Olympics.
"I'll work on ice and off ice. I want to be like Alexandra Trusova, who makes it look so elegant," she said.
Gliding on the ice, Al-Shaya said she feels like everything is "magical."
The young figure skater is aware that the sport is not the most popular in the Kingdom, but she encourages those wishing to master it.
"Just go for it. If you are willing to work hard you can achieve anything," she said.
She has received a lot of encouragement on social media to pursue her passion in figure skating.
Al-Shaya's mother, Eman Al-Damegh, shared her daughter's love story. "At that birthday party, it was the first time Malak ever ice skated. After that, my kids used to ask me to take them ice skating every day," she said.
She said that her daughter came from a background, which lacked the facilities for the sport, but was "a natural" straightaway.
"She had never been ice skating before, she started it at such a young age. We used to live in Qassim where there were no ice-skating arenas at all," said Al-Damegh.
She added: "The moment Malak set foot inside the rink, she just took off. I was so surprised, she didn't hesitate at all, she was so daring that day. And there I was wondering what would happen on ice (before she started)."
According to her proud mother, Al-Shaya has all the capabilities required for this sport and possesses the sense of daringness that skating requires.
The teen's coach told Al-Damegh that her daughter's speed was impressive, adding that it takes them years to teach a student to reach the speed that she is "naturally able to control comfortably."
https://www.arabnews.com/node/1714291/saudi-arabia
--------
Kylie Moore-Gilbert, British-Australian Woman In Iran Prison 'Is Well'
August 04, 2020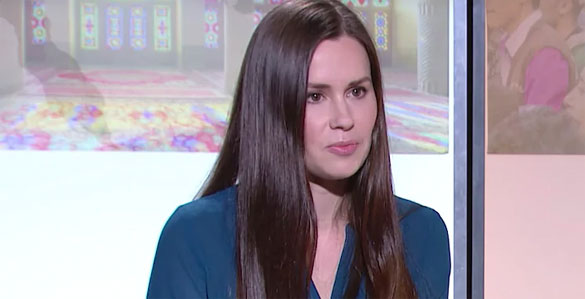 This image made from a 2017 video by The Modern Middle East shows Kylie Moore-Gilbert, a University of Melbourne scholar on the Middle East.
-----
CANBERRA, Australia: An Australian ambassador has visited a British-Australian academic convicted of espionage before being moved recently to a notorious Iranian prison and found that she "is well," Australia's government said Tuesday.
Kylie Moore-Gilbert was a Melbourne University lecturer on Middle Eastern studies when she was sent to Tehran's Evin Prison in September 2018 and sentenced to 10 years.
Concerns for her well-being escalated with news last week that she had been moved to Qarchak Prison, east of Tehran.
Australia sought urgent consular access and its ambassador to Iran, Lyndall Sachs, visited Moore-Gilbert in Qarchak Prison on Sunday, Australia's Department of Foreign Affairs and Trade, or DFAT, said in a statement.
"Dr. Moore-Gilbert is well and has access to food, medical facilities and books," the statement said. "We will continue to seek regular consular access to Dr. Moore-Gilbert."
Moore-Gilbert's family said they were reassured by the ambassador's prison visit.
"We remain committed to getting our Kylie home as soon as possible and this is our top and only priority," a family statement said.
"We continue to believe that Kylie's best chance at release is through diplomatic avenues and are in close contact with DFAT and the Australian government on the best ways to achieve this," the statement added.
In 2018, Moore-Gilbert was arrested at Tehran airport while trying to leave Iran after attending an academic conference.
The Center for Human Rights in Iran, a US-based organization, said last week that Moore-Gilbert was being held with violent criminals under harsh conditions.
Reza Khandan, husband of human rights lawyer and Evin Prison inmate Nasrin Sotoudeh, posted on social media last week that Moore-Gilbert had been transferred "as a form of punishment."
Australia describes Moore-Gilbert's case as one of its highest priorities.
Moore-Gilbert has gone on hunger strikes during her time in custody and pleaded for the Australian government to do more to free her during almost two years in custody.
She wrote to Australia's prime minister last year that she has been "subjected to grievous violations of my legal and human rights, including psychological torture and spending prolonged periods of time in solitary confinement."
https://www.arabnews.com/node/1714506/middle-east
--------
Businesswomen showcase products at Saudi festival
August 04, 2020
UNAIZAH: Enterprising businesswomen were given a platform to showcase their products during a popular Saudi dates festival.
Organized by the Unaizah Chamber of Commerce and Industry in partnership with the municipality of Unaizah, the event allocated space for female entrepreneurs to sell dates and related items. Chair of the chamber's women's committee, Mariam Al-Hamad Al-Mutairi, said the sales opportunity at the Unaizah Dates Festival had been part of the chamber's efforts to support productive families in the province.
https://www.arabnews.com/node/1714331/saudi-arabia
--------
Iran women's podcast gives voice to victims of abuse
4 August 2020
Maryam's voice trembles as she tells what happened when her husband attacked her in public.
"People's reaction was like it was normal to see a man beating his wife. There's no law, there are no safe houses, and even the police can't do much. Some families also act like they're so modern and they say, 'Oh it's a private matter'."
Her story is a rarely heard one in her home country of Iran, but since the creation of a new podcast, many more women like her are coming forward to share unflinching accounts of their experience of domestic violence.
They have been encouraged by Maryam (not her real name) to use the medium as a platform to break their silence, challenging traditional societal taboos.
"Become Scheherazade," Maryam tells them - an allusion to the mythical Persian Queen who prevented her own death through her gift for storytelling, one of the main protagonists in the epic The One Thousand and One Nights.
But these stories are a world away from the trappings of ancient folklore, and rooted in a society that largely encourages women to keep quiet.
'A family matter'
Maryam, 34, met her husband at university where she studied child psychology.
She defied her parents in Tehran to marry the man she loved, who she initially considered a liberal thinker and an advocate of workers' rights.
But just days into the marriage, she realised something was not right. In the podcast she describes how "pride and a reluctance to admit defeat" prevented her from seeking help from her mother and father.
She endured physical and mental abuse throughout her marriage and, to make matters worse, was made to believe that it was her own fault.
After all, like many women in Iran, Maryam grew up with the familiar maxim: "A woman enters a man's house in a white bridal dress and leaves only in a white shroud."
Maryam says widely accepted social norms prevented her from getting out of the marriage sooner.
Iranians are traditionally deeply private people and family issues usually remain behind closed doors. Because of this, domestic abuse has become endemic and women are encouraged to remain loyal and be patient.
Maryam finally decided to leave after she ended up in a hospital bed after a sustained beating. In her semi-conscious state, unable to move because of her injuries, she says she asked herself: "Why am I here and why has this happened to me?"
Weeks later, she was discharged and filed for divorce. Fortunately her parents supported her decision - but not all victims are so lucky.
In each podcast, Maryam is joined by women who share their own experience of abuse at the hands of male members of the family.
New law?
As well as personal stories, the podcast also examines the issue of the systemic lack of protection for women suffering violence, particularly domestic abuse.
The only official statistics ever commissioned in Iran on the subject was 16 years ago, which found that two-thirds of Iranian women had experienced domestic abuse at least once.
The London-based human rights group Amnesty International said in a 2013 report on Iran that women in the country "faced discrimination in law and practice in relation to marriage and divorce, inheritance, child custody, nationality and international travel".
The tragic murder of a teenage girl by her father in a so-called "honour killing" has prompted Iran's President Hassan Rouhani to demand a speedy review of the bill on the protection of women from violence. This, almost a decade after it was drafted.
The bill - which will still need to be approved by the largely conservative parliament before it becomes law - offers the potential for the biggest change to women's rights since the 1979 revolution.
It recognises physical violence towards women as a crime and, for the first time, also assigns punishment for harassment in public and on social media.
Five years since the end of her marriage, Maryam says she has never been happier. As well as podcasting, she also holds counselling sessions for victims of abuse, most of whom are women.
She hopes that giving people the freedom to speak out will help end the culture of secrecy that, she laments, "only emboldens your abuser."
https://www.bbc.com/news/world-middle-east-53566261
--------
Report details scores of women missing in northern Syria after kidnap by Turkish-backed jihadists
AUGUST 3, 2020
MORE than 160 women and girls have been kidnapped by Turkish-backed jihadists since the invasion of Afrin, northern Syria, in 2018, according to a report released by the Missing Afrin Women Project today.
According to the report, which draws on reports from media and human rights organisations, the women are subjected to torture and sexual violence after being accused of working with the Kurdish-led Syrian Democratic Forces (SDF).
This includes participating and voting in elections held in the semi-autonomous region known as Rojava and documenting information about the situation in Afrin or sharing such information with outside sources.
The Missing Afrin Women Project believes that about a third of the 161 kidnapped have been released from captivity, with the whereabouts of the others unknown.
Reports from the region and interviews with survivors suggest that torture, cruel and degrading treatment as well as sexual and gender-based violence are pervasive and systemic.
"We were dozens of kidnapped women of different ages, among us were minor girls, who were always raped; one of them, named Zaloukh, died from heavy bleeding after being raped," one survivor said.
She explained how the women were transported blindfolded in the night, with the jihadists threatening to execute them.
"Many of the abductees committed suicide, and others were killed in cold blood, their bodies thrown in the forests near the villages in Azaz, Al-Bab, Afrin and Jarabulus," she said.
Others have been accused of witchcraft or collusion with the Peoples' Protection Units (YPG), with jihadists demanding large ransoms from their families.
As reported in the Morning Star in May a "torture camp" was discovered in Afrin, where mainly Kurdish and Yazidi women were held by militia from the Hamza Division.
Footage circulating on social media appeared to show the women being tortured and stripped naked in the camps, amid allegations of rape and sexual abuse.
The international community, including the United Nations, has been accused of complicity in the war crimes committed in northern Syria due to inaction.
Europe-wide Kurdish women's rights organisation TJK-E argued that "the international institutions which remain silent on the atrocities committed in front of the world are as responsible for this brutality as Turkey."
As many as 300,000 people have been internally displaced since Turkey's invasion and subsequent occupation of Afrin. Nato's second-largest army launched its assault in January 2018, allied with multiple jihadist organisations.
Syrian Democratic Council spokeswoman Ilham Ahmed warned of a Turkish project to change the demography of the region and obliterate its historical Kurdish identity.
https://morningstaronline.co.uk/article/w/report-details-scores-women-missing-northern-syria-after-kidnap-turkish-backed
--------
URL: https://www.newageislam.com/islam-women-feminism/three-arab-women-top-forbes/d/122543
New Age Islam, Islam Online, Islamic Website, African Muslim News, Arab World News, South Asia News, Indian Muslim News, World Muslim News, Women in Islam, Islamic Feminism, Arab Women, Women In Arab, Islamophobia in America, Muslim Women in West, Islam Women and Feminism