New Age Islam News Bureau
10 Aug 2016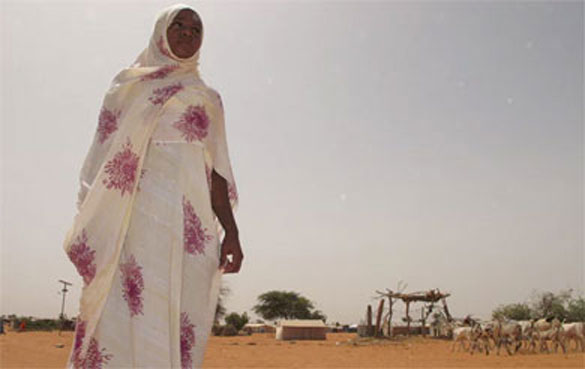 Tinalbaraka Amano was forced to leave her home in Bamako for a Mauritanian camp, but says she is not afraid her parents will marry her off. Photographs: Alex Duval Smith
-------
• Women's Rights Activists of Iran Treated As 'Enemies of the State'
• Muslim Woman Flight Attendant Sues ExpressJet Over Suspension
• Mum Rescued From Islamic State Rips Off Veil - But Her Little Boy's Reaction Is Simply Heartbreaking
• Muslim, Somali-American Woman Scores Historic Win in Democratic Primary
• German Judges Call For Headscarf Ban In Court To Show 'Neutrality'
Compiled by New Age Islam News Bureau
URL: https://www.newageislam.com/islam,-women-and-feminism/new-age-islam-news-bureau/threat-of-marriage-hangs-over-young-malian-refugee-girls-in-mauritania/d/108236
----
Threat of marriage hangs over young Malian refugee girls in Mauritania
AUGUST 10, 2016
Tinalbaraka Amano has done well to adapt to life in the desert. Three years ago, the 16-year-old had her own room in a suburban house in Mali's capital, Bamako. She had school friends with middle-class aspirations and Snapchat. At Mbera refugee camp in southern Mauritania, she sleeps in a tent with her parents. Before bed, she has to shake her sleeping mat for scorpions. The neighbours are mostly nomads who have never been online or in a classroom.
"Many of the girls get married – often they are younger than 12," says Tinalbaraka, who is from a family of musicians. She has just sat her ninth-year exams. Her class of 54 pupils included only 15 girls. "That is how it is. When they get married, their parents or their husbands do not want them to stay on at school. Anyway, they have babies so it is not possible."
The 42,000 residents of Mbera camp are dealing with a crisis among their bored youth. Agencies here warn that if the needs of 14,000 school-age residents are not addressed through education and training, boys will be tempted to join armed groups and more girls will be at risk of early marriage.
Situated 50km inside Mauritania, Mbera is one of the biggest refugee camps in sub-Saharan Africa, home mainly to Tuareg and Arab Malians. They are blamed by southern black Malians for the killing – Islamic terror, clan feuding and armed banditry – that began in 2012 and has brought the country to its knees.
Two peace deals signed last year between the Malian government and armed groups (excluding al-Qaida) have increased pressure on the camp, says Taleb Bouya Abdallah, an emergency education officer for the UN children's agency, Unicef. "When peace was declared, funding fell away. It does not matter how many peace deals are signed, or repatriation agreements are made; as long as it is not safe for people to return to Mali, they won't," he said.
According to UN figures, 55% of girls in Mali and 34% in Mauritania are married before the age of 18.
It happened – twice – to 16-year-old Nafissa* from Léré, in the Timbuktu region. Married at 12 to her cousin, she faced so much violence from him that her widowed mother returned 50,000 CFA francs (£64) of the dowry in the hope of a divorce. But when Nafissa and her mother moved to Mbera in 2013, he followed them. He raped her and she gave birth to a boy, Mohamed, who is now 18 months old. Then, Nafissa began having epileptic fits.
The local branch of humanitarian agency Intersos and the UN refugee agency, UNHCR, raised the money to pay back the balance of the dowry – 250,000 ouguiyas (£535) – and applied to a judge for a restraining order against Nafissa's husband, which was granted. The family then found a second husband for her, but he walked out, blaming harassment from the first husband.
"I lie in bed and I cannot sleep because I am so worried that [my first husband] is going to come back," says Nafissa, who lives with Mohamed and her mother. "The neighbours look out for him, and when he comes someone runs to the gendarmerie. But by the time the gendarmes arrive, he has usually left.
"I have pain in my hip from when he kicked me," says Nafissa, who has never been to school because "there was too much housework".
Houleye Diawara, 23, a social work graduate employed at Intersos's gender-based violence drop-in centre, says Nafissa's family need material help, counselling, medical care and protection. "A psychologist comes from Nouakchott every other month. It is not enough. There are so many traumatised women in the camp. No one here really has the qualifications or the experience to help her fully. We would like to find a trade for Nafissa – maybe sewing – and give her training, but we are short of funds."
Abdallah says early marriage is recurrent and unchanging. "There is a real need to explain to parents what school is for. They also need to be told about the health dangers linked to early marriage. Unlike in Mali, education is free in the camp so this is a good place to start."
Unicef says 6,000 children who had never been to school have attended literacy classes at Mbera since 2013. The camp offers accelerated teaching for illiterate older children who are too old to learn alongside six-year-olds.
But Abdallah says the teenagers need vocational training. "Because of the high cost, we have only managed to train 240 of them in a trade. Boredom is the worst possible thing. It can lead them astray, into drugs or, in the case of boys, into the armed groups."
Only 5,000 of Mbera's 14,000 school-age residents attend the camp's six primary schools. Secondary school attendance is disastrously low. There are only 220 pupils, of whom 51 are girls. Only a quarter of the teachers are qualified, and the retention rate is low. Teachers' monthly salaries of 55,000 ouguiyas are roughly a third of those offered by NGOs in the camp.
Tinalbaraka is looking forward to the new school year. She is convinced her musician father, Abdallah Ag Amano, will allow her to study to baccalaureate level and beyond. She is part of a drama group that stages sketches about school life; she believes life in the camp does, at least, allow some girls to acquire basic literacy. "Being here means some of the [nomadic] children experience school for the first time. In the camp, girls have fewer domestic responsibilities than when they are in Mali."
Asked if she worries about being married off against her will, she says: "I am not afraid it will happen to me. My parents will let me do what I want."
https://www.theguardian.com/global-development/2016/aug/10/threat-of-marriage-young-malian-refugee-girls-mauritania-mbera-camp
--
Women's Rights Activists of Iran Treated As 'Enemies of the State'
10 August 2016
Iranian authorities have intensified their repression of women's rights activists in the country in the first half of this year, carrying out a series of harsh interrogations and increasingly likening any collective initiative relating to women's rights to criminal activity, Amnesty International said today.
The organization's research reveals that since January 2016 more than a dozen women's rights activists in Tehran have been summoned for long, intensive interrogations by the Revolutionary Guards, and threatened with imprisonment on national security-related charges. Many had been involved in a campaign launched in October 2015, which advocated for increased representation of women in Iran's February 2016 parliamentary election.
"It is utterly shameful that the Iranian authorities are treating peaceful activists who seek women's equal participation in decision-making bodies as enemies of the state. Speaking up for women's equality is not a crime. We are calling for an immediate end to this heightened harassment and intimidation, which is yet another blow for women's rights in Iran," said Magdalena Mughrabi, Interim Deputy Middle East and North Africa Programme Director at Amnesty International.
"Rather than addressing Iran's disturbing record on women's rights the Iranian authorities have once again opted for repression, accusing women's rights activists of collusion in western-orchestrated plots in a bid to maintain their discriminatory practices towards women."
Speaking up for women's equality is not a crime. We are calling for an immediate end to this heightened harassment and intimidation, which is yet another blow for women's rights in Iran
Magdalena Mughrabi, Deputy Middle East and North Africa Director at Amnesty International
The women summoned for interrogation were given no reason for the summonses they received, but once inside the interrogation room they were bombarded with accusations of espionage and collusion with "foreign-based currents seeking the overthrow of the Islamic Republic system". Amnesty International understands that the Revolutionary Guards subjected the women to verbal abuse, including gender-related slurs. The activists were not allowed to be accompanied by their lawyers during the interrogations, which lasted in some cases up to eight hours.
Amnesty International understands that the interrogations focused, in particular, on two local initiatives: a website called "Feminist School", which posts reports and articles on issues related to feminist theories and practices and the state of women's rights in Iran and globally; and the Campaign to Change the Masculine Face of Parliament, launched ahead of the February 2016 parliamentary elections in Iran to push for the increased presence of pro-women's rights candidates in parliament.
Members of both initiatives have been pressured to close or suspend their activities and practice heightened self-censorship. In its final statement, the Campaign to Change the Masculine Face of Parliament explained how its achievements in terms of generating a five-fold increase in the number of women seeking candidacy, highlighting the demands of women for equality, and naming and shaming candidates with a history of making sexist remarks, have attracted the wrath of security bodies, leading to repeated summons, threats, prolonged interrogations, and the opening of new national security-related cases against the campaign's active members. The Feminist School website has not been updated since the middle of February 2016.
The latest target of this intensified crackdown is the renowned women's rights magazine Zanan-e Emrooz (Today's Women) which announced it was suspending its activities on 26 July.
"The Iranian authorities should be under no illusion that harassing women's rights activists by carrying out interrogations and forcing them to close their publications silently will go unnoticed. They should be supporting women's rights activists, not persecuting them," said Magdalena Mughrabi.
The Iranian authorities... should be supporting women's rights activists, not persecuting them
Magdalena Mughrabi, Deputy Middle East and North Africa Director at Amnesty International
The renewed assault on those working on women's rights has been manifested most extremely by the arbitrary arrest and detention, since 6 June, of Dr Homa Hoodfar, a Canadian-Iranian national and prominent anthropology professor renowned for her decades of academic work on women's issues. Except for one brief meeting with her lawyer, Dr Homa Hoodfar has been held largely incommunicado since her arrest and is currently held in Tehran's Evin Prison.
She had worked with WLUM (Women Living Under Muslim Laws), an international feminist network whose stated aim is to strengthen women's struggles for equality and their rights in Muslim contexts.
The Prosecutor General of Tehran stated in a media interview on 24 June that Dr Homa Hoodfar's "criminal" case is in connection with "her entry into fields concerning feminism and national security offences". Days earlier, media outlets affiliated with the Revolutionary Guards ran articles claiming that
Dr Homa Hoodfar was "the Iran agent of a feminist network building operation" and the Campaign to Change the Masculine Face of Parliament was "her latest project".
The articles also claimed that her work with WLUM to promote feminism and women's equality in Muslim countries and enhance women's bodily autonomy was aimed at "disrupting public order" and "prompting social-cultural changes that can ultimately pave the ground … for a soft overthrow".
"It is appalling that the Iranian authorities are equating Dr Homa Hoodfar's valuable work relating to feminism and women's rights in Muslim contexts with national security offences. This distressing development highlights the absurd and chilling extremes to which Iran's authorities are willing to go to crush those who challenge state-sanctioned discrimination," said Magdalena Mughrabi.
"The Iranian authorities must release Dr Homa Hoodfar immediately and unconditionally and stop their relentless harassment of all women's rights activists in the country."
It is appalling that the Iranian authorities are equating Dr Homa Hoodfar's valuable work relating to feminism and women's rights in Muslim contexts with national security offences
Magdalena Mughrabi, Deputy Middle East and North Africa Director at Amnesty International
Tens of thousands of Amnesty International members and supporters have called for her immediate and unconditional release as she is a prisoner of conscience held solely for the peaceful exercise of her right to freedom of expression.
Background
Women in Iran are subject to pervasive discrimination both in law and practice, including in areas concerning marriage, divorce, child custody, freedom of movement, employment, and access to political office. Women and girls are inadequately protected against domestic and other violence, including early and forced marriage and marital rape. Compulsory "veiling" (hijab) laws empower police and paramilitary forces to target women for harassment, violence and imprisonment regularly.
Public Document
https://www.amnesty.org/en/latest/news/2016/08/iran-womens-rights-activists-treated-as-enemies-of-the-state-in-renewed-crackdown/
--
Muslim Woman Flight Attendant Sues ExpressJet Over Suspension
AUGUST 10, 2016
A Muslim flight attendant has sued ExpressJet, accusing the airline of wrongly suspending her because she refused to serve alcohol to passengers. The Council on American-Islamic Relations' Michigan chapter announced Tuesday that it filed the lawsuit last week on behalf of Charee Stanley, a Detroit-based flight attendant for the airline headquartered in Atlanta. The federal court case follows a discrimination complaint filed last year with the Equal Employment Opportunity Commission, which dismissed it without determining whether the airline violated the law. Stanley alleges ExpressJet didn't provide a reasonable religious accommodation and seeks back pay and other damages. She was placed on unpaid leave last summer. ExpressJet said in a statement that it values diversity but cannot comment on specific personnel matters or ongoing litigation.
https://www.bostonglobe.com/business/talking-points/2016/08/09/muslim-flight-attendant-sues-expressjet-over-suspension/mU9Ia3kBPVqBdq1IndkBKK/story.html
--
Mum Rescued From Islamic State Rips Off Veil - But Her Little Boy's Reaction Is Simply Heartbreaking
10 AUG 2016
The fear that ISIS inspires in their prisoners is laid bare in this heartbreaking video of a boy desperately trying to cover up his mum's face after she rips off her veil.
The mother made the powerful symbolic gesture after she was rescued from Islamic State by Syrian rebels.
Women under the yoke of the twisted terror group are forced to cover up with veils, loose Abayas (loose cloak-like garments) and gloves.
But when she tore it off, her terrified son - obviously fully aware of the brutal punishments meted out by ISIS to women who remove their veil - tries to put it back on.
She then reassures her son that they are once again free.
The video was taken in the Syrian city of Manbij, which was liberated by U.S.-backed forces on Saturday, the Syrian Observatory for Human Rights said.
Ironically, a group of ISIS fighters were caught red-handed trying to flee the losing battle in Manbij - disguised as women.
The extremists were captured by members of the SDF dressed in full veil.
Footage shows the men, still in the garb, sat in front of armed soldiers shortly after their capture.
It is understood that the men were forced to strip to their underwear to prove their sex, before being taken as prisoners by the forces.
The Syria Democratic Forces (SDF), which includes the powerful Kurdish YPG militia and Arab fighters, launched its campaign two months ago with the backing of U.S. special forces to drive Islamic State from a last stretch of the Syrian-Turkish frontier.
The official spokesman of the SDF-allied Manbij military council, Sharfan Darwish, told Reuters that battles were continuing but that around 90 perc ent of the city had now been cleared of the ultra hard-line Sunni militants.
The Kurds are arguably the main threat to ISIS, having battled the murderous terror group since the Syrian conflict began in 2011.
http://www.mirror.co.uk/news/world-news/mum-rescued-islamic-state-rips-8600136
--
Muslim, Somali-American Woman Scores Historic Win in Democratic Primary
August 10, 2016
As of late Tuesday night, Ilhan Omar has won the Democratic vote for Minnesota state legislature. If she wins the election in November, she'll become the first Somali-American, Muslim, woman lawmaker in the United States.
Omar, a Somali activist who currently serves as Director of Policy Initiatives at Women Organizing Women, won the Democratic primary for Minnesota state legislature with 40.95% of the vote, beating out former representative Phyllis Kahn, who held the seat for 22 terms. District 60B, where Omar lives and will be serving, includes the University of Minnesota and surrounding neighborhoods that host a large population of Somali and East African immigrants.
"I want to congratulate Ilhan Omar for winning the race for district 60B," Mohamud Noor, Omar's other opponent for the primary, wrote in a Facebook post. "The community won today."
Noor's not the only one offering congratulations. After the announcement of Omar's victory, social media went wild.
https://mic.com/articles/151132/the-first-muslim-somali-american-woman-lawmaker-was-just-elected-in-the-u-s#.DQa5C9Egc
--
German judges call for headscarf ban in court to show 'neutrality'
AUGUST 10, 2016
Two influential German legal associations are calling for headscarves to be banned for judges and lawyers to uphold "neutrality" in court.
Fierce discussion has been sparked by the case of a Muslim lawyer who was banned from wearing a hijab in the Bavarian town of Augsburg earlier this year.
But Aqilah Sandhu won the right to wear the garment after a court ruled that the prohibition was an attack on religious freedom and had no legal basis.
Now, two of Germany's largest judges' unions are calling for a formal ban on headscarves in the courtroom, as well as other religious symbols.
Muslim law trainee wins case against the state of Bavaria after being banned from wearing a headscarf at work
Female politician disqualified from entering Iran's parliament over photos 'showing her not wearing headscarf'
Mother of terror attack victim booed in French parliament for wearing a headscarf
"The neutral clothing of judges should act as an outward signal to all participants in the legal process that the court will objectively and impartially rule on their dispute according to the law," Sven Rebehn, director of the German Association of Judges, told the Rheinische Post.
"A law on dress codes must but not only be limited to the headscarf, but include other religious clothing or symbols."
Robert Seegmüller, chairman of the Association of German Administrative Judges, said the required uniform of black robes, white shirt and white bow tie, cravat or neckerchief is important to show that the outcome of a case "does not depend on the person, but solely on what the law says".
He argued that neutral clothing was particularly important in cases where litigants are non-Muslims, The Local reported.
Germany reverses headscarf ban for Muslim teachers
A possible ban on headscarves for legal representatives in court is also supported by politicians including the ministers of justice for Baden-Württemberg and Mecklenburg-Western Pomerania, who are working on new state laws.
But there is tension between arguments for neutrality and possible violations of religious freedom.
The chairman of the Bundestag's committee on legal affairs, Renate Künast, said a headscarf ban would be a "serious encroachment on the freedom of religion".
Clothing guidelines were issued by the Federal Ministry of Justice in 2008 but the German constitution does not ban citizens from wearing religious symbols.
Berlin has a "neutrality law" for public sector workers, including teachers, but when a Muslim trainee lawyer was told her position was being reviewed because of her hijab in 2013, an exception was made.
http://www.independent.co.uk/news/world/europe/german-judges-call-for-headscarf-hijab-ban-in-court-lawyers-to-show-neutrality-a7180591.html
-----
URL: https://www.newageislam.com/islam,-women-and-feminism/new-age-islam-news-bureau/threat-of-marriage-hangs-over-young-malian-refugee-girls-in-mauritania/d/108236
New Age Islam, Islam Online, Islamic Website, African Muslim News, Arab World News, South Asia News, Indian Muslim News, World Muslim News, Women in Islam, Islamic Feminism, Arab Women, Women In Arab, Islamophobia in America, Muslim Women in West, Islam Women and Feminism