New Age Islam News Bureau
27 Sept 2016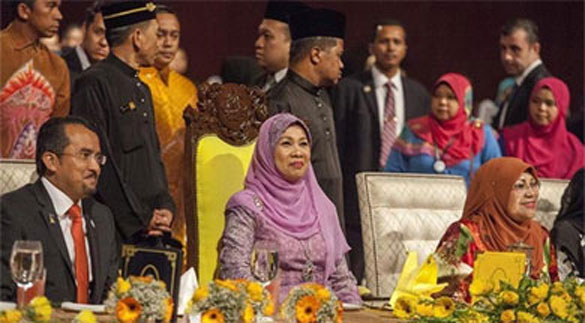 The summit was organized by the International Islamic University of Malaysia, the Turkish Asian Center for Strategic Studies and other Turkey-based non-governmental organizations. (Photo: Anadolu Agency)]
--------
• World Muslim Women Summit Sets Dhul Hijjah 9 As 'World Muslim Women's Day'
• Indonesia Renews Campaign to End Female Genital Mutilation
• Turkey's Female Bikers Demonstrate with Powder and Paint - And Shorts
• Muslim Women Confront Anti-Muslim Violence through Martial Arts
Compiled by New Age Islam News Bureau
URL: https://newageislam.com/islam-women-feminism/thousands-saudis-sign-petition-end/d/108688
----
Thousands Of Saudis Sign Petition To End Male Guardianship Of Women
Monday 26 September 2016
Thousands of Saudis have signed an online petition calling for the government to abolish the country's guardianship system, which prevents women from engaging in fundamental tasks without the permission of a male relative.
"Women should be treated as a full citizen," said activist Aziza Al-Yousef who, along with other activists, has been fighting against the guardianship system for a decade.
"This is not only a women's issue, this is also putting pressure on normal men ... this is not an issue for women only," she told the Guardian.
Under Saudi law, women require the permission of a male guardian to travel, marry, or exit prison and it may be needed to be granted employment or access to healthcare.
A guardian is typically a woman's father or her husband if she is married; a widow may have to seek permission from her son if she has no other men of age in her life.
But in recent years, a growing protest movement has sought to end the system. Yousef and other prominent activists started holding workshops and performing studies on the religious validity of the guardianship system five years ago. The campaign picked up steam this summer after Human Rights Watch (HRW) released a blistering report on the system.
The report gave birth to a hashtag #IAmMyOwnGuardian, which spread awareness on the issue.
Hala Aldosari, researcher in women's health, who wrote the petition and worked on the HRW report, said the hashtag gained support among women of all ages and backgrounds.
On the two days leading up to the petition, an estimated 2,500 women sent direct telegrams to the Saudi King's office imploring him to end the guardianship system. The petition racked up 14,682 signatures after promoting it on Twitter, Aldosari said.
Saudi Arabia's government agreed to abolish the guardianship system twice – in 2009 and 2013 – after a review by the United Nation's Human Rights Council. It instituted some reforms by, for instance, making it easier for women to work, appointing women to the King's advisory board, and allowing women to vote and run as candidates in municipal elections. However, these reforms had limitations and stopped short of providing women basic rights.
Earlier this year, the government outlined its Vision 2030, an economic plan to reduce the country's dependency on oil, which called for more involvement of women in the labor market. However, the guardianship system runs counter to that, as some employers require women to submit permission from their guardians. Engaging Saudi women in the economy is vital as they currently outnumber men in higher education and will be key to weaning the country off oil.
According to Hamid M Khan, deputy director of The Rule of Law Collaborative at the University of South Carolina, many members of the Saudi royal family are open to the idea of reform but senior clerics in the country – whose approval would likely be needed to deconstruct the system – are averse to change.
"Many in the royal family – not all but there is a significant number in the royal family – actually view this is as a bit exhausting," Khan said.
According to Khan, the law stems from an understanding of the Qu'ran which dictates classes of males which one is forbidden to marry. Some Islamic jurisprudence scholars have made the case that any woman should be accompanied by a guardian when in the presence of any man not on that list.
"This notion of guardianship is not necessarily embedded in the Qur'an but it's based upon the jurist view that there are certain patriarchal understandings about the necessity of guarding a woman from these men," Khan explained. Beyond laws dictating marriage contracts, no other Muslim majority country employs guardianship laws similar to Saudi Arabia's.
Yousef said some prominent Saudi clerics have also signed the petition, to indicate their belief that the system is not derived from Islamic law. Aldosari said that many more clerics came out after the 26 October 2013 movement, where Saudi women pushed for the right to drive.
"They all declared that this is not religion, this is all government rules and it should be changed," Yousef said.
https://www.theguardian.com/world/2016/sep/26/saudi-arabia-protest-petition-end-guardianship-law-women
--
World Muslim Women summit sets Dhul Hijjah 9 as 'World Muslim Women's Day'
September 27, 2016
Kuala Lumpur: The "World Muslim Women: Soft as Silk, Strong as Iron" summit and exhibition" announced Dhul Hijjah 9 of each year as the "World Muslim Women's Day".
At the conclusion of its work in the Malaysian capital Kuala Lumpur on Monday, the three-day summit issued its final communique consisting of 13 items that include an assertion on the need to increase the number of educated Muslim women, boosting their global role in different fields as well as paying attention to their opinions in the issues of fighting Islamophobia, extremism, gender discrimination and illiteracy.
The communique also included a resolution to establish an "International Network of Muslim Women's Cooperation Work" that contributes to launch initiatives for peace processes, and another resolution to set Dhul Hijjah 9 of each year as "World Muslim Women's Day."
In her speech at the closing ceremony of the summit, Malaysian Minister of Women, Family and Community Development Rohani Abdul Karim pointed out that the summit discussed the role of Muslim women in building world peace, and gave the audience an opportunity to discuss various problems they face. She commended the summit, arguing that "such meetings will promote unity and solidarity among Muslim women."
For his part, Adviser to the Vice President of the Turkish Asian Center for Strategic Studies (TASAM) Tomay Arjan said the summit was "very useful".
"We discussed, during the summit sessions, what we can do for Muslim women, and we had the opportunity to explain the achievements of Turkish women and the efforts to empower them," he added.
Participants in the summit included representatives of TASAM, the Department of Islamic Development Malaysia (JAKIM), the International Islamic University of Malaysia (IIUM), the Organization of Islamic Cooperation (OIC) and the World Islamic Forum, in addition to Malaysian Minister of Women, Family and Community Development Rohani Abdul Karim, Deputy Minister of Turkey's Family and Social Policies Mehmet Ersoy, Turkish members of parliament and officials from a variety of civil society organizations.
The summit was organized by the International Islamic University of Malaysia, the Turkish Asian Center for Strategic Studies and other Turkey-based non-governmental organizations.
http://www.siasat.com/news/world-muslim-women-summit-sets-dhul-hijjah-9-world-muslim-womens-day-1029060/
--
Indonesia Renews Campaign to End Female Genital Mutilation
27th September 2016
THE Indonesian government is looking to stop the practice of female genital mutilation (FGM) through a renewed campaign, despite opposition from religious leaders in the world's largest Muslim country.
The idea to end the practice altogether was mooted over a decade ago but was met with resistance from influential Muslim clerics. Indonesia's women's minister Yohana Yembise said, however, that the government was engaging women's and religious groups to raise awareness on the issue.
Yohana was quoted by the Thomson Reuters Foundation as telling foreign journalists that the government is educating groups on the dangers of FGM, and conducting a survey to provide "scientific evidence" to substantiate the government's aim to end the practice.
"We try to approach the traditional and religious leaders to understand and to be aware that we have to end this female genital mutilation," Yohana was quoted as saying recently.
FGM is a catch-all phrase used to refer to procedures that totally or partially remove the external female genitalia, or that injure the female genital organs for non-medical reasons. It is widely regarded as a serious and abhorrent violation of human rights.
A UN report released in February revealed that about half (49 percent) of all Indonesian girls aged 14 and younger have undergone genital mutilation (or circumcision). The figure stands in stark contrast with Indonesia's reputation as a moderate and even progressive Muslim nation.
The report by UNICEF (United Nations Children's Fund) noted that while instances of female genital mutilation are declining globally, not all countries have achieved progress on the issue. In short, the decrease in FGM is neither uniform nor sufficient.
Indeed, the report highlighted some very disturbing numbers. An estimated 200 million females in 30 countries alive today have undergone the procedure. Of that former number, over half reside in just three countries – Indonesia, Egypt, and Ethiopia.
FBM has been generally thought to be confined to Africa and the Middle East. However, its apparent popularity in Indonesia underscores its previously unrecorded prevalence throughout the globe.
In Indonesia, female circumcision is understood to be deeply rooted in religion and tradition. Its implementation varies, but is typically considered less severe than approaches common on the African continent.
Human Rights Watch Asia Division Deputy Director, Phelim Kine, said the renewed campaign was long overdue given that the government buckled to pressure from Islamic organizations in 2010 after outlawing the practice in 2006
"FGM violates women's and girls' rights to health and to be free from violence. The procedure, which serves no medical purpose and is irreversible, inflicts severe pain on young girls and can be life-threatening," he said in a news release Tuesday.
He said Yembise's attention to the horrors of FGM will hopefully spur the ministry to also address the use of "virginity tests" on female applicants to the National Police and Indonesian Armed Forces.
Indonesia's National Police have imposed the tests, which have been described as "abusive" and "degrading", on thousands of female applicants since as early as 1965. Kine said this was happening even though National Police principles say recruitment must be both "nondiscriminatory" and "humane."
Kine said the "virginity tests" have been recognized internationally as violations of the right to non-discrimination and the prohibition against "cruel, inhuman or degrading treatment" under international human rights treaties Indonesia has ratified. He pointed out that the World Health Organization has stated unambiguously that, "There is no place for virginity (or 'two-finger') testing; it has no scientific validity."
"Indonesia should show the same determination in ending "virginity testing" as it has shown in taking on FGM," Kine said.
https://asiancorrespondent.com/2016/09/indonesia-end-female-genital-mutilation/
--
Turkey's Female Bikers Demonstrate with Powder and Paint - And Shorts
September 27, 2016
Thousands of female bikers from 28 cities in Turkey and Turkish Cyprus got behind the handle bars on Sept. 24 for the annual Chic Women's Bicycle Tour in a peaceful demonstration that combined feminism and green transport.
The bike tour, initiated by İzmir-based history teacher and latecomer to cycling Sema Gür four years ago, was a modest attempt to create awareness and encouragement for women who want to bike. But quickly the event has evolved into a rights platform, where women put on their most colorful costumes, decorate their bikes and push the pedals for more rights and less harassment, both on the road and in life.
At this year's Chic Women's Bicycle Tour, which took place in 28 cities including Istanbul, İzmir, the Marmara province of Bursa and the Central Anatolian province of Çorum, there were a number of participants who wore shorts – a reference to Ayşegül Terzi, a nurse who was recently attacked by a man in Istanbul for wearing shorts while riding on public transportation.
The event was also linked on social media to a fatwa by Iran's Ali Khamenei that bans women from cycling in public, even if met the Islamic republic's clothing rules. "Look how Turks can cycle easily, while Iranian women cannot. Thank you [Mustafa Kemal] Atatürk!" said a tweet about the event.
"We have the Chic Women Bicycle Tour because we are women and we want to be visible," said Gür at the beginning of the tour that started in İzmir's Konak district and ended at the city's Republic Square. At the end of the ride the women parked their bicycles in the shape of a heart and danced to the sound of the 1970's Turkish pop hit "Hayat Bayram Olsa" (If Only Life was a Feast).
"A society can only breathe through the visibility of their women – when they are on the road or anywhere in their daily life, without any fear. A bicycle is a sign of liberty. We are here as free individuals and we demand respect for everybody's individual liberties," she said. The crowds cheered as she delivered the punchline: "We want respect for bicycles, for female bikers. We demand respect for women."
This clear message was carefully crafted after much deliberation in the wake of recent abuses against women.
"I am under a lot of pressure to make this bicycle tour a protest movement for Terzi and urge everyone to come in shorts," Gür told the Daily News a few days before the tour. "This is not a single-issue demonstration – the tour is a platform whose only condition is that women who want to participate dress up and decorate their bikes. Those who want to come with shorts are welcome, as well as those who want to come with headscarves. This is open to all women - in shorts, headscarved, LGBTI and all."
From mobility to liberty
"In the beginning, it was simply an attempt to make cycling more women-friendly," Gür said. "I started cycling as I approached my 40s and saw immediately that it was not a sport that accommodated women. Everything was very masculine - the routes chosen, the lycra clothes, the soberness of bikes… So I decided that I would wear skirts, put flowers on my bike and create a movement that encourages women to cycle on their terms, with their idea of aesthetics. I put forward the idea of having a Chic Women's Bicycle Tour on Facebook, not sure whether it would take off. I wanted it to be a festival that is part of the World Clean Mobility Week celebrations every year."
"I guess we did get the wheels moving," Gür added. "We have started a relationship of cooperation with the İzmir Municipality and they have set up a Bicycle Desk, whose members take up our complaints. It is a good beginning but more needs to be done. When I bike on the sea front to the city center, I stop at least a dozen times. The construction in the city has completely paralyzed the bike route and we have not been offered an alternative."
More actors, but still less bikes
In recent years, several women's bicycling initiatives have been founded. The Istanbul-based Women Bicyclists' Initiative, which was established in 2015, just published a bicycling guide for women – a small booklet that helps them get a start in biking, explaining traffic rules, fun ways to integrate biking into daily life and stories of women who bike.
Despite the small- and medium-scale movements, however, biking is still rare in Turkey and rarer still among women. Only 17 percent of the population uses a bike – a number that falls to 5 percent when you look at the female population. Only six in 1,000 women in Istanbul, Turkey's largest and arguably most modern city, use a bicycle in their daily lives. This is not related to religion. Unlike in Iran, there is not a "religion link."
Asked about this, Turkey's religious authorities say that bikes are admissible for both men and women, provided they behave in a manner that does not conflict with customs, such as dressing provocatively.
However, 65 percent of women would like to ride a bike. This is precisely Gür's target group. "Buy that bike, borrow it, take it out of that storage whatever and decorate it. Own it by making it beautiful. Come out with us with colorful hats and headbands and flowers in your hair. Be visible and fearless," said Gür. And the women in İzmir, Istanbul and many other cities just did that.
http://www.hurriyetdailynews.com/turkeys-female-bikers-demonstrate-with-powder-and-paint---and-shorts.aspx?pageID=238&nID=104274&NewsCatID=339
--
Muslim Women Confront Anti-Muslim Violence through Martial Arts
SEPTEMBER 26, 2016
Ryhana Dawood, a 28-year-old med student and martial artist, founded Martial Smarts self-defence workshops eight years ago "to address gender-based violence and improve overall wellness."
Dawood has been teaching Muslim women for years. But she says demand has increased since last fall, particularly after the Paris terror attacks, which sparked a backlash against Muslim communities across parts of the Western world. In Toronto, a woman was attacked outside her child's Flemingdon Park school. Others were physically assaulted or intimidated on the TTC and elsewhere.
Many Muslim women felt especially vulnerable at a time when the politics around the "war on terror" and the Muslim community have become very divisive.
That reality prompted community organizers like 23-year-old Sarah Hassanein to organize self-defence classes at York University, where she was a student at the time.
"It's unfortunate that we have to go out of our way to take these classes and protect ourselves," says Hassanein, who wears a headscarf, or hijab. "But I saw a really positive effect on those who attended, a rise in their spirit."
Hassanein was working at York's Sexual Assault Survivor's Support Line and Leadership (SASSL) at the time. She partnered with Wen-Do, one of the city's oldest organizations teaching women's self-defence, to hold several weekly classes.
Wen-Do instructor Arij Elmi, a social worker and public health professional, noticed that the demand for courses was rising in the Muslim community and crowd-funded enough money to deliver, along with her Wen-Do colleagues, free classes across the GTA, including for Muslim girls in Grades 7 and 8 at Maingate Islamic Academy in Mississauga.
"Seeing a lot of hate crimes in the news made a lot of us feel insecure," says Sanaa Ali-Mohammed, Maingate's program specialist at the time, who also took part in the classes.
"A lot of the techniques involve using your strength to free yourself from an attacker, but overall it's really to prepare you mentally," she says. "Not knowing what to do creates fear, and having an idea of what to try definitely makes me feel more confident."
Ali-Mohammed believes that confronting anti-Muslim violence is just one of several reasons to teach Muslim women, young and old, how to defend themselves.
She cites sexual assault on campuses as another, adding that many girls who attend Islamic high schools need support when they transition to public universities, where they're bound to experience totally different social dynamics.
Dawood concurs.
"It's not just Islamophobia, but sexual assault and domestic violence that are more of a threat to women – and not just in the Muslim community, but in society in general," Dawood says. In addition to preparing women to fight back physically, self-defence is "about learning that you have the ability to do something, to use your voice and to get loud."
A black belt in karate and tae kwon do, Dawood says her work challenges some of the gender stereotypes that afflict much of the Muslim community, particularly the assumption that martial arts is a male activity.
"It's the way many women have become socialized, particularly in the South Asian community, which is my community. But why should my work be seen as exclusively masculine?"
Fatima Garsi, another lifelong martial artist, says she founded Sister Fit, a women's health and fitness facility that provides weekly self-defence classes to all women, as a way to connect with the GTA's Muslim community and encourage young women to lead healthier lives.
"There's been more of a demand for workshops of late, but people shouldn't think all they need are workshops," Garsi says. "What's the point of learning all these techniques if you're not in shape?"
"It's about taking really useful knowledge and spreading it to as many people as we can," says Sarah Hussain, a 23-year-old community organizer and Alzheimer's researcher who is training with Dawood to become an instructor.
"No one should have to live in fear," says Hussain, who used to walk with car keys held between her fingers at night to protect herself. "People don't see me as a Canadian or a student first, but as someone who wears the hijab, and it makes some people uncomfortable. This can lead them to mistrust or even feel threatened by me in some way, and I have to learn to protect myself.
"I hope no one has to be in a situation where they're forced to use the self-defence techniques they've learned, but it's important for women to feel confident and empowered."
https://nowtoronto.com/news/muslim-women-confront-anti-muslim-violence/
--
URL: https://newageislam.com/islam-women-feminism/thousands-saudis-sign-petition-end/d/108688
New Age Islam, Islam Online, Islamic Website, African Muslim News, Arab World News, South Asia News, Indian Muslim News, World Muslim News, Women in Islam, Islamic Feminism, Arab Women, Women In Arab, Islamophobia in America, Muslim Women in West, Islam Women and Feminism